The county of Riverside brings thousands over from University of California, Riverside and as a resting place for those on their way to Coachella every year. But beyond the music festival, Riverside county features nature and serenity, making it a unique desert charm in California.
Enjoy the calming mountain hikes, trendy tasty food and classic entertainment.
Riverside county has something for everyone in 24 hours.
5 A.M. Mt. Rubidoux
Begin the day with a short early morning hike at Mount Rubidoux within Downton Riverside. The 2.7-mile trail defined by a paved road makes it perfect for those in a wheelchair and strollers to not miss any beautiful view. "Mt. Rubidoux—make sure to go at sunrise for a view you won't forget," said University of California, Riverside senior Samir Abbas. The short trail makes it convenient to add to any college student's workout routine.
6 A.M. Arcade Coffee Roasters
A local coffee shop favorite that enriches freshness in everyone from sunrise to sunset. Their coffee variety ranges from sweet flavors of fruit and chocolate to natural black roasts from Latin America, Asia and Africa. If some freshly roasted coffee doesn't fill your cup, feel free to peruse their menu a bit more for specialty mocktails, kombucha and lattes. The aesthetic provides comfort with modern furniture to sit down on a morning meal. Amir Naifeh, a freshman at the University of California, Riverside describes Arcade Coffee Roasters in two words, "Good vibes and nice aesthetic." If you're too tired to come to get your coffee, no worries; Arcade Coffee Roasters delivers their fresh roasts to your door.
7 A.M. Sycamore Canyon Park
To see Riverside's wildflowers on a 4-mile trail makes Sycamore Canyon Park a colorful hike. The park is pet-friendly and no matter where you stop to take a break, you can enjoy a scenic view. On your hike you might find an armadillo, lizards, turtles, skunks and even a crocodile. Beware of snakes, as they might emerge from their homes to find their prey for the day. If you want more for your walk, the Ameal Moore Nature Center provides an intimate group trail with naturalists for hands-on learning of the plant life on site.
8 A.M. Whitewater Preserve
The scenic river creates a peaceful vibe during the first half of the day. On a nature walk, you might catch sight of a deer, bear, bighorn sheep or lizard surrounded by sycamore trees, cottonwoods, willows and shrubs. Instead of a long walk, you can change it up with a picnic full of your freshly caught finds after an afternoon of fishing. Plus, you get the view of the mountains without the effort of a long hike.
9 A.M. March Field Air Museum
Not your traditional art museum, this open-air museum brings fun in understanding the technology and history behind aircraft. Admission costs $10 and doors open at 9 a.m. It's exhilarating to see planes from as early as possible because you feel like you're on a voyage back in time to 1903 while having all day to be on your flight. If you just can't get enough of these flying machines and their history, the museum remains open until 5 p.m. to feed your curious mind. 
10 A.M. Citrus State Park
Craving a fruity treat for breakfast? Riverside preserves the historic past of the landscape through Citrus State Park. In the early 1900s, fruit like oranges, lemons and grapefruit were harvested creating the "second Gold Rush," to Riverside county. Today, visitors can sample fresh citrus fruit for free while exploring the citrus orchard park. "I love visiting the orange orchids on the weekends to get the fresh taste of organic oranges grown in my community. It's also a forgotten history when people think of Riverside," said University of California, Riverside senior Rita Gonzalez. The park opens during citrus season from October to March from 8 a.m. to 5 p.m. Otherwise feel free to swing by the visitor center daily from 10 a.m. to 4 p.m.
11 A.M. Castle Park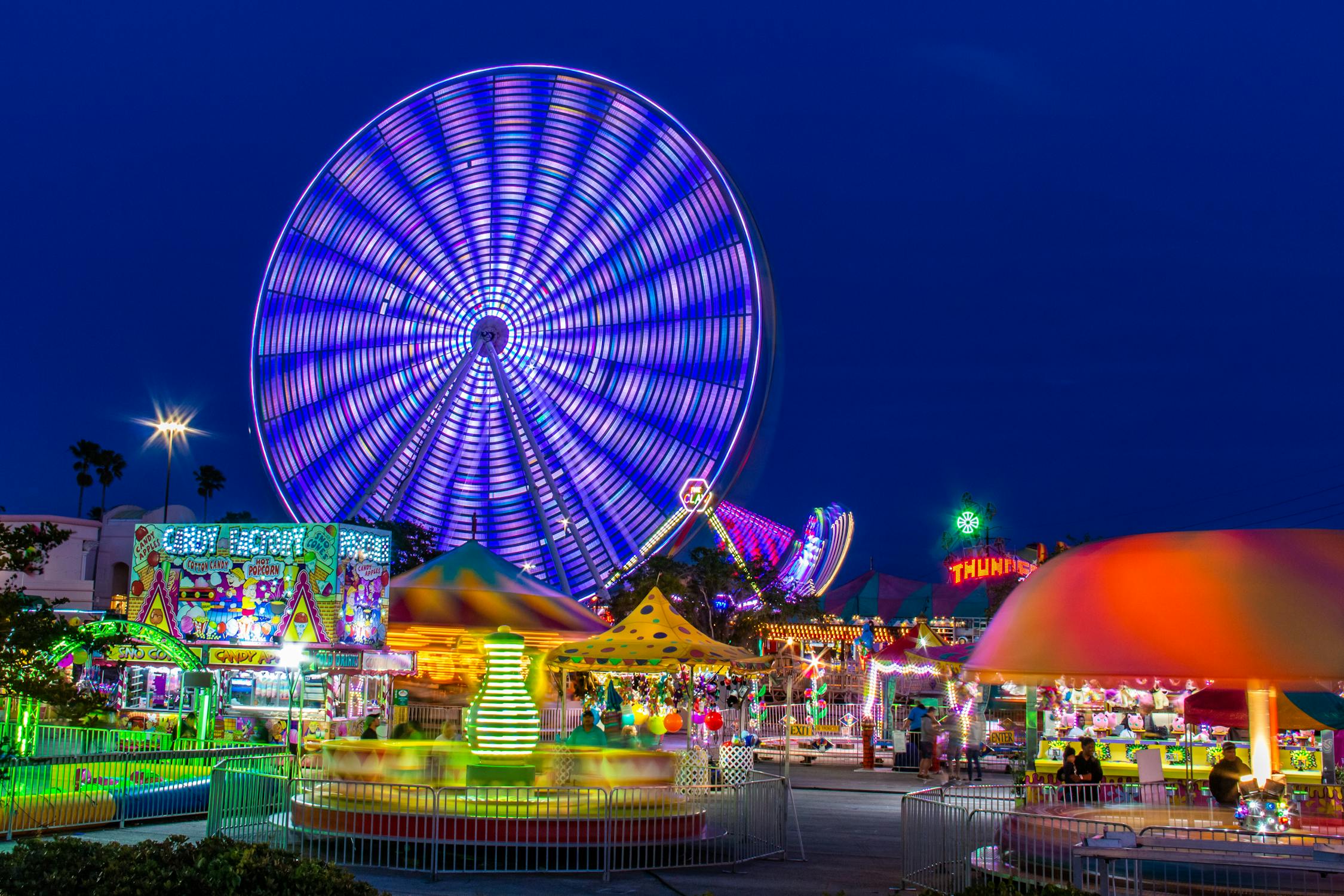 Miss the fun of the amusement park? You don't need to drive to Orange County for Knott's Berry Farm or Disneyland. Castle Park brings the fun in Riverside County. "Castle Park is good place to relive childhood fun with the row of trampolines, video games bumper cars and face painting," said University of California, Riverside freshman Steven Cervantes. The speed cars, miniature golf course, roller coasters and arcade brings energetic life to your day. However, if you don't feel like bringing out your childhood quirkiness out, Castle Park has services like a massage chairs and viewing the magnificent peacocks that wander around the property.
12 P.M. Riverside Food Lab
This trendy food hall offers the best for foodies. The endless options of choices will make anyone's eyes too big for their stomachs when ramen, vegan cooking and gluten-free pizza makes lunchtime a delight. "Some friends and I went a while back and we enjoyed the exciting atmosphere and the good food," said University of California, Riverside senior Evan Ismali. The scrumptious food is easy to access with parking inside of the structure or by having any cuisine Doordashed to your doorstep.
1 P.M. The Riverside Art Museum
Not in love with the old times? Check out the modern art scene of Riverside. A contemporary art museum in Riverside offers outdoor art installations of sculptures by Paulden Evans and Louie Tozser. Their permanent collection spans of 1,509 objects including famous artists like Marc Chagall and Toulouse Lautrec. This small space of art won't take too much of your time, but the quality of objects leaves a lasting impression on your visual memory.
2 P.M. Riverside Metropolitan Museum
This Smithsonian affiliate museum brings the best in natural history and anthropology in a Spanish style building. The museum houses 200,000 artifacts from Native American, African and Japanese cultures to bring wonders to your eyes. The cultural focus of the museum is Native Americans, primarily the tribal communities who settled along the Riverside valley. The museum holds the largest Native American basketry collection in California. At the moment the museum is closed for renovation, but not for long as the museum expects to be back and running later this year.
3 P.M. Heritage House
Want to visit the mystical, haunted Victorian houses found in a horror film? Inside this picturesque Victorian house in the middle of Riverside, you'll get a glimpse of the Victorian age with clothing, objects, interiors and other relics from the past. Heritage House gives you insight into how the residents of Riverside once resided back in the nineteenth century. Sadly, this house is only haunted on Halloween.
4 P.M. Entomology Research Museum in Riverside
Now's the time to take a close up look at the creepy, crawly things we find in our everyday lives. Instead of removing insects out of our space, the Entomology Research museum has over three million species of insects mounted on slides for visitors to view and a research library with books to read all about bugs. "When entering the research museum of entomology, you feel like a naturalist on the campus of UC Riverside. Not all of the insects are on display, but whatever is presented is pretty neat," said University of Riverside, sophomore Cheryl Berro. If you're interested in learning about a certain insect that isn't currently featured on an exhibit, don't be afraid to ask for it. A researcher in the museum will gladly pull out a bug for you.
5 P.M. Build your ow
n meal at Burger Boss
Build your own quality burger at Burger Boss with all-natural and grass-fed meat or their vegan option made from black beans. Almost every topping and bread choice are there to satisfy your taste buds like a Subway for burgers. "The food itself can land a solid five stars, but the service is what makes this restaurant unmatched in the Inland Empire. The employees always greet their customers with the utmost kindness and quality food," said University of California, Riverside junior Ezza Munir. "Rest assured, Burger Boss will serve the best burgers and top-notch service in the city of Riverside." To get the most of your bite, Burger Boss closes at 9 p.m.
6 P.M. California Museum of Photography
This three-story museum of photography showcases the history of the photographic medium through exhibition, editorials and the web. The permanent collection has anything imaginable with the medium of photography like the Box Cameras, Reflex cameras and photographs ranging from 1840 until present day. The museum also serves as a space for emerging artists so you can learn about the latest in photography. After you take a glimpse at the photographs, you can continue enjoying the medium through film screenings in the evenings. Some films coming up at the museum include "Parasite," "Waves," and "Three Christs."
7 P.M. Fairmount Park
Catch a stunning sunset view at Fairmount Park with the sun's reflection among the palm trees illuminating the lake. On a relaxing evening walk, there are turtles, ducks, pelicans and a rose garden making it a more inviting atmosphere. It makes a perfect affordable destination for a date with their rose garden full of a variety of floral blossoms and a gazebo to take shelter from the sun or rain. If you're looking forward to doing an evening sport, there's a golf course within the park with free reservations made a day in advance.
8 P.M. Gourmet Detective
Imagine being a part of a murder mystery film the second you walk into a restaurant. While you enjoy your three-course dinner, you can either opt to sit in on skilled improv or join along in discovering the truth on your mystery dinner show. The small dinner options are as classic as the best mystery cinema with options like grilled salmon, grilled chicken and prime rib.
9 P.M. Fox Performing Arts Center
Desiring to be entertained with a comedy sketch, musical performance, theater production or dance production? The Fox Performing Arts Center hosts shows daily to suit anyone's taste in the arts from comedic stand-up with acts like Ali Wong, to a dance production of Dancing with the Stars and a theatre production of "An American in Paris." "I went to see a Broadway production of Cinderella two years ago, and the theater is beautiful for its present restoration," said University of California, Irvine alumni Lenora Johns. "The shows are top-notch with great parking." If you have no time to book a show, go to snap a photo of the Spanish Colonial Revival style structure with interiors from the 1920s.
10 P.M. Main Street Mall
Check out the Main Street Mall for a destressing shopping evening. In the fresh air, at night all of the Spanish style architecture is well lit for the perfect selfie. If you have no care for the shops (closing times vary by the shop), you can window shop, people watch and catch a film afterward.
11 P.M. Van Buren Drive-In Theater
Experiencing new blockbuster hits from your car brings back the fun of past movie-goer without the need for a time machine. In Riverside, the Van Buren has been operating since 1964. The Drive-In offers showtimes of films currently in the pop culture scene as you get the old-timey feeling of watching from your vehicle. The other plus brings quality and affordable entertainment with tickets at $9 per person.
12 A.M.
Heroes
Restaurant and Brewery
A fun night out with friends can cure any sense of fatigue after a busy day of travel. Go to the Heroes Restaurant and Brewers to grab a late-night meal or a sip of your favorite drink while you relax with your pals. "Heroes Restaurant and Brewery is one of the best restaurants in Riverside," said University of California, Riverside senior Kam Scheema. "Whether you go for breakfast, lunch, or dinner, you'll never be disappointed. There's something for everyone!" Heroes Restaurant and Brewery in historic downtown riverside offers classic American meals with two full-service bars, some menu favorites are the Giant Barvarian Pretzel, Guilty Pleasure pastrami fries and The Junkyard.
1 A.M. Aurea Vista NightClub
For students, Aurea Vista Nightclub brings the best of affordability but there's no entry free before 11 p.m. Even if you pay, you get a lot more for your dollar than a drink and dance because you will be instructed on different kinds of dance on Wednesday nights. Every day there are new DJs to dance to genres like salsa, bachata, techno and more.
2 A.M. Proabition: A Night of Laughter
Looking for fun nightlife? Proabition is a whiskey themed lounge and kitchen with a classic venue that offers nightly entertainment while sipping on a glass of your favorite cocktail. "I went there with some friends on a Friday night and had a good time dancing and having some drinks," said University of California, Riverside senior Miguel Ramirez. The best entertainment is the comedy nights where local comedians come out to bring the fullest laughter out of the public. Swing by a little early to get a discounted admission that ends before 11 p.m.
3 A.M. Mission Inn
Take a late-night walk around downtown Riverside to find the beautiful Spanish architecture of the Mission Inn. You can walk outside of the hotel to admire its old-style without booking a room for the night. "During the month of December, there is the festival of lights which makes the hotel intricately decorated all night long," said University of California, Irvine alumni Sarah Vasquez. "Plus having a stay at the Mission Inn includes many restaurants of diverse culinary foods as well as a spa to make your stay even more comfortable." Take your time to try out the fun and relaxing amenities by booking a night or two at the Mission Inn.
4 A.M. Ryan Mountain in Joshua Tree
End the day with a long drive a little outside Riverside towards San Bernardino County at Joshua Tree to take part in stargazing. "As if the Joshua trees themselves weren't mesmerizing enough, Mt. Ryan offers an unforgettably breath-taking view that is well worth the hike," said University of California, Riverside junior Hosam Bennani. This trail at the Joshua tree is known for being steep to get the best 360 panoramic views of Joshua Tree park, the teddy bear cacti and Yucca plants but stop anytime you'd like at the top because the trail measures 17.5 miles long. After a long hike, it's worth it to close the day by sleeping under the stars.