Maybe you want to avoid the dreaded freshman 15. Maybe you want to lessen your negative impact on Earth. Maybe you've run low on grocery money and meat just doesn't come cheap (pretty likely). No matter the reason, your body needs healthy food options. But with the affordability of a college student in mind, you could find yourself stumped. This doesn't have to happen. Many cheap products and brands balance good quality with good prices.
Explore these 10 vegetarian foods that suit college converts from carnivorous diets.
Remember: the vegetarian foods that suit your exact preference may take some trial and error to find, yet getting off on the right food will help a lot. "It's important to take care of your body by fueling it properly, so you can feel good! My diet always effects my energy levels and mood; its really powerful. I've learned how to shop for produce at low cost and also find vegan/vegetarian protein substitutes at Aldi for low prices." said Pennsylvania Academy of Fine Arts junior Ava Haitz.
Not to sound like your mother but you need to take more vitamins. On the other hand, please don't let vitamins act as replacements or substitutes for the vitamins you can get in fruits and vegetables. With that in mind, multi vitamins can serve as a helping hand. They'll ensure that you don't succumb to every virus that spreads around campus, especially during that all-too-common stress-ridden haze, where you forget to eat fruit every once in a while. When you don't get proper energy during the day, it affects your sleep and consequently your health,so don't sleep on adult gummy vitamins.
No matter how much you plan and "life hack" your way into avoiding the iconic struggle meal of a bowl of 50 cent ramen, it happens. We all experience those days where the snack stash runs dry and your wallet runs drier. But you need to eat something, and in this case few choices exist. Your struggle meal doesn't need to taste so dreary. Vegans notably choose the soy sauce flavor of Top Ramen as it uses no animal products. Spring for a bag of frozen vegetables in the beginning of the semester. Sneak your favorite toppings from the dining hall and freeze them yourself. Buy a little bottle of sriracha. Add your favorite herbs or seasonings. If you can soft boil or fry an egg, even better. The quality of this makeshift bowl of ramen results from the amount of effort you put into it.
3. The dining hall salad bar
Just hear me out on this one. This commonly ignored option in every college dining hall across America can actually serve as a hidden gem for a health-conscious student. Salads can taste as dreary or as delicious as you make them. Take advantage of the choices in the salad bar. You can make an actual meals full of your favorites that will fill you up without making you feel lethargic—the way dining hall pizza may make you feel. Avoid slapping iceberg lettuce and croutons on a plate and calling it a day. Try spinach, boiled egg, quinoa, chickpeas, flax seed, beets, pasta—whatever your heart desires (within the constraints of your school's salad bar of course).
Go a step further by capitalizing on all the vegan options your dining hall offers, so that once you learn what your perfect salad looks like, you can branch out even further or learning what you like. "My staples are so simple. I always need to have spinach, onion, tomato, veggie burgers and some sort of bread. I put a lot of fresh vegetables in every single meal because I love them," said Haitz.
4. Crock pot meals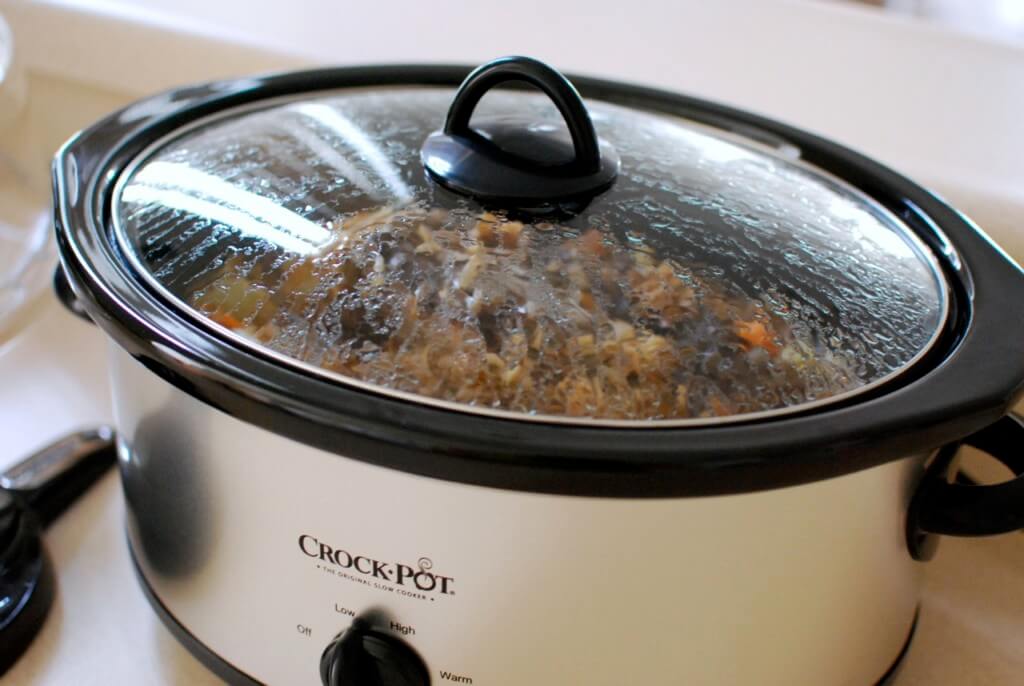 Time to embrace your inner 50s mom. This tool takes up little space, makes better food than your tiny dorm microwave and pays for itself many times over. With the help of a crockpot, a freezer, some patience and a few canned goods you could make and freeze meals for weeks on end. For less than $15, you could easily avoid the occasional struggle meal with far more ease. Between college dining halls and the same 10 or so affordable restaurants around your college, many students end up eating the same things every week. But with a good grocery store nearby, and a 1.5-quart slow cooker (or a heftier but pricier 4-quart slow cooker), you can upgrade your living situation.
5. Your favorite non-perishables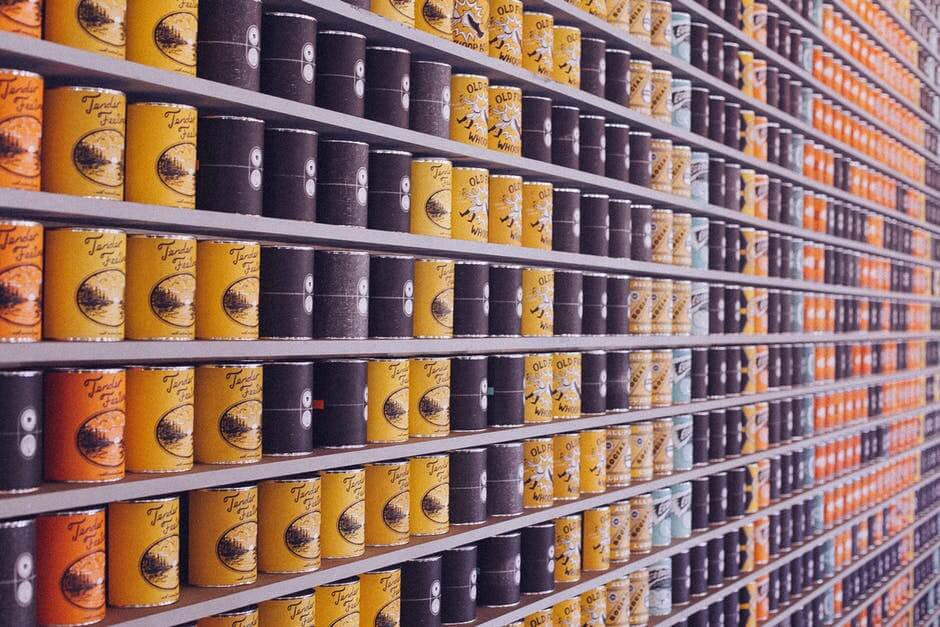 When you start grocery shopping for dorm snacks for this upcoming semester, consider buying some canned goods in addition to your cart full of Hot Pockets. This tip might make you look like someone preparing for the end of days when you run around the grocery store with a cart of full of canned goods, rice, oatmeal and nuts. It doesn't cost a fortune for a considerable amount, and with a few helping ingredients, you can make an abundance of great cheap meals. Legumes like lentils or vegan protein staples like peanut butter can buff up a meal for very cheap. Sure, grabbing a Clif Bar or a banana on the way from your dorm can help fuel you for another class or two. But when it comes to hearty meals, nonperishables can serve as the basis for such.
6. Brandless Organic Lentil Soup
Not every college town has a nearby grocery store stocked with a broad selection of cheap, abundant vegetarian groceries. In an ideal world, everyone knows about the magic of the "brand tax" free grocery company, Brandless. If you're new to the game—don't worry. All of its products don't use name-brand label, and therefore can keep all their products priced at $3. And you get far more than what you pay for. For $3 you can get two 11.5 oz. boxes of great quality, filling organic lentil soup. Plus, with their first-time customer discount: free shipping. Brandless offers cheap products from basic meal prep items like flour and sugar to more niche items like coconut oil and tomato basil hummus chips.
7. Anything Amy's Kitchen has to offer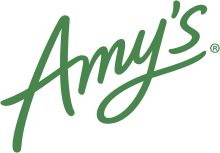 Very few things beat eating a good lasagna in bed. Spending very little on that lasagna makes it taste that much better. In addition to meals that taste like the closest thing to a home cooked meal within miles, Amy's Kitchen offers over 250 frozen options while remaining environmentally conscious. Some environmentally conscious steps prove much harder to stick to while under the constraints of a college budget. But environmentally friendly brands make it much easier. Amy's also managed to make lasagna, a notorious comfort food, a healthy option.
8. MorningStar Farms Veggie Classics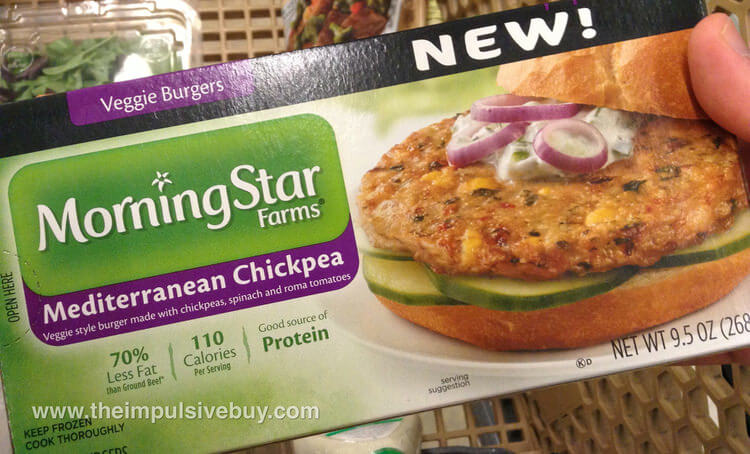 We all get those sudden cravings for former childhood staple meals. You know, the classics: corns dogs, chicken sandwiches, chicken nuggets. You don't need to abandon these relics when you go to school. Tons of meatless options for these foods exist, possibly in your local grocery store frozen section. Instead of drunkenly eating them cold in the middle of the night, try adding them to a cooked meal. Think veggie burgers, tacos, chili, breakfast burritos—all possible in a dorm room with any of the vegetarian ground meat items.
"I like the Morningstar brand because they make quality vegetarian food perfect for the busy, stressful college lifestyle. Most of their frozen foods I have tried, like the veggie 'chicken' nuggets, are super tasty and so quick to prepare, which I love! I'd definitely recommend Morningstar to all college students," Temple University junior Kaitlyn Kerwin said.
9. Tasty Bite Indian Bombay Potatoes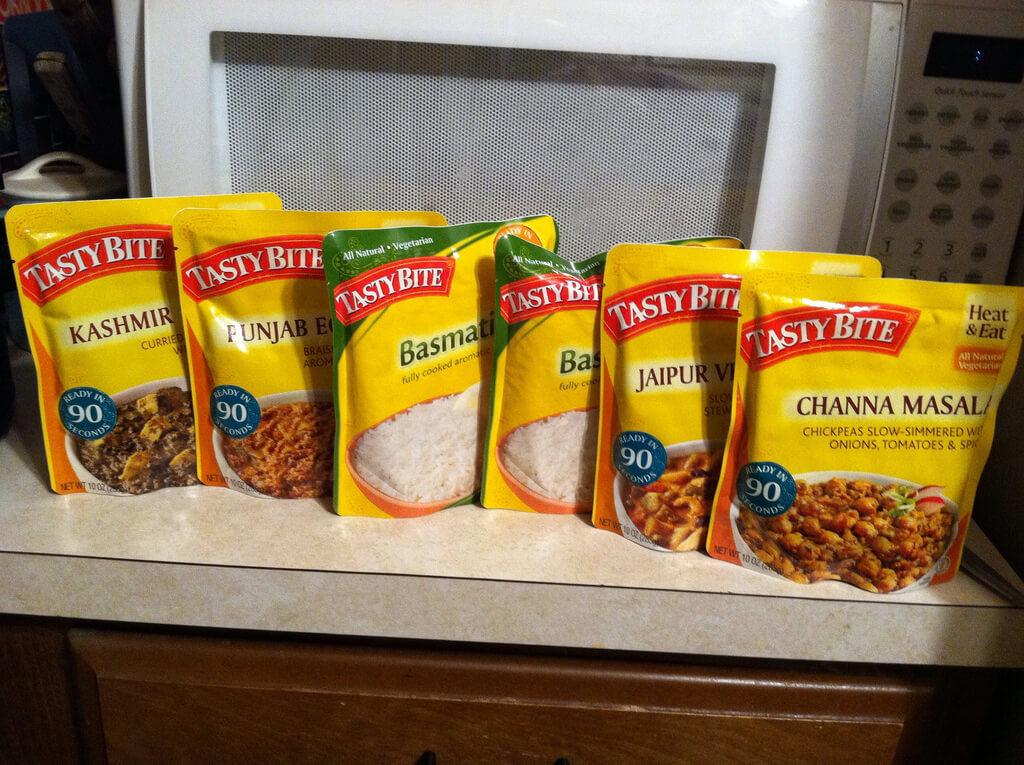 Not every college dining hall offers the most diverse food options every single day. After a long day of classes or maybe a particularly tough finals season, sometimes you simply want a warm bowl of Indian food. But when your nonexistent food budget keeps you from achieving this dream, what can you do? Prepackaged Indian food won't quite replace the deliciousness of an authentic, fresh bowl of curry but Tasty Bites comes very close, especially paired with brown basmati rice. To boot, it comes with a shelf life of almost two years and two filling servings for $2.88—less than a two-pack of depressing Hot Pockets.
For a lot of students, cheese has its own section in the food pyramid. GoVeggie items serve as a direct threat to everyone's excuse for not going vegan. For a while, no one believed a good vegan cheese could exist but this changes everything. Their vegan parmesan ingredients consist of soy protein, rice flour, coconut oil, natural flavors and sea salt. It can go with any Italian dish of your choosing, or just eat it in alone the middle of the night. We don't judge here at CM. Now the sad, classic vegan struggle meal of pasta sauce and noodles can get a much-needed upgrade.