Prepare to feel starstruck while sitting at your desk. You'll hang on every word your professor says when you're listening to a poli-sci lecture from a United States senator. Sure, your professor is an expert in his field, but does he hold a spot on the Hollywood Walk of Fame? The line for office hours might trail down the hallway, but you don't want to miss out on a Pulitzer Prize-winning journalist critiquing your article. The burning question on your mind: Do you rate her class on her verified Twitter handle or on Rate My Professor? Get ready to click "enroll" the second your registration period starts at these 10 universities.
10. Wake Forest University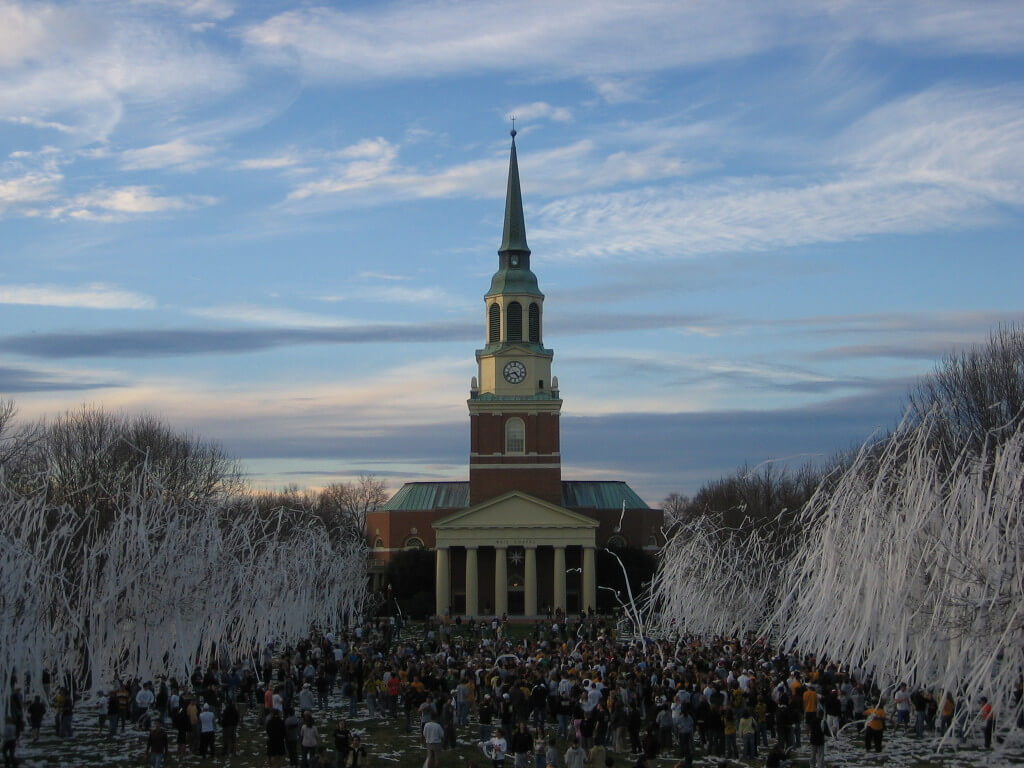 You'd never guess that this small private college hidden in North Carolina, hosted lectures by Maya Angelou. That's right, the late poet, actress, author and civil rights activist inspired generations of her students at Wake Forrest. She also encouraged them to take a stand on social issues. "The theme of our course was 'I am a human being, nothing human can be alien to me,'" said Matthew Williams, Director of Communication for Wake Forest's Office of Diversity and Inclusion and Angelou's former student. From 1981 until her death in 2014, Angelou taught courses in poetry, writing and racial or cultural issues in society. "Whenever we examined a poem or poet, Dr. Angelou shared a personal account of how the work or poet inspired her, [including] childhood memories, work in the civil rights movement and international travels," said Williams. He recalled a moment in Angelou's class when she encouraged a student to recite "Phenomenal Women" with more conviction. "My classmate had a very soft and small voice as she read," said Williams. "Dr. Angelou suggested that she stop and reminded her, quite emphatically, to 'speak up and be bold.'  She went on to say that, 'when you speak small, it lets a brute know that there's a victim in the neighborhood.'"
9. Boston University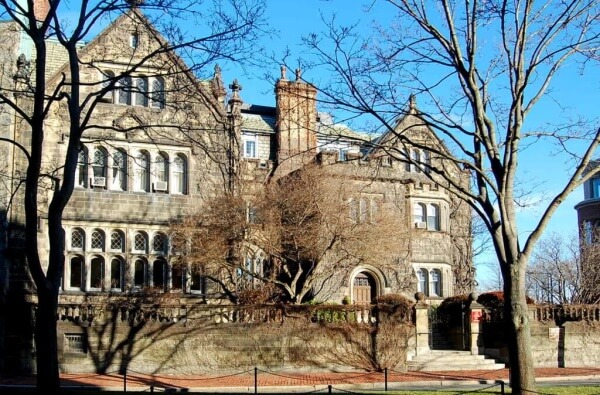 Look to Boston University faculty to deliver breaking news from national networks or experience it firsthand. Famous professors include news anchor Katie Couric, executive editor of the Frost-Nixon interviews Robert Zelnick and Attorney General Eric Holder. Nobel laureate and Holocaust survivor Elie Wiesel teaches at BU too. "[Professor Wiesel] insists on a private meeting with each student at least once a semester. At this meeting, he asks about oneself, one's family and one's concerns. He made us feel as if there was no one in the world more important," said BU alumnus Dr. Alan Rosen. "Prior to meeting with great world figures, he would often ask students for their advice on what he should say. This generous question gave us the feeling that we too were participating in the meeting, and by extension participating in world history."
8. Brown University
Brown brags decorated professors from Nobel laureates to former politicians. Patrick Kennedy, former U.S. representative, delivers two lectures every year while dedicating the rest of his time to research within the university. Other faculty members include renowned Nobel prize-winning physicist Leon Cooper and neurologist and inventor of Cyberkinetics John P. Donoghue. Not to mention, total bragging rights for graduating actress and UN Women Goodwill Ambassador Emma Watson.
7. University of Southern California
Hoping to call Hollywood backlot sets home? With the famous Hollywood sign nearby, USC's faculty features industry experts who know show business. At USC's School of the Cinematic Arts and School of Communication, students attend lectures by notable figures in media and film, including media commentator Todd Boyd and screenwriter Jack Epps Jr. One of USC's most popular courses, the Theatrical Film Symposium, allows students to view new film releases before an in-depth Q&A session with well-known film critic Leonard Maltin. Cue a class full of hands raised.
6. Yale University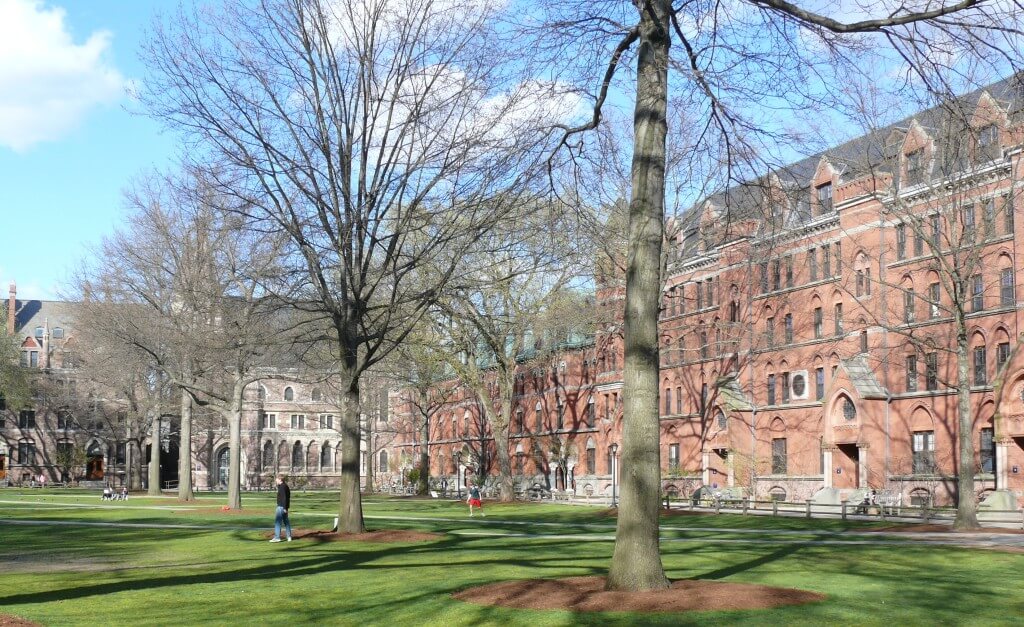 Put down today's New York Times and learn straight from the mouth of columnist and political commentator David Brooks. In New Haven, Connecticut, Brooks lectures on the concept of humility. Sign me up please! You can even take a class on globalization directly from former President of Mexico Ernesto Zedillo. But that's not all. Among the towering gothic spires of Yale, students attend chemistry lectures by Nobel Prize winners Sidney Altman and Thomas Steitz. Altman said, "I try to teach [my students] how to think about problems, not to memorize what is in the texts." If this isn't impressive enough, consider the star-studded commencements, with speakers such as United Nations Secretary-General Kofi Annan, actor Tom Hanks, journalist Barbara Walters and former president Bill Clinton.
5. Stanford University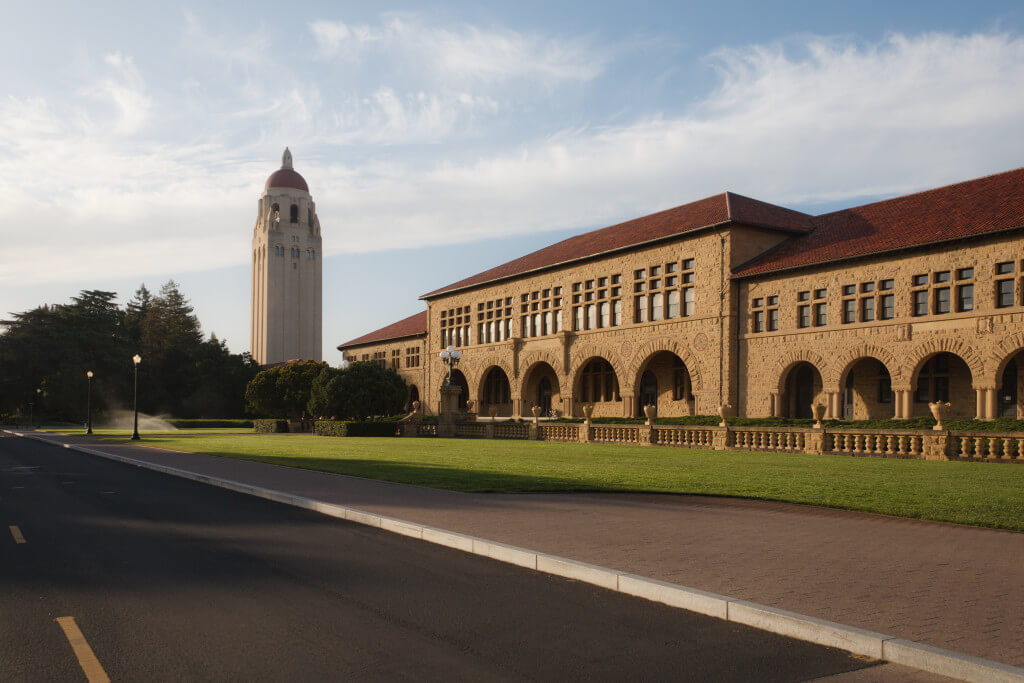 Want to learn technology or political science from the legends? Don't blink at Stanford faculty's impressive achievements. Composed of 22 Nobel laureates, five Pulitzer Prize winners and 27 MacArthur fellow recipients, Stanford students truly learn from the experts. In the heart of Silicon Valley, computer geeks walk across the sunlit patios to listen to a lecture on "Machine Learning" from Andrew Ng, the creator of the Google Brain project. Stanford's not just for the techies, though. Former Secretary of State Condoleezza Rice has taught Foreign Policy and National Security at Stanford since 1981. Rice won two of the highest teaching honors: the Walter J. Gores Award for Excellence in Teaching and the School of Humanities and Sciences Dean's Award for Distinguished Teaching.
4. University of California, Los Angeles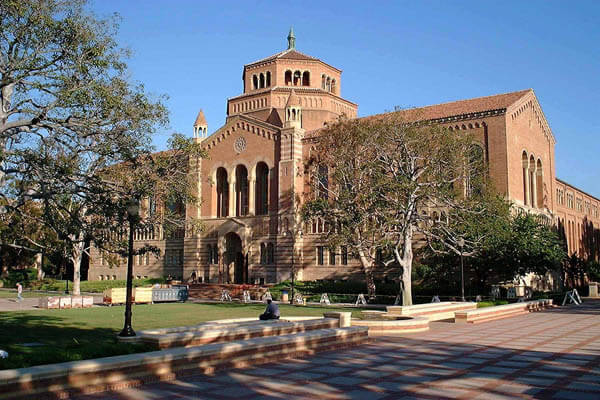 At UCLA, the celebrities aren't just your professors, they're your classmates, too. Jack Black, John Cusack and Helen Hunt attend acting workshops and theater classes taught by Hollywood veterans like Tim Robbins. Hundreds of working actors, filmmakers, directors and cinematographers return to teach younger generations of students. Actor James Franco, a UCLA graduate, has taught film classes at the UCLA School of Theater, Film and Television since 2012. Hollywood stars can't hold in their talent, they have to share it with the world and help out aspiring actors, too.
3. Columbia University
From physics to creative writing, Columbia's faculty has risen to the top of their field to school students on their craft. Lifetime Achievement Award for Distinguished Achievement in Motion Picture Direction winner Milos Forman inspires students in the film department, and filmmaker Spike Lee delivered a commencement speech at the Teacher's College graduation. String theorist Brian Greene, who published a number of novels and recently made a cameo appearance on the Big Bang Theory, co-directs the university's Institute for Strings, Cosmology and Astroparticle Physics. Aside from science theories, gender theorist and author Judith Butler works with creative writing students and focuses on post-structuralism.
2. University of Chicago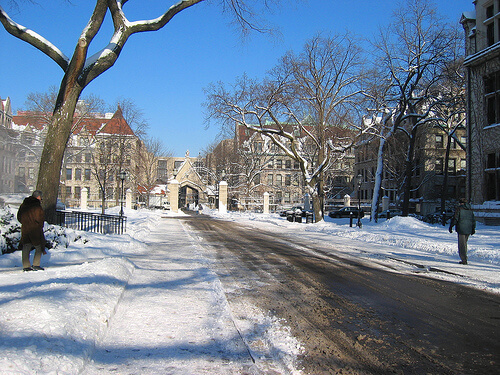 Did you know President Barack Obama taught law at UChicago from 1992 until his appointment to the U.S. Senate in 2004? "I took his class, Voting Rights and the Law as an independent study," said UChicago alumnus Dan Johnson. "He was extremely generous with his time, especially since he was working three jobs at the time, and very accessible." Obviously, the U.S. Commander in Chief doesn't have time to lecture students anymore. Plus, lecture halls would look pretty ridiculous full of secret service agents. "If I could go back, knowing he'd be elected president, I'd take every single one of his classes that he offered," said Johnson. Supreme Court justices Elena Kagan and Antonin Scalia also graced Chicago's law faculty, but UChicago's impressive faculty doesn't end on the political and legal spectrum. The Booth School of Business' faculty includes Nobel Laureates Eugene Fama, Christian Leuz and Richard Thaler. Over at the Graham School of Continuing Liberal and Professional Studies, film critic Roger Ebert had been lecturing students on film for over 37 years.
1. New York University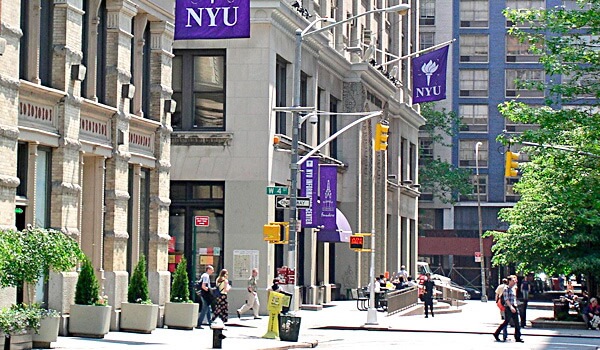 Name the subject, New York University has a famous expert to bestow students with their wisdom. One of the largest private American universities, NYU's faculty welcomes filmmakers, actors, politicians and authors. Within the Tisch School of Arts, actor James Franco and director Spike Lee give lectures on film for graduate students. Questlove, the drummer for The Roots, recently began Classic Albums, a new curriculum that strives to give students a greater understanding of classic music. "It was one of the most interesting and engaging classes made possible by his incredible sense of music history, personal experience, and endless knowledge of music," said Zachary Tuch, one of Questlove's former students. "He provided anecdotal stories of his own experience with funk music that coupled his phenomenal memory of historical events—it was truly an experience unmatched by any other." Equally extensive is NYU's creative writing program faculty, which includes Jonathan Safran Foer, the author of "Extremely Loud and Incredibly Close," E. L. Doctorow, author of "Ragtime," and Zadie Smith, author of "White Teeth." On the political front, Supreme Court Justice Sonia Sotomayor taught as an adjunct law professor at NYU for almost a decade.
For More College Rankings, Check Out:
The Top 10 Hardest Colleges to Get Into
The 10 Most Powerful College Alumni Networks
Top 10 Universities for Aspiring Writers
Top 10 College Towns You'll Never Want To Leave