Wish your mascot wasn't so lame? These students don't. From Mary Balwin's Fighting Squirrels to Syracuse University's Otto the Orange, the college world features every kind of mascot imaginable. But what makes these mascots truly memorable? How well they pump up a crowd, of course. From the cartoon fighters to the spirited living creatures, these mascots aren't just unique or "the best." Instead, these mascots all embody, emphasize and embrace school spirit in the loudest, quirkiest and altogether rowdiest ways.
Testudo (a terrapin turtle) isn't the rowdiest college mascot because he runs around the field, tackles people or leads cheers. Instead, this giant sculpture brings out the rowdiness in the students themselves. In true turtle form, slow and steady wins the race as he sits stoically, guarding the field against rambunctious college students. One UMD alumnus said, "There's a brass or bronze terrapin statue outside of the graduate school library. Everyone touches its nose for good luck, so the nose is very shiny and the rest of the thing is very tarnished." After one too many kidnappings from rival schools, the school moved its beloved statue in front of the library and weighed it down with 700 pounds of cement. Now, Maryland no longer receives requests that they come collect their mascot from places like the University of Virginia's lawn; however, Testudo still relies on faithful Maryland students' protection. One year in the 1950s, Johns Hopkins rival students were caught attempting to graffiti the statue. In return, Maryland students shaved the Hopkins students' heads.
9. Mike The Tiger, Louisiana State University
A mascot so wild it's literally behind bars? Sounds a lot like LSU's live tiger. Named Mike after the athletic director who collected 25 cents from every LSU student to first purchase a tiger in 1934, this mascot sits next to the visiting team's locker room, provides a perch for cheerleaders' entrance to the field and cheers the team on from the sidelines. Since his introduction, students have embraced Mike, and their love for him has only grown. From a school strike to welcome him in the 30s to a new habitat of 15,000 square feet, a waterfall and a live "Tiger Cam" to view him at any time of the day—well, let's just say Katy Perry's got nothing on this guy's roar.
8. Chief Osceola, Florida State University
This mascot's intensity gives every other mascot a run for its money. "There's just this energy when Chief Osceola charges onto the field with his horse, Renegade. The stadium comes alive; all the students are singing the war chant and choppin' away; it's really a magical moment," FSU alumnus Devin Fernandez said. Instead of a musket, Chief Osceola plunges a flaming arrow into the ground to start off every game and rile fans up. Osceola embodied rowdiness by leading a group of warriors in the fight against colonial rule. Now, he and his trusty steed Renegade, bring this same passion to the field. "Horses have always been a symbol of power and grace, and we're lucky to have such a tradition at Florida State," Fernandez said. Bonus: Not only is the man chosen as Chief Osceola chosen because of his smarts (above a 3.0 GPA) and moral character, he also needs to be able to ride bareback. Giddy-up!
7. Fighting Pickle, University of North Carolina School of the Arts
You might consider this mascot pretty cheesy, but it truly embraces the school's sweet and vinegary nature. In 2010, UNCSA students found themselves with the first official mascot design, the culmination of a contest reveled at an event where students ate fried pickles at the school snack bar, the Pickle Jar, while listening to the Sweet Pickles, an a cappella group.
6. Sammy The Banana Slug, University of California, Santa Cruz
Sammy might seem small and squishy, but under the smiling and lovable costume beats the heart of a rebel. UCSC embraced Sammy as a symbol for inclusivity over competition. He makes waves precisely because of his distinctly non-confrontational form comments on how athletics should be open to all rather than insanely competitive and high pressure. Even the chancellor's desires and a sea lion painted on the basketball court couldn't sway the students from their support for Sammy. In 1986, a student vote convinced the chancellor to make the banana slug UCSC's official mascot.
5. The Mountaineer, West Virginia University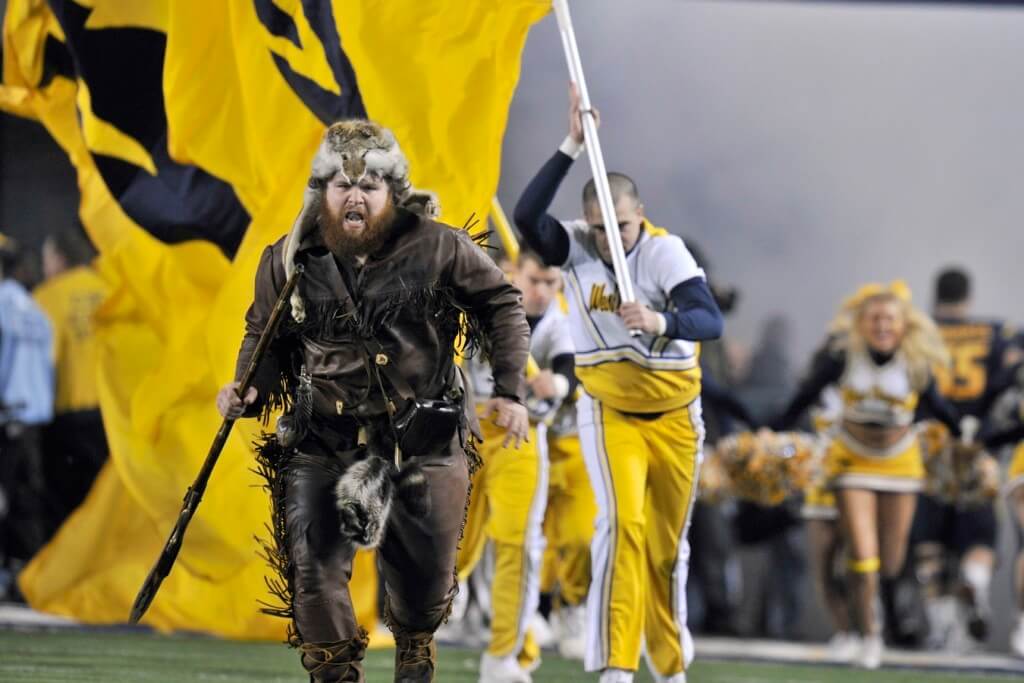 What's rowdier than a sexy mountain man? Not only is West Virginia's mascot bearded and strong, but he's also got personality. Each year, the Mountain Honorary, a group that celebrates students' character, commitment, leadership and good academic standing, chooses its Mountaineer. "Our Mountaineer Mascot is one of the most popular students on our campus and individuals in our state." The student makes over 300 appearances at West Virginia schools, hospitals and social service organizations. "I believe that every Mountaineer Mascot will tell you that aside from athletic events, their favorite appearance is with the wonderful children of our state," Mountaineer Mascot Advisor Sonja Wilson said. He's also got good aim, as he fires off victory musket shots after the first half of various teams' games.
4. Puddles The Duck, University of Oregon
Disney isn't just for kids anymore. Hidden under Puddles' Disney-like design sits one rowdy spirit. In 1947, Oregon moved away from a live duck mascot and to this cartoon costume to represent "The Webfoot State." Through Puddles' outfit changes, the students embraced his cuddly design. In fact they even voted against a costume redesign that had threatening teeth. "I have never actually seen him in person, but I do know he's super trickster-y, something like a prankster," Oregon native and Art Institute of Portland senior Kamran Ali said. In this case, Puddles doesn't need the teeth, he shows off his "fighting ducks" sprit through his constant face off with other mascots. He keeps himself fit and ready for altercations with post touchdown pushups and, in 2007, he was even suspended for attacking the Houston Cougars mascot.
3. Ralphie The Buffalo, University of Colorado
This mascot needs a team of students to contain her rambunctious nature. Since 1967, Ralphie, the school's live buffalo mascot, started off games and revamped the energy after halftime with two breathless loops around the field. "I've only seen her once and she's huge. She's basically the center of The big CU sports games. She gets the crowd hyped up before the game and is their symbol of school spirit," University of Colorado hospital scribe Linh Nguyen said. The original buffalo loop, supplemented by the "Buffalo Stomp," shook the field to the point of physical damage, so now Ralphie and the fan's excitement contains itself to an introduction of the team with a huge charge.
2. Scrotie The Penis, Rhode Island School of Design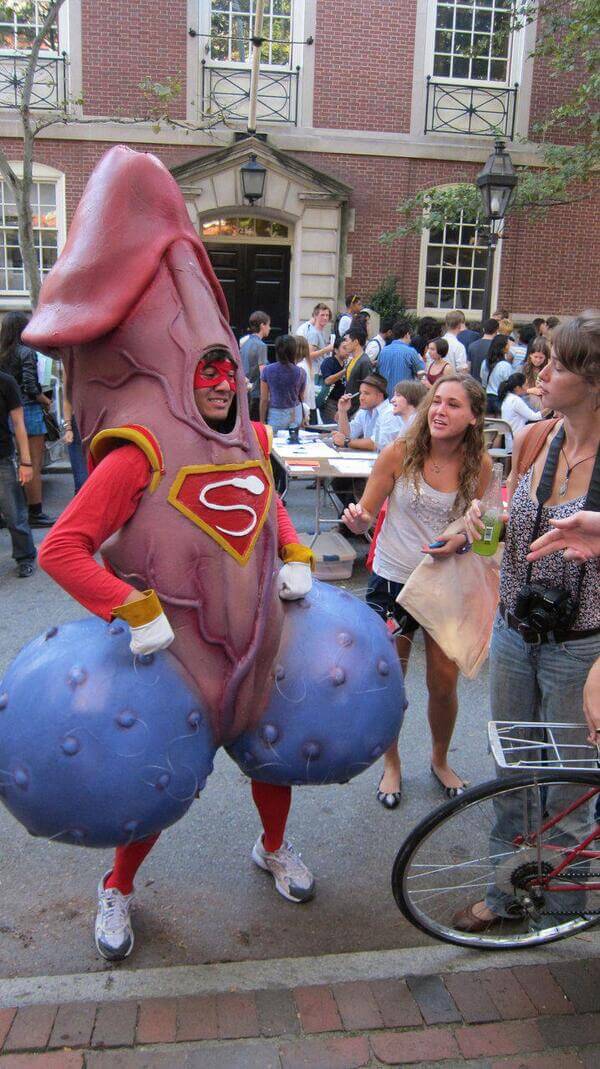 Get up and go crazy with RISD's phallic hero. While relatively new on the scene at a budding 14 years old, Scrotie, RISD's unofficial mascot has already begun to push buttons with his interesting form. This penis and his red cape underwent multiple iterations because of its controversial nature. While in 2008 the school voted to use a more "kid friendly," cartoon-like costume, RISD switched to an extremely anatomically correct red shaft and blue balls to embrace a racially unspecific mascot in 2012. Scrotie mainly reserves his presence to hockey games and the occasional student party, but many fans say: "The people cried out for a hero, and a hero came." The inspiration from Scrotie originated from RISD'd hockey team. "The hockey team used to be called 'the nads' so that people could yell gonads," RISD 1986 alumnus Mark Paul said. With this expression, Scrotie was born.
UT's live longhorn steer could give UC's live buffalo a run for her money. Ralphie vs. Bevo—now that's a fight I don't think my heart could handle. Alumnus Tomas Buffington introduced Bevo in 1892 as a symbol for the free and wild thinking encouraged at the university. Since then, the burnt umber color of Bevo has graced the football field and the "hook-em horns" hand sign consumes the bleachers. Extra rowdy moments: When Bevo III roamed loose on campus for two days, when Bevo IV attacked a car and when Bevo V charged the Baylor band. The moral of the story? Don't cross Bevo unless you can handle the horns.
Want More College rankings? Check out:
10 Universities with Badass Marching Band Traditions
CM's Top 10 Schools for Football Fans