Here in "The Nasty," Florida State University students know how to down a few PBR's and make a Friday night unforgettable. But after all the shamelessly plastered feelings fade from the house party at The Commons, or when your high-"waisted" shorts start to bother you at "Brittany's 21st Waltz!" at the Strip, the inevitable drunchies make your stomach grumble. Whether you're a seasoned partygoer or a baby Nole with a lot to learn (you still think Coliseum is fun), nothing finishes off a night out like the greasy, calorie-ridden food your drunken soul craves. Grab an Uber or your poor friend who always DD's and drag them with you to one of these late-night Tallahassee gems.
1. Guthrie's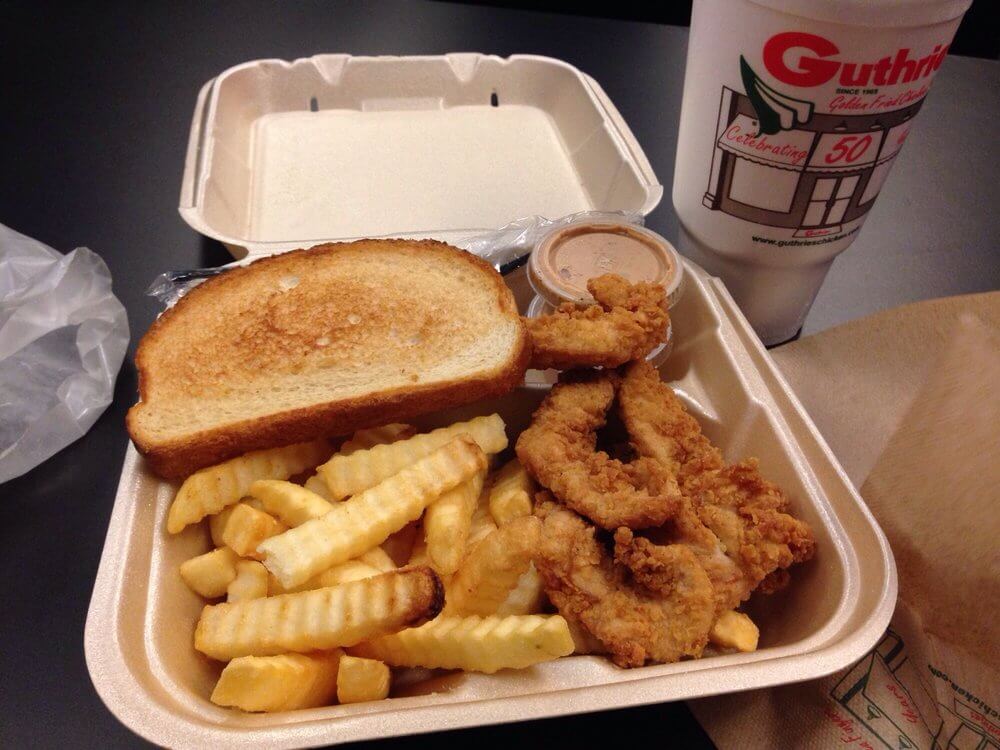 Guthrie's chicken finger box might seem reminiscent of a Zaxby's meal, complete with a signature sauce, but its popularity as a late night food hot spot over the latter mentioned chain is undisputable. Open till 4 a.m. for those Seminole night owls, Guthrie's recent renovation transformed it from a place you feared for your life into an adequately safe and sterile green-tented building. Guthrie's proudly serves only chicken fingers, refusing to cave to pressures to conform to the chicken filets. Their crinkle cut fries and salty, savory fried batter indulges your deepest drunk tendencies to eat more than you can handle. "It's the club after the club. I call it the fried chicken 'let out'," FSU senior Shaquala Butler said.
2. Gumby's Pizza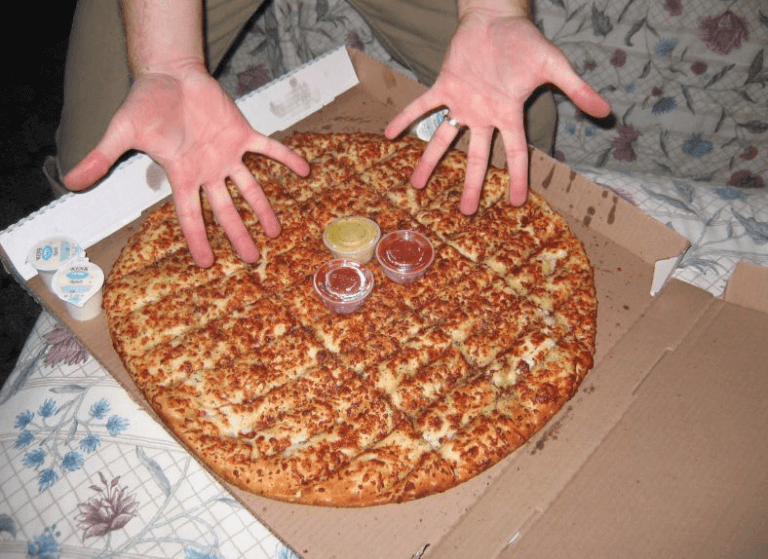 Gumby's Pizza is a sight for sore eyes after a Friday night bottomless drink special at Bullwinkles. Sure, you drank about nine tequila sunrises, each the size of a shot, but you're still coherent enough to devour a box of Pokey Stix, fresh baked pizza crust smothered with mozzarella cheese, garlic butter and italian spices, ready to dip in ranch. "I live across the street, so it's my usual place to get drunk food," FSU senior Hayden Saul said. "It's the warmest, cheesiest ranch covered explosion I could ever want in my mouth." And if you dare, split a Stoner's Pizza with a friend that won't judge you for eating a pie topped with mozzarella sticks, French fries, bacon, pepperoni and more cheese than you can imagine.
3. Chubby's Chicken Fingers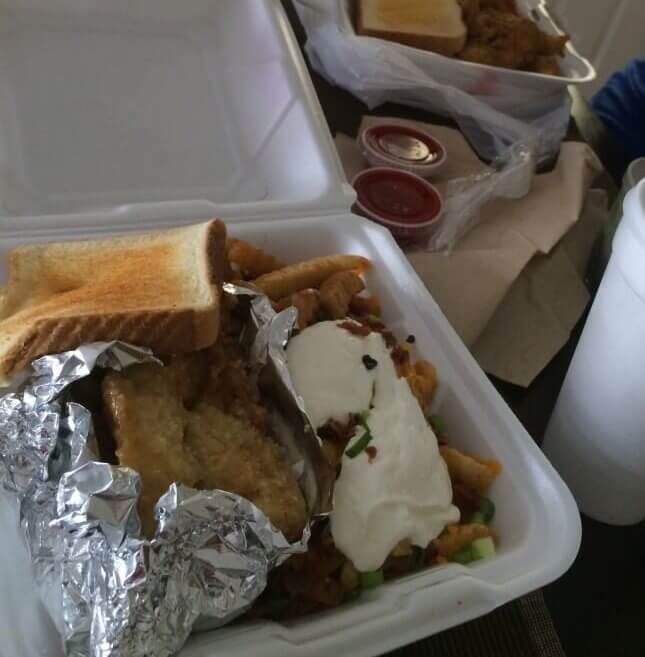 At the corner of N. Monroe and Tennessee lays one of Tallahassee's most underrated late-night food options. Chubby's Chicken might look rough around the edges from its shabby, gray-cemented exterior, but their hot, crispy chicken fingers will make your alcohol-addled taste buds go wild. Chubby's provides pick-up orders until 4 a.m., so grab a box of their buffalo garlic-parmesan wings and scarf them down in the backseat of your best friend's car. "The atmosphere of the Chubby's drive-thru, combined with the employees constant lack of happiness, makes pulling away from the window with a box of fresh chicken, along with your life, all the more satisfying," FSU junior Steve Kipikash said. Trust me—you won't care where you got those chicken fingers, you'll just care that you now have them.
4. SumoSabi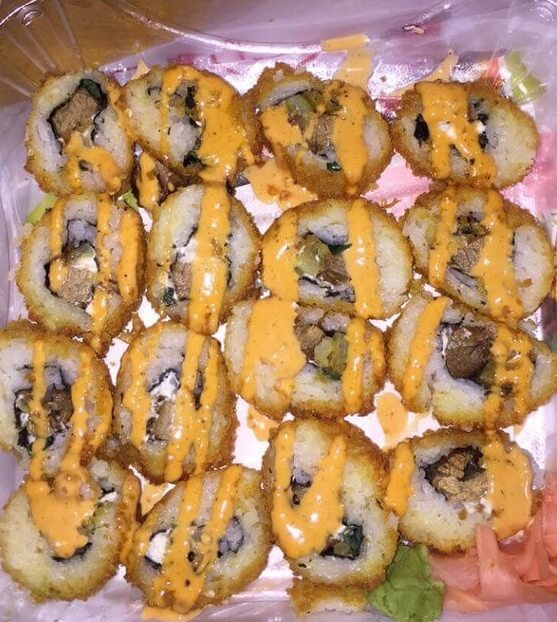 SumoSabi offers the fast-food rendition of the sushi you crave on the daily without the high cost. Open until the wee hours of the morning, SumoSabi's sushi stands a fighting chance against Publix sushi and its heaviest competition, Mr. Robotos, only open until 11 p.m. While no one has really gotten to the bottom of the prevalent desire for sushi under the clear and present threat of drinking-induced nausea, sushi still remains a popular drunk desire, y'all. Order the jam packed T-Rex roll, stuffed with tuna, salmon, krab, avocado, scallions and fish rice, topped with a zesty krab salad. Or, for the intoxicated vegetarian, grab a tofu hibachi dish to-go, with scallions, veggies and rice, drizzled with teriyaki sauce.
5. California Chicken Grill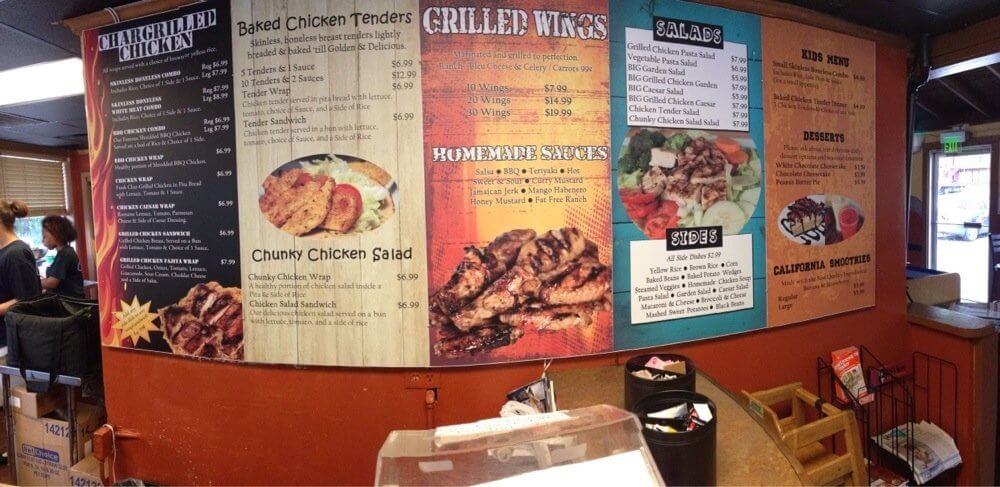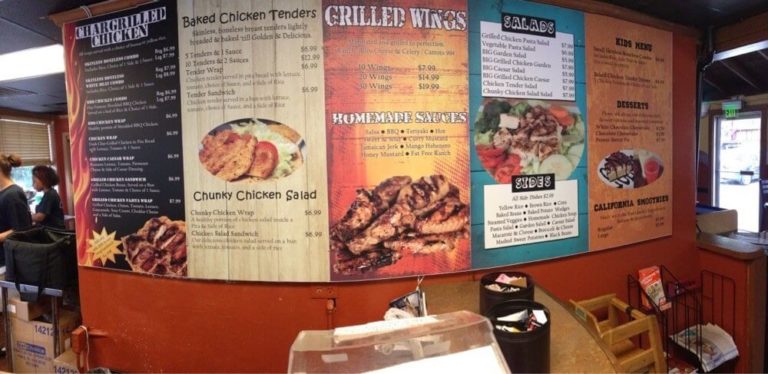 Take a second to settle your wobbly legs at the hole-in-the-wall restaurant, California Chicken Grill. Close to campus and a mile walk away from Baja's Beach Club on Pensacola Street, tis Chicken Grill will convince you that fried food isn't the only way to go when looking for some late night grub. Fans rave of their honey mustard sauce, paired with a wide selection of grilled chicken wraps. Order a Grilled Fajita wrap to go or have one delivered up until 3 a.m.; its blend of onions, tomatoes, lettuce, guacamole, sour cream and cheddar cheese will satisfy you without making you feel like you're drowning in a vat of grease. Pairs well with a post-night out Vodka tonic.
6. Doughlicious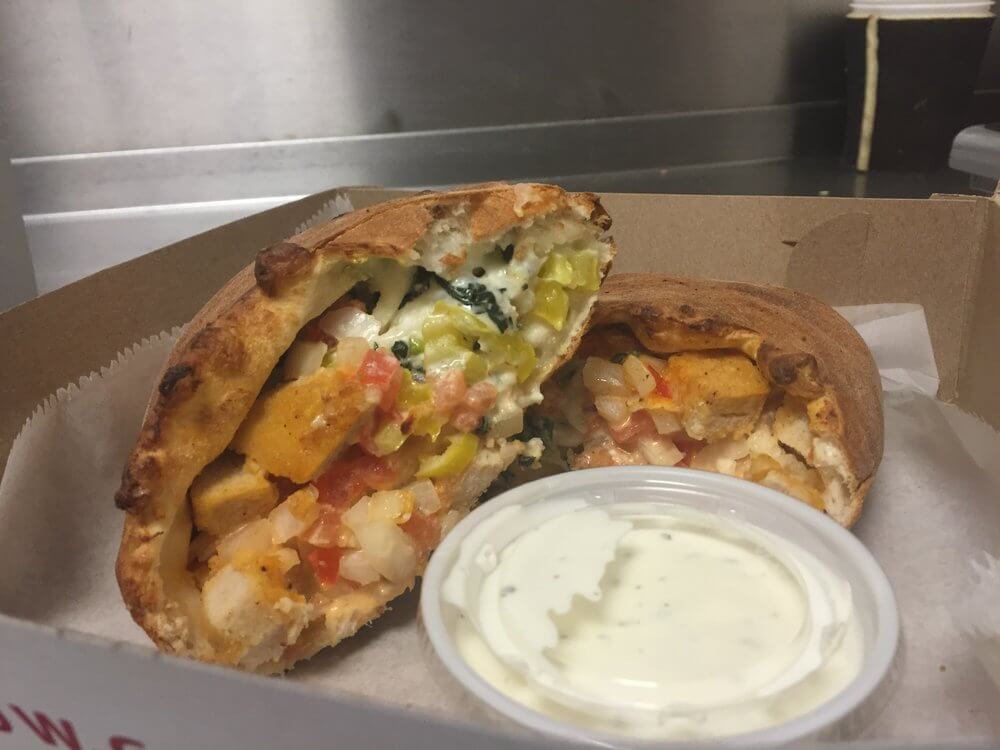 In the mood for something more substantial than the fast food options near the heart of FSU's campus? Call Street's Doughlicious will send you straight to antiquated streets of Florence, Italy with their doughy, melt in your mouth calzones. "One night after The Strip, I went to Doughlicious and got the Chipotle Chicken Calzone, and it was literally the best thing I've ever had," FSU senior Leven Roberts said. Okay, at least they'll do their best to convince you of that until 3 a.m., even on weekdays. Choose from a selection of their signature calzones, with recipes such as the Wake 'N Bacon, a breakfast calzone with potatoes, bacon, salt and pepper and mozzarella and cheddar cheeses. Not in the mood to think inside the box while the world is still a little blurry? Make your own calzone with up to four toppings; get two and pay only $11. Mmm, carbs.
7. Jimmy John's on West Tennessee Street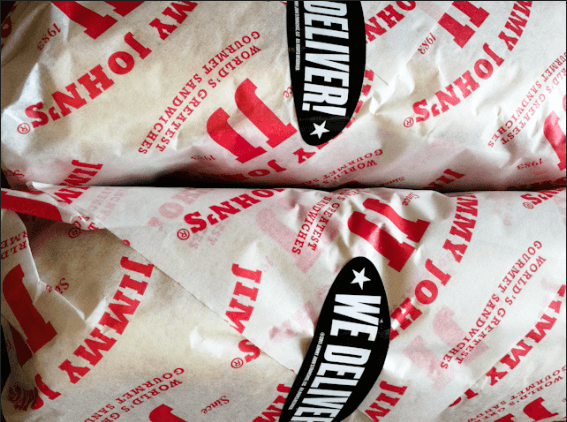 Sometimes, our drunchies don't kick in until we're comfortably seated on our couches at home. Never fear—"Jimmy Johns" is a staple contact in your new Iphone6+, so you'll be able to reach "freaky fast delivery" with the click of a button. Or maybe a couple clicks, depending on the amount of margaritas you downed at Pot's Happy Hour. "What's the one thing we all crave the most after a long night of drinking and dancing and flirting? Jimmy Johns," FSU senior Alec Moretti said. "It's the only part of your night you won't regret in the morning." If your party-consumed day didn't account for meal times, order the J.J. Gargantuan, an enormous sub teeming with genoa salami, sliced smoked ham, capricola, roast beef and provolone. Smothered with onions, mayo, lettuce, tomato, and their homemade Italian dressing, this sandwich will fulfill the day's worth of calories you're about to miss.
8. Chick-fil-A Drive Thru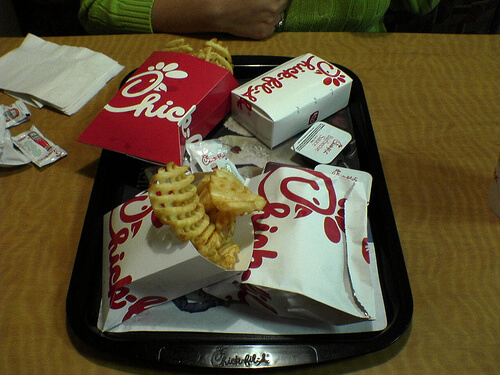 Truett Cathy would roll over in his grave if he knew the number of inebriated students rolling through the drive-thru of Chick-fil-A West Tenn at 2 a.m. (passenger and backseat only). Yes, Tallahassee's nightlife is so poppin' that the "Christian Chicken" opens its double lane drive-thru until 3 a.m. Monday through Friday. "I've spent many a late night in that drive-thru," FSU senior Lindsey Welton said. "One time, I watched the passenger door of the car in front of me open up and a poor girl puke out of it. I hope the Chick-fil-A helped to refill her stomach." For the intoxicated health nut, order Chick-fil-A's grilled nugget meal with their new super food salad, a toss of broccolini and kale in a honey vinaigrette dressing, served with a side of roasted nut blend. Or, throw caution to the wind and order a Spicy Deluxe meal large, topped with melted pepper jack cheese, lettuce, tomato, and signature southern style pickles. Take your chicken home and eat in the comfort of your own bed—complete with binge-watching Netflix until you fall asleep.
9. Whataburger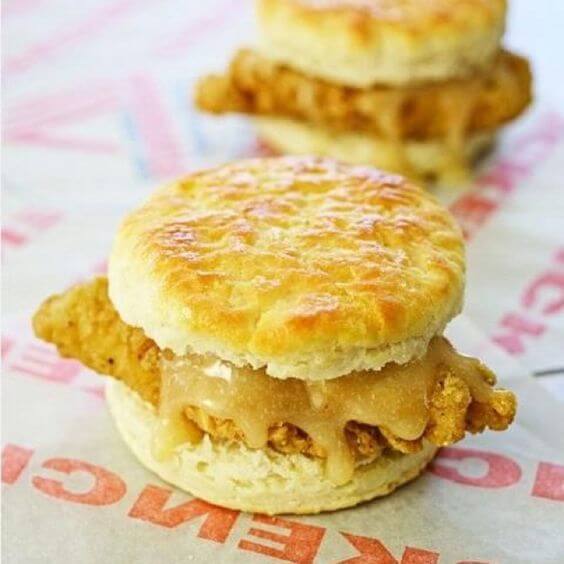 Another 24-hour joint, Whataburger provides the same grease level of Micky D's (so don't worry) but with a slightly more sophisticated menu. Stumble into Whataburger's orange and white, attempted diner atmosphere and order the Jalepeno and Cheese Whataburger or the limited time offer Avocado Bacon Burger—both self-explanatorily delicious. "The honey butter chicken biscuit is good for any meal, and the patty melt is the best thing ever when you're drunk," FSU junior Mackenzie Murray said. Make friends with the security guards on duty and of course, channel your inner Lesli Knope and order breakfast from 11pm-11am.
10. McDonald's West Tennessee St.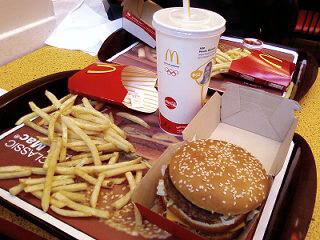 Nothing says "Tallahassee Night Life" more than the Golden Arches on Tennessee Street, located right next to the infamous Strip. "It's a great place to sit back, relax and enjoy the Tallahassee nightlife," FSU junior Emily Mungul comments. Whether you're crouched in a booth, tear streaked and emotional-eating a large fry because you saw last week's hook up with another girl in Encore, or caught in an infamous frat fistfight in the parking lot, McDonald's will hit that late-night sweet spot. Use the five bucks change left over from paying cover to buy five McChickens on the dollar menu, and share with your friends. Or don't. Just remember not to count on an M&M McFlurry to satisfy your sweet tooth; their ice-cream machine is broken.