Here in Tallahassee, you're never more than 50 feet away from a slice of pizza. As a result, I eat that cheesy, sauce-y goodness about four times a week. From authentic New York pizza to pizza slices "As Big as Your Head!" Tallahassee provides 'Noles with an abundance of pizzerias to fulfill our hangover needs.
1. Gumby's Pizza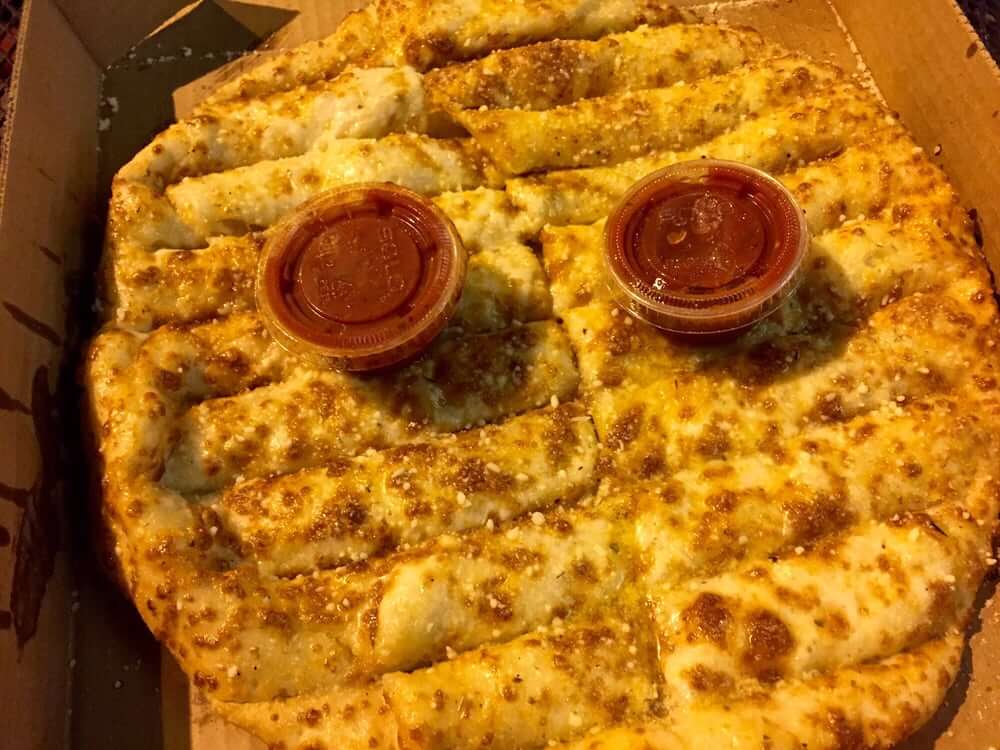 Wedged between Pitaria and the tragically out-of-business Atomic coffee, Gumby's green, red and yellow paint makes it the most noticeable building on Tennessee Street. This late-night pizzeria provides the college crowd with The Stoner Pizza, an already great pie topped with mozzarella sticks, bacon, pepperoni and french fries for drunk students with absolutely no self control. Grab a stack of Pokey Stix, glimpses of heaven in the form of pizza dough, garlic butter sauce and mozzarella for just $10. Their thick crust and abundance of cheese pampers all of your deepest food fantasies.
2. Decent Pizza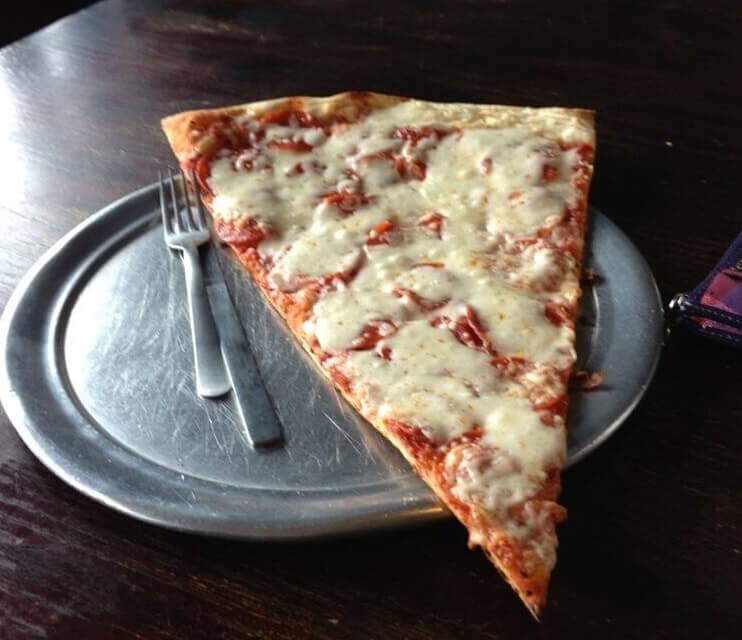 With a few tables and hole-in-the-wall feel, take a pizza to go on your way to your girlfriend's at Decent Pizza. Decent takes the cake (or pie?) for the most creative pizzas, with names like Devil's Sweet Chicken, and The Ben. The Ben features an olive oil base, onions, peppers, pineapple and a garlic parmesan crust. Decent's thin slices provide a satisfying crunch, and their hot wing pizza topped with chicken, Frank's Hot Sauce and mozzarella will melt in your mouth. While thin, the slices are cut huge. "I eat like a monster and 2 slices of their pizza fills me up," Florida State University recent grad Jake Harrelson said.
3. Brooklyn Pizza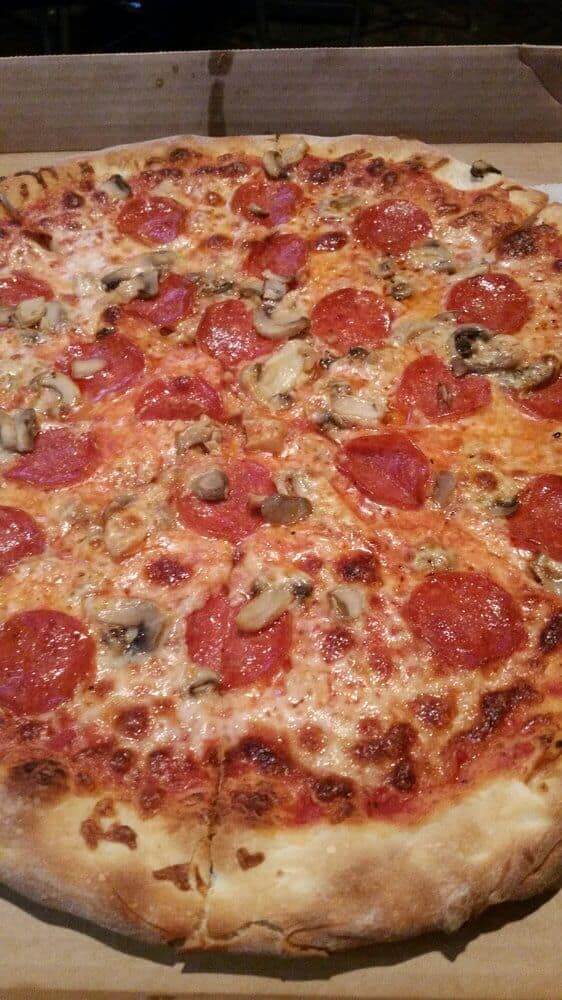 Brooklyn Pizza's bright blue walls and neon beer signs screams "classic city bar" like no other. For this reason, Brooklyn Pizza nails the spot for one of the best places to just hang out and relax. Their New York inspired pizza brings home the flavor that the Big Apple offers. Their no frills menu proves itself on the flavor alone, so order a pepperoni and indulge in a classic pie that will transport you to the streets of Manhattan itself.
4. Red Elephant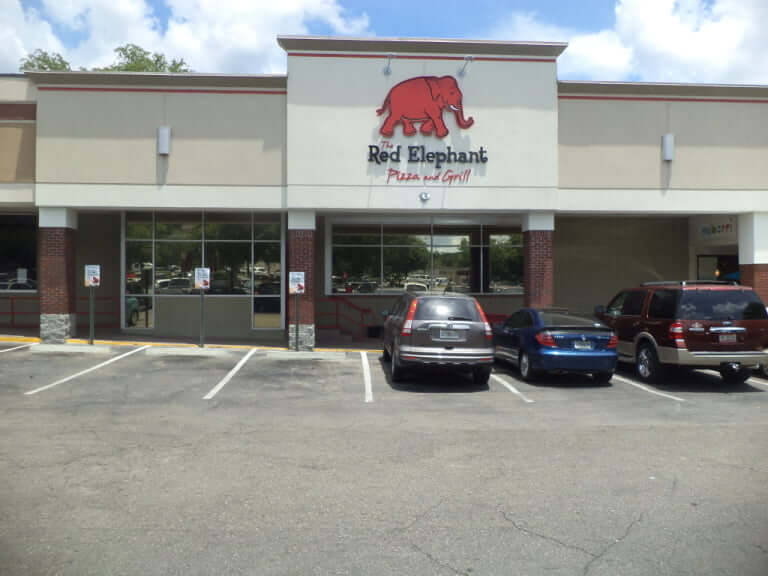 Red elephant achieves the title of "Royalty of the Personal Pizza." Red Elephant piles your pie high with cheese and your favorite toppings. Pick up an individual pizza for a cheap $8 or a medium for $12. Overload yourself with meat in Red Elephant's Meat Lover's pie, topped with mozzarella, Italian sausage, pepperoni, ground beef and bacon. If your friends aren't feeling like eating pizza, this place provides great alternatives like burgers, wraps and salads.
5. Dave's Pizza Garage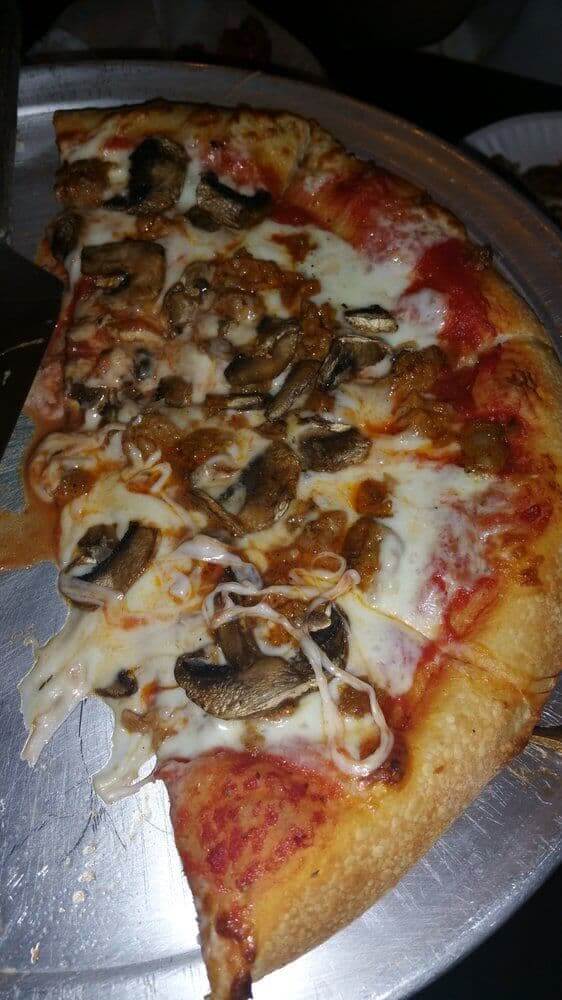 Dave's Pizza Garage's open interior and a kitchen visible to guests creates an authentic space for devouring your favorite pie. Their sweet tomato sauce hits the spot after a long day of class. Grab a slice of The Cheater, a pie topped with mozzarella, pepperoni, chicken fingers and pineapple. Their high quality pizza matches that of their service. "All of the servers are very friendly, and Dave usually makes sure to come out and talk to you about your experience to see if things are going well," FSU senior Joanna Oliva said. Add a drink and leave Dave's Pizza Garage spending only $6.
6. Mellow Mushroom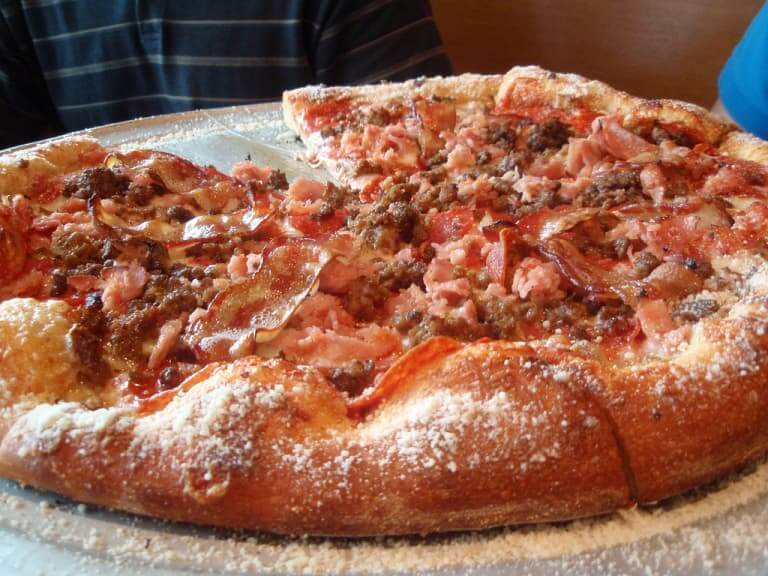 Mellow Mushroom's sets the stage for its decorative FSU themed interior with a sign that displays a stoned mushroom throwing a pizza. Most Mondays, they host themed trivia nights, covering topics like Game of Thrones, Doctor Who and Gossip Girl. Give their specials a try; they frequently offer half-price drinks. Their buffalo chicken pizza's flavorful and tangy buffalo sauce compliments their doughy pizza crusts. "Their crust is the best part—thick and coated in Parmesan cheese. Their specials are perfectly catered to college students, with $10 large cheese pizzas on Sunday's," FSU senior Brianna Shoaf said.
7. Uncle Maddio's Pizza Joint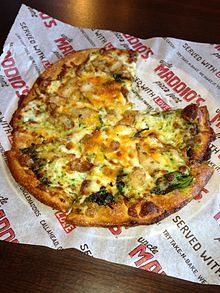 "One day my friend and I were exploring Tally when we first moved and we went in to Uncle Maddio's. It was like chipotle where you could add any toppings you wanted, but instead it was pizza," FSU recent grad Madison Flanders said. Despite the distance from campus, Uncle Maddio's whole-wheat crust pairs well with any topping. Their brick walls and buffet setup creates a bustling, big-city vibe. This place makes your pizza right in front of you; just tell them what you want on it. They incorporate a wide and unique variety of toppings to create your own pizza, including jerked chicken, grilled angus steak and black bean corn salsa.
8. Joe Mama's Wood Fired Pizza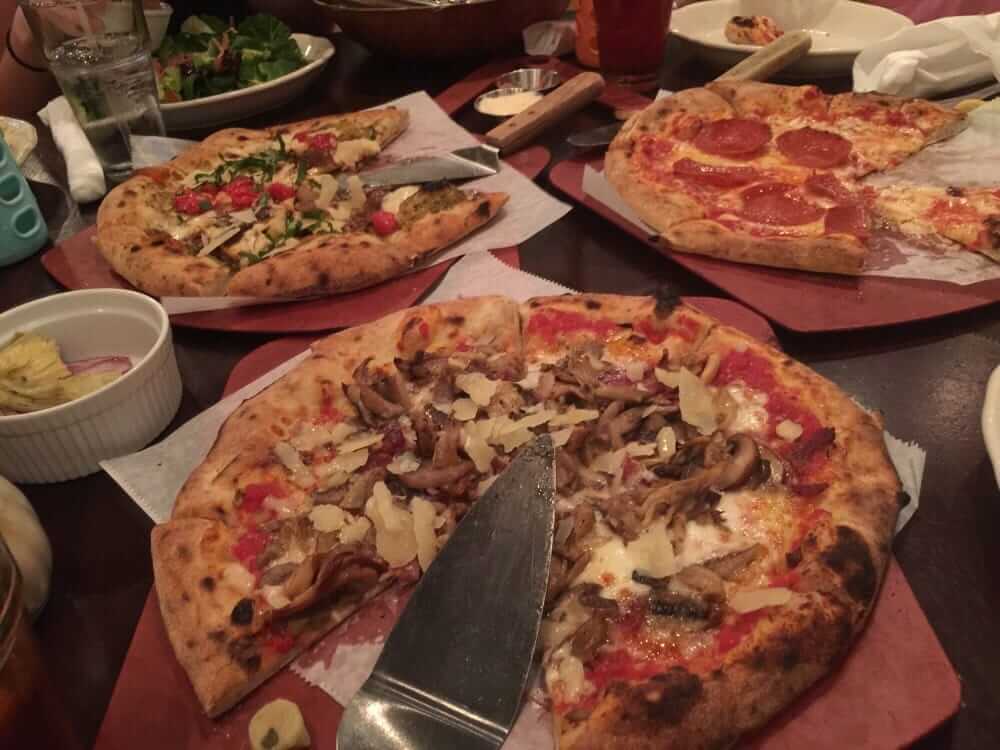 The slogan, the sign out front and their menu all push their "Wood-Fired" hard to produce some damn good authentic Italian pizza. Multiple televisions provide a place to kick back and enjoy watching your Seminoles win the World Championship. Joe Mama's polished, upscale interior mirrors the intricately made, fresh pizzas as well. Il Calabrese, for example, features Calabrese Salami, peppers, mozzarella, scallions and caramelized onions.
9. Gaines Street Pies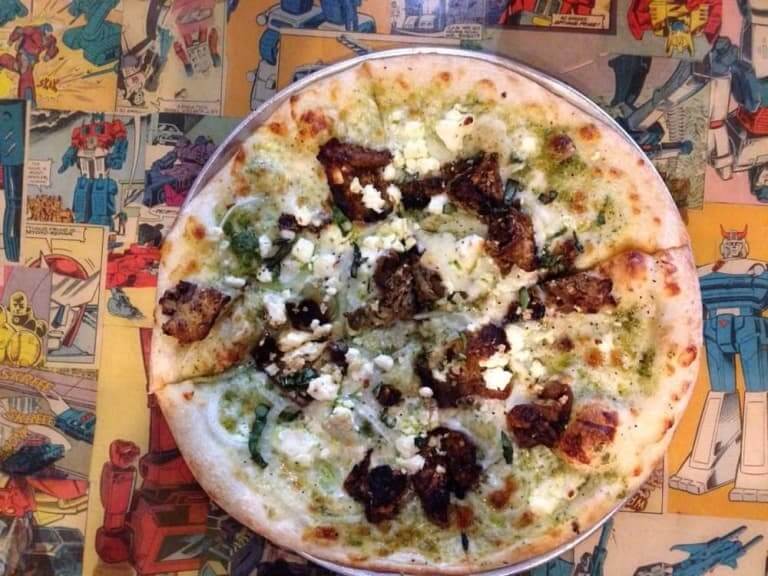 Located at where else, Gaines Street, cool and original comic book imagery bombards you as you walk through the doors. "Gaines is great for a casual date or with friends. You can go back and forth between Grassroots, the bar next door," FSU senior Emory Mulick said. Superheroes and super villains of their own design plaster the walls, and comic book covers hang around the restaurant. The walls themselves mimic the mishmash of colors in comic book panels, featuring robot pizza ovens and dough monsters. Gaines Street Pies serves creative pizzas like the My, My! Breakfast Pie! topped with bacon, eggs, ham, cheddar, bell peppers and potatoes.
10. Momo's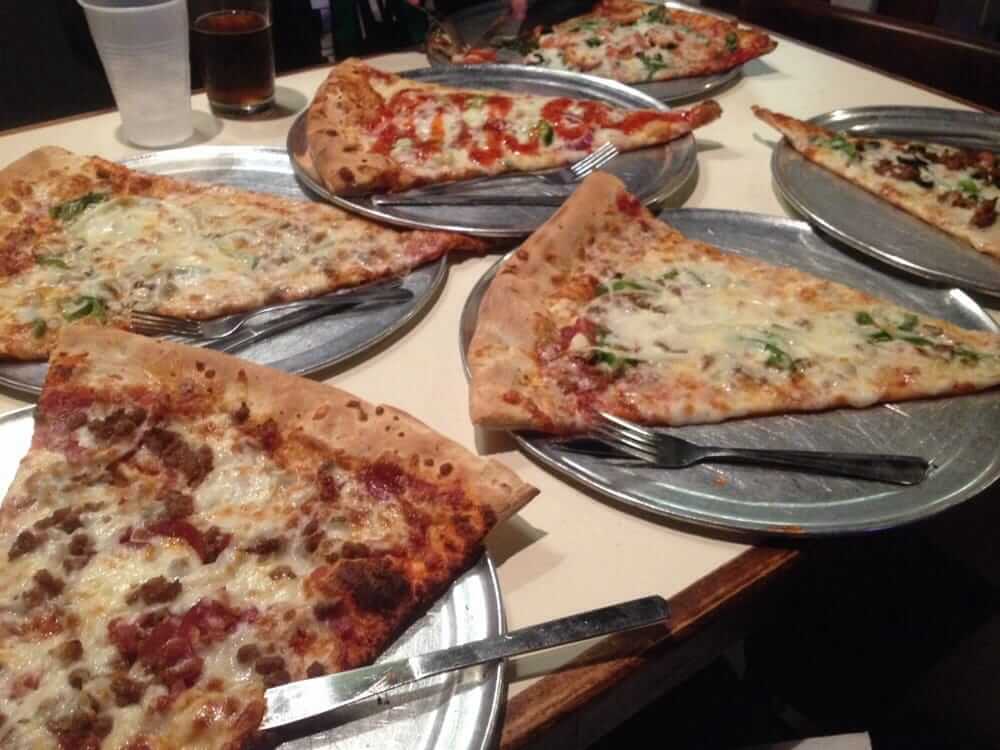 "As cheap as a slice was, I ordered two. Once they brought them out, I realized that I had made a huge mistake," FSU junior Will Anderson said. Take a look at the pies of Momo's and contain your shock; yes, a large pie is the size of a tractor wheel. With a slogan that compares their slices to the size of your head, Momo's brings its pizza game in not just quantity, but quality. Enjoy a slice (or half of one) in their grungy, dimly lit interior. Pictures of music legends line the walls next to pictures of the employees themselves, talking, laughing and hanging out at work while tossing dough. With a location that's just a 10 minute walk to campus, grab your roommate and dare each other to eat more than one slice this Saturday; think you can do it?
Take your love for Tallahassee pizza to the next level.