Everybody deserves to feel safe on campus. Whether you're already waving the rainbow flag or still figuring out who you are, you need a college where you can feel authentically yourself. If you're searching for LGBTQ+ friendly colleges decked out with safe spaces, inclusive health care and gender-inclusive restrooms and housing, look no further.
Read on for College Magazine's top 10 LGBTQ+ friendly colleges in 2020.
10. Columbia University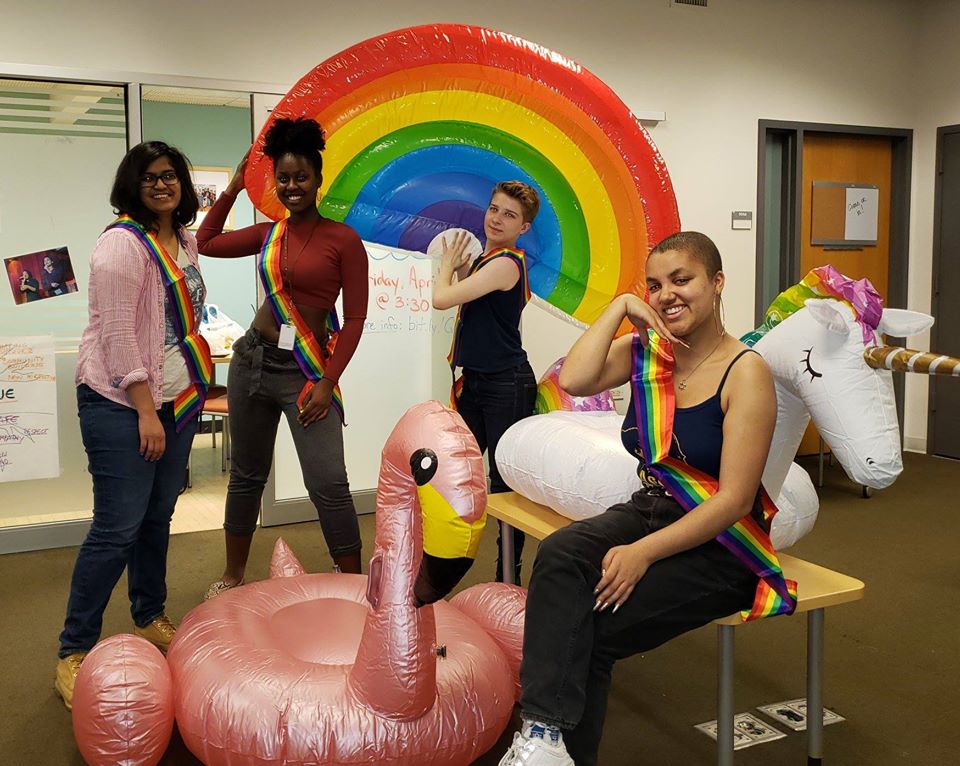 Taylor Swift said it best: New York City is where "you can want who you want, boys and boys and girls and girls." At Columbia University, LGBTQ+ students can express their true selves (and explore the greatest city in the world while they're at it). "My experience has been overwhelmingly positive at Columbia. There's a bunch of LGBTQ+ students on campus, as well as a large group called LGBTQ+ at Columbia that acts like an affinity group with strong ties to the administration," sophomore Eva Westphal said. "Personally, I have never encountered any homophobia on campus or in New York City, and I consider myself to be really lucky. I feel very safe holding hands with another girl on the subway or around the city." From a queer and trans-friendly body positive pool party, Q-Splash, to CU Out on the Town, a chance to explore gay landmarks in NYC, being gay at Columbia is a cultural experience.
On campus, the Women's and Gender Studies program offers LGBTQ+ themed courses including Introduction to Sexuality Studies and Transgender Studies – Themes and Topics. If you're looking to relax, check out the special LGBTQ+ lounge to spend time with fellow members of the community or stop by during Sexual and Gender Identity drop-in hours to discuss your own identity and experience. Students can also take advantage of the 25 gender-neutral restrooms across campus, the gender open housing policy and the Sexual and Gender Identity Team within the health center. It's truly great to be gay at Columbia.
9. Lehigh University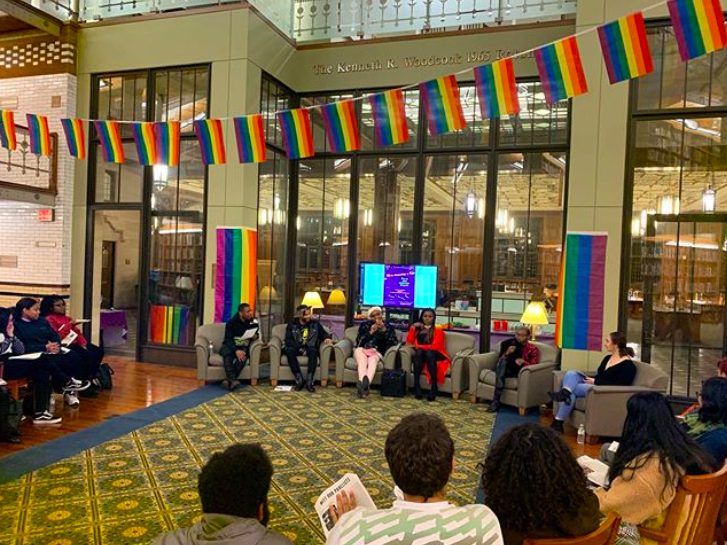 At Lehigh University, you can reap the benefits of a smaller school without worrying about small-minded people. Students at Lehigh can access gender-neutral bathrooms across campus and choose to live in the most comfortable housing option for their identity. The Health Center offers STI testing and inclusive care to all Lehigh students. Lehigh also understands the value of personal mentorship and having LGBTQ+ role models. The university keeps an active "Out List" so professors who openly identify as LGBTQ+ can share their pride with the community. Students can also serve as the queer fairy godparent of their dreams by participating in Iris, a mentorship cohort where students can explore their own identities and connect with others who share similar experiences.
The Lehigh Pride Center on campus provides a sense of community by holding weekly events, including Fierce Film Fridays, restorative yoga sessions and five different support groups. Even better, Lehigh knows that pride never stops (even for a pandemic). The Pride Center hosts weekly lunches in their virtual lounge where queer students can reconnect with one another. For students looking to explore their identity in a more academic setting, Lehigh offers both a major and a minor in Women's, Gender and Sexuality Studies. If big city student living doesn't suit you, set your sights on Lehigh.
8. Indiana University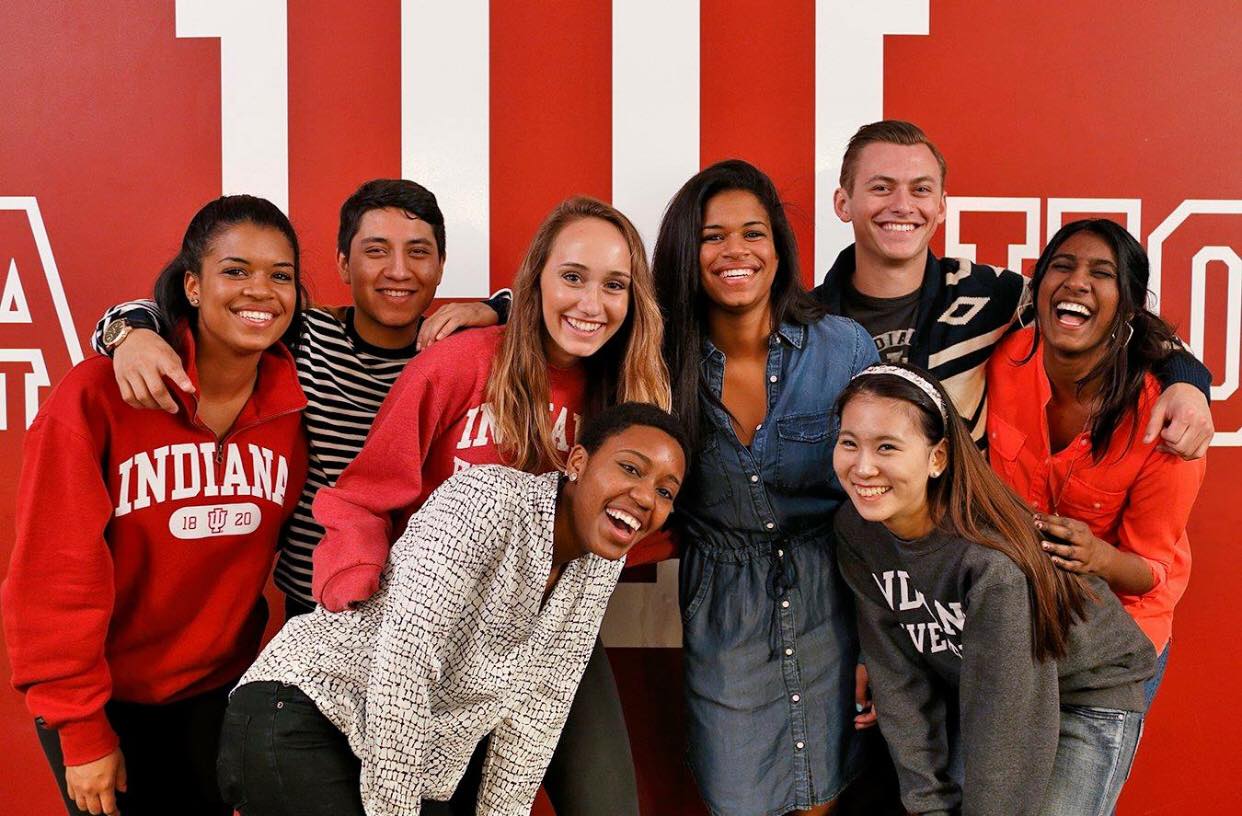 As the home state of anti-gay politicians such as Vice President Mike Pence, Indiana might not seem like the first place for LGBTQ+ to go. Indiana University wants to prove you wrong. The LGBTQ+ Cultural Center at Indiana University recently celebrated its 25th anniversary and acts as your one-stop-shop for all things queer. The center provides free HIV testing, an LGBTQ+ library and fun events like LGBTQ+ trivia night. The Center also operates an LGBTQ+ mentorship program where sophomores and above can serve as role models for first-year LGBTQ+ students.
Pride at Indiana University doesn't just end with the LGBTQ+ Cultural Center. In 2019, the school hired a new Gender Affirming Care Team within the health center. They also offer gender-neutral restrooms across campus and gender inclusive housing options, including an LGBTQ+ living-learning community, Spectrum. Students can even take courses regarding sexuality and gender within the Gender Studies program, including courses on Gender, Sexuality, and Pop Culture; Sex and Gender in Cross Cultural Perspective; and Race, Sexuality, and Culture. Over and over, Indiana University proves its commitment to helping queer and trans students on campus.
7. University of Minnesota Twin Cities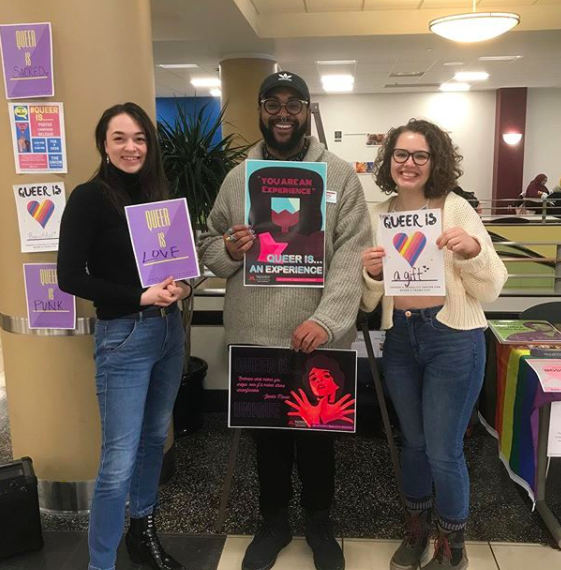 Your high school teachers might not have taught LGBTQ+ history, but the University of Minnesota Twin Cities dedicates itself to preserving it. The University of Minnesota libraries house the Jean-Nickolaus Tretter Collection in Gay, Lesbian, Bisexual and Transgender Studies. As the largest LGBTQ+ specific archive in the upper Midwest, the collection contains 3,500 feet of material including books, periodicals, personal records and more.
You can make queer history of your own by participating in LGBTQ+ life on campus. Both the Gender and Sexuality Center and the Queer Student Cultural Center offers opportunities for students to get involved. You can become a Sexuality and Gender Ambassador to promote the LGBTQ+ community on campus, act as an LGBTQ+ mentor or serve on the Trans Advisory and Action Team. Beyond extracurriculars, UMN offers safe spaces across campus with gender-neutral restrooms on both the Twin Cities and St. Paul sides, trans-affirmative health care, gender open housing and the Lavender House, an LGBTQ+-oriented living learning community. You can get involved as little or as much as you like; no matter what, you're still a crucial part of the queer community at UMN.
6. Princeton University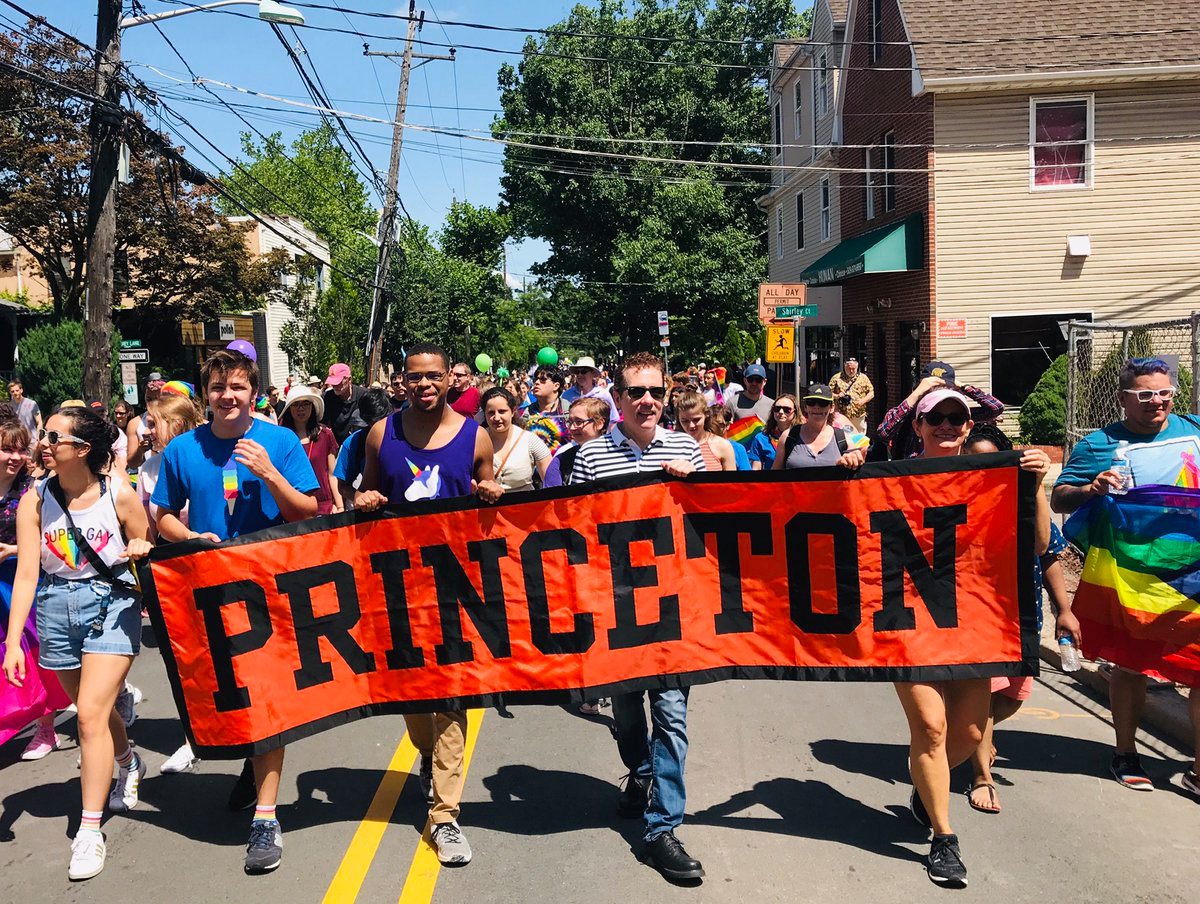 Being an LGBTQ+ student at Princeton means you'll always find a good time. Princeton puts on many unique LGBTQ+ events, including Hack the Drag, a weekend-long hack-a-thon where groups use design iteration and circuit making to design drag costumes, culminating in a drag show. Other events also pack a unique punch; from weekly support groups to niche events on Queer Tattooing and Queer Comics, something exists for everyone.
Of course, more meets the eye than just fun and games (well, who's kidding, it's still pretty fun). The LGBTQ+ Center provides a variety of resources and programs for you to explore. LGBTQ+ students can serve as Peer Educators on campus or help with the LGBTQ+ Princeton Oral History Project by interviewing LGBTQ+ alumni and staff to learn about being LGBTQ+ at Princeton over the years. "I think Princeton has probably made the list because of the funding that the LGBTQ+ Center receives and the programming that the center offers," senior Wendy Ho said. "There is also an active effort to bring inclusion into the broader campus conversation through freshmen orientation events like Difference and Dialog in Action and the LGBT Center Peer Educator program where students volunteer to talk about their experiences and educate different student groups and faculty departments." As an institution, Princeton's campus includes gender-neutral restrooms across the board and inclusive healthcare, including LGBTQ+ inclusive counseling. When it comes to housing, first-year students can request to live in gender-inclusive dorms, whereas older students can automatically room with individuals of any gender identity. Your time at Princeton not only guarantees you an Ivy League education but an inclusive, safe environment.
5. San Diego State University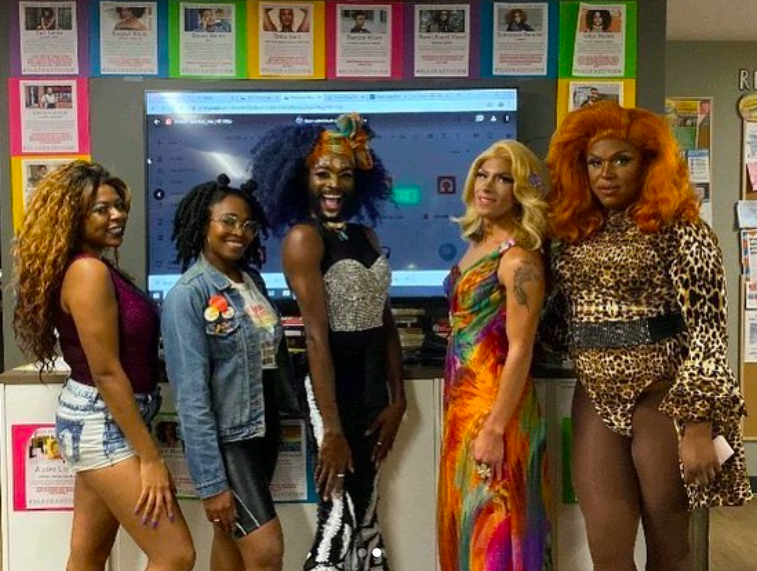 Located in a state known for always being ahead of the curve, San Diego State University is no different. As the second university in the country to offer an LGBTQ+ Studies major, SDSU offers 46 different courses on the queer and trans experience, including Gay and Lesbian History and Culture; Sexuality Past and Present; and Media and Sexuality. The program can connect students with 20 different community internships, including internships with San Diego Pride and Human Rights Campaign. With 23 gender-neutral restrooms across campus, a gender-inclusive housing option and Mobile HIV testing, SDSU strives to make campus a safe space.
Speaking of safe spaces, SDSU offers a designated Pride Center for LGBTQ+ students. The center aims to facilitate education, awareness and understanding on issues related to sexuality and gender. To further ensure a welcoming campus environment, the program SafeZones@SDSU holds ally training each semester for faculty, staff and community members. While education plays a huge role at SDSU, that's not to say they aren't having fun. The Pride Center puts on several annual events, including Trans Week of Empowerment, Black Gay Pride Week and Dragstavaganza, their annual drag show. However you identify, attending SDSU serves as both a fun and fulfilling experience.
4. Ohio State University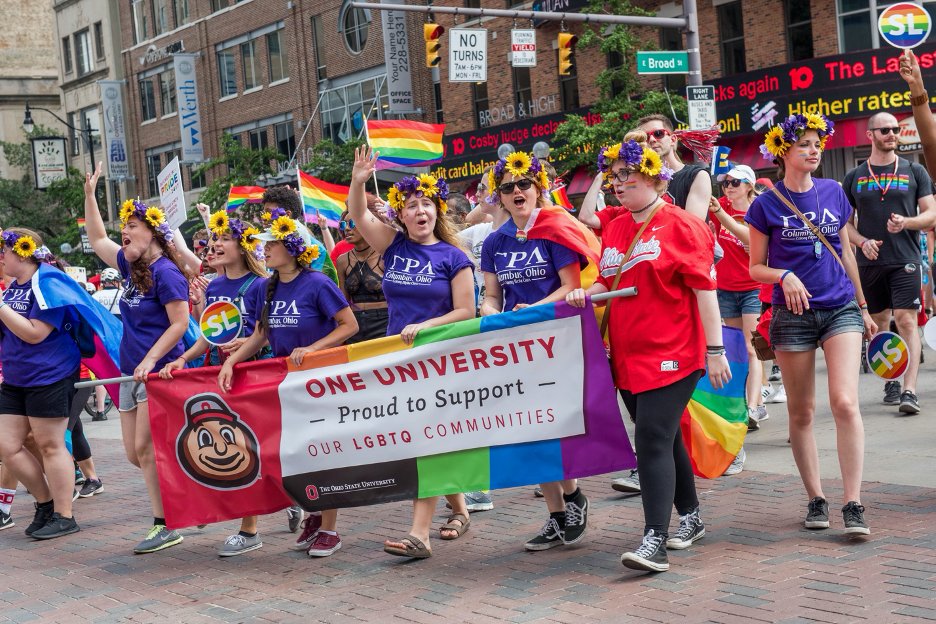 LGBTQ+ people are always changing the game in culture, politics and beyond, and Ohio State University (OSU) knows it. OSU offers an LGBTQ+ Leaders' Consortium to allow members of several LGBTQ+ student organizations to come together, plan collaboratively and build a community as campus leaders. Many opportunities exist to connect with fellow LGBTQ+ students on campus, from joining a Q*mmunity Support Group to participating in events like the Queer Family HoliGay Dinner. Wherever you go, you can surely find your people.
You can continue your activism inside the classroom with Ohio State's Sexuality Studies major. Classes range from Same-Sex Sexuality in a Global Context, to U.S. Lesbian Writers, to Sport and Sexuality. While on campus, feel free to use any bathroom that suits your gender identity or check out one of Ohio State's 35 gender-neutral restrooms. Ohio State also offers a gender-inclusive housing option in the form of South Campus Gateway, where you can live apartment-style with roommates of any gender identity. For students in need of mental health services, the Ohio State Health Center provides LGBTQ+ oriented counseling services to make the transition to college a little easier. Whether you're out and proud or still figuring out your identity, Ohio State always has your and the rest of the LGBTQ+ community's back.
3. University of Maryland College Park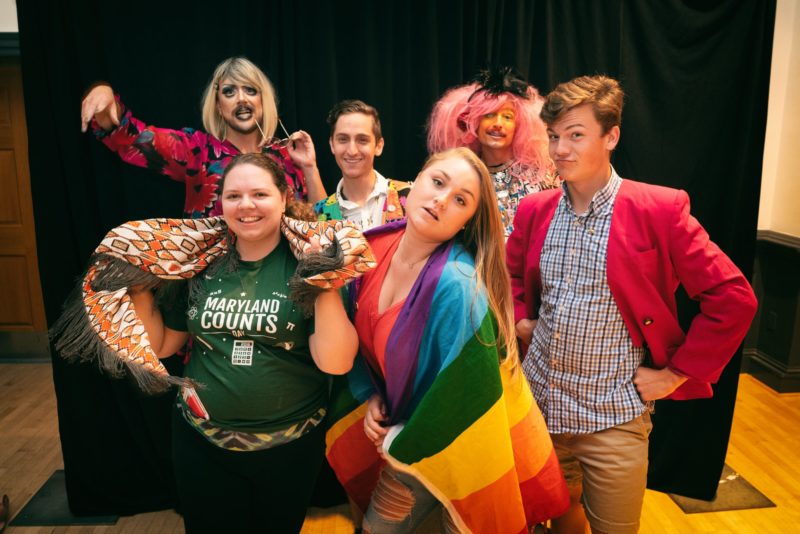 The moment you step foot on campus, University of Maryland (UMD) College Park wants you to feel included. "University of Maryland is the type of school that has a queer dialogue featured a little bit in everything we do," junior Michael Mareno said. The One Project, a first-year experience for LGBTQ+ students, aims to do just that. The One Project includes programs such as a pre-semester meet-up, Quelcome, an LGBTQ+ welcome event, and Q Camp, an LGBTQ+ community-building retreat. That's not to say your sense of community will stop past your first year; in fact, you're just getting started. The LGBT Equity Center at UMD provides support groups and Rainbow Walk-In hours for LGBTQ+ students to get the help they need year-round. The LGBTQ+ Equity Center also created the Lavender Leadership Honor Society to celebrate and develop leadership for LGBTQ+ social justice.
Students in search of inclusive housing can choose between single-gender, mixed-gender or gender-inclusive housing. UMD features gender-neutral restrooms across campus, as well as a fully LGBTQ+ inclusive health center providing hormone therapy and STI/HIV testing. Plus, for those looking to learn more about queer history and identity, students can pick up an LGBTQ+ Studies minor or certificate. Offered courses include Lesbian Communities and Differences, Homophobia in the U.S. Society in the New Millenium, LGBT Film and Video and more. From your first year to when you walk across the stage at graduation, University of Maryland College Park wants LGBTQ+ students to feel right at home.
2. University of Pennsylvania
With over 25 LGBTQ+ organizations and over 80 gender-neutral restrooms, the University of Pennsylvania serves as a safe haven for many LGBTQ+ students. Penn is home to one of the oldest and most active LGBT Centers in the country. "I think the fact that there is a freestanding LGBT Center is a very big appeal to a lot of queer students," said Bryce Nguyen, President of the Lambda Alliance and rising senior at the University of Pennsylvania. "We basically have the whole building that's just dedicated to the LGBT community. It's a great meeting space to hang out." The Center features an LGBT library, as well as the Bohnett Cyber Center, which serves as educational resources to the community.
The LGBT Center at Penn also directs QPenn, an annual LGBTQ+ cultural week. Previous QPenn events include Drag Shows, Queer Zine Making and a Pride Walk. Aside from big events, the LGBT Center fosters community year-round through weekly hangouts for queer students, as well as LGBTQ faculty and staff tea times. Beyond the Center, students can choose to live in gender-inclusive housing to be placed with individuals of any gender identity. The staff at Student Health Service are trained to provide inclusive care, including hormone therapy and prescriptions for PrEP. In the classroom, the Gender, Sexuality and Women's Studies Department offers an LGBT Studies major where students can opt to concentrate on various sub-topics such as queer cinema, queer literature or queer design. No matter what you want out of a college, the University of Pennsylvania has something perfectly suited to your needs as an LGBTQ+ student.
1. University of Wisconsin Eau Claire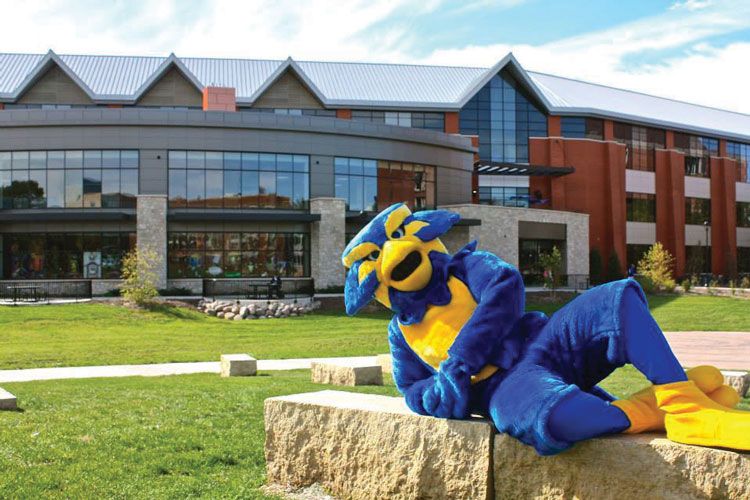 University of Wisconsin Eau Claire wants to change what it looks like to be queer in college. The Gender and Sexuality Resource Center makes spaces safer for all LGBTQ+ students by promoting easy ways to report bias incidents and providing bystander and safe space training to the campus community. The GSRC also coordinates a mentorship program between queer faculty and students. "Q'nnect is a queer mentorship program, with openly queer faculty and staff available once a month to sit down with over lunch and discuss your college experience," junior GSRC intern Aja St. Germaine said. "I know many students that have found advice, jobs, and queer relationships through this thoughtful program." With a total of 107 (and growing) gender-neutral restrooms on campus, LGBTQ+ inclusive health care and an LGBTQIA+ designated living community known as the Rainbow Floor, UWEC constantly proves their commitment to campus inclusion.
UWEC also offers a multitude of opportunities for students to show their pride. Big events include freaQweek, a film festival celebrating queer resistance and advocacy, and the Fire Ball, a drag ball extravaganza. Other notable events include the Welcome Weekend CookOUT, Trans Awareness and Empowerment Week and the LGBTQIA+ Holiday Dinner. UWEC also publishes a queer zine, Out, for LGBTQ+ students to submit their art and writing. "This publication offers a safe space for exclusively queer students to highlight and publish their work, fostering growth and queer joy," St. Germaine said. "It is a delight to work with the students who submit, and absolutely inspiring to see the art that our LGTBQ+ students are creating through their own queer-specific lens." Academically, UWEC offers an LGBTQ Studies Certificate for students to learn more about themselves and their history. Courses include Queer Theories and Sexual Politics; Gender, Sex, and Science in European History; and Sociology of Sexualities. UWEC provides a space for students to stay true to themselves, no matter where you find yourself on campus.
Thank you to Campus Pride for creating incredible resources for LGBTQ students. Be sure to check out Campus Pride's index for more resources.