Ever find yourself looking for that perfect shoe for the warm summer months? You're not alone. Comfortable, stylish footwear is hard to come by. Heels and wedges are trendy and all, but you're left with blistered, sore feet after a night out. Try these flip-flops and sandals for an open-toed and blissful (and blister-less) summer.
Diamonds are a girl's best friend? Try Havaiana flip-flops instead. They're comfortable, classic and popular on any college campus. Allegheny College senior Marrina Weimer said she loves her Havaianas. "I have them in black, gold and pink, I wear them almost every day. They go with everything." The rubber material holds up for the long haul and provides comfortable wear all day long. The Havaiana flops originated in Brazil and have been around since the early 60s. You can even make your own pair with the custom design option their website offers. Havaianas will be the go-to flop for a long time to come.
Price: $26.00
Sanuk yoga Mat flip-flops are perfect for any yogi. The soft footbed made from the same material as a spongy yoga mat create the same comfort the mat offers. Walking all day in these wouldn't be a problem because they basically feel like a cloud for your feet. And don't worry—no animals were harmed in the making of these shoes due to the unique vegan construction. Anyone with an active lifestyle and love of comfort should welcome Sanuk's flops into their home for the summer. Pop 'em on, and you'll be tree posing all day.
Price: $32.00

Reef's classic black flip-flops are a must have this summer. They have arch support, making them so much better for your feet than those cheap thin $2 flops from Old Navy. Reefs also last longer and don't leave your feet feeling sore after a day of walking in them. These flops come in colors like coral, brown, white, navy and gray with other styles like leather and platform. You get what you pay for with these shoes because they'll last for many summers to come.
Price: $28.00

Even the picture shows how much cushion Nike's flip-flops offer. You can see the plush, pillow-like footbed and know that your feet will be satisfied. Nike flops scream sporty but don't give up on style either. The classic look can be worn all summer long in rain or shine—perfect for a day on the beach, a walk in the woods or even around the mall. They come in blue, black and white so the ability to match with a lot comes in handy. You know you want to buy a new pair of Nikes—just do it.
Price: $19.99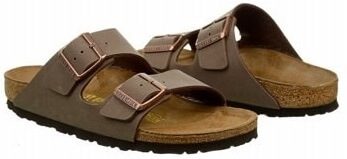 You don't have to be an out-of-style dad to wear sandals. Birkenstocks have recently come back into style and everyone from the Kardashians to the girl next door has a pair. They're not your typical sandal, but functional and comfortable all the same. This trendy shoe will set you back $100 but end up being totally worth it because of their durability. University of Pittsburgh senior Marissa Altemus said, "I honestly used to hate the look of these shoes, but once I got myself a pair, it was a total game changer. I have them in light brown and they are so convenient to put on." Due to their design and comfort, Birkenstocks are perfect for anyone looking to keep their feet in good condition this summer.
Price: $99.99
Toms don't just come in the classic canvas flat anymore. They've evolved. These flops are made from durable cotton and canvas blend, complete with a stylish braided strap. The tribal textile design is perfect for the warm summer months ahead, and goes with pretty much any outfit imaginable. They run a tad bit expensive, but keep in mind that with each pair of Toms you buy a pair is donated to someone in need. Toms has given more than 60 million pairs of new shoes to help improve the future of children, their families and communities in need. Shopping is caring these days.
Price: $39.00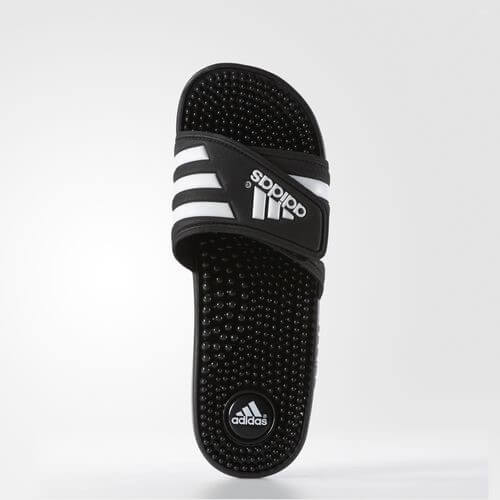 For your inner athletic diva, the Adidas Adissage work perfectly for lazy days and hung-over mornings. They provide comfort, and you don't have to worry about that annoying strap in the middle of your toes. "They are comfy and so convenient when I just need to run outside real quick," Arizona State University senior Torie Supinka said. "I use them when I walk my dog and they never give me blisters." The sandals have served her well for quite a while and she's hoping they won't wear down anytime soon.
Price: $30

Teva Mush flops, much like the Yoga Mat Sanuks, provide comfortable support with a plush "Mush" footbed. The durable material creates an arch for your foot so you won't have aching feet after wearing them. Pair these with a swimsuit and a piña colada by the pool for a sweet summer kick back. With a variety of strap styles like Hawaiian print and rainbow, Teva Mush has a look for everyone.
Price: $25.00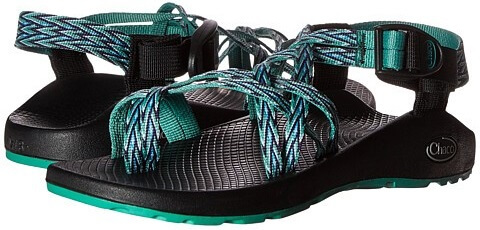 Chacos are made in the US but are made to endure adventure anywhere in the world. These great summer festival shoes can be worn to concerts, or you can pop them on to go hiking. Buying Chacos requires a lot of broken piggy banks, but when you put them on you know exactly where that extra cash went. "I'm obsessed with wearing them because they are just so comfortable and convenient," University of Kentucky junior Kristi Fitzgerald said. "I love wearing these outside or just for everyday." A sturdy and durable shoe, Chacos are perfect for any outdoorsy person.
Price: $105.00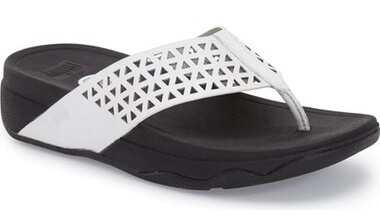 This classic looking sandal ends up being much more than any old flop. The FitFlop Surfa Sandals contour perfectly to your feet, making them easy to wear all day. The cushioned sole and built-in arch create a shoe fit for Cinderella. With colors like purple, pink, black, brown and white, you can choose any style for everyday wear. Penn State University junior Cait Kerrigan said she wears her FitFlops when she works in the summer. "I'm on my feet all day so these shoes really help," she said. "They are a little on the chunky side, but if my feet are comfortable, then I'm happy. At first glance they're not the most stylish, but they are definitely the most comfortable flip-flops I've ever owned." Say goodbye to dull summer footwear and hello FitFlops.
Price: $68.95