Penn State University – State College, Pennsylvania
Penn State University's Instagram
The Vibe
Big College with Endless Opportunities
What it Feels Like to Go Here
They don't call this place Happy Valley for nothing. State College presents itself as literally a huge college town placed right in the center of a gorgeous valley. I'm not exaggerating, the views look beautiful here, especially in the fall. Now I know I'm talking about the middle of nowhere Pennsylvania, but I promise you, it does not feel like it. Something ALWAYS happens on campus… and I mean always. Whether you consider yourself a party animal or a book nerd, you will always find your place on campus. Over 40,000 undergraduate students seems like a lot, but Penn State offers double the amount of opportunity for every single student on campus. Whether you want to indulge in professional research or join a club sports team, every student will find their niche.
We enroll students from all 50 states and from 140 different countries, guaranteeing you a 100% chance of walking by a new face every single day, giving you endless amounts of opportunity to meet new people. No need to dress to impress, either. Want to go to class in sweats? Then you'd fit right in! If you look up from your phone while walking to class, you'll see the beautiful mixture of traditional and modern buildings. Some newly renovated, some unscathed. Penn State stands out as one of the most popular universities in the entire world, which motivates and destines every student for success automatically.
Awesome Alumni
Penn State houses the biggest alumni network amongst all universities nationwide. No, I swear, Penn Staters live all over the world. People like to joke and call us a cult, but honestly, I can't argue with them…. in the best way. You will always see Penn Staters willing to help other Penn Staters, which seriously comes in clutch when applying to jobs in the future. Here lists just a few of these notable alumni:
Modern Family: one of the most popular shows on television. Penn State just happened to produce one of the show's most famous actor: Ty Burrell. Better known as his character on the show, Phil Dunphy. He graduated from Penn State in 1997 with a master's degree in theatre. During his time at the university, he assisted with introductory theatre courses. Today, Burrell previously received two Emmy awards for his outstanding work on the show.
I'm kickin' it way back with this one with Betty James, a 1938 graduate. Also known as, the inventor of one of the most popular children's toys of all time, the Slinky. You might even recognize the Slinky as one of Andy's toys in the popular movie series, Toy Story. James and her husband founded James Industries in Hollidaysburg, Pennsylvania. In recent years, a global toy company, Just Play, stepped in to take over and give new life to the factory and the well-loved toy. So, even though James graduated decades ago, her legacy continues.
Since his graduation from Penn State in 1977, Mark Parker serves as the executive chairman of Nike, and holds the title for the third CEO of the company to work fourteen years in that position. As CEO, he increased the company's profits by over half, and nearly tripled its market cap. His love for running showed during his time at PSU, as he was a champion runner for the school. He started out at Nike as a shoe designer before being promoted to CEO.
Seems to me that Penn State grads just love toys. Herman Fisher, co-founder of the famous Fisher-Price toy company, graduated PSU in 1921. The company now sits at the top as one of the most successful toy companies in the world, making billions of dollars each year. The famous grad even received a place on campus dedicated to him called the Fisher Plaza.
Lara Spencer. Now, you might not recognize the name, but you sure know her face. I'll give you a hint: "Good Morning, America!" Spencer graduated from Penn State in 1991 with a degree in broadcast journalism. She kickstarted her career on television with HGTV, and then got promoted to co-host for Good Morning America in 2014. During her time at PSU, Spencer also participated as a member of the swimming and diving team.
Where We Hang
With a campus size of 7,958 acres, you will never run into an issue of finding somewhere to hang out. I swear, State College comes off like its own little city. On a nice day, you will always find students hanging out on the HUB lawn, or at the Arboretum. Many students bring towels to lay out on these lawns to get some sun in while doing homework and listening to music. Talk about good vibes. Don't want to lay around while the weather stays nice and get some exercise in instead? Hike up the trail of Mt. Nittany and look at the breathtaking scenery overlooking the valley.
Walk downtown on a nice day and you can see students dining outside at restaurants like Roots Natural Kitchen or SNAP Pizza. You might even see 21+ students sitting outside for a drink at Cafe 210 West. If you go a little up on campus, you will see a long line outside of our famous Berkey Creamery with students just waiting to get a lick of delicious homemade ice cream.
The sun doesn't come out every day, however. Like I said, Penn State locates itself right in the middle of PA, so weather does get pretty chilly. When students can't hang outside, you'll likely find them working together on homework in places like the library or the business building. Both of these buildings house coffee shops like Starbucks and Saxby's to give students some fuel for studying.
More often than not, you can also likely find students at their own apartment complexes downtown. Many of which include balconies or amenities like a lounge area. Some even own hot tubs. Bottom line, State College provides room for all students' fun no matter what time of year.
Some Penn State traditions include some of the weirdest most unheard-of activities. The one at the top of this list: the annual Mifflin Streak. A tradition of almost four decades now, students rip their clothes off and run butt naked down Mifflin Road the night before finals week second semester. If you wanted to participate, you don't even need to worry about identity. Many who run down the road tend to cover their faces with full face coverings.
When we don't run naked down the street, I would say that Penn Staters look forward to our annual whiteout football game the most, another big tradition. The atmosphere of everyone dressed in white unified in the "We Are" chant is unlike any other. As many critics have called it, "the best atmosphere in college football."
Q&A
How much are students partying?
"At Penn State, it is no secret that there is a very popular and lively social scene. Many students come here solely for that purpose. However, some students partake in this scene a couple night a week, where others go out once or sometimes twice a week. Many students prioritize having a stable and well thought out work-life balance, as they are still prioritizing school. It is reassuring that there is pretty much something going on every night, so fear of missing out, here or there, can be reduced. Most students indulge in the party scene whenever they see it most appropriate, given their current workload and availability with extracurriculars," sophomore marketing student Christina Greatti said.
What will you get in trouble for?
"Plagiarism is definitely something that is not taken lightly at Penn State. The professors here can smell stolen work from a mile away, and the consequences can be pretty brutal. It's just not worth it. You'll spend more time trying to cheat the system, than actually just doing the work. Professors would be happy to help if you just ask. They'd much rather you do that than take someone else's work," senior broadcast journalism student Brendan Ricciardi said.
How much sex are students having? How is safe sex encouraged on campus?
"If students want to have sex, they're going to have sex. As a freshman, you go to orientations that promote the different services around campus for contraceptives like condoms. At various school sponsored events such as Love is Louder from the fall semester, there were resource booths set up that had information packets as well as condoms once again to promote safe sex," sophomore public relations student Amanda Dait said.
What would you tell incoming freshman about your school?
"Penn State is the best school on the planet. We have stellar academics, tremendous school spirit and we excel at numerous sports. We have over 700,000 living alumni and are the number one school with graduating CEOs, so clearly, we are doing something right! With so many majors, minors and clubs, there is something for everyone here. I do not know someone that has not enjoyed all that PSU has to offer, and you will too," junior risk management and broadcast journalism student Michael de Botton said.
If you could describe Penn State in one word, what would it be and why?
"Lively. There is always something going on and there is always excitement and joy occurring around campus," freshman elementary education student Devon Morganstein said.
5 Student Reviews
"So far, my two years at Penn State have been amazing. I have made my best friends, had great professional opportunities with my career path, and have had such fun experiences. This school truly feels like where I'm meant to be and I am looking forward to the rest of college," sophomore broadcast journalism student Emma Aken said.
"It's definitely hard to balance all my classes on top of being a part of a club sports team and a sorority. For a long time, it was challenging for me to keep track of everything while still exceling. I'm starting to get the hang of it now, but it took me a bit to adjust to," sophomore supply chain management student Giana Curcio said.
"At first, freshman year was difficult to socialize due to the many COVID-19 restrictions, but once I met my roommates and eventually joined my sorority later on, my social life got a lot better. Now I am having so much fun here, and I would not have traded my experience for the world," sophomore supply chain management student Taylor Slembarski said.
"The greatest challenge for me is definitely mental health. It's something that isn't really talked about because college is supposed to be this big social scene where everyone feels supported. But halfway through this year, I lost someone close to me and there was a big gap in my life that never got filled. There are not much other friends at school can do for me when everyone is so occupied with their own life, so I'd definitely say that taking on life individually was my biggest challenge," freshman business student Eric Watt said.
"I was super surprised by how easy it was to find opportunity here because of how big we are. I thought I was going to have to battle for opportunities but I ended up just being able to take advantage of how big the school is to work my way into so many field of interest," junior history student Corey White said.
Top 3 Majors
Engineering
Business Management
Top 3 Most Popular Student Organizations
THON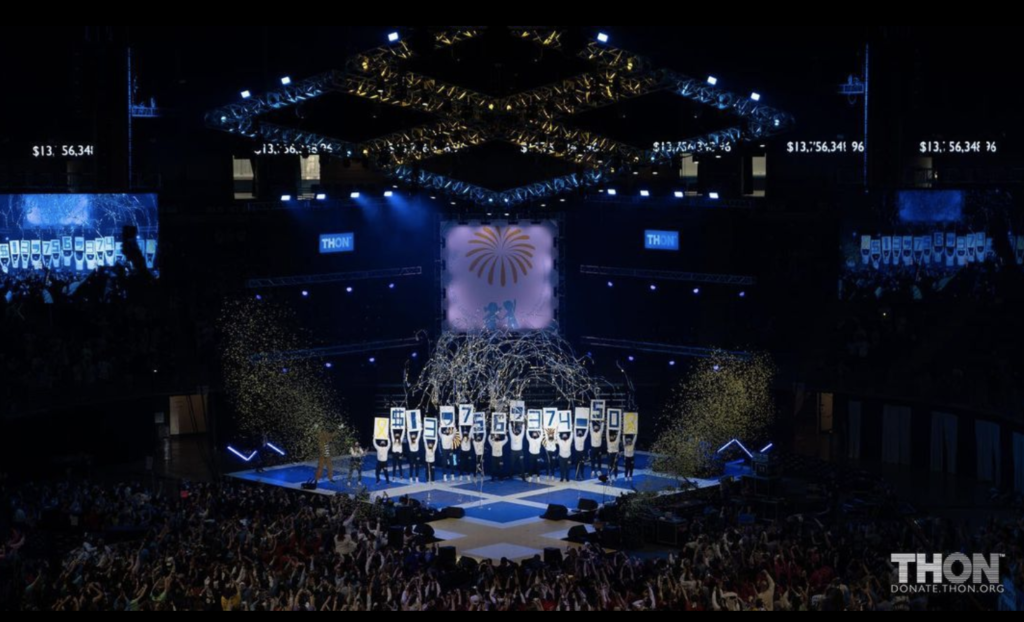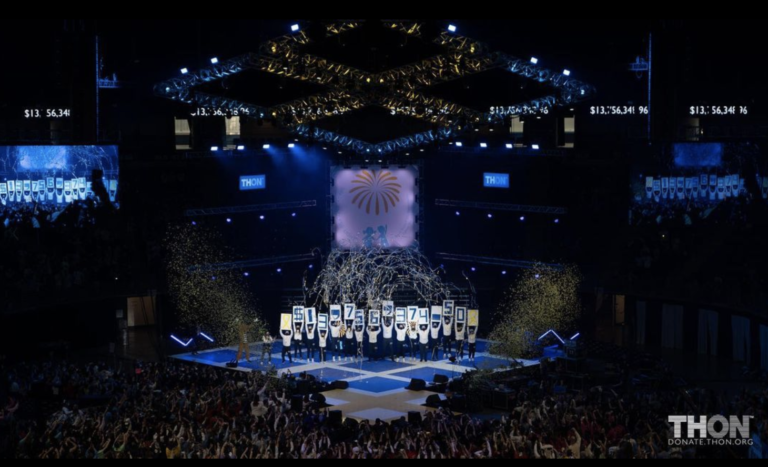 THON comes off as without a doubt the #1 student run organization on campus. Not only does THON represent the largest student run philanthropy in the world, but many other student-run organizations get involved and come together. The annual 46 hour no sleeping and no sitting dance marathon in the fight against childhood cancer creates an experience unlike any other you ever witnessed. This past year, THON raised a record high of $13,756,374.50 all For the Kids!
"THON is so important to me because no family should have to fight alone. At Penn State, we are given such an amazing opportunity to make a difference in the lives of kids, and it's so important to get involved and raise money in the fight against pediatric cancer. One day, we will dance in celebration of a cure and I want to do everything I can to help make a difference For the Kids," Sigma Delta Tau's head THON chair and Penn State junior Emily Weidner said.
Cancer sadly remains a part of too many people's lives. Many people know someone close to them who once fought or still fight the horrible illness. But that just brings the student body closer together to fight for a cure. Penn State's THON skyrocketed in popularity which inspired other schools nationwide to create their own version of THON. The 46-hour event at PSU includes performances from various student organizations on campus, as well as surprise performances from a few well-known artists such as Bea Miller and Cash Cash.
UPUA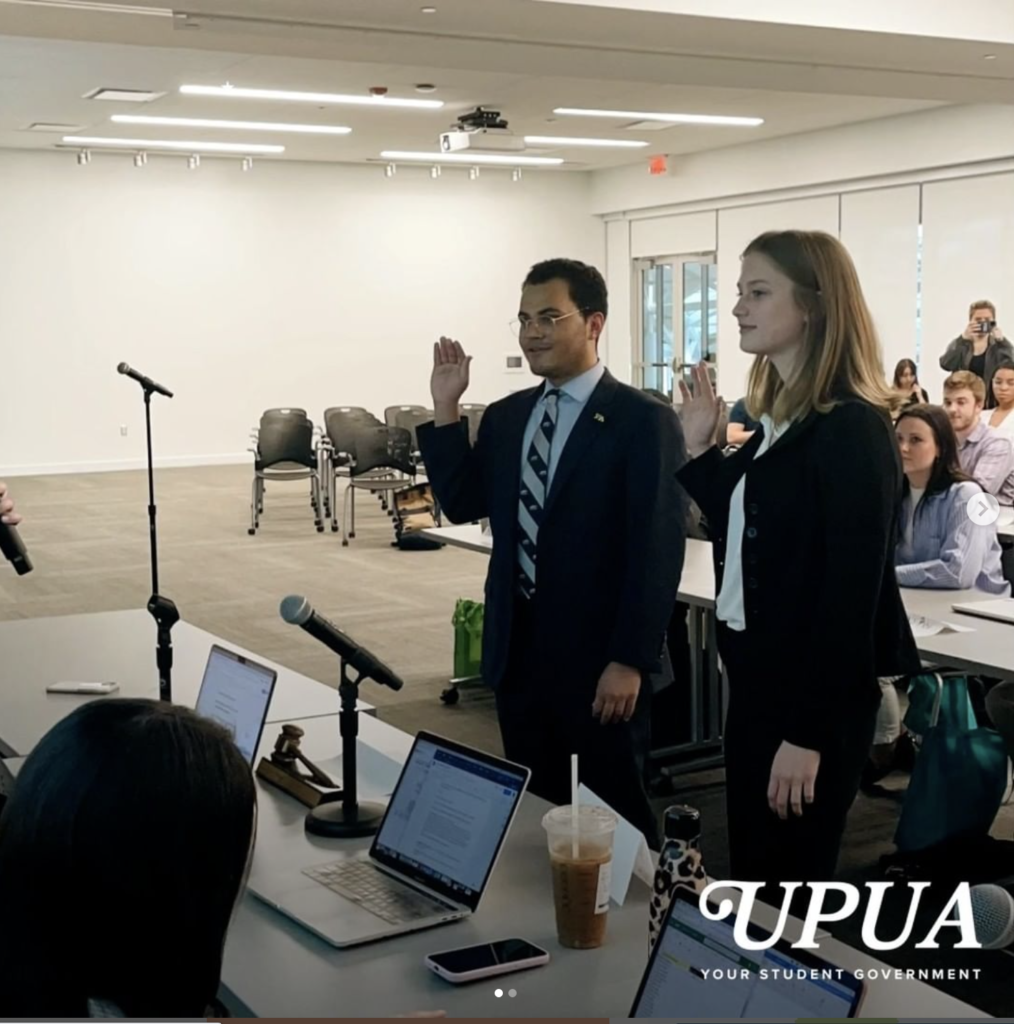 UPUA stands for the "University Park Undergraduate Association." In other words, the student government. They strive to represent all Penn State undergraduate students and make campus a better place for all to succeed.
"I am involved in UPUA because I believe student government is essential for advocacy for the student body. I currently serve as the Executive Director of Public Relations where I primarily maintain relationships with the press, manage our social media accounts and graphics, and promote and organize programming. I love my current role because my department carries out the initiatives passed by the legislative body while directly engaging with students. My personal mission is to serve the legislative body in my fullest capacity because I truly believe in the importance of their hard work and advocacy," Executive Director of Public Relations for UPUA and Penn State sophomore Rayna Alexander said.
UPUA offers all students information and resources based on topics like sexual violence prevention, mental health and student poverty. With a school as big as PSU, UPUA remains crucial in helping the widely diverse student body.
Nittanyville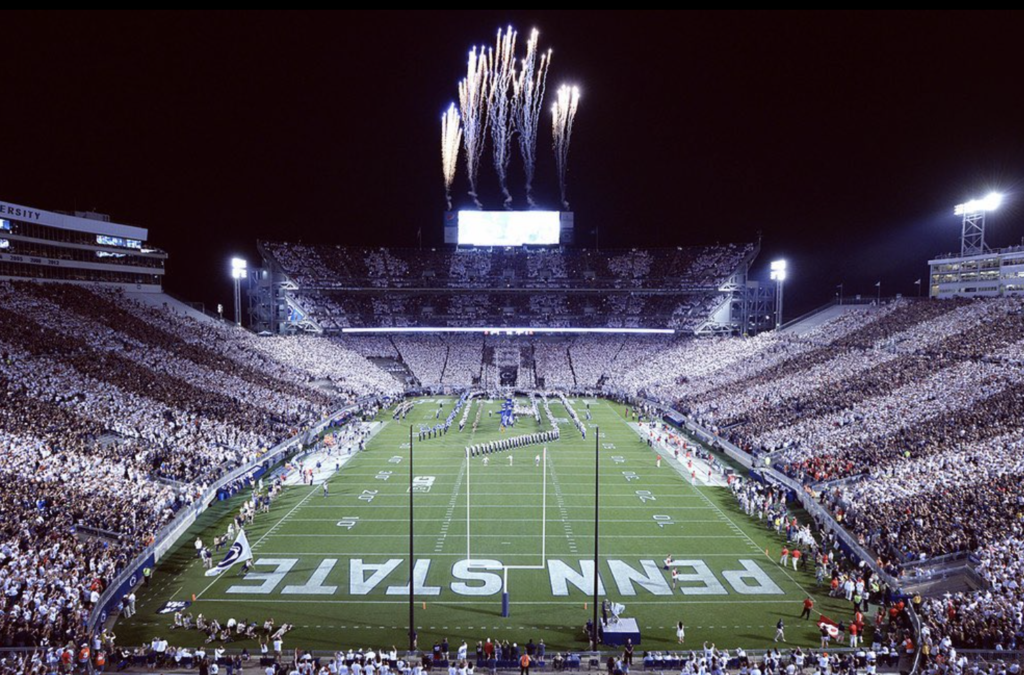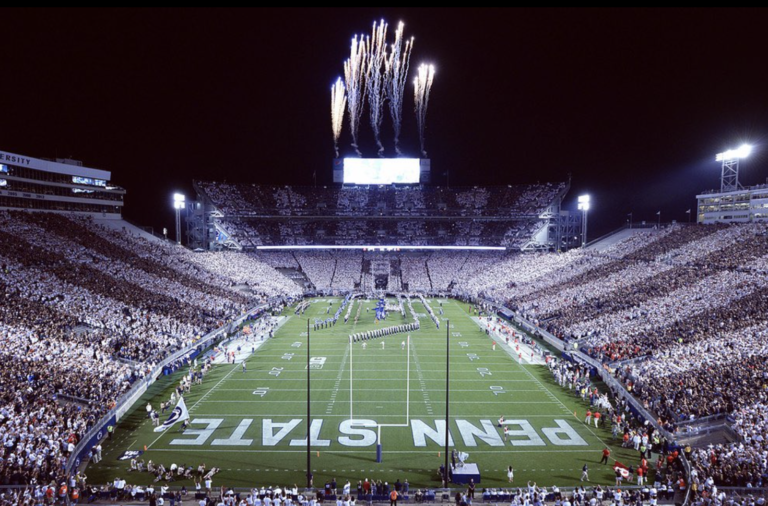 Ever wondered who sits behind the largest student section in the country? Nittanyville. Members of this club literally camp outside in tents in front our football stadium, Beaver Stadium, before every single home game. They even travel to away games. Talk about dedicated fans. Not only this, but since they camp out in front of the stadium, they get to stand front row and up against the fence for every home game, which gives them the opportunity to lead the thousands and thousands of students in the section behind them.
"Losing a legit football season freshman year due to COVID-19 made me want to be as involved with our football team as possible for the rest of college. I've always been a Penn State football fan since my cousins came here, which made me want to involve myself with our team as much as I could. To me, leading our student section just felt like the best fit," Nittanyville Organizational Officer and Penn State sophomore Jason Stickler said.
In 2019, ESPN voted Penn State as its student section of the year. Penn State was also recognized by ESPN for the best in their weekly rankings numerous times. ESPN's College GameDay pre-game show broadcast visited Happy Valley a total of 22 times. In fact, PSU hosted College GameDay for five years in a row, making it the only school to do so. If that doesn't tell you anything about what our student section's energy, I don't know what does.
Getting In
The application to get into Penn State looks just like your stereotypical college application. Since Penn State includes main campus, along with more than 20 branch campuses, they don't care too much about the essay portion of the application. Rather, they focus more on your grades and extracurricular activities that make you stand out as an individual. Yes, standardized testing matters to some degree, but PSU cares more about who you present yourself as a person, and what qualities you can bring to the school.
"When I applied to Penn State, I focused a lot on my extra curriculars because I knew just high grades wasn't going to be the only reason I got in," freshman Rachel Mendick said.
Starting in the summer and fall of 2023, Penn State will make the SAT and ACT optional to submit. This feature might come off as an advantage to many incoming freshmen, as test scores have tended to make or break applicants in the past. I recommend to potential new students that they only submit these exceptionally high scores. In other words, only submit them if they can definitely help you, rather than hurt you.
Stats
Location: State College, Pennsylvania
Tuition & Fees: In-state, $18,898. Out-of-state, $36,476. International, $37,946
Total Cost on Campus: In-state, $33,056 – $36,278. Out-of-state, $50,634 – $53,856. International, $52,134 – $55,326
Undergrads Enrolled: 46,000
Grads Enrolled: 14,000
Total Enrolled: 60,000
Acceptance Percentage: 54%
Percent Admitted who Enroll: 50%
Enrollment: 88,914
Percentage of Male Students: 53%
Percentage of Female Students: 47%
Percentage Receiving Financial Aid: 68%
Percentage Receiving Federal Grants: 19%
Percentage Receiving Federal Loans: 60%