Three years ago, my high school flooded. I got out of that AP Chem test, but I still had to take the ACT at a school down the block. My favorite English teacher handed me my test packet, wished me luck and it took all my strength not to vomit all over him. As I furiously chewed on my pencil, triple-checked all my answers and tried to ignore the butterflies in my stomach. Don't be like me. Make sure you prepare for everything that can come your way during standardized testing season so little surprises become funny stories instead of tragic "if only-s."
Here's everything you need to know about passing the ACT
Why Do I Need to Take It?
Technically, you don't need to take the ACT. Most schools accept the SAT instead. But if you live in the Midwest, you'll find this test the most common way to show colleges you're up to their standards. Some people even say the format of the test reflects a more holistic education than the tricky vocab on the SAT. Which leads us to…
Components of the Test
The test is divided into four sections: English, reading, math and science. You can also take an optional writing section to show off those badass essay skills under pressure. You can score up to 36 points on each of the four sections, and your overall score reflects the average score of these sections. If you get lucky, your score will be rounded up.
How Do I Sign Up?
Once you get settled into your junior year, you should start checking out the sign-up dates on the ACT website. You'll create a student account to register for the test and receive your scores afterwards. The sign-up process takes about 40 minutes, and make sure you have a credit card available (who knew you'd have to start paying for higher education so soon?). You might want to grab a copy of your high school transcript as well, in case you've blocked out the horror of freshman year bio from your mental course history.
Top 10 Burning ACT Questions:
1. What if I'm weaker in one subject than the others?
Your score will be the average of all four sections. My high school boyfriend managed a 33 on the test after getting a 26 in math and acing the more humanities-based sections. So don't panic if trying to interpret a science chart completely freaks you out. Strengthen your reading and grammar skills with practice questions so those sections shine. Then get a whole prep book to help you figure out what the hell that science experiment actually accomplished.
2. Should I study with my friends or should I hire a tutor?
Be careful before studying with your friends. I would only recommend this if you friends' study habits are similar to yours. If one friend is shooting for Harvard while the other just wants to get through the test, someone can easily come off as condescending to someone struggling just to get through the basics. Save competition against your friends for gym class by using prep books and classes instead of study groups. A lot of schools offer prep classes with teachers you're familiar with, and these might be cheaper than a tutor. Prep classes can also help you figure out what to focus–giving you the most help for your dollar. Hiring a private tutor however can help you assess your individual strengths and weaknesses without creating drama with your friends.
3. What if I don't have time to do the whole prep book?
Let's be real, with regular homework, extracurriculars and AP tests who wants to go home and do even more work? Take a shortened practice test online and see which of your section scores look the weakest. Practice and study those questions in the book and just skim over the testing strategies for the sections you already know you'll rock. And if you have the opportunity to take the ACT multiple times, make a strict schedule for yourself for when to study which section. That way you'll be passing the ACT just the way you want.
4. What's the difference between the SAT and ACT? Is one better than the other?
In short, the SAT doesn't have a science section. The writing section also comes first in the SAT rather than last, so you don't have to owrite an essay after four ACT sessions have already burned your brain. However, the SAT has the reputation of testing students on "pretentious" vocabulary words only necessary for surviving in the Ivy Leagues. Neither test is better than the other, but remember, if you qualified for some National Merit moola with the PSAT, you'll need to take the SAT to put it in the bank.
5. Should I take both the ACT and the SAT?
No school requires you to take both tests; however, make sure you check the requirements for every school you're interested in very carefully. Even though I was happy with my ACT score, I still had to take the SAT to ensure that I got my National Merit Scholarship money in college, since the SAT and National Merit both fall under the College Board organization. And if the ACT doesn't come naturally to you, trying the SAT won't hurt your college apps. "The SAT tests you differently because I thought it was more of a puzzle. For the ACT you can learn patterns and do reasonably well just by studying, but I think the SAT tests different skills," Northwestern junior Tiffany Anderson said. You might also have to take SAT subject tests to apply to certain undergrad programs–especially in STEM subjects.
6. How many times can I take the ACT?
You can take the ACT as many times as you want. If you're especially nervous about the test, registering for an early testing date in October or December of your junior year will help you gauge where you stand. Then you can study your weaker sections and take it again with all your friends in April to get the passing score you really want.
7. What's the deal with the writing section?
Most schools don't require the writing section; however, many colleges nowadays do have a writing requirement. This portion of the test can show admissions boards that you're ready for higher-level writing and might get you out of an intro writing class your freshman year. Unlike the other sections, you can score from 1-12 on the writing section. But remember, just like you probably wouldn't expect to get a 36 on all 4 sections, you don't have to score a 12 to do well on the writing section (I'm an English major and I only got a 10).
The writing section comes after the four "regular" sections, so what do you have to lose? The essay won't stop you from succeeding in science or math. Worse comes to worst, you'll just find yourself a little brain dead while trying to argue that a town should build an economically advantageous but environmentally harmful factory near a school (AKA my essay).
8. What if I don't get the score I want or that my dream school says I need?
An average is called an average for a reason. The average height for an American male is 5'9, but we all know shrimps and guys who are miles high. ACT scores at your dream school work the same way; they exist on both ends of the spectrum and everywhere in between.
9. When should I sign up?
In short, not the day before. You have to sign up a few months in advance for the ACT, and double check that you've signed up for the date and location you actually want. You can look at the ACT website for exact registration deadlines ACT website. For a few weeks after the deadline you can still register if you pay a late fee.
10. What should I bring?
Along with your photo ID and a printed copy of your admission ticket, don't forget sharpened number 2 pencils (no mechanical pencils or pens allowed, people). You'll also need your calculator, but don't you dare bring in any other electronics. Leave your phone and any reading or reference materials in your bag at all times so they don't throw you out of the testing room like a sack of old cheese. You'll get a snack and pee break halfway through.
Top 3 Products Worth Buying for Passing the ACT
1. The Official ACT Prep Guide, 2016-2017
This ACT guide will walk you from registration to results. You'll get tips from boosting your score straight from the mouths of the test creators themselves. Don't you wish your history teacher would tell you how to ace the test before you took it? The book also includes three full-length practice tests along with in-depth descriptions and advice geared toward all five sections, including the writing section.
2. Math and Science Workout for the ACT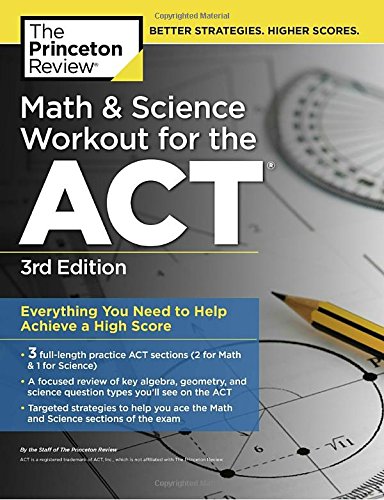 Calling all future English majors: here's a book that'll actually teach you what you need to know. No more falling asleep to comma placement questions or interpreting the significance of the underlined sentence for the twenty millionth time. It's time to suck it up and crack down on the subjects that actually intimidate you.
3. Funky #2 Pencils
Okay, this might sound dumb at first, but nothing beats the smoothness of an ink pen or the click, click of a mechanical pencil. But if you have to use #2 pencils on the day of the test, why not do your studying with #2 pencils, too? That way, your heart won't pop out of your chest when you hear the cringeworthy sound of a sharpened pencil tip breaking on test day. You'll be the one staying calm af while you pull a new one out of your bag with the eraser softened up just right.
Top 3 Twitter Handles
1. @ACTStudent
If you're going to take the test, you might as well check out its official Twitter account. ACTStudent shares article about the year's test, sign-up dates and more. So when your mom tells you to get off Twitter and study, tell her you already are.
2. @ACT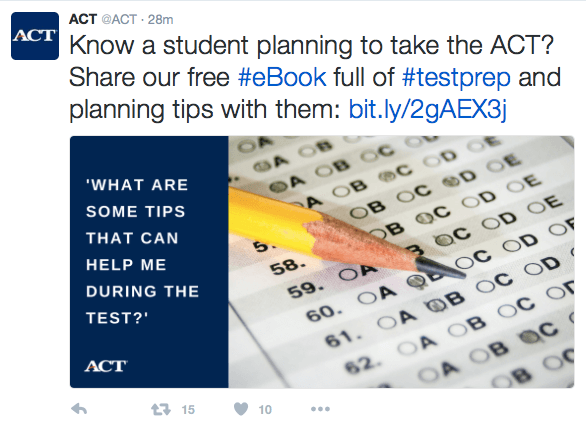 Associated with act.org, ACT provides educational and career planning resources along with updates on the big test. Learn about financial aid for those colleges you'll go to after getting that awesome score, or learn why the site has given 3 million people the National Career Readiness Certificate. Definitely click Follow if you're already looking ahead to the future after test day.
You probably know The Princeton Review as basically the authority on all things related to standardized tests. If you don't want to spend money on that Princeton prep book, just follow the account on Twitter, especially if you're also taking the SAT. Check out testing myths and tips along with Facebook live feeds about the ACT and every other standardized test around.
Other Articles High Students Must Read