You finally finished 17 years of schooling. With a degree and watery eyes, you pack up your belongings and begin the journey to bigger and better things. As you pack away boxes of clothes, you start to worry. You have no big girl clothes. College parties don't call for slacks and a button down. Before gallivanting off to the mall with a cloudy, freshly-graduated mind, think smaller.  Think…accessories. A staple piece for any woman's outfit tells time and a story. A watch, a simple yet essential adornment, pulls together an outfit all while reflecting a professional aura. The world hates to admit that looks are everything, but in the professional world—they are. A pristine, clean-cut outfit speaks volumes, and so will your watch.
Casio's popularity stems from offering a wide variety of dress watches and outdoor watches. Specifically, the company distributes an outdoor Baby G watch for women; features include water resistance, shock resistance and a handy dandy LED light. Casio constructs this product with rubber for a light weight accessory. Nurses and doctors alike wear scrubs throughout their work shifts, but an easy-to-read Casio ought to be worn on the wrist of each and every hospital staff member. Florida State University nursing student Casie Rose mentioned, "It doesn't matter if it's analog or digital but there needs to be a second counter on it." Ironically enough, the White Casio includes this feature.
Two-toned and water resistant, this watch begs to be worn. A pricier option indeed, but this style welcomes each outfit with a versatile accessory. The tortoise color matches any outfit, from a hard day at the office to a stroll in the park. Imagine looking over a classroom of preteens ready to dart out into the hallway, and then look down at your classic watch to see five minutes left until dismissal. Even a teacher's pet would notice your stylin' watch sitting pretty on your wrist. Recent Florida International University grad and teacher Gabriela Pelaez explained, "[As a teacher] I need a watch that is easy to read and matches everything which is why a tortoise shell watch works well. It doesn't matter whether it is digital or analog as long as I can glance down and read it quick."
Don't get caught with a naked wrist in the more casual realm of the world; get caught wearing this wrap watch arm candy. Accompanying the gold plated face rests gold chains and beaded bracelets attached to the leather band. Purchasing this watch basically equates to 2-4-1 margaritas. Flaunt the fashionable knowledge gained throughout your years working with clothes; this wrap watch will catapult your retail credibility through the roof.
Some people fawn over gold accents, while others fall in love with silver jewelry. The Michael Kors Silver-Tone watch remains perfectly sleek and professional for any big-girl business job you land. This accessory lacks flashiness, but makes up for it with simplicity. Throw on this Jaryn watch and pair it successfully with your black blazer and dress pants. This adornment reigns high for those in sales. "I use a very classy, nice watch because I'm working with C-level executives…I need an expensive analog watch so that I can match my clients," explained Nicole DellaRocco.
5. MVMT Gold/Black Leather Watch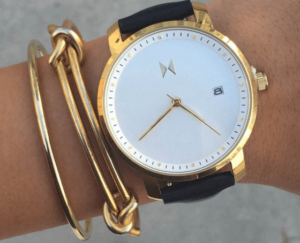 Channel your inner minimalist with this staple accessory. A black leather band paired with a gold stainless steel casing, you'll stay classy yet dignified with this watch. Its analog face practically screams "adult." After crunching numbers into a calculator all day, glancing down at a notable, yet casual watch will motivate you to continue on until the work-day finishes.
Price: $115
Two words: Rose gold. Shaking with excitement yet? Fossil's rose gold watches gleam elegantly on the newly accepted grad student's wrist. The edginess and sleekness of the Fossil watch will catch your classmates' eyes and slowly daydream about rose gold sitting pretty on their wrist instead. Okay, this might be a stretch, but they'll definitely want to copy you. Ohio State graduate student Andrea Caspary studies in the veterinary program. "Since my two years of Vet school are all in a classroom, I don't really need a practical watch just yet. The watch is more of an accessory to be honest!"
Damn, Apple. Back at it again with the unnecessary products. This infamous toy produced by Apple served America in a modernistic way by distributing an all-accessible watch. Given the ability to quickly respond "yes" to your roommate asking if spaghetti sounds good for dinner makes life easier. An engineer spends a busy day applying math and science to construct new materials for a modernized laptop. Who actually has time to check their phone with that kind of pressure? "Subtle [watches] work best for a woman in a professional workplace, especially as an engineer where there are parts being built or tests taking place where flashy isn't allowed," design engineer Nicole Lankist said.
This budget-friendly watch presents a two-toned, sophisticated accessory that practically jumps out at you while window-shopping. From an everyday look to a fancy four-course meal in the evening, the Chesapeake watch should be your go-to. The classic look of a Timex strikes an attorney's fancy. With this watch, your best blazer and a sharp tone of voice, the jury will hang on to your every word.
9. Nixon Small Time Teller Leather
A mouthful indeed, but a beautiful graduation watch. Wear this light brown leather band paired with a gold-plated face once you move into the real world. If you aren't intrigued by gold or silver links, the leather band fits comfortably for any occasion.  Aspiring to own a thriving business one day? Nixon's watch will get the job done. Meetings on meetings will fly your way, and a watch will soon become your new best friend. Remain a punctual businesswoman with this accessory to help you maintain excellent time management and assert yourself to the top of the corporate ladder.
Not all watches are born with a circular face. Some of the more popular options feature a square face for an edgier look. This Deco watch provides a clean and pristine style to any potential buyer. A metal band paired with sparkling diamonds focuses on grabbing the lady's eye. Much like the Nixon watch, a durable and reliable staple piece assists you throughout your daily schedule. Use hand and arm gestures to point out the rustic wrap-around porch or the mahogany dual staircase of the multimillion-dollar home you listed for your celebrity client. Purchasing a Deco watch gives you the right amount of edge to lock down a sale.