Whether you enjoy studying or not, you should consider going to a college with at least one breath-taking library. For those of us who struggle to find the zeal to study, a reliable library can offer an atmosphere that makes it easier to focus. On the other hand, you might be the kind of student who loves getting lost in a good ol' textbook. You prioritize numbers, aesthetics or library amenities, or even value the quality of a library's study spaces and their claim to fame. In that case, the quality of college libraries probably factors in pretty high when it comes to your college decisions.
Keep reading to discover the top 10 colleges with the best libraries across the country.
10. The University of California, San Diego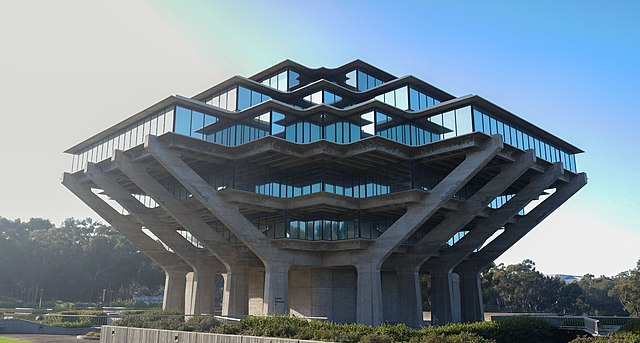 The sun shines 24/7 in San Diego, and their modern glass library lets it all in. Geisel Library functions as UCSD's main library. Named in honor of Dr. Seuss, its modern architecture looks like a structure straight out of one of the author's beloved books. If you ever visit UCSD, it would be hard to miss this landmark building. Inside, you'll find a ton of different spaces to study.
"I mainly study on the east wing second floor. There's also a coffee place, so it's perfect for finals. If I'm trying to get more focused and looking for somewhere quieter and secluded, the 6th floor is perfect. A great all-round view of campus and mandatory silence," UCSD junior Michael Eades said.
This library includes a ton of other perks beyond the Seussian architecture and study spaces . In the Digital Media Lab, you can access all sorts of tech equipment, like VR headsets and 3D printers. Of course, you'll find regular printers and computers to use as well. When planning your visit, don't forget to ask about the de-stress activities. During your study break you can take a walk without leaving the library, courtesy of WalkStations (think, treadmills). Exercise not your thing? No problem. You can find puzzles and board games in Geisel's East Commons. Plus, the library hosts pop-up de-stress activities throughout the term, like their Coloring Club and Stress-Free Zone. If you want a one-stop-shop type of library, Geisel won't fail you.
9. Lehigh University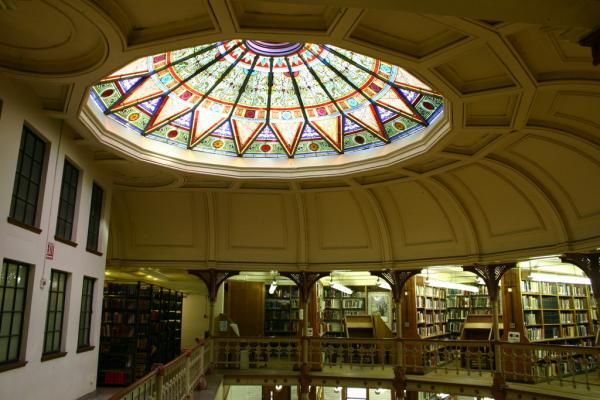 Attending a smaller college doesn't mean sacrificing amazing libraries—especially in the case of Lehigh University.
Linderman Library, lovingly dubbed "Lindy," gives students no short sense of school pride. The giant stained glass Victorian rotunda in the middle of Linderman's Grand Reading Room stuns anyone who sees it for the first time. The soft light coming from above illuminates bookstacks which flow in every direction. This creates a picture-perfect study atmosphere. If you get too lost in your work and need to take a walk, you can always check out the current Reading Room exhibition. On display, you'll find materials from the Special Collections curated into interesting collections, ranging from baseball and American innovation, to "Imaginary Places." The library updates it regularly, and if you need to get some printing done, you won't find any shortage of printers at Lindy.
If you need to access any other tech though, The E.W. Fairchild Martindale Library might be the better option for you. The Media Collection here offers students loans on equipment like portable P.A. systems, microphones, laptops, projectors and more. You'll find tons of tables and seating perfect for studying inside. Alternatively, you can grab a seat on a courtyard bench outside. Here you can read amidst some unique sculptures—you can't have a modern library without modern art, after all.
8. Boston College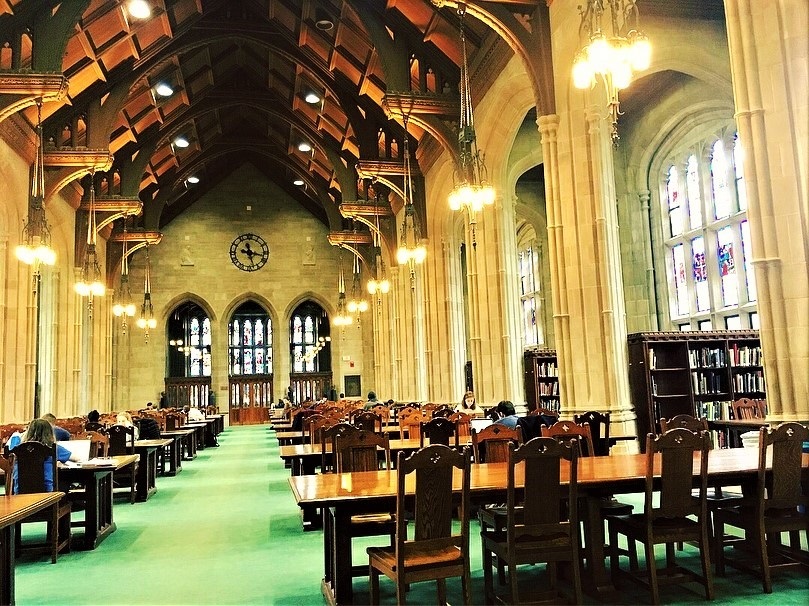 Ever dream of going to Hogwarts? Boston College makes a great alternative.
Students often compare Gargan Hall in Bapst Library to the Great Hall of Hogwarts. The school even released a Harry Potter themed acceptance video for the class of 2022. The high ceilings, long windows and stained glass give it that quintessential dark academia flair. But you'll love this library for more than just its looks.
"O'Neill and Bapst are my favorite places to study at Boston College. Between the two, I can find any study environment I want. Bapst is my first stop during finals. I have never had trouble finding books for research here, and when going through the stacks, I usually end up finding more helpful information," Boston College senior Colleen Aslami said.
Naturally, Bapst can get pretty crowded. If you can't get a seat there, consider hitting up O'Neill Library. Students consider this library to be the least crowded of Boston College's eight libraries, making it perfect for quiet study. You'll find lots of amenities to aid your studies in this library, including white boards and a free tutoring center. To top it all off, this library offers an amazing view of the Boston skyline.
7. Baylor University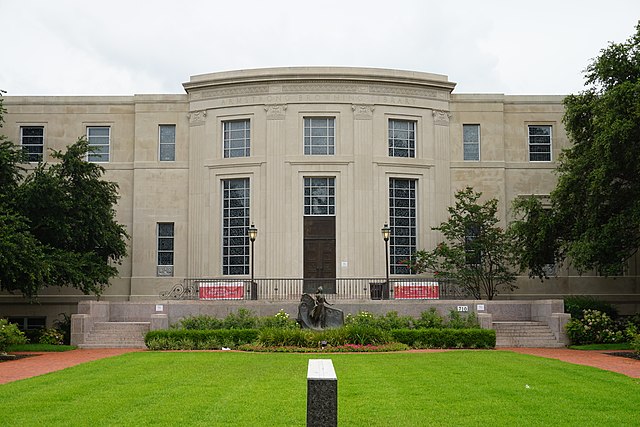 If you want to go to a college that offers a mix of library aesthetics, you might want to check out Baylor University. Among Baylor's five libraries, two stand out above the rest: the Armstrong Browning Library and the Moody Memorial Library.
If a dark academia aesthetic instantly puts you in the study zone, then you'll love The Armstrong Browning Library. With dark wood paneling and the largest collection of stained glass in the world, you probably already have images of this library saved to one of your Pinterest boards. You'll find cozy spaces perfect for quiet study inside the library. Or, if you want to enjoy some fresh air, you can grab a seat outside in the library's courtyard too. When in need of a study break, this library also doubles as a free museum that exhibits rare books, manuscripts and even works of art. For a little respite, try checking out one of their ongoing exhibitions between study sessions.
"Armstrong Browning Library is gorgeous and the perfect place to study. I also had the opportunity to work there," Baylor University alum Madelynn Orion said.
For those who favor a more modern setting for studying, Moody Memorial Library just may become your go-to. This space has lots of light, making it perfect for daytime study. That being said, you can certainly study here well into the night if you'd like.
"Moody Library was my go-to study spot on campus. There's so many places to sit to change up my study scenery, plus coffee was always nearby when I needed a caffeine boost," Orion said.
For seating, you can choose between long tables inside or the smaller patio tables outside. In this library, you'll find a variety of amenities, including media labs, conference rooms and the Undergraduate Writing Centre. Coffee drinkers rejoice, for this library even has its own Starbucks.
6. UCLA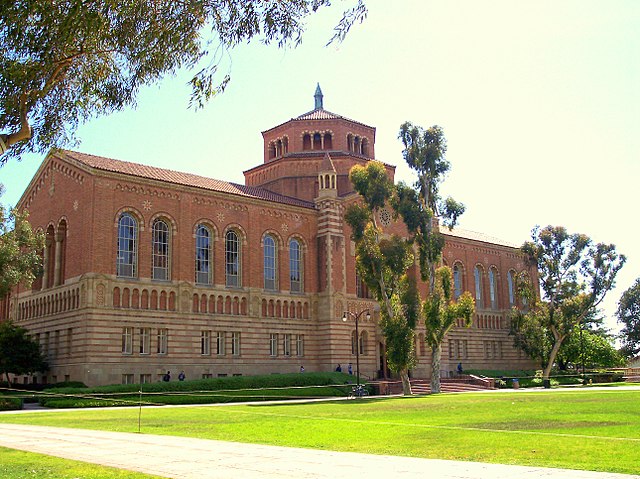 LA's got famous people, and famous libraries, too! While UCLA houses a total of 12 libraries, students favor Powell Library and Young Research Library. Of the two, the former definitely has the bigger claim to fame.
Powell's Romanesque Revival architecture makes it a UCLA landmark. From campus tourism to graduation photoshoots, you've likely seen more than a few photos of Powell. Fun fact: author Ray Bradbury actually wrote his acclaimed novel, Fahrenheit 451, at Powell Library. You'll find a variety of seating options on every floor, from long tables to private carrels. You can even reserve private study rooms. Powell also houses a media lab where you can rent and watch movies for free.
"The UCLA libraries are absolutely great! They're always clean, have super helpful staff and honestly put me in a studying mood. My favorite one is the Powell Library, which has such a beautiful interior and so many different areas to explore," UCLA senior Alyse Pelayo said.
Like Powell, YRL has many seating options to choose from. Students who prefer group study tend to lean towards this library. Here you can reserve collaboration pods, specifically designed to facilitate groupwork. If you prefer to study in isolation, you'll find lots of somewhat secret spots among the stacks, too. Students can access technology loans at both Powell and YRL. However, only YRL has an in-house café—ironically named Café 451, even though Bradbury didn't write his novel there.
5. Dartmouth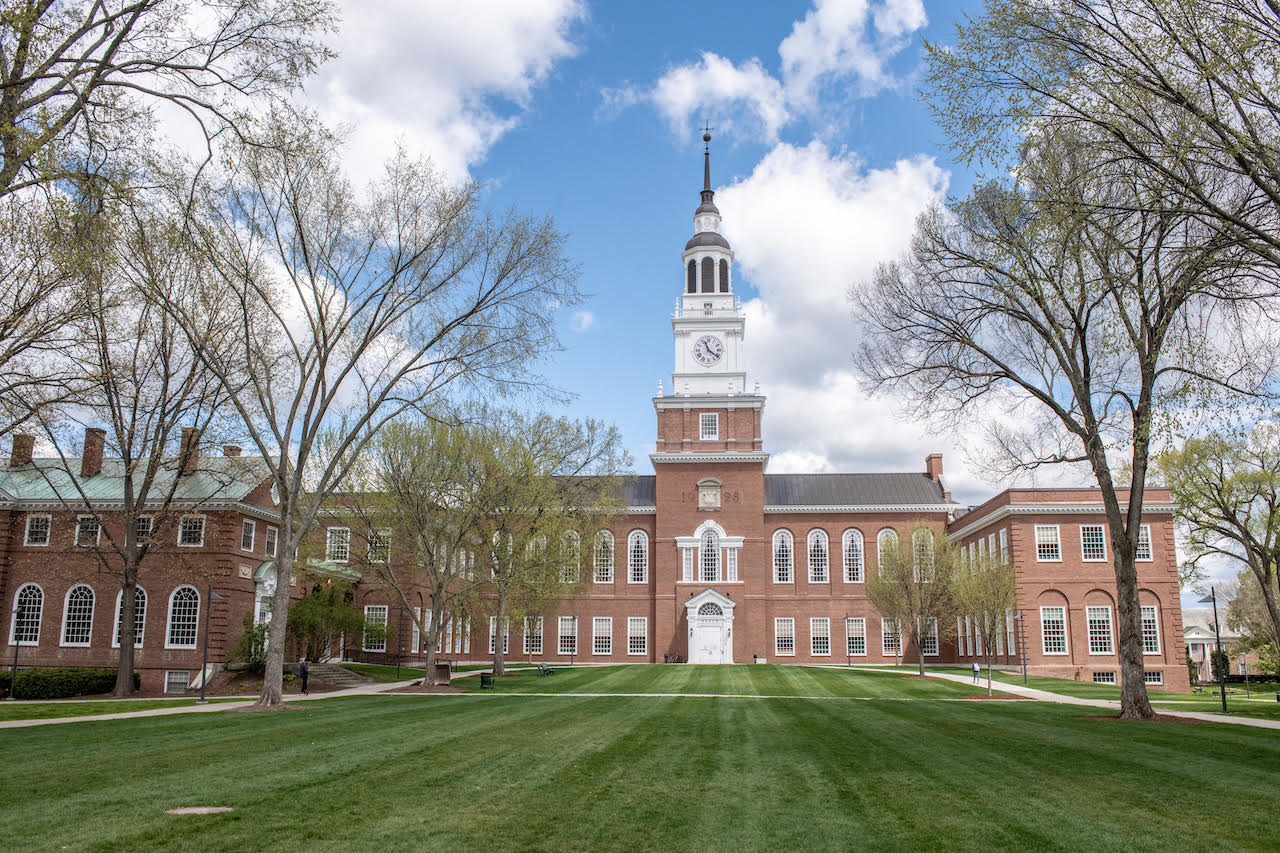 You might not have needed another reason for wanting to go to Dartmouth… but here you go.
Dartmouth may have nine libraries, but only one of them has been recognized as a National Historical Landmark. The university hypes up Baker-Berry Library for good reason. Its classical architectural style, complete with checker-board flooring, can make you feel like you're in a period drama. It also boasts a fresco painted by Jose Clemente Orozco, The Epic of American Civilization.
Students favor this library for more than just the aesthetics. This library offers several great study spots within, from the 1902 Room to in between the stacks. Plus, you can find a King Arthur Flour Café there too—the perfect place to satisfy your midterm munchies, or a caffeine kick!
"Baker-Berry's the heart of campus, and like a second home to students. Each level has different qualities to it. You can choose where you need to be for socializing, studying, or group project work. The research librarians are great and have so much to offer and are always willing to work with us on finding sources for papers or projects," Dartmouth senior Keoni Ocalvey said.
The Rauner Special Collections Library offers students a quiet place to study, as well as access to special research materials. These days we tend to do most of our research online, and because of that, doing tangible research can feel more rewarding. At Rauner, students can find and interact with manuscripts and documents in person. For example, you'll find a theatre collection comprising of original American and British playbills, clippings and memorabilia. This library even houses their materials in a giant glass cube, which makes their Special Collections feel extra special.
4. Cornell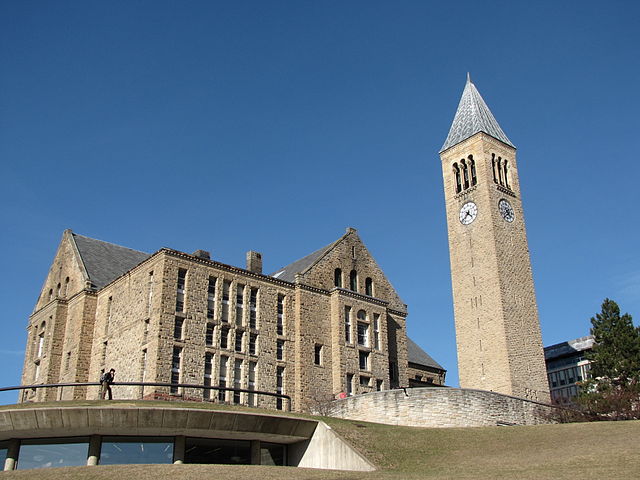 If you love aesthetically pleasing libraries, or if you enjoy studying with a view, Cornell has you covered.
Students love Uris Library for a few different reasons. For starters, the A.D. White Library within Uris contains a cocktail lounge that you'll struggle to not drool over. Alcohol may not be served there (not even mocktails), but its plush red carpet, cozy red chairs, dark wood and wrought iron balconies create a perfectly moody atmosphere. Apart from being a beautiful and quiet place to study, Uris also houses several computer labs available for student use.
"Uris Library is one of my favorite spots on campus to study. I enjoy being surrounded by the historical A.D. White portion. The Cocktail Lounge allows me to get work done effectively in a relaxed and calming environment while overlooking The Slope and Caguya Lake," Cornell junior Rafaella Bruzual said.
Olin Library holds its own against Uris. A grand reading room occupies the entire 5th floor of Olin Library. It includes larger study spaces, smaller rooms perfect for group work, computers and a printing room. If you want to study with a view though, you'll have to grab a carrel on the 7th floor. From there you'll be able to get stunning views of Caguya Lake. And with Amit Bhatia Libe Café, you'll have a steady source of fuel to get you through rigorous study sessions.
3. Harvard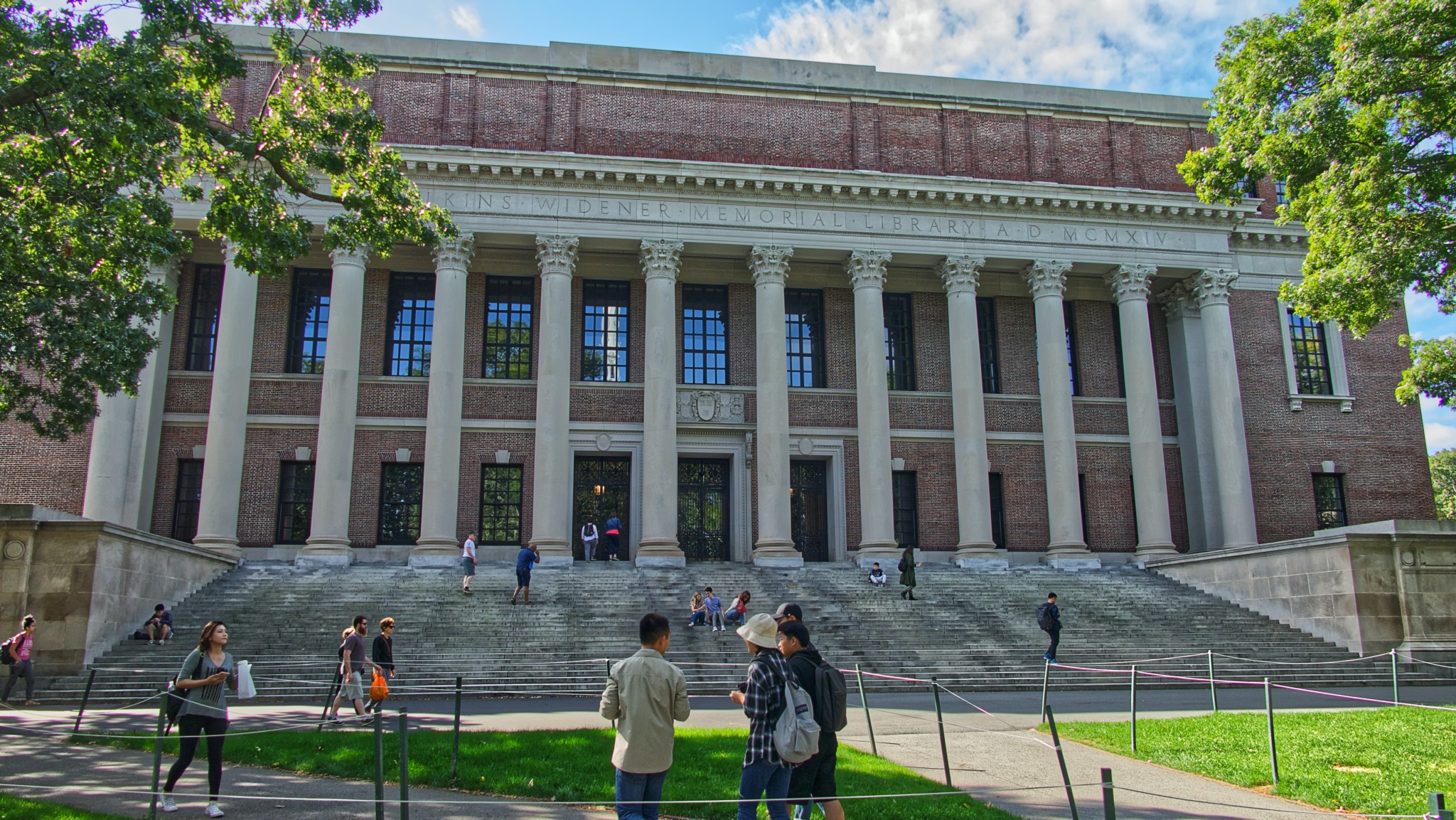 With a whopping 70 libraries, Harvard easily takes the title of being the largest academic library in the world. This number could overwhelm some, but totally excite others.
If you highly value library aesthetics, the Neoclassical design of The Harry Elkins Widener Memorial Library can't be beat. Popularly known as Widener Library, Harvard regards this as their flagship library. Widener boasts a pretty impressive collection of material, including a rare Gutenberg Bible. You can catch some of these gems on display in their frequent exhibitions. Being around these near-sacred resources gives you an instant boost of study motivation. Though most of the study spaces here tend to be shared, you can always reserve a carrel for more privacy.
Unfortunately for night owls, Widener typically closes around 9 p.m. But fear not, you'll find Lamont Library open 24/7. At Lamont Library, you can access a media lab equipped with the latest computers to assist in research and media post-production. When it comes to studying, you have a couple different options. The Donatelli Reading Room offers individual study spots within a shared space. This room lets in lots of natural light. As for seating options, you can pull up a chair, claim a table or reserve a private carrel. If you prefer to cozy up in a nook, then Farnsworth Room would be much more your speed. There you'll find pods of comfy leather chairs beside bookstacks and corner-shelves. This library also has a café for all your snack and caffeine cravings.
Neither of these appeal to you? No problem. You have 68 other options to explore.
2. University of Washington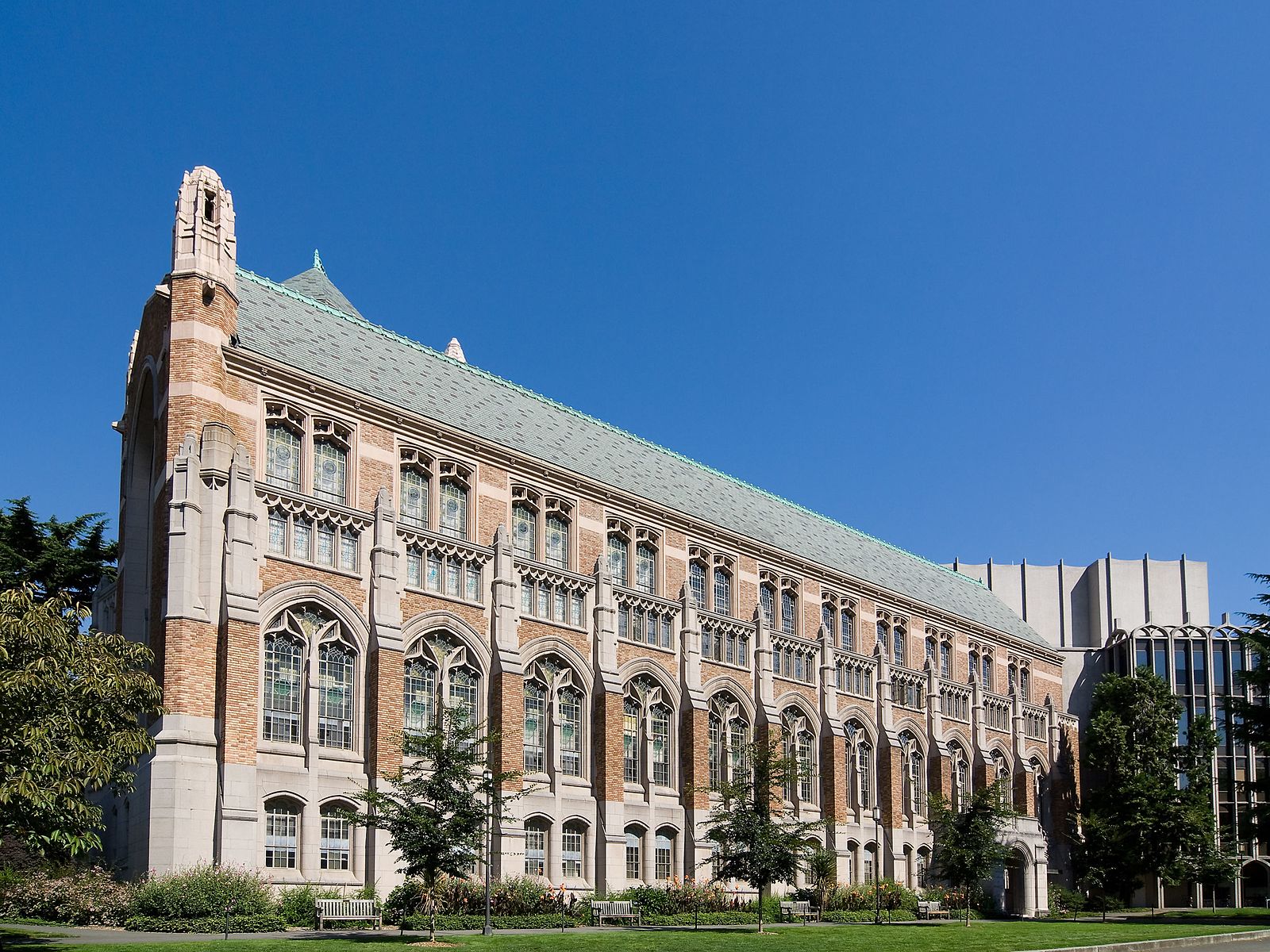 You've likely heard at least one person talk about how beautiful the University of Washington's campus looks. This college's libraries certainly contribute to that.
You don't have to be a Potterhead to fall in love with this library's aesthetic…although, that would make it a lot easier. Stepping inside this library feels like stepping into Hogwarts, or even a cathedral. Fashioned in a gothic architectural style, Suzzallo Library has dramatic high ceilings, with windows just as tall. This creates an atmosphere that works hand in hand with studying.This library also offers a variety of amenities, including computers with a range of software packages, and a Media Arcade that supports audio and video content creation.
"As one of the most beautiful buildings on campus, Suzzallo only has iconic architecture but also serves as the center to the campus in many ways. Students can visit UW Libraries Special Collections, get tech help at the Media Arcade and study in the famous "Harry Potter" room, as well as have access to one of the largest physical and digital collections on the West Coast," University of Washington first-year grad student Stella B. Haynes Kiehn said.
Odegaard Undergraduate Library rivals Suzzallo when it comes to popularity with students. Here, you can access technology loans as well as the Odegaard Writing and Research Center. This library has wide, open spaces with a variety of seating arrangements that facilitate both individual and group study. With respect to the latter, you'll find learning pods with flat screen TVs that support collaboration of group presentations and other types of projects. No need to reserve these, simply claim one as you come. If you prefer a modern aesthetic, it would be hard to not love this library.
1. University of Chicago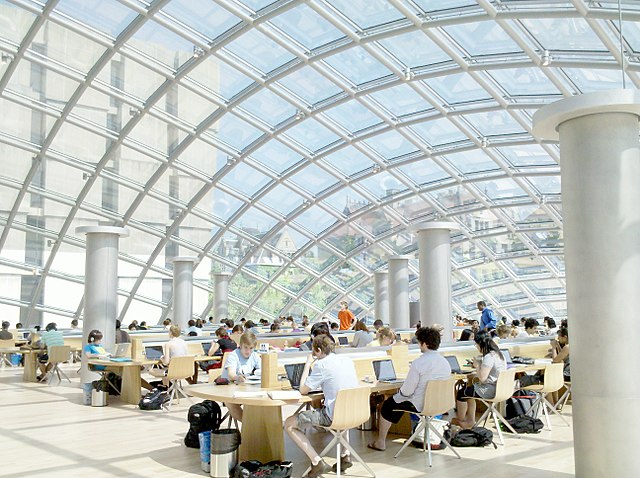 When it comes to libraries, the University of Chicago offers a go big or go home type of approach.
Both students and the general public love The Joe and Rika Mansueto Library. The giant glass dome above its Grand Reading Room gives this library a modern, iconic flair. It also lets in tons of light, creating a bright, clean aesthetic. Some might consider this library's underground storage its best feature, though. A robotic retrieval system fetches books and brings them to the librarians.
Beyond all the flashy tech, this library has all the essential tech too. You won't have any problem with Wifi or finding charging ports, and the desks all have adjustable lighting too. Fun fact: Mansueto Library's futuristic aesthetic even makes an appearance in a scene from the movie Divergent (2013).
"Mansueto and Harper are both great libraries to work at. Personally, I prefer Mansueto for doing research and homework. When it comes to settling down and study for long periods, especially during finals season, Harper is definitely my favorite," University of Chicago senior Lindsey Chen said.
The William Rainey Harper Memorial Library might be Mansueto's polar opposite. This gothic architectural marvel brings all the dark academic and historical vibes. Stepping inside just might make you feel as though you've just been cast in a Medieval drama. Naturally, this means beautiful wooden tables, tall windows and high vaulted ceilings. In the 24-hour reading room, you can cozy up in an armchair to get some studying done at literally any hour of the day. Just be sure to grab a pastry from the student-run café before it closes.