Have you ever walked away from a testing room knowing that you completely and utterly failed? You showed up to every class and listened to your teacher drone on and on about the history of making paper. You took notes. You painstakingly outlined every single main point and detail that seemed important. And finally, you studied, poring over the material for days. Then as soon as you looked at the test questions, you blanked. OK, so maybe you only briefly skimmed the notes. If you don't want to fail this class, you'll need to make some changes to your study habits.
Find out how to study like a boss and stop your GPA from plummeting.
 1. Take breaks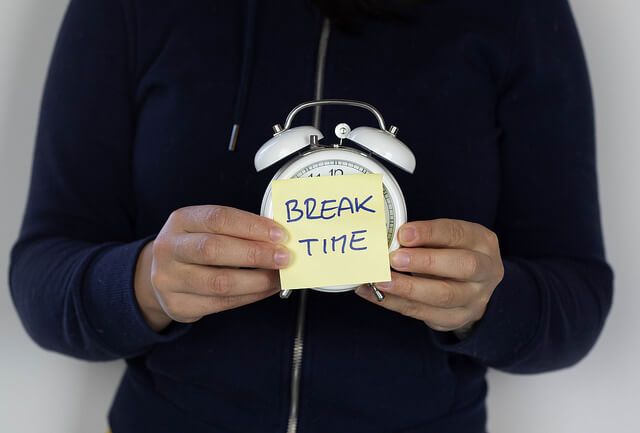 You know those students that practically brag about the countless hours they spent studying, like they'd get a cookie just for their overzealous efforts? Contrary to popular belief, hours spent continuously studying do not always equal a passing grade. One very promising way to study—this may shock you—includes taking breaks. You know that moment when you get in some decent studying and you find yourself having to re-read a few sentences? Things seemed great at first, but now you feel yourself fidgeting and not paying attention. Instead of pressing on and slowly retaining less and less, why not just stop? Come back a few minutes later and pick up where you left off. Once you come back you may feel a little more motivated to study again and the difference in motivation could help you retain information.
2. Focus on one thing at a time
Your brain does some amazing things. It gains and holds unfathomable amounts of information from birth until death. But how do you regulate that inflow of information? Multitasking may feel like a great skill to have, but realistically, when you spread yourself too thin, you start to get sloppy. "Students would try to work on and study multiple assignments at once and they couldn't keep up with all of the information," former TA and first year Florida State University grad student Kevin Monell said. Start with the most basic elements of the material and work your way deeper. You'll achieve a clearer understanding, unlike when you tried to remember everything at once and only retained half of the material.
 3. Understand the material, don't memorize it
Would you say you've actually remembered the data you just studied or that you just recognize it when you see it? Do you know the difference? When you studied, if you found yourself looking over at the answer to a question or problem a lot, you may have sold yourself short. "They think they understand, but they haven't actually learned how to do the problem. answer. That time struggling and working it out is important," FSU Learning tutor Justin Silver said. As frustrating as it may feel to work through a problem or question, you should only look at the answer as a last resort.Then, make sure to come back to it until you can answer the question without looking at a key. If you have to look, you don't actually remember it.
4. Put your phone on airplane mode
Must… Check… Snapchat… The pull of a little notification ding or screen suddenly lighting up can feel nearly irresistible. In a time of remaining constantly plugged into social media we struggle to keep our focus on even the things we really need to get done—like studying for our next big exam. "Recently I went to the library ready to study, sat down at a computer, then took out my phone and scrolled for an hour," FSU sophomore Olivia Rhoads said. To fix this problem, do yourself a favor and—if turning your phone off doesn't sit well with you—turn your phone on airplane mode. That will stop the constant notification sounds and go a long way in keeping you focused on studying. It only takes a second of weakness to fall into a social media ravine, but it takes hours to climb out of it and get back to the task at hand.
5. Studying With The Friends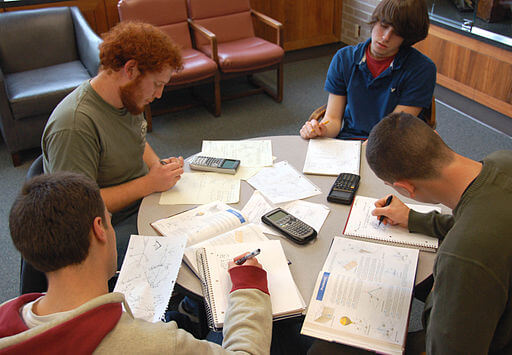 What happens when you study with the wrong group? "When I study with friends I always get so distracted and I barely get anything done," FSU sophomore Brittany Mills said. If you and your friends all get together and realize you have the same professor or the same material to study for a test, it may seem like a godsend. You get to ace your test and spend time with your friends? But when you sit down to study with them, make sure you actually get the material in between socializing and gossiping. And if all else fails, find another group or just study on your own. Keep trying different settings until you find your best way to focus.
6. Find a study room
If you study in your cramped twin XL bed, you may find it hard to keep studying. Your mind associates your bed with sleep. When you wake up the next morning with your notes covered in sleep-drool, you'll only have yourself to blame. And if a room happens to have a bunch of noisy people playing an amazing game of beer pong, how can you resist knowing if you would totally crush it? You have no willpower, but don't worry. You can fix this problem. You know those rooms in your dormitory? Those rooms marked "study room?" Or that building with all the books that people strangely stay quiet in? The library? These places that we casually walk past actually make great places to study.
7. Study in more than one way
Do you get home and doggedly rewrite your notes because you've heard it helps you remember? Many people swear by writing or saying something 10 times, but that doesn't work for everyone. It especially doesn't work well when you need to commit a concept to memory and not just a bunch of dates, names and facts. Studying the same set of material in a variety of ways actually proves very beneficial. "When I really need to understand something challenging from class, I can't just read it. I make flash cards, I make a game out of it, I might even try to explain it to someone else. I try to know the material inside-out," FAMU junior Freddie Triplett said.  Don't only write it out—draw a picture or concept map. Or, don't only say it over and over—make a mnemonic device. Looking at the data in a few different ways will help you gain a better idea of how everything fits together and that deeper understanding will help you remember during a test.
8. Actually sleep
When we have a huge test to study for, terms like pass or fail look like life or death. And sleeping seems less important—maybe even irresponsible. But we couldn't have it more wrong when we think that way. In a study on sleeping habits conducted by June J Pilcher, PhD, and Amy S. Walters, MA, the two found that students have proven themselves unaware of just how negatively their bad sleeping habits affect their ability to function. Students believed themselves able to concentrate and perform well, but when actually tested, performed much worse than students who had not suffered sleep deprivation. All this says that no matter how much studying we do, even if we study using every study tip possible, all the facts will inevitably go out the window. We need enough sleep so our minds retain the information.
9. Do it today, not tomorrow
You think, "I'll do it some other time," when your professor recommends you review material before heading to your weekend plans. The hardest part of studying can lie in simply starting the task. We know we need to do it. But by ignoring the responsibility, we only hurt ourselves. Then we end up spending the days before the test, worried that we won't have time to absorb it all. Shake off that lazy feeling. Stop putting it off and just start. Don't allow yourself to fall into the habit of saying that you'll get around to it later. Because you'll also regret it later.
10. Make the time
Maybe your problem doesn't lie exactly in the studying itself, but feeling like you don't have enough time. We get it, college takes a lot out of students. We have so much that we need to do and things that we want to do and it all just gets overwhelming sometimes. But, even if you hate to hear it, you have to make the time. You can't think of studying as an option. The information won't learn itself. Start really planning to study. Get into the habit of sitting down at a designated time where you look over the chapter or your notes. Set a date. Make an alarm. However you do it, just make sure to devote a part of your day to reviewing material.