All right, so everyone remembers this cringe-worthy moment: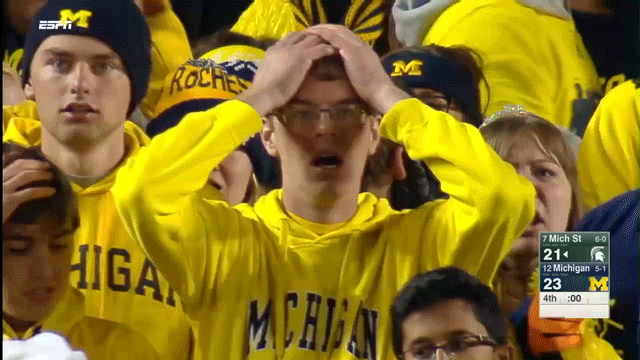 Michigan fans nationwide were left in disbelief after our beloved team quite literally threw a victory into the hands of the Michigan State Spartans. We'd be lying if we said the loss doesn't still sting, and honestly, some Wolverines still wake up in a cold sweat due to that unbelievable night. Last fall's minor football setback might have given Michigan State fans a reason to smile and trash talk for awhile, but us Wolverines still have plenty of reasons why we take the W in the end.
1. Look at the facts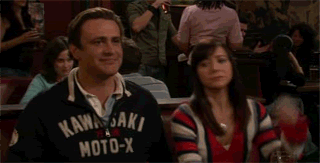 The University of Michigan boasts a consistent and worldwide reputation for excellence. According to Forbes's list of America's Top Colleges, Michigan ranks #41 overall and #5 in the Midwest. On this same list, Michigan State ranks #170 overall and #33 in the Midwest. The numbers don't lie, and neither do the results. Home of the number #4 ranked business school and #6 ranked engineering school, the University of Michigan breeds the best and the brightest. "All (my State friends) do is talk about sports. They never talk about academics, which is the most important part about going to a school," UM senior J.J. Politis said. Though victories in rival games are awesome, the winners fluctuate over the years. However, something that has stayed consistent is the University of Michigan's academic excellence.
2. We work hard and play hard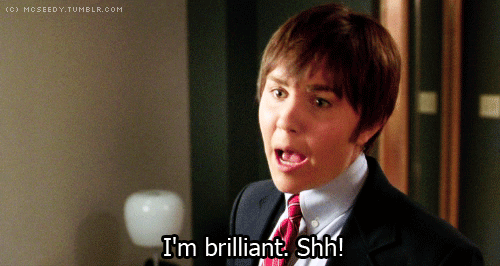 Michigan State students might raise their glasses and cheers to being the better party school, and you know what, good for them. We U of M students will stay in Ann Arbor mentally calculating the slope that a cold brew takes from the table to our lips, while living it up on a night out. Whether you find us at Skeep's on Thursday, Rick's on Friday, at a Saturday morning tailgate or ending our weekend at Brown Jug on Sunday, Michigan definitely knows the meaning of a good time. Hate to break it to you Sparty, but over in A2, we have both brains and beer pong skills.
3. A law library that would bring tears to Hermione's eyes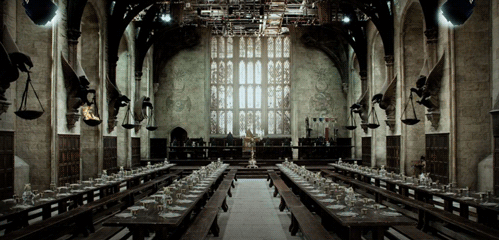 Unlike our East Lansing rivals, we don't pride ourselves on just play. It takes work to maintain our reputation as the "Champions of the West," and one of the best places to do this resides in the Law Library. Harry Potter fans can attest that the reading room looks quite like a certain Great Hall at the Hogwarts School of Witchcraft and Wizardry. Gazing up at the beautifully lit chandeliers and stained glass windows eliminates the temptation to check one's Facebook and maximizes study time in a way that East Lansing libraries can't compare.
4. Ann Arbor is a food-lover's dream come true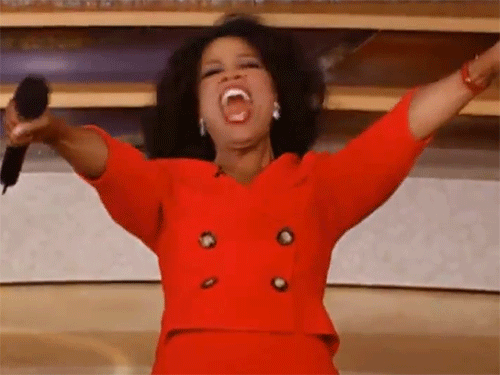 If you're a foodie, well then you hit the jackpot on the University of Michigan's campus. Ann Arbor houses cuisine from hundreds of restaurants ranging from Ethiopian and Korean to Mexican and Middle Eastern. The famous Zingerman's Delicatessen also resides in our city, which was founded right at the corner of Detroit and Kingsley streets in 1982. Even the President agrees that Zingerman's reigns supreme. In April 2014, Barack Obama dropped by Ann Arbor to feast on a classic Reuben. But don't just take his word for it. Oprah Winfrey rated the "Lisa C's Boisterous Brisket" sandwich an 11 out of 5. Those in East Lansing will have to take a drive if they want to get a taste.
5. Just Google it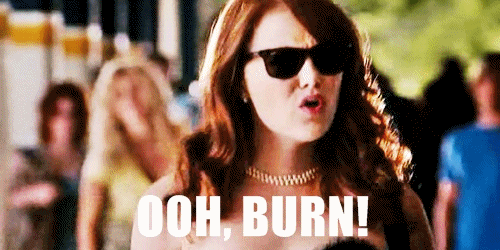 Did you know that Larry Page, founder of Google, earned his undergraduate degree at the University of Michigan? Using his moderately popular search engine, Spartans can learn more about Michigan's impressive alumni base, which includes Tom Brady, Madonna and Sanjay Gupta. Not to mention that the 38th President of the United States Gerald R. Ford, the current dean of Harvard Law School, Martha Minow, nine Nobel Laureates and 11 astronauts also hail from our maize and blue haven.
The notorious Michigan versus Michigan State rivalry has been argued over for years. I'm here to tell you, argue no more. Ann Arbor takes the cake. If you don't believe me, look up at the moon on a clear night. There's a U-M flag on it.