With a badass academic reputation comes the need for even better study habits. University of Michigan students spend more time scattered around the Ann Arbor campus with their noses in their laptops than much of anything else (at least until Friday comes). Lucky for us students, if you pick the right time of day and prepare yourself with enough snacks, you can find a study spot that will become your second home by the end of the semester. Let's face it: if your day or night doesn't involve lounging at a cozy place on campus to write a paper, skim 50-page readings or cram for an exam, do you even go here?
10. The Dude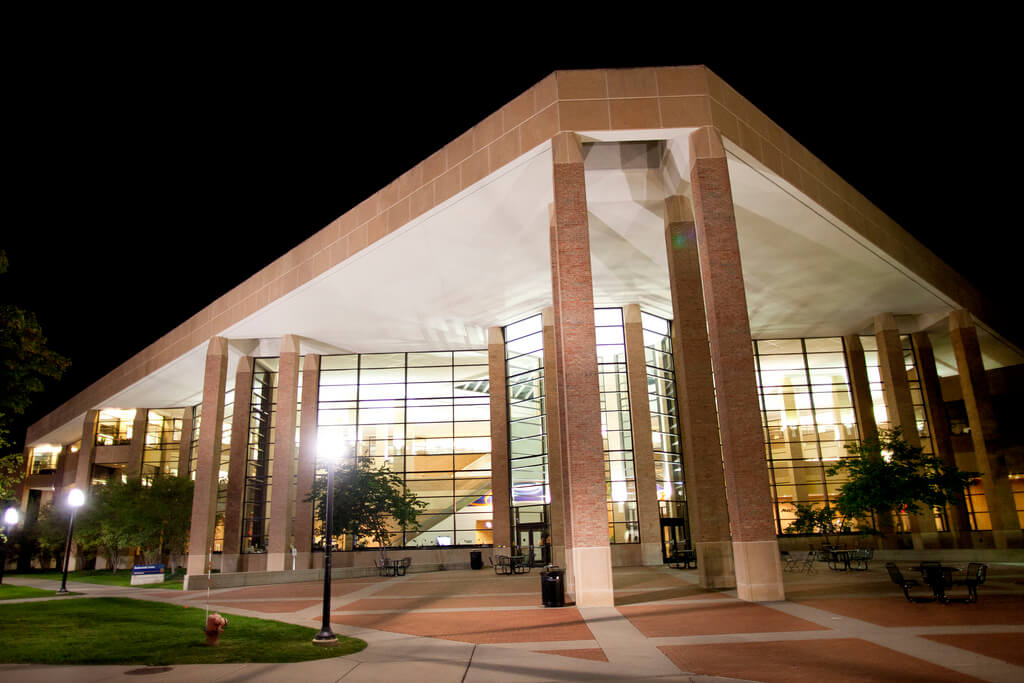 Nestled in the foreign land of North Campus, you can find the mecca of study space and serenity. Whether you live on North or will gladly hop on a Blue Bus for a 15-minute road trip, the Duderstadt Center (aka The Dude) houses a large population of Michigan's most studious. With wide open windows and food options galore, this destination consistently entices those who need a break from wandering around campus aimlessly looking for a place that isn't packed. I studied at the Dude once my freshman year and got more done in a night than my whole four years combined.
9. Palmer Commons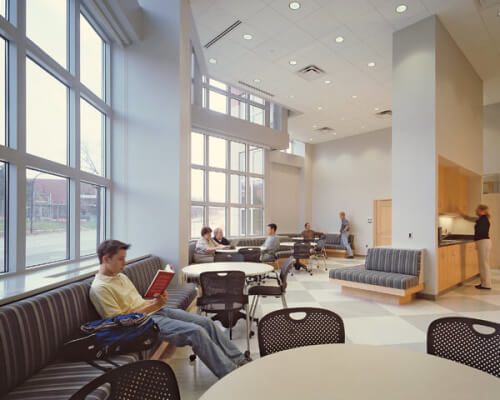 While I've never considered myself the most modern gal out there, many students on Michigan's campus find themselves pulled to the stylish abode of Palmer Commons. "I've recently liked doing homework at Palmer because there aren't a lot of students studying there so it's quiet, and there is artwork everywhere which is definitely pleasing to the eye," senior Brie Commons said. While students and faculty can be seen flying through the halls during the day to get to lectures and meetings, this normally leaves the tables and nooks in Palmer open for any student desperate to get their study on.
8. Ross School of Business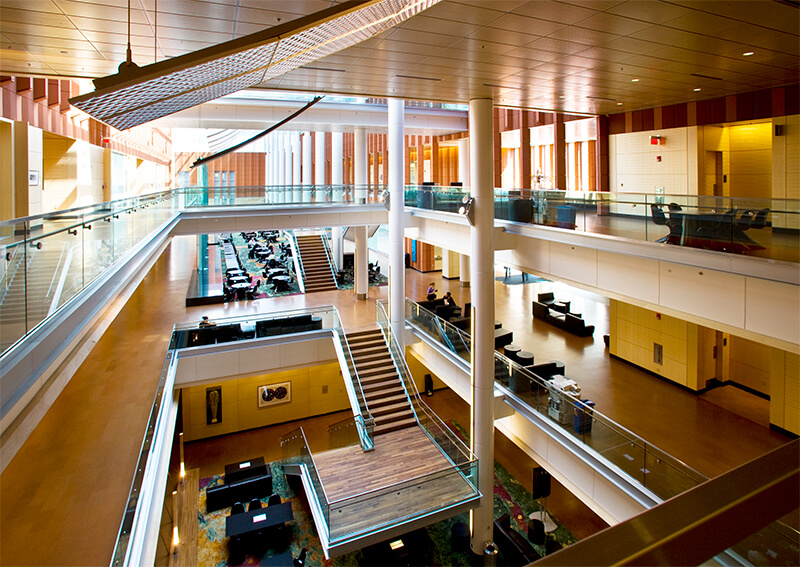 When you think of Michigan's B-School, a few thoughts may come to mind. They must be hella smart. Can non-Ross students get into the building? Shut up, they have a Starbucks? Yes, my friends, they do. Many are unaware of the prime study spot action that lies in the Ross School of Business. With an atrium and a basement floor filled with enough tables and outlets for our heart's desire, not to mention the in-house Starbucks and cafeteria that will spoil you rotten, studying has gotten a lot more professional. But calm down Ross kids, I'll warn them. Seating is a hot-commodity at certain times of the day here, so only make the commitment if you're about your business.
7. The Law Library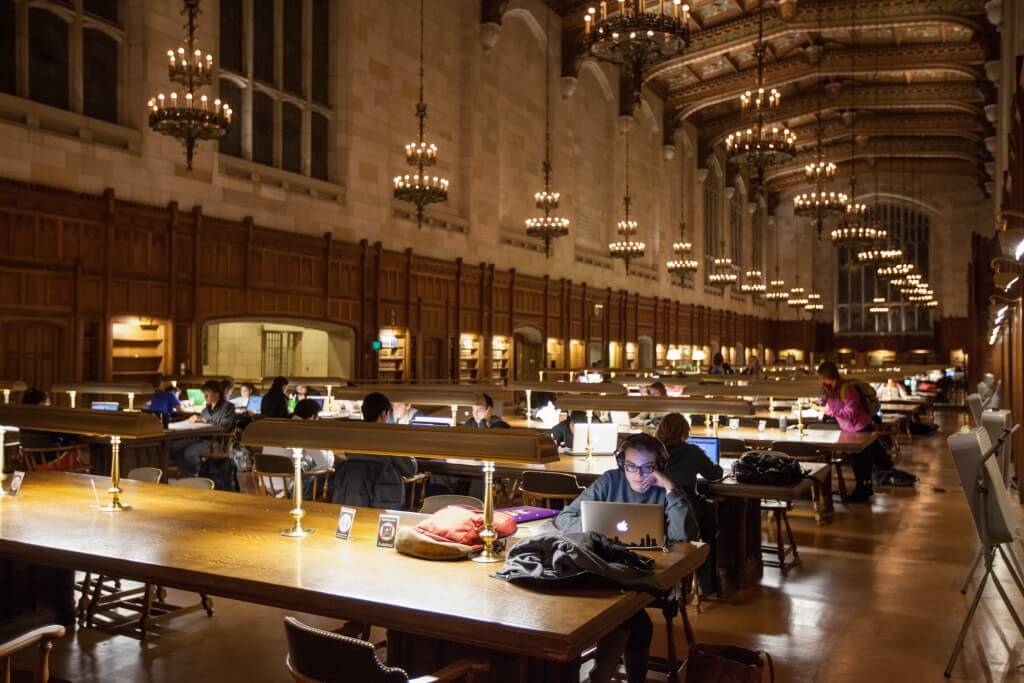 The infamous Law Library garnered a reputation on campus as a no-bullshit study location. When you think about it, this totally makes sense since it's connected to the future legal personnel of our generation. "The Law Library is a great spot to study, but don't sneeze or bring noisy things with you because you will definitely get the evil eye," senior Michaela Kehoe said. For that reason alone, me and my need to eat 24/7 when I study keeps me from stepping foot into this Harry Potter-esque building.
6. North Quad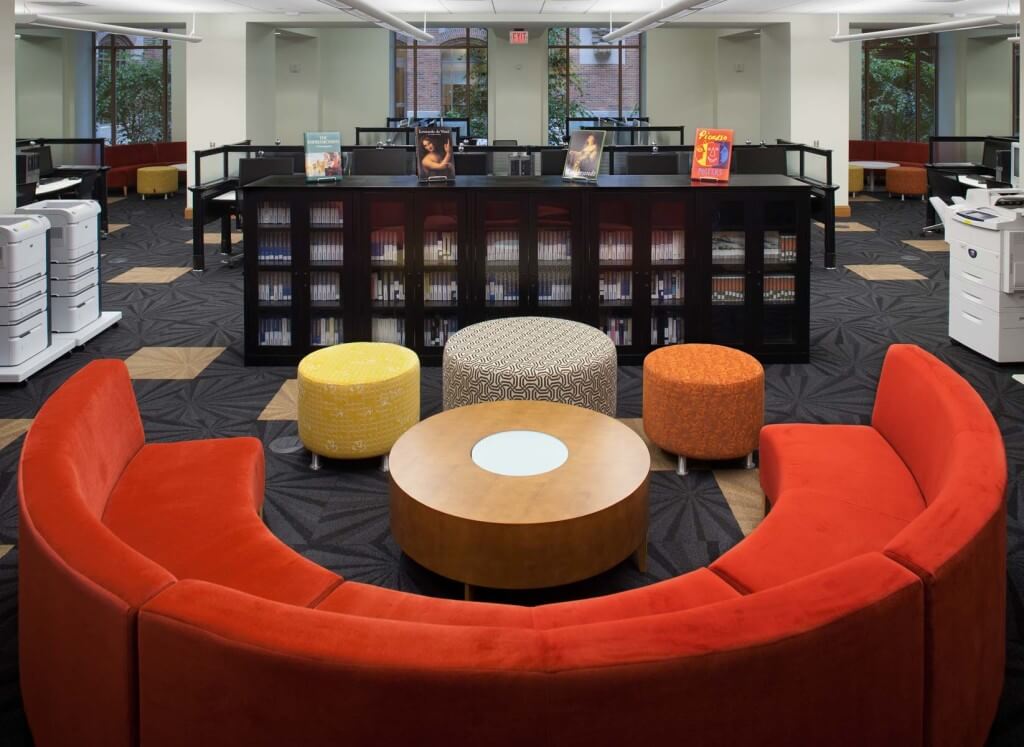 Another modern gem can be found in the aesthetically-pleasing North Quad. You'll likely find me here if I've determined that shit needs to get done and my apartment just won't do. What draws so many students to North Quad may be a combination of its fine-dining style dining hall and the fact that it acts as a student residence and classroom location. The option to go from your class, print off your readings in the Language Resource Center, find a cozy nook in the wall to write a paper in, then go upstairs to your dorm room makes this study spot a Michigan treasure.
5. Rackham Graduate School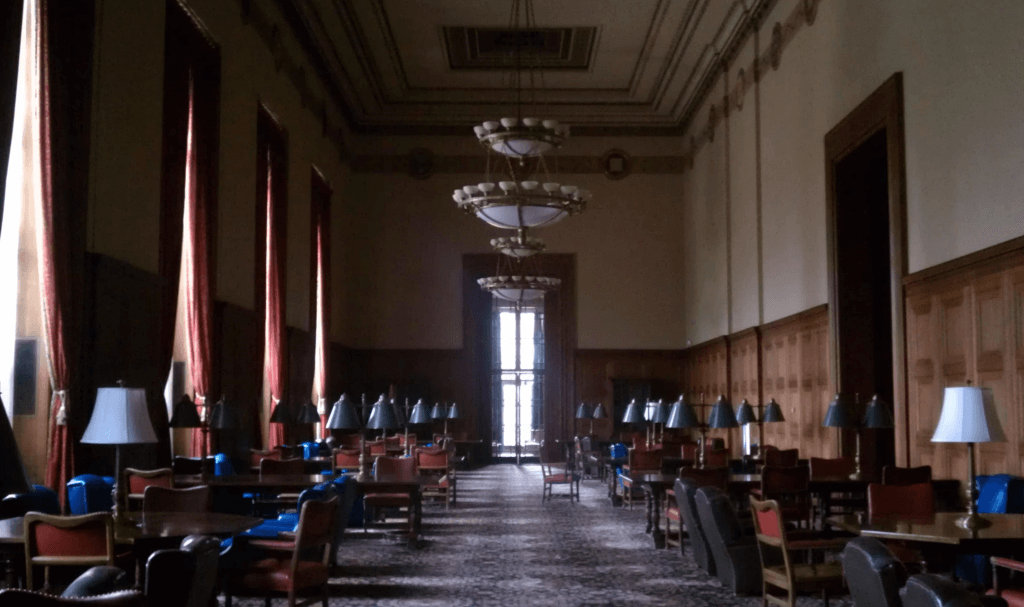 I secretly think that Michigan undergrads slither our way into the grad school facilities in hopes that we will soak up some of their motivation and brain power. Rackham Grad School may seem like an intimidating judicial building when you walk up to it, but trust me, there's more it than meets the eye. "The study rooms have a really cool, vintage atmosphere. In some of the side rooms there are old desks that have doors with letters from people from way, way back which is fun to read," Kehoe said. If getting lost in your work happens to be your number one mission this midterm season, get ready to kick a few grad students out of your way.
4. The Michigan Union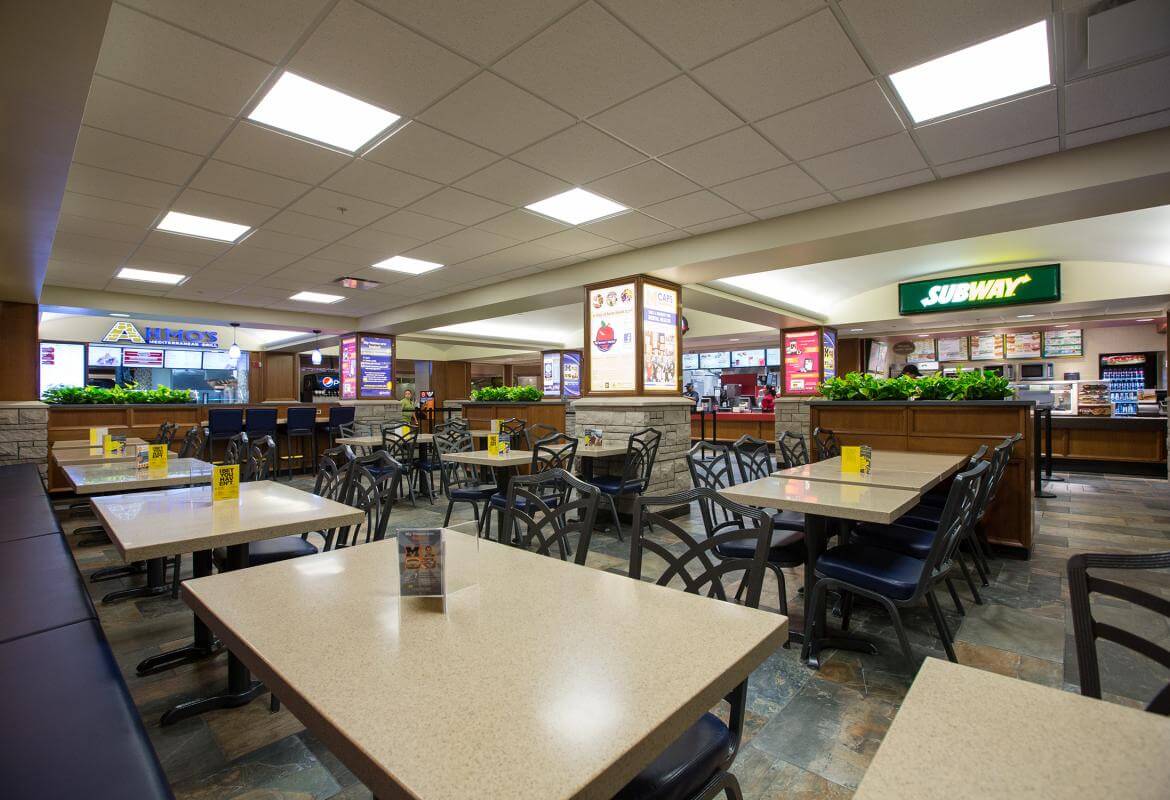 Arguably the most popular location on U of M's campus, the Michigan Union caters to those students who want a little sight-seeing and socializing added to their study schedule. "You can probably find me nestled in the corner of one of the two couches between Starbucks and Au Bon Pain in the Union. It's relatively peaceful, but it's still amongst the hustle and bustle where I can be simultaneously semi-hidden, productive and a tad bit nosey," senior Alexis Stanton said. Whether it's the Tap Room, the MUG or on one of the many floors that make up the tall Union, you will likely find a spot to crack open the books and say hey to a few friends.
3. Hatcher Graduate Library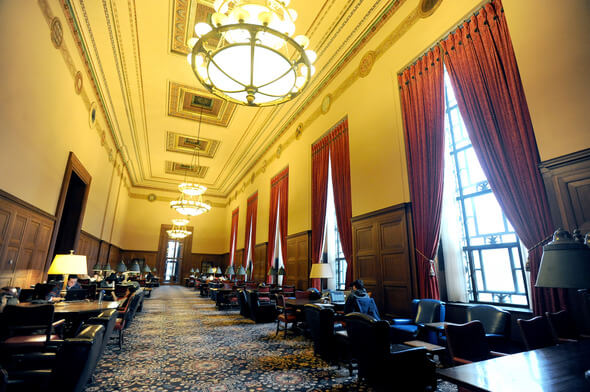 Once again, those darn grad students have us dying to study like them. A great alternative to the natural state of undergrad madness that can be found in the UGLI, and Hatcher gives students an option to study in a calmer and more logical way. "I'm all about the basement of Hatcher because it has a lot of windows, so I can pretend to be outside even though I'm trapped inside studying. Also, there is literally no one down there, so I don't have to take 10 laps around the building to find a seat," senior Madison Hurtubise said. There's nothing like quick and efficient studying to get you through the night.
2. The Fishbowl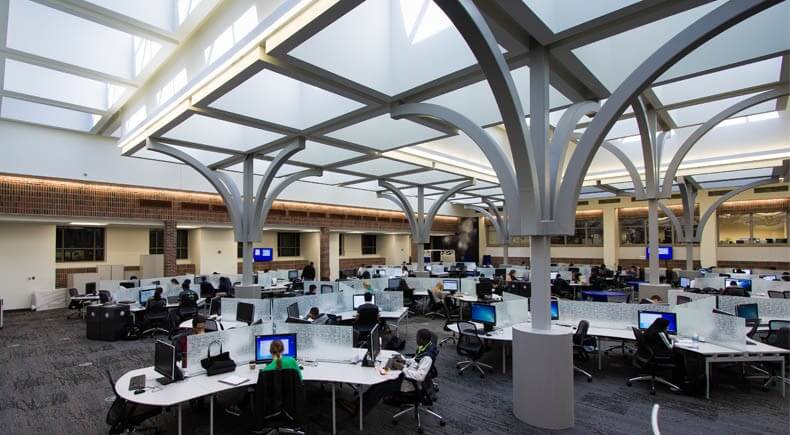 The beauty of the Fishbowl lies in its understanding that in this generation, every student needs a computer to function. With computers scattered all around the vast room, students can be found rushing to print off materials in between classes or spending the night in blue-screened bliss. Ask every other student where they'll be studying tonight and you'll probably hear: The Fishbowl.
1. The UGLI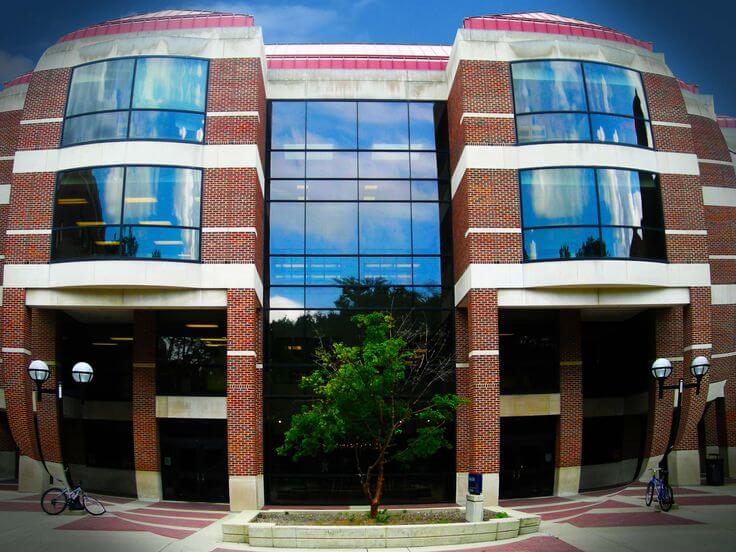 The UGLI stands for the Undergraduate Library, which you'll learn the first day as a Michigan student. With four-floors of seating, a café and a printing center (oh yeah, and an actual library system), the UGLI pretty much has all a weathered undergrad needs in our desperate times of studying. On the 1st and 2nd floors you'll likely pass by someone you've had a class with and hear the business of anyone within two feet of you, but as you move up to the 3rd and 4th floors, the people get quieter and the faces start to morph into laptop screens. Every Michigan student knows that if you really have a serious exam to study for, just cross your fingers and hope that a table opens up at the UGLI.