Everyone sees quarantine as a scary situation, a boring situation or even an annoying situation. I get the disappointment in missing our spring semester. As a freshman, I did not prepare to have a weird first experience in college. I guess the class of 2023 needs to wait another year for the total experience. Even though corona forces us to follow social distancing and prevents us from seeing our friends, it doesn't have to completely ruin our lives.
Keep reading to learn how COVID-19 changed how I view myself and how it brought out the best in me.
The Early Stages
After an exciting vacation to the Big Apple, the virus quickly picked up momentum and a determination for elimination. Every sports shop you passed contained a line of rednecks waiting to purchase a gun. At the time, my brother was throwing his 20th birthday party in Orlando. I thought if this deadly virus planned to stay around, I may as well spend my last days partying with the people I care about.
A week of fun slipped through our fingers before my friends found themselves forced to return home, held hostage by their parents and the U.S government. Meanwhile, my brother and I enjoyed the quarantine life locked within the walls of his apartment. From that day on, I didn't see sunlight for another two months.
Insanity Feeds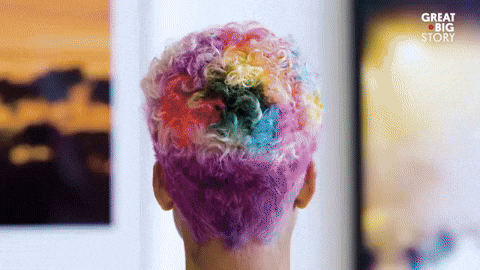 Quarantine feeds off your sanity and slowly eats away until every sane brain cell is gone. If you do not learn to embrace the alone time, eventually the thoughts will devour you. Within the first few weeks of lockdown, people already caved into their worst enemy: insanity. The memes of dying hair, balding and cutting bangs blew up across all social media platforms. People lost it. Fast.
While everyone else lost their minds, I kept busy. Sitting on a plastic couch every day while binge-watching "Skins" and "Lizzie McGuire" for the fourth time made me feel like I wasted precious time. Turning to my computer, I focused on my finals and developing my personal brand. I made a portfolio website, ran for executive positions and jazzed up my resume. Instead of allowing the insanity to take power over me, I used it to push my motivation.
However, keeping busy does not necessarily keep you sane. Loneliness claimed my weakness. After all, the only human interaction I encountered was watching my brother play video games and Hillary Duff's cartoon character, Lizzie, talk to me off-screen. My mind often wandered off searching deeper into my thoughts and learning more about my own personality. This experience allowed me to find my "self" again. After years of surrounding yourself with people, you never find the time to learn yourself. Instead, your personality shapes around the influence of the superiors, the influencers and the rulers. Personally, John B from Outer Banks definitely started a new fashion trend for the boys. Without even knowing it, we conform to each other in search for approval or subjects to connect us. After a few weeks alone, I learned what parts of me represent the real me and what uncovered to be fake.
Thankfully, I did not live completely alone throughout the isolation. My brother's friend group took me in as one of their own. They included me in their family group chat and taught me their inside jokes. Eventually, I stopped learning inside jokes and I began creating them. I quickly realized this was no ordinary friend group. After daily 8:30 p.m. Zoom meetings, I noticed this group held a special bond. The more stories each one of them share, the more they connect to each other.
They follow a never-ending cycle that keeps them together. The world wanted them to meet. If you want to get philosophical about it, the universe planned within their fates. If the past changed in any way, they would still find themselves bound to meet. These people taught me a little something about friendship. Without the lockdown I would never see the sparkle and special relationship between my brother and his friends.
Savor Your Time
"If only there was more hours in the day," said every person ever. We all wish we contained more time on the life clock to do the things we love. Typically, life excites us and carries us away from what we want to do. Instead, we just waste time doing the things we need to do. Now you can take your chance. Take advantage, grasp the time that lies in your hands. Use it to enjoy every second of your day. Be adventurous and try something you could never find the time for.
While living Groundjog Day for the past month, I realized I had all the time in the world. I could live my day in any pattern I wanted. Learn to take your mornings slowly. Blink your eyes open. Listen to the birds sing. Make a healthy breakfast. You have no responsibilities and no rush forcing you to miss experiences. Enjoy every second of that morning and remember each moment. Remember each bite of the banana pancake and savor every flavor. Wake up and live your day like you always dreamed. As each day passes, time inches closer to your old scheduled habits.
Since day one I have felt less stressed, relieved of all pressure. The future still exists but it feels like time stands still. I am finally able to live life, like it was designed for me to live. When quarantine ends and the world beings to run again, I will run with it as if I am a gear in a machine, but I will savor every second. I will make my breakfast in the morning, take my time getting ready and I will take back control. The world no longer runs my life. From now on, I am in control.
For You
Take this as a lesson. Don't think of quarantine as such a disappointing thing. Fill up your glass of water and take advantage of it while you can. Think of it as…a day off from life.