Walks—the everyday person's natural therapy. Ever wonder why colleges put so much effort into curating art pieces and architectural marvels for an aesthetically pleasing campus? Obviously, aside from attracting prospective students and donors, it makes for a relaxing, enjoyable learning environment conducive to happy walks and happier students. If you know yourself as someone who relies on casual strolls to maintain your mental health, look no further.
Read on to find out the 10 best colleges for walks that will take your breath away.
10. Clemson University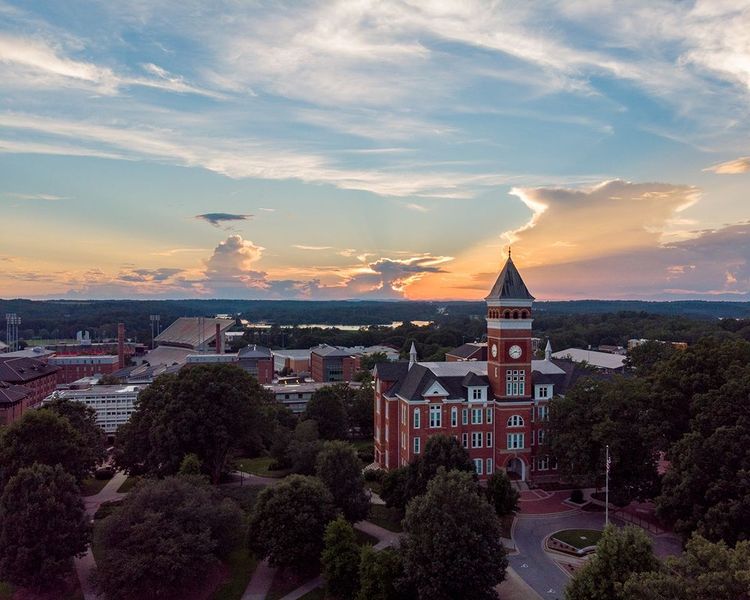 Jutting into the upper stretch of Lake Hartwell, Clemson University brings liveliness to quaint and quiet Upstate South Carolina. A mixture of natural and man-made attractions both surrounds and hides within the hub of campus, ensuring that your eyes get their fill of sights on every walk. The Clemson dikes afford unrestricted views of Lake Hartwell on a long trail, and for those who prefer foliage, the South Carolina Botanical Garden sits on the opposite end of campus. Aside from featuring over 10 gardens within the local Piedmont ecosystem, the garden hosts monthly First Friday Nature Walks aimed to deepen visitors' understanding of the natural world and conservation. Campus also houses historical landmarks like Fort Hill, the former plantation and home of antebellum politician John C. Calhoun, and peaceful modern recreational architecture like the Reflection Pond. An odd juxtaposition of landmarks, but they nonetheless encourage students to pay attention to the history of their surroundings on their journeys across campus. Pair everything above with perennial comfortable weather and you'll find yourself taking walks every day.
9. California Institute of Technology (Caltech)
If you assume that an institute of technology produces amazing architecture, you assume correctly. Despite not providing as many opportunities to explore nature, Caltech's wealth of bold buildings ensures your walks remain interesting. The Beckman Auditorium looks like a sacred wedding cake (giving it its nickname) and possesses an air of pristine otherworldliness. The college commissioned New York MoMA architect Edward Durell Stone to design the auditorium, leaving behind a feeling of walking beside enlightenment.  
"I definitely take different routes based on my mood. Some days I want to see the turtles and other days I want to see the fountain! Since the campus is sort of square-shaped there are many paths that get you from A to B in about the same time which I really appreciate," Caltech graduate student Sara Vanovac said. "Often when I'm near the physics building and see people working on problems on the whiteboards outside I think about all of the notable figures in recent history that walked those same paths and wrote on those same whiteboards and my mood is lifted. It's inspiring."
Some other landmarks include the Athenaeum, a Mediterranean Revival style private faculty and social club, the Throop Memorial Garden with frolicking ducks and turtles and the Caltech Hall Library that towers over a glinting decorative pond. Worried you won't manage to fit in time to visit all these places? Fear not. The 124-acre campus comes small-sized and flat. Even the busiest of Beavers will get through all the must-see spots during post-meal or post-study walks to improve digestion and clear your mind.
8. Pepperdine University
Perched on the very edge of the Malibu Coast, Pepperdine's landscape unfolds anything but smoothly. Why include it on a "best for walks" list then, you say? Because some people enjoy a good challenge! Especially because the terrain lacks flatness, stairs proliferate and bikes turn less convenient, which means all the more footwork for a walk-lover. Don't let the stairs intimidate you, though. Aside from the land elevation, Pepperdine exists as a certified paradise.
"Pepperdine is a walking campus for sure, not only because of the view but also because it's super small, so people travel around by feet," Pepperdine University sophomore Jennifer Keung said. "Malibu in itself is a landmark so I would say that's also a perk. There's a lot of nature around us as well, sometimes you can spot foxes or other wild animals at night."
In case you forgot, the west coast celebrates Malibu as the destination for the ocean, beaches and sunny getaways. That means proximity to the beach and permanent access to the expansive views of the Pacific Ocean and horizon. A 10-minute walk will also take you to Malibu Bluffs Park where you can walk on wide pavements or natural trails and try to spot local animals. For somewhere more private, Pepperdine's own Alumni Park boasts two ponds and huge stretches of lawn for all your walking needs. At the right time, you might pass by the slightly odd but amusing view of disc golfers flinging frisbees into a net on the links. Given all this, even the most isolated of hermits will feel compelled to go out and embrace the ocean blues.
7. Brown University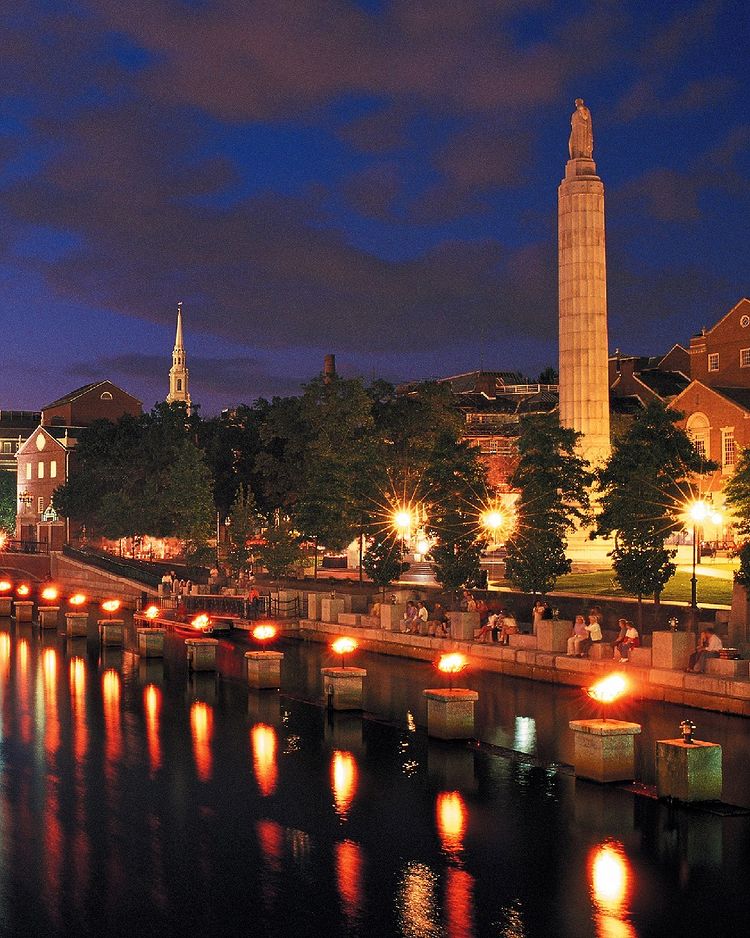 Now, a step away from temperate climates. Though I imagine most prefer walks under warm temperatures, I'd rather not alienate those who want the bracing touch of winter air. Located in the center of Providence, Rhode Island, right next to Providence River, Brown University provides an urban walking environment that doesn't exclude natural elements. The downtown waterfront (Riverwalk) lies just steps away from campus. At night, you can easily admire the glimmering reflections of city lights in the river below.
"The Brown campus is definitely nice to walk around if only because most of the campus buildings are close in proximity to one another, giving the place a sense of togetherness and 'campus' feel that I appreciate. The school has also taken special care to greenify the area and the local flora diversity does much to beautify campus," said Brown University senior Jasper Long. "It's a pretty safe environment due to the Safewalk feature and blue light system, and campus security has a cordial relationship with the students. The proximity to Thayer Street, a major commercial street in Providence with many restaurants, is a big plus as well. Other than that, the campus itself has many outdoor green spaces that are nice to walk through and are often utilized by students for outdoor activities."
One aesthetic advantage of storied colleges—their buildings rarely look the same. University Hall's Georgian architecture sits heavy on campus, while the Engineering Research Center's shiny glass panes blinds in its modernity. Strolling through Brown can feel like cruising down an architecture history-themed ride. Like all New England colleges, every fall delivers fairy-tale foliage that drowns the campus in pumpkin spice filter. Whether you like to kick up fallen leaves on your way back to the dorm or long to prance around downtown, Brown offers winning vibrance in color and energy.
6. UC Irvine
Most college campuses occupy a defined shape with at least one path that can take you around the entire campus, but how many form around a circle? At the center of UC Irvine sits Aldrich Park, a 19-acre circular park and botanical garden. Ring Road tightly surrounds the park and almost all undergraduate buildings spring its outline. The design aims to foster convenience and collaboration, and as it seems, great walks. You can choose to follow along Ring Road and study the college's architecture or disappear into the park and wipe your mental slate clean before your next class.
"UCI has a huge park at the center of the campus called Aldrich Park. I enjoy walking there, because it's with a big circular path with trees and flowers—it's like a huge forest within the campus," UCI sophomore Jeany Park said. "Walking around the Aldrich Park helps me organize my thoughts and concerns. It's the best place to walk while listening to music."
Destressing comes as walking's best effect. UCI recommends plenty of other walking routes within campus, known as Ant Trails and Meaningful Mile Loops, to promote student wellness. For a more ecological experience, UCI organizes Wednesday Wellness Walks throughout its quarters to surrounding natural parks. Some of them include the UCI Ecological Preserve, Mason Park, and the UCI Arboretum and Marsh. With all these options, you'll surely never tire of exploring campus.
5. Brigham Young University—Hawaii
Suffice to say, any school located in Hawaii brings beautiful weather and sunsets. However, not every single one rests directly beside the beach, or multiple beaches. BYU-Hawaii grants access to nearby beaches—Laniloa, Hukilau and Pounders—in under or around 20 minutes. From there, you can feel the warmth of the sand seep through your toes and stare into the endless blue of the Pacific horizon. The beaches don't take attention away from the campus' walkability though. The super level terrain and wide, open paths make for simple, stress-free walks, and the campus landmark Flag Circle acts as a sight to behold.
4. Massachusetts Institute of Technology (MIT)
More so than any other college campus, MIT contains a uniquely eclectic environment, fusing the natural with the metropolitan and the quaint. On one hand, it rests along the flow of the Charles River in view of the Boston skyline. On the other, it lives in homely Cambridge, where the urban din shrinks. As you stroll by the riverside, you can take in passing sailboats, towering skyscrapers and brilliant fall foliage, all in one go. Campus's structure—one long, level band—also maps out a simple and direct route for all your time there.
"MIT campus, as you could see on google maps, is like a narrow block that expands along Charles River and facing Boston's back bay. One can easily follow the riverbank and walk across campus from the west end to the east end," MIT junior Jerry Sheng said. "Emergencies and accidents rarely happen on and near campus as I can recall during my time on campus, and safety is for sure not a concerning point at Cambridge. I have many times walked back to my room in late night and it is very safe."
The same eclecticism runs through MIT's architecture. By the river you'll notice the classic Beaux-Arts style of the domed Building 10, but head down a block and turn a corner and you'll be struck by the colorful inventiveness and asymmetry of Stata Center. Whether a building functions as a dorm, chapel or auditorium, its façade (or its architect's genius) will endlessly draw your interest. For all its fascinating buildings, MIT doesn't lack natural landscapes. If all that walking tightens up your muscles, you can always take a break on the lawns of Killian Court.
3. Rice University
Ever wonder what it would feel like to strut down the giant path leading up to a grand estate with manicured hedges escorting you? Well, Rice University offers that exactly. The core campus consists of several quadrangles, each of which feature a sand-colored path between grass fields, symmetrical plant layouts and red-brick buildings. No longer hearing that pained groan coming out of your mouth? It's likely because your walk to lecture just transformed into a walk of luxury.
---
"One of the best parts about walking on campus is the towering oak trees along the paved trails. If you get lucky you could also spot some owls on the oak trees," former Rice University student Ivanka Shen said. "Because the campus is comparatively smaller than other bigger universities, we spend more time walking on this same trail around the campus but spotting different sceneries every day. It also feels very safe to walk around the campus because there is no large crossroad within the campus. There are also statues of people historically related to the funding of Rice University, and when I passed by I definitely felt more connected to my university and its history."
---
Despite standing just off the heart of sprawling Houston, Rice doesn't lose out on greenery. The university itself describes its campus as an arboretum. Though many would embrace the Texan sun rather than frosty winters, all that heat definitely induces unwelcomed sweat during hotter seasons. The abundance of live oaks on campus ensures you'll walk around in comfort and away from heat stroke. If your walking ambitions extend beyond what the small campus presents, just march right on next door to Hermann Park, where fountains and the glorious Centennial Gardens await your visit.
2. Wellesley College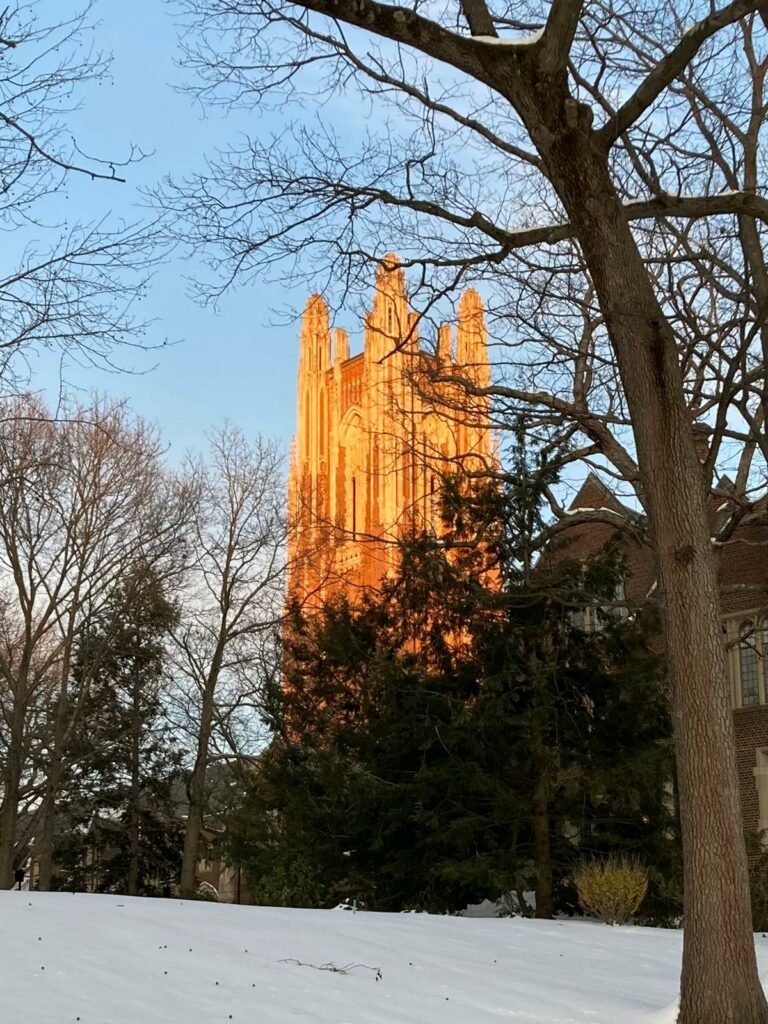 If William Wordsworth could attend Wellesley, surely he would find the eternal muse for his sensitively beautiful poetry there. Nestled beside the tranquil Lake Waban, Wellesley's flowering trees frames every part of campus into a charming countryside painting. Aside from the closed-off Hunnewell Estates section of the Lake Waban Trail, you can almost circle the entire lake and college in one go. For the cherry on top, on the way, the blushing brown visage of the Galen Stone Tower peeks through the campus tree canopy at you from different angles.
"My typical walk is between the east side dorms and the art studios, I get super excited when the golden hour sunlight shines on the bell tower, the orange stands out so much against the blue sky, especially when the sky is clear! I also love watching the sunset at the open space in front of the east side dorms, an unobstructed view of the sky is not a common sight for me since I grew up surrounded by skyscrapers and robust urban activity," Wellesley College junior Madelyn Yow said. "On my way back to the dorm from the shuttle stop at night, across that aforementioned open space, I look up during the whole walk at the sky full of stars that never fails to fascinate me. Even without stars, the view of the endless sky gives off a very calming feeling."
With all that said, Wellesley's defining rolling hills do add challenge to the Lake Waban walk. For those who want something a bit more effortless, Wellesley Athletics curates Wellesley Wellness Trails traveling through campus' collegiate gothic architecture or the outdoors in under or around a mile for its students. Alternatively, the Wellesley College Botanical Garden offers greenhouses, bogs and a butterfly garden (among others) for your enjoyment. Learn as you walk about the species of rhododendrons and the local trees that outdate the college. Though the campus lives in an isolated pocket outside of Boston, under the company of 8000 trees, you'll never feel lonely on a walk.
1. UC Santa Barbara
A few other schools on this list give access to the ocean. UCSB stands out from the rest as its campus contains a beach of its own. Student-favorite Campus Point Beach lies at the southern tip of campus, making available the swells of the Pacific Ocean and the chalk white cliffs of Goleta Beach any time you want. And yet, UCSB still possesses much more than sand in terms of walking routes. The Labyrinth Trail—a river rock and granite construction overlooking the Pacific in a secluded area of Lagoon Island—provides a special opportunity to relax in connection with nature.
"UCSB is surrounded by so much natural beauty. Walking around campus is always a pleasant experience. The weather is pleasant, the view is beautiful and everything is in walking distance," UCSB sophomore Isabella Genolio said.  "Seeing, hearing and smelling the ocean every day is such an amazing experience. I have gotten to know the birds and wildlife very well." 
Aside from the Labyrinth Trail, paved roads and paths surround the entire UCSB lagoon. So, not only can you unlock the achievement of finishing one continuous loop but engage with local ecology. What better way to make the most of your walk than learn more about the wonderful kingfishers, egrets and comorants? If you ever fall out of the beach mood, just move your walks to the solid grounds of core campus. Stroke Tower watches over you wherever you go.