A dancer's dream consists of expressing themselves through their dancing professionally as a career. The goal of a dancer, simply put, involves dancing forever and ever. We never want to get rid of the feeling dance puts in our hearts. So, which school will allow you to dance forever once you go to college? From the cost of attendance to post-grad support, tons of factors go into finding the perfect dance school for you. Thankfully, CM did the work for you.
Keep reading for the CM's top 10 dance schools to jumpstart your career.
10. University of Arizona
If you strive for a community feel while you dance your way to your dreams, then check out the University of Arizona. "When I was picking what school to go to, I really wanted the big college experience and I was worried that being a dance major I wouldn't have that opportunity," sophomore Kristen Flowers said. "But, at U of A, I'm able to dance with incredible faculty and students one day and attend a football game the next." U of A even lets dancers pursue a triple track design, allowing dancers to put equal emphasis on all three main dance styles: modern, jazz and ballet. If you come from out of state, the University of Arizona offers great financing options. The school offers academic merit-based scholarships, undergraduate dance merit-based scholarships and graduate school scholarship options such as teaching assistantships, fellowships and graduate tuition scholarships.
On top of this, the post-grad support of U of A leaves you in good hands. "U of A dance has alumni everywhere that are always happy and willing to help newly graduated students find their place in the dance community," Flowers said. Faculty stem from professional dance careers in all styles as well as performed choreography throughout the nation, "What I love about the faculty is that they all really encourage personal growth. They are there to help you grow in any way they can but, they also really want you to work on yourself and see what different things you can find to help you improve." U of A recommends dance students to join The Dance Collective, a student organization that promotes building a community with those in the dance program, provides fellowship among dancers and provides scholarships for students pursuing studies in the summer terms.
9. Marymount Manhattan College
Preparing dancers' minds and bodies for the professional world, Marymount Manhattan College (MMC) allows students to study ballet, modern and jazz. Other courses involving music, choreography, anatomy, production and dance history help shape a dancer outside of the studio. Within their four years, students can audition for the MMC Dance Company, study abroad or apply for internships. Additionally, seniors receive assistance in preparing their resumes, cover letters and headshots for any auditions they attend in the near future. The faculty stems from professionals within the New York City dance community such as those who created their own ballets, worked at national dance conventions, lectured at multiple renounced dance universities and received a commission for their work. Just check out Marymount's Chair of Dance, Katie Langan, and Associate Professor Catherina Cabeen.
MMC's facilities include the Great Hall (which stands as one of New York City's largest dance studios), and the dance department holds two performance series each semester in a space called Dancers at Work. Do you know what else is cool? MMC's dance program works with student government to ensure a great program for their dancers. Together they raise funds for the dance department's student events and projects. They emphasize giving dancers the best experience within their program. This includes facilities as well as socializing for dancers. So, yes, Marymount offers the foundations of dance as well as post-grad support, but their sense of community and well-being of the dancers really shows the type of program Marymount represents for its dancers.
8. The University of South Florida
If you want to immerse yourself in both dance and academics, the University of South Florida's dance program truly offers the best of both worlds. USF impresses when it comes to undergraduate research. Senior Shelby Fair said, "The modern program is strong in that each of the professors continues to do research and choreograph outside of USF, and then they bring back that knowledge to share with the students." The faculty also focuses on elements of improvisation as well as dance kinesiology, movement analysis and research in dance. "They are willing to teach more than just technique—they teach everything that encompasses dance," Fair said. "They push us to learn more as they invite guest teachers to educate us." USF continuously works on creating a stronger ballet program for its dancers as they embrace the classical nature of ballet in their performances.
In terms of post-grad support, you get to explore careers in dance whether you end up physically dancing, teaching dance or even researching it. "As a freshman, you learn about the jobs you can find in dance, which helps you figure out what you want to get out of the program," Fair said. "Then, the senior class provides information on how to do a dance resume, make a website, and more." USF provides experienced mentors from the U.S. and abroad who broaden students' techniques for dance and choreography. They also provide career fairs and employer events to go about a professional career. From being a research school and attending the dance program with strong post-grad support, coming out of USF as a dancer allows you to use the tools you gained in a variety of ways.
7. Pace University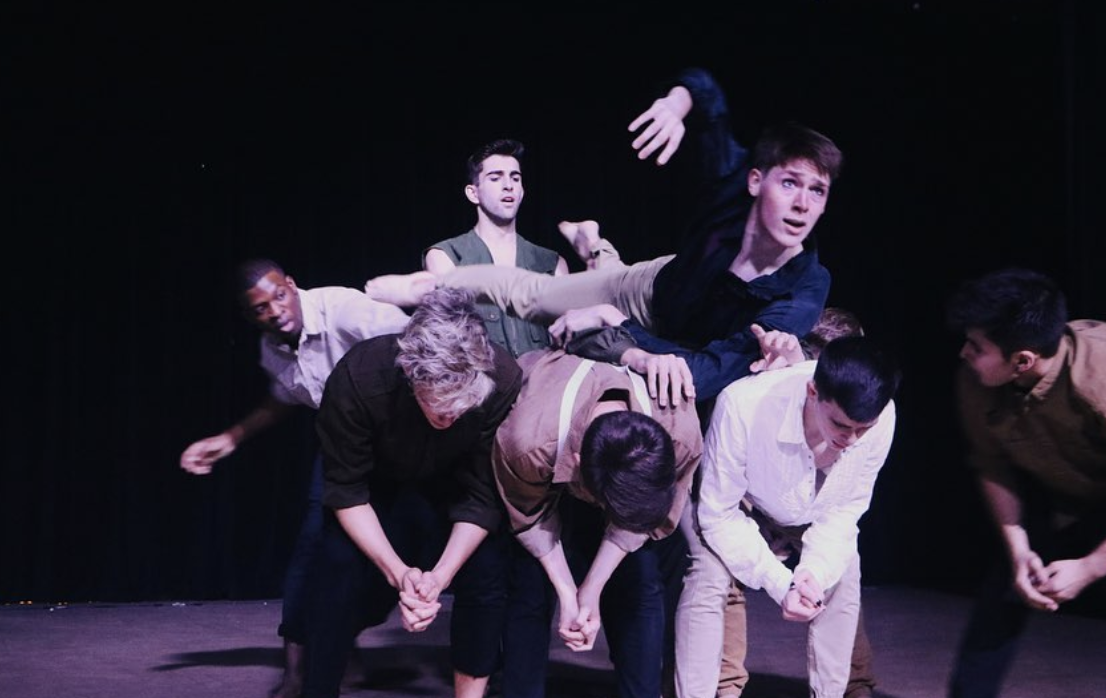 Bridging the gap between professional and commercial dance, Pace University offers ballet, jazz, contemporary, hip-hop, tap, theater dance, aerial arts and choreography. "I think that the versatility within the program is amazing. We are exposed to so many components of the dance industry and it has really prepared us to take on any new challenge that we may face in our careers," senior Alyssa Chang said. Something to note? Pace just recently incorporated the idea of one optional semester in L.A. "I was actually a part of the first year that this was done, and I have to say that my life was changed," Chang said. "Basically, the whole class moves out to LA for one whole semester, where we work with LA's top choreographers and industry professionals in general." Some of these professionals range from the amazing Mandy Moore, Dom Kelley, Jen Hamilton, Michael Rooney and Kenny Wormald. "We trained at New York Film Academy, the Edge, and Playground where we focused on audition work, directing dance on camera, producing, learning taxes and choreographing for dance on camera," Chang said. How cool is that?
If cost plays a role in making a decision, you may let it slide for Pace. "Given that admission is competitive because of the importance of small efficient class sizes and the fact that we are located in Manhattan, I would have to say that we are definitely getting our money's worth," Chang said. Pace also offers undergraduate merit scholarships like the Incoming Freshman Student Merit Scholarship and the Incoming Transfer Merit Scholarship. "Another really great thing at Pace is the community and family that we have here," Chang said. "Everyone is so supportive and loving, that it creates such a tight-knit family for everyone. I know that I can reach out to any of my peers and any of the faculty for truly anything. We are a family." If you strive for that sense of family within the dance community and connections that can get you far, Pace has it all.
6. New York University: Tisch's Second Avenue Dance Company
Within New York University, the Tisch School houses an innovative dance program. Within the university system, you'll find the Tisch Second Avenue Dance Company. Tisch serves as a great way to launch a dance career since it offers a variety of dance disciplines such as classical ballet, modern techniques and jazz. Additionally, students can take courses in tap, kinesiology, dance history and nutrition for dancers. The faculty behind these classes truly act as great directors and educators. "While serving as a faculty member and my own advisor, I saw Rashaun Mitchell perform at The Joyce Theatre, in the Merce Cunningham film, CUNNINGHAM, in the MoMA PS1 Gallery, tour his collaborative evening-length production Tesseract, and so much more," senior Oriana Siphanoum said. This support extends further than just your four-year college experience. "I feel like I graduated from NYU with an entirely new family of people who love and support me," Siphanoum said. Students get to study self-marketing and business of the dance profession and even get real-world experience as a dancer.
Tisch also allows you to participate in a six-week summer residency program after your second year, allowing you to dance with a new company each week. Within this residency program, you get the means to meet professionals from 12 different companies who currently work in the field. Aside from post-grad support, NYU also provides the right learning space. "We have a classroom that houses a lot of technology and equipment for our dance and technology-based courses," Siphanoum said. A bonus? NYU provides its own Pilates and physical therapy room. "Our incredible physical therapist, Andrea Zujko, holds physical therapy and pilates sessions," Siphanoum said. The Tisch School goes above and beyond with education, facilities and especially post-grad opportunities. If you take an interest in that incredible residence opportunity, check out the Tisch Dance Company at NYU.
5. University of Arts
The University of Arts goes back to the basics in terms of training with equal emphasis on ballet, jazz and modern dance training. They also offer dance training in hip hop, modern, jazz and some contemporary fusions. These classes enable students with great training from faculty and staff. "[They are] incredibly welcoming, encouraging, insightful and engaging," senior Alexis Curie said. "They've pushed me to be better and are always affirming of my growth as an artist." The staff goes beyond just teaching dance; they put their faith in students and guide them on a path come time of graduation. "Many professors act as bridges and links to resident companies and organizations and are open to possibly being points of reference for us," Curiel said. Post-grad support involves working with professional guest faculty from some of the best dance schools such as Ailey, Tisch and Juilliard in order to receive quality mentorship.
On top of an amazing staff, the school also holds ideal spaces for dancing. "The dance rooms are gorgeous and spacious," Curiel said. Within the 17 floors of Terra Hall, the School of Dance saves space on three of the floors for dance rooms of various sizes floored with marley or wood. The University of Arts also allows dancers to become aware of social concerns in the community. "I really appreciate the approaches to wellness, inclusivity, mental health, and social progression," Curiel said. "We are able to have conversations about racial injustices & systemic oppression, recognizing the privileged vs. the oppressed and how we as artists can actively be change-makers. I genuinely feel that for the most part, it is built on love, and in moments such as a global pandemic we've been able to stay connected and impact each other as a family." The University of Arts truly gives you that well-rounded and versatile education that all dancers strive for.
4. Fordham University
Branching off from the Ailey School in an innovative partnership, Fordham University extends to two campuses. The dance program at Lincoln Center in New York City gives dancers the opportunity to grow tremendously. "You can feel Mr. Ailey and all of the incredible dancers that came before you when you walk into the building," recent graduate Samara Steele said. "Each time that you step into the Ailey School you are reminded of that mission and inspired to carry on that legacy." When it comes to curriculum, the dance styles range from the basics like ballet and modern dance and other courses like improvisation, dance composition, modern partnering, jazz, hip-hop and West African dance. Ailey and Fordham also allow room for other educational elements. "I also feel that the equal importance of academics and dance makes the program distinct as well. In our four years we are pushed not only physically, but mentally," Steele said. This allows students to venture out into other fields while still keeping dance as the main focus.
The faculty that teaches at Ailey truly stand by the word 'professional.' "There are teachers who have danced with AAADT, Complexions, Dance Theater of Harlem, The Lion King, and so much more," Steel said. "Many are still active in the dance community, so we are also given the opportunity to build a network as we train." The dance career experience makes a difference when you learn from those who actively live out the future career you hope to one day have. Coming out of this program, students receive multiple performance opportunities for when graduation comes along. Students in their last year can perform at venues in the greater New York City area and receive two fall performances of senior choreography and two spring senior concerts. Faculty also set up professional division workshops also where students can audition during the school year. At Fordham, you come out a well-rounded dancer on top of a well-rounded student, leaving you open with a variety of post-grad career options.
3. Point Park University
https://www.instagram.com/p/BrGcqSzFnl6/
As one of the most innovative, private and urban dance institutions, Point Park University requires dance students to take classes in all disciplines of dance, including classical ballet, modern techniques and jazz. They also offer courses in tap, kinesiology, dance history and nutrition for dancers. In terms of space, Point Park ranks highly in facilities—just imagine dancing in a $16 million performance center. "The facilities are simply the best," senior Melanie Martinez said. "We have about 11 studios on campus and a majority of those are part of the George Rollan White complex, which are brand new studios." Located in Pittsburgh, Pennsylvania, those studios can fit 80-100 dancers, and with the opening of the new Pittsburg Playhouse, students get to perform in a beautiful theater.
At Point Park, students will get the chance to work with guest artists such as New York Post dance critic Clive Barnes and performance legend Elaine Stritch. "The majority of the faculty is amazing at what they teach, and each gives us unique ways of learning and understanding our bodies and minds in dance," senior Anastacia Cordero said. "One teacher, in particular, Jason McDole, takes the time to get to know each of his students on a personal level as to better understand how each of us learns." At Point Park, you will experience working with great faculty, in great studios, surrounded by a diverse group of dancers. Point Park offers courses such as "Entrepreneurship in the Arts," which teaches dancers about the business of the profession; this goes from marketing and networking to grant writing. "Point Park puts some badasses out there!" senior Grace Lopez said. From training to professionalism, you remain in good hands throughout your four years at Point Park.
2. Boston Conservatory at Berklee
https://www.instagram.com/p/B4QBRn8n6an/?utm_source=ig_web_copy_link
Boston Conservatory at Berklee's contemporary dance program proves itself as one of the best in the world. For starters, the conservatory offers a historic feel with its campus being in the heart of Boston's Back Bay neighborhood. On top of that, their buildings contain contemporary and updated spaces for dancing. "Our school is stretched to all parts of the amazing Boston city with lavish and spacious dance studios to amazing classrooms and music practice rooms, stages and performance halls," sophomore Christian Gonzalez said. To remedy the big bucks you need to attend, Berklee offers options like the Student Scholarship Program, the Annual Student Scholarship, the Endowed Student scholarship and additional ones such as the Alfred E. Lee Memorial Scholarship and the Dana Brayton Scholarship Fund. "If you use all the resources available to you and take risks to create and put your name out there, the school can be a dream and can help you achieve yours," Gonzalez said. To really make the most out of college, you need to go to a school that helps you open doors. Luckily, the Boston Conservatory makes sure that all their students come out well-rounded dancer by graduation increasing chances at a professional dance career. "We focus on ballet and modern but the school dives into all forms because of our contemporary title. We have contemporary ballet, tap, jazz, hip hop, Horton, Limone, improvisation, composition and Gaga to just name a few of my favorites," Gonzalez said. Let's run through the list. Location. Check. Money's worth. Check. Opportunities. Check.
1. The Juilliard School of Dance
Founded in 1905, Juilliard continually embodies prestige in many areas but especially dance. Juilliard builds its curriculum around the history of dance that continues to inspire today's dancers. By offering modern and ballet techniques, students are encouraged to take their technique and transform it into that of contemporary 21st-century dance. At Juilliard, you receive training from a series of professionals who truly care about your well-being.
From artistic directors nationally commissioned for their work, like Terese Capucilli, to lifetime performers on NYC like Alysia Johnson, to even lead dancers in New York ballets, the pros at Julliard won't let you down. "They want to be involved, supportive and be a part of your everyday lives," Julliard senior Danielle Perez said. Dancing in New York City usually comes with a hefty price tag, so is the price worth it? "Although the school can be expensive, I feel without a doubt that my school has delivered and continues to provide everything they can for us to get us ready for the professional world," Perez said. "My school and administration do everything they can to help guide us in the direction of finding jobs and connections around the world." Students receive a high-caliber training in technique and choreography, all while taking liberal arts courses to obtain a well-rounded education.
Their small class sizes also allow faculty to focus on you as an individual, improving your technique as a dancer throughout your time as a student. On top of that, Juilliard offers a variety of styles like modern, ballet, gaga, pointe, jazz, hip hop and tap. Before entering the program, students receive a seminar about the industry and prep their four-year plan; clearly Julliard wants its students to succeed and think ahead. Julliard helps students all the way through their senior year by giving them advice on nailing professional auditions and by teaching them how to plan and budget effectively. Attending a prestigious and encouraging institution like Juilliard will surely help any dancer make a career out of their experience and training.