It felt like summer at this year's KAABOO Del Mar, especially during QUINN XCII's performance on the Grandview Stage. With our feet in the sand, the sun shining bright and all the positive vibes as we bounced to "Kings of Summer" we couldn't help but feel carefree and full of life. That's exactly what QUINN XCII wanted for his performance—for us to indulge our inner child. Performing at KAABOO was that perfect fit.
This year's KAABOO hit all of our senses: A flavor punch from Red O Restaurant Taste of Mexico's short rib tacos. Endless laughs with Pauly Shore and Nikki Glaser. Vibrant art from inspiring artists George Rose and Remi Rough. Killer performances by the masters Foo Fighters, TLC, Jewel and Katy Perry. And stellar jam sessions from up-and-coming artists including Ray Goren and Oblivion Her Majesty.
After his high energy set, Mikael Temrowski, aka QUINN XCII, sat down with College Magazine to talk about his music. We heard about his college career at Michigan State University, starting as an artist in his dorm room, performing at KAABOO and his advice for aspiring college musicians.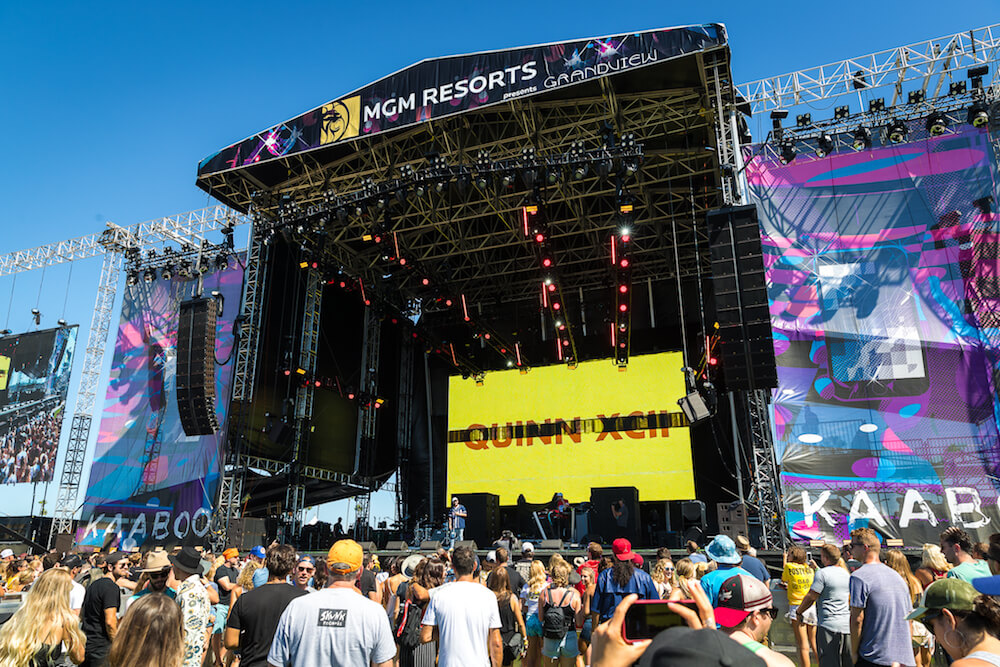 Check out our interview with singer songwriter QUINN XCII at KAABOO Del Mar Festival
College Magazine: How does it feel to perform at KAABOO?
QUINN XCII: Amazing. The arena is so beautiful. To be able to perform with the palm trees in the background. It just fuels my energy. I had a blast.
CM: Which song do you enjoy performing most from your debut album The Story of Us?
QUINN: I love "Always Been You" because it's really interactive with the crowd. Feels like they're not just watching a show; they're part of it. Sonically—from a vibe standpoint—it embodies what I want to be as an artist.
CM: Can you tell us about your college experience at Michigan State?
QUINN: Well, I didn't get in at first. My twin brother got in though. [First] I went to Western Michigan, which is a huge party school. A lot of my friends didn't transfer, but I studied the hardest in my entire life and got into MSU. [There I ] joined a fraternity, played music on the side and was an advertising major.
CM: How did you get started on your music career in college?
QUINN: My parents were very supportive of my music but they emphasized graduating. Once I graduated I went full force on my music. Then I worked for a health insurance company for 4-5 months—I hated it. I quit because I got my first tour opening for SoMo. I was set free. I was out of jail.
CM: Wow that's incredible. What was your first tour like?
QUINN:You need to go through sh*tty shows (where they don't know who you are and you have stiff crowd). [It] allowed me to appreciate going on my own tour.
CM: In your latest song, "Panama," why do you feel it's important to sing about loss?
QUINN: My family owns a funeral home so I was around grief and funerals a lot. It's a very interesting thing to see as a kid. That process dealing with death was different for me. When my grandparents passed away I had trouble coping with it. I had never really spoken about something as tough before in my music. People are reacting to it really nicely and it feels more like a celebration of their life. And people who have lost grandparents or have lost anyone can connect to it.
CM: Any advice for aspiring college student musicians?
QUINN: Stay in school. Definitely get your degree. I think it's smart to have that back up plan. At least it's something you can leave school with and say you're certified. Not everyone can be lucky to follow their dream and it works out—I'm super fortunate for that.
CM: Why do you feel the college experience is so important?
QUINN: College you have so little responsibility and you have a lot of time to figure out what you want to do. Take advantage of that. After college there's more pressure to get a job and make money.
CM: Superfan Lily from UNC Charlotte wants to know, what's your inspiration for "Kings of Summer"?
QUINN: Summers in Michigan where I grew up on a lake—it's about going on my dad's boat, getting into trouble, getting sunburned—not losing that childlikeness about life. I think people lose that, the ability to have fun. It's harder to loosen up when you get older and have to get serious about life.
CM: Lily also wants to know, are you single?
QUINN: I'm actually engaged. I'm getting married next May. Tell Lily I'm flattered!
CM: Who are you most excited about seeing at KAABOO?
QUINN: All American Rejects and Katy Perry.
Did you miss out on KAABOO 2018? Don't just live with the FOMO, get your tickets to KAABOO Delmar 2019 on September 13–15 and start counting down the days till summer hits again.