I came back to college apprehensively. It was August, and I had a car that barely worked and friends that decided against coming back. My first day back, I met up with a friend, and we talked as much as we could about quarantine experiences and summertime jobs, virtual and in person, before having to come face to face with the rest of the semester. I diverted any potential dismay by suggesting some road trips, like one to Badlands National Park.
At nine hours away, it was a somewhat ridiculous suggestion.
She agreed. The others we tried to get to come with us didn't, and it would be over a month into school before we ended up actually going. Getting back into the swing of school felt much harder than usual. More or less, I was left with no place to go. Beforehand, there had been a sense of purpose moving throughout campus and even throughout town. Each little unit worked hard to maintain their current, and you could jump from one stream to the next, picking up whatever little intricacies you wanted.
There didn't seem to be anything to jump into anymore.
The First Quest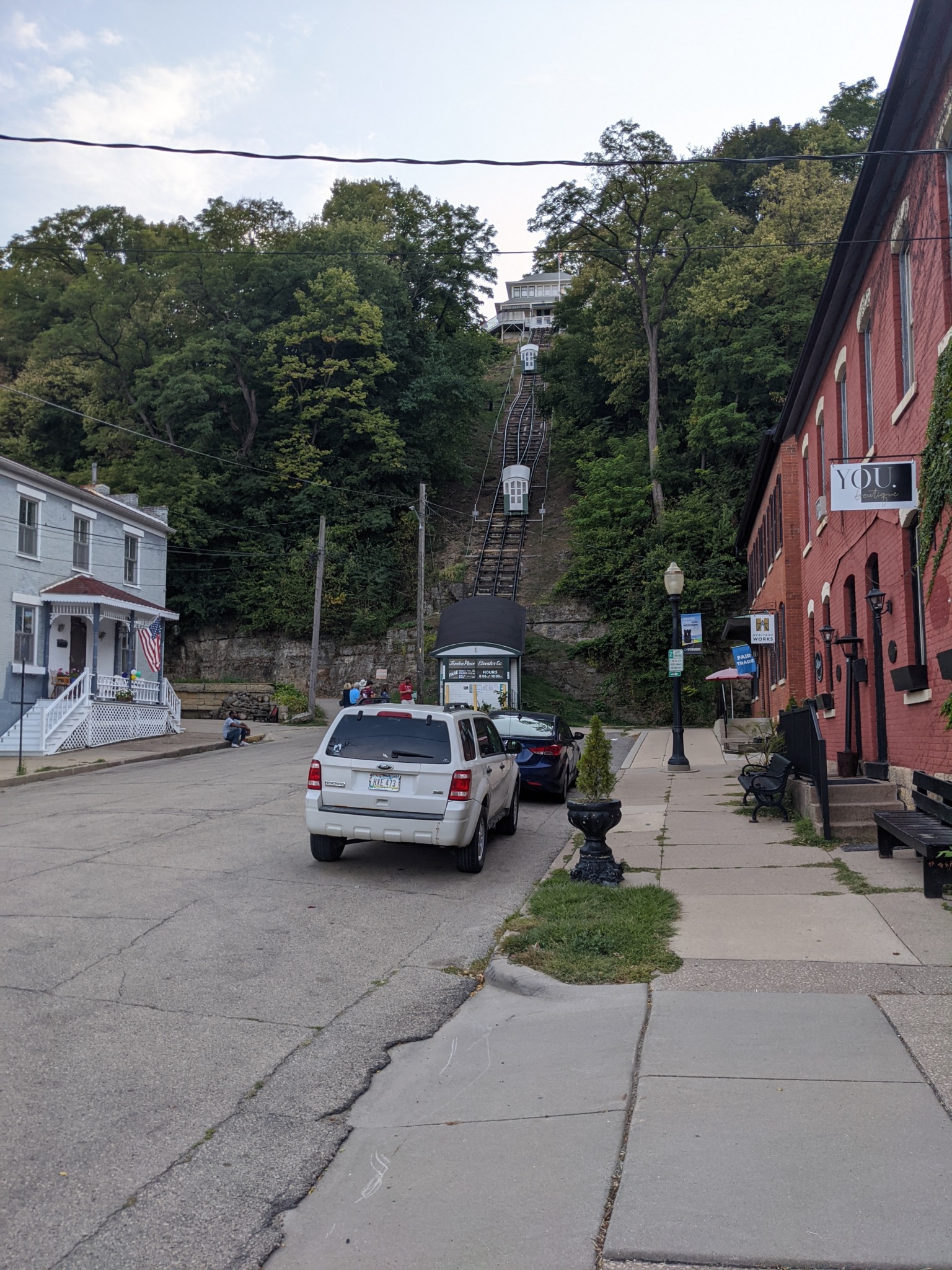 On Labor Day weekend, I decided that I knew where I to go. Or, at least I decided to pretend to know where to go. I retrieved my car from the university storage lot located miles away from my dorm and began filling it up with food and blankets and supplies. I was going on a makeshift road trip based off of something I had seen on the internet, and I was doing it alone. The only person I told my destination to? My brother. 
The plan was to go from Iowa City to Maquoketa Caves State Park to Dubuque to a campsite near Pike Peaks State Park, where I would sleep in my car before continuing exploring the next day. It was an unexpectedly nice and easy day for the most part. I wasn't sure what to expect when beginning my day by cruising down a pothole minefield of a back road to see the caves, but it was a beautiful place. I had more confidence when going to Dubuque, especially when I got off some of the worst roads I'd ever experienced in my life. 
Dubuque materialized after miles and miles of nothing. For a fully formed, cute place that rode the line between large town and small city, it had absolutely nothing surrounding it. It was an oddly charming riverside locality, with an elevator that rode up a side of a steep hill and it restored my faith that choosing to go to school in Iowa wasn't so bad. If I had seen the movie Nomadland by that point, maybe I would have been able to complete the full circuit, but as I left Dubuque and drove down dark, unfamiliar, confusing back roads that melted the surprisingly joyful day into terror, I knew I couldn't keep going. I drove mile after mile before I accepted it. 
A New Type of Weekend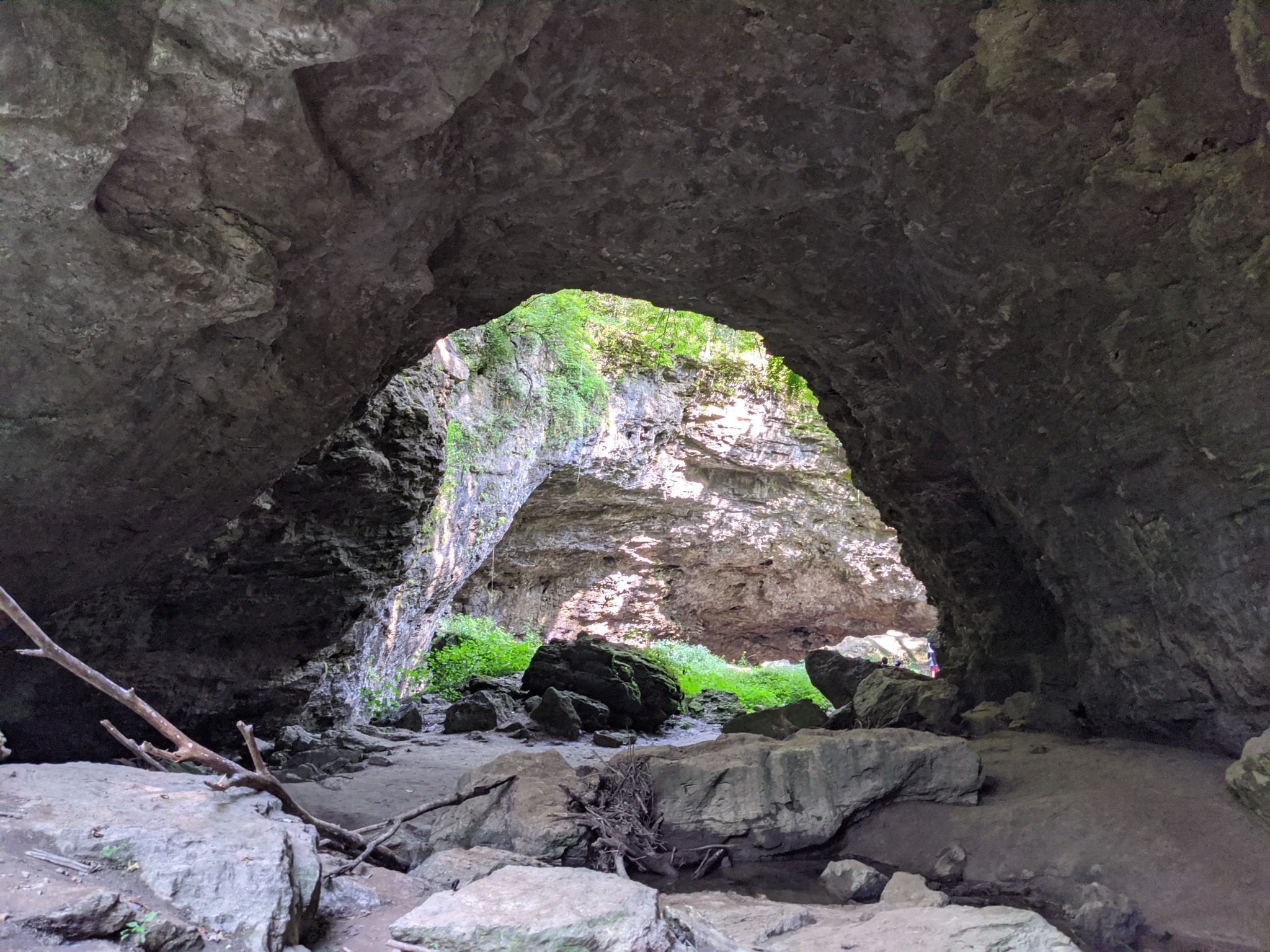 I turned around and went back to my dorm. When I told my friends about what I had done the next day, they asked me why I didn't ask them to come and I didn't really have a good answer. "I thought you said you were busy," amounted to the only thing I could say, but I didn't really expect them to want to come. For that one trip I needed to go alone, to try to figure out what was going on with life and clear my head. I took them on a small trip that day, and after that, I always had the one friend who would come with me to try to find all the good parts of Iowa, which unsurprisingly was the Badlands friend. 
College weekends morphed from the huddled masses of friends in dorms or restaurants the year prior to the inside of a car, two people, staring down the road to find the one spec of bizarreness two hours away. It felt exciting, an adventure while being somewhat subdued with its Iowa setting and Covid-19 flavoring. It became a habit, like a normal weekend from the previous year, switching off which car we would take and who chose where we would go. 
I probably should've put more work into planning the weekend trips, but nothing compares to how little I planned for a trip over nine hours away to the Badlands. Despite talking about it at the beginning of the semester and getting a cabin set up, the extent of our plans were summed up with "we'll figure it out once we get there." I even elected to wait to tell my mom about the trip until a few days beforehand, knowing that it would be too late for her to change anything with short notice and a booked cabin. It wasn't exactly my proudest moment, but it did the trick. 
Finally in the Badlands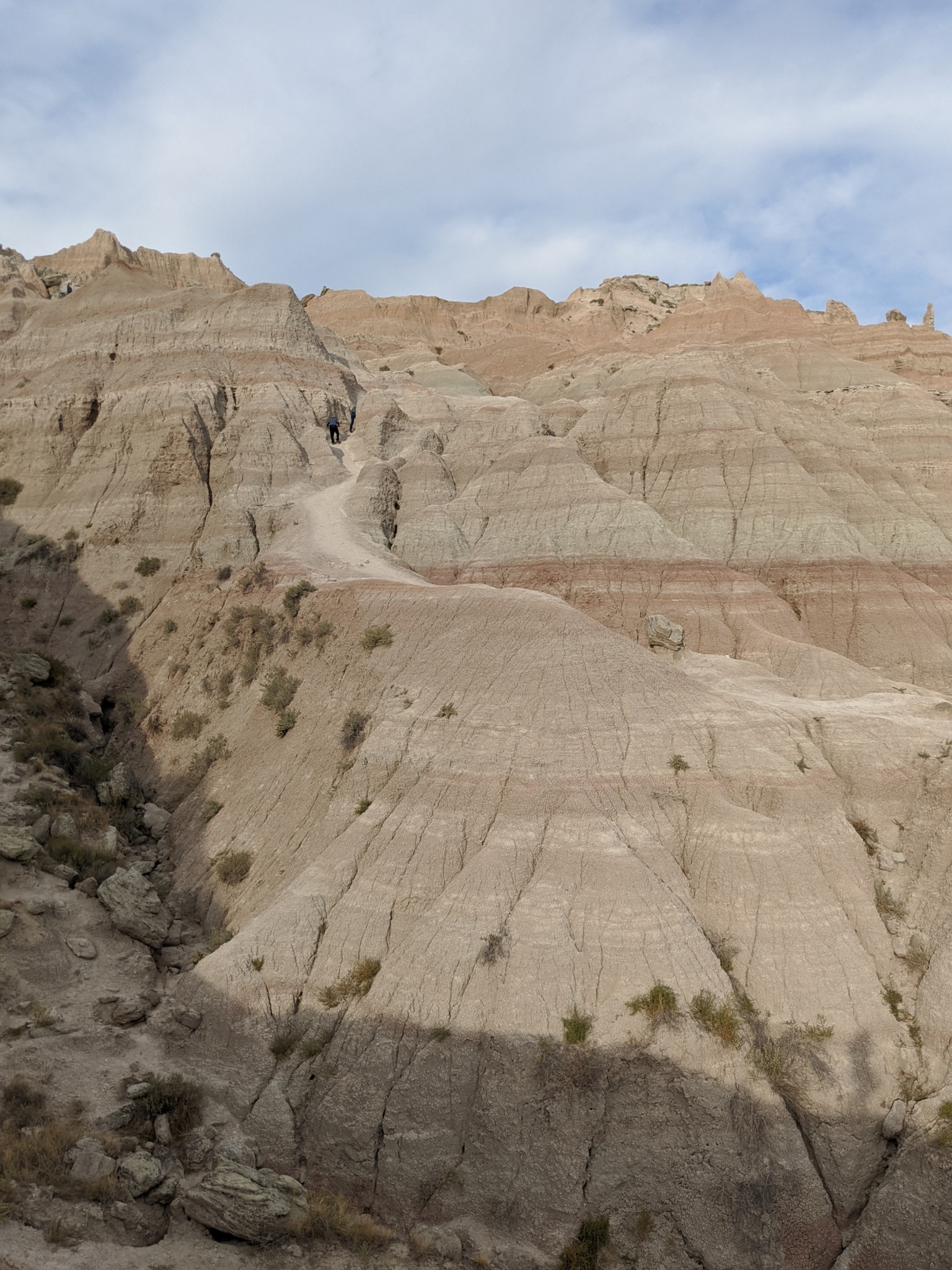 When we finally did go up to the Badlands in my car, I wasn't so sure the car would make it. Sure, it made the seven and a half hours from my home to campus, but could it make it through two states that I'd never once been to or really heard all that much about? The engine, the gas, the tires—everything about the car seemed to work against me, but almost miraculously, it made it despite breaking down two weeks after the trip.
After checking into our sad, $50 a night cabin, the first thing we did was find a trail to get our money's worth. 
The ground in the Badlands cracks like clay in the valleys and crumbles into dust on the ridges, remnants of dried up rivers that still had the same power to sweep you away. I felt not necessarily connected to my past up on the ridges of the trail, but parallel. If I looked up, would I see myself standing up on top of Angel's Landing? If I looked down, would I be standing at the bottom of a waterfall in Hemlock Falls? But I didn't see either up there. I only saw my shadow, my friend and my car.