Planning your Athens trip? I've been there. Cue my laptop with twenty browser tabs open. Then I finally experienced the welcoming city for myself, with all five senses at the ready. Now I can't wait to reveal the itinerary of a lifetime for the best things to do in Athens—where you'll feel immersed in the culture and ready to speak "Yassas" to everyone you meet. Prepare to taste the sweetness of bougatsa. Meander thoughtfully through alleyways on a food tour, soaking in the Greek mindset. Answer quirky movie trivia with your Acropolis guide at the Theatre of Dionysus. Join a cooking class to learn the roots of your Greek salad and bring home your favorite recipes. Discover Mars Hill at night for stunning spotlight views of the Acropolis. Dance to synthpop till the sun rises. And most importantly, eat the best souvlaki in all of Athens.
Find out the 24 best things to do in Athens for the most authentic experience.
5:00 AM Catch the Changing of the Guard
Look at you, early riser! That's right, if we're going to cover a full 24 hours, you'll need to be awake before Apollo. Now that you're up, let's get moving. Or at least watch The Presidential Guards, also known as the Evzones, in their routine movements by the Parliament building. Dressed in the traditional military white shirt and Greek kilt from 1821 (War of Independence against the Ottomans), two Evzones guard the Tomb of the Unknown Soldier. Every hour, on the hour there's a changing of the guards, a unique ceremony that will leave you with questions like: What's that pom-pom on their shoe? Turns out it's where the military used to place a hidden weapon. And did you know that Greece has a mandatory 9-month military service for men? If selected and trained as an Evzone, a guard must stand perfectly still and in complete silence during his shift—suffice it to say, these are highly disciplined soldiers.
6:00 AM Take a Peaceful Stroll in the National Gardens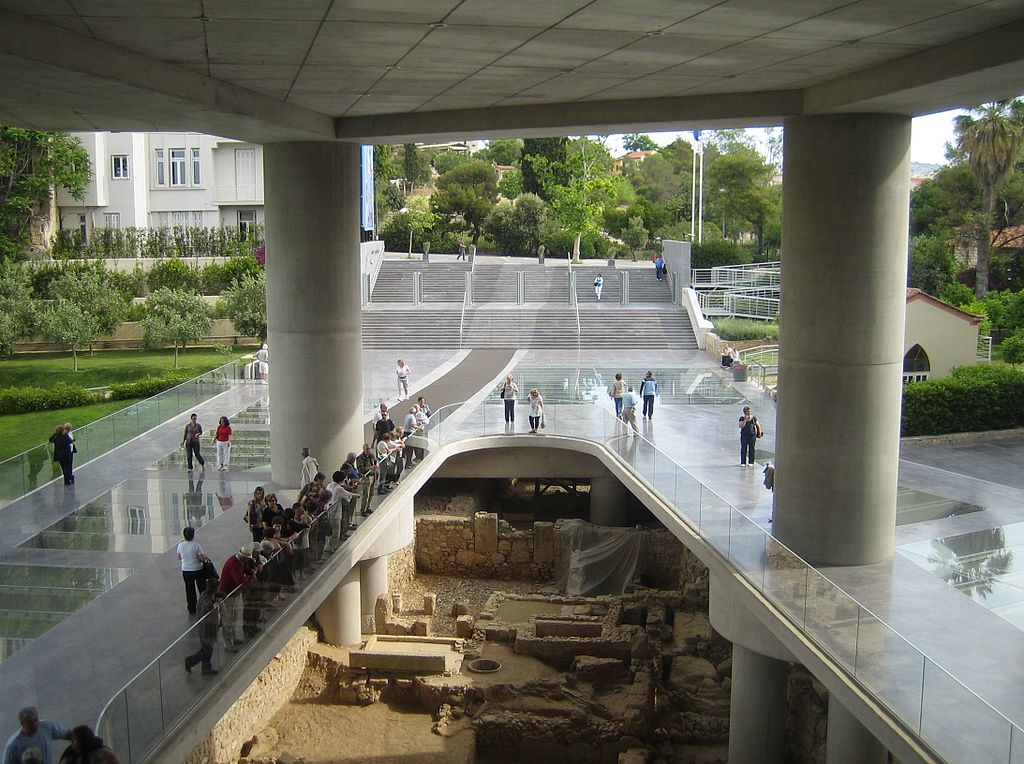 Behind the Parliament building sits the National Gardens. Take a walk (or jog if you're ambitious) through this beautiful refuge from the city bustle, commissioned by Queen Amalia in 1838. The walkways are lined with tall palm trees and there's even a small zoo with sheep, goats and bunnies. As you meander, you'll also discover a duck pond, the Botanical museum, some ancient ruins and mosaics.
7:00 AM Enjoy coffee and breakfast at Kalimeres Bistro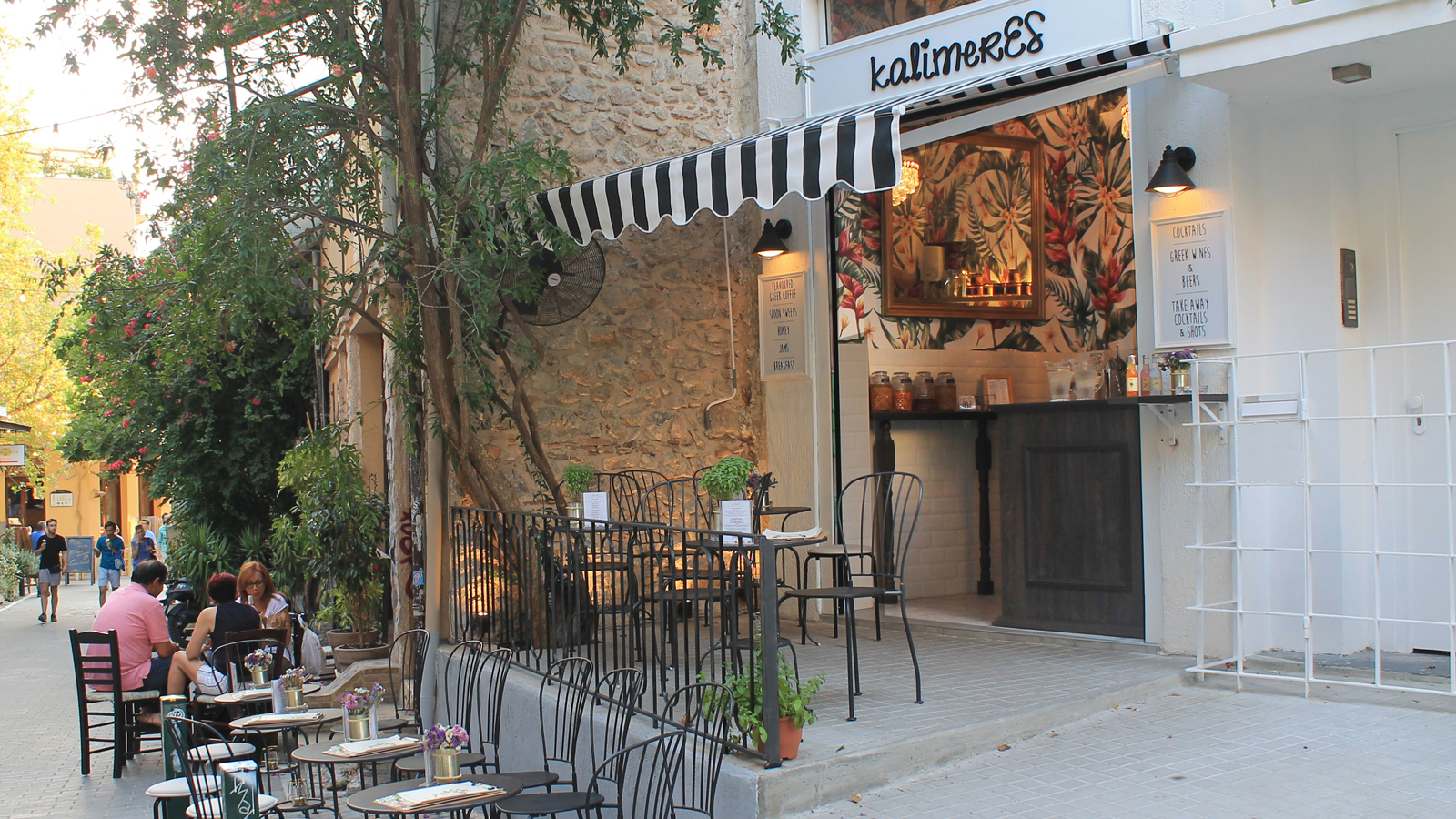 Introduce your first jolt of caffeine at Kalimeres Bistro in Psyri. This is one of the most charming spots for coffee and breakfast. Try their twist on traditional Greek coffee infused with different flavors and homemade bread with honey. Grab a seat in the alleyway and people watch as the Athenians start their day. Be sure to leave room for a treat…
8:00 AM Indulge at Bougatsa Thessaloniki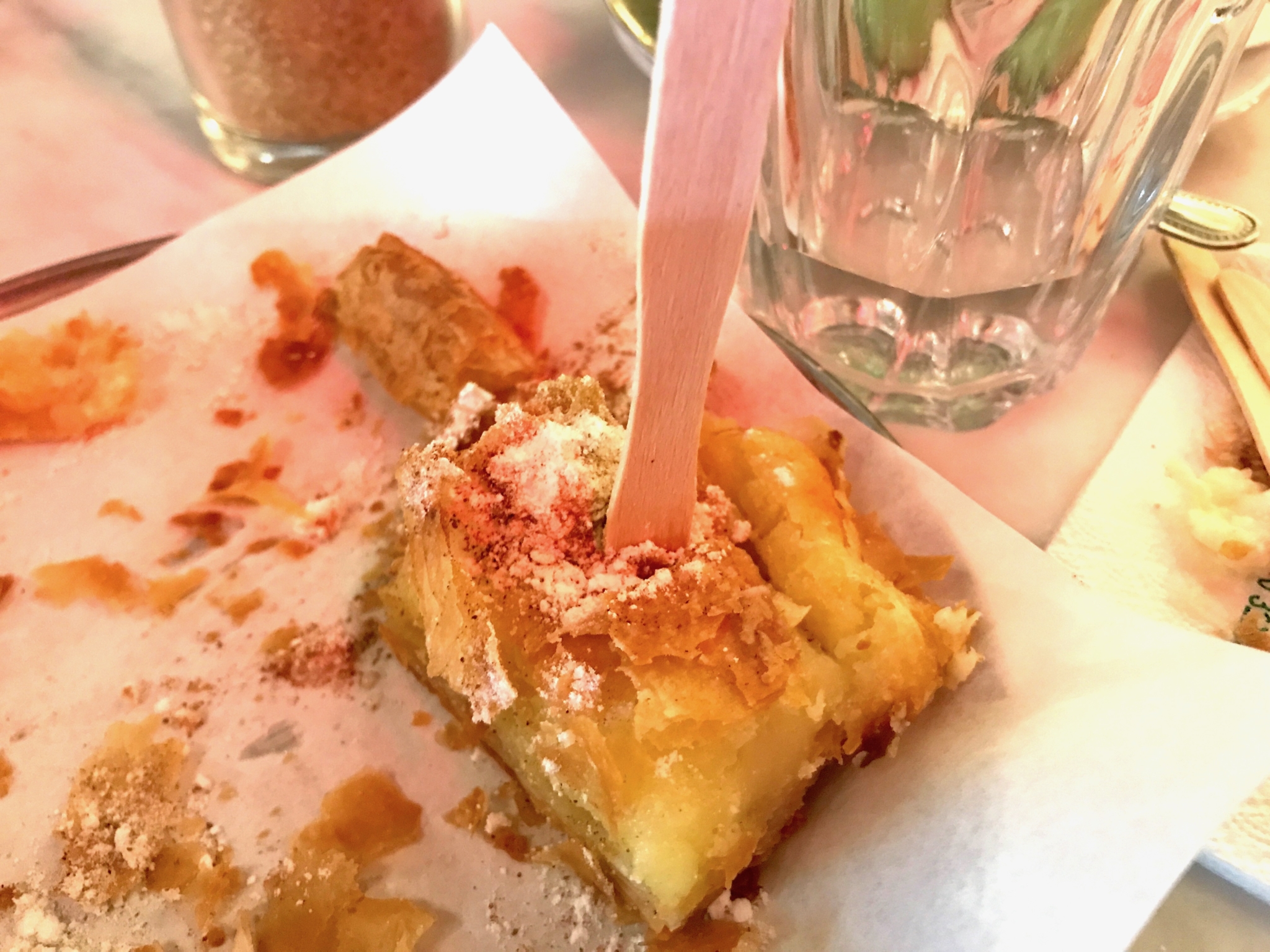 You've earned it! (From all that walking in the park right?) Head over to Bougatsa Thessaloniki to see the bougatsa master at work tossing dough, throwing on the butter and rolling it into thin layers to create the most delicious breakfast treat. What is bougatsa exactly? It's layers of dough filled with sweet cream and powered sugar sprinkled on top. I dare you to say "bougatsa" three times fast. Make sure to practice so you'll sound like a pro.
9:00 AM Speed Up the Fun with Athens by Bike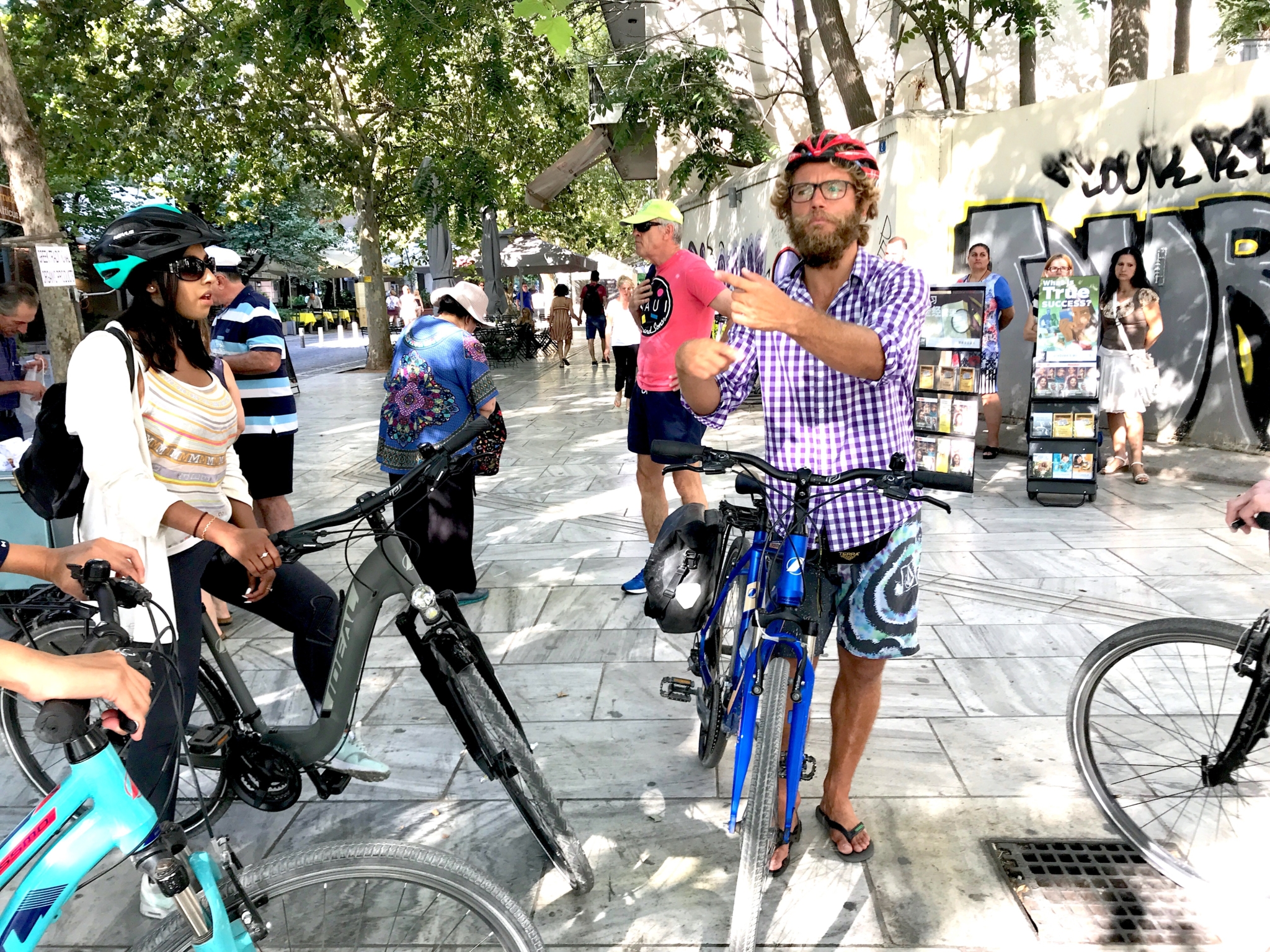 A bike tour gives you all the #cityvibes because you're able to cover more ground in order to explore diverse neighborhoods. The early tour means you'll beat the heat. At Athens by Bike, I met a team of the friendliest Athenians, beaming with pride for their city. Their tours are accessible for all levels, and their office and starting point for the tour are conveniently located by Hadrian's Arch. Not to mention, our guide Dimitris was funny, adorable, laid back and just 100 percent awesome. He wears his passion for his city on his board shorts and it shines through with every smile. I especially love how he focused on the essential history of Athens, sprinkling in weird details that made the trip memorable and fun. We hit the kickstand and peddled off to the National Observatory to see the most breathtaking panoramic view of Athens. After photos galore, we biked along the Ancient Greek Cemetery (Kerameikos) and through the traditional neighborhood of Thission.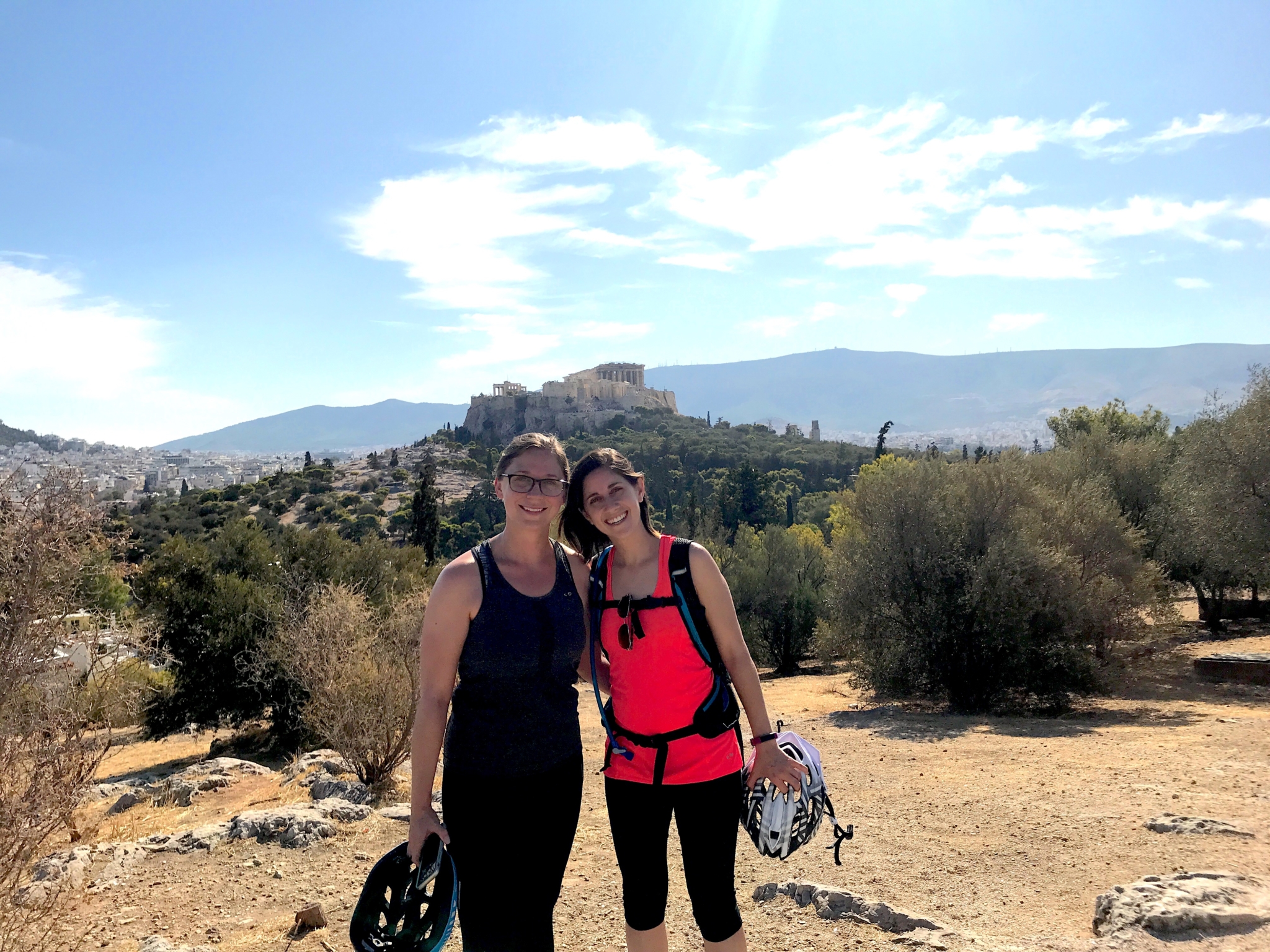 Pro tip: Best time to visit Athens? Early September means beautiful weather, still perfect for Island hopping after Athens, while also reasonable heat for exploring the ruins. Most importantly, it's after the height of tourist season.
10:00 AM Bike the Ancient Greek Agora & Roman Agora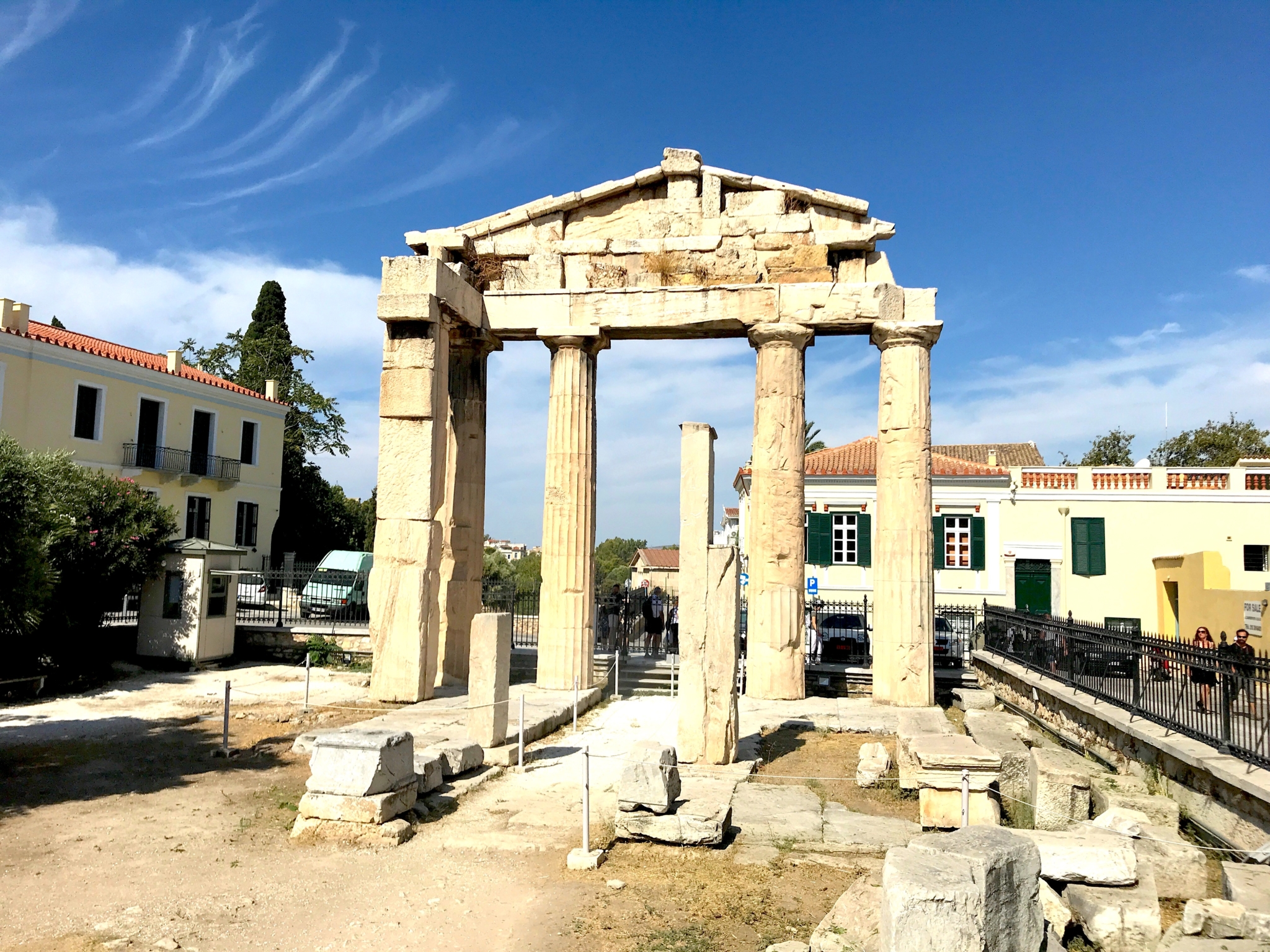 Continuing on the bike tour you'll visit the Ancient Greek Agora and Roman Agora. Make your history teachers proud by documenting this moment. Here lies the heart of ancient Athens as a central marketplace and gathering place for social and political activities. The word Agora means meeting place. From there we biked to Athens City Cathedral and through the Plaka neighborhood with its fancy shops that are great for souvenirs and gifts. The bike tour also explores the maze of the National Gardens and stops by the Presidential Mansion for the Presidential Guards ceremonial (just in case you slept in). If you're not on the bike tour at this time, I highly recommend swapping out your sandals for sneakers because you're in for some serious walking if you want to experience all the best ancient sites and ruins.
11:00 AM Discover the History of the Olympics at the Panathenaic Stadium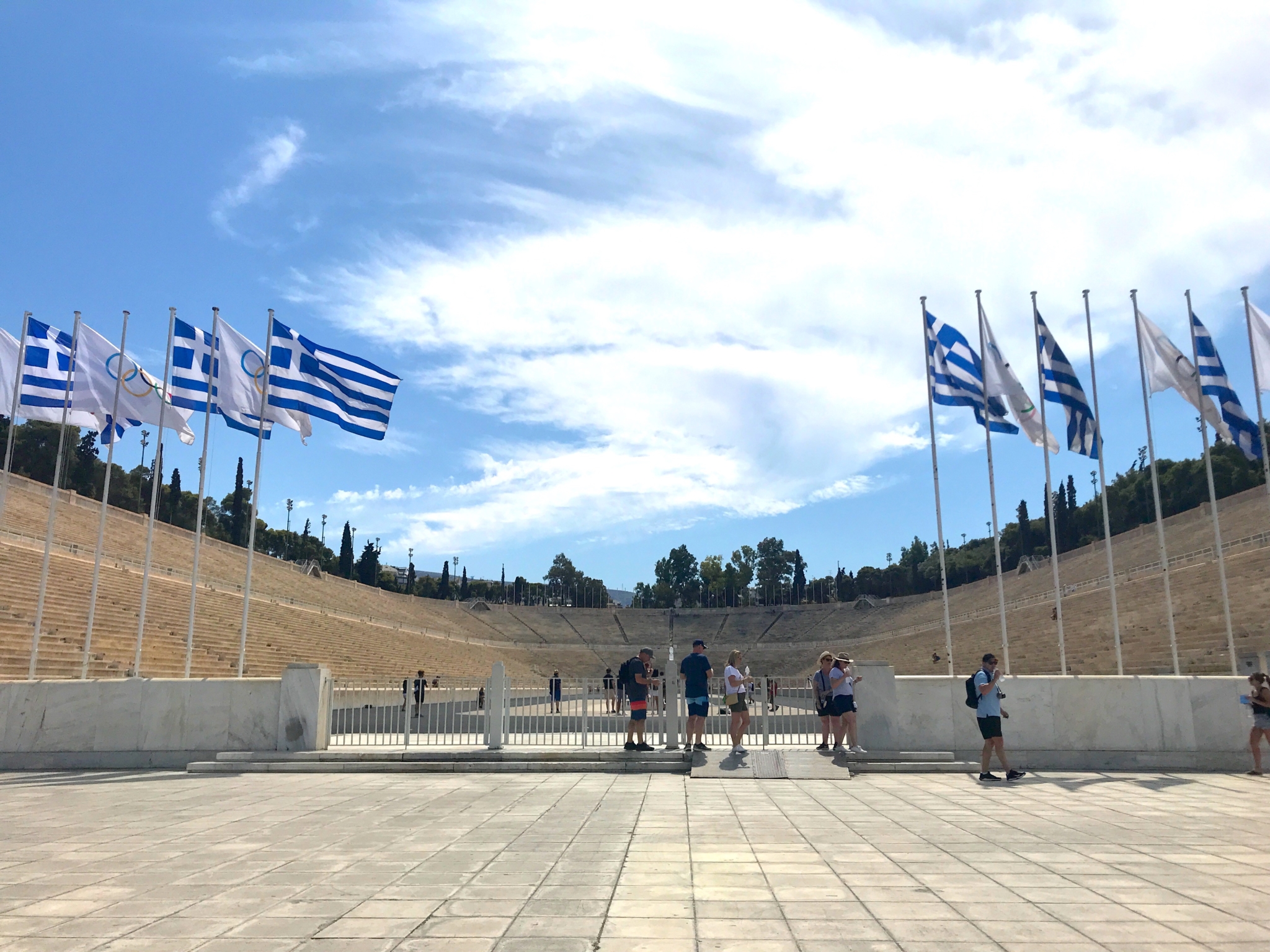 Prepare to experience the iconic Panathenaic Stadium, another key stop on the Athens by Bike tour, where the first modern Olympic Games took place. If images come to mind of the Olympic flame handover to the host nation, you are correct. It's also the finishing point for the Athens Classic Marathon. After guessing how many people the stadium could hold (spoiler alert, it's 45,000), we headed over to the front of the Temple of Olympian Zeus. This Temple's initial construction dates back to 6th century BCE. A couple steps back and you're under Hadrian's Arch, proposed to have been constructed to honor the arrival of Roman Emperor Hadrian. Snap away at these two photo hotspots.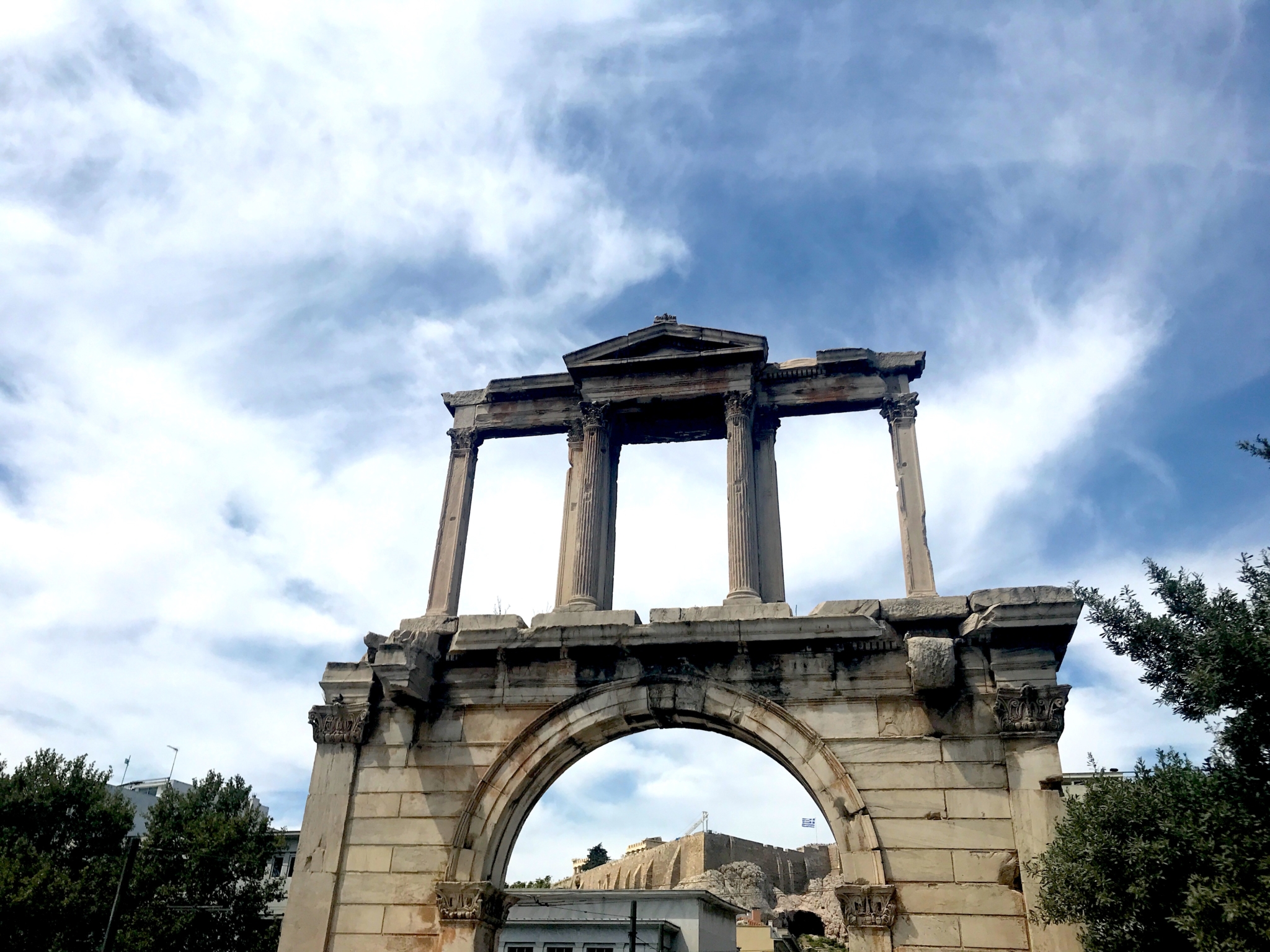 12:00 PM Indulge in a Food Tour and Eat the Best Souvlaki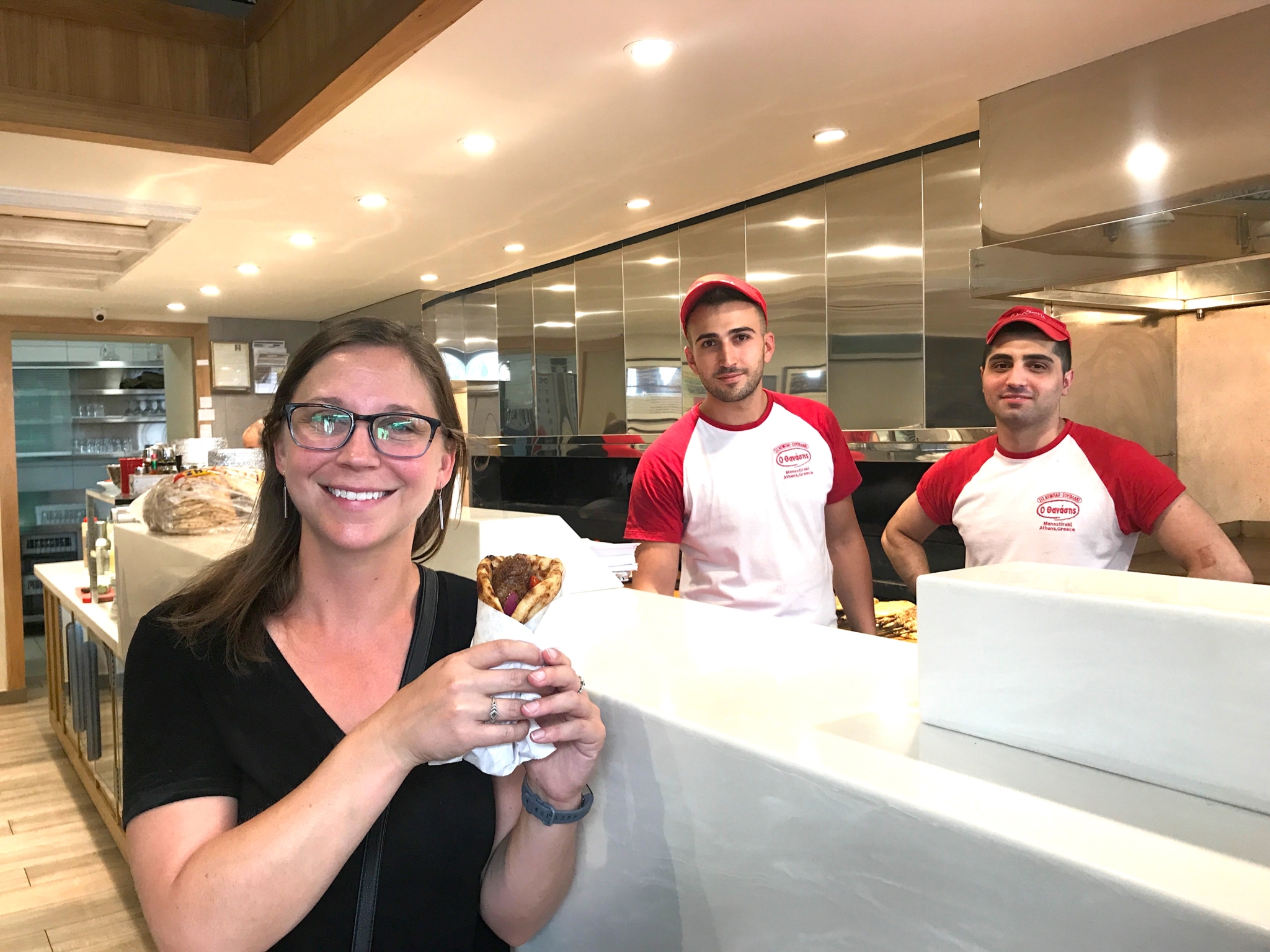 When in Athens, eat like an Athenian. From an outsider's observation that could mean being coffee-fueled and stuffed with souvlaki—but that's just scratching at the surface. Start learning from those on the pulse of Greek culture by indulging in a food tour. Think feta samplings, tasting the varieties of local honey, finding hole in the wall eats at the market, discovering seasonal figs you've never seen before, and indulging in a shot of tsipouro with your cured meat tastings. You could easily eat your way through the city on your own hunches and Google searches, but it's just not the same. I was astonished by how quickly I felt immersed in the culture by simply spending a couple hours with the incredibly knowledgeable and passionate guides Yannis and Alex from Athens Insiders. We tasted the most authentic bites while learning how the food intertwines with the history. On the tour you will get to experience the very best souvlaki (aka kabab) at O Thanasis in the Monastiraki neighborhood. Sure you could read the 4,358 reviews online, but I'd rather hear the recommendation from 28-year-old Alex who would come here with his dad as a kid. He said they keep it as authentic as it always was. I ordered the lamb merguez kebab with tzatziki and I've been craving it ever since.
1:00PM Eat all the Feta & Meander the Markets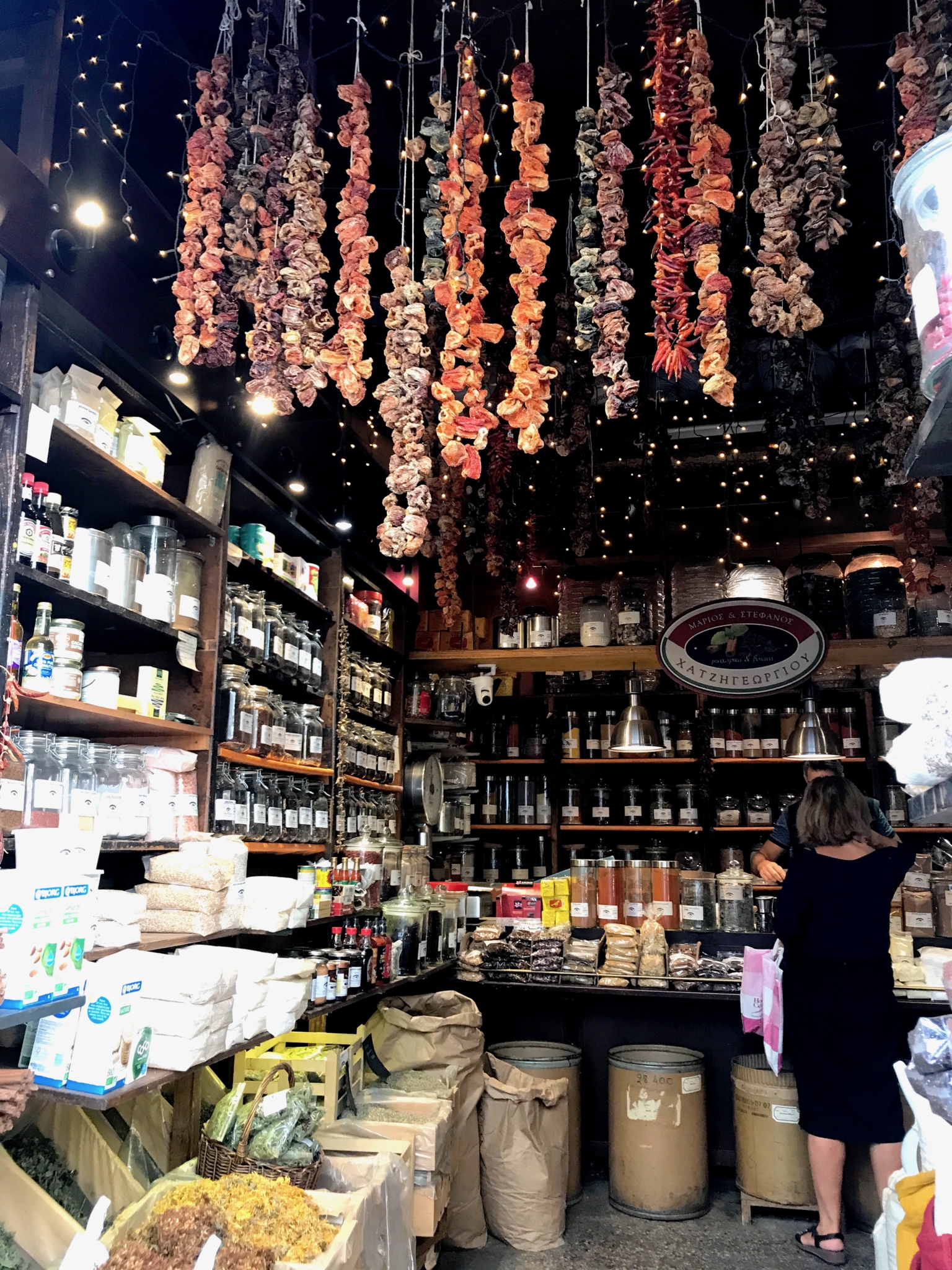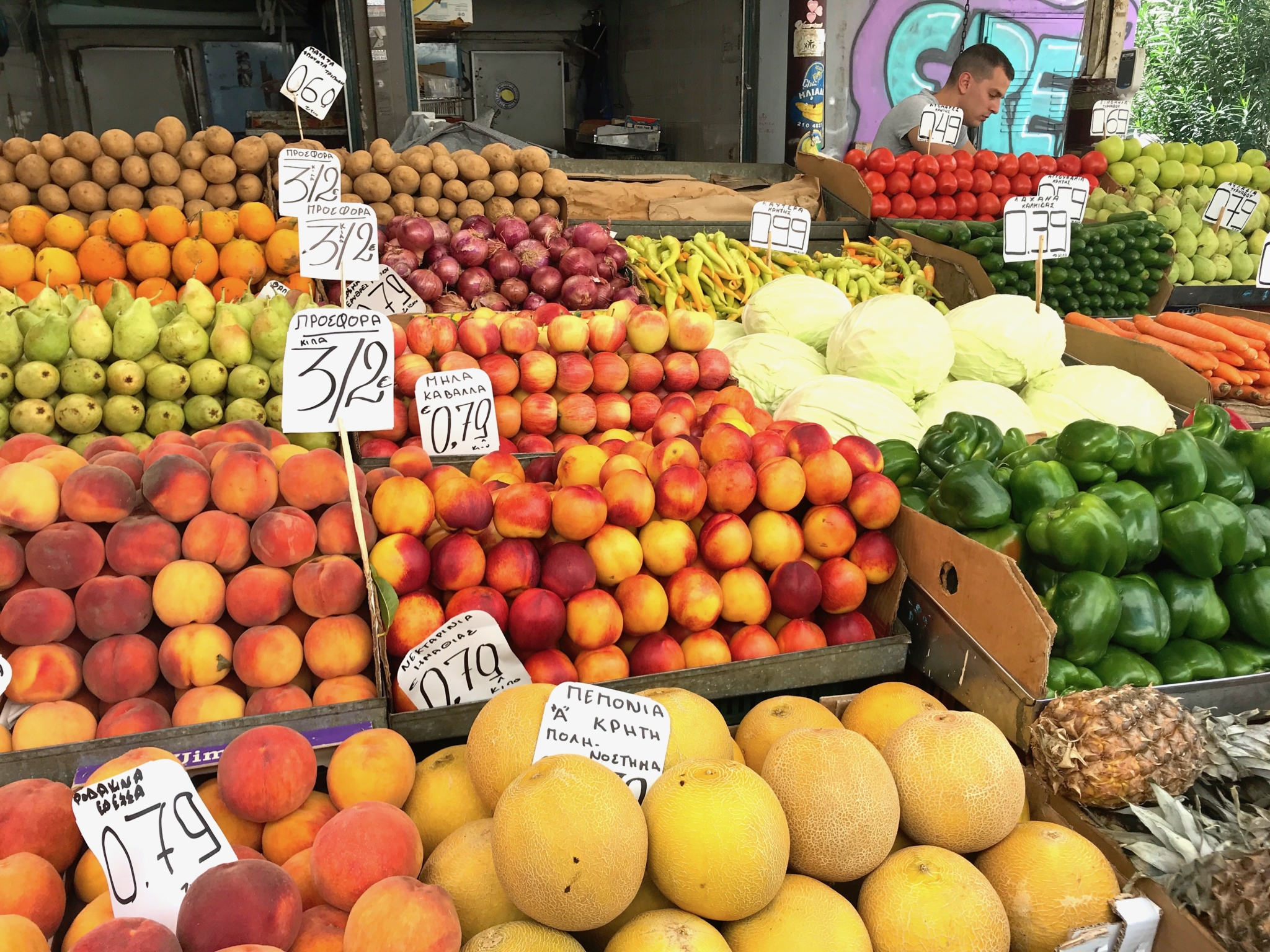 No food tour is alike—you can actually tell your guide what you're craving and what you'd like to learn more about. Is it the olive oil, the spices, the meats and cheeses? Yannis had us covered. We stepped into the Greek deli Karamanlidika Tou Fani near the central market, which had unique cured meats, exceptional dolmades, and cheeses galore. Be sure to sip the tsipouro (an unaged brandy) along the way. After learning about how Greece's landscape of hillsides makes it an ideal spot for so many varieties of cheese, and the most delicious feta, we hopped on over to the local markets. Did you know what pistachios look like in their raw form? Now I do!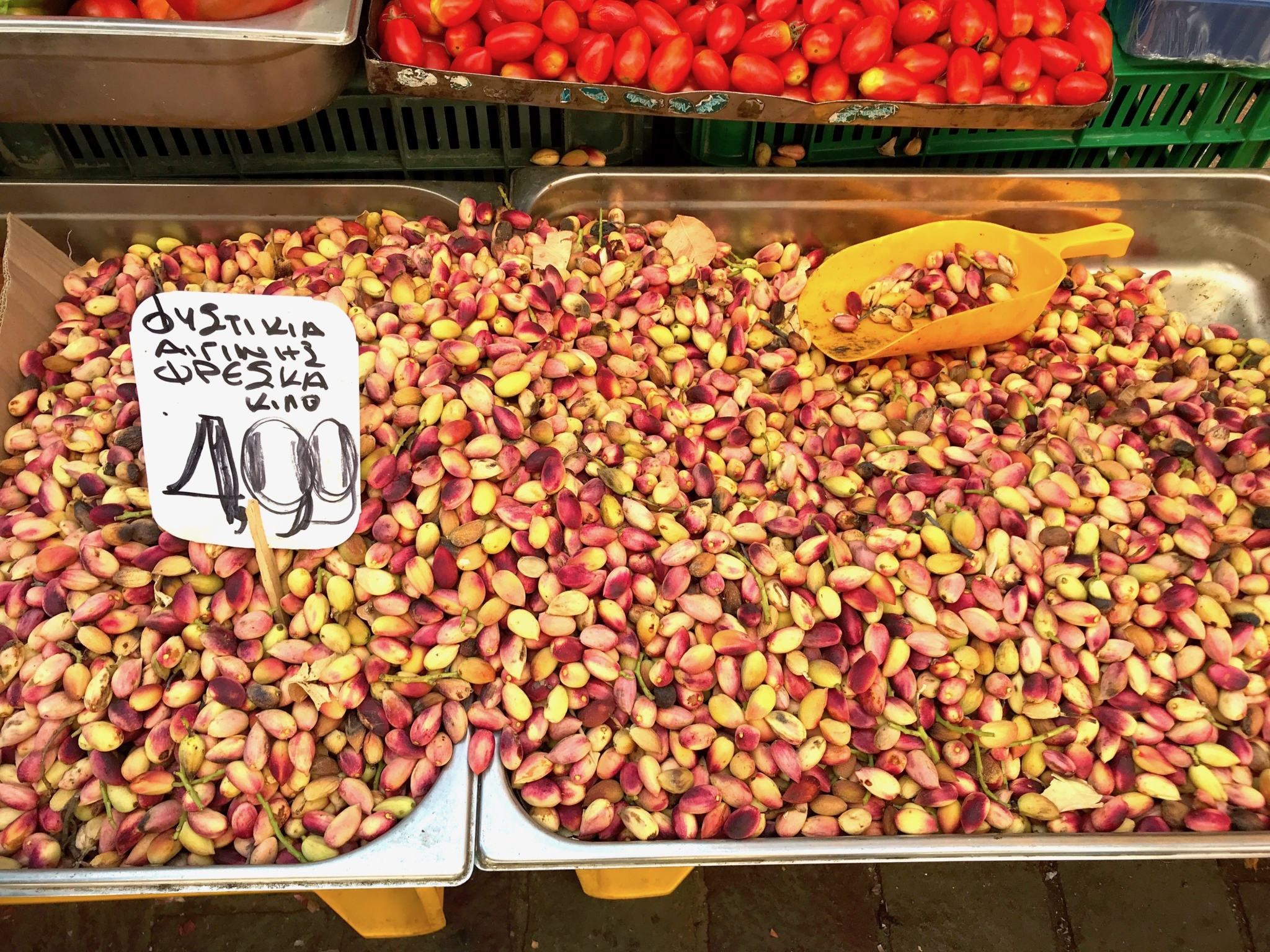 Notice the stray cats? According to Yannis, if you feed and take care of a dog, they think you're a god; if you feed and take care of a cat they'll think they're a goddess.
2:00 PM Get Greek Coffee and Cultured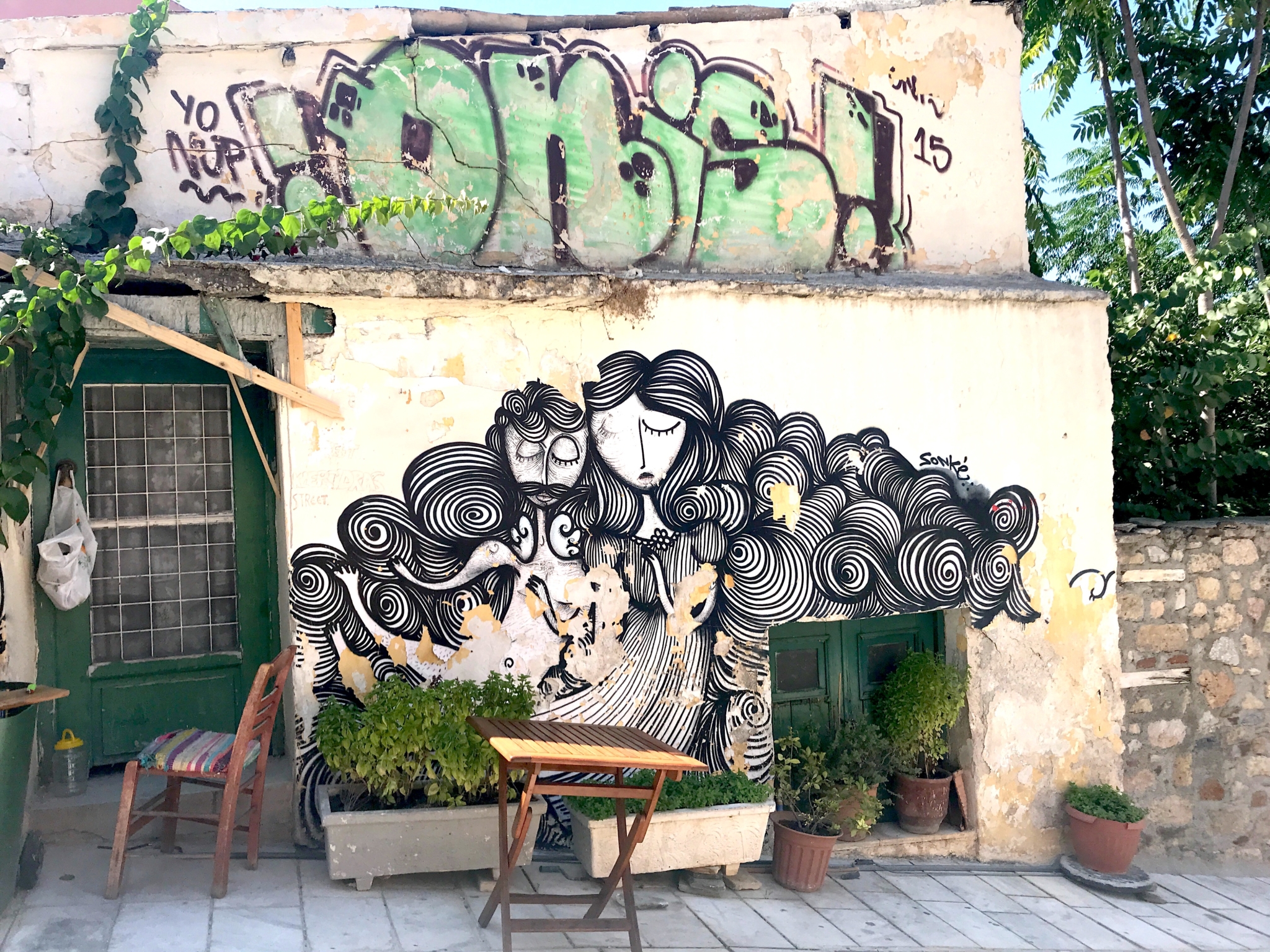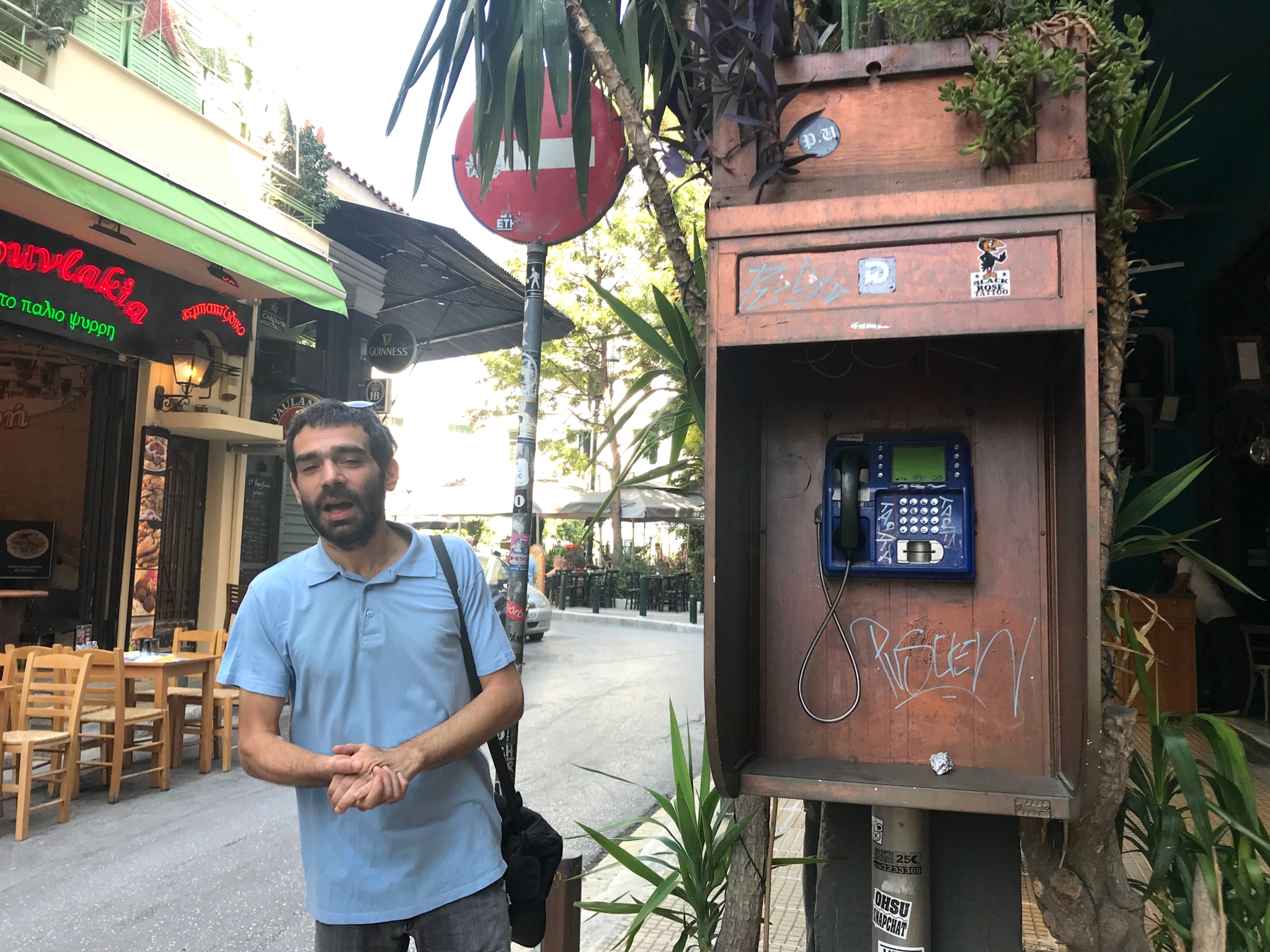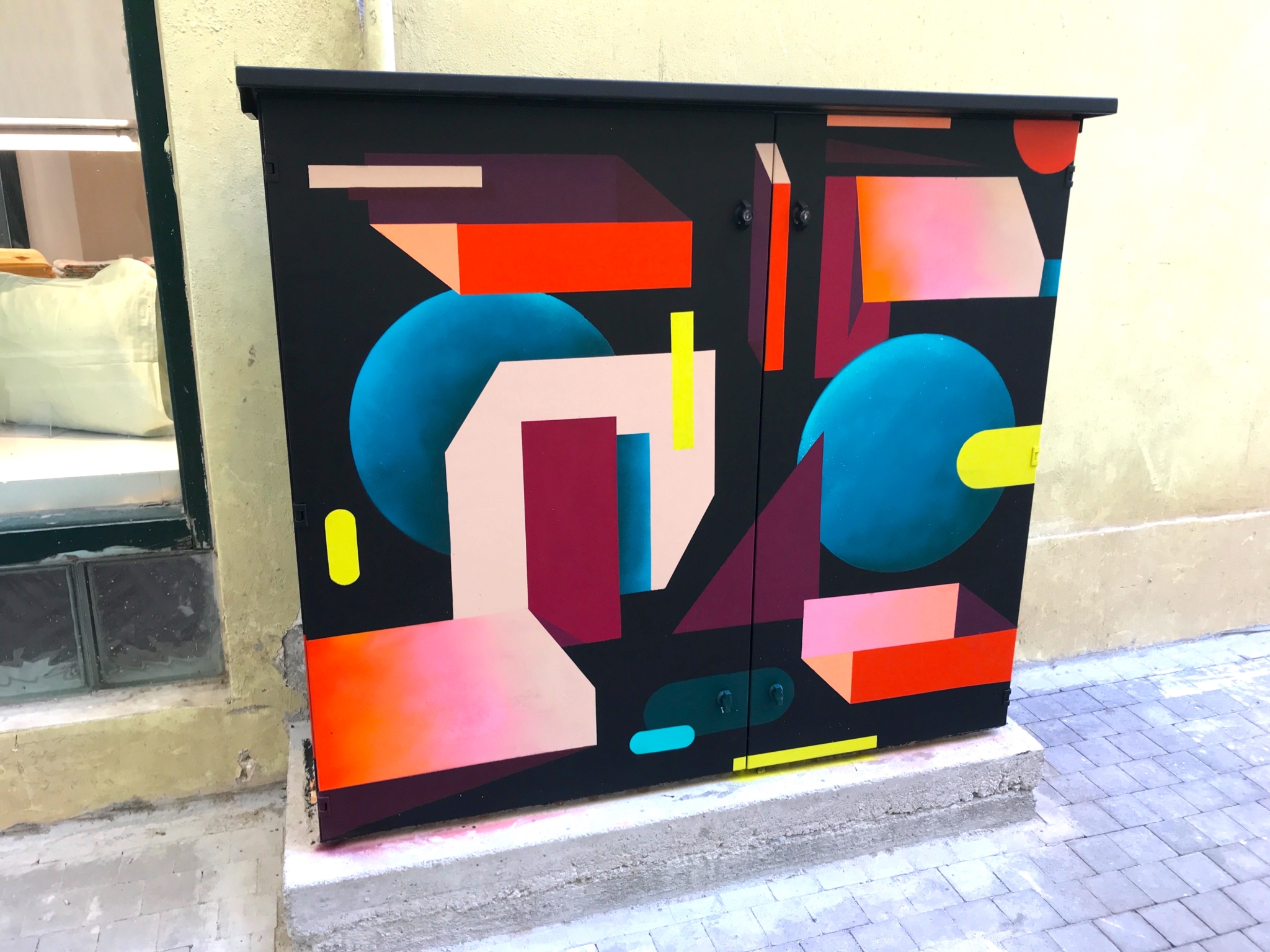 On our way to taste the traditional Greek coffee at Mokka, where they heat the coffee in sand, Yannis pointed out graffiti and something so unique, yet we would have totally overlooked. Sometimes you're so busy making sure you don't slip on the smooth cobblestone that you forget to look closer at your surroundings. You know those round concrete protective bollards lining and protecting the pedestrian spaces from cars? Yannis pointed to where Greek restaurant owners had added plant boxes around the bollards or connected two with a bench in order to beautify their outdoor spaces. We learned that the Greeks share a different mindset when it comes to rules; they view them like suggestions. Because of the Athens Insiders tour, I started to look more closely at how Greeks felt about community spaces. We noticed what was once an outdated ugly yellow phone booth was spray-painted and turned into homes for succulents. We also discovered commissioned graffiti designs and electrical boxes reimagined through art.
3:00 PM Embark on an Acropolis Tour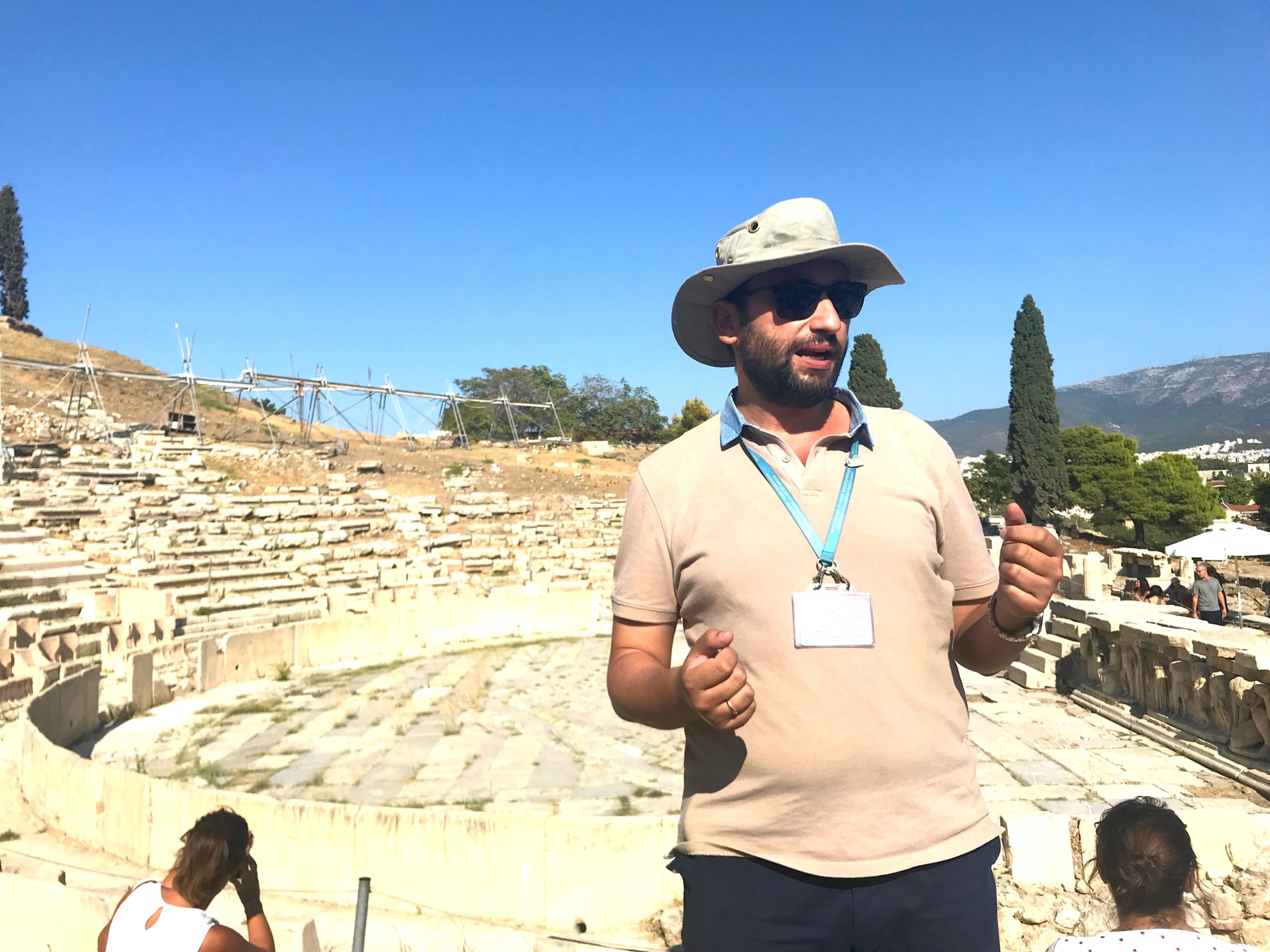 Okay, now you really need your sneakers. And I'm not kidding around because the Acropolis rocks are so smooth you may end up slipping a bit. Our Acropolis tour was also with Athens Insiders, which is great since we got a little carried away and ran a little overtime with our food tour. Yannis simply shifted our meetup spots. Here's the deal, you do not want to skimp on a tour of one of the most iconic historical site in the world. And there's a lot to the Acropolis experience that will ultimately be lost in the mix if you don't have an expert pointing out what matters most. What I loved most about having Pantelis as our a guide was his storytelling, where at the Theater of Dionysus I could imagine the first people to create a play, learning that they used the idea of speaking to a dead relative. This was the first time theatre happened.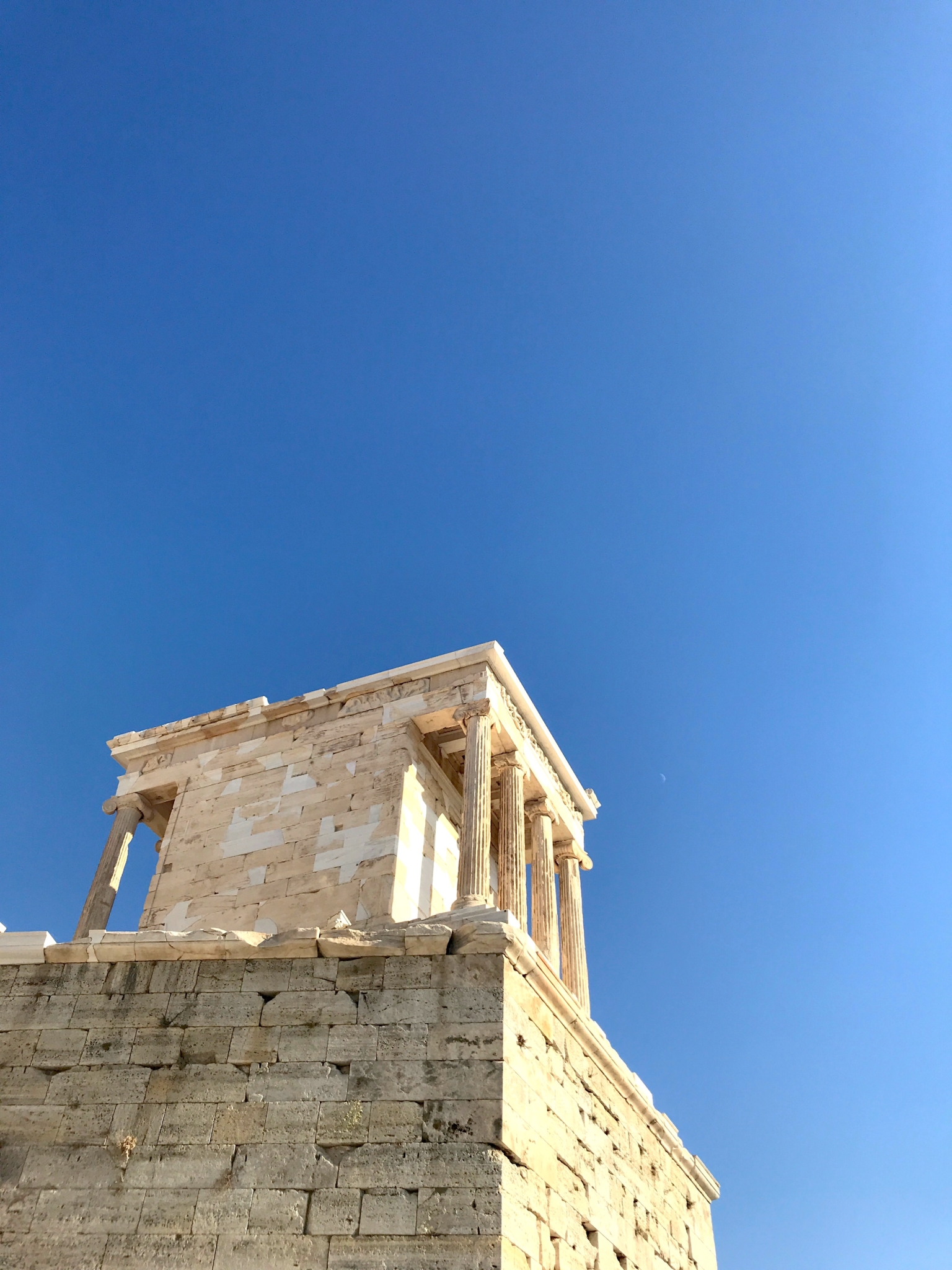 4:00 PM Step into the Acropolis Museum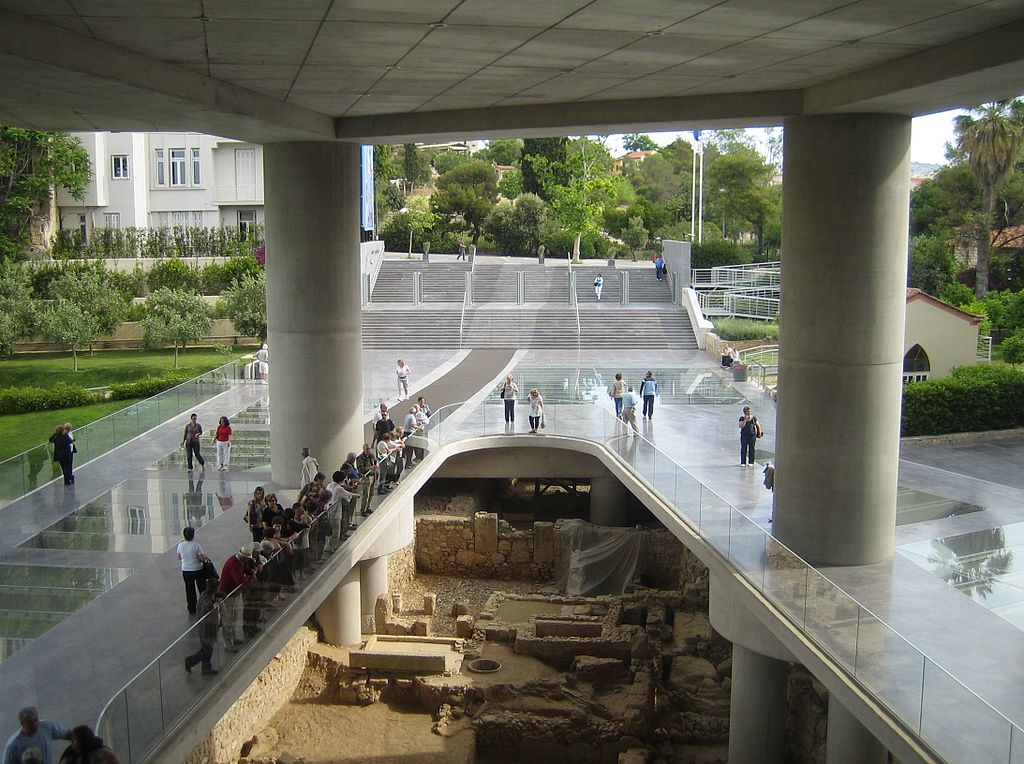 One of my favorite questions to ask our guide at the Acropolis was, "Is this the original?" The answer changes with every temple, every column, every ancient wall. A guide knows what dates back to 5 BCE, and what was reconstructed to help us see the past in the present. What's important to note is that a lot of the original statues of the Gods, marble sculptures and frescos were moved to the Acropolis museum purposely in order to be preserved. After touring the Acropolis be sure to head to the museum to connect all the dots. You'll find yourself saying smart things like, "Oh this Parthenon frieze shows the Great Panathenaia, a festival in honor of the Goddess Athena." It's pretty amazing how much we can learn about the ancient Greeks and their customs from these artifacts.
5:00 PM Roll Up Your Sleeves for a Cooking Class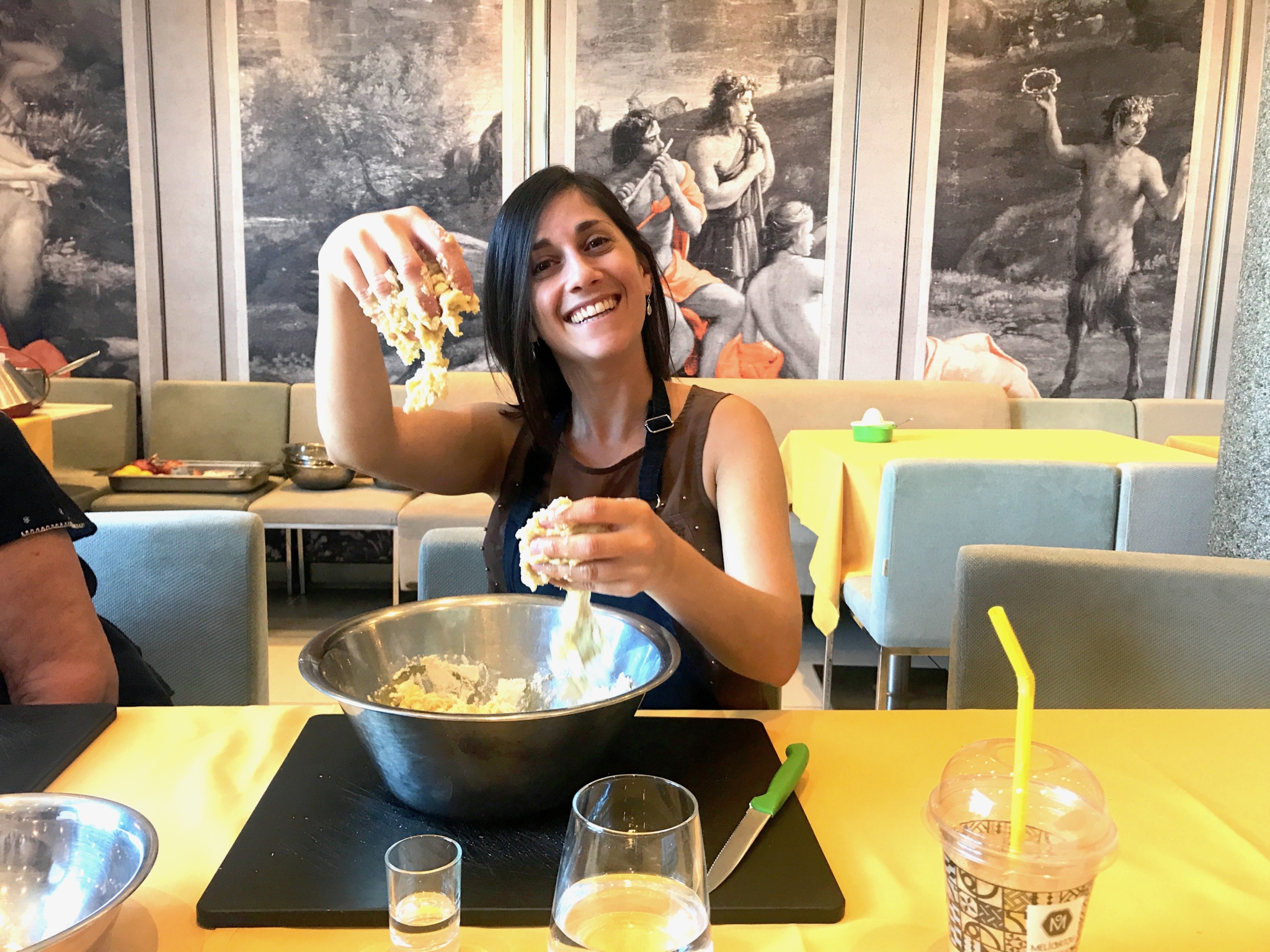 Did you know that the average Greek uses 17 liters of olive oil a year?! Believe me when I say, we did not hold back on our olive oil pours at our cooking class with Athens Walking Tours. Our guide Rena was truly a gem. She shared her love for cooking authentic Greek dishes, which stemmed from helping her mom cook as a kid. All smiles, Rena gleefully and patiently walked our cooking cohort through each step of each recipe, handing out cooking tools and giving each one of us fun tasks like beating the dough or squeezing out water from the shredded zucchini. We cooked lamb and potatoes (in olive oil, of course), Greek salad (in glorious olive oil) tzatziki, spanakopita, fried zucchini balls (fried in olive oil obviously), and a Greek yoghurt dessert. I'm sure I'm leaving out more instances of olive oil, but I think you get the point. I learned the secret to disinfecting a cutting board (prepare to impress your guide; it's vinegar). I also learned that when you stuff your lamb with a whole clove of garlic, that's what makes it taste so freakin' delicious. Best of all, I feel confident to cook all of these recipes back home for friends and family.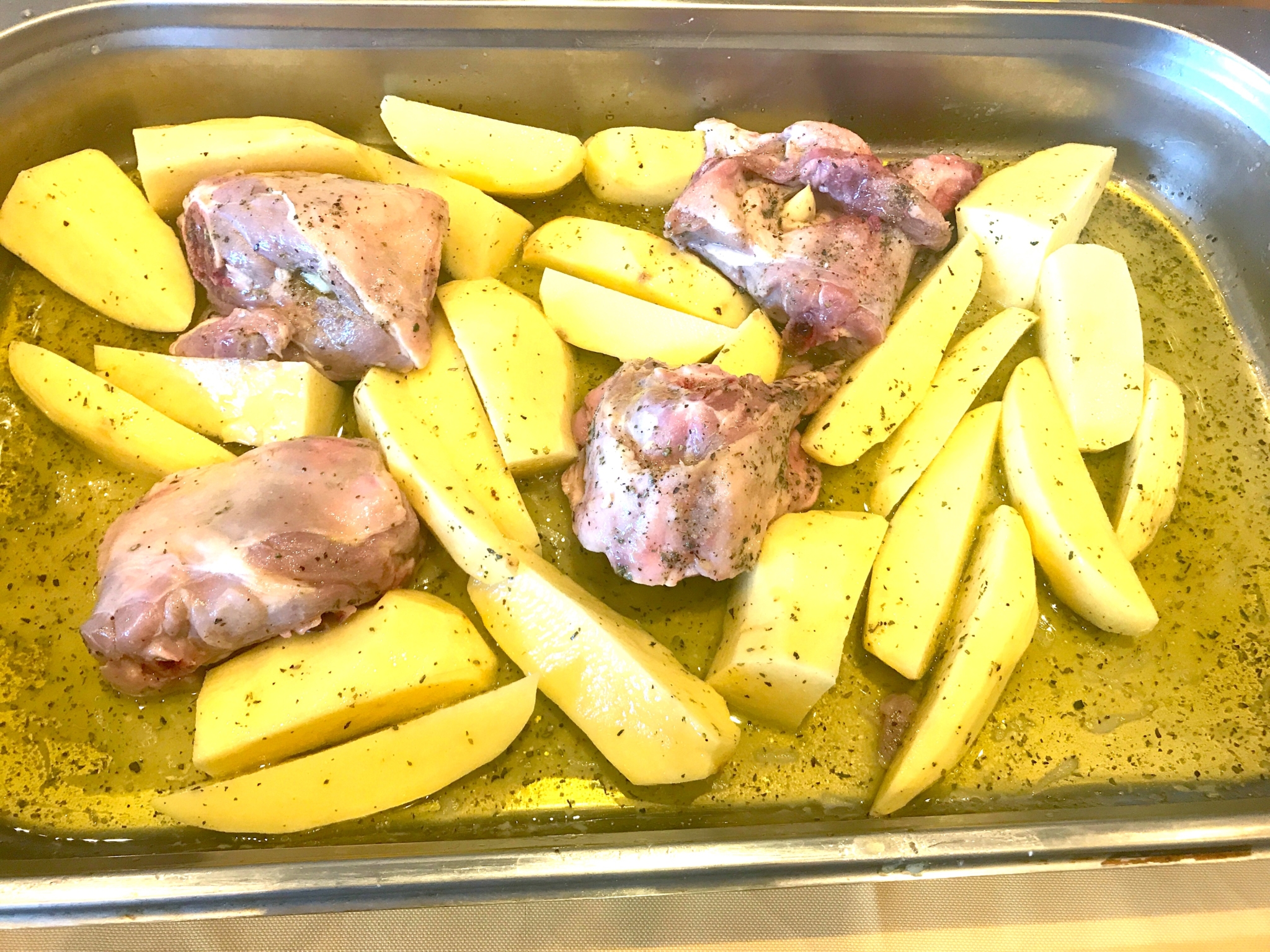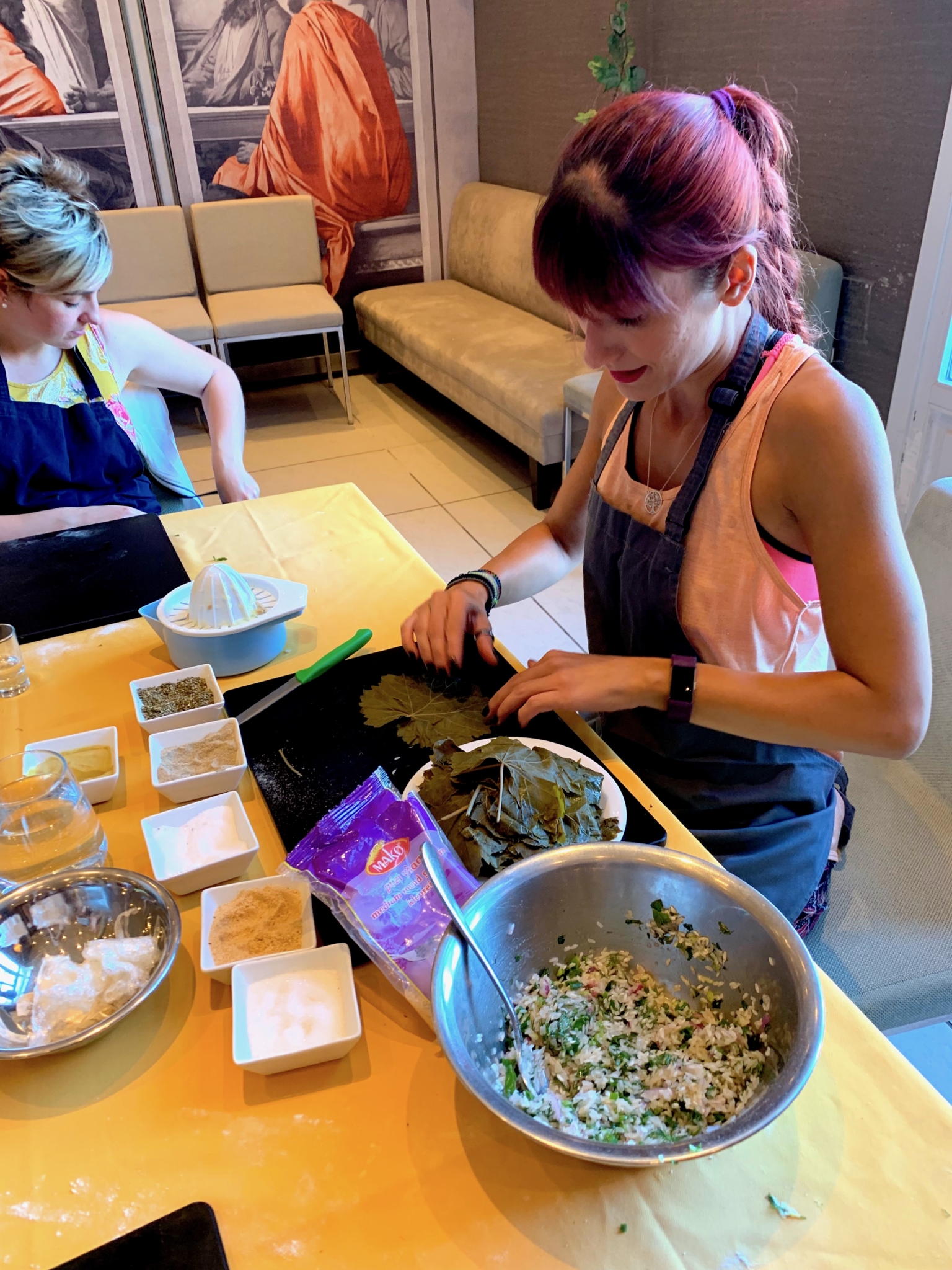 6:00 PM Feast with Your Cooking Class Cohort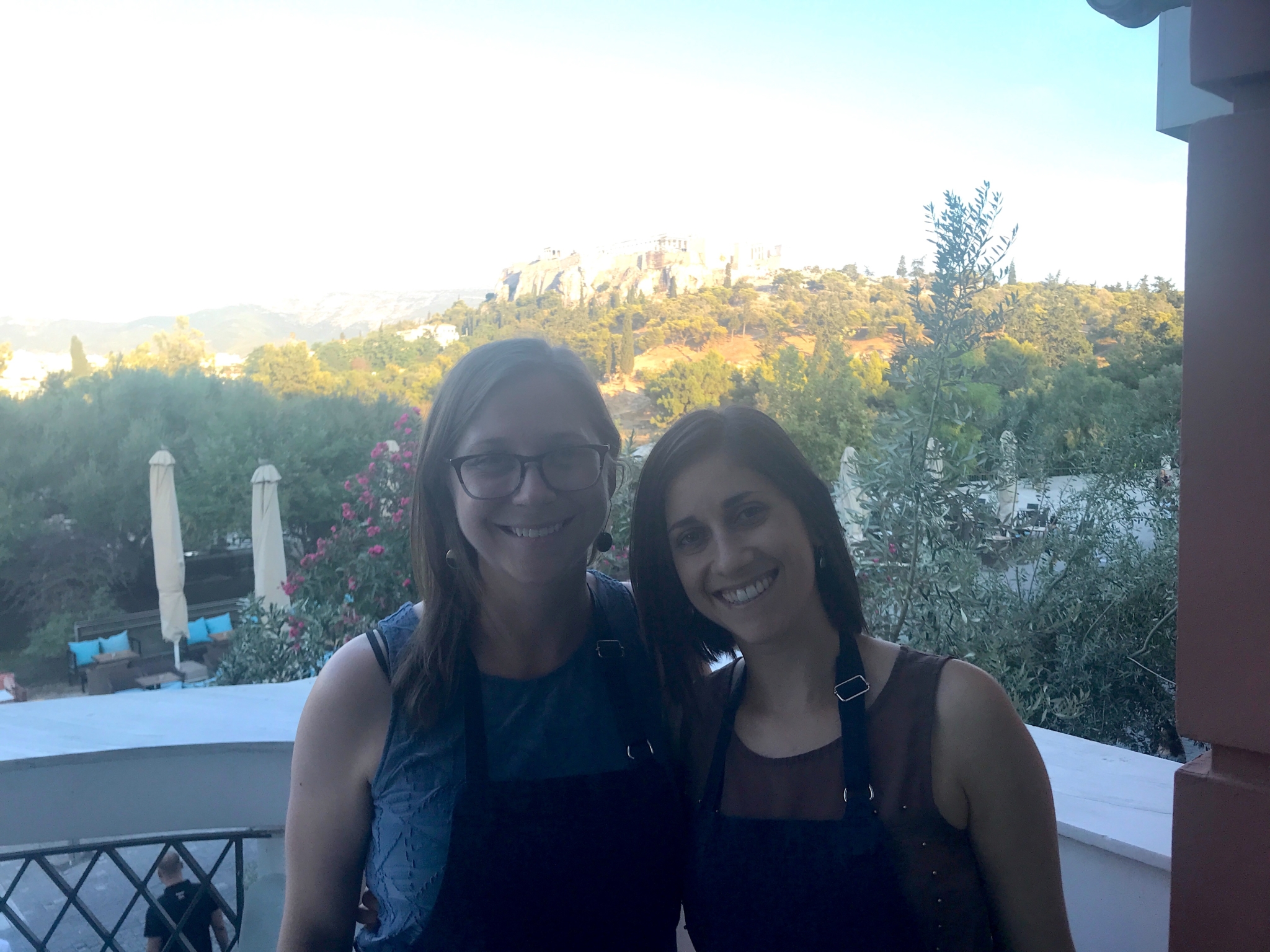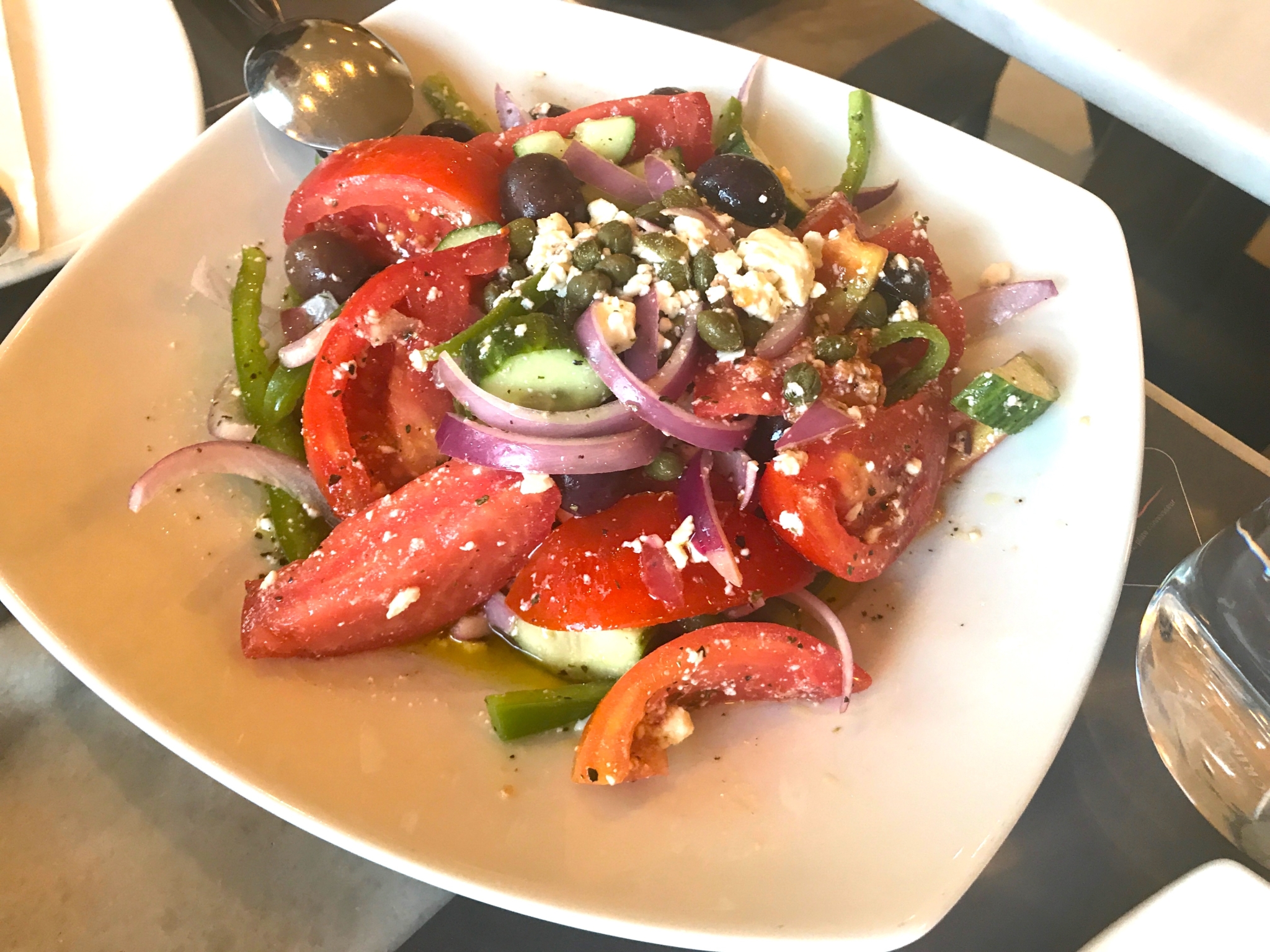 The best part of taking a cooking class while in Athens? Eating what you cook! Forget about making a reservation at some tourist trap and hoping that you order the most authentic Greek meal. With a cooking class, you've just purchased a five star meal comprised of the most traditional dishes Athenians are cooking at home. Plus you don't have to stress over the FOMO you have at restaurants because you can't try everything. After you've cooked these six recipes, you get to eat them all. We enjoyed our meal with gorgeous views of the Acropolis at sunset from the restaurant Chocolat Royal. Athens Walking Tours even gives you a beautifully printed copy of all the recipes at the end.
7:00 PM Savor the Loukameds at Lukumades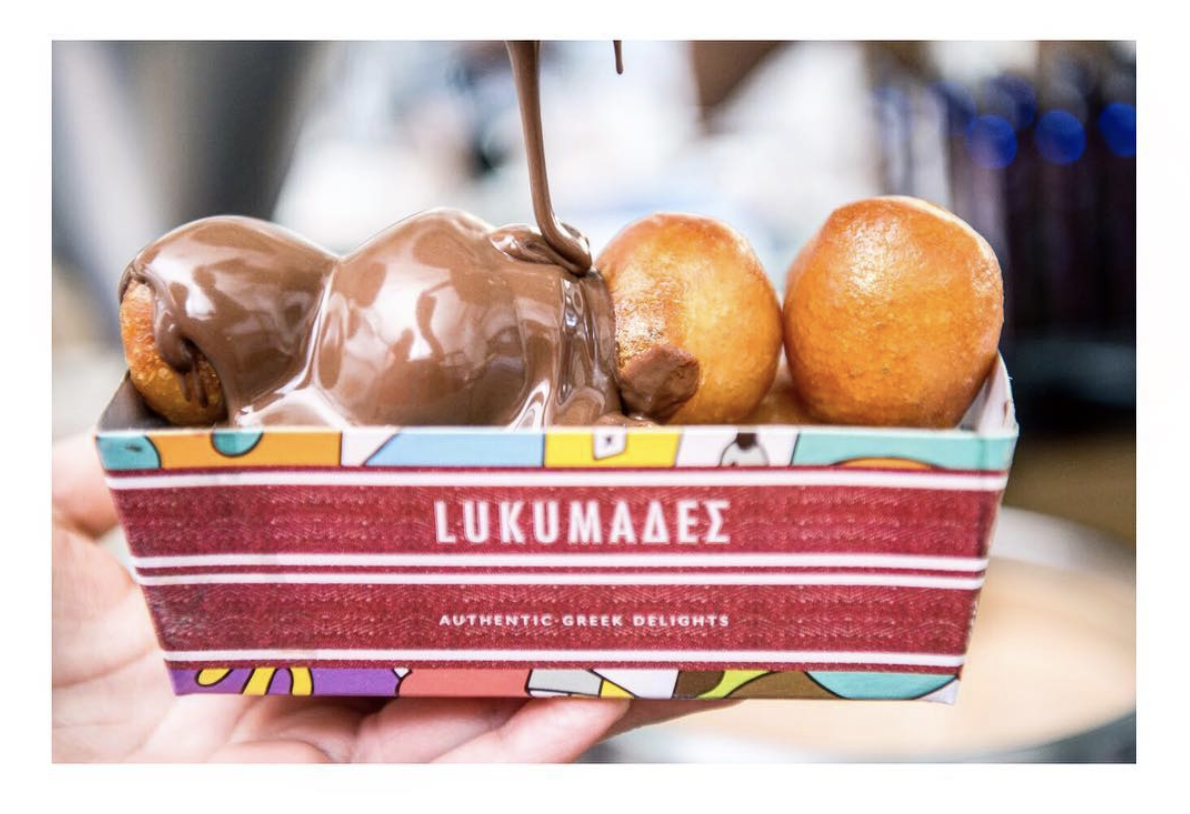 I hope you saved room for more dessert because you can't leave Greece without trying the Lukumades at none other than Loukameds in downtown. This warm mini donut-like dessert will warm your heart and feed your soul. One order comes with six pieces, which is perfect for sharing. Spruce up the dessert by choosing any toppings you desire. My favorite are the ones smothered in dark chocolate with crumbles on top. It's simple, decadent and delicious.
Pro Tip: Where to Stay: If possible, stay near Psyri, which has the best nightlife. Or look to the Syntagma neighborhood, close to restaurants and shops. Either way you're in a perfect location to walk to just about everything including Six Dogs, Kokkion, Little Kook and A for Athens.
8:00 PM Chill in the Beer Garden at Six D.O.G.S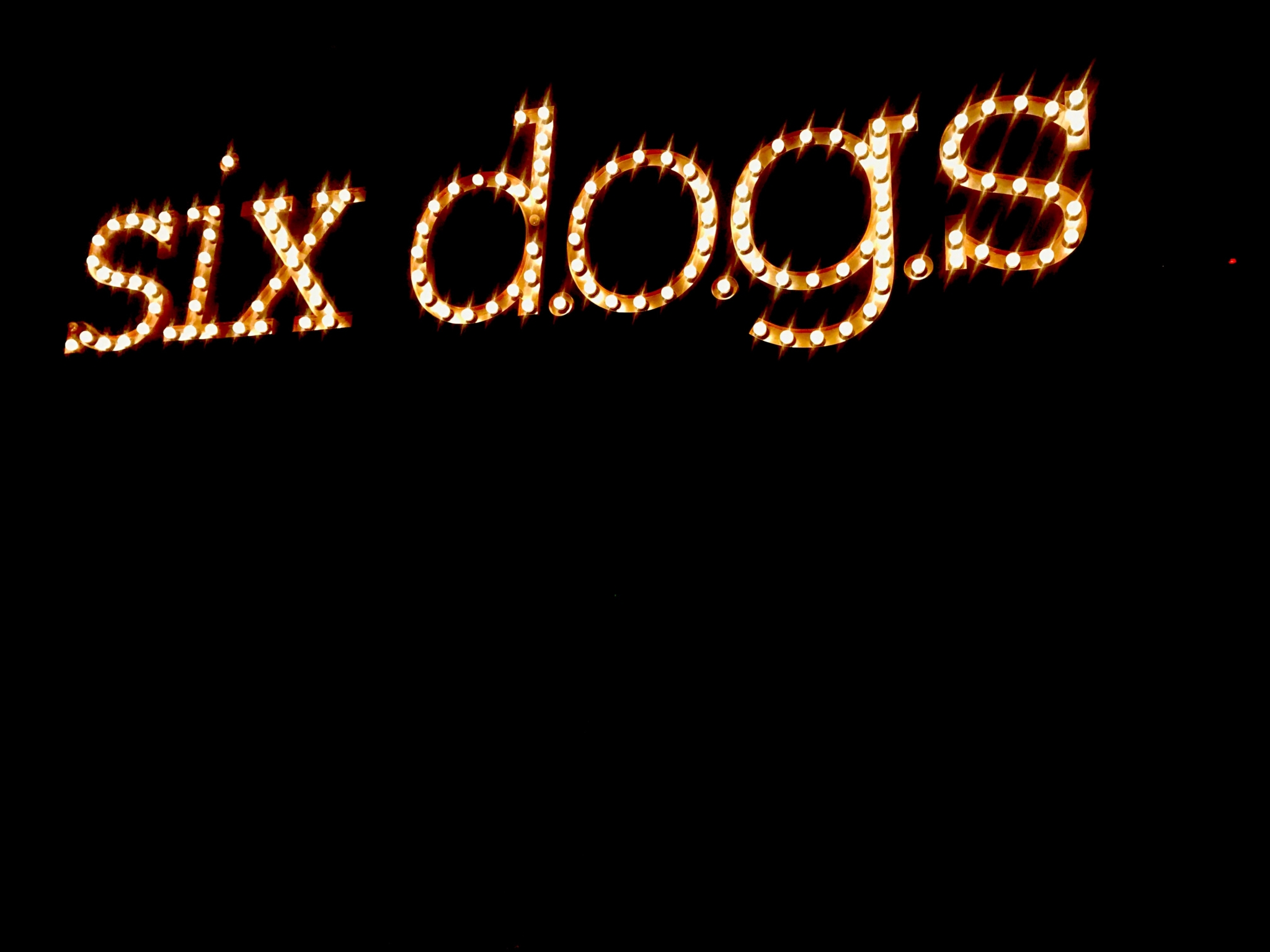 Athenians are very social and you'll find locals and travelers alike catching up with friends at Six D.O.G.S. Their menu offers a wide variety of beer, wines and creative cocktails, complete with a cup of popcorn. Once you walk under the lit up entrance sign, and downstairs, you'll enter the main area which continues to open up with every step forward and reveal more and more of nature and tree branches with string lights, until you look up and realize you're in an open air space. The cobblestone walls gives you the feeling that you're hanging out back in ancient Greece, perhaps even in the Agora.
9:00 PM Try the Ice Cream at Kokkion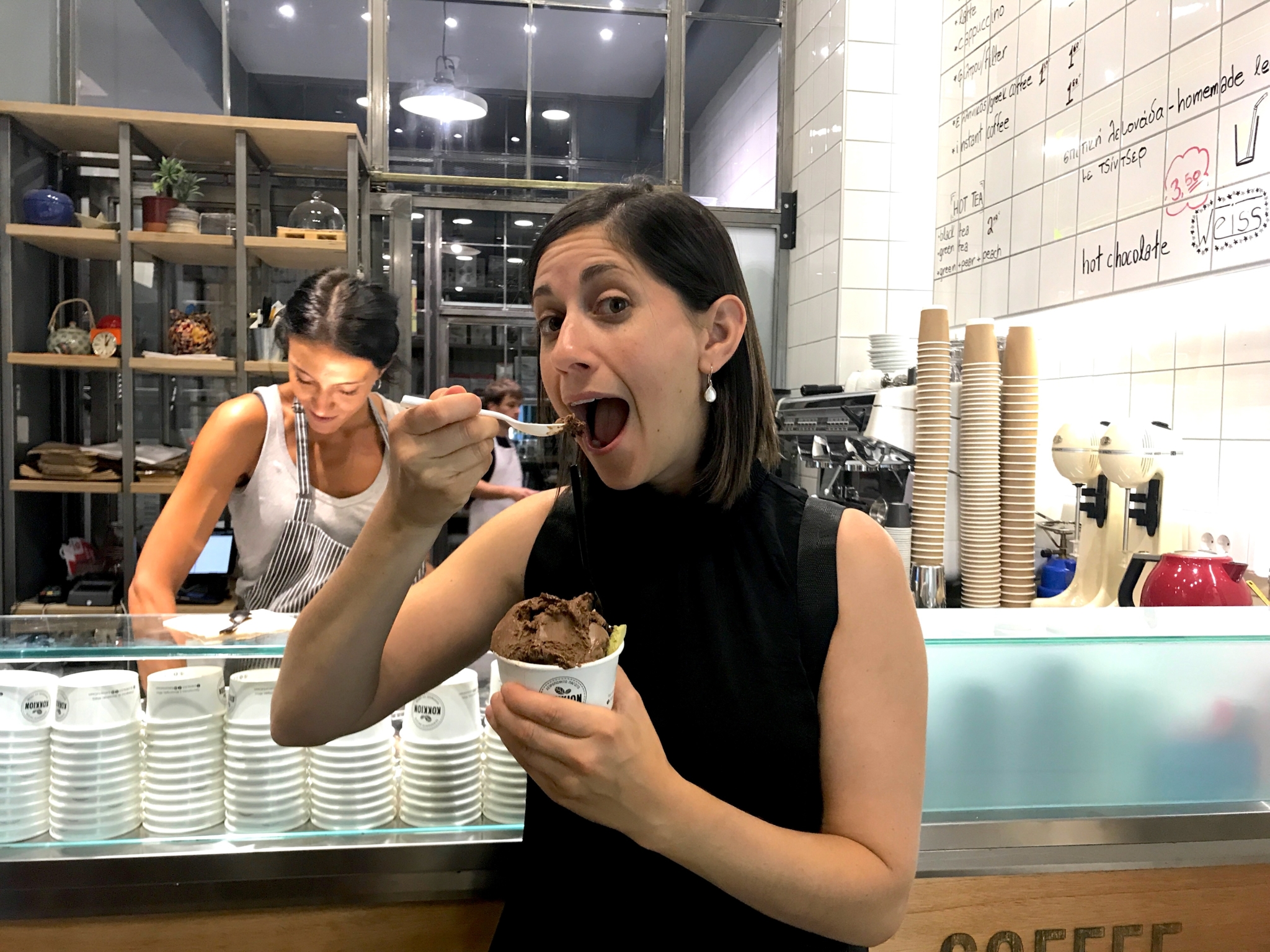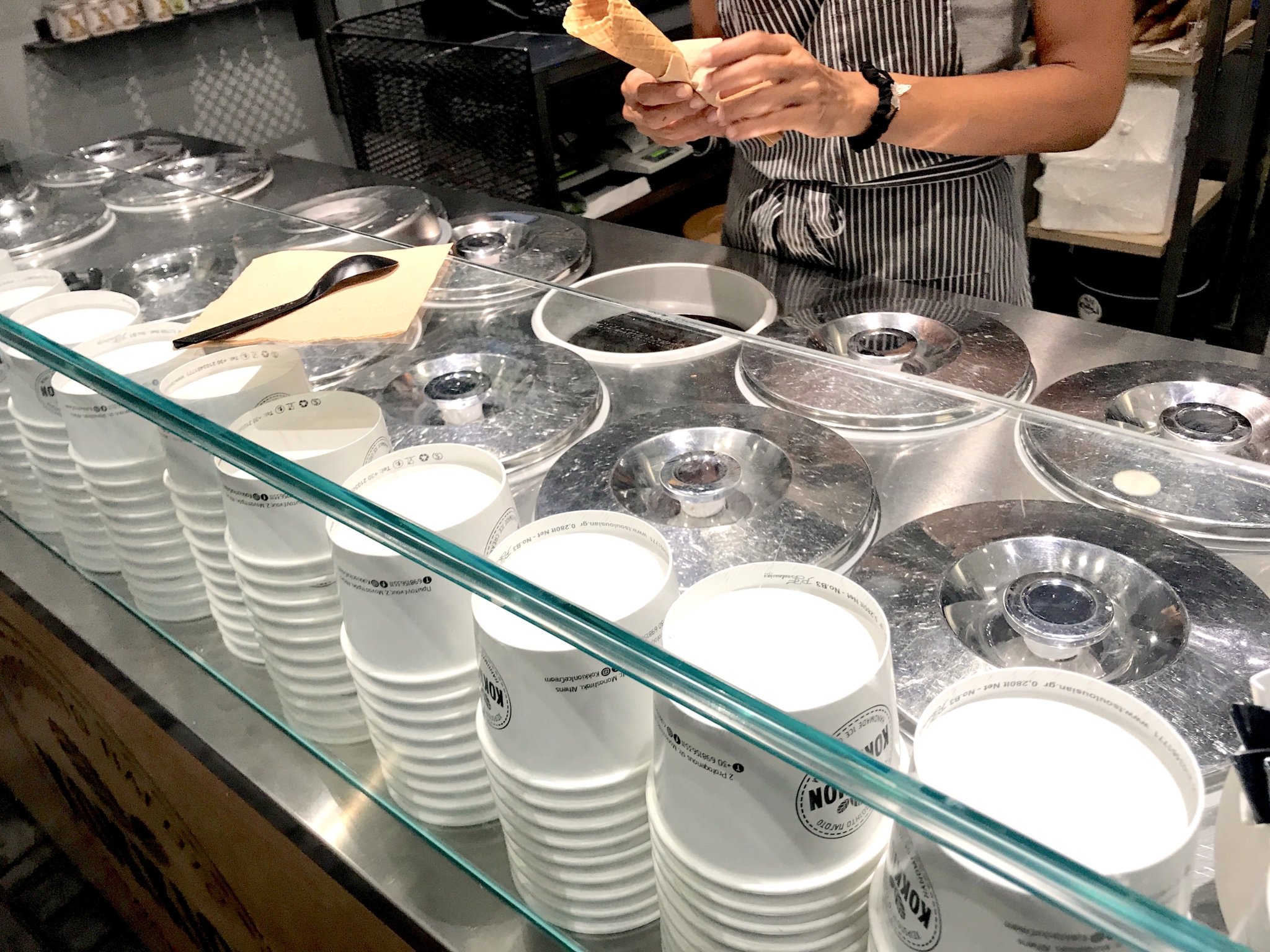 I asked just about every Athenian we met: Where's the best gelato? I sampled gelato spoons as we walked. Lemon, pistachio, chocolate. It was hard work, but someone had to do it. What did the consensus come down to? Kokkion. Was I impressed with their 70% dark chocolate gelato? You betcha.
10:00 PM Enjoy coffee and Fairytales at Little Kook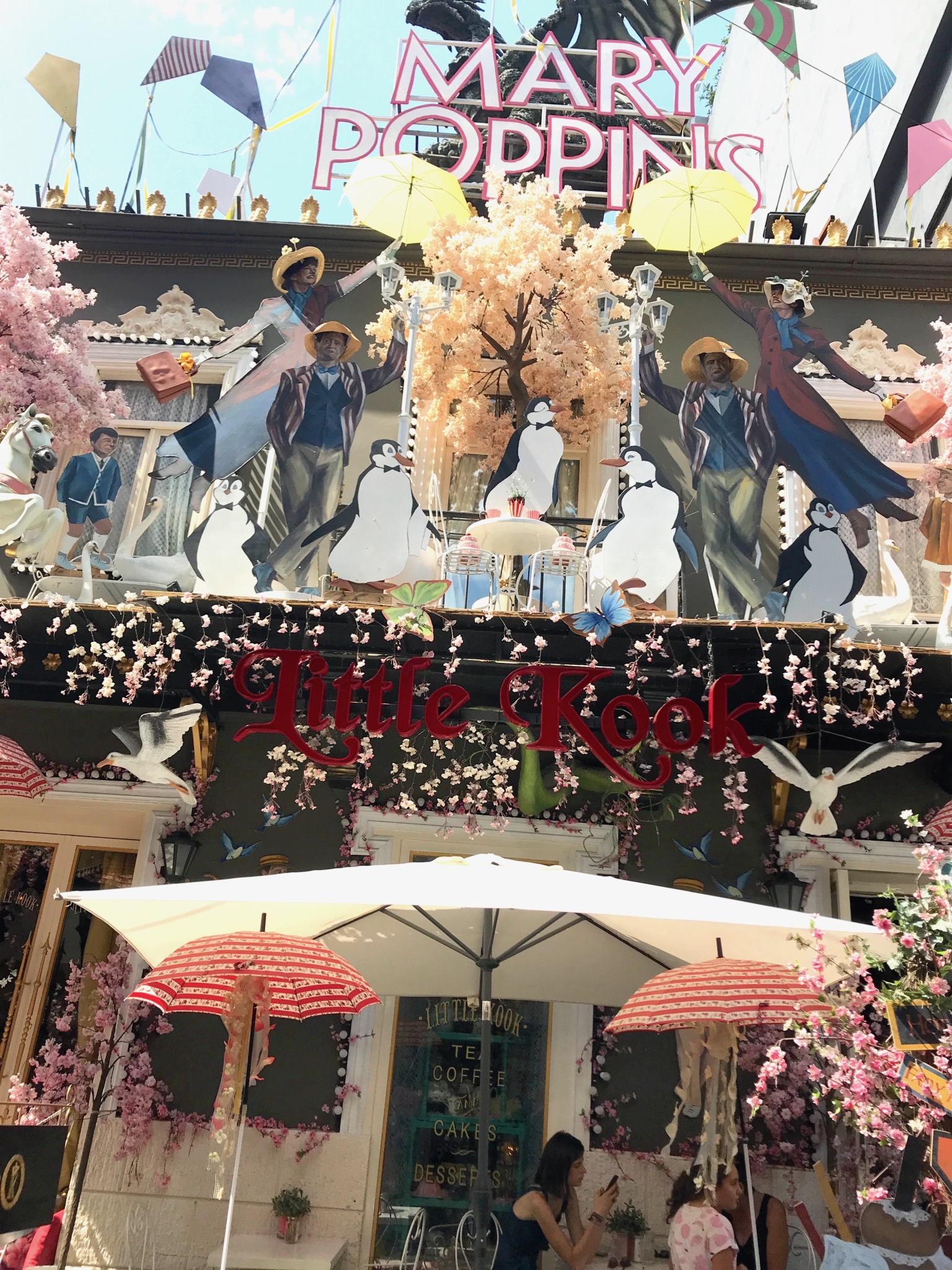 The night is just getting started so you better get your caffeine fix now. When I passed by Little Kook, I stopped dead in my tracks. This place was decked out, head to toe, in Mary Poppins décor with dozens of umbrellas hanging from the alleyway. And the whimsical displays continue as you step inside from the Cinderella room to the Alice in Wonderland room and more. The displays change every season but it's phenomenal. Known for their coffee, Little Kook is truly a portal into a fantasy world.
11:00 PM Sip on Cocktails at the A for Athens Rooftop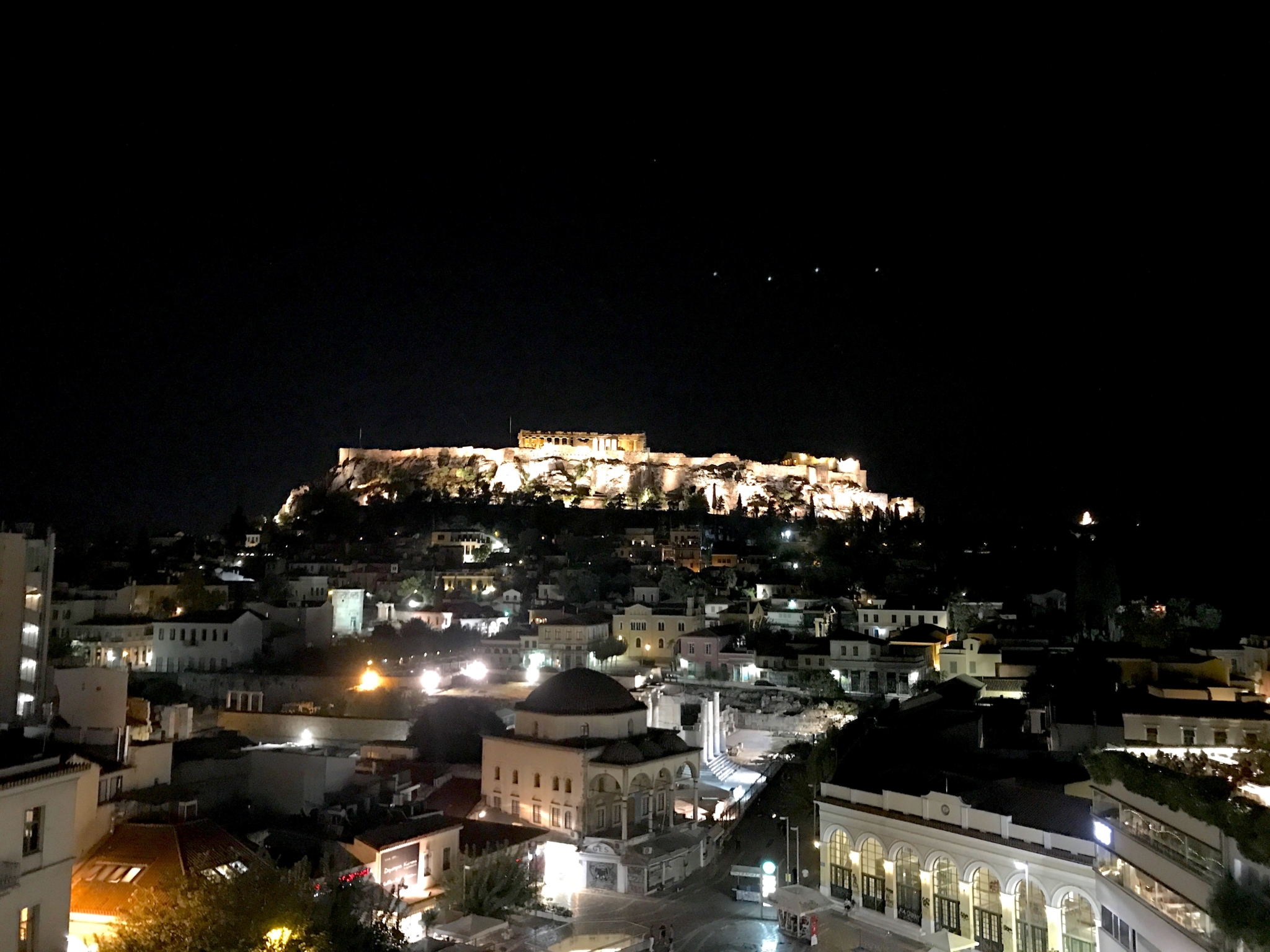 Take the tiny and futuristic elevator into A for Athens. Don't stop at the entrance, instead head through to the deck and upstairs to incredible views of the Acropolis lit up at night. Order unique cocktails like the one that comes with a lime in sprinkles. And relax while you sip along to the vintage house music.
12:00 AM Experience MoMix Molecular Mixology Kerameikos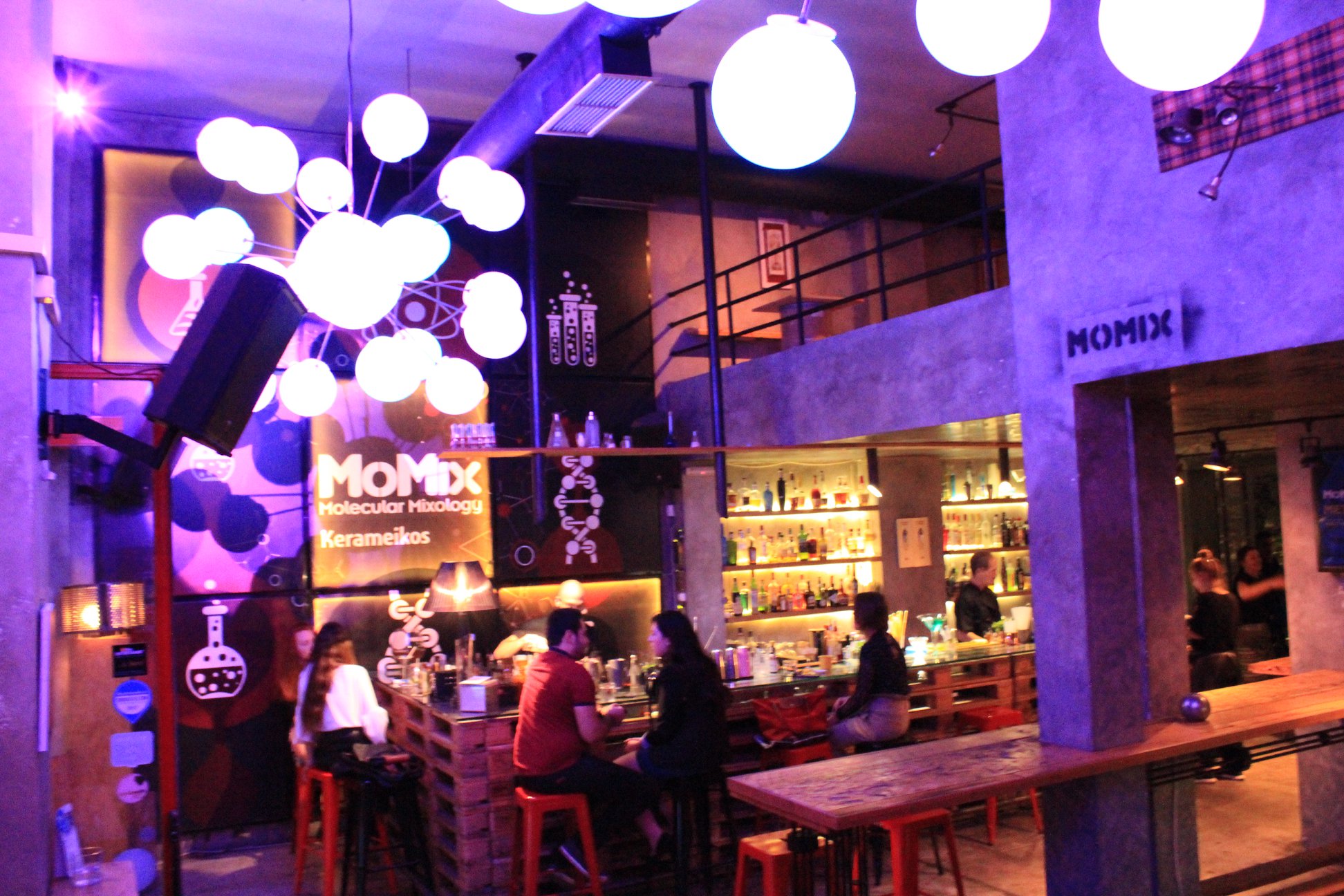 Cue the #artsyvibes at MoMix. The creative light-up boxes for menus, drinks on fire, and obscure drink concoctions will infuse your world and delight your imagination. Be prepared to be surprised. MoMix even has a unique take on shots and takes the art of mixology to a whole new level.
1:00 AM Warm up with Rakomelo and Dessert at Yiasemi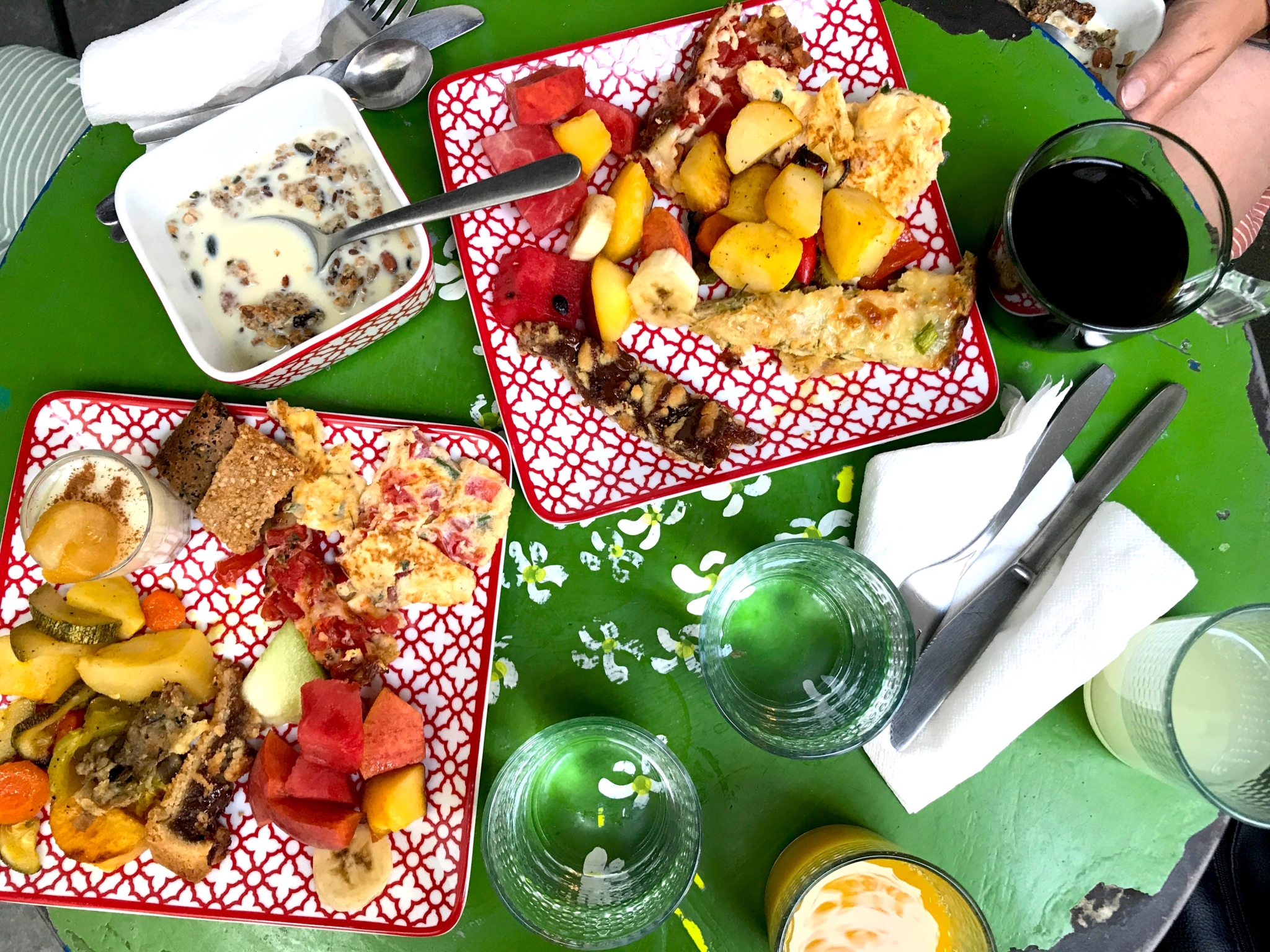 When it comes to Yiasemi, a multilevel and rooftop café in the Plaka neighborhood, it was a challenge to figure out what time of day you should visit. The owner takes great pride in her homemade pies and cakes, all beautifully displayed. But the Yiasemi brunch spread—soufflés, fruit, savory pies— is incredible too, complete with live music by a local pianist. And with outdoor seating on the steps of the romantic alleyway, you could enjoy this adorable café and its people watching any time of day. No matter what time you go, be sure to try their teas and honey. But if you're looking for something warm but with an edge, try the rakomelo, a warm, sweet and spiced drink.
2:00 AM Soak in the Romance at Mars Hill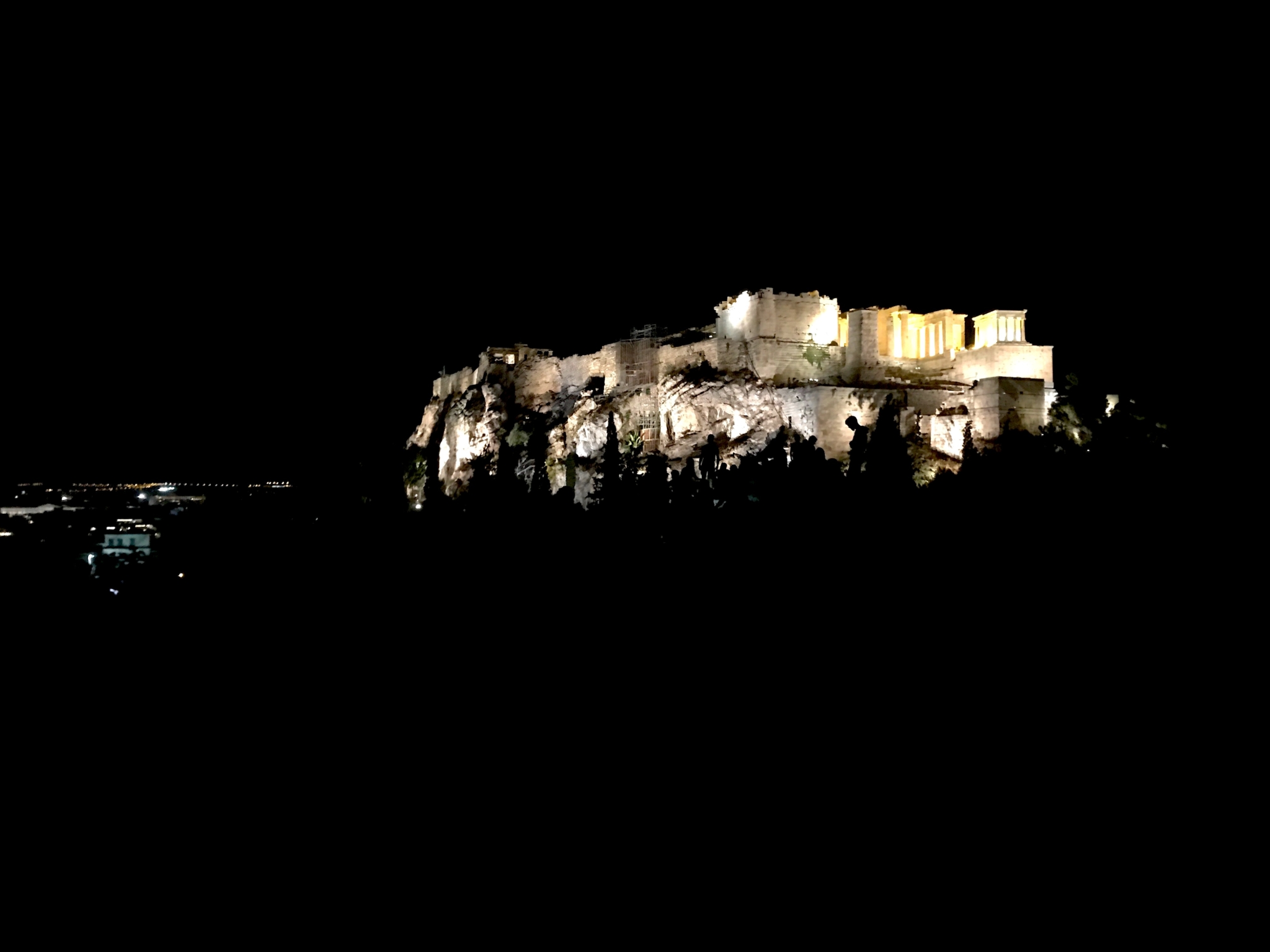 We stumbled onto this historical landmark, Mars Hill, on our walk home and decided to explore. Since it was late at night, we didn't quite know what we were about to experience but as we climbed up the steps, it became clear that we were on top of a massive rock near the Acropolis. Be careful though, as you start walking around, possibly looking for a comfy spot to sit, the rock is very smooth and slippery. Once your eyes adjust you'll see couples and groups of teens sitting together taking in the city lights. I later discovered from my Acropolis tour guide that Mars Hill once functioned as the court. But for now, cozy up to your special someone if you want and look out across the city lights. Best of all, look up to the spectacular site that is the Acropolis.
3:00 AM Dance the Night Away at Death Disco
You can dance till sunrise in Greece, and this definitely applies to Athens too. Death Disco has a more fatal connotation than intended. Really, you're just dancing along in a beautiful club with beautiful Athenians with neon lights flashing to the best dark wave, new wave, post punk, EDM, synthpop, Indie and 80's songs (depending on the night of course).
4:00 AM Go Big at Docs Burger Bar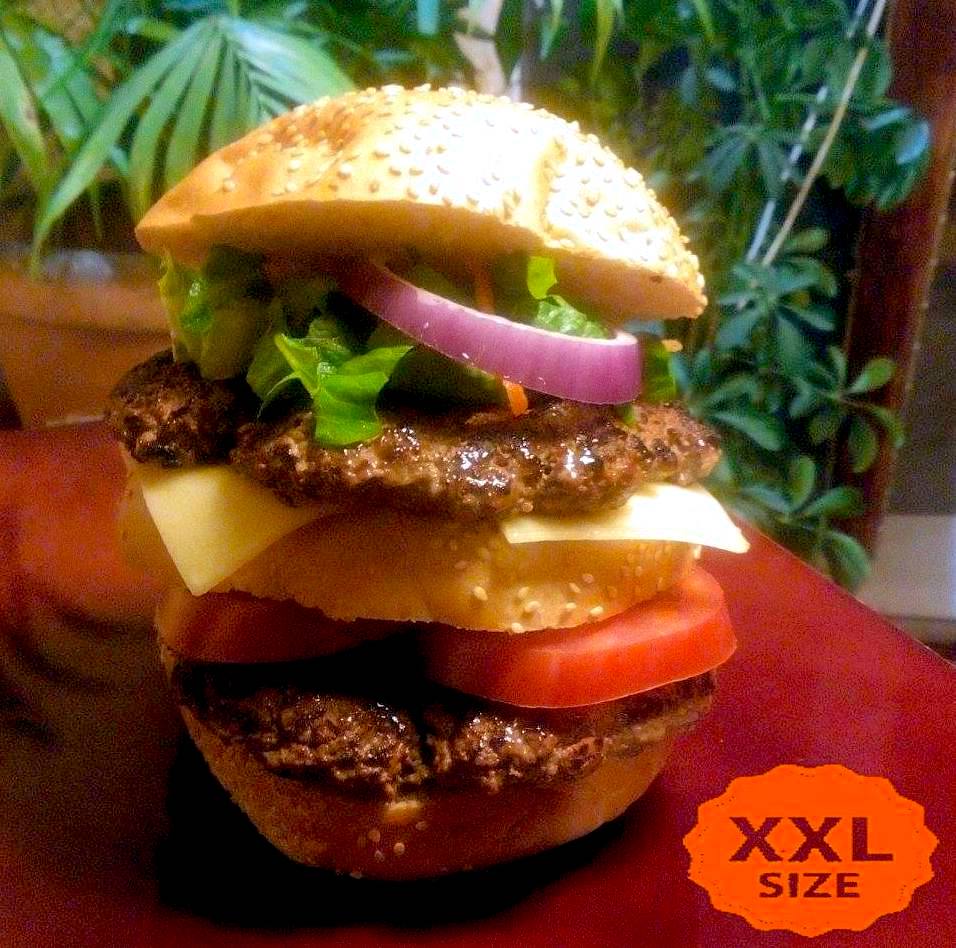 The ultimate hangover cure and best way to finish off the night of dancing is at To Karotsi tou Giatrou aka Docs Burger Bar. Conveniently right in Psyri Square, this spot is super popular among Athenians. You can load up your burger to your liking or go crazy with the massive sandwiches. Prepare to go to sleep with your mind challenged, your body worked and your taste buds satisfied.