Wesleyan University–Middletown, CT
[toc]
Wesleyan University's Instagram
The Vibe
As eclectic as it Gets
What if Feels Like to Go Here:
Wesleyan University lets you indulge in all your educational curiosities. From pre-med activists to philosophical athletes, students at Wesleyan embrace an array of interests. So don't be surprised to find that the campus' general appearance is as free-spirited as its students with colorful hair and wardrobe style. The compact campus even mixes rustic vibes with new, modern buildings, such as the Usdan Center, used for art exhibits, dance performances and lectures. Among parties, plays and politically charged conversations, Wesleyan University promotes a holistic liberal arts experience–the perfect mix to continue attracting the diverse student body that has produced rising Broadway legends and political advisors.
Awesome Alumni
Lin-Manuel Miranda worked on what would become his first Tony Award winning musical, In the Heights while at Wesleyan University. Most notably, Miranda is the mastermind behind the Broadway hit Hamilton and has worked on the soundtrack for Disney's recently released Moana. Moving from the stage to the page, 1975 graduate Amy Bloom has nominations for both the National Book Award and the National Book Critics Circle Award for her book Lucky Us. And before he co-directed the classic hit, American Pie, Paul Weitz graduated from Wesleyan–where, Jim Levenstein would be relieved to know, there were no such things as special virgin dorms. Finally, For political science majors and future world-changers, alumna Lael Brainard sets an example of how to gain a political presence. Brainard has served as Undersecretary of the Treasury for International Affairs under the Obama administration and was confirmed to the Federal Reserve Board of Governors. If the country's latest bout of post-election craze left you unsettled, maybe Brainard's footsteps are the ones to follow to actually work towards making America great again.
Where We Hang
Wesleyan students don't have to leave campus to find a good time. The Center for the Arts offers plenty of entertainment with regularly scheduled theatrical productions, musical performances and art galleries. A play on Friday and a jazz performance on Sunday, the programs presented by the CFA make art-lovers drool. For the nature-lovers, Foss Hill, a Wesleyan staple, is a common ground that transforms from the perfect spot to relax with a good book to a place to stargaze or, in the winter, the ideal sledding hill. Sick of relaxing? On weekends, you can count on senior and program house parties to turn up. If you're looking to get off campus, there are a handful of great restaurants nearby on Main Street. "Klekolo is my favorite coffee shop and off-campus work spot," junior Gemma Shay said. For those looking for even more adventure, New York City is less than two hours away.
Q&A
1. How much are students partying?
"I would say most students like to go out at least once a week, and many go out more frequently when the weather is warmer, but because there are so many smaller venues with capacity limits, events stay relatively low-key compared to what you would find at a state school. Most people just want to hang out with their friends, whether that means going to parties or small pregames or just watching Netflix," Shay said.
2. What will you get in trouble for at your school?
"Generally plagiarism or manufacturing bad synthetic drugs will get you expelled," junior Jane Tewksbury said.
3. How much sex are students having?
"[Students are] extremely active. We really fall into the liberal arts kind of new-agey casual attitude that allows for lots of sex positivity. The queer student body is very active and open, but I know a lot of people who find it too white and sort of exclusive. I think it's really uncommon for people to actually date. Most people are looking for casual hookups, but I think people are usually pretty sensitive and end up secretly wanting something more serious but not saying anything. Go figure," sophomore Emma Freeman said.
4.What would you tell incoming freshmen about your school?
"Take classes that are as unrelated to your major as possible and get to know your professors personally! sophomore May Klug said.
5.What's the relationship like between students and the surrounding community?
"Too separated; students stay on campus most of the time and there aren't many opportunities for students and Middletown residents to get to know each other," sophomore May Klug said.
Student Reviews
"The vibe is flexible. There is a really wide range of activities [and] classes, so you can definitely get whatever you want out of the school. I know some people who are pulling all-nighters on the regular and some people who manage to take classes with less work and never run into that situation. Similarly, there are some classes which are notoriously difficult–organic chemistry, for example–and classes which are renowned for being not as tough. As for the non-academic vibe, there's no pressure to party. My typical weekend outing consists usually of attending smaller pre-games, then heading to concerts or DJ nights."– Emma Freeman, Computer Science and Studio Art major, Class of 2019
"The relationship between the administration and the students was surprising at first. A lot of campus activism is directly at odds with the priorities of the administration and most students are at best ambivalent towards President Roth and other administrators. I think Roth is very good at presenting the best side of Wesleyan to parents and alums, but with actual students the relationship is strained." Gemma Shay, Physics and Science in Society major, Class of 2018
"I knew there was a wide range of courses offered but am excited by how in-depth one can get in multiple fields of study without getting spread too thin or stopped by bureaucracy." May Klug, Music and American Studies major, Class of 2019
"Wesleyan is amazing. I can assure you at least 90 percent of the student body didn't vote for Trump." Jane Tewksbury, Math major, Class of 2018
"I transferred to Wesleyan from a little school in Virginia. This place is…better? Better. Better. Final answer. Wesleyan will change you in ways you could never foresee. For instance, I used to not cuff my pants. This is no longer the case. I don't even know who I am anymore." Jack Reibstein, Class of 2017
Top 3 Majors
Psychology
Economics
Political Science
Top 3 Most Popular Student Organizations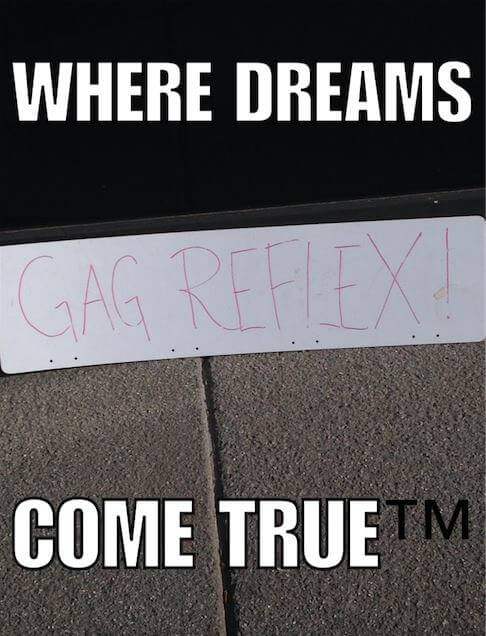 1. Gag Reflex stands as Wesleyan University's oldest Improv Comedy group. They bring plenty of laughs to campus when they perform three or four times a semester. "Our goals are really to do improv–practice and perform–and also to get better as individual players/comedians," junior David Caruso said. "Part of that is holding each other accountable during rehearsal, but it mostly comes from practicing together, and just spending time around other funny people." Gag Reflex even takes its talents off campus, having represented Wesleyan University at the Big Apple Regional Improv Tournament. Getting involved in this organization is may be the beginning of embracing your inner improv skills and learning the art of long-form comedy.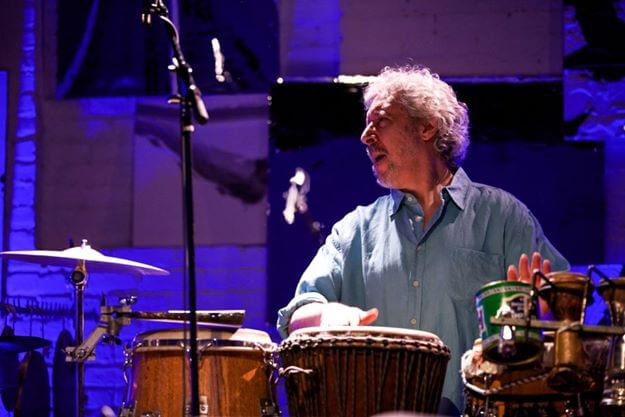 2. The Wesleyan Experimental Music Group works to expose the campus to the performance, composition and experience of experimental music. The organization provides a platform for students to explore and share their experimental music and books off-campus artists and organizes events. "It's been really rewarding to be supported by the school through funding and access to spaces in order to create the kind of events I want to be a part of on campus, and to build a student community around a somewhat niche interest," said May Klug, the leader of the organization. For anyone looking to get involved in experimental music, joining the Wesleyan Experimental Music Group is a great way to start.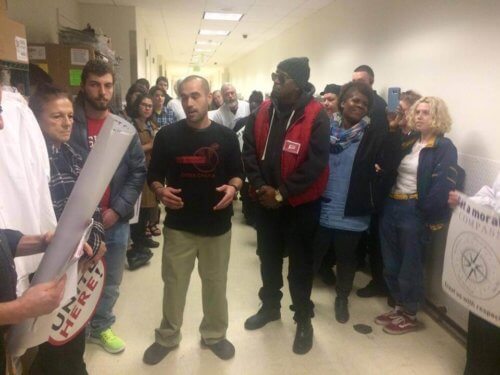 3. The United Student Labor Action Coalition (USLAC) serves as a group of Wesleyan students who stand in solidarity with campus workers. "We organize with student workers, cafeteria workers, custodial workers and the democratic socialist group on campus," said Shay. Students get to work with on-campus employees to bring change in the workplace and get exposure to labor struggles outside of the campus. This insight and experience that can only benefit students in the future.
Getting in:
Wesleyan University embraces well-rounded students who are dedicated both inside and outside the classroom. The best way to get in? Show that you're genuinely passionate about being involved. The admissions office looks for students who don't only get good grades, but who wholeheartedly commit to other interests from hobbies to extra-curriculars. The school encourages applicants to demonstrate a sense of dedication and engagement. Interviews are highly recommended as part of the application process; applicants can start scheduling interviews either on campus or in a selected area with alumni interviewers as early as June 1. Also, while the average SAT range is 1300-1480, and the ACT range 29-33, Wesleyan University has been test optional since 2014, giving applicants the chance to choose whether or not they want their scores to reflect their academic abilities. In doing so, Wesleyan urges its aspiring students to focus on what best represents them in terms of both academics and extracurriculars.
Stats
Location: Middletown, Connecticut
Tuition and fees: $50,612
Total Cost on Campus: $65,443
Undergrads Enrolled: 2,837
Grads Enrolled: 361
Total Enrolled: 3,138
Acceptance Percentage: 22%
Percent Admitted Who Enroll: 33.4%
Percentage of Male Students: 48%
Percentage of Female Students: 52%
Percentage Receiving Financial Aid: 48%
Percentage Receiving Federal Grants: 46%
Percentage Receiving Federal Loans: 45%