Raise your hand if you've been personally victimized by the unrelenting pressure of life as a college student. We've been there more than a couple times: all-nighters, twenty-page essays and that one professor that just doesn't get it. After long, emotional days of cramming when your brain wants to do nothing else but shut down, a serene campus proves your saving grace. Today, colleges all over the country work towards improving the lives of every student through an emphasis on mindfulness, inclusivity and relaxation techniques. These schools encourage students to put down the books for a few moments, take a look around campus and find harmony both on and off the quad.
Check out the top 10 most peaceful college campuses that will make you want to nama-stay in school forever.
10. University of Puget Sound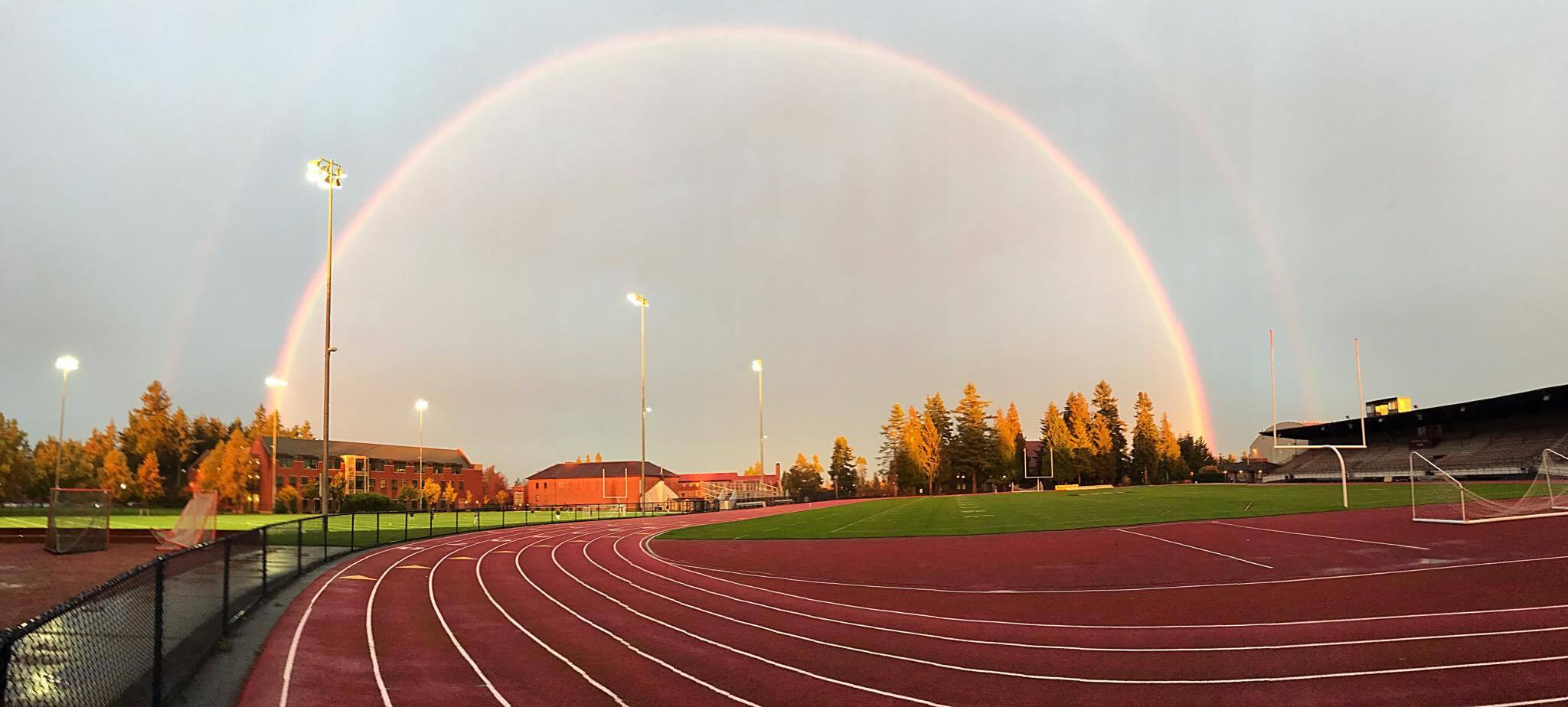 University of Puget Sound's quaint liberal arts campus teems with beauty, intellect and miles of tranquil outdoorsy shores to chill out at once finals week kicks in. This Tacoma, Washington school promotes student health and wellness by highlighting a deeper connection with the environment. With groups like Puget Sound Outdoors, Outdoor Exploration themed living spaces and the Live Well Club, this university offers a variety of ways to embrace nature and relax outside of the classroom. "I have a ton of fond memories hanging out in the campus cafes and pizza lounge with friends after class and when we were avoiding homework," graduate Sean Westbrooke said. "It was a great place to grow into myself without the stresses of a super-massive campus or community." Also, check out the campus's Yellow House, a haven for inclusivity, connection and spiritual growth whose mission serves to create genuine understanding and change around a diverse community of students. Add to your list its location in the "City of Destiny," hiking trips to the gorgeous Mount Rainier or Pacific Ocean, and University of Puget Sound strikes gold. To experience breathtaking views (and the constant patter of Washington rain) that helps students wind down, Puget Sound calls.
9. Brown University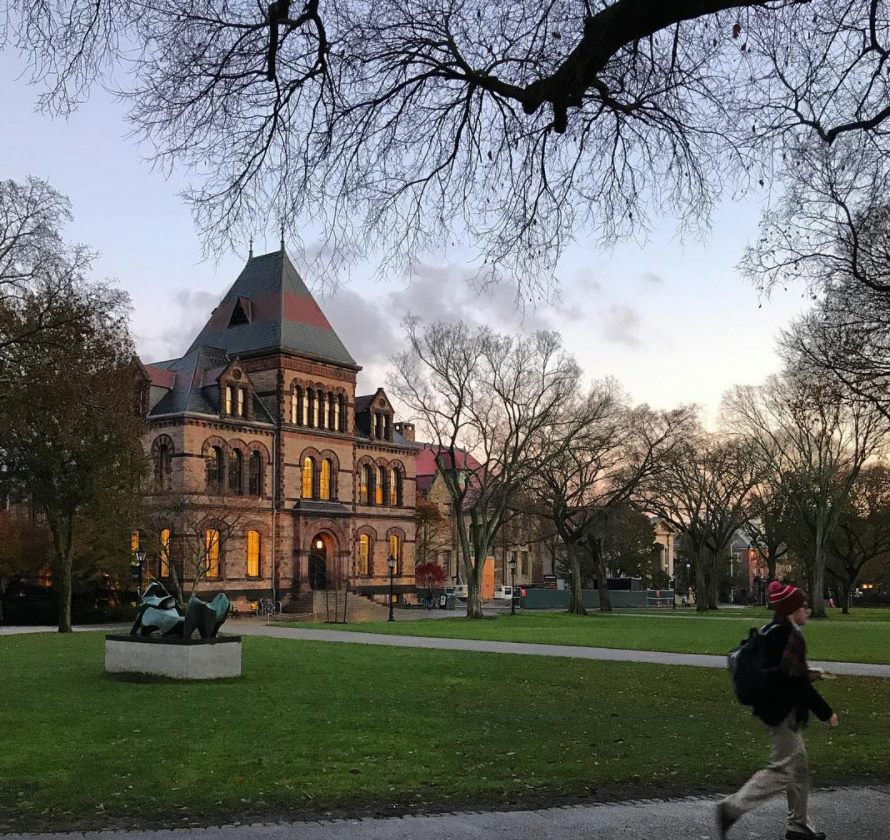 Dubbed the "Happy Ivy," Brown University offers campus-wide initiatives impeccably designed to keep their students happy. Brown's open curriculum allows its students to personalize their course of study without the irrelevancies of core subjects. A flexible education and supportive faculty grant students unparalleled freedom as opposed to boxing majors into a strict schedule. Students can also exhale knowing there's potential for life after Brown through CareerLAB and BrownConnect. Half of Brown's student body acquires summer internships and 91% of graduates score a full-time job after college through alumni connections and peer career advisement.
Through Brown's BWell health services, students also have access to many relaxation, wellness and awareness efforts that work to create an understanding atmosphere on and off-campus. "Every Brown student has access to Counseling and Psychological services (CAPS) if need be, and are encouraged to talk to a dean about extenuating circumstances to get exemptions from school work if need be. Professors are super understanding about any circumstances that may result in you taking longer for any assigned work," junior Joseph Vayalumkal said. Feel lighter with the Brown University Relaxation Project, where massage-licensed students provide stress-relief and massages to the Brown community.
If you seek comfort in some furry friends, participate in Brown's Animal Assisted Therapy and diffuse stress within ten minutes of quality time with a certified therapy dog. Other clubs like Active Minds promote much-needed relief with Safe Space discussions about mental health and stress-ball crafts while lounging at the Main Green. Take advantage of Brown's peace-of-mind provisions and don't forget to utilize its serene outdoor advantages. An uninterrupted stroll down Riverwalk Park or witnessing Brown's Waterfire (a magical event displaying hundreds of bonfires across the glistening rivers of Providence, Rhode Island) emphasize stressing less, and letting Brown do the rest.
8. Colgate University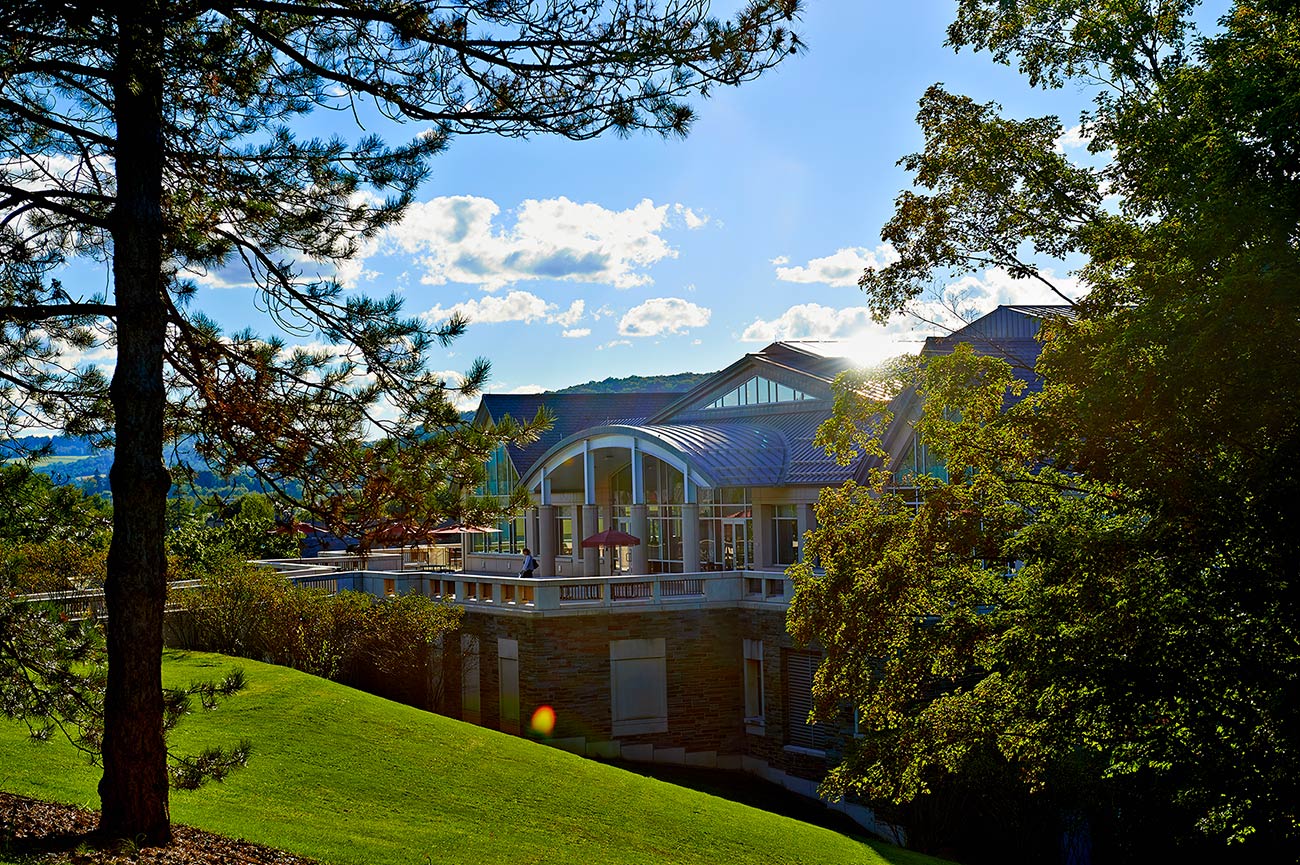 Head over to historic Hamilton, New York and experience some serious R&R on the sprawling picturesque grounds of Colgate University. Colgate's Shaw Wellness Institute serves as the school's main location for peaceful activities (and not just during finals week). Colgate's Shaw Wellness Institute enlists Hot Spa Days during the chilly months, equipped with face masks and hot drinks to cure both stress and those harsh winter blues. The university also offers healthy-eating wellness classes in order to provide necessary solace after study sessions or those dreaded 9 a.m. classes. Unwind at events like Virtual Skies, a live virtual tour of the stunning night sky over central New York from the campus' Tung Visualization Lab and Planetarium.
Get involved in Outdoor Education and relax on Lake Moraine through the Glendening Boathouse or volunteer with Pet Pals, a service program that allows students to hang with animals at Wanderer's Rest and Spring Farm Cares. "Since Colgate is somewhat isolated, it gets really quiet. There isn't really any of the noise pollution that you would find in a city. There are also a lot of really comfortable or aesthetically pleasing places to study on campus. While you're reading for class, you can sit back and relax in a beanbag, or you can look out of the really large windows in our library or science center and look at Colgate's stunning scenery," junior John Morgan said. "We also have a lot of extracurricular activities that people can join in to relieve stress that way. I know a lot of people who dance or make art as a way to destress, and Colgate often has special events during exam time. They'll bring in some goats for goat yoga, or they'll have therapy puppies and pass out stress toys."Through student-run community service initiatives and an innate motivation to explore and protect the outdoors, Colgate stresses external peace of mind as a university-wide staple.
7. Ithaca College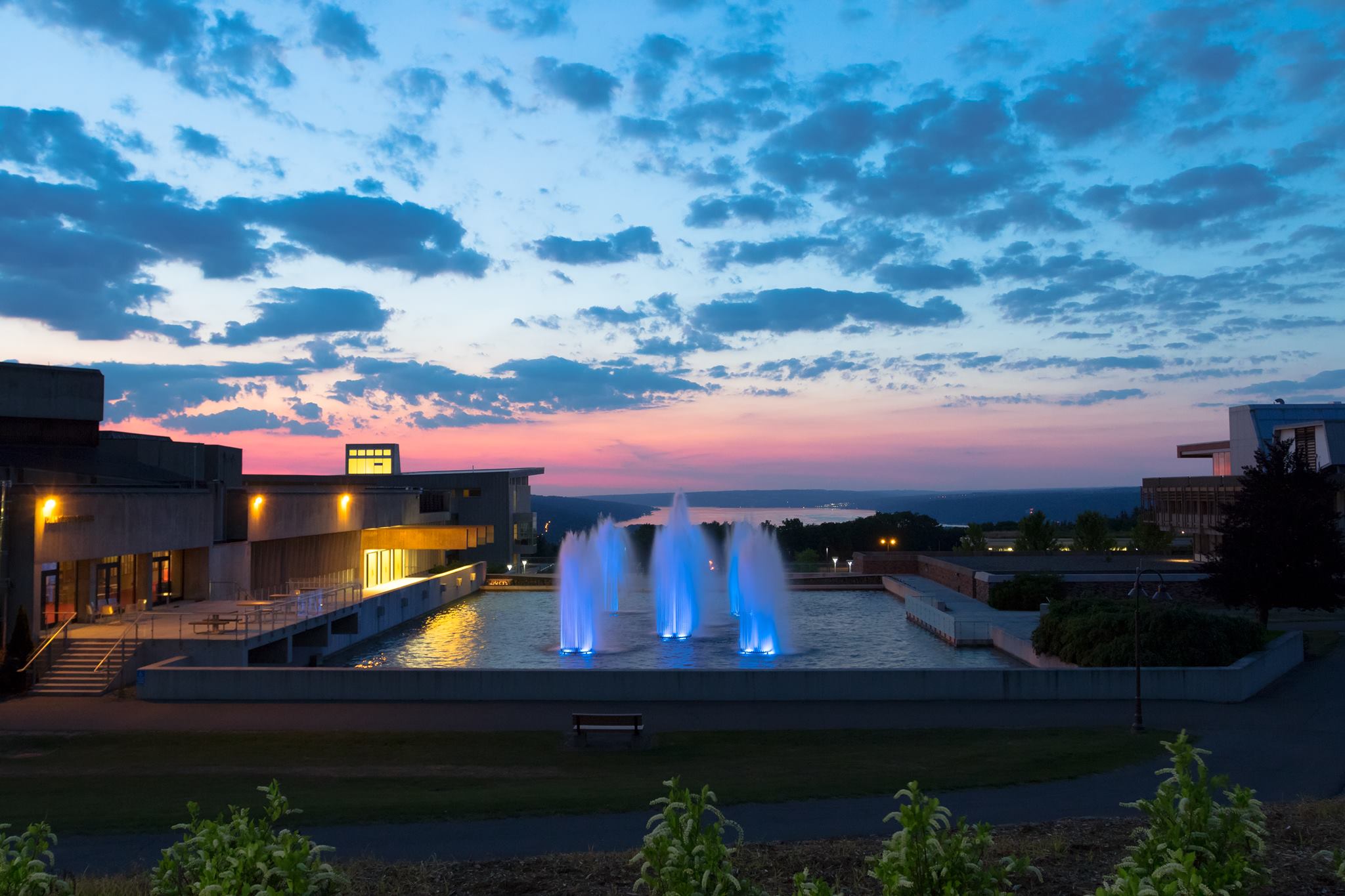 Ithaca College, a charming liberal arts school situated in the Finger Lakes region of New York, prioritizes mental health and wellness at the heart of its campus. With over twenty programs within their Center for Health Promotion including resources like the Resource Room's Light Therapy or Student Health 101 (a free magazine detailing a variety of wellness topics for students), Ithaca ensures that all students have every resource available to succeed and stay well. "Ithaca has a really great mental health support system—they go beyond having trained counselors for therapy sessions. They offer anxiety and interpersonal relationship tool box classes, al-anon and sexual assault survivor group meetings, nutrition counseling, a therapeutic group dealing with food/body issues, crisis hours with no appointment required, and have a 24/7 hotline for any other concerns," junior Becca Boland said. "They also try to help make sure students have social outlets, and they host board game nights, bingo, movie nights, open mic nights, and more. They do a really great job taking care of their students." Once a music conservatory, the campus also offers a course in Exploring Music as Medicine, a unique student program that employs musical therapy to brighten and transform elderly patients' days. In addition to academics, Ithaca's fresh air, environmental consciousness and majestic waterfalls endorse peace through nature and a mindful connection with one's surroundings. Small town hospitality, Hallmark-level festivals, Cayuga Lake views and Ithaca's renowned gorges all add to the tranquility of a creative campus that thrives alongside its students.
6. Bowdoin College

Settled in the heart of coastal Brunswick, Maine, Bowdoin College symbolizes all that the New England region offers: quiet beaches, lighthouses, forests and vibrant cities. Academically, Bowdoin commits to mental health through their McKeen Center for the Common Good: a place where students work together to channel the common good of the community through empathy, accessibility and ethics on a daily basis. But wait — there's more. "Bowdoin helps students manage stress by promoting lots of wellness classes like hip hop, yoga, spinning, and student-led meditation, and provides tons of healthy food options in our dining halls," graduate Allie Gross said. "We have a strong counseling center that provides free Reiki clinics and brings dogs to the library during finals week. Being so close to the coast and with a strong outing club, it's easy to get off campus and enjoy all that Maine has to offer!" For a more centered journey towards relaxation, Bowdoin's Health and Wellness program presents an extensive list of mind, body and spirit exercises to adhere to every student's internalized needs. Yoga, Tai Chi/Qigong, massage therapy, reflexology and medicinal practices illustrate just the tip of the iceberg when it comes to campus-wide wellness workshops and retreats. If you're looking for the Maine event, Bowdoin College exceeds and reaches every last one of your stress-free expectations.
5. SUNY New Paltz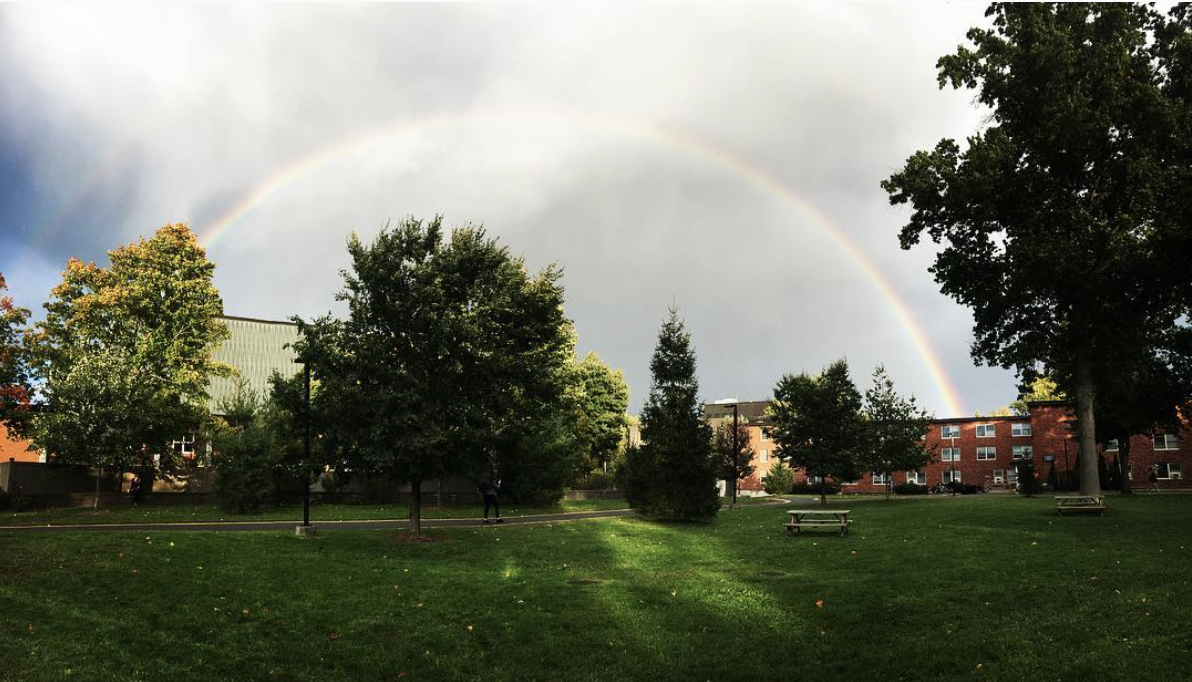 Find those rose-colored glasses, strum your guitar on the quad and get groovy at notoriously hippie SUNY New Paltz. Located in New Paltz, New York along the Hudson Valley, this state school encompasses an artsy atmosphere full of good vibes. New Paltz caters toward its students with small town appeal in the form of unique boutiques like Groovy Blueberry, home to all things tie-dyed (even band-aids) or Maglyn's Dream, a hand-made treasure chest of glass knick-knacks, jewelry and accessories. Then, sight-see and marvel at the town's weekly farmer's markets, Mohonk Lake and Preserve, Minnewaska State Park and Water Street Market. "New Paltz is the perfect place to go when you want to reconnect with your surroundings and feel at peace. There's beautiful mountain views and cute hidden alleys with antique shops and great food that makes you feel right at home," senior Giovanna Cocuzza said. If you need a couple days to yourself, check out the stunning Mountain House, a time-travelly Victorian castle/hotel just twenty minutes away from campus for access to a number of trails, Catskill views, horseback riding and more. For some academic winding-down, head over to the Sojourner Truth Library for a Stress Buster's break including yummy breakfast, mild yoga and best of all: therapy dogs. Dogs + bagels = an unbeatable stress-free routine.
4. Whitman College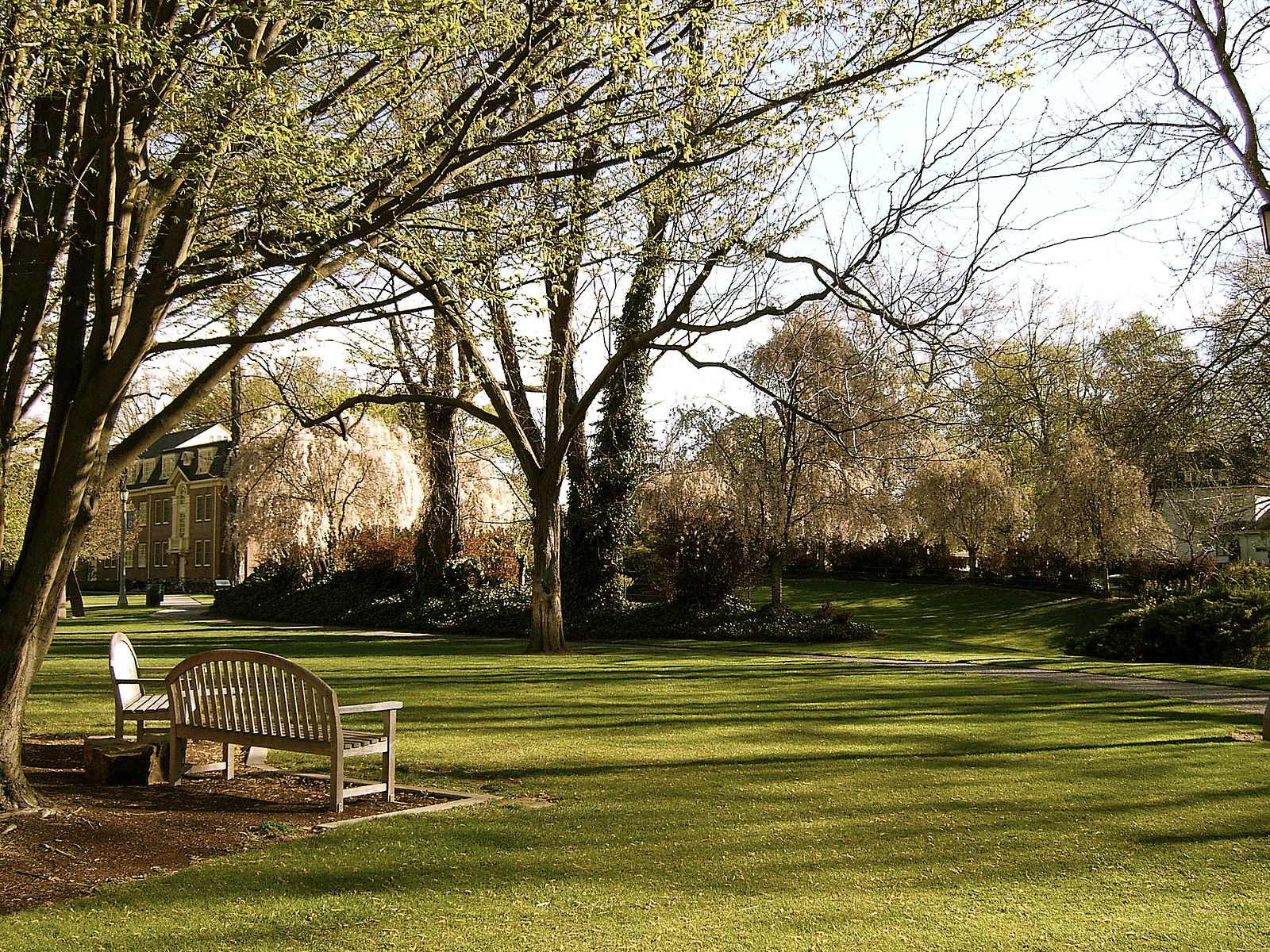 The double wording of Whitman's Walla, Walla, Washington setting cancels out any hints of stress and worry, and that's just simple math, right? If a college has both a 1:1 student-to-tree ratio and a 9:1 student-teacher ratio, you know that this small liberal arts college places its students at the very top. Academic Coaching meetings geared toward a student's own personal goals within a major, test-anxiety workshops and anti-procrastination skills are all Whitman specialties guaranteed to ease the minds of Whitties.
Keeping the priorities of students in mind, Whitman also offers weekly hang-outs in the Prentiss spirituality room on campus to accentuate the benefits of group meditation on mental health. "From guided meditation study breaks to story-time with puppies, students at Whitman have lots of options for recharging themselves," said Andrew Johnson, Associate Director of Residence Life and Housing at Whitman College. "Llamas and ponies visiting campus have both been big hits, and students can regularly be found doing Zumba outside to fun dance music. If they're in need of something quieter, they could come by the campus center to pot a succulent to take back to their residence hall room or spend some time reading in the college's organic garden." Whitman also fosters a Peer Listeners group, where students vent and seek guidance from trained students in order to create balance amidst the demands of college life.
Then, if talking with friends helps you wind down, you might want to try it while singing and dancing—in your pajamas. Join the Jammin' in Jammies club and rock out in comfort through the night with others ready to karaoke a stressful day away. Outside campus, Whitman lies at the foothills of Washington's Blue Mountains and reserves plenty of space for their Outdoor Program, exploring Snake River and Palouse Falls or participating in the Sweet Onion Crank rock climbing competition. And for all you 21+ peace seekers, Walla Walla proves a must-see destination for beautiful scenery and wine lovers alike (wine is equivalent to utter relaxation, obviously). Whether you find serenity through days spent among nature, or if all you crave rests in idling with a book while the sun shines on Ankeny Field, Whitman provides deep breaths to the second power.
3. BYU-Hawaii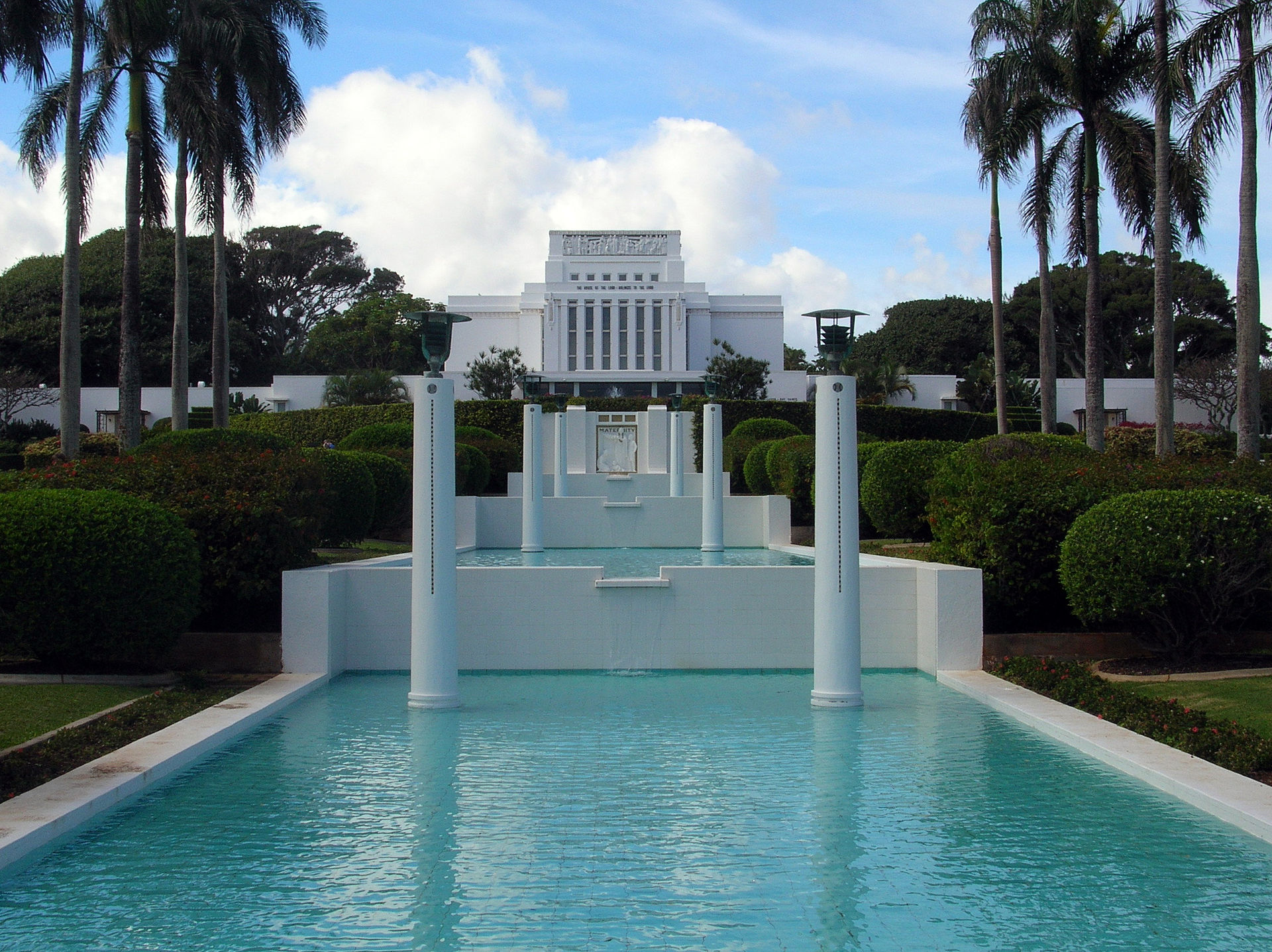 With students from over seventy countries, BYU Hawaii represents a campus rich with cultural understanding. Plus, it sits just steps away from the Instagram-worthy Laie community of mountains, mist valleys and Pacific coast beaches. "It's kind of hard to explain, there is some aura that is just peaceful. Everyone is so open and welcoming, you can feel it not just from the school but from the surrounding area. With so many people from so many places, everyone is just so accepting and loving," sophomore Victoria Fox-Roper said. Along with adhering to an academic and social honor code, learn more about BYU-Hawaii's Intercultural Peace Building major. This curriculum bases classes around theories of harmony, cross-cultural relationships and spiritual theories of international reconciliation. Shut off your brain for a little and recline on one of the twelve campus-adjacent beaches, or head over to the Laie Hawaii Temple for refuge from a breakdown-level exam. "BYU-Hawaii is not just a school, it is home. You feel at home. And when you are home, that feeling of whatever stress and worries you have built up during the day just washes away," Fox-Roper said. Knock your ruby slippers together, because there's no place like BYU-Hawaii.
2. Bennington College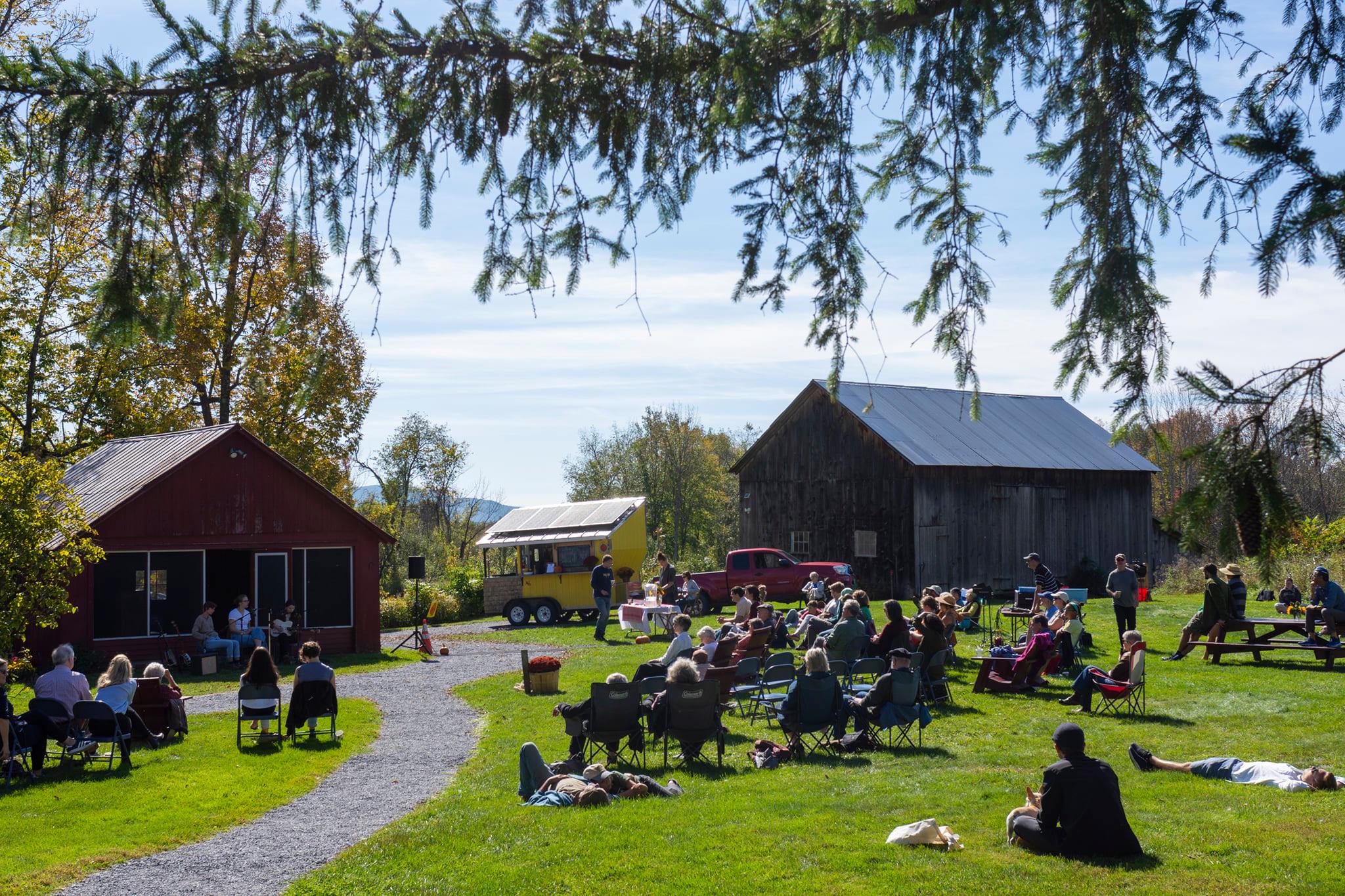 Cozy cottage feels, spell-binding Vermont landscapes and a fitness center located within a barn all come together for the ultimate comfy student experience at Bennington College. Capitalizing on a more personal approach, Bennington offers its students inviting living spaces over dorms in homes adorned with fireplaces, old-fashioned pianos and incredible mountain views. Speaking of breathtaking scenery, Bennington is located within reach of several prime skiing spots (or chilling in a warm cabin spot if you're like me) like Prospect Mountain or Mount Snow. Bennington's on-campus sights of Vermont's Green Mountains aren't too shabby, either. "At times when I felt the most stressed, I would sit at what we called 'The End of the World', a peaceful spot where you could look out at the Berkshire mountains," recent graduate Erin Keating said. "On my first night on campus I remember watching a shooting star land on one of the peaks. It was the most magical thing I have ever seen. The rural Vermont campus allows you to see the stars every night. On clear nights with a new moon, you could even see the Milky Way." For stress-less academic advisement, Bennington trades core requirements for "plans"; students choose their classes based on interest, then proceed to narrow down a major with the help of a plan committee. This substitutes cores like Math 101 for exploring classes like Nostalgia or History of Rock n Roll, while also preparing for post-grad with a field-work term that enforces six-weeks of hands-on job experience. Through student-centered curriculums and a 9:1 student-faculty ratio, Bennington students rest easy knowing that help is always available, and they possess a college experience uniquely their own. Once a home to poet Robert Frost, take the road less traveled and allow yourself some much-needed quiet time the Bennington way.
1. Pepperdine University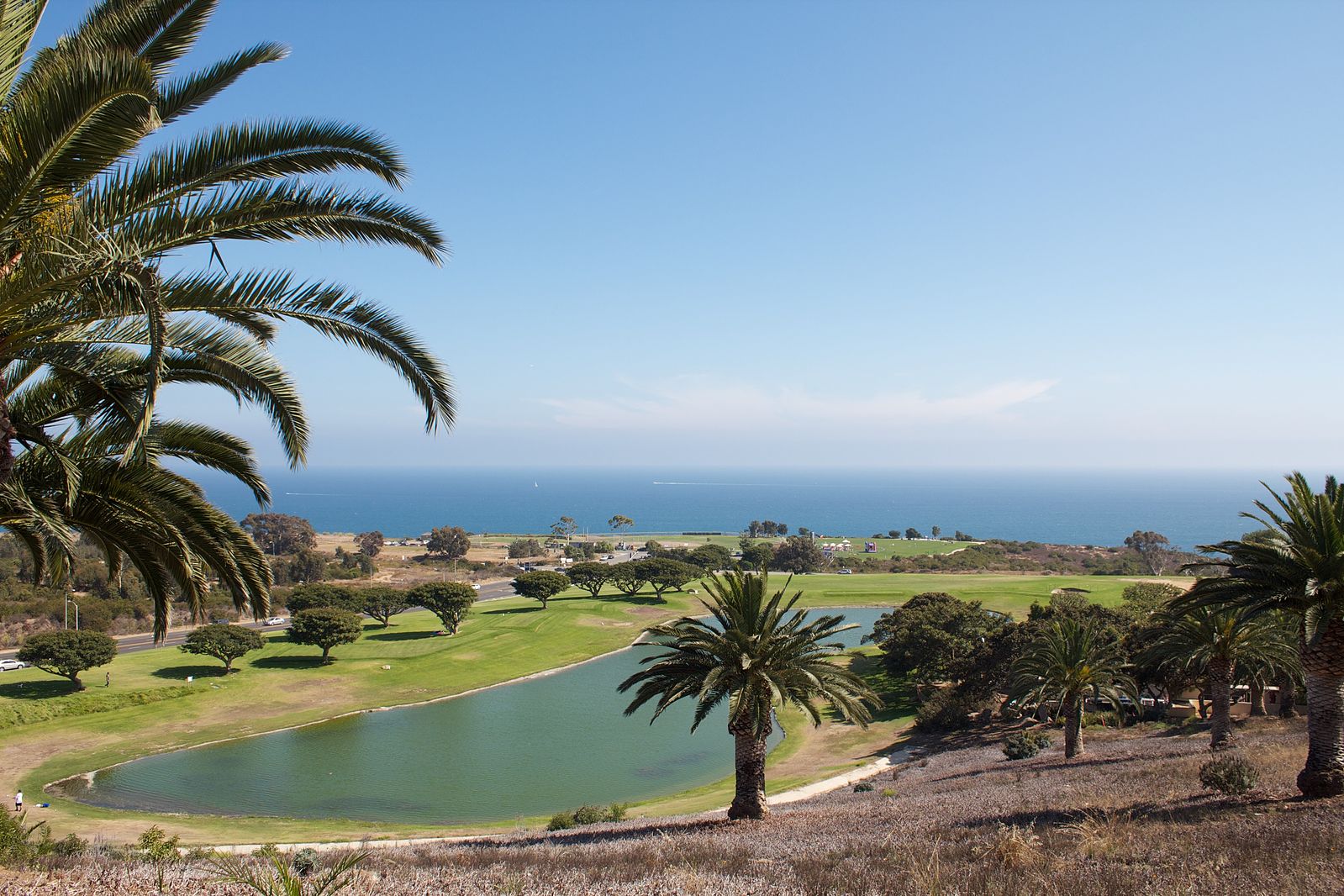 To quote Miley Cyrus, "The sky's more blue in Malibu." At Pepperdine University, blue skies, endless beaches and an intrinsic sense of spirituality fulfill its student body. A Christian college, Pepperdine envisions itself as a home for all backgrounds through faith and respect in a community that proves nothing less than transformative."Our chapel is a place I go probably a couple times a week, just after dinner. I sit inside or even behind it at night and get to see all the city lights," student Breana Flaherty said. "[There], I just breathe and allow myself to relax. It's so peaceful and quiet; it's for sure my favorite place on campus."Additionally, Pepperdine proves a safe space as a dry campus; a drug and alcohol-free environment that seeks to maintain the health and well-being of its students. With a PE class in surfing and an absence of a party-school football team, you won't find bro-level tailgates or black-out nights at Pepperdine, but instead a comforting, mellow atmosphere. Then, get involved in the university's Wave of Service campaign, a community service mission dedicated to educating and improving the wellbeing of others.
Opportunities such as Project Serve, Step Forward Day and the Pepperdine Green Team all represent student-based volunteer efforts catered towards restoring the environment and the surrounding Malibu community. For some laidback West Coast vibes, Pepperdine's Outdoor Recreation program designs themed adventures for exploring California's natural beauty. Surfing the Pacific Ocean, hiking through canyons and camping in national parks scratch the surface of what Pepperdine's students experience through campus wellness activities. Two uniquely Pepperdine peaceful excursions include God in the Wilderness, a biannual spiritual retreat to places like the Ojai Valley or Mammoth Lakes, and Surf Convo, a weekly mindfulness event full of free surfboards, paddleboards or campfires. Whether you prefer stargazing or sunbathing, sometimes a Cali state of mind demonstrates all it takes to settle down, breathe in and let the soft ocean breeze do all the work.
Since peace signs will always be in, mellow out in your dorm with some seriously chill Quad by College Magazine accessories:
1. The cat's out of the bag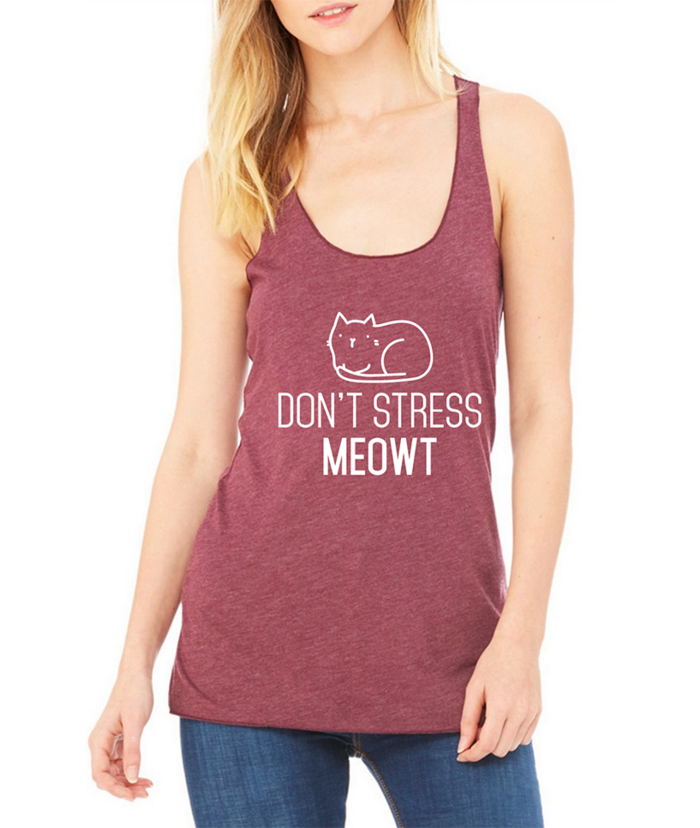 2. Close your textbook and manifest that beach day into existence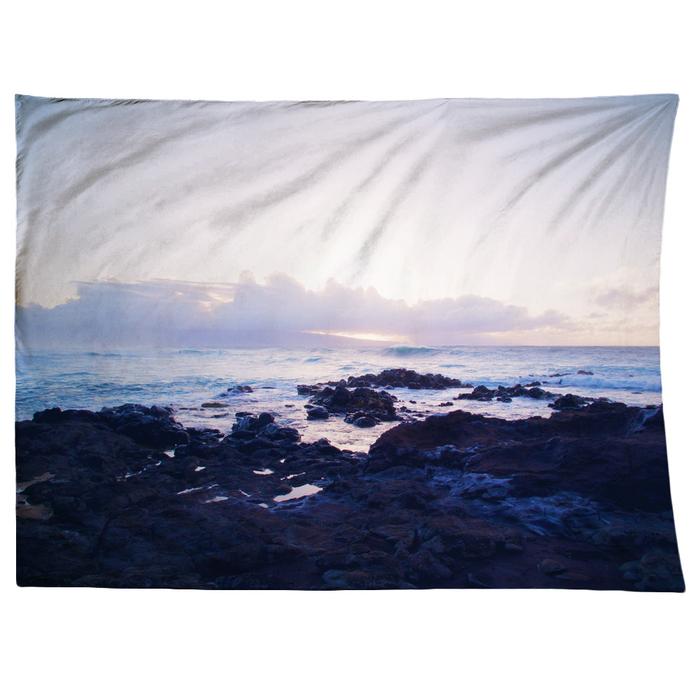 3. Wine, Ben & Jerry's, and hair-dye= the holy trinity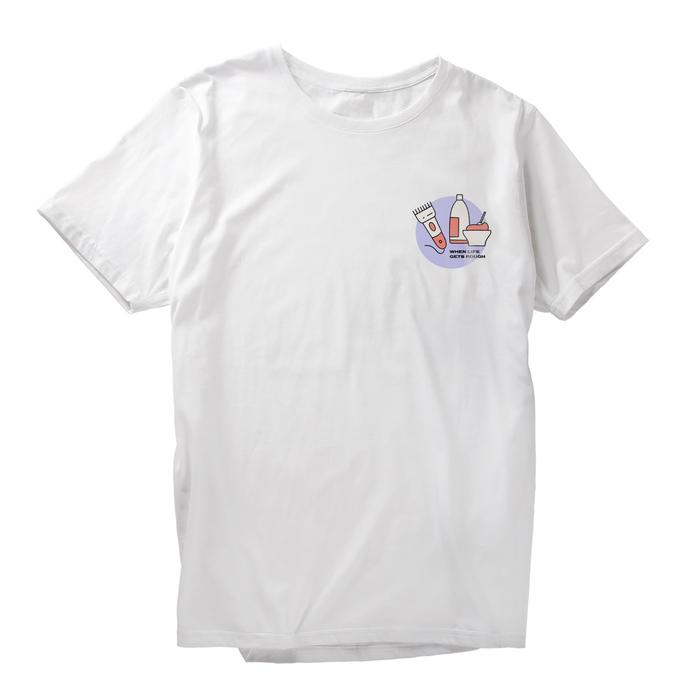 4. The peace sign and tears combo never fails