Ahhh, good ol' A-Town. Atlanta has been on the come up for the last couple of years as its prominence in business markets, the film industry and social relevancy continues to climb. While talk of the city's rich musical traditions has made its way around, many do not know that the city houses some of the most delicious and unique restaurant experiences that the United States has to offer. Sure, Chicago may have deep dish and Philadelphia the cheesesteak. But what Atlanta lacks in a distinctive single dish it more than makes up for in its myriad of different eateries that should appeal to it diverse amounts of citizens and visitors.
Explore the 10 Best Restaurants in Atlanta.
1. The Sun Dial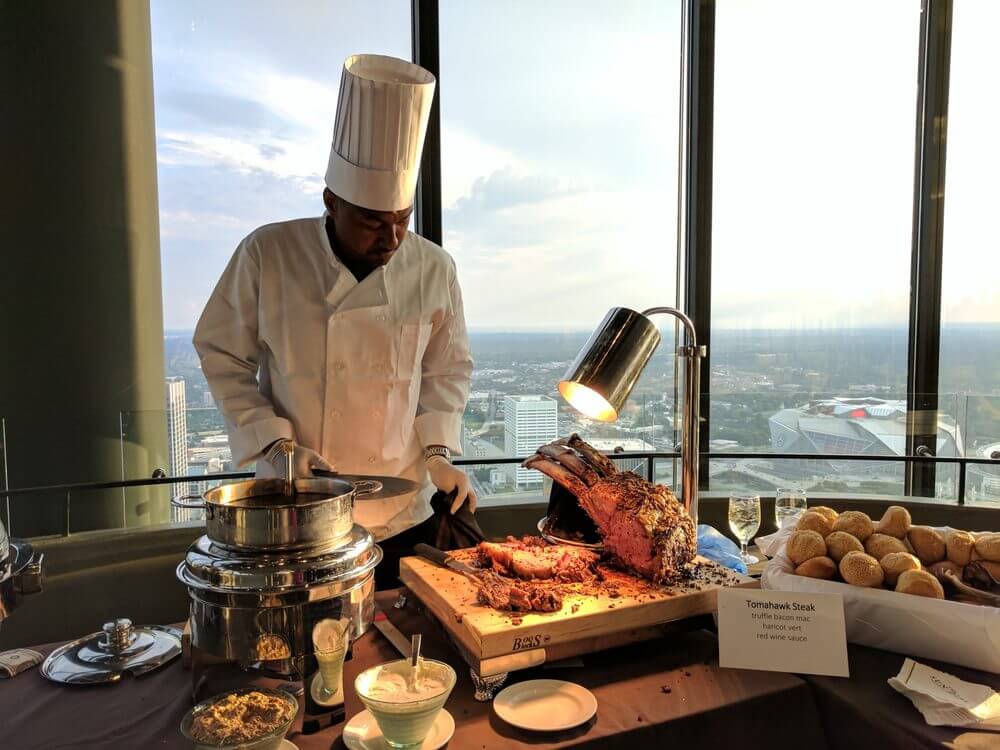 Eating out at a restaurant? Great. Eating out at a fancy restaurant? Greater. Eating out at a fancy restaurant while hovering over the city scape of Atlanta? That surpasses greatness and moves into the category of otherworldly.
In every long distance shot of Atlanta you can see a thin cylindrical building standing tall in the center of the city. The Westin Peachtree Plaza features one of Atlanta's more unique eateries at its peak, appropriately named The Sun Dial. The Sun Dial has all the amenities of your average four to five star restaurant: professional look, sophisticated staff and patrons and finely crafted food delicacies. Dive into some surf and turf with their divine assortments of steaks, chicken and seafood.
However, these individual positives do not make The Sun Dial so unique to the city. The entire restaurant continually rotates 360 degrees in order for you and your friends to take in the view of this great city does, however. No need to fear throwing your delicious food back up as a result of motion sickness, though. "I love the window view and was amazed by the floor rotation," said Atlanta native Sandra Alleyne. While you will tower over most of Atlanta, the establishment rotates at a steady, but unnoticeable pace that allows you to enjoy your food and take in the gorgeous view from the comfort of your chair. You won't want to come down.
2. The Vortex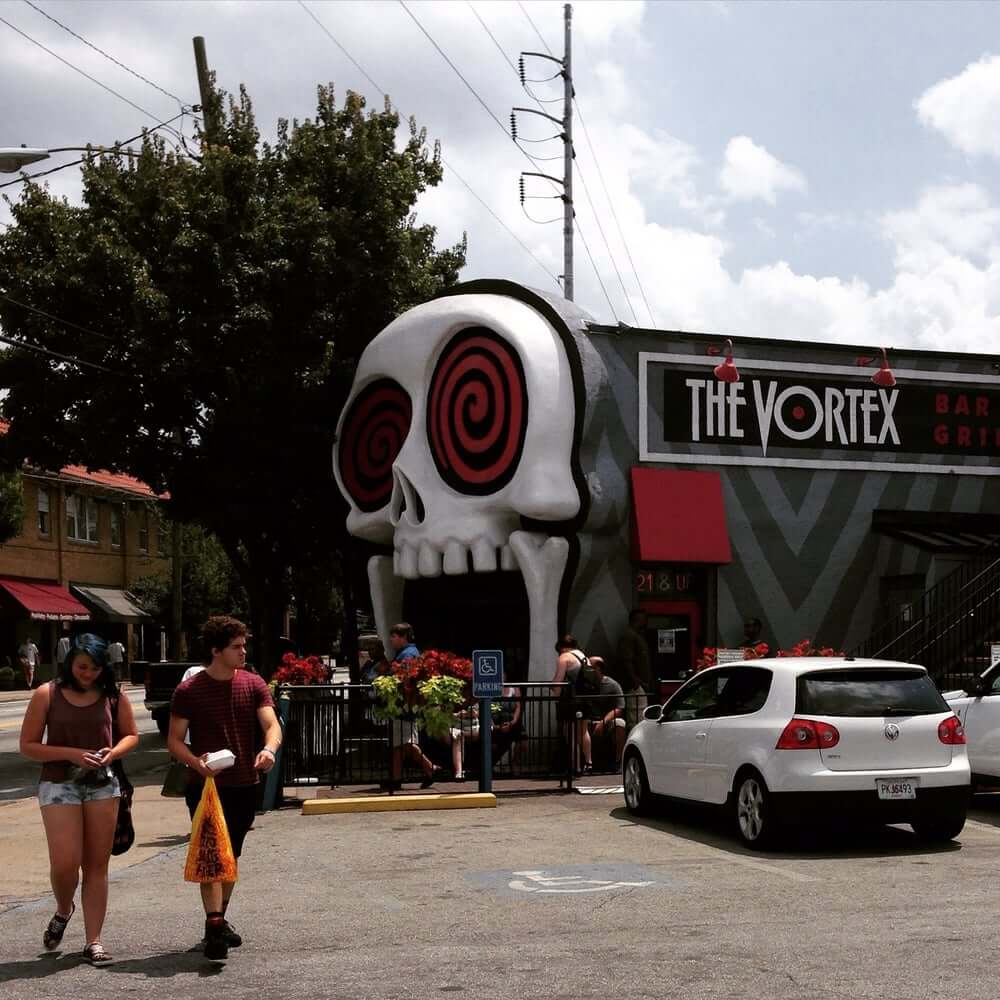 Most adventure and action movies have taught us to avoid giant buildings shaped like a giant skull. However, in the case of The Vortex, you would make a huge mistake if you let that keep you from one of the best bar and grill spots ATL has to offer. Located on the popular Peachtree St. NE, locals know this instantly recognizable spot for its great tasting and diverse array of burgers, beer and spirits. Menu items such as the Fat Elvis burger, which contains peanut butter, plantains and bacon, and the insane Quadruple Coronary Bypass Burger, which stands as tall as your torso and contains four different beef patties among various other toppings, barely scratch the surface of all the creative choices available at this popular venue. "This is my go-to burger joint in the city," said Atlanta native Brandon Lee. "No one beats them as far as burgers go." Throw caution to the wind and journey into that threatening looking skull entrance. You won't regret it.
3. Marietta Diner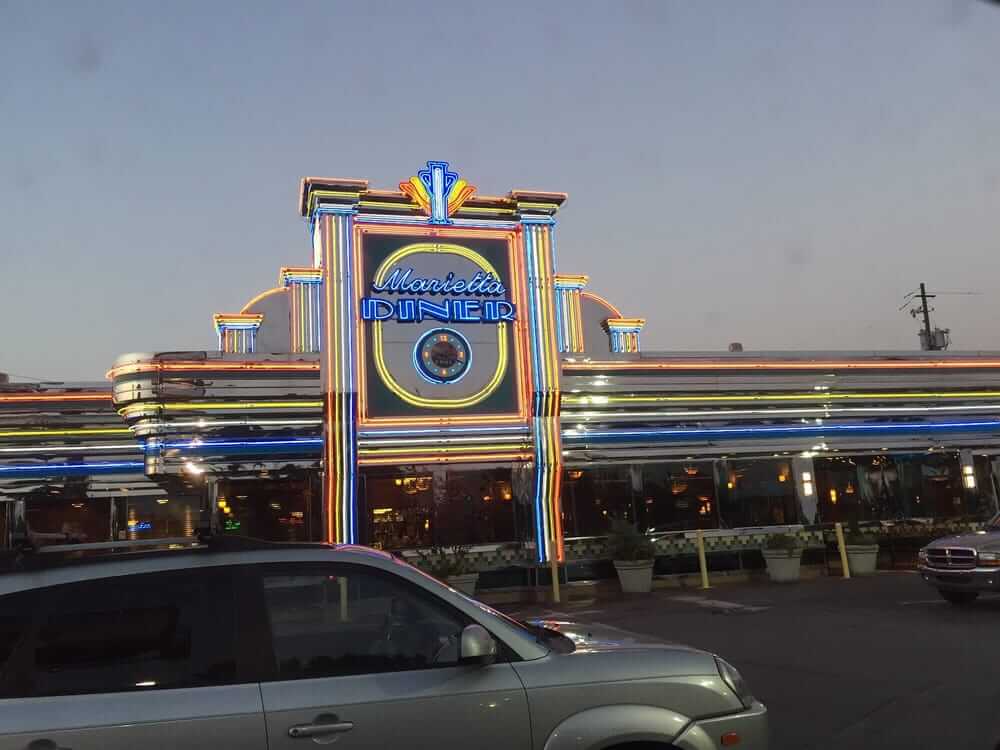 Sometimes simplicity wins over panache in regards to choosing a place to eat. No place expresses this better than the Marietta Diner. Don't let the name fool you. While this particular establishment may carry the aesthetic of a 1950's diner, the structure itself seemingly never ends with bright colors, outstanding service and almost any food that you may crave. Featured on both A World of Flavors and Real-Deal Diners from the Food Network, the channel's own Guy Fieri endorsed the restaurant which continues to represent a little slice of retro American for the metro Atlanta area.
Their ridiculous selection of desserts and cakes cannot go unmentioned. Upon entering the neon lit building a colorful assortment of cakes greet you and await your inevitable sweet tooth. "Make sure you always save room for those delicious desserts," said Atlanta native Jan Machovina. Couple those desserts with fan favorites such as the distinctive lamb chops, tasty milkshakes and a wide variety of other foods that span from categories of Mexican to Greek. With the restaurant open 24 hours, you really don't have an excuse to miss stopping by this friendly space on your next visit to Atlanta.
4. Gunshow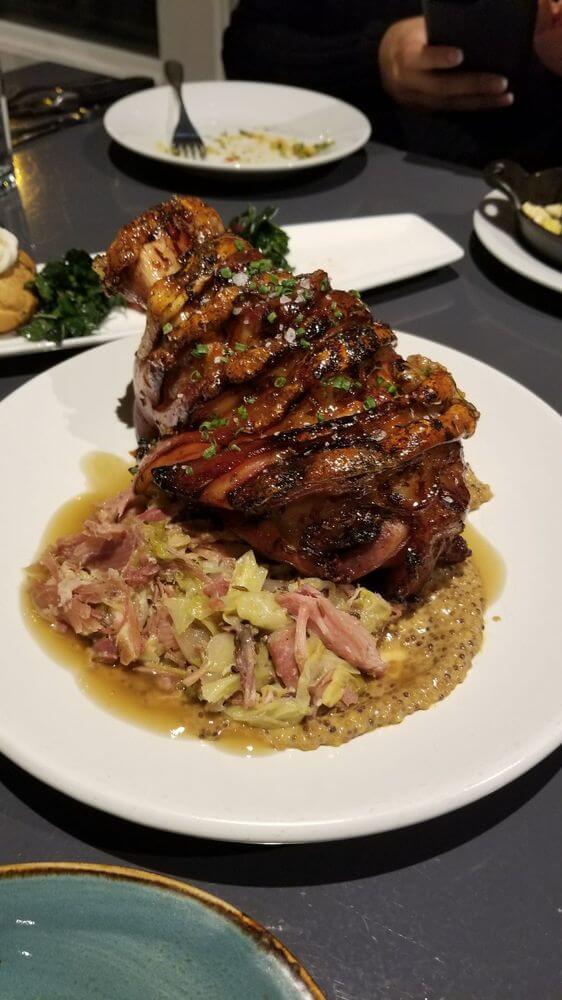 The title of this establishment paints a picture of a place where large dude-bros flex their muscles and show off their "guns" to on looking patrons or, conversely, a place that encourages firearms to some capacity. Thankfully Gunshow, which comes off way better than either of those options, provides one of the most unique dining experiences of the South. Inspired by the traditions of Brazilian Churrascaria dining and Chinese dim sum, this very spacious restaurant treats its patrons to an ever changing array of premium looking, and tasting dishes brought to them on carts. Customers can freely choose what dishes they think look good on the cart and pay for them a la carte. Their assortment of food changes frequently, so highlighting specific menu items feels difficult. One fact stands out, however. While this Gunshow opened fairly recently to the Atlanta community, it has developed into a very popular and lauded attraction that remains constantly busy. Skip out on the gym and actual gun shows and go ahead and make those reservations to visit Gunshow to have an experience that you will find hard to replicate.
5. R. Thomas Deluxe Grill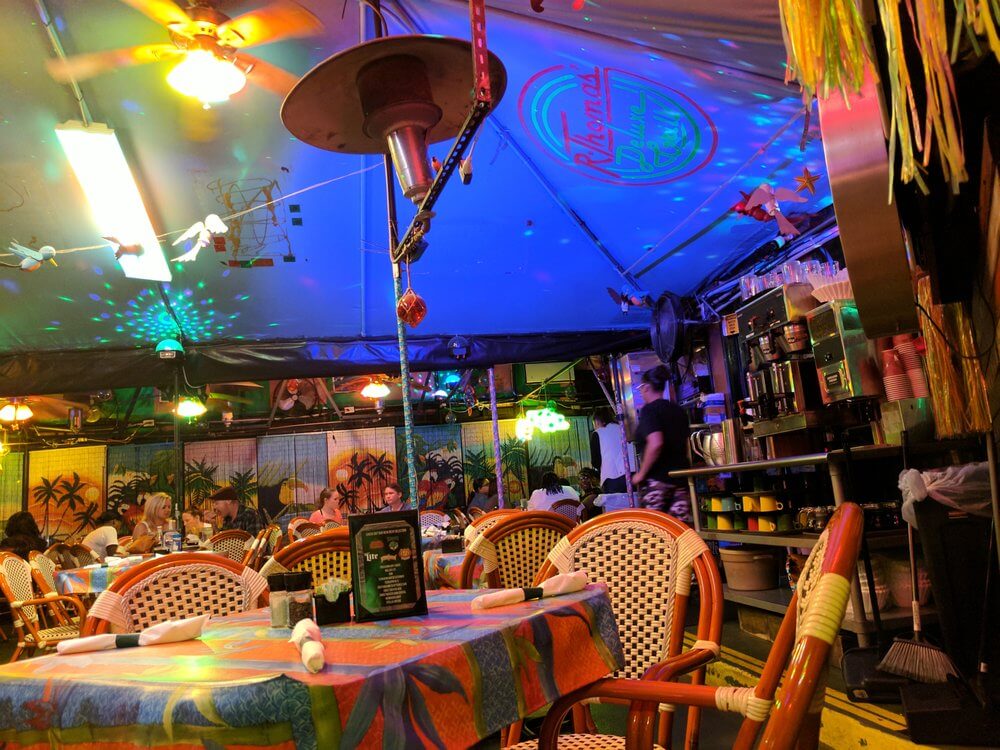 You may feel inclined to pass by this eatery if you saw it due to its lack of walls or even a building. But if you ignore the fact that the enclosing tent makes the R. Thomas Deluxe Grill look like something fumigators put over an infected home for a second, and find one of the tastiest and vegetarian/vegan friendly joints in the city. This 24-hour establishment stands as one of the most well-known parts of Atlanta's night life. While it stays open all day, business really booms from evening to when the sun comes back up. That creates the perfect atmosphere to calm your midnight cravings, especially if you go to Emory University.
Indulge in their breakfast stew, sloppy veggie joe or vegan cake special as you marvel at all the options for vegans, carnivores and gluten-free fanatics alike "I would have never gone here if my friends didn't bring me," said Emory University junior Jeremy Dobson. "But I'm so happy I did and have been back multiple times." Don't judge a book by its cover and embrace the unique look and feel of this restaurant under a tent. You'll leave much happier, and potentially much healthier, than when you came in.
6. Fellini's Pizza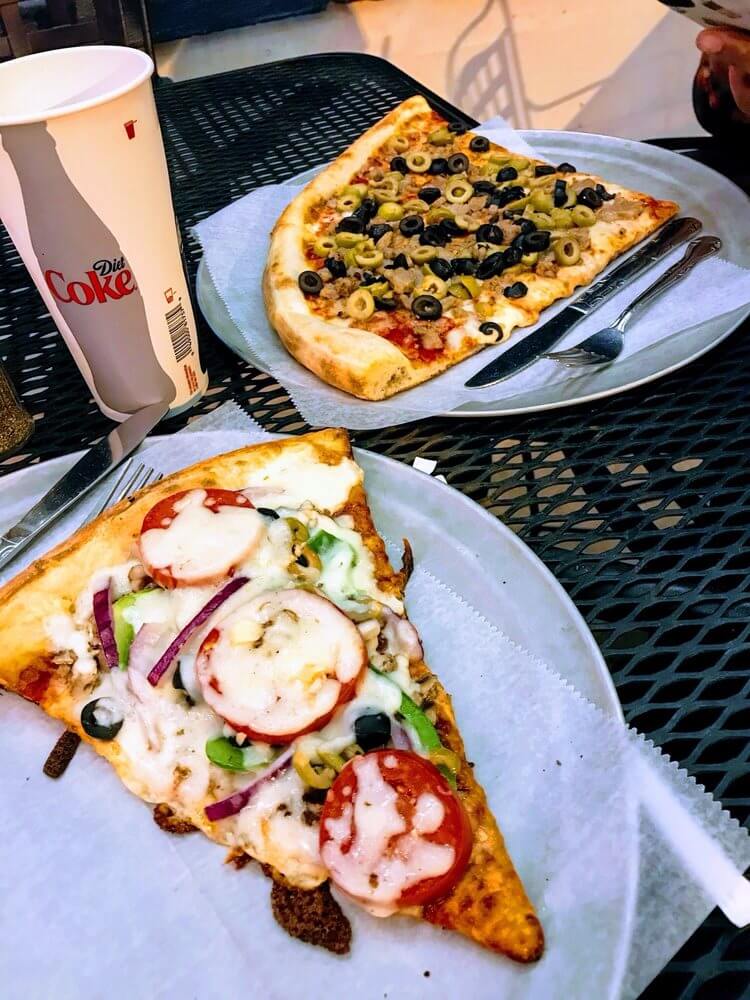 No city can claim a worthwhile food scene without some reliable pizzeria. Places like Chicago and New York use their exclusivity to pass their slices off as much more than they're worth. Fellini's Pizza does not need gimmicks. They craft some the best combinations of bread, sauce and cheese that has ever graced your mouth. Adapted from a retrofitted garage, this establishment embraces the classic pizzeria feel and crafts its titular food with the freshest ingredients this side of the South. "As if it wasn't good enough that the pizza is fantastic, but the atmosphere makes it a great place to eat, hang out and study if I need to," said Georgia Institute of Science and Technology sophomore Rolan Trank. With seven locations in the Atlanta area, you have no excuse for not making this place your first choice when the craving for pizza inevitably demands a slice.
7. Hsu's Gourmet
The largest draw to this eatery comes in its general aesthetic, which combines traditional Asian decadence with a contemporary ambiance, and its ridiculously wide assortment of Asian dishes. Examples of these dishes include traditional favorites like sesame and General Tso's chicken as well as items such as grilled duck breast peking. And don't let the menu fool you. Just because the prices look similar to those that you would find at your average hole-in-the wall joint, the artisans in the kitchen cook entrées with a level of freshness that you cannot prepare for. Ditch the takeout and visit Hsu's. You'll find it really the only option for Asian cuisine if you're downtown.
8. Orient Express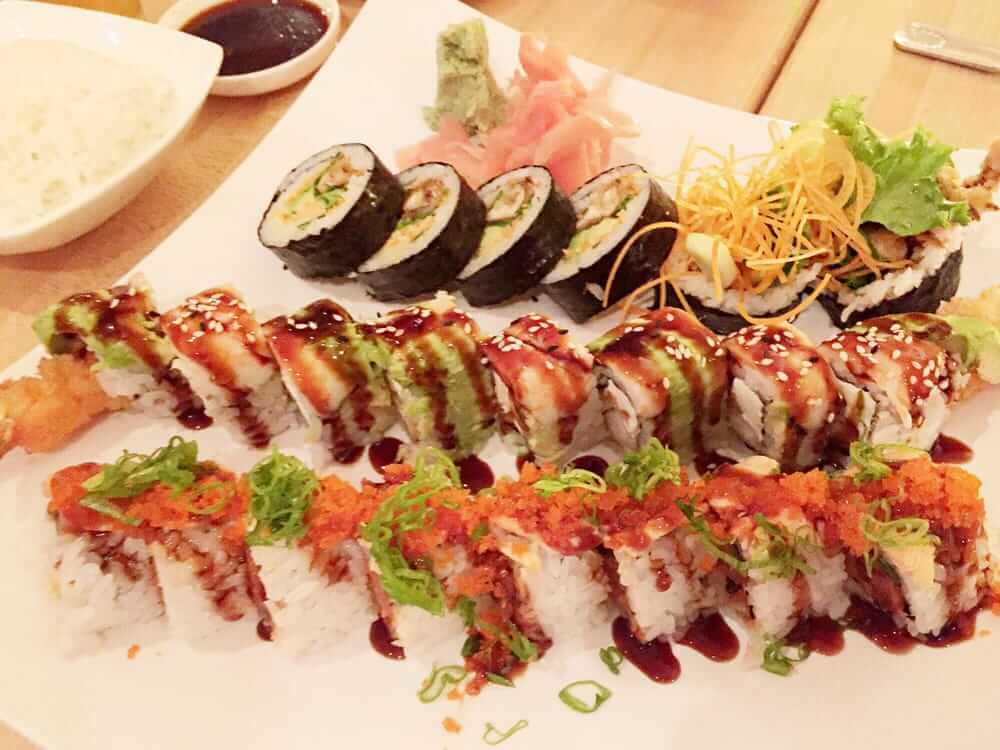 As the name implies, the Orient Express is an actual train. And while no murders take place here, it does offer three distinct cars that each contain Chinese food, sushi and hibachi respectively. This allows your family to avoid bickering about what type of food each person wants to eat. This establishment serves them all. The cars themselves each have a distinct visual flair to them that represents the style of food they serve. The food selections in each car come off as fairly traditional in terms of variety. You'll get your spring rolls, sesame chicken and shrimp hibachi. But if it ain't broke don't fix it. "I've never been anywhere like it and the food was top quality," said Atlanta native Kaitlyn Singelton. These entrées taste better than most other restaurants out there and costs just as much if not a little less. What are you waiting for? Go ahead and book your ticket to Orient Express before seats are at max capacity.
9. Buttermilk Kitchen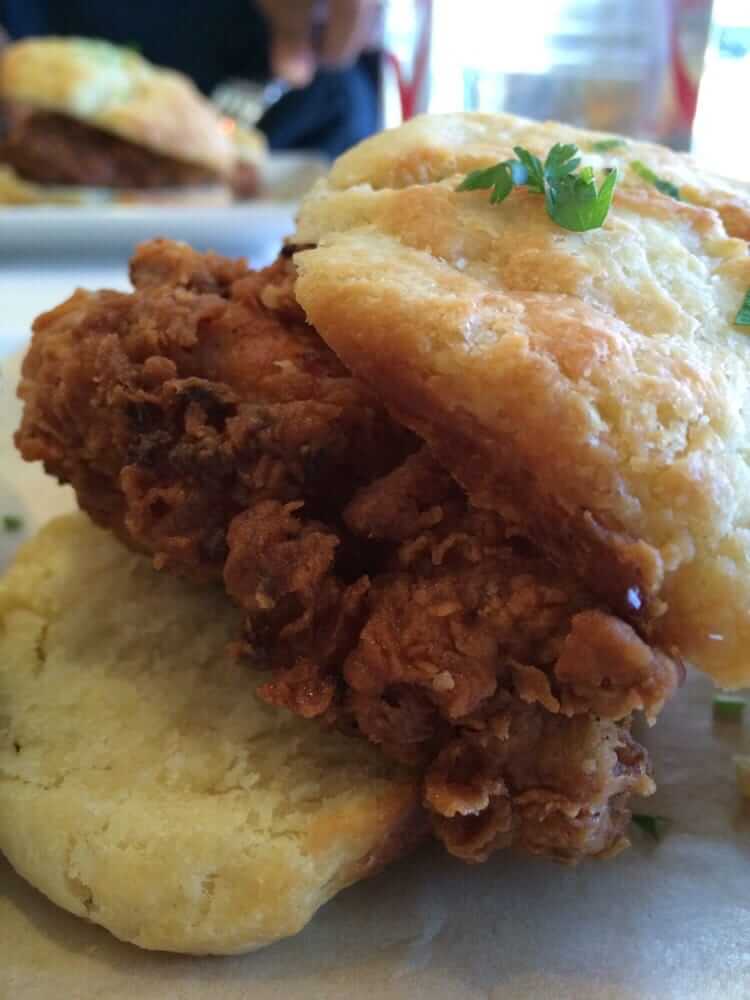 Ever been in that weird mindset where you want to go out to eat but don't really want to leave the comfort of your home? This tends to rear its head in the morning, when snuggling in your bed stays as your top priority. If you find yourself in this head space often then check out this restaurant.
Buttermilk Kitchen serves as the happy medium between great tasting southern breakfast prepared by someone else and a comforting and homey setting. This unassuming building's interior shines with aged and contemporary décor that replicates a southern home and hospitality. While they specialize in many different breakfast items such as potatoes, waffles and pancakes, their greatest claim to fame comes in the form of their out-of-this world fried chicken and biscuits. This and the succulently gooey cheese grits that come with it makes whatever price you pay here (though it won't end up that much) all the more worth it. "Although this place is a bit of a drive from where we live, this is my family's favorite breakfast spot and probably the best in the city," said Atlanta native Malcolm Williams. Don't let laziness get the best of you and your stomach. Escape from the confines of your living situation and let Buttermilk Kitchen take care of you.
10. The Optimist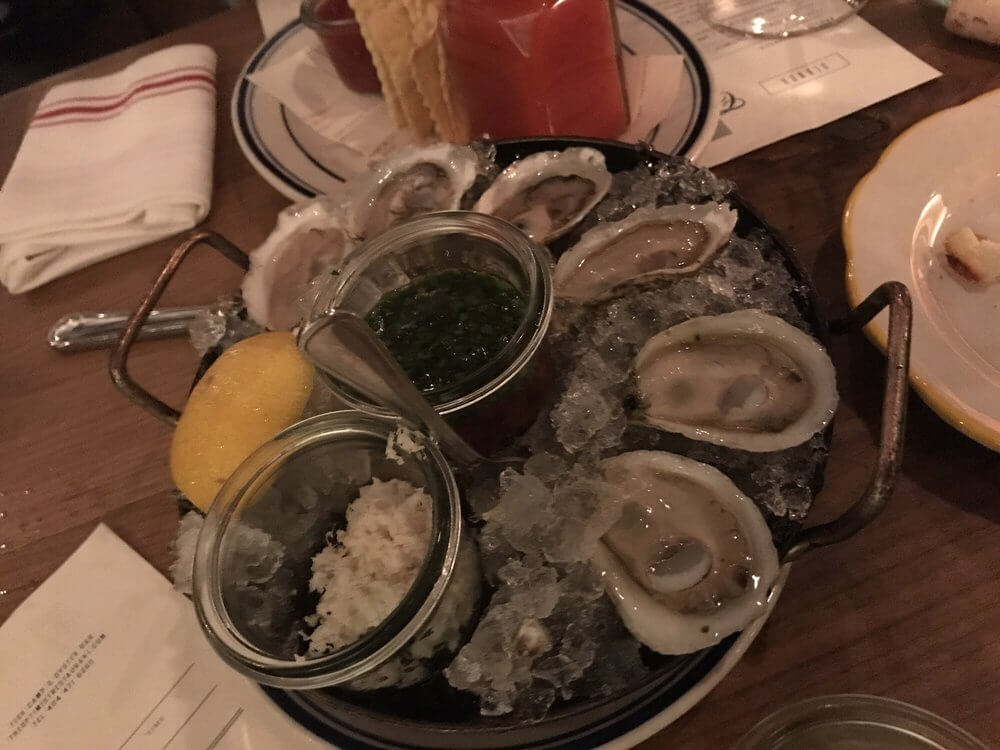 You may have thoughts like, "Atlanta seems as landlocked a city as it gets. How can it possibly have good seafood?" While a valid question, somehow The Optimist answers and finds a way to deliver the beach-deprived citizens of ATL the freshest catches. This staple of seafood contains a crisp and clean layout with staff and servers that seem to receive unanimous praise from all who visit there. "While the food was excellent, the service is what really made this place memorable," said Atlanta native Lisa Perkins.
But good service may not seem like enough to sway everyone. Most people care about the quality of the food. With trademark dishes such as the highly recommended lobster rolls and wood-roasted oysters, this venue does not slack in terms of providing an explosive experience for your taste buds. And, as a bonus, you will find a mini-golf lawn right outside of the building. With that information, why haven't you left this computer screen yet? Go ahead and make your way over to The Optimist before they run out of seats. They don't take reservations, you know.