Atlanta, Georgia means more than just the 55 plus streets named Peachtree or the city's refusal to stop rising up even after the Falcon's tragic Super Bowl loss this past season in 2016. Cultures collide in Atlanta, creating a city that combines diversity with Southern traditions including an obsession with grits and an overuse of the term "y'all." This bustling city offers a wide variety of incredible food, drink, culture, music, sports and recreation that makes it a beloved home to over five million people.
Welcome to Hotlanta. Here's how to make the most of Atlanta's unique culture.
6 a.m. JOG IN CHASTIAIN PARK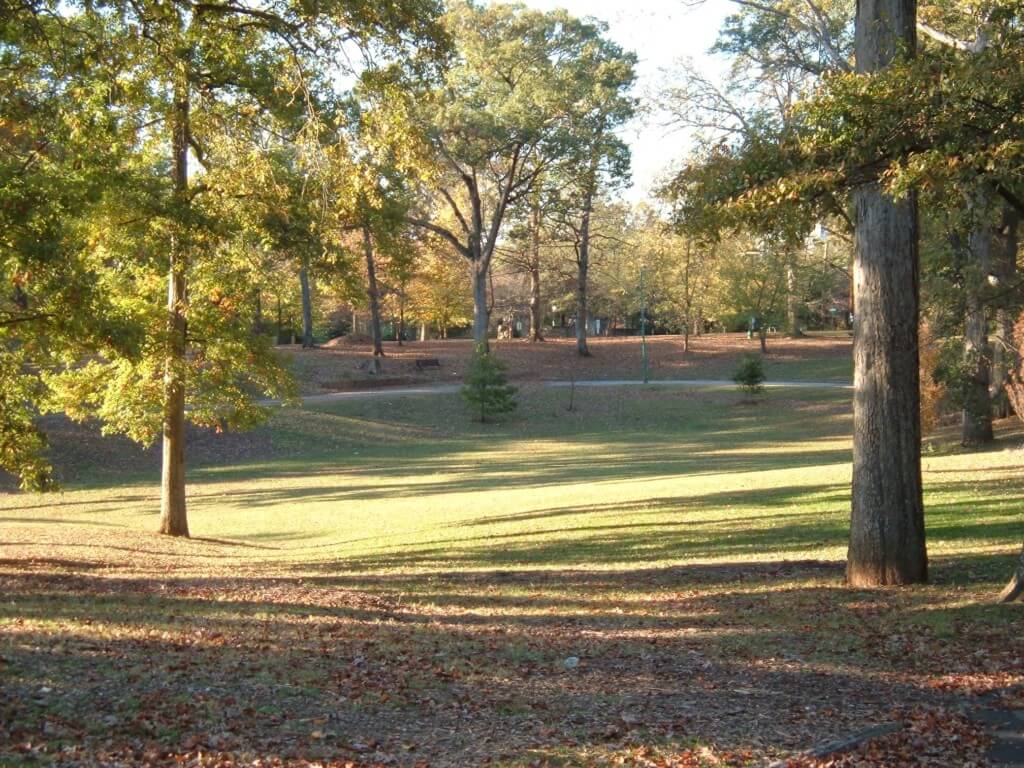 Start your busy day off on the right foot by getting in some exercise. One of the most popular running trails in Atlanta for its central location and scenic views, the Chastain Park Trail provides a paved route through Atlanta's Buckhead community. "I typically go to Chastain if I'm looking for a hilly run. It's just a circle route that you can run twice without having to think too much about it. The scenery, especially in the fall, is an added plus. The trail gives a great view of the golf course, and there's always a lot going on in Chastain, making it an interactive and lively area to run in," University of Georgia senior Frances Monardo said. Get your endorphins flowing so you can face the rest of your day head on.
7 a.m. GRAB COFFEE IN VIRGINIA HIGHLANDS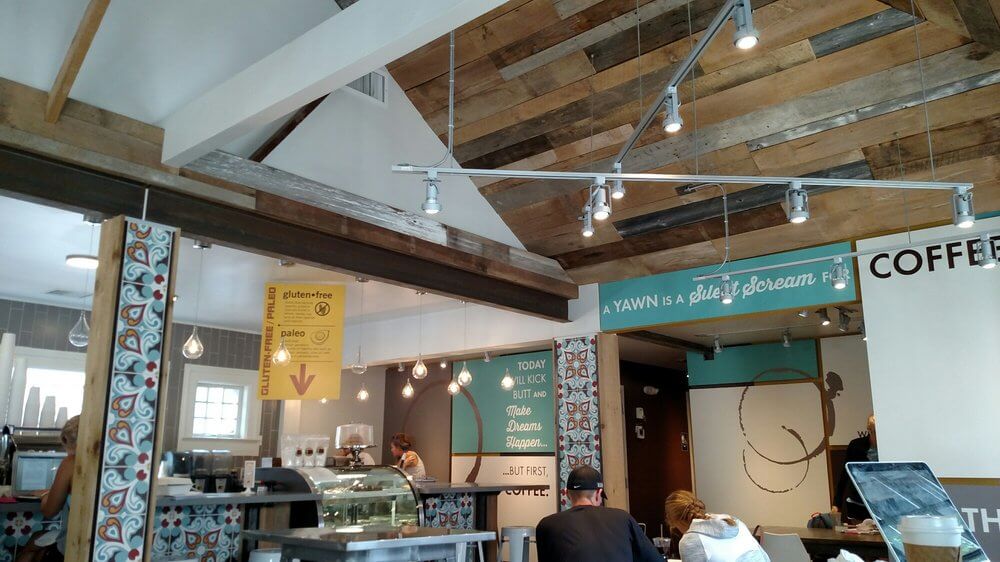 You're feeling good post jog, but you need your morning coffee fix. Head over to Virginia Highlands, one of Atlanta's most beloved areas. This neighborhood of bungalows offers an eclectic mix of bars, restaurants, shops and, of course, coffee. Press and Grind, a personal favorite, features a menu that states: Coffee is the most important meal of the day. Obviously, you can't go wrong with a cup of Joe here.
8 a.m. HOP OVER TO CALLIE'S HOT LITTLE BISCUIT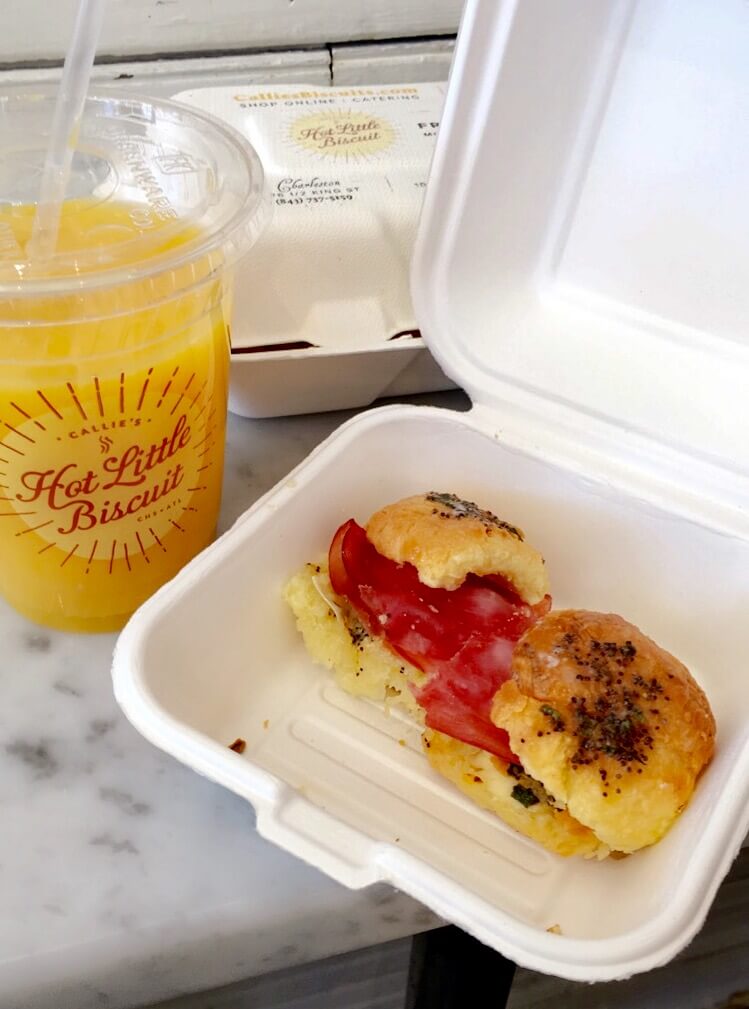 Another Virginia Highlands favorite, Callie's Hot Little Biscuit satisfies your Southern comfort food cravings. Callie's small interior radiates with Southern charm amplified by the aroma of homemade biscuits. Choose from classic biscuits including buttermilk, cheese and shortcake or filled biscuits such as country ham, peach and blackberry. Mouth watering yet? Virginia Highlands eats do not disappoint.
9 a.m. EAT LOCAL AT THE PEACHTREE ROAD FARMERS MARKET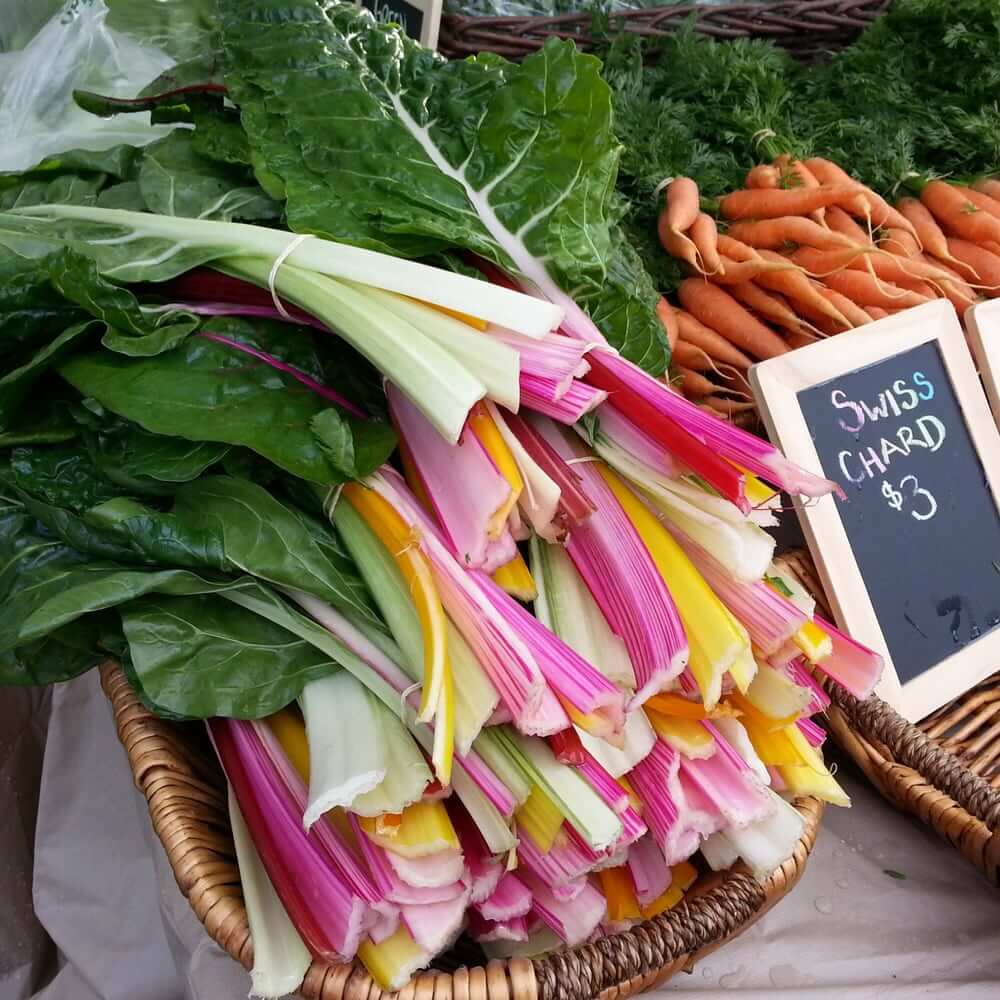 Open Saturdays from 8:30 a.m.–12 p.m., the Peachtree Road Farmers Market provides a bit of local culture in the bustling city. "The farmers market is my favorite Saturday morning spot. I like to get an iced coffee from Smathers and Branson and a crepe from the Crepe Masters stand. After that, we buy sunflowers, peruse the fresh vegetables, enjoy the live music and pet lots of dogs!" Elon University senior and Atlanta native Ali McCorkle said. Two thumbs up for green thumbs.
10 a.m.YOGA AT RED HOT YOGA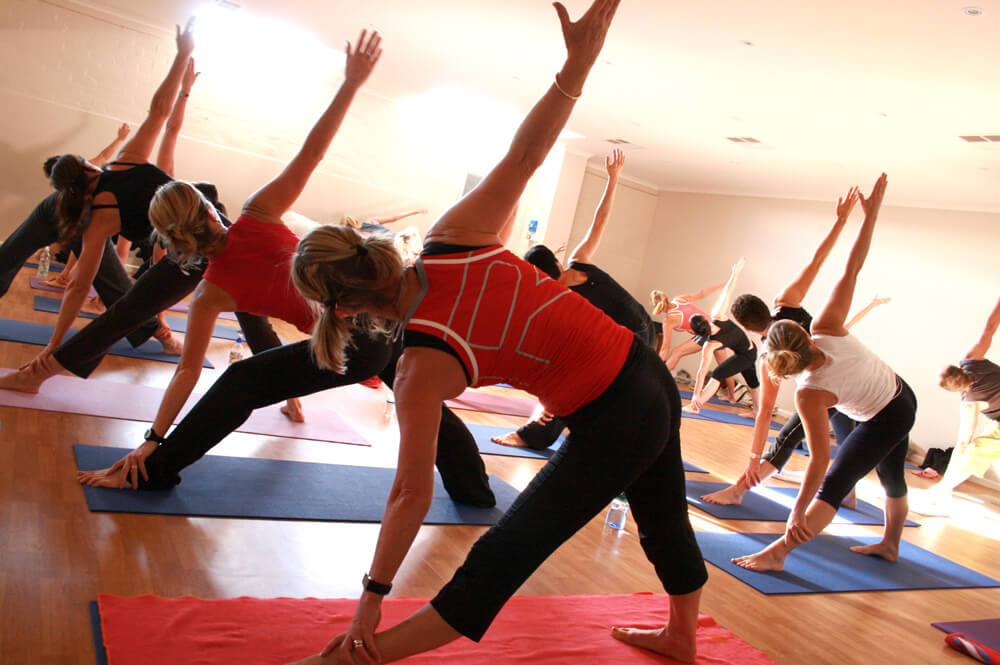 Feeling the Zen vibes after your trip to the Peachtree Road Farmers Market? Like in many big cities, the yoga fever has spread rapidly throughout Atlanta. "Red Hot Yoga offers kick-ass heated classes for all levels. I like to get moving early in the morning, so my favorite is Caron's Power 2. For beginners, try Bethany's Hot 2 class. You'll sweat a lot either way, so don't forget to hydrate the day before," McCorkle said. Namaste.
11 a.m. GO UNDER THE SEA AT THE GEORGIA AQUARIUM
A trip to Atlanta would not be complete without visiting the Georgia Aquarium, the largest aquarium in the Western Hemisphere. Experience the incredible home of over 100,000 animals and over 1,000 different species. However you want to spend your time at this mind blowing attraction, the Aquarium has you covered with behind the scenes tours, dolphin shows, whale diving, summer camps and more. "Working in the Marketing and Promotions department at the Aquarium has been so fun this summer. I have loved working on events like Red, White and Brew, which is the Aquarium's yearly Fourth of July event. With unlimited beer tastings, tater tot bars and a live band, it was an awesome event to be a part of," Furman University senior Mary Helen Kelly said. Tater tot bars? Clearly, the Aquarium offers more than just a bunch of fish.
12 p.m. GET BUBBLY AT THE WORLD OF COKE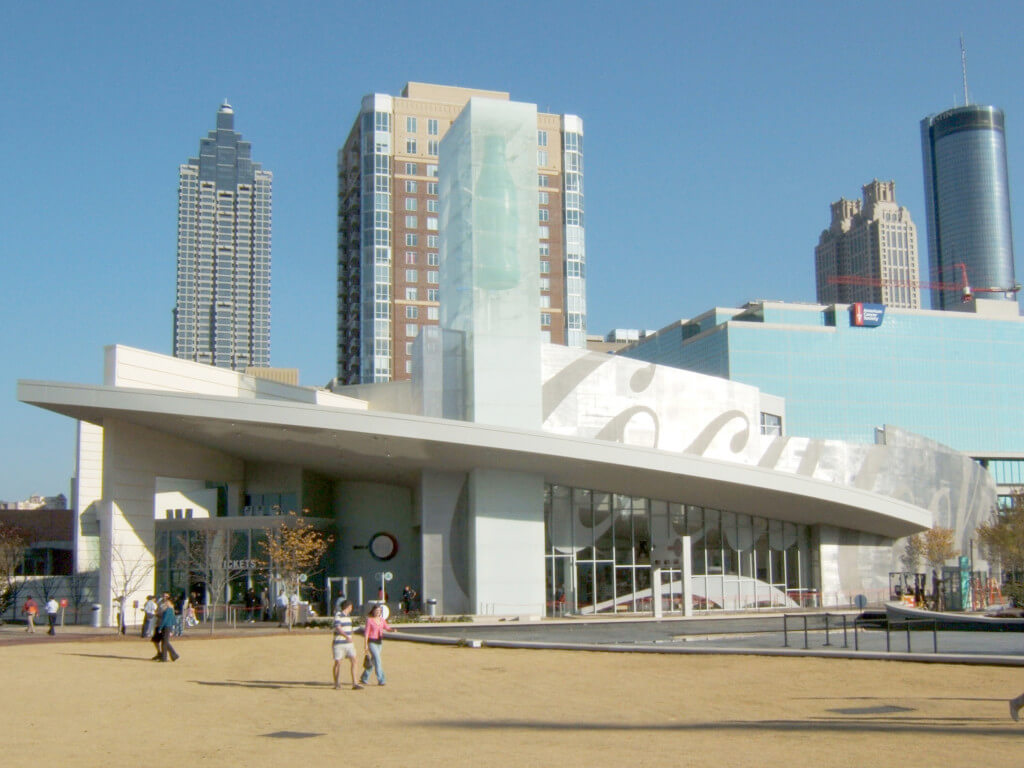 Head straight across the street from the Aquarium to the World of Coke, home to the Atlanta-born and world-famous beverage brand, Coca Cola. Get an inside look at the bottling process, view the history and transformation of branding and design and experience the magic of a Coke-themed 4-D movie. What's the best part of the World of Coke? "There's an awesome tasting room where you get to try samples of Coke from around the world. I never knew there were so many different variations of flavors depending on the country, but it's really fun to try as many as you can. Don't try Beverly," Georgia Tech sophomore Will Harrison said.
1 p.m. LUNCH IN STYLE AT THE VARSITY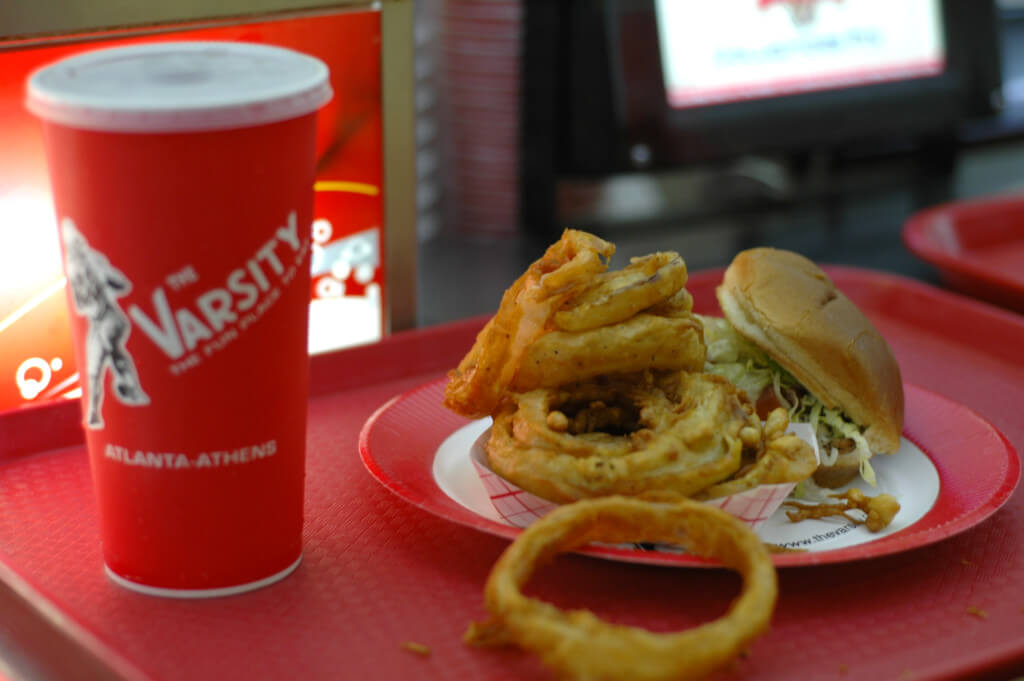 What'll ya have? World famous since its opening in 1928, the Varsity has never lost its prestige as one of the most iconic spots in Atlanta. With a slogan of "The FUN place to eat!" you know you can't go wrong by making this trip downtown. Patrons devour hotdogs, burgers, onion rings and, of course, the Varsity's famous FO, a frozen orange drink that deserves a spot in the record book of great Atlanta eats. Treat yourself to some old fashioned fast food and see why the Varsity continues to thrive even after almost 90 years.
2 p.m. STAY ARTSY AT THE HIGH MUSEUM OF ART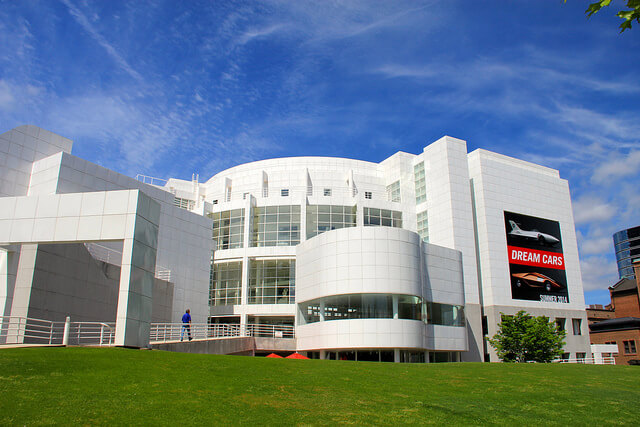 Sprinkle some culture into your day by stopping at the High Museum of Art, the leading art museum in the Southeast. Don't miss the blockbuster summer 2017 exhibition, "Andy Warhol: Prints from the Collections of Jordan D. Schnitzer and His Family Foundation." Whether or not you know anything about art, you'll love the bright colors and recognizable imagery of Andy Warhol's iconic pop art prints. Snap a picture for Instagram with the Marilyn Monroe prints to make your followers jealous of your artsy habits.
3 p.m. BIKE THE BELTLINE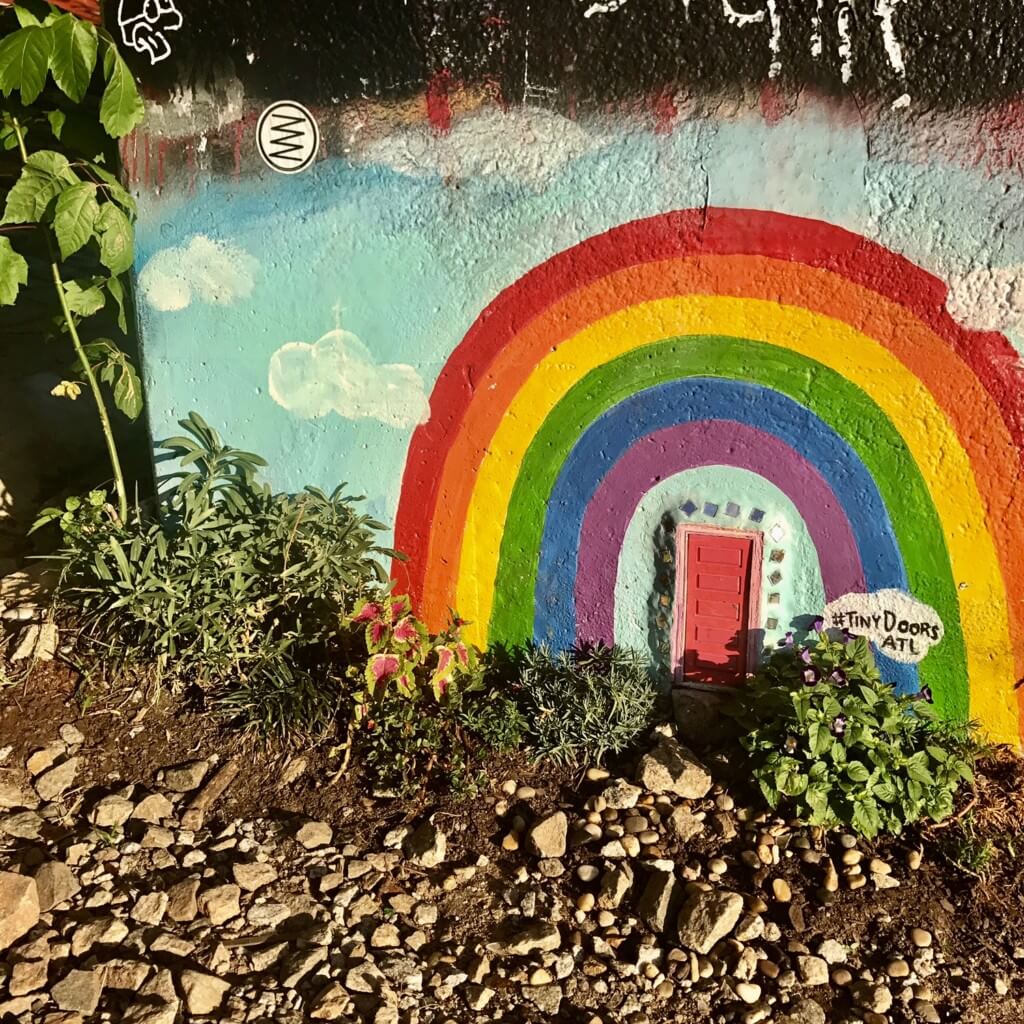 Biking, walking, jogging or rollerblading down the Beltline is possibly the most popular Atlanta attraction. Everything you need and more lives along this urban redevelopment loop which links the city of Atlanta through pedestrian paths and trails. Restaurants, bars, shops, art and more attract visitors and natives looking for some outdoor culture, exercise or eats. #Basic girls love to Snapchat the massive and colorful murals (see above) along the Beltline, while the more trendy visitors prefer to visit Paris on Ponce, an eclectic art gallery featuring curators, collectors and designers. Go on a scavenger hunt to find Tiny Doors ATL, an iconic Beltline feature. An absolute must, the Beltline offers a pathway to many other Atlanta favorites.
4 p.m. DRINK UP AT LADYBIRD GROVE AND MESS HALL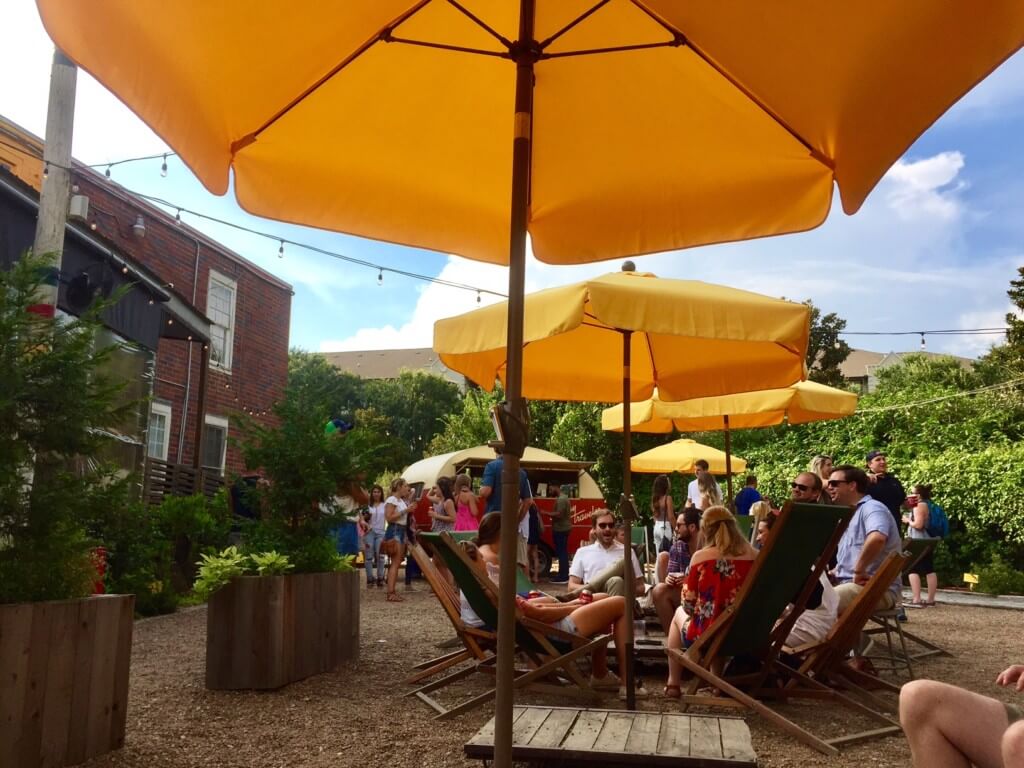 It's that time of day. Reward yourself and your extreme activeness with a break at Ladybird Grove and Mess Hall, an outdoor bar and restaurant located on the Beltline. "Ladybird is perfect for a late afternoon beer. Tropicalia by Creative Comforts is my favorite. The best part is you can get there from the Beltline and then post up at a picnic table in the sun," University of North Carolina senior and Atlanta summer intern Caroline McKinley said. Definitely try the punch served out of a quaint camper as well. A young crowd provides prime people watching and a chance to meet some new friends to explore with during the rest of your day.
5 p.m. POP OVER TO PONCE CITY MARKET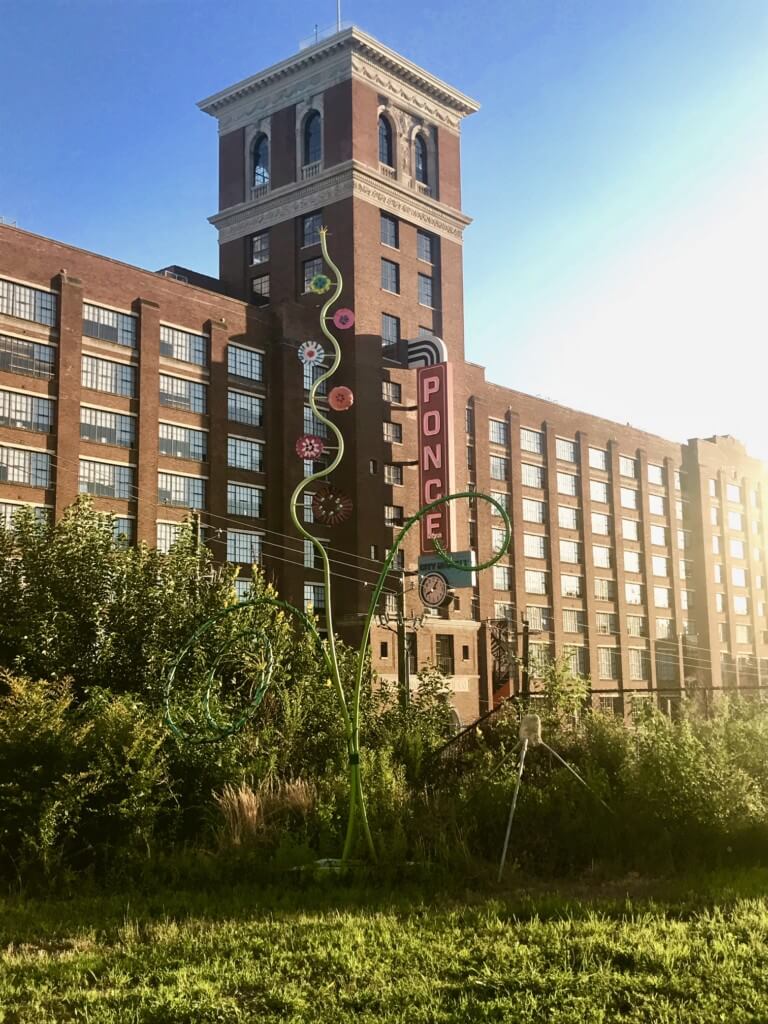 We can't leave the Beltline just yet. Ponce City Market attracts visitors by the thousands to Atlanta's largest adaptive reuse project, a repurposing and revitalization of the historic Sears, Roebuck & Co building. Ponce City Market is home to Central Food Hall and numerous shops including an Anthropologie, Posman Books, Little Lux Necklace Workshop and many others. True foodies haven't eaten enough yet during this 24-hour tour of Atlanta, and Ponce provides food for all occasions, including morning coffee, lunchtime shopping and even date-night excursions. If you haven't been to Ponce have you even been to Atlanta?
6 p.m. EXPERIENCE SKYLINE PARK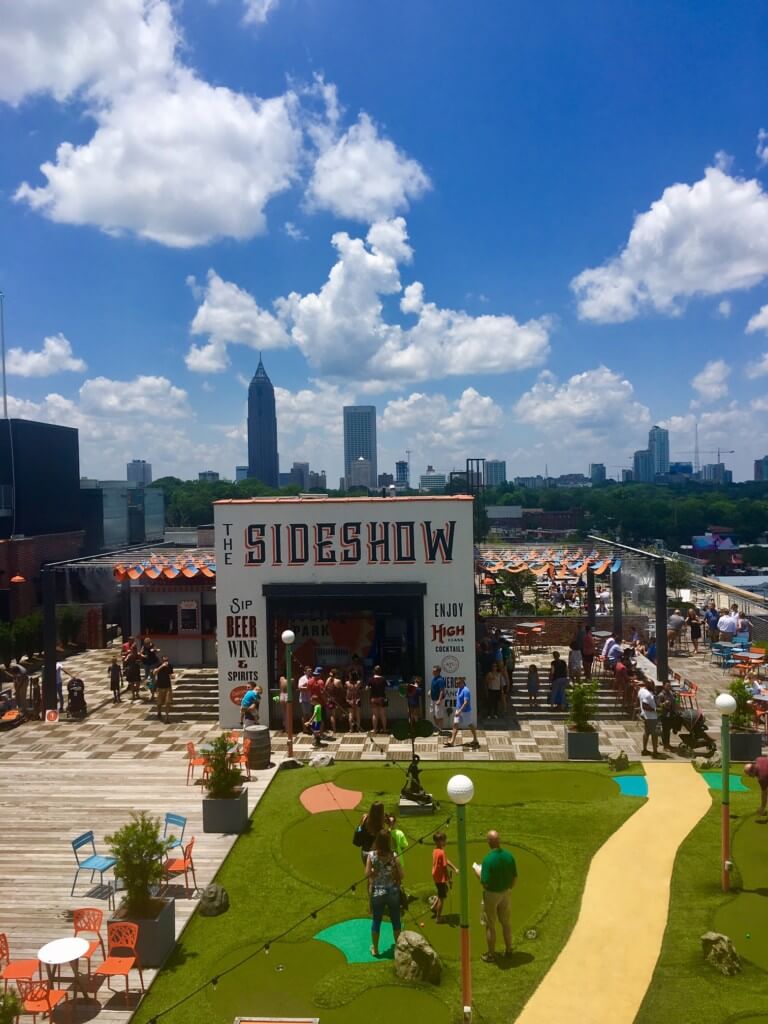 Perhaps the best part of Ponce deserves its own spot on this list: Skyline Park. Located on the roof of the Market, Skyline Park offers more than just #views of ATL. Games, rides, slides, food and beverages abound, serving visitors of all ages and agendas. Challenge your friends to mini golf as you enjoy the Atlanta skyline in the evening light. Need I even remind you to collect this prime Insta material?
7 p.m. BOP TO THE BRAVES AT THE BATTERY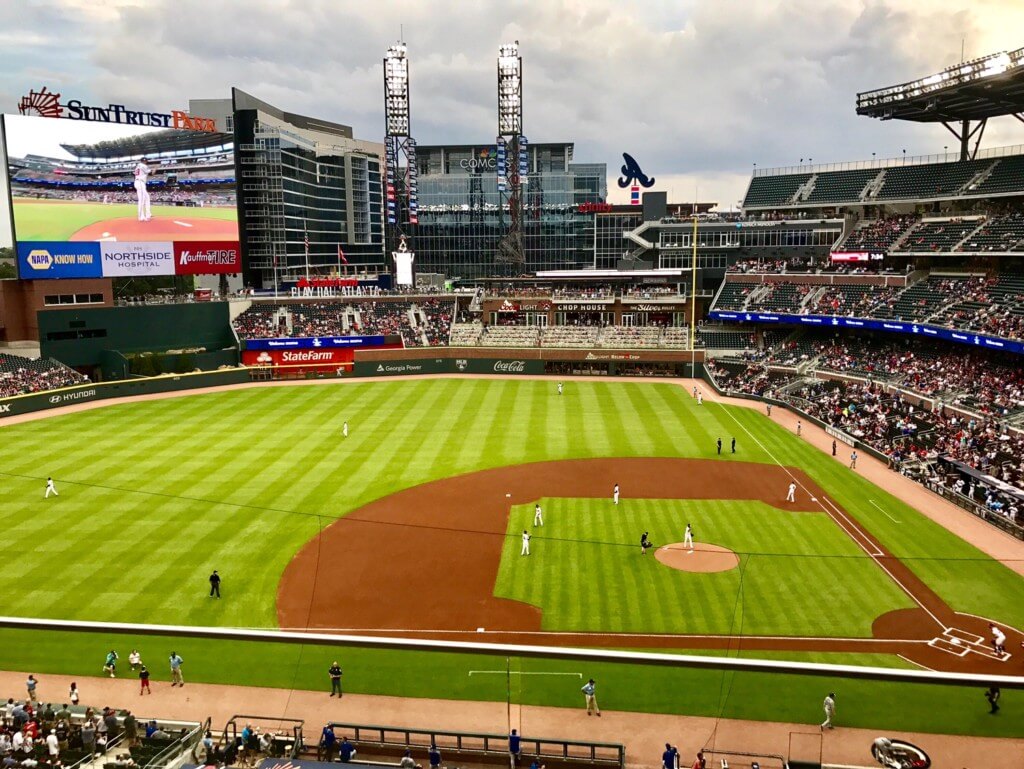 We have too much to accomplish to have time for an entire Braves game, but trekking over to the Battery, home of the Atlanta Braves new stadium at SunTrust Park, makes for a worthwhile excursion. This 1.5 million square foot mixed-used destination provides food, drink, shops, cornhole, a mechanical bull, live music and more. Chop at the Battery on game days or any day of the year when you feel the need to enjoy one of Atlanta's incredible sports-entertainment experiences. Take me out to the Battery.
8 p.m. TAKE BASIC PICS AT JACKSON STREET BRIDGE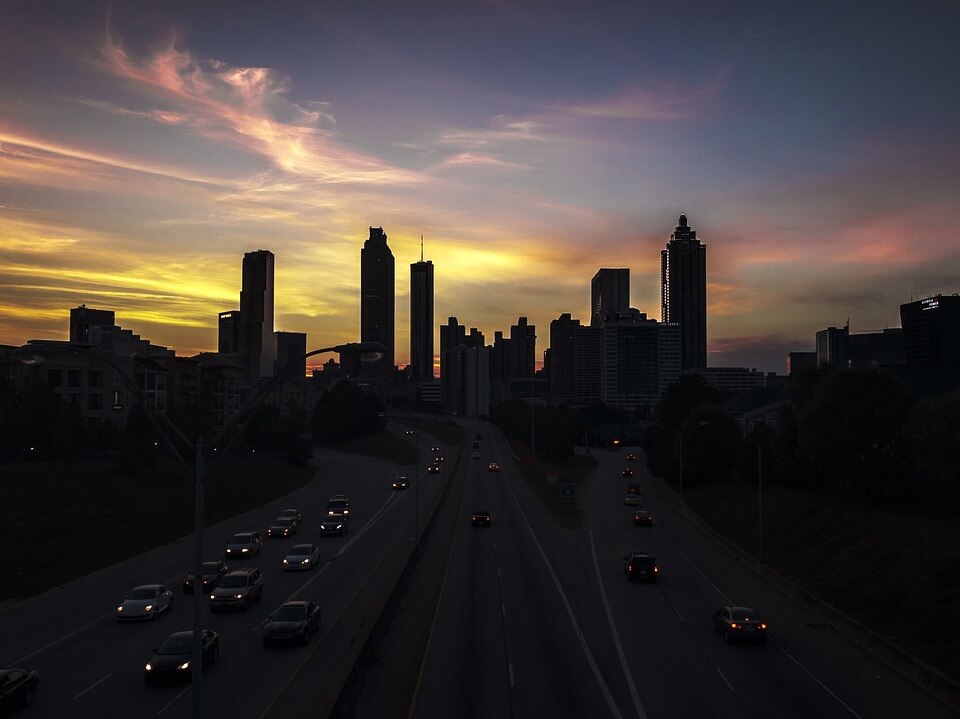 You can't complete your camera roll without a picture posing in front of the best view of Atlanta's skyline. Head over to Jackson Street Bridge at sunset to capture the most stereotypical yet necessary Atlanta pic. Say cheese to being cheesy.
9 p.m. MAKE DINNER RESERVATIONS AT SUPERICA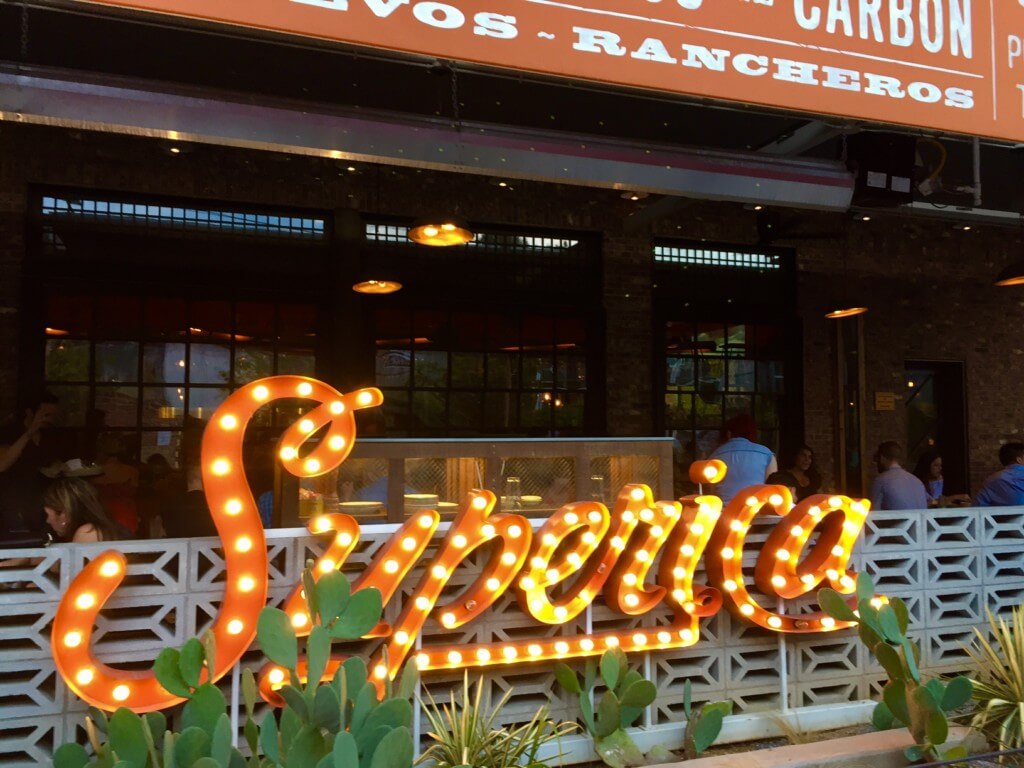 Time for tacos and margaritas. Head to Superica, an Atlanta-classic gourmet Tex-Mex restaurant with an infectious Old West vibe. You'll definitely need to make a reservation as this spot attracts the masses, especially on these sweet summer evenings. Stay awhile and get cozy at the bar, indulging in a pitcher of house-made margaritas while enjoying the high energy atmosphere and live music. This place is super.
10 p.m. SATISFY YOUR SWEET TOOTH AT SWEET CHARLIE'S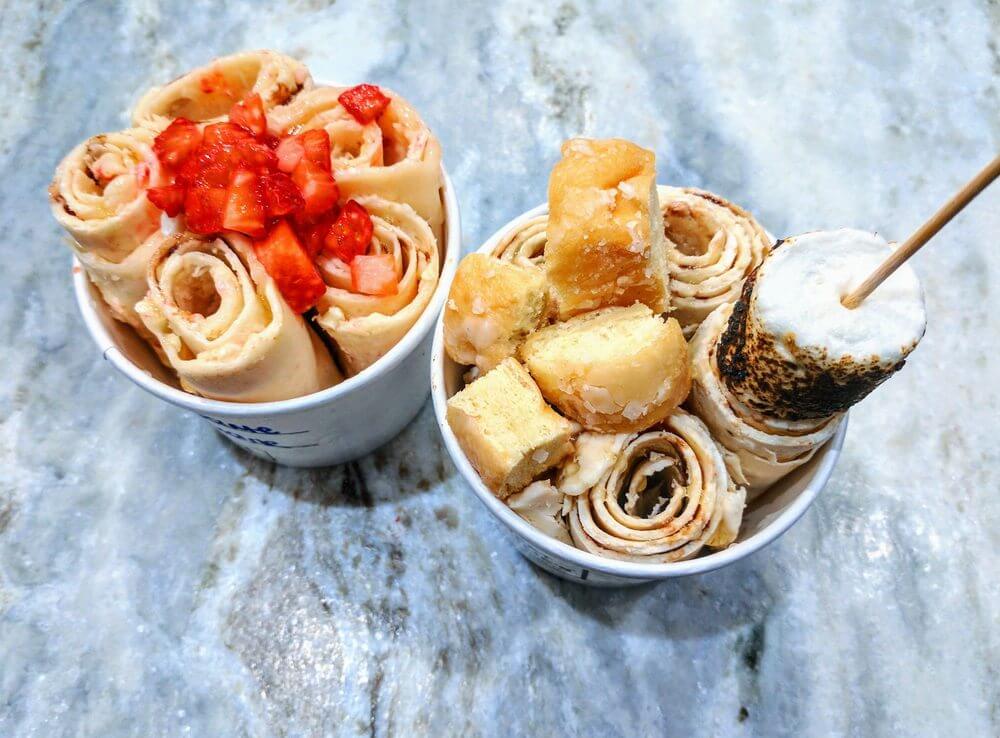 Naturally, you'll need to top off your incredible dinner with something sweet. Here's the scoop: You can't beat Sweet Charlie's ice cream. Have you experienced the new rolled ice cream trend? You must head here for the best flavors and a presentation worthy enough to make it onto your social media. Health nuts will gravitate toward the non-fat yogurt or vegan options, while those of us who like to go all out can choose a doughnut from Sublime as ice cream-carrying container. Sweet Charlie, you make me melt.
11 p.m. RIDE THE FERRIS WHEEL IN CENTENNIAL OLYMPIC PARK
https://www.youtube.com/watch?v=h8D7UIaRAxo
Not quite the London Eye but still pretty cool, Skyview Atlanta offers a prime view of downtown. A perfect after-dinner (and dessert) activity, the Ferris wheel makes the city of Atlanta come to life from a birds-eye view. "I've been on a date to the Ferris wheel in Centennial, and it turned out to be a pretty big hit. The girl thought it was boujee and made it her Snap story, so I'd say it was a success. It's awesome getting to see the city from that perspective, especially when everything is lit up at night," Georgia Tech junior Ben Jackson said.
12 a.m. PRE GAME AT THE IVY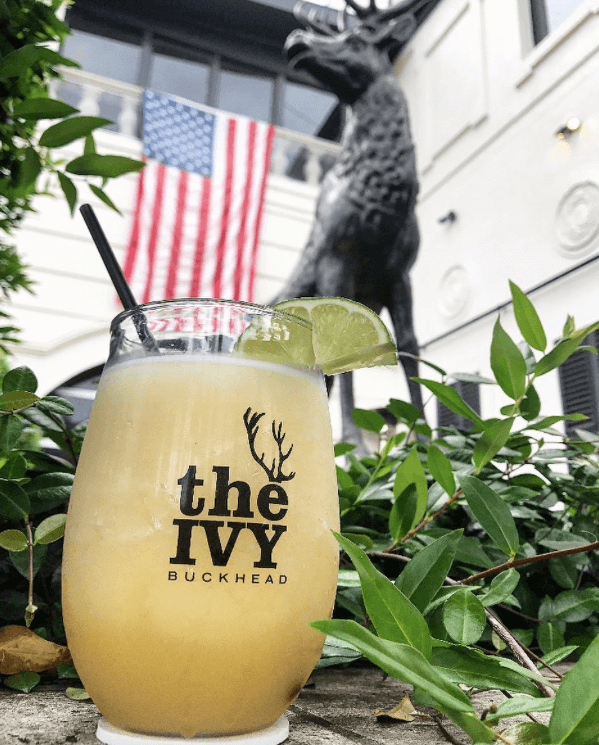 You can't have a full day in ATL without hitting the town. Most young people agree that Buckhead equals Mecca, but Buckhead poses as just one component of Atlanta's lively night life. I personally recommend starting off in Buckhead and migrating elsewhere. If you want to avoid high schoolers and their increasingly prevalent fake IDs, head to the Ivy, a casual yet classy bar located in a converted mansion in the heart of Buckhead. Here you'll find a good music scene and large outdoor patio where you can chill with friends over the ever-too-classic vodka soda. Cheers.
1 a.m. BOWL AT THE PAINTED PIN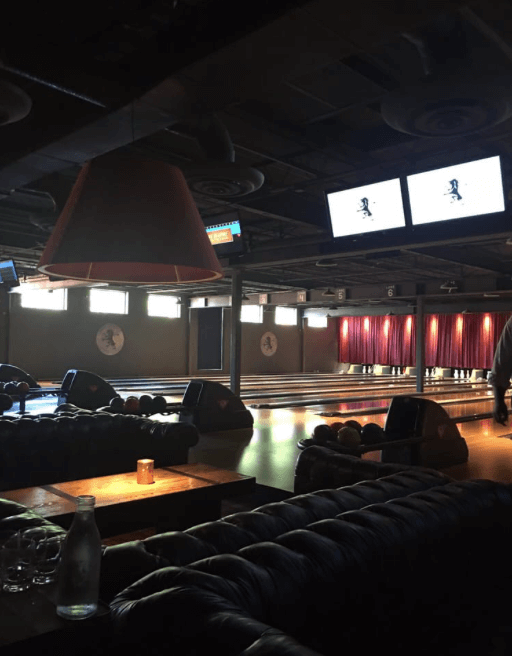 Switch up your typical routine and check out the Painted Pin, a boutique bar and upscale bowling alley open weekend nights until 2 a.m. "Some friends and I tried Painted Pin for my 21st birthday. The wait to bowl can be really long, but there's a full bar and menu, live music and cool seating while you wait. It was a really different atmosphere than the typical night out in Buckhead, because the facility was hip and the crowd was diverse," University of Georgia senior Emily Gale said. Strike.
2 a.m. COFFEE RUN AT MAJESTIC DINER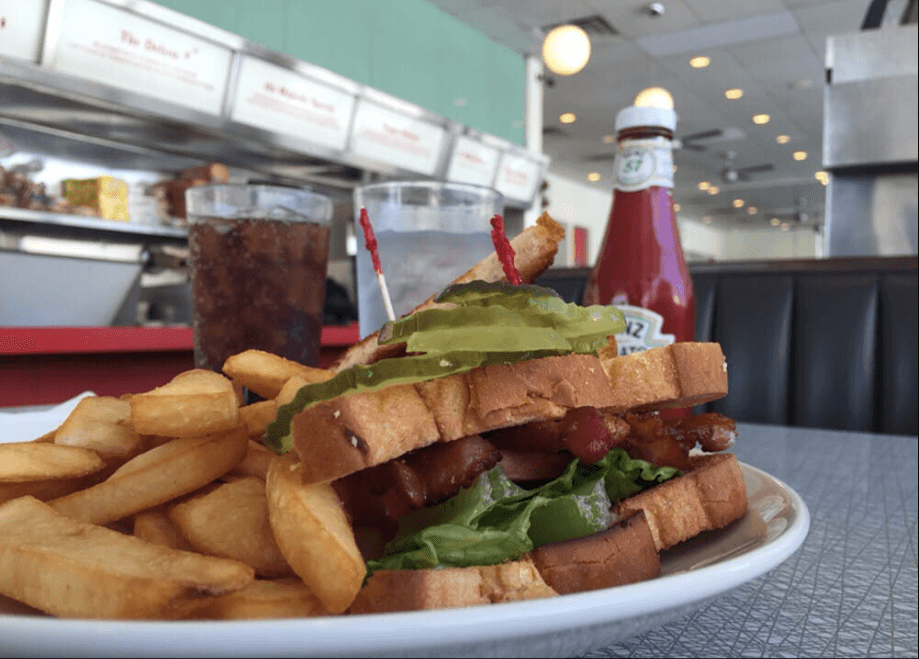 Tired yet? No time for sleeping. Recharge with a cup of coffee from Majestic Diner, an Atlanta favorite in the Highlands open 24 hours. Since 1929, Majestic Diner has served Atlantans at all hours of the day and night, allowing nights to continue later than they should and nursing patrons through the hangover the next morning. While you're at it, why not have a snack too? Yes, this place is as majestic as it sounds.
3 a.m. DON'T MISS DARK HORSE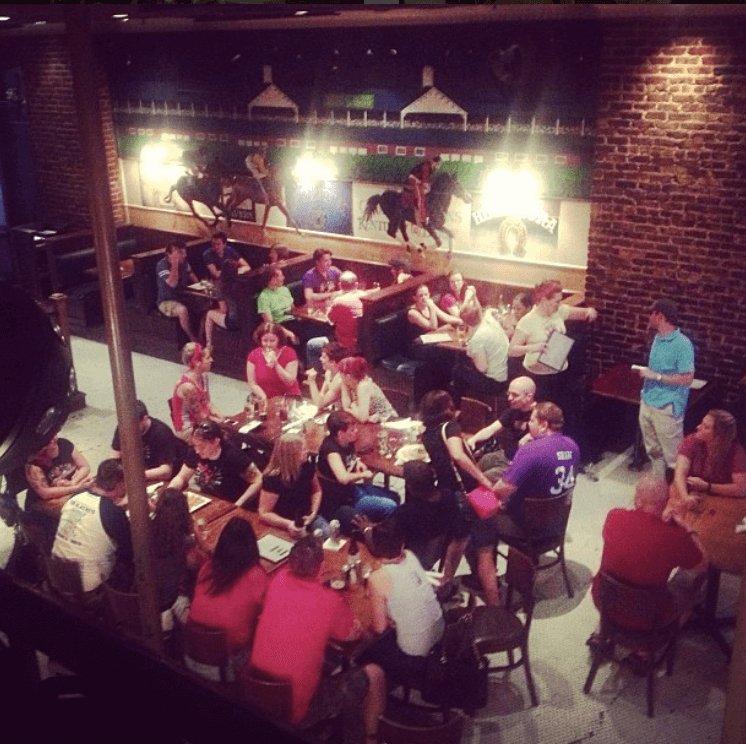 After reenergizing at Majestic, waltz on over to Dark Horse, one of the most fun bars in Virginia Highlands. Though at first skeptical of this place after my parents told me how many great times they had there "back in the day," Dark Horse did not disappoint. With two outside bars and a large indoor space, Dark Horse can accommodate any mood, whether you're trying to have a chill night with your girls or whether you want random strangers to buy you drinks and offer to take you out to pizza. Thanks, but no thanks. I'll just take another vodka soda.
4 a.m. LATE NIGHT AT SUBLIME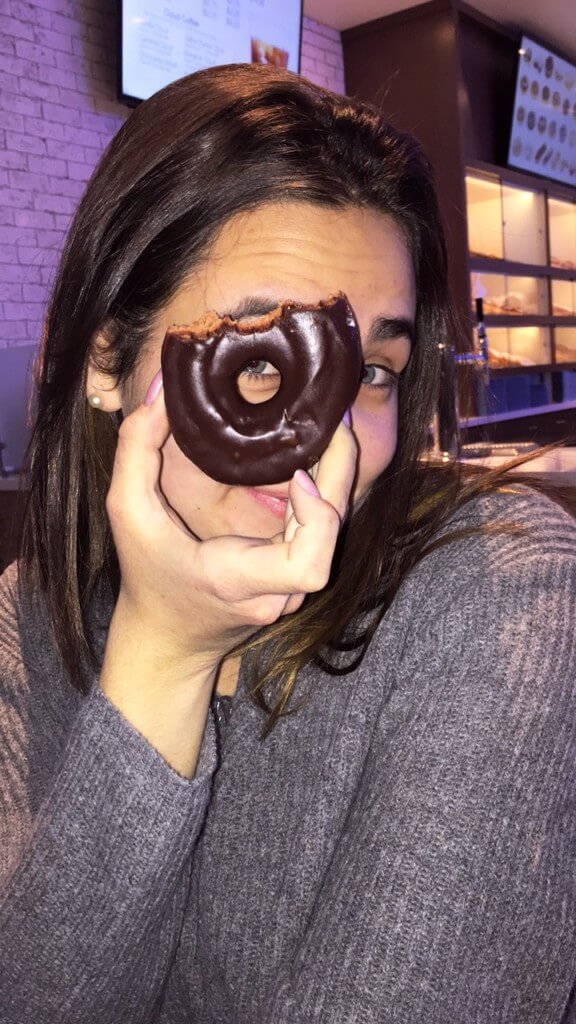 "Since Sublime is open 24 hours, it's really great for late night eating. They sell doughnuts, so that's always a good move in the middle of the night. The Nutella one used to be my favorite before my nut allergy kicked in. There are locations by both Emory and Georgia Tech, so it's really popular at both universities. If you go to Sublime late night, you'll definitely see someone you know," Emory University senior Caroline Doll said. I know you're not sick of my puns yet—doughnut miss this spot.
5 a.m. WATCH THE SUNRISE IN PIEDMONT PARK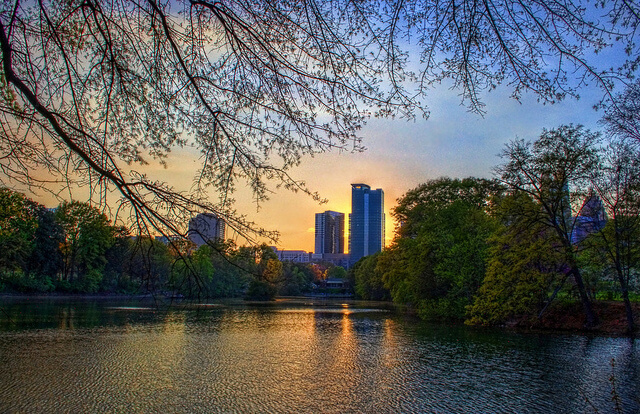 After this extremely full day, reward your productivity by lounging or snoozing in Piedmont Park at sunrise. Amidst views of the Midtown skyline, you'll feel you've reached the peak of becoming a true Atlantan. 24 hours later, you deserve to chill for the rest of the day, or perhaps the rest of the week. At least you know now why everyone calls it Hotlanta.