Every place you go, fun and adventure follow–you just have to explore it. That most certainly applies to the exciting city of Tallahassee, Florida, where on the surface it only has Florida State University and the Capitol building. However, much lies beyond that; so much heart and excitement for our young and adventurous souls. Here you can learn about all of the incredible things Tallahassee has to offer.
To do you one better though, I've planned your entire day down to what you can do in this city for exactly 24 hours in Tallahassee.
6 A.M. Coffee at Catalina Café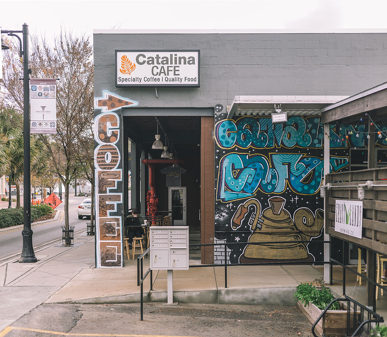 Start off your day right with the wonderfully atmospheric Catalina Café. Catalina embodies the perfect place in Tallahassee to relax or get work done. The artistic vibe, coffee and food make it understandably one of Tallahassee's favorite spots. The open and spacious outdoor seating for you to enjoy the daylight and the alluring street art on the walls makes the space appear instantly relaxing and cozy. The atmosphere alongside the high quality coffee and breakfast sandwiches (try the Breakfast BLT), you can't help but want to come back.
7 A.M. Take a Morning Walk around Lake Ella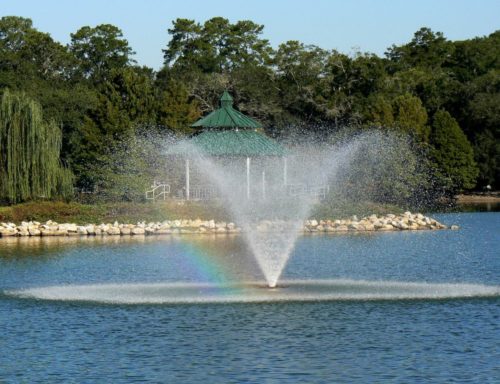 Lake Ella's beauty and openness gives you a nature fix to get you energized for your busy day. The park has a wonderful central fountain that accompanies you on your stroll. Sit under the charming gazebo with the green roof and watch the sunrise reflect against the lake. You can even enjoy a picnic on the greenery while enjoying the soothing morning peace.
8 A.M. Check out the Beautiful Scenery at Alfred B. Maclay State Gardens Park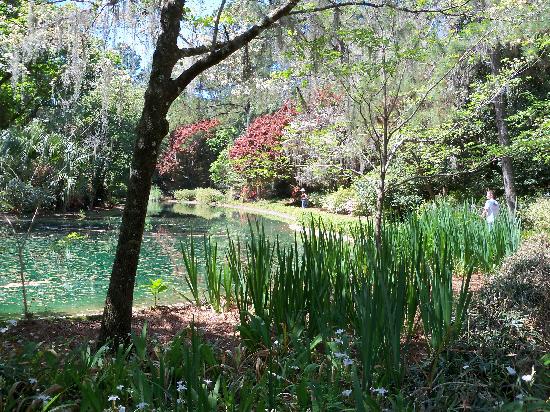 The scenery at Maclay State Gardens Park doesn't compare to anything in Tallahassee. It has beautiful flora, pathways and even a secret garden—although not much of a secret to find located right across from the pool. It gives off a sense of secrecy with its gate and walls of bushes surrounding it. This idyllic spot makes a great place to take your Instagram picture. I love enjoying the small pool with picturesque trees surrounding it and a lake visible beyond. Every corner breathes natural beauty and you can walk around the perfect brick pathways with a peaceful mind.
9 A.M. Drive around Canopy Roads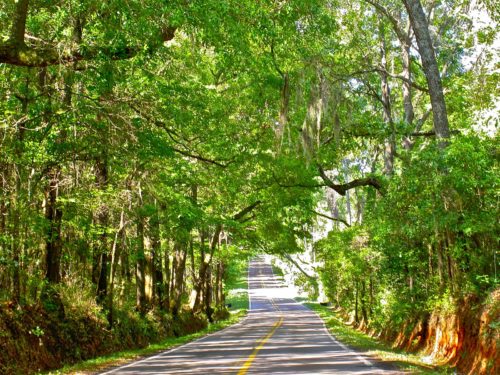 If you're anything like me, you appreciate long drives. Whether I'm with people or driving solo, I find it somewhat mystifying to drive without any real destination. Tallahassee has beautiful canopy roads to lead you on a wonderful adventure. The live-oak trees, sweet gums and hickory pines covered with moss that drapes over you in an arch letting them completely engulf you. Make your drive beautiful and scenic and see what they have to offer.
10 A.M. Mission San Luis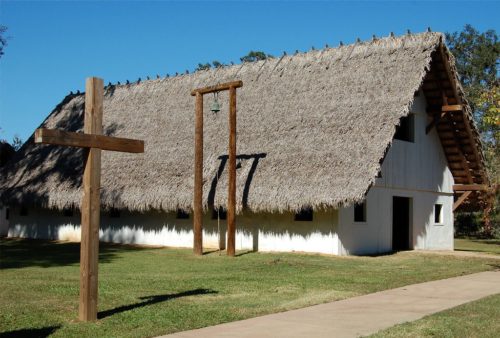 Get to know Tallahassee's rich history at Mission San Luis. You learn about the Spanish colonists and Apalachee Indians who lived here in the 17th-century. They present reenactments of 17th-century colonial life in a really interesting way. Here you completely immerse yourself in important history and culture that fascinates and entertains.
11 A.M. Walk around the Florida Capitol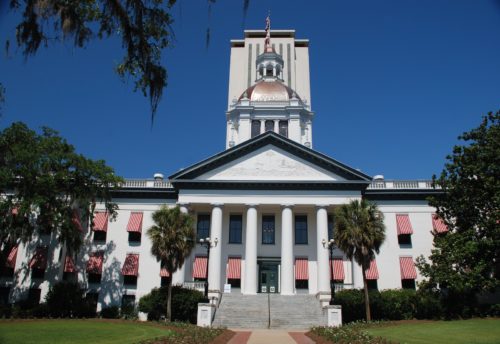 You can't complete a visit to Tallahassee without seeing the central piece to the heart of Tallahassee. As the capital of Florida, the beautiful building and living history surrounding it requires viewing. Outside of its historical significance, you get to see the places where our elected officials make such crucial decisions. You get a sense of pride in where you live with the building's history and high energy. Plus, the viewing area on the top floor of the building gives you an unforgettable view of the entire city.
12 P.M. Grab a Bite at Madison Social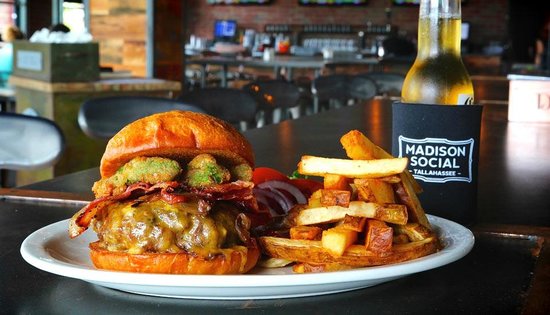 Tallahassee locals know Madison Social as the best brunch spot in the city, but the atmosphere makes it worth going. Located right outside of FSU's campus, a lot of college students like to go there to get a drink or grab some sandwiches, salads or the highly acclaimed BLT dip. The restaurant conducts a high-energy and engaging vibe. "Madison Social is a fun spot to get hungover brunch in the same place where you incurred the hangover the night before!" FSU senior Madison Stuart said. If you come at the right time, you might even catch a trivia night or an NFL football game.
1 P.M. Take a Walk Around FSU
The beauty of FSU's campus first drew me to living in Tallahassee. Its beautiful brick buildings and gorgeous greens look unique and welcoming. Westcott fountain might get the credit as the most iconic site on campus, but to get the whole experience you must explore the history and uniformly striking buildings. Just wander around and enjoy the view.
2 P.M. Do Some Light Shopping at Railroad Square
The Railroad Square Art Park acts as one of the more notable areas for the Tallahassee artsy scene. There, you can find really stylish and cool vintage stores or other clothing shops, as well as art shops. The array of places gives you so many options and has some of the best stuff you can buy in Tallahassee. Every time I go I love visiting vintage stores like Curio and The Other Side Vintage. If you visit near the first Friday of the month, check out First Friday, where everyone comes to enjoy the shops, food trucks and live music.
3 P.M. Go to the FSU Museum of Fine Arts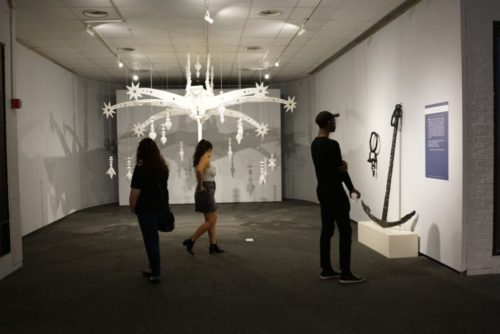 Free and open to the public, the MoFA lives and breathes as one of Tallahassee's hidden gems. It showcases a variety of incredibly thought-provoking art. The museum has both a permanent collection and exhibitions that change often. Their collections include works by famous painters such as Trevor Bell, Roger Elliot, Dutch Kepler and more. Substantial pieces also exist in Graphic Arts, Photographs, Archeological/Anthropological objects, Craft and Applied Arts, Sculptures and Asian works. The styles and themes of the art vary in a well-rounded and enriching display. The architecture in the building alone has you marveling.
4 P.M. Tallahassee Museum of History and Natural Sciences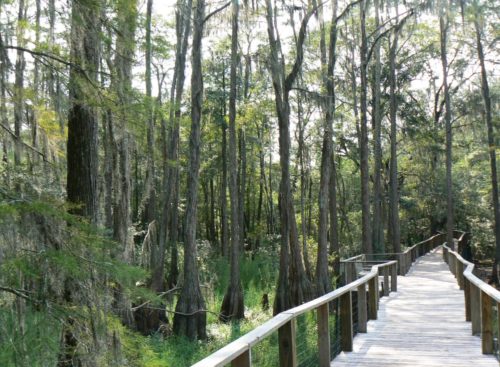 The Tallahassee Museum has existed for over 60 years and serves as an important landmark in the city. See natural Florida wildlife, nature trails and native gardens. It gives people a glimpse of Florida's cultural history and natural environment all in a whopping 52-acre outdoor space. If you want to encourage your adventurous spirit, it even offers zip-lining so you can get a unique perspective on the impressive amount of nature.
5 P.M. Be Outdoorsy at the Rez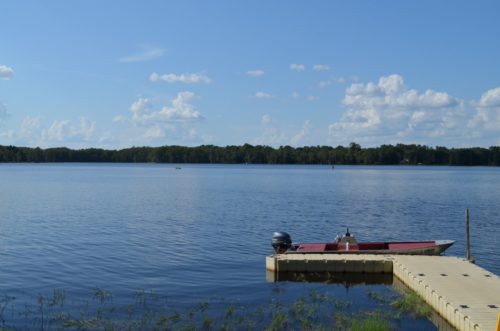 The Rez offers a plethora of outdoor activities, including a 40-foot climbing wall, a lake to swim, canoe, paddleboard or kayak in and outdoor games. You can relive your young camp days and have a nice nature workout with a long kayak ride in the lake, volleyball or the climbing wall. You can also slow down the pace by laying out by the lake or take a refreshing swim. "I had a great time at the Rez with my friends last summer. We kayaked and swam in the lake for hours. It's the best place to go if you don't feel like driving two hours to the beach," FSU Junior Bethany Geltner said. When you kayak, just suppress your embarrassment from how quickly your arms get sore, and you do fine!
6 P.M. Fun Station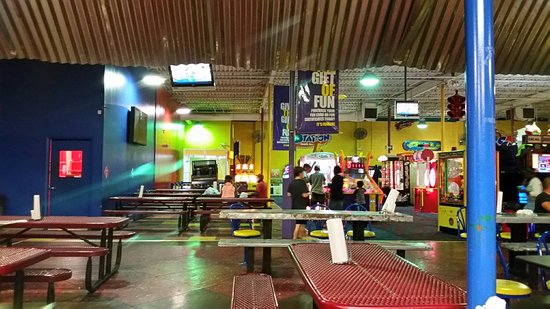 Fun Station delivers the perfect enjoyable leisure activity. The arcade not only has every game you could want, but you can also enjoy laser tag, go-karting, mini-golf and batting cages. You could unintentionally stay here for hours and not mean to. As an extremely passionate and competitive go-karter, this places amazes me. "Fun Station is a great way to let off steam after a long day of classes and feel like a kid again! Nothing gets my mind off school like coming in last in go-karts and then destroying my friends in laser tag," FSU Junior Ben Mayhew said. I can't ever forget when I gave every ounce of energy and commitment I had to laser tag and ended up getting second to last place. So either destroy or get destroyed, I guess.
7 P.M. Snack at Sweet Pea Café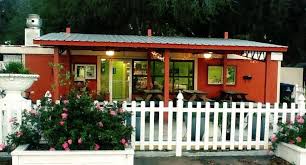 A vegetarian/vegan-friendly establishment, you need to eat at this wonderfully charming and delicious place to get food. Its friendly and warm vibe makes it a delightful restaurant and a no–brainer that it holds a top Tallahassee spot to visit. They have a unique menu consisting of funky foods like a Buffalo Fried Tofu Sandwich or a Spicy BLT (Bacon Lettuce Tofu). Or you can go with a classic Quesadilla or Black Bean Burger.
8 P.M.  Catch an IMAX movie
The Challenger Learning Center provides movies in IMAX, a planetarium, space mission simulator and dome theater. See the latest blockbuster in IMAX while exploring the educational opportunities  like the Planetarium. Located in downtown Tallahassee, the Challenger Learning Center contributes a lot to the Tallahassee community and does so much for educational experiences for young people. Movies in IMAX can enhance your viewing experience, but seeing one at the Challenger Learning Center somehow goes above and beyond (literally and figuratively). Don't forget to see the digital presentation of Pink Floyd's Dark Side of the Moon in the digital dome full of colors and lively animations to get lost in.
9 P.M. Bird's Aphrodisiac Oyster Shack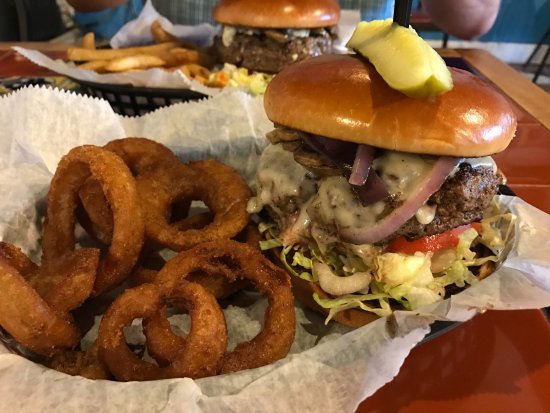 First of all, the oysters at Bird's might be the best I've ever had, but it doesn't stop at the food. The bar gives off a funky artsy vibe that makes it a great place to hang out. Grab a drink, eat some food and enjoy the cool and relaxed atmosphere. On top of that, most nights they offer live entertainment— whether comedy, live music, trivia or karaoke. A stop at Bird's guarantees a good and eclectic time.
10 P.M. Grab a Drink at Township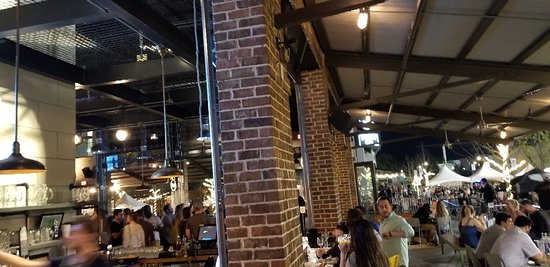 In your 24-hour trip to Tallahassee, you have to visit the best bar (if you're 21 or older of course), Township. College students love to go here, and the place also offers some great burgers and sandwiches. Wonderfully located with outdoor or indoor seating, getting a drink (or two) at Township seamlessly adds to your experience in Tally. Their unique beer cocktails­ have names like Tequiling Me Softly that you simply cannot turn down. The other cocktails–the people's cocktails as they call them–have extremely distinct tastes, like Comin' In Hot (it has jalapenos in it). The open layout feels like a pavilion. When you sit inside, you still can enjoy the night breeze. The breath of fresh air and energetic atmosphere always makes me glad I went with my friends.
11 P.M. Get your Sweet Fix at Donut Kingdom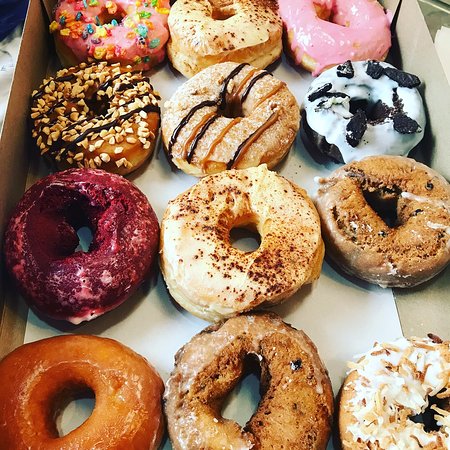 The best late-night sweet food award in Tallahassee goes to the amazing donuts at Donut Kingdom. You can try a creative house-made donut or go for a more classic one­, either way you'll probably try the best donut you have ever had. They have everything from a fruity pebble, Oreo, maple bacon, salty caramel or even a vegan donut. Don't let the donuts limit you either– they also offer ice cream, milkshakes, and a donut ice cream sandwich.
12 A.M. Fire Betty's Arcade Bar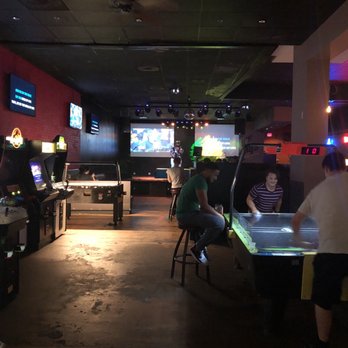 At this point, you've visited an arcade and you've hung out at a bar, but why not combine the two? This retro arcade bar offers karaoke on Wednesdays and live music on Fridays. Games and drinking always work as a fun combination, and Fire Betty's rises to the occasion in their dedication to a delightful atmosphere and great cocktails, like the classic Fire Betty (coconut rum and raspberry vodka).
1 A.M. Check out the Abandoned Cement Factory
The Abandoned Cement Factory exists as a hidden gem of Tallahassee that I must let you in on. While a little difficult to find, the right amount of research will get you there. The abandoned factory stands covered in graffiti, and the little explorer in you can thrive. If you like old, worn down and imperfect things, go see it for yourself.
2 A.M. Gaines Street Pies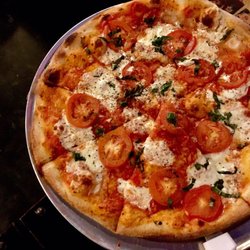 Late night eating in Tallahassee almost always leads to Gaines Street Pies. Saying they have amazing pizza feels like an understatement. I love to go for a classic cheese pizza, but their breakfast pie is to die for complete with bacon, eggs, ham, potatoes and bell peppers. "I love to get the calzones from Gaines Street Pies, I'm just like Ben Wyatt from Parks and Recreation. Whenever I'm craving one I'll usually bring a friend with me," said FSU senior Eddy Denfield. This place deserves the title of a Tallahassee landmark for its consistency and reliable food at basically any time of the day. Its casualness and great prices make it the perfect place to eat at 2 a.m.
3 A.M. Jump in the Westcott Fountain at FSU
If you live in Tallahassee or attend FSU, you know of the  tradition to jump in the Westcott Fountain (located at the front of FSU) on your 21st birthday, but why not do it anytime? Not only can you squeeze in a late night swim, but you can climb to the top of it if you feel brave enough. The fountain, while extremely shallow and slippery, has enough space for you and a ton of friends to run around in it. I remember going swimming in the fountain on the last day of my freshman year with my friends as one of my favorite college experiences.
4 A.M. St. Mark's Lighthouse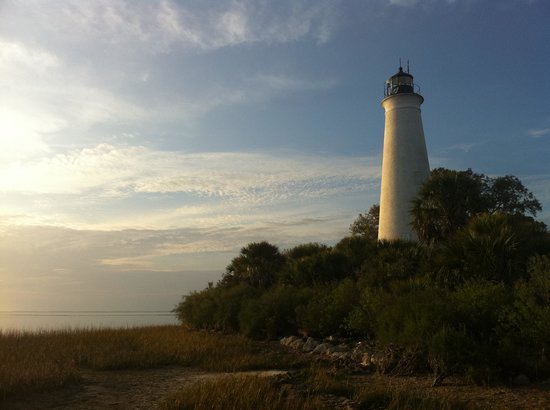 The drive out to St. Mark's Lighthouse rewards you with an incredible view of the water and surrounding area. The lighthouse itself exists as a sight to see, and the surrounding trails warrant a lot of cool exploring. I recommend seeing it when you have to wait some time for the morning light. The 4 a.m. tint makes sure the sky doesn't look pitch black out, and the dusk air paired with the waves and rocks both invigorates and relaxes you.
5 A.M. Cascades Park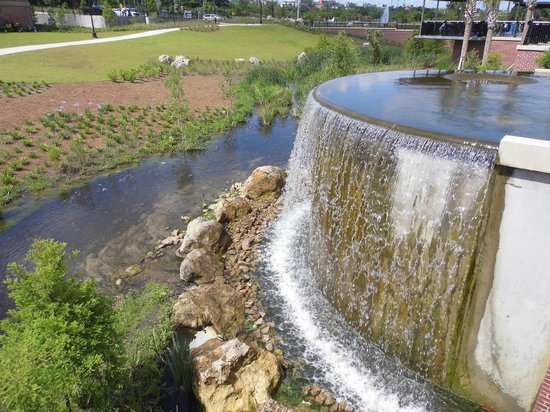 End your odyssey with the most beautiful park in Tallahassee. The walkways and scenery offer the peace you need to end your day. "Cascades is where I love to sit and do homework while sobbing and drinking cold brew," Senior Adrian Fernandez said. The park spans a long way and gives you a lot of opportunities to enjoy a walk and the surrounding nature. Scout out endless spots to have a picnic or just hang out. To many, the governor lives in Tallahassee, and the interest ends there, but between the exciting culture, beautiful college campuses and great food, don't overlook its magic quality.