Thailand's pristine beaches and limestone cliffs will surprise you. The moment you step onto Phuket Island, you'll embrace pure beauty. You'll jump outside of your comfort zone with Thailand's breathtaking caves and lagoons. You'll explore the culture by chatting with monks in a thousand-year-old temple and indulging in delicious Thai food. Then you'll experience thrills while rainforest zip lining and cliff jumping. Sure, you've read every "things to do in Thailand" list you could find on the Internet—none compares to this ultimate FOMO list.
Ready to book your Thailand trip? Plan your trip with Lonely Planet's incredible guidebook and online destination information to Thailand. Do your wallet a favor too by booking your Thailand flight on StudentUniverse, the ultimate travel-booking site for students and anyone under 26.
Feeling lucky? Enter to win our Thailand Getaway for you and your BFF.
These top 21 Thailand trip adventures will cure your wanderlust for years.
1. Rock Climb on Railay Beach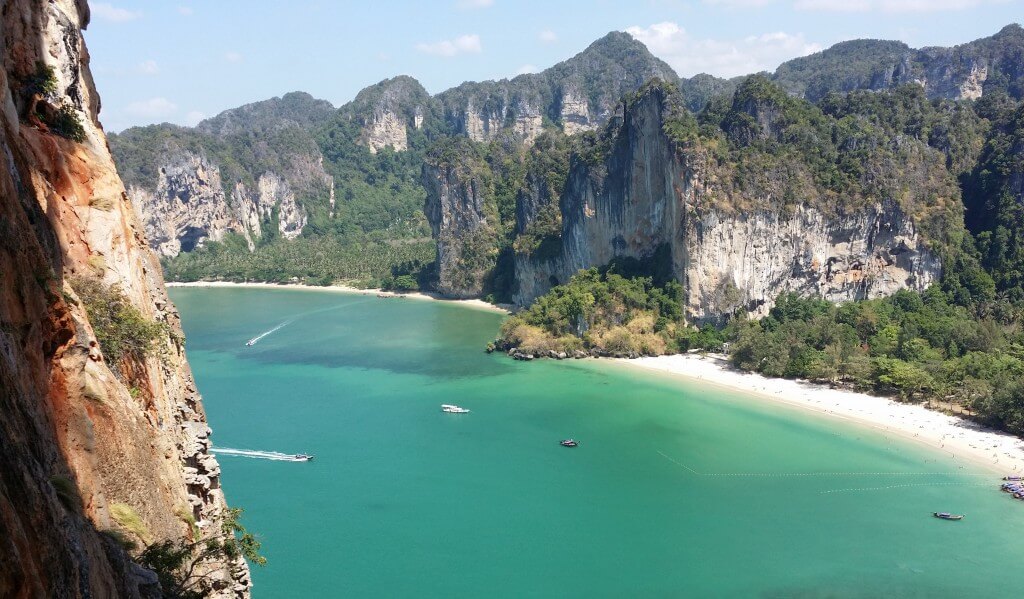 Only accessible by boat, Railay Beach sits nestled between Krabi and Ao Nang of Thailand. Travel to this secluded beach during your Thailand trip and climb the rocks and mountains lining the shore. For an extra ounce of adrenaline, freely climb along cliffs where you dangle above the open sea. You and friends can enjoy half a day of rock climbing and immersing yourself into Railay's nature for under $30 with Krabi Rock Climbing (KRC).
2. Rejuvenate at Oasis Yoga in Ko Lanta
Wind down from the adrenaline-pumping rock climbing at the Ko Lanta district in the Krabi Province of Thailand. There, you'll find Oasis Yoga to rejuvenate and reenergize. Tourists and locals can embrace their practice (or discover yoga for the first time) with Flow, Ashtanga and Sunset Stretch and Yin classes. Oasis Yoga has something for everyone from fast-paced workouts to meditative sessions.
3. Hop the Ko Phi Phi Islands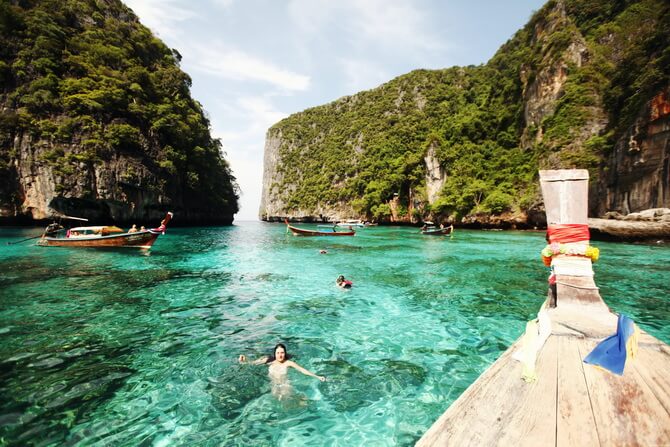 Prepare your body for the Ko Phi Phi Islands. The water sports like scuba diving and marine kayaking will entice anyone from fitness fluke to gym junkie (if you book with The Ultimate Phi Phi Watersports Experience, you'll get free beer and soda too). How could you not peek into that crystal clear water? "Ko Phi Phi is very beautiful. The waters are crystal clear," UCLA sophomore Sasicha Peechapol said. "Last time I went we also took a boat out and snorkelledwith sharks." The coral reefs around the Ko Phi Phi islands bring in scuba enthusiasts from around the world. If you want to stay on the mainland, get comfortable with sand strolls around the cozy beach shacks and palm trees—these islands have no roads. Or dip in a beach bar for a fancy umbrella drink. For the thrill-seeker, the Phi Phi Reggae Bar features loud music and a Thai boxing ring right in the middle of the venue. For the more laid-back vacationer, check out the acoustic music and sunset viewing spots at Sun Flow Beach Bar and Restaurant.
4. Hike up Dragon Crest Mountain

Khao Ngon Nak, or Dragon Crest Mountain, will bring you back to Krabi for more adventures. "I climbed Dragon Crest Mountain, which was a two-hour hike with incredible views…the hike was long and tiring for my out of shape self, but the view at the top made the sweat and sore legs completely worth it," said travel blogger Norah Taylor. "After the hike I stopped at the bottom of the mountain for a water with the park workers and tried to communicate with the huge language barrier. I remember them laughing at how much I was sweating, but that I was still smiling." The view from the summit will definitely give all of your friends back home major FOMO.
5. Travel the Sea on the Phang Nga Bay Tour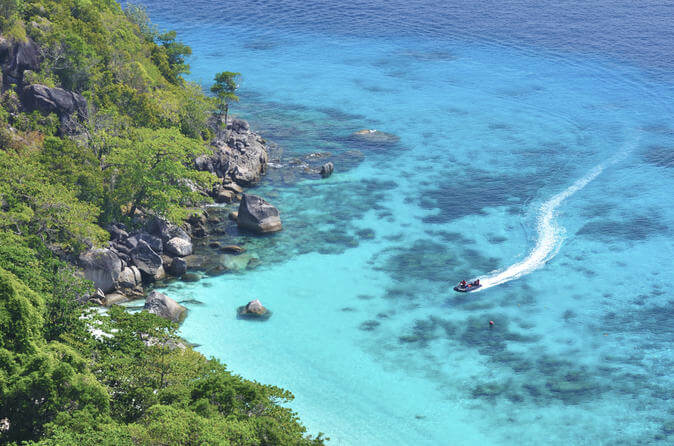 Between Thailand's mainland and Phuket Island, Phang Nga Bay weaves throughout many forests and small islands. Fun fact: Koh Tapu, dubbed James Bond Island after an appearance in a James Bond movie, borders this bay. Take a chance to hop on a vessel and tour through the bay during your Thailand trip. "We sailed on a traditional June boat through the beautiful limestone islands that line the coast of Southern Thailand. The islands are magical and seem like mountains that long ago were flooded by the ocean…it really allowed us to immerse ourselves in an environment that I never even imagined," said Florida State University senior Jonathan Blackman.
6. Indulge in the Yaowarat Street Food Tour
Unlike the Chinatown you'll find in NYC, Thailand's Chinatown in Bangkok features authentic Thai cuisine. You'll get the opportunity to snack, slurp and savor local delicatessen with every couple of steps. "We got to try so many different native dishes that I would've never tried on my own. Pho, prawn soup, mango sticky rice, pork dumplings and fresh pomegranate juice. It brought me out of my comfort zone and helped me realize how far away from America I was," said FSU alumna Robi McBride.
7. Bathe Elephants at the Chiang Mai Elephant Jungle Sanctuary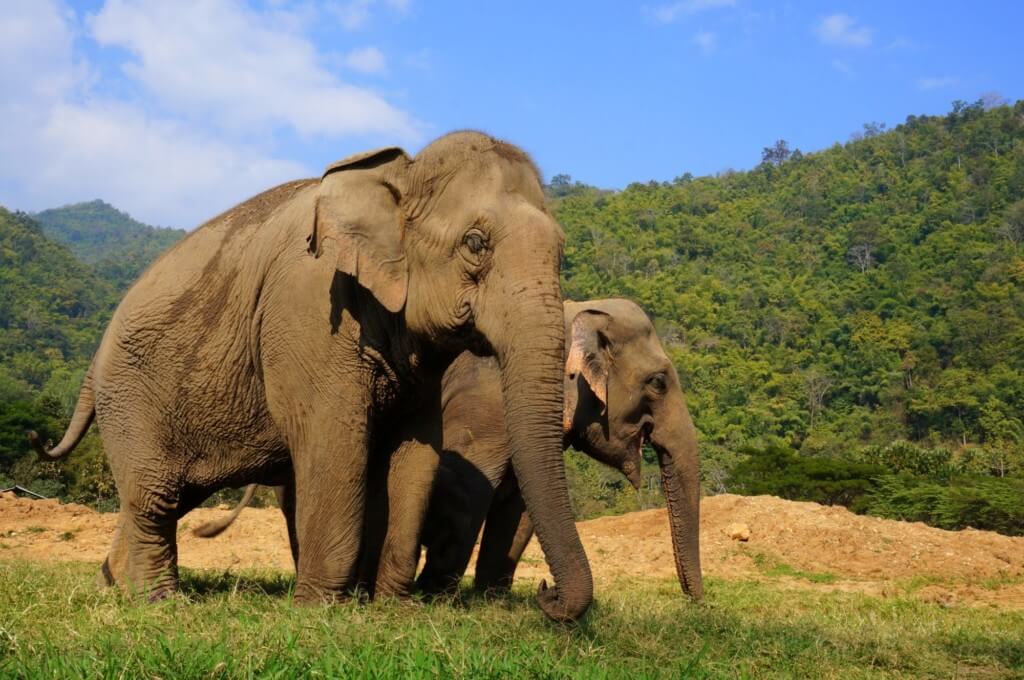 This sounds like a dream come true. Getting the chance to feed, bathe and play with such a large creature sounds like an opportunity you don't want to pass up on your Thailand trip. "We chose a sanctuary because they do not ride the elephants. The elephants roamed freely around the jungle on a mountain…we fed the elephants sugar canes and bananas," said Paulla Taylor. "When you're used to seeing elephants behind glass, visiting a place like Elephant Jungle Sanctuary is so refreshing. We got to feed and bathe formerly captive elephants in their natural environment," explained University of Tampa alumna Jaclyn O'Connor.
8. Revisit History at Ayutthaya Historical Park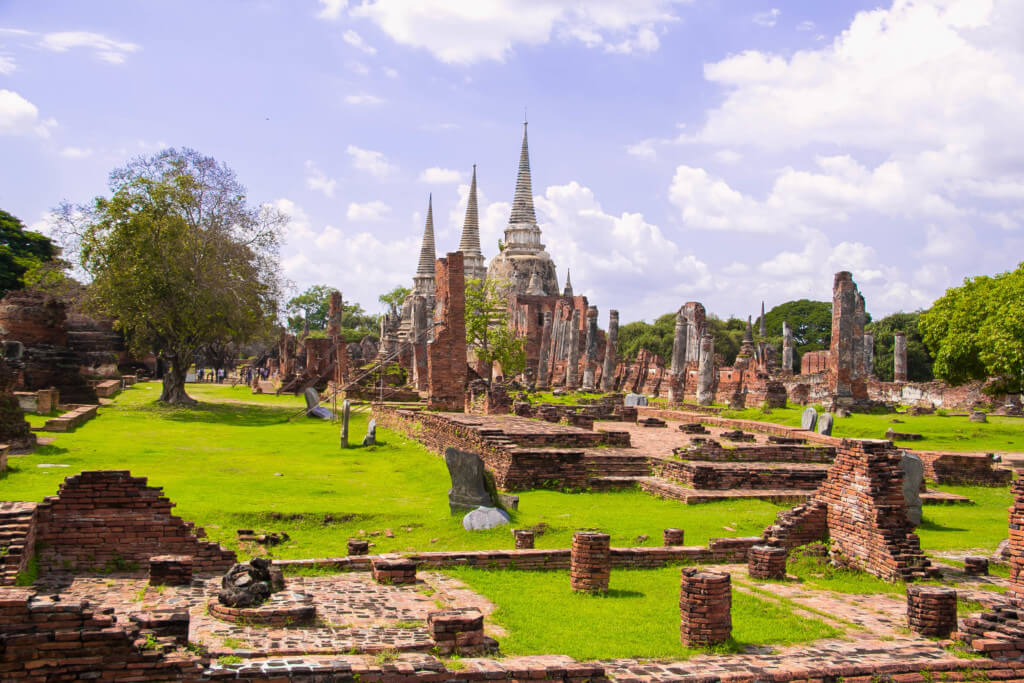 History buffs, lace up your walking shoes. This UNESCO World Heritage site offers acres of ruins to explore. The city of Ayutthaya fell to the Burmese in the 18th century, robbing the city of some of its splendor, but dedicated historians have restored the ruins for viewing. "I remember my family and I taking pictures with monks and speaking with them about how they maintained the historical and religious structures and artifacts. I learned that they do all this and get by mainly by donations, so we were sure to donate and pay our respects before we left," University of Illinois junior Bobby Morales said. Visit the temple of a queen who sacrificed her life for her husband in a war at Phra Chedi Suriyothai. You can use the walking tour the park directs or ask a Tuk-Tuk driver to spare your aching feet so you can really enjoy feeling the history of this glorious city.
9. Fall for the Falls at Erawan National Park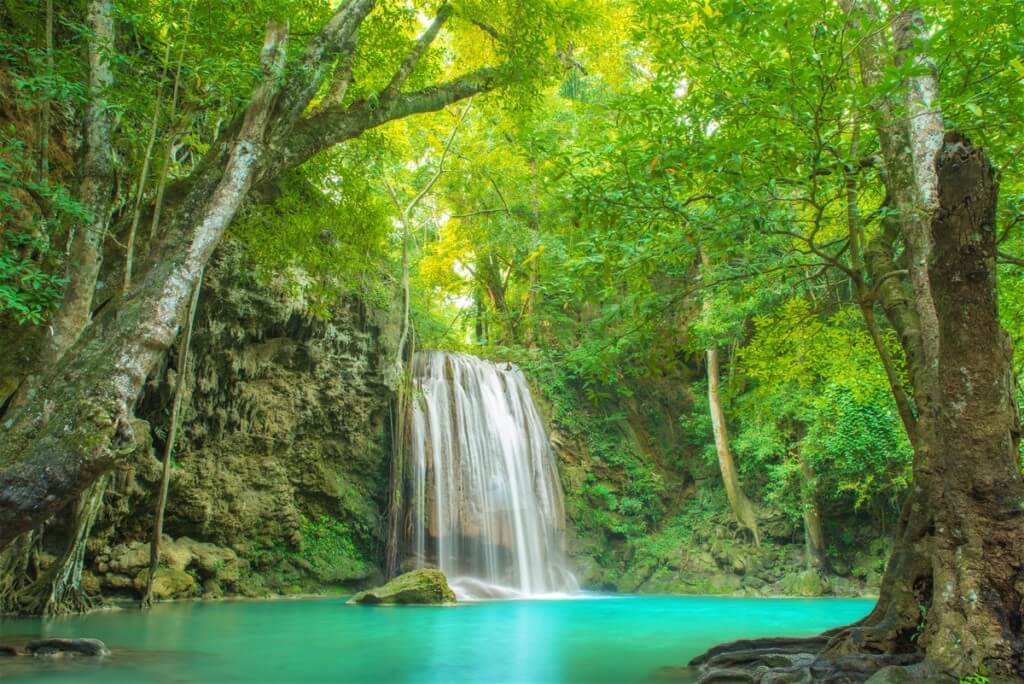 Named after the white, three-headed elephant of Hindu mythology, Erawan gushes with opportunities for adventures for environmentalists, amateur photographers and thrill-seekers. Monitor lizards, wild boars and elephants, gibbons and peacocks hide in the forest for lucky tourists to catch a glimpse. The water itself looks like the stuff of made-up worlds like Narnia. Your Instagrams and snaps will look unbelievable even without any photography talent, if your electronics can stand up to the park-wide splash zone. Aside from the waterfall, the park has five caves, rumored to hide families of bears, ancient coffins and untranslatable cave paintings. "We trekked to the very top and got to see every level. On the way up, there were a few people every now and then selling little knick knacks and little snacks. One woman sold us a little bag of freshly picked chili peppers. I tried one because it was small and bright orange. It was probably about 15 minutes before I could feel my mouth again," Morales said.
10. Zipline in Chiang Mai
Forget regular park rangers—link up with sky rangers. The sky rangers at Flight of the Gibbons in Chiang Mai will hook you up to a zipline and send you soaring through Thai jungles, rappelling down limestone cliffs and tiptoeing across sky bridges to see how the wild gibbons of the rainforest live. When you take a lunch break from your day at the sky office, sit down with locals for an authentic Thai meal with some locally farmed coffee on the side.
Thrill-seekers, foodies and beach lovers will need more than 21 adventures to satisfy their wanderlust. Get the Thailand guidebook (ebook or print) from Lonely Planet's online store to get the full insider Thailand experience for your Thailand trip. Then hop on to StudentUniverse for exclusive student discounts on flights, hotels and tours.
11. Train at Tiger Muay Thai
The eye of the tiger may have seemed unattainable outside of your workout playlist before, but with one visit to Thailand you can actually achieve it. At the Tiger Muay Thai gym, experts that trained some of the world's best fighters will teach you, too. Get in a workout and get in the zone at this adventure-filled spot. If working out makes you want to run for the beach, take care of your body in other ways by stopping by the grill for a nutritious meal or take a relaxing yoga class.
12. Reflect at Wat Rong Khun

This work in progress welcomes all other works in progress. That is, the white temple has not stopped construction since its first cornerstone. The Buddhist symbolism in its structure welcomes visitors to mediate on and learn the Buddhist teachings, where all humans will be reincarnated into more perfect forms. Walk across the bridge of rebirth through the gates of heaven to this beautiful site to learn more about Buddhism and its unique architecture.
13. Haggle at Warorot Market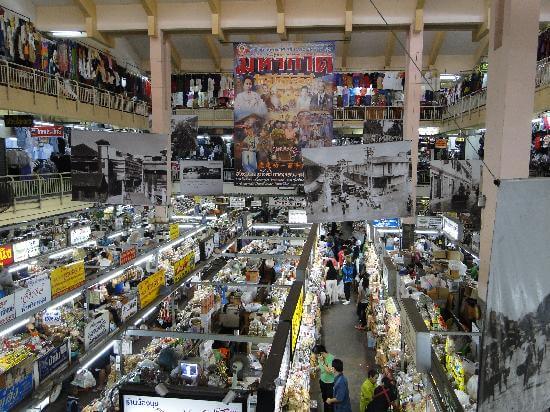 Shop where the locals do at Warorot Market in Chiang Mai. The market closes before the night bazaars open, so the early bird gets the priceless, handmade textile at this daytime destination. "The market doesn't close, so you could technically go and buy a rug, roast duck and 50kg of uncooked noodles at 3AM," Morales said. "A strange aspect I noticed was that the streets are so close together that the houses that lined the streets have no yards. Weirder still was the fact that it was perfectly acceptable to walk through a vendor's house to reach the next street over rather than walking to the end of the block, provided you show interest in what they had to sell." You can dip inside a shop for some Thai snack foods to send home to your Doritos-tired friends, or stroll outside to nicely charm the fruit sellers into a free sample. A warning: Don't eat fruit that cannot be peeled. You'll find almost anything you wanted or didn't know you wanted for low prices and the priceless experience of running errands with the locals. Remember that on your Thailand trip, you should always receive and give money with both hands.
14. Revel in the Art in Paradise Chiang Mai 3D Museum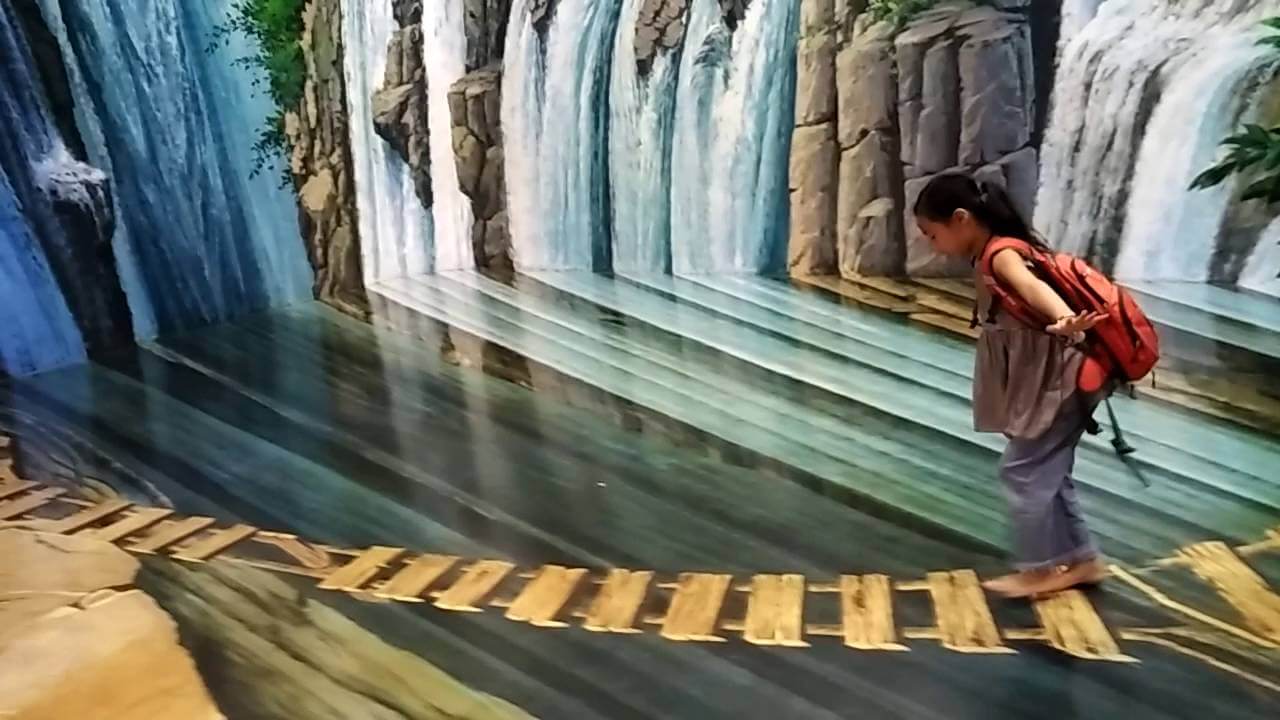 If physical adventures sound less than appealing on a downtime day, take a leisurely stroll through the ocean, Egypt, a zoo and the land of the dinosaurs all in one Thailand trip. No, really, we promise you won't even need to leave this museum to travel all across the physical world, the surreal world and anything else the artists came up with. You won't just look at this art; you'll take part in the crazy and beautiful scenes you see as you walk through. We won't promise your Instagram followers will believe you actually scaled the pyramids, but the dope picture you take of yourself acting it out in one of the 3D paintings will make them stop their scrolling to throw you a like.
15. Chat with a Monk at Wat Chedi Luang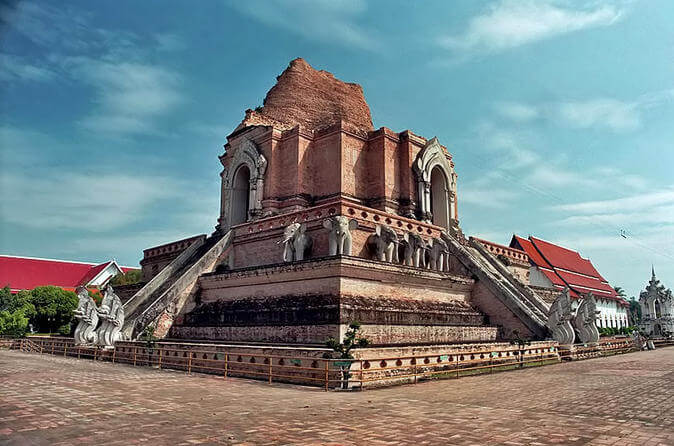 Instead of asking a Magic 8 Ball or your less-than-wise friends for advice, ask the Buddhist monks for a spiritual twist on your Thailand trip. Chats with the monks in Wat Chedi Luang take place from 9 a.m. to 6 p.m. every day. Don't feel like you need to have profound inquiries to impress the monk; these chats are unstructured and can span any range of topics. Make sure to do your research and be respectful of the deep history and religion that these monks represent. "regarding temples, one thing that's very important is being cautious of the way you dress. It is not okay to wear sleeveless or revealing clothes. Even shorts aren't okay," Peechapol said.
16. Go eco-friendly at Pun Pun Farms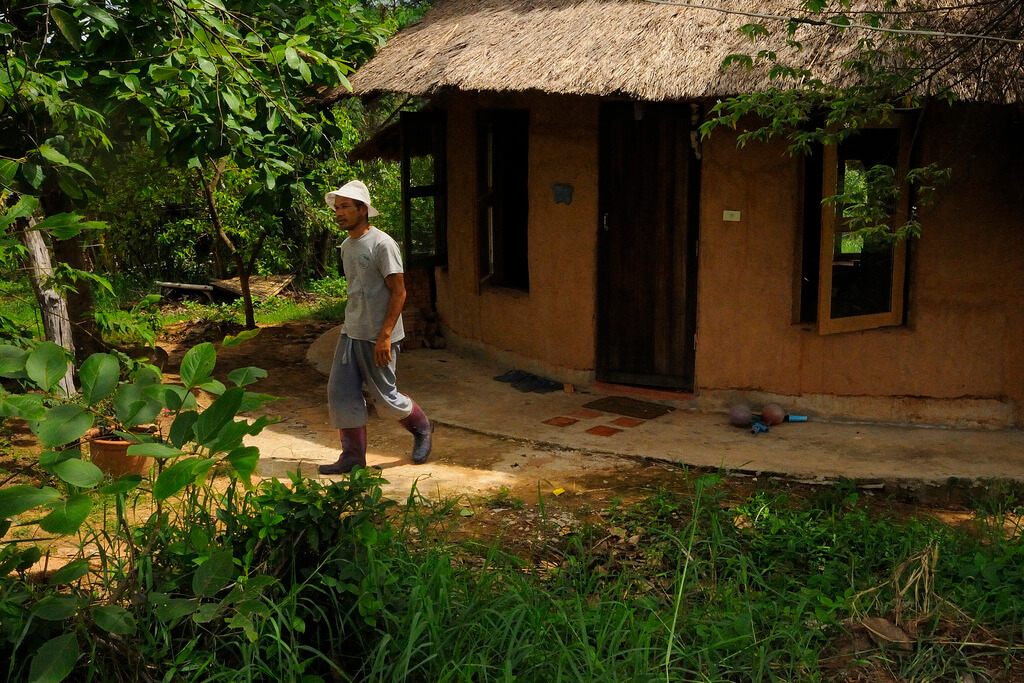 Put down your Coke and Doritos. Pick up a hoe and rake and get to work at Pun Pun Farms. The farm leads a community of workers dedicated to sustainable living and delicious food. Visit the farm during the day for a tour around the lush, green grounds. If satisfying your green thumb doesn't sound like vacation, satisfy your tum instead when you stop by one of the sustainably run Pun Pun restaurants for a delicious, eco-friendly bite to green up your Thailand trip.
17. Go underground at Cave Lodge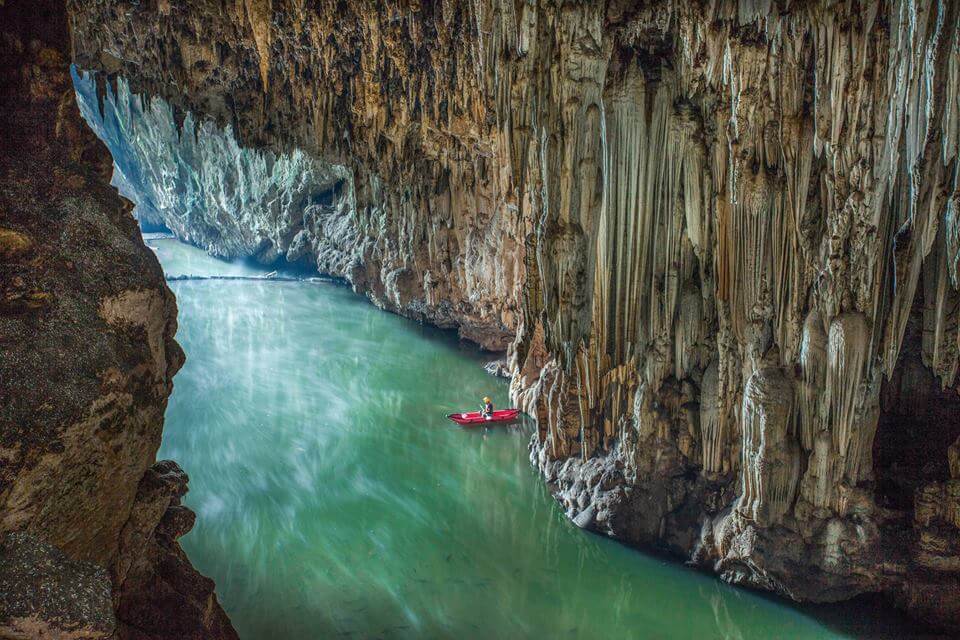 Quick cheat sheet: Stalactites hang from the ceiling and stalagmites come up from the ground. You'll need to know this if you want to trek through three kilometer long limestone caves in the heart of the rainforest in this Thailand trip with Cave Lodge. These caves reveal bubbling underwater streams and crystals 100 meters long to the lucky adventurous few that choose this expedition. "It's such a serene feeling to be in the cool cave when it's super hot and humid outside," Peechapol said. "There are usually narrow athways you can find and go through to enter another portion of the cave and sometimes there'll be openings to see the forest above." Cave Lodge teaches all of its participants to cave ethically, respecting the ancient cave itself and all its endangered critters. If little flying Draculas freak you out, no worries. You'll leave those guys to their underground naps.
18. Whitewater Raft with Active Thailand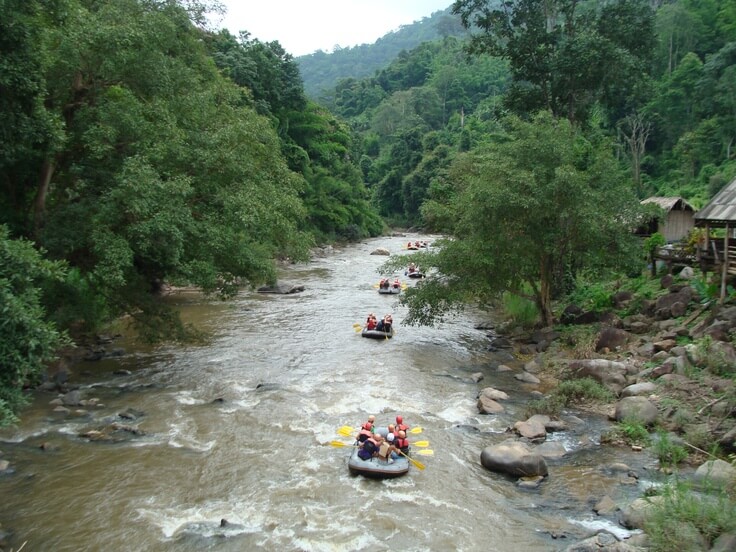 America's rapids take a backseat to the whitewater you'll experience on the Pai and Maetang Rivers during your Thailand trip. On the Pai River, you'll paddle peacefully past the village of Pai, before the 0-100 trransition takes you across miles of Class I to Class IV rapids and even over the Myanmar border. On the Maetang River, just an hour outside Chiang Mai, you'll experience the same range of rapids, but Active's Thailand's bankside campsite offers a jungle oasis to rest when you disembark. Wet and wild doesn't have to be confined to spring break. Strap on your life vests and hit the waves.
19. Paddle down the Damnoen Saduak Floating Market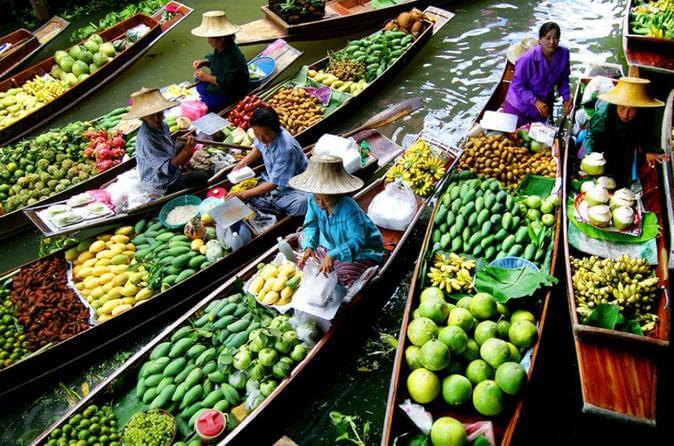 Who wore the floating market better: Venice or Bangkok? We can't decide. While the gondolas of Venice make lovebirds swoon, the bustling canal of the Domnoen Saduak market gets hearts racing for a good deal on any Thailand trip. Sit back in your riverboat, but don't relax. Keep your eyes peeled for purchases in this fast-paced water mall. "To find what you want, simply listen. Everyone is shouting what they are selling. To get their attention, yell what they are selling back at them," Morales said. "Both parties then proceed to navigate around other boats until the boats meet and the exchange is made. It really is a fun process and produce is usually very cheap, as it was probably harvested that morning." Some of the shops reside in other boats that float past or anchor on the sides of the canal, while other retailers set up shop on the narrow banks of the canal. You may even find a new kind of drive-thru; some boats make and sell "boat noodles." It's exactly what it sounds like: noodles you eat on a boat.
20. Get lit at the Full Moon Party on Pha Ngan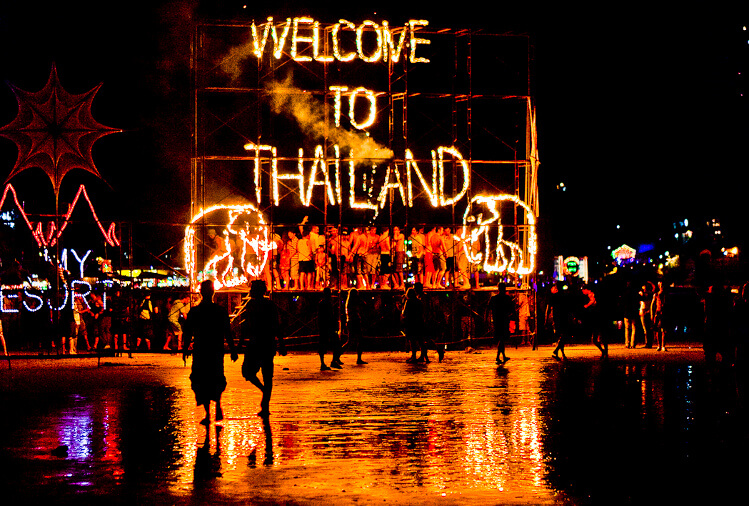 Everyone loves soaking up the sun on the crescent-shaped beach of Pha Ngan. Once a month, no one can wait for the sun to set. The full moon comes out and so do 30,000 partiers ready to turn up until the sun comes up again. Dance to reggae and EDM in the space of two songs. Watch men eat fire and watch fireworks go off in front of the full moon. Anything can happen at a full moon party, and the locals say you can't truly know what it's like until you go yourself. To earn the respect of repeat partiers, steer clear of the bungalows where people tap out early because you'll be staying up all night. Explore more Pha Ngan secrets beyond the famous full moon parties.
21. Climb Chiang Mai's Grand Canyon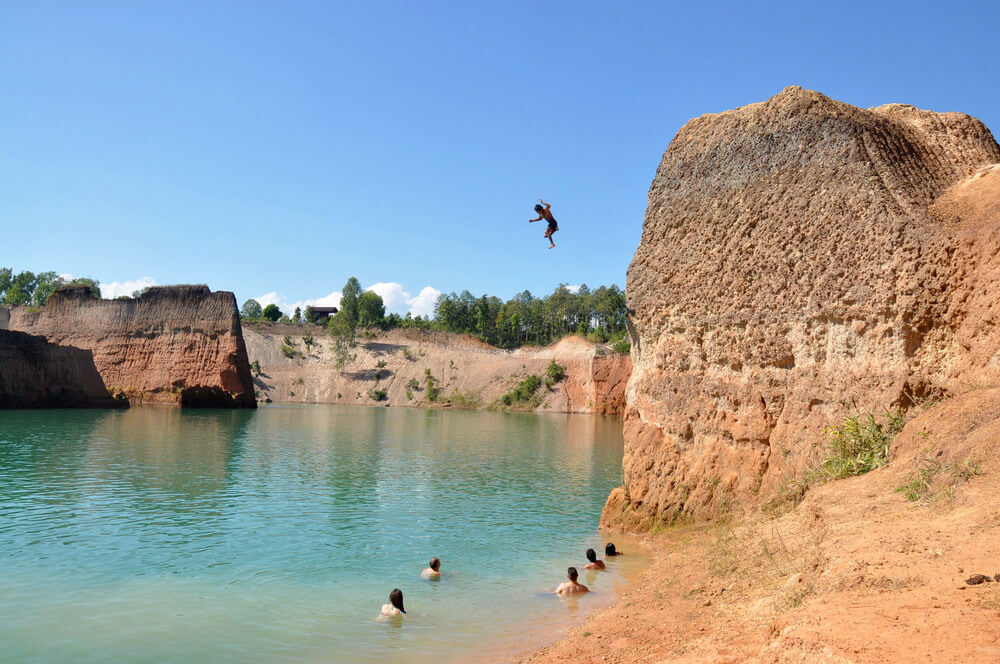 Get the same stomach-dropping thrills you'd get at an overpriced amusement park from Thailand's natural landscape. Chiang Mai's Grand Canyon features clear blue pools and natural cliffs to jump from for an affordable adventure in the palm of Mother Nature's hand. For a 50 baht admission price, you can climb and swim all you want, plus enjoy a free herbal drink at the on-site café. You can never see too many Grand Canyons in a lifetime, so sneak this one in during your Thailand trip.
Explore the most competitive student travel rates at StudentUniverse. Then complete your trip itinerary by downloading the Lonely Planet free mobile app. StudentUniverse and Lonely Planet combined is your new BFF when it comes to travel—they've got your back when it comes to student rates and insider travel experiences.
Thank you for participating. This giveaway has ended. Congratulations to Julie Drake from The University of Arizona on winning our Thailand Getaway!