Well, Seminoles, the day that you've dreamed of in hues of garnet and gold have come. You are garnet and gone off to FSU for your freshman year. You began counting down the days until you stepped into your adult life in Tally pretty much since the first day of senior year of high school, but your days at FSU make up the most hectic four years of your life, especially your freshman year. Nonetheless, hold on tight for this crazy ride, and keep reading to discover how to own your freshman year at FSU.
Check out this advice for FSU freshman to make your freshman year one to remember and not to regret.
1. Go to All Your Classes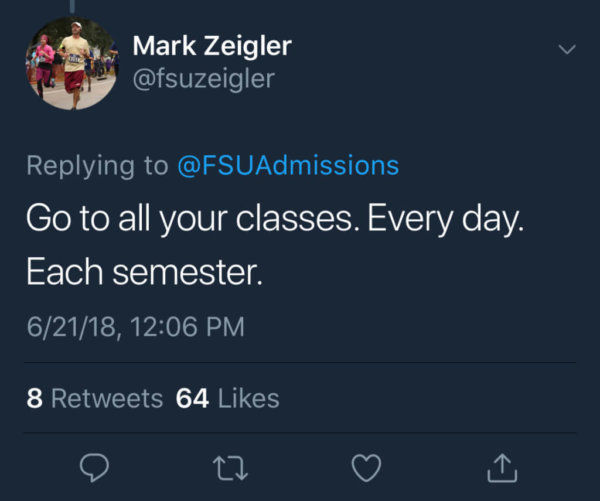 I know those four words sound so simple. I mean how hard can it be to go to class? Harder than you think. As an incoming freshman, you don't answer to anyone for the first time in your life. Nothing stops you from coming home late, napping for three days straight and binge-watching Netflix without a care in the world. A lot of freedom all at once can seem fun at first, but many of us fail to realize how much responsibility comes with that freedom. The first semester of your college career is one of the most important, if not the most important semester because you set the foundation for your GPA. So please, listen to your alarm and go to class.
2. Enjoy Movie Night at the SLC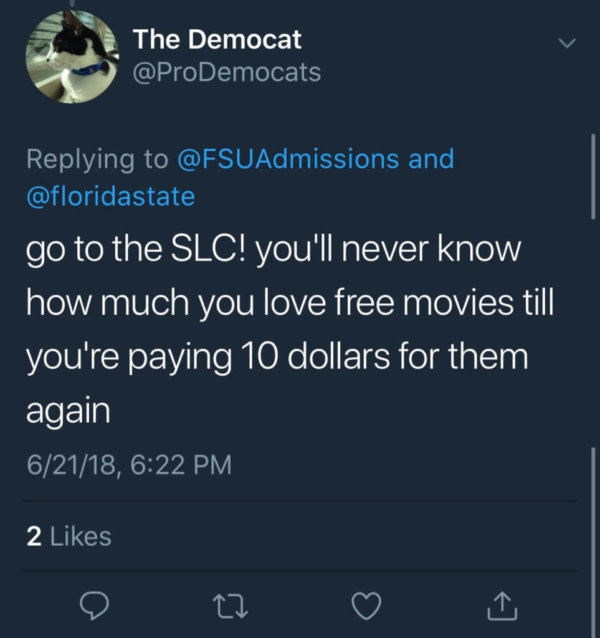 Did someone say free? Free movies? Come one, come all. Florida State University blesses us broke college kids with the Student Life Cinema. The Askew Student Life Center, the home to our official movie theater, allows FSU students to watch free movies with their FSU ID. A fully-stocked concession stand sits off to the side, providing you with all the popcorn, snacks and drinks you need. You'll never know how much you love free movies till you're paying 10 dollars for them again."I'm not a regular movie goer because I hate paying so much for the whole experience, being able to watch free movies at the SLC saves me from waiting for them to eventually go on Netflix. It has all the great aspects of going to the movie but it's free and the movie choices there never disappoint," said Florida State University junior Maria Alva.
 3. Turn Up at Club Stroz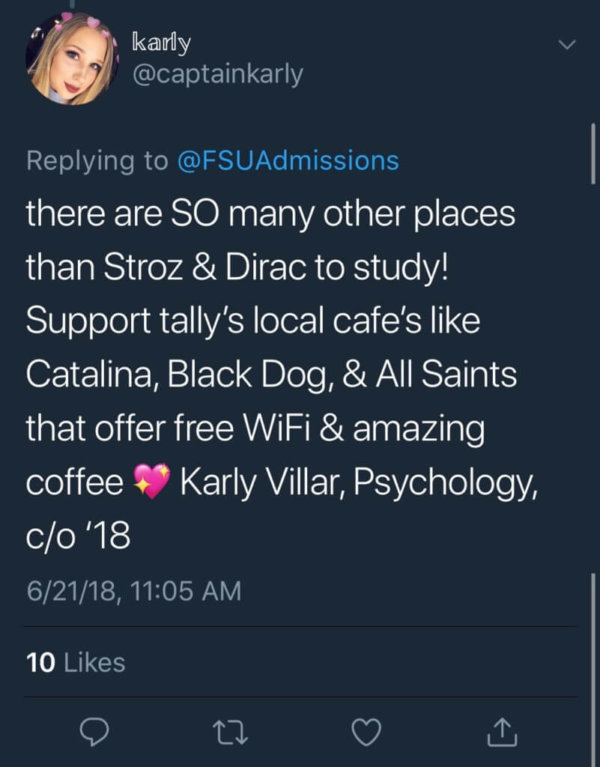 With a graduation rate of 80 percent, Florida State University students live at the library. I once spent the night studying at Club Strozier arriving at 11 p.m. and leaving at 8 a.m. I managed to survive and took a well-deserved four-hour nap. Open 24 hours during the fall and spring semester, Strozier acts as our main campus library while the Dirac Science Library remains open till 1 a.m. Note that the hours vary on the weekends. However, the Tallahassee community offers a plethora of cozy coffee shops for intense study sessions. My all-time favorite is Lucky Goat. Please try their Tally Bomb. The sweetest mixture of vanilla, cream and an espresso shot, this blend of heaven proves perfect for any coffee lovers who need their fix before enduring a 10-hour study session. In addition to Lucky Goat, order from other great cafes like Catalina, Black Dog and All Saints. All offer free Wi-Fi and amazing coffee.
4. Make the Career Center Your Home Away From Dorm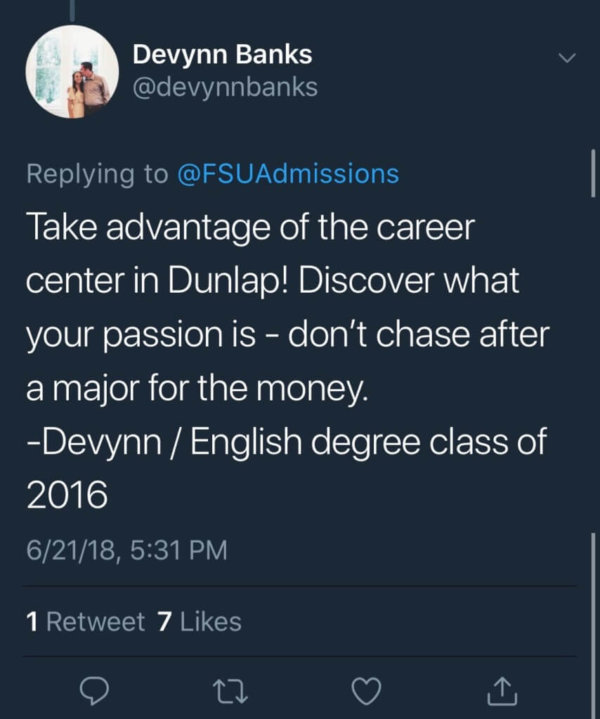 The Florida State University Dunlap Success Center, also known as the Career Center should be the first building you walk into your first week of freshman year. We became Seminoles to grow, thrive, succeed, graduate and eventually find the job of our dreams. The Career Center remains an incredible resource for finding the job of your dreams. The advisors of the Career Center work tremendously hard to find us internships, professional jobs, and part-time jobs. They assist with resume building and mock-interviews, and even offer shadow opportunities through their FSUshadow program. On the first day of freshman year, walk into the Career Center with a big cheek-to-cheek smile, introduce yourself to one of the advisors and tell them they will see a lot of you. It will benefit you in the long run to create a relationship with one of the friendly faces at The Career Center because one day they'll help you find your dream job. "I literally walked in my first year explaining how I need their help on getting a big media internship, and now a year later I am interning in NYC for Viceland," said Florida State University junior Kiswood Diogene.
 5. Reach Out to Someone at the University Counseling Center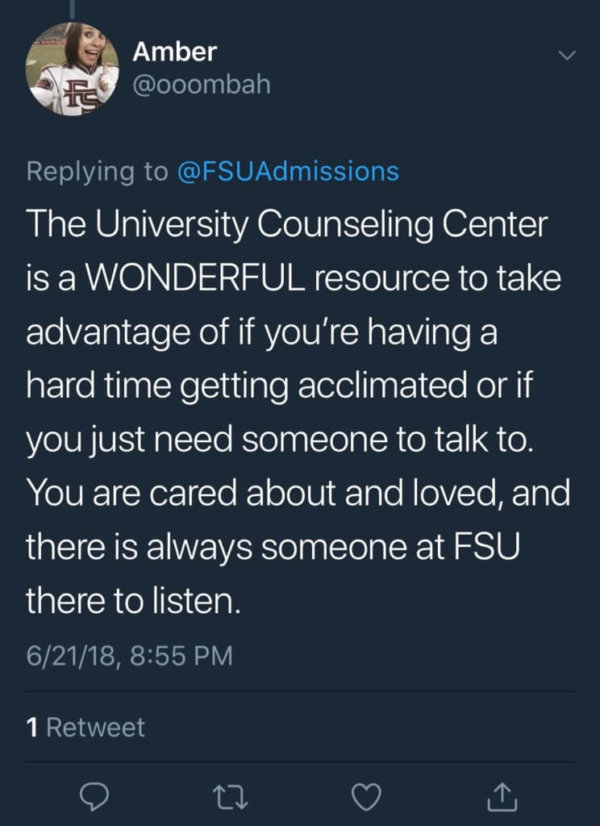 A new place with different people and more responsibilities, seems daunting I know.  Don't be afraid to admit you experience difficulty adjusting. FSU offers a University Counseling Center. You can walk in any times between 8 a.m. to 4 p.m. Monday through Friday. I know it seems nerve-wracking, talking to a complete stranger about your problems, but they are there to listen with open ears and warm hearts to help you in any way they can. After a year at FSU, I can honestly say if there's a single mean person on campus, we have yet to cross paths. Everyone is always willing to help so please don't be afraid to ask for it. "Mental health affects how well we are able to live our best lives, interact with others, and treat ourselves. Going to the University Counseling Center enables students to unlock healthier relationships with themselves and equips them with the tools to create and foster positive relationships with others," said Florida State University alum Shelby Murtaugh.
 6. Join the "Hate FSU Parking" Facebook Group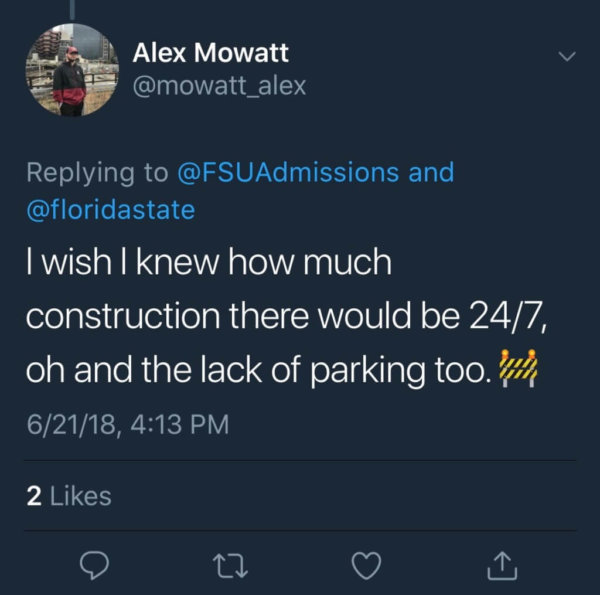 The rumors prove true ladies and gentlemen, more students than parking spaces exist at Florida State University. Strangers will offer you a ride to your car so that they can take your parking spot. If at any point in the day you find yourself in one of the parking garages, you will hear, "Are you leaving? Are you leaving? Are you leaving?" about 20 times. My advice to incoming freshman living on campus, if you leave campus be back by at least 5 pm to find a parking spot close to your dorm. For the freshman living off campus, arrive two hours earlier than your class starts, this gives you enough time to find a parking spot and arrive on time for class. On game day, do not move your car. Students can only park in two parking garages so if you live on campus, do not risk moving your car because FSU Transportation Services will give you a ticket without hesitation if you park in an illegal spot. For freshman living off campus, please walk to game day and save yourself the trouble. Parking tickets cost  $30.00—relatively low fee, but one we all know we can't afford if we want groceries for the next week. P.S. The "Hate FSU Parking" isn't a real thing but if someone doesn't start one soon, I will.
7. Find An Organization That Matches Your Passion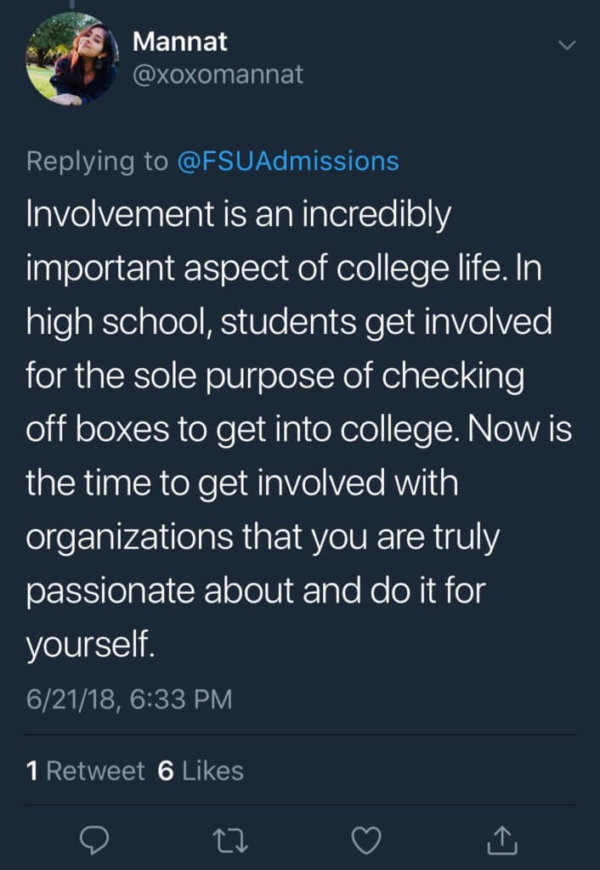 Florida State University offers over 700 organizations on campus. The 700 Organizations include the Film Club, Advocates for Immigrant and Refugee Rights, Habit for Humanity, Buddhist Student Association, Black Student Union, Dance Marathon and many more. Sometimes we can feel so small in such a huge university, but I encourage you to visit nolecentral.dsa.fsu.edu to discover all our organizations and clubs on campus to find your home away from home at FSU. "I recommend first discovering your passion and then searching for an organization that matches it. For me, I was passionate about politics, so I joined Student Government. It would not have worked the other way around, you know?" said Florida State University junior Caleb Dawkins.
 8. Know Your Limits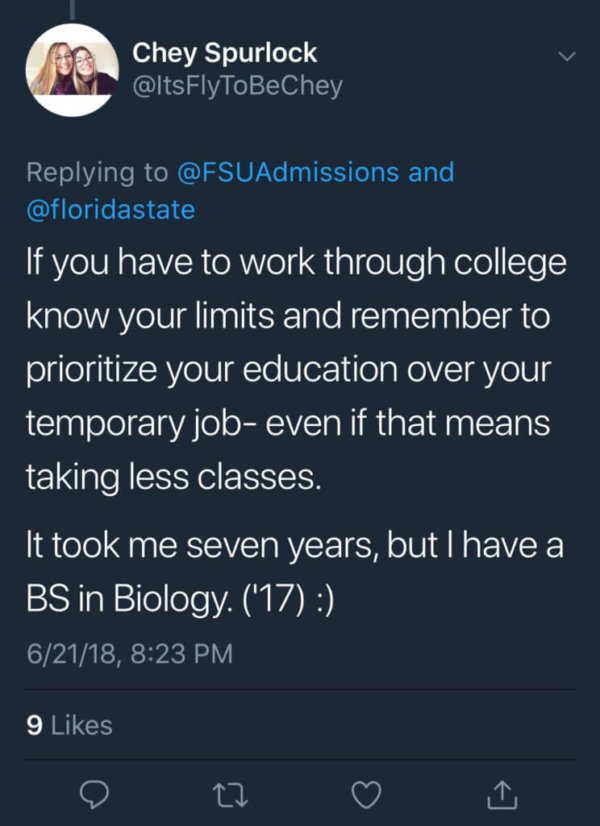 You may associate freshman year with the year to officially begin adulting.  As much as you wish they could, mom and dad can't support you like they did when you lived under their roof. Because of this, most college students work during their college career. It feels great to have money in the bank but remember the primary purpose for being at FSU: that diploma. Also, remember that everyone dances to the beat of a different drum. It took Chey seven years to complete her bachelor's degree but she still did it and congrats to her. In life, things never really go the way we planned them, and sometimes for good reason.
9. Make Your Dorm Neighbors Your Forever Friends or Try To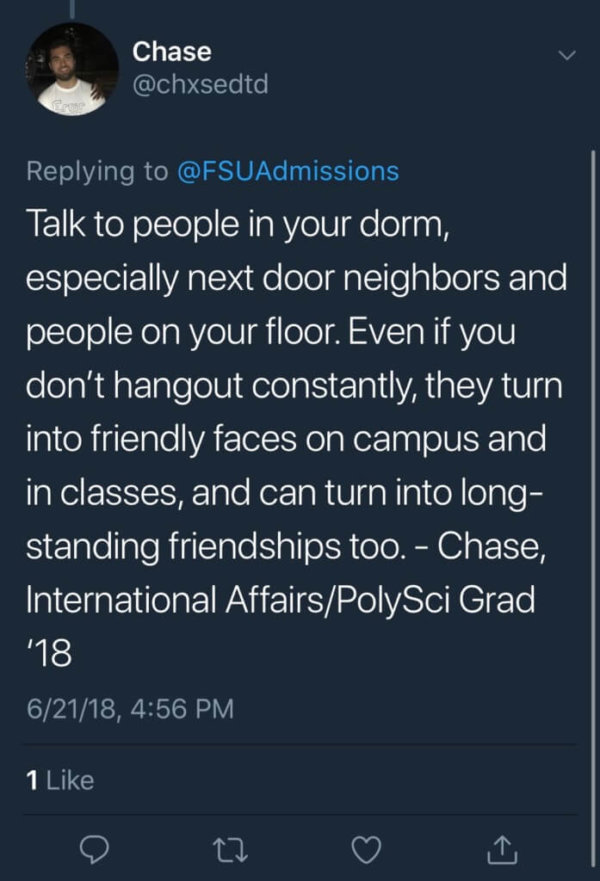 Living in the dorms persists as an experience all incoming freshman should go through, for least one semester. I mean what other time will you share four walls and a bathroom with a stranger? Sometimes the roommate situation works out, and you remain friends even after you move out. Other times, you never talk to that person again, but I do believe it stands an experience worth going through. I lived on campus my freshman year, and in the middle of the spring semester, I got a puppy so a lot of the people on my floor would knock on my door to play with my dog and I met a lot of friends that way. "Whether it be having the sweetest RA, knocking beats through the walls with the coolest neighbors, staying up for hours with my suitemates or becoming best friends with my random roommate, I'll never forget you Magnolia 4611," said Florida State University sophomore Kelsi Mckenzie.
10. Enjoy Your Time as a Nole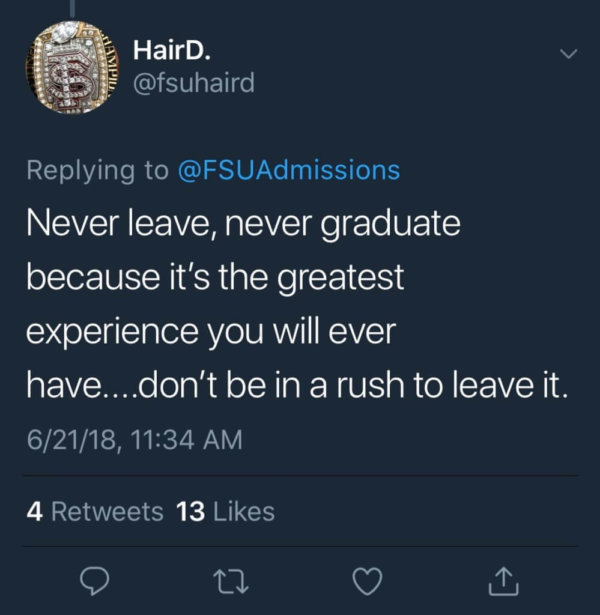 I will end with one last tweet, don't be in a rush to leave it. Of course, graduate, but also live your best life during your time at the beautiful Florida State University. Make memories. Learn from your mistakes. Change your major. Accept that it is okay to fail and get back up again. Lay out on Landis Green. Become an orientation leader. Go out to the Rez. Throw your friend in West Scott Fountain on their birthday. Enjoy a cardio day at the Leach. Grab some mozzarella sticks at the Den after a long night of bad decisions at Baja's. Scream the war chant at the top of your lungs when we play the University of Florida. Live unconquered. We will remain Seminoles forever, but we will never relive our freshman year so with all that said, go Noles.