It's finally January, and that means winter is coming. *Cue Game of Thrones Stark meme* Even though the current forecast might beg to differ, the freezing temperatures are going to set in soon and with that winter jackets will make their comeback. Unless you go to school in a place with eternal summer, winter coats are an essential part of every college girl's wardrobe. These 10 jackets proved themselves worthy of a place in yours.
Brand: Columbia
Price: $230
Super warm, highly rated and currently $60 cheaper than usual, this Columbia jacket will protect you in the frigid wind tunnel on your way to class, but won't make your style suffer. It's puffy and a little bulky, but fits well and comes in seven different colors so you can find something that fits with your color palette. And the faux fur around the hood adds a nice touch if you're looking for a cute new wintry prof pic.
Brand: The North Face
A fan favorite among winter enthusiasts, The North Face earns its title rightfully. This North Face jacket comes in over 10 different colors–mostly bright and popping–which contrasts nicely with the muted winter landscape. But if you'd rather blend in, this jacket also comes in several shades of gray (no, not 50). It maintains its puffy aesthetic while remaining fitted and lightweight yet still keeps you warm with goose down insulation and Heatseeker™ warming.
Brand: Patagonia
It seems like everyone's wearing Patagonia these days and this jacket should definitely also be making an appearance. The Women's Nano Puff comes in a selection of 15 bright and muted colors, so you can easily find a favorite. This one has no hood or fur, which will give you a sleek yet stylish look for the winter. Don't worry, you'll still be warm with PrimaLoft® insulation and dry with the water resistance.
Brand: The North Face
Another North Face favorite, the Women's Bombay Jacket is great for those who want to spend a lot of time hitting the slopes this winter and want others to know it. Or maybe if you just want to look like you're a skier. Either way, this jacket has a distinctly sporty look and comes in a selection of bright colors. It's also incredibly cheap for a winter jacket, so your bank account will love you for that.
Brand: Columbia
Bless Columbia, because this coat is also on sale and you'll want to snatch it up while you can. This jacket follows the longer coat trend, reaching mid- to upper thigh on most people (or try measuring 34" inches on yourself to see). It's puffy, but just puffy enough to stay cute without looking like that kid from "A Christmas Story," and has a furless hood if you want something a bit subtler. It comes in several muted colors and is surprisingly lightweight without sacrificing function. This jacket will do the trick if you're looking for something less overtly wintry.
Brand: Marmot
Another sleek, fitted, hoodless coat, this Marmot jacket is stylish and warm. There are six fantastic colors, from midnight purple to berry wine and, of course, classic black. Somehow this jacket manages to keep you warm while still staying snug and lightweight. Though it's new, Marmot coats are usually very highly rated so you know you can trust it. And thinking about its low price will give you an extra kick of warmth on cold days.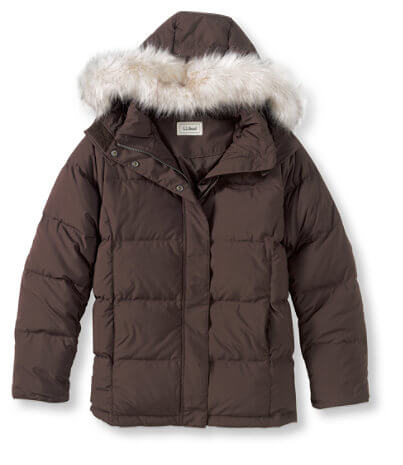 Brand: L.L. Bean
Price: $179.00
Like the name suggests, this jacket by L.L. Bean will keep you ultra warm (cue drum and cymbals) when hurrying to your 9 a.m. this winter. The jacket's filled with goose down–which is usually super expensive–but L.L. Bean gives it to you for less than $150. Only muted colors are available, but it's puffy with a faux fur-lined hood, and those look better in colors that don't pop too much anyway. Plus everyone loves it, with most of the reviewers giving it a perfect five stars.
Brand: The North Face
Are you really a college girl if you don't at least consider a North Face jacket? It's doubtful. The North Face scores yet again with another fantastic jacket for winter, though this one is a bit pricier than the others. But everything else makes up for the steep price, because the ratings are almost perfect, it's sure to keep you warm and dry (due to the water repellant fabric) and it comes in nine great colors.
Brand: Under Armour
Price: $199.00
Under Armour clothes are on the pricier side but always well worth it, and this jacket even falls below the $200 mark (which is still a great deal for any winter coat). This jacket also goes for the sleek look, with shiny and less-than-puffy material. UA also uses PrimaLoft® insulation, so it'll look good but you won't freeze. True to Under Armour's athletic vibe, you can even go running in this jacket because there's a cute front pocket to put your iPod… if you can brave the cold temps. But in this jacket, you probably can.
10. PrimaLoft® Packaway Jacket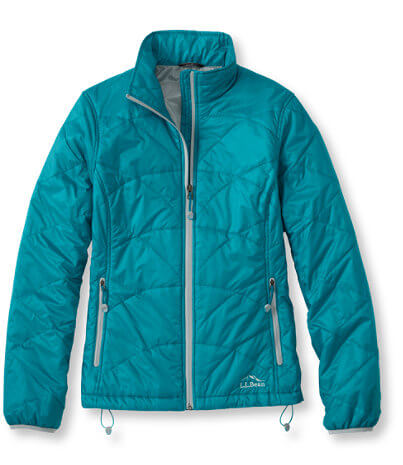 Brand: L.L. Bean
Price: $159
The sporty look seems to be topping the style charts this year, because this jacket also boasts a brightly colored, athletic vibe. It's available in eight eye-catching colors and has a sporty-stylish fitted cut with the classic shiny material. (Pro tip: If you order either the bold orchid or the ruby coral, you can get this coat on sale for only $89). But whichever color you choose, it's going to keep you warm just the same with the PrimaLoft® insulation.
Cover your women's jacket bases with these 10 essentials for a jacket that will keep you warm this winter.
Written by Rebeca Arens
Winter is here. (Okay, it's been here for a while but why pass up an opportunity to quote Game of Thrones?) That means hot chocolate, snow days, peppermint schnapps— and confronting ridiculously cold weather every time you step outside the door to go to class. If you're one of the lucky ones who live all the way down south, you don't know the pain that drives us to break out our cutest winter jackets. Don't freeze for fashion; you can still find a styling coat that keeps you warm.
1. Pockets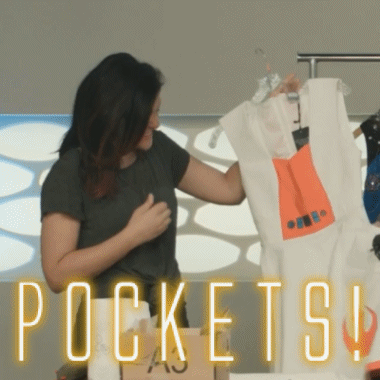 Any girl who's tried to stick her hands in pockets only to find them sewn shut or just nonexistent knows the struggle. Pockets matter so much, whether the temperature reaches 8 or 80 degrees. "Deep pockets are important to keep my hands warm," said William & Mary sophomore Cat Green. During the winter, you not only need enough space to jam in your phone, loose change and any small pens or cereal bars you'll need in the near future, but also both your hands. "The number of pockets can vary, but at a minimum I would argue for three: the standard two in the front and a third one on the inside of the jacket which can hold gloves/hats/keys/phones/whatever you may need," said Ohio University senior Michael Frank. Do yourself a favor this winter and make sure your pockets are deep enough to smuggle out at least three apples from the dining hall. Your fingers will truly appreciate it.
2. Hoods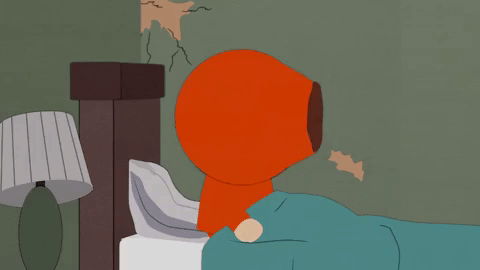 Did you know that your head is one of your body parts most sensitive to heat changes? If you want to stay cozy during the winter, you'll definitely want to make sure it stays covered. You'll want a hood covering your entire head, especially one that has some kind of buttons or drawstrings that can keep it snug to your head. "People look for style, material, and color, because you want your coat to match your clothing. I have one with a detachable hood. If I don't want it, I can take it off. But it's good to have just in case," said Kohl's salesperson Dean Parker. After all, you don't want it fall off when a particularly strong gust of wind hits you when you've barely made it out the door. And get one with some cute faux fur on the edge—it'll keep your forehead warm and look stylish AF.
3. Insulation
https://m.youtube.com/watch?v=6ID3bHkL_Wo
If your jacket is so thick you look like the Stay-Puft Marshmallow Man but you still feel cold, it probably doesn't insulate heat that well. To make the cold bearable, jackets use insulation, a filling between the outer fabric and inner fabric of your coat, to trap your body heat inside the jacket and keep you toasty. While down fills up the majority of winter coats, you can also find a good range of synthetic down or fleece that will keep you just as warm without using animal products. Once you've found that perfect jacket to look cute all winter, check out the loft (basically a fancy way of saying thickness); you'll definitely want a high one. "It should have a good amount of fluff in it, but it should be sleek," said Parker.
4. Weatherproof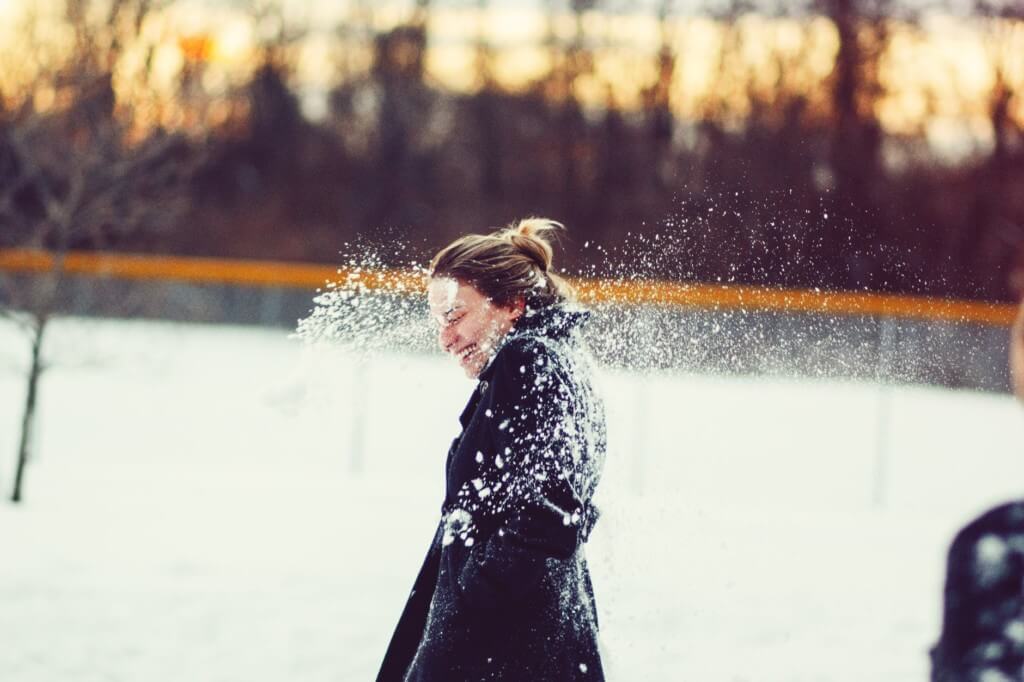 We all loved snow days as a kid: having snowball fights, sledding down neighborhood hills and wrestling with our siblings and friends until we tracked in more snow than the dog did. Snow is just frozen water after all, and as soon as you get inside, suddenly you realize just how soaked you've gotten. When it comes to braving winter storms, make sure you're protected by a jacket with a weatherproof outer shell."A great winter coat would be one of medium thickness – perfect for layering with sweaters – and one with top-notch windproofing. Nothing sucks more than getting outside in a coat and still feeling the cold beneath your jacket," said Frank. The best way to do so? Layer. Even something as simple as a thin, loose weatherproof jacket you can slip over your favorite winter coat will help you keep out the sleet and snow of sweater weather.
5. Mobility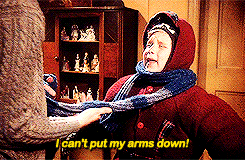 With how cold it can get when trudging back from the library near midnight, you might want to bundle up so thick you look like Randy from A Christmas Story. Winter jackets look pretty bulky no matter what style you pick but that doesn't mean that you shouldn't be able to move in them. Avoid really thick, stiff jackets because you'll barely be able to move your arms in them, let alone carry your bags or wave to your friends. Test out your jacket in the dressing room before you buy it. Raise your arms, sit down and pull your favorite dance moves, even if you're too embarrassed to do them in public.
6. Headphone Channels
Who wants to stick ice cold plastic into their ears? Trick question. Don't try to untangle your earphone cords when the temperature has dipped below freezing and you've got enormous gloves on. One of the most useful aspects (aside from keeping warm) of a quality jacket includes little pieces like headphone channels that can really make a huge difference during your walk to class. Stuff a spare pair of headphones into the channel and keep your energy up even though you've definitely cancelled your morning run.
7. Length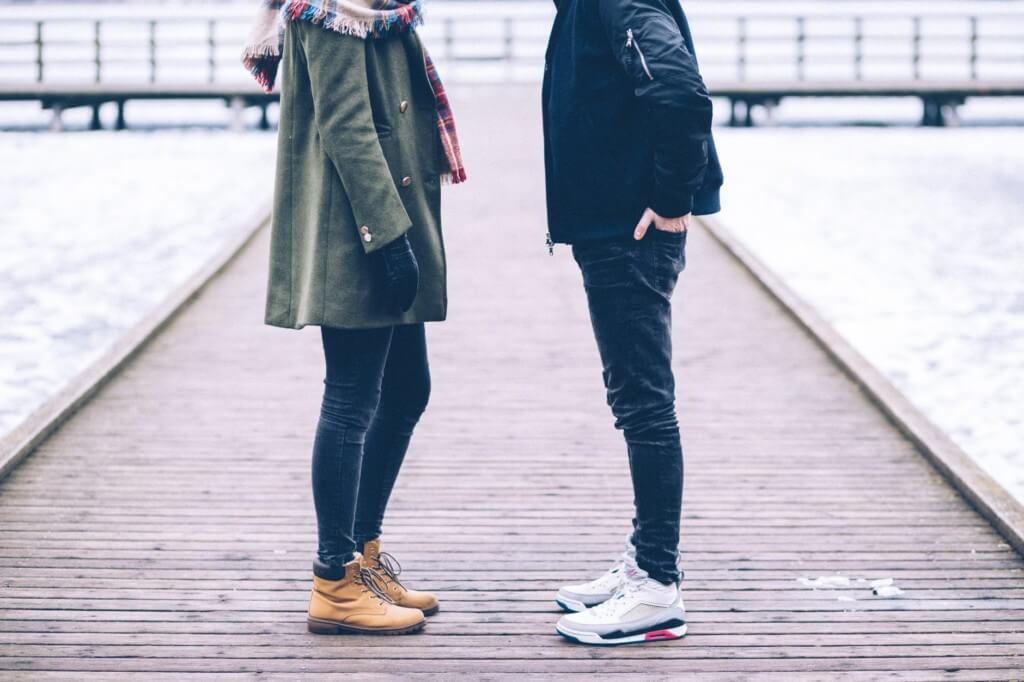 Crop tops might be all the rage but you don't want to apply that fashion trend to your winter jacket. There's nothing worse than feeling the cold bite of winter winds precisely in that one strip between the hem of your jacket and the waist of your jeans. "I like jackets that hit slightly lower than my waist. I'm petite, so I can't have jackets too long," said William & Mary senior Mikaela Neville. Make sure you hit the mark between a what looks like doll's clothing and basically ending up in a very large, very thick dress, hampering that record-breaking sprint from your classroom to dorm when the snow really starts coming down.
8. Wide Cuff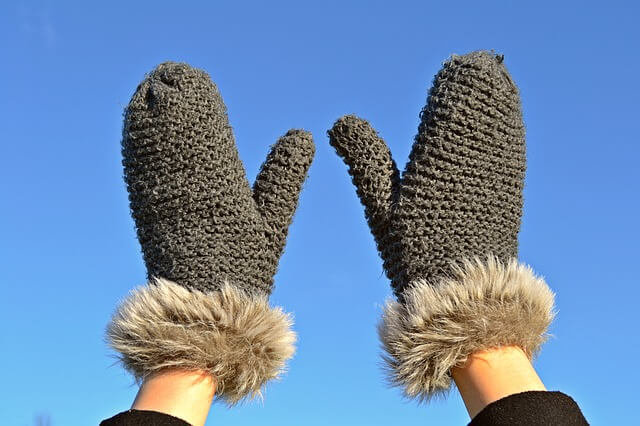 When you're on your way to your 8 a.m. and you desperately need your thermos of coffee, you don't want to sacrifice a hand just to stay caffeinated. You need a good pair of gloves to get to class warm and functional but nothing feels worse than that tight pinch around your wrists when the cuff of your jacket fits just a little too tight. You don't want your cuff to fit so tightly around your wrist that you can't shove a gloved hand through it, yet also not so loose that snow can blow right in. My advice? Wrap a thin shirt around your fist a couple of times as you slip on the winter jacket you've dreaming of, just to be sure.
9. Battery Heating
Why save the high-tech stuff for your phone? If you want to stay effortlessly warm while wearing something barely thicker than a windbreaker, welcome to the future. We have battery-heated jackets. Charge your jacket's battery next to your phone each night and wake up to up to 10 continuous hours of delicious warmth all over your upper body. So even if your class sits on the other side of campus, you can take your time without fear of freezing on the spot.
10. Collar Height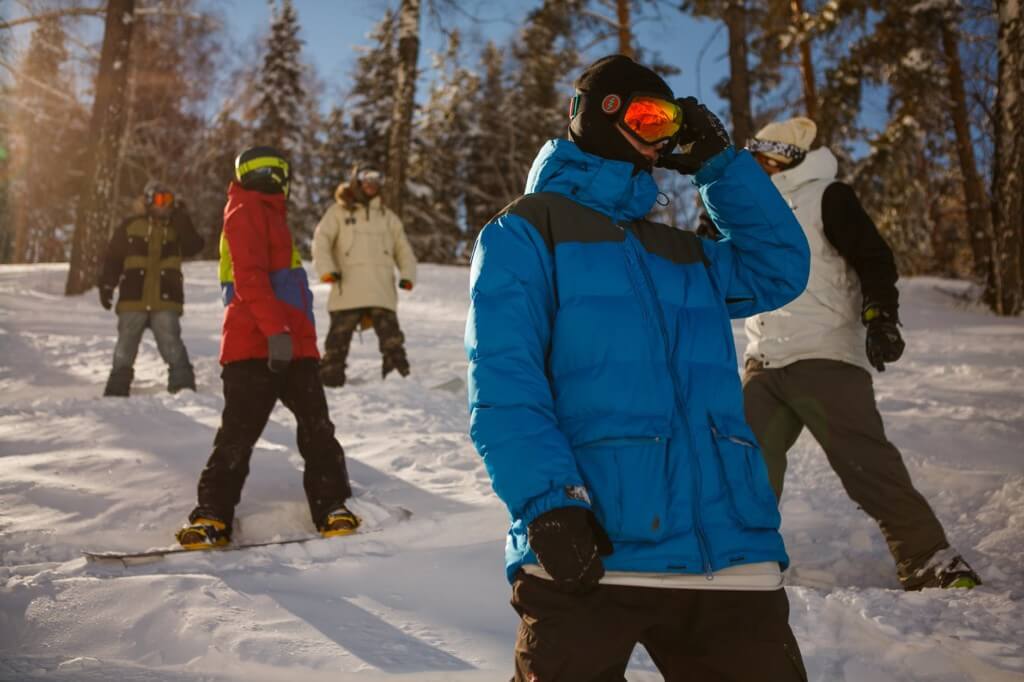 Winter might seem like the perfect time to break out all your cute scarves but when you have to brave a snowstorm to class, the last thing you want is to head back home in a scarf wet with melted snow. Plus, they never stay up as high as you need them to. "It definitely needs a high collar for the wind," said Green. Protect your poor chapped lips without suffocating by grabbing a winter jacket that has a high, zip-up collar that fits snug around the lower half of your face. The outside has the same protective shell as the rest of your jacket, keeping the softer inside fabric just as dry as the rest of your body.
Check out 5 more women's jackets.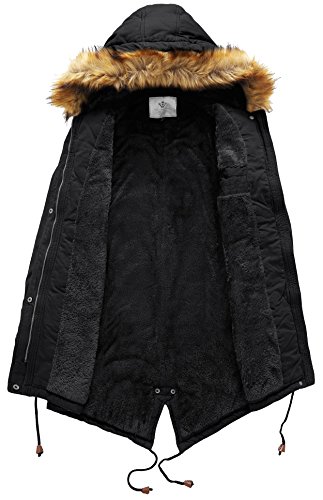 Price: $58.99-65.99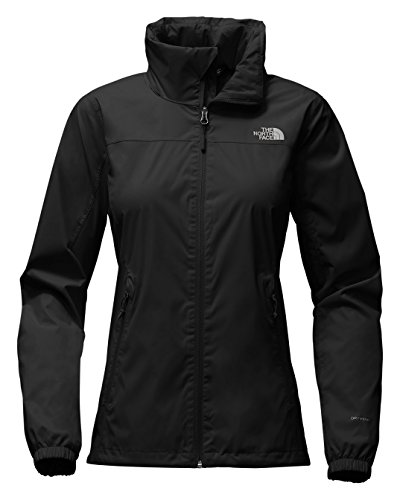 Price: $99.00
Price: $202.50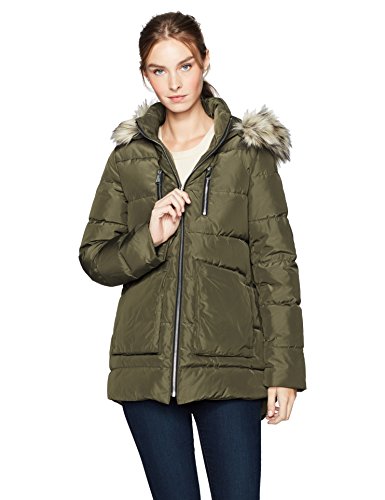 Price: $85.00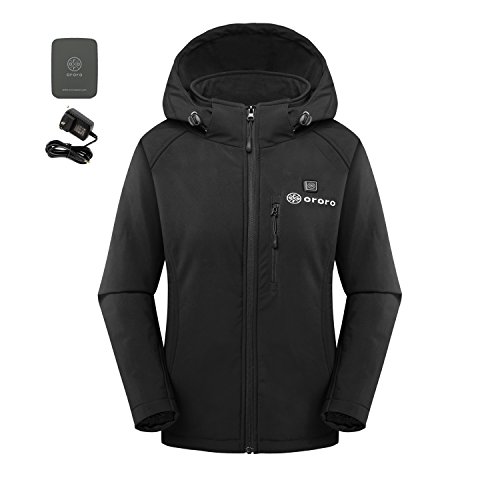 Price: $159.99
**Updated on February 7, 2018 to include 10 women's jackets essentials and 5 more women's jackets by Rebeca Arens.