Still not sure if anything beats the scariness of 2020? At least know that you won't need to shrink in fear each time you open your wallet this spooky season. You successfully convinced your significant other to try at least one of the trending quarantine crafts with you, so why not tap into some of that creativity for Halloween?
Read on for 10 ways you and your boo can haunt your six-feet-apart Halloween bash while on a budget.
1. Denim Britney and Justin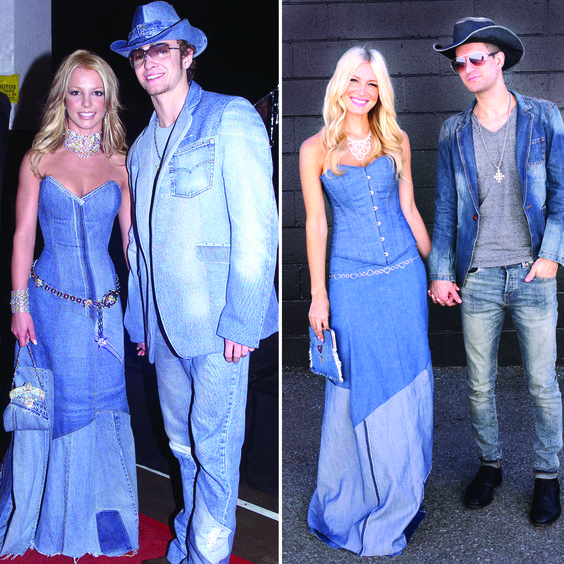 Who can forget the most iconic moment of the early 2000s? Nothing screams better times like the cultural reset of Britney and Justin's jean ensemble. "We wanted to travel back to our decade with this costume, especially because Britney and Justin were dating around the time we were born. Kind of full circle," Stevens Institute of Technology Gerard Cardinale said. And now, after ten months' worth of bad quarantine eating habits, you may find some old jeans in your closet that no longer serve their intended 2020 purpose. Grab your partner and cut up your favorite denim pieces into bracelets, neck scarves and even Britney's fashion statement of a tiny, bedazzled jean purse. You know it's love once you convince your Justin to use cooked spaghetti in place of the singer's curly frosted tips.
2. Corona and Lime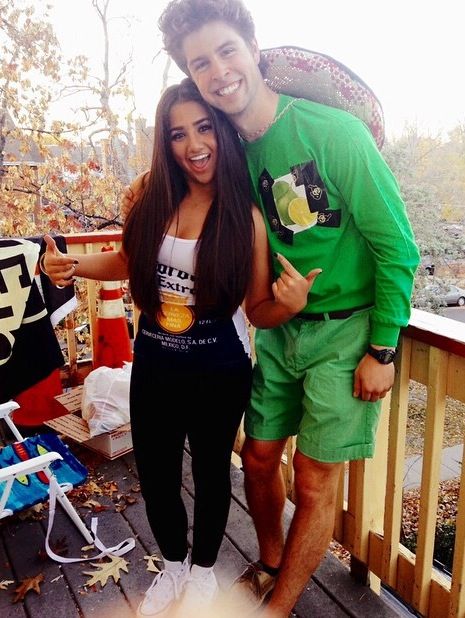 Now here's a Corona you can get behind. Ever heard of a better pair than a Corona and lime? Yup, me neither. Why not show some love for this tried and true combo with your true love? "One person dresses as a Corona drink, with a yellow shirt and Sharpie to look like the logo, and then the other person wears green to be the lime!" said recent SUNY New Paltz graduate Alex Kenney. Obviously, to be really convincing, you might as well entertain one or more glasses of your matching drink throughout the night. You know, for appearance purposes.
3. Kanye West Boxes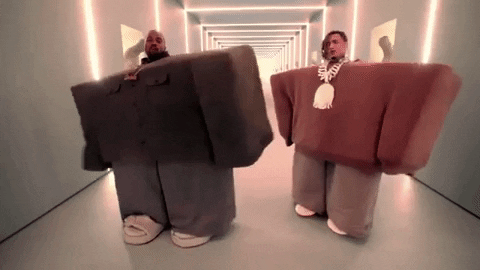 That VMA/Taylor Swift version of Kanye West is so 2009. Modernize your love for the rapper with a slight twist —or should I say a more four-sided structure?–in your couple's costume. "We had a Kanye/western mixer, and it was either Kayne or cowboy costumes. The 'I Love It' video was trending, and I figured going all out was a good idea," said Stevens Institute of Technology senior Karen Garcia."My roommate got a medium size box, cut up a circle on the bottom and on two sides she cut the edge to make armholes. We fit an XL black shirt on top to make the sleeves rectangular. With an added chain, it was the perfect Kanye costume!" Remnants of your online shopping purchases always come in handy one way or another, so put those empty boxes to good use and get Kanye-weird together this Halloween.
4. Feeling Lucky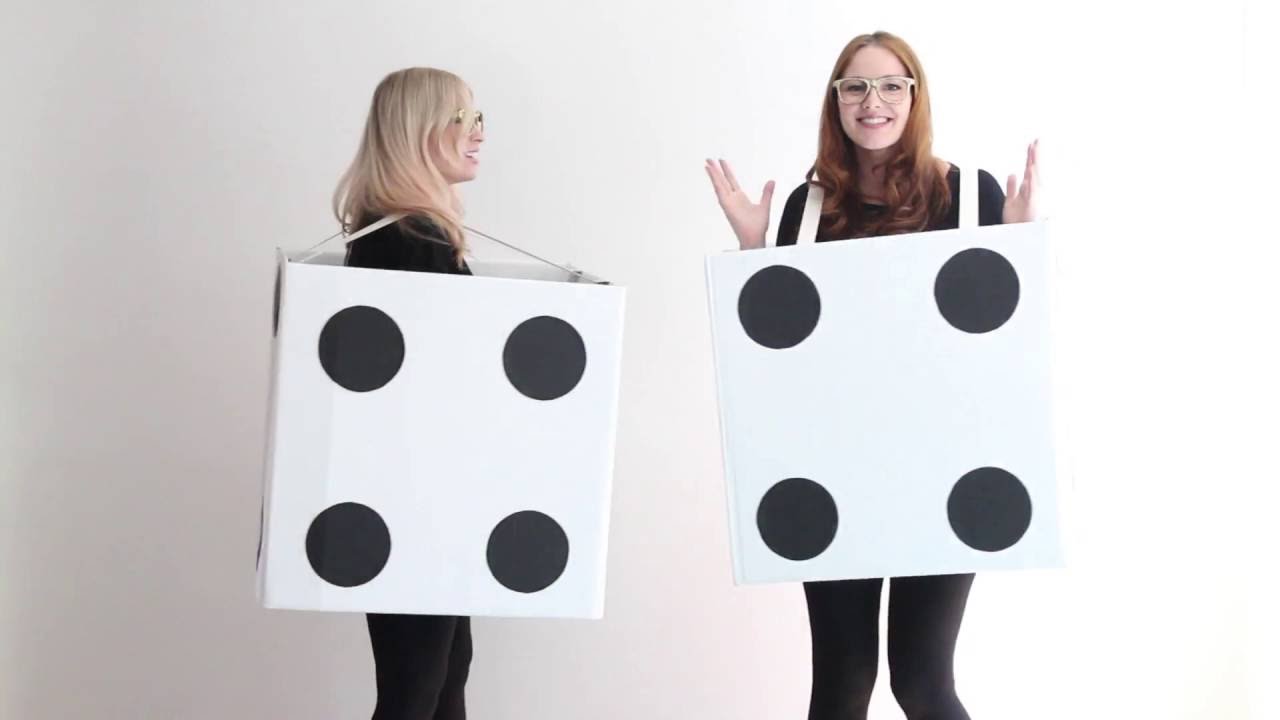 After this past year, we could all use some luck. And this time, you and your lucky partner are attached at the hip—what could go wrong? DIY old cardboard boxes into a pair of giant dice by cutting out neck, arms and leg holes, and watch your fortune multiply. Don't forget to add circles for counting and assemble a long string out of fairy lights or rope to keep your partner at your side. For comfort purposes and a touch of laziness, fluffy dice costumes— made by taping two pillows across your front and back— also do the trick.
5. Day of the Dead Duo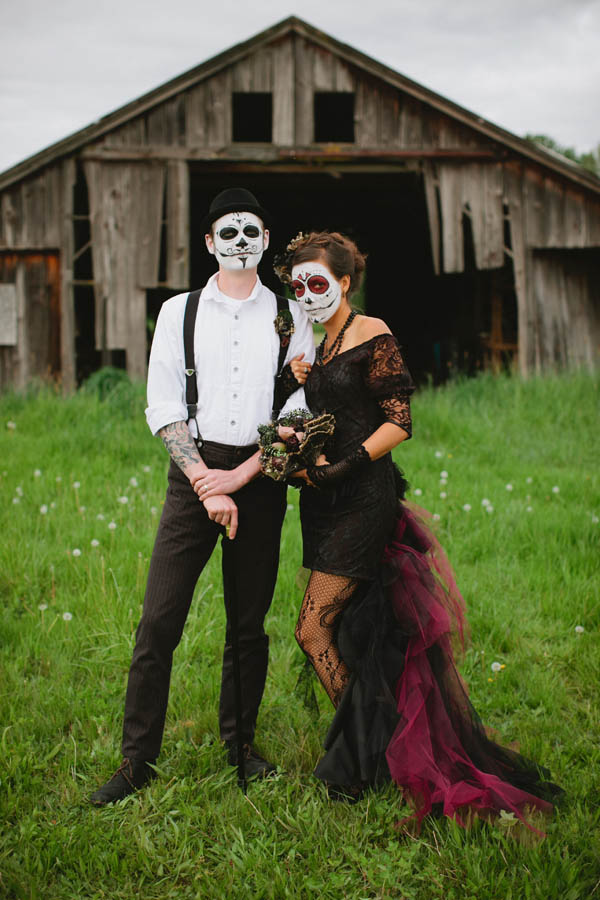 Day of the Dead costumes prove both a universal and cultural favorite for fans of the spooky season. All you need to transform into each other's skeletal sweethearts? Any black, white or red pieces of fabric or old costumes, and whatever colored makeup you get your hands on. "My favorite costume my boyfriend and I have done together is our Day of the Dead costume," St. John's University junior Brianna DeSimone said. "It was by far the best costume since we pulled different pieces from old, different costumes to put it together. I also had to do both of our makeup looks to make us into skeletons! It was really fun to research Day of the Dead ideas and to actually do the makeup on each other." Even if you canceled on this year's Halloween festivities, rock your Day of the Dead outfit as you cuddle with your significant other and cry over Coco(three years later and still sobbing over "Remember Me").
6. Scooby-Doo Gang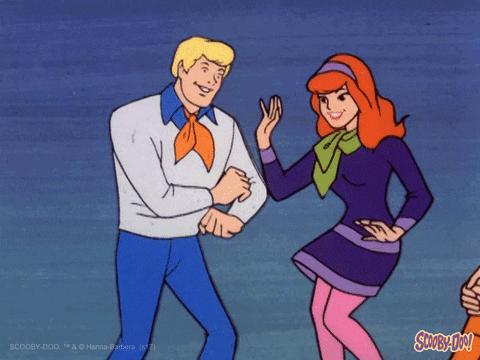 Did 2020 make anyone else feel like exclaiming a combination of "Zoinks," "Jeepers" and "Jinkies" every five seconds? If only the meddling Scooby-Doo gang came to rescue us from this past year. While you count on that line of wishful thinking, channel your favorite sleuthing group into a groovy Halloween couple's costume on a budget. Iconic as ever, recreate key Fred and Daphne look by using old school ties as ascots and toilet paper for white go-go boots. If wigs prove a little too pricey, embrace the amazing TikTok trend of fashioning a red or orange t-shirt on your head to match Daphne's classic hairstyle. Scooby and Shaggy more your style? Ruffle out your hair and hunt down your 10-year-old, attic-bound Puka shell necklace for Shaggy. Your partner (Scooby) will most likely need bribery in the form of a box of Scooby snacks. Who wouldn't dress up as Mystery Incorporated for a Scooby snack?
7. Burt Macklin, FBI and Janet Snakehole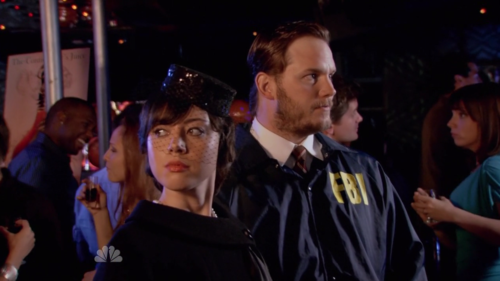 Couple up this year as a framed FBI agent and a very rich widow with a dark secret: everyone's favorite Halloween duo. Without breaking your wallet, stock up on a black dress, fake pearls, an old-fashioned fascinator and a fancy cigarette holder from places like Spirit Halloween, Party City or even Amazon. Oh, and April Ludgate's signature frown? Free of charge. If your Burt Macklin manages to muster up Chris Pratt's goofy energy, grab a pair of Aviator sunglasses, stick a Post-it note on his windbreaker with "FBI" written on it and head to the Snakehole Lounge. With a couple's costume this DIY-friendly, you and your partner in crime can find plenty of extra money in your budget for an assortment of Snake-juice inspired cocktails.
8. A Pokémon Pair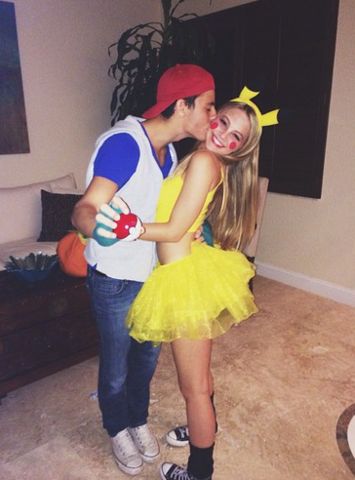 Instead of catching them all, he just caught you! Travel back to the good old days of cartoons and video games and live your legendary 2007 dreams. "My fiancé and I have a favorite matching Halloween costume: Pikachu and Ash from Pokémon! We first started dating when the Pokémon Go app came out. We were obsessed and the matching costumes are definitely something that bring us back to that time," said St. John's University junior Briana Beninati. For Ash, a blue and yellow construction-paper vest could do the trick, and make sure you dig out an old baseball cap for the finishing touch. For your Pokémon, find a yellow dress, some heavily-applied red blush and rolls of yellow and black tape for Pikachu's ears. When it all comes together, let your fellow trainer remember why he *insert Ash's voice* chose you!
9. Carole Baskin and Joe Exotic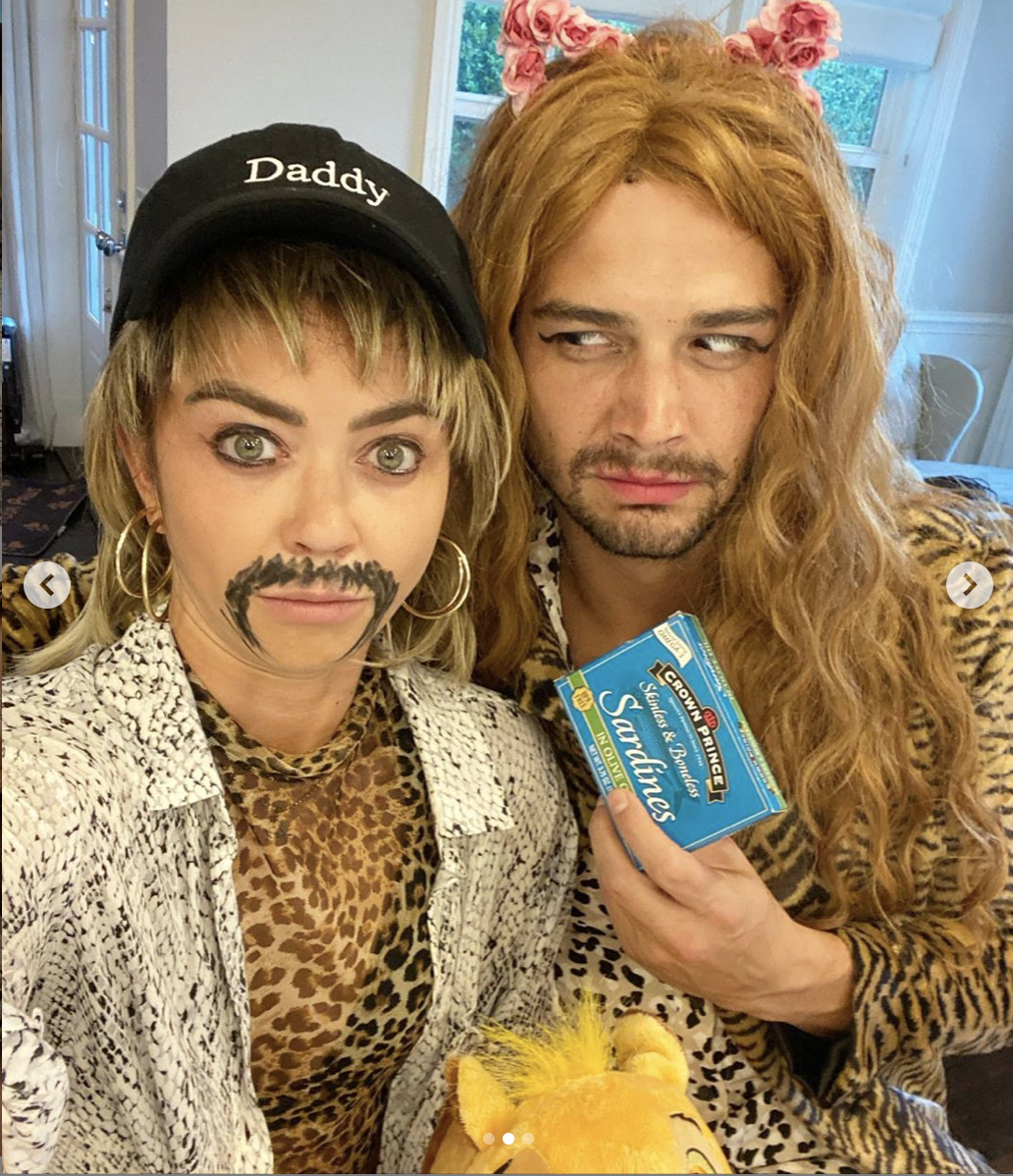 Oops! That Tiger King TikTok version of "Savage" will now remain in your head until the end of this sentence. Since you started singing along, you might as well gear up for the peak costume of 2020: Carole Baskin and Joe Exotic. Not much goes into it besides a little hair magic—a temporary mullet under a baseball cap, that is. Add the finishing touches with a flashy animal print silk blouse and a snazzy eyeliner mustache. Carole's wide-legged jeans and flower crowns complete an ensemble worthy of our quarantine bingeing habits. Bonus points for a Sharpie tiger tattoo or a tiger stuffed animal.
10. Krusty Krab Couple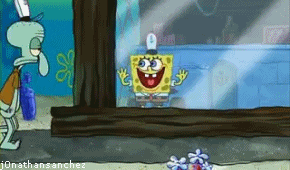 F is for friends who do stuff together, like coupling up as their favorite SpongeBob characters for Halloween! "I know a lot of people would think SpongeBob and Patrick or SpongeBob and Sandy are usually a given for couple's costumes. But, if you're in a relationship where one person is more outwardly romantic and the other is a bit more reserved, then SpongeBob and Squidward is the costume for you," said St. John's University senior Jackie Lepore. "In the show, SpongeBob is often vocal in his love for Squidward, while Squidward is repeatedly annoyed by his presence. Using these characters for a couple's costume is a super funny take on not only Halloween but also the relationship!" An empty paper towel roll substituting for Squidward's clarinet, a Big Mac Krabby Patty and a yellow and brown t-shirt all serve as perfect DIY options for recreating this memorable pair. If you two really want to get into character, draw circles around each other and remain in place for an hour to keep any sea-bears at bay.