Listen, living during a global pandemic is frustrating, mentally exhausting and anxiety-inducing. It is not fun. Everyone faced its impact, including Brooklynites. The bustling avenues? Silent. Coney Island? Closed. Those super cute aesthetic Dumbo pictures? Gone. This was Brooklyn, New York, during the coronavirus lockdown. "Brooklyn definitely doesn't feel the same since the pandemic started. We are such a lively borough and it is sad to see so many things closed," said Stefanie Scotto, a Brooklyn native and junior at St. John's University. "[But] the special thing about Brooklyn is that we find ways of safely making new fun." Fast forward a few months: the lockdown lifts, and Brooklynites stepped into a whole new world.
Since you can't just grab a group of 15 and go eat inside anymore, stores and venues adapted. Boom! Enter the age of COVID-friendly activities for Brooklyn natives and visitors. Unless, of course, you are under the mandatory 14-day quarantine for visitors coming into New York—then you have a couple of more weeks of binge-watching to do. But once you're cleared, Brooklyn has your back with some safe and fun things to do!
Read on to find spots in Brooklyn make you smile this fall; if not, fuhgeddaboudit!
1. The Brooklyn Bridge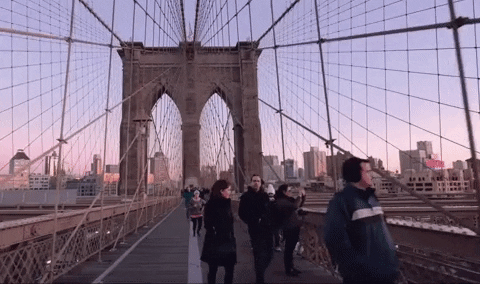 For a bridge that saw about 10,000 pedestrians a day, the coronavirus really left its iconic arches unadmired for a few months. A hotspot for some pretty awesome engagement photos and just general Instagram-worthy pics, the Brooklyn Bridge still stands as a great place to burn off that cabin fever. It takes about 30 minutes to cross the bridge without stopping, and you land right in Lower Manhattan.
The great thing about this Brooklyn gem is that you can easily socially distance from everyone else on the walkways and get some sea air in your lungs. One of the worst things about the pandemic? It impacted mental health; which is why it's so important to get out and get some exercise in the birth place of "fuhgeddaboutit." Plus, it's definitely something better to do than going back to that Netflix show you keep re-watching.
2. Outerspace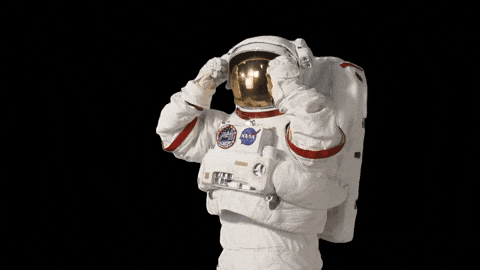 No, Brooklyn isn't actually going to send you to the moon—but they might send your stomach to the stars with their food. Outerspace is a relatively new restaurant in Brooklyn, and get this: it's completely outdoors. The best part? The aesthetic is out of this world. "It's this great place in Bushwick that has incredible outdoor seating and is perfect to go with a few friends or family. They have ton of vegetarian options, which is great, and the tables are socially distant. The outdoor seating is filled with all sorts of plants and has an incredible aura!" said Ryann Mahoney, a Brooklyn native and junior at St. John's University. In a garden of tropical flora and fauna, their vegetarian and New American menu is the perfect match (plus their alcoholic drink menu offers something to behold).
I can already hear the question: "What the heck is New American food?" The short answer: food or a menu that can't really be pinned down to a specific culture. For example, Outerspace has Spanish Octopus as the main dish, as well as a good ol' burger. They also have small plates of spigarello (a dish made of anchovies, lemon and ricotta salata), as well as endive (a dish consisting of grapefruit, hazelnut and aged cheddar). Open five days a week and weather permitting, at night Outerspace also offers entertainment specials like movie screenings or music. So, the next sunny day or clear night you find yourself free, head on over to Outerspace!
3. St. Ann's Warehouse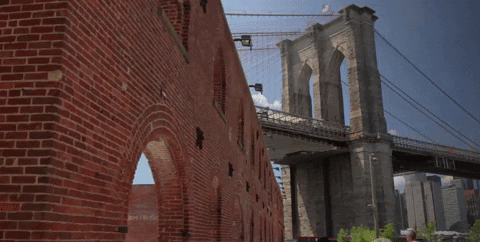 With Broadway shuttered until June of 2021, live entertainment is hard to come by. Now, I know I am not the only one who experiences withdrawals from the lack of musical theater and just theater in general. However, St. Ann's Warehouse—known for their plays, music and artistry—is happily starting their Coronavirus comeback. With a location in the iconic Dumbo Tobacco Warehouse (pictured pre-St. Ann's above), St. Ann's had to shut down on their 40th anniversary!
With an already "robust ventilation system," St. Ann's recently implemented a new ionization system to contribute to the flow of fresh air within the theater. They also have 12 entrances fantastic for distributing the flow of people coming in when they reopen the inside space. "The surges in cases hurts everybody; it's something that we all have to be aware of, whether we are trying to open our industry incrementally and on a path to opening…And that opening can always be halted for health reasons, and that's something we're all very mindful of. St. Ann's Warehouse is part of a group of presenters who all have what we're calling 'flexible cultural spaces,' and what that means is that we don't have fixed seating. We also have large open spaces, and that means that we can safely and easily socially distance chairs, audiences [and] performers. We can actually function like a museum," said Founder, President and Artistic Director Susan Feldman. If you can't get to Brooklyn, St. Ann's is streaming a variety of pre-filmed plays online! Right now, you can go watch the Donmar Shakespeare Trilogy, consisting of Julius Caesar, Henry IV and The Tempest on their website. Who doesn't love free theater?
Staring in October, St. Ann's is hosting unannounced live, free rooftop concerts called "The Get Back Series". Now, you won't be able to join these renowned musicians on the rooftop, but you can hear their symphonies from the nearby Brooklyn Bridge Park. It's a pleasant surprise for the neighborhood, especially since live music virtually ceased due to the safety risks. St. Ann's is also turning their archways into beautiful art displays; starting October 2020, they will feature Miguel Amortegui's exhibit, Love in the Time of Corona. "Even though we don't have paying customers—we can't charge admission because we don't have shows in that way [right now]—there is something I really love about being able to present work for everybody and for it to be free…In this case, all you want to do is give," said Feldman. So, if you find yourself in the Dumbo area of Brooklyn and crave something to feast your artistic soul on, swing by St. Ann's Warehouse!
4. Shore Road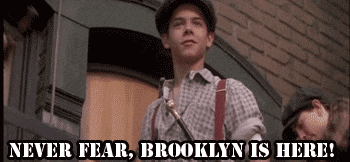 Another great place to get some fresh air, Shore Road spans a 37-block-long stretch of road perfect for a social distancing walk date with friends or family. Shore Road outlines the coastal span of the Bay Ridge area in Brooklyn and ends near the Verrazano Bridge, which connects Brooklyn to Staten Island. "Brooklyn has changed a lot. It was like someone flipped a switch in my opinion… [But] part of what makes Brooklyn so great is the many places to go. My favorite places are Shore Road in Bay Ridge. This waterside part of Bay Ridge boasts million-dollar views of the water, and it's just a nice place to take a walk and listen to the birds…and hopefully not get splashed by a wave. If that isn't your cup of tea, you could walk along the Shore Road streets, which are cobblestone and very hilly, which offer walkers great exercise," said Peter Johnston, a Brooklyn native and junior at St. John's University. Time to bust out those dusty walking sneakers and grab a mask to make a day down at Shore Road!
5. The Brooklyn Heights Promenade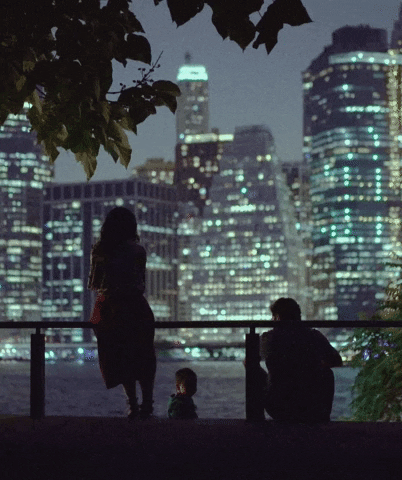 Enter your Instagram dream photo—the Promenade is the water jewel of the Brooklyn Heights/Dumbo area of Brooklyn. Backdropped by the Lower Manhattan skyline, the Promenade feels similar to Shore Road in the sense of its vast walkways that span the waterways; however, the city views give it its notoriety. "The Promenade is a great spot for biking or walking, and has a beautiful view of the Manhattan skyline! There's a lot of space to walk and some grassy areas to sit in the nicer weather. The ferry is also in the area, so if you feel like taking a brief ride on the water to get to the city, it's a great spot!" said Catherine Santora, a Brooklyn native and sophomore at St. John's University. Grab your camera, your sea-legs and your mask because this view cannot be beaten from land or sea!
6. L&B Spumoni Gardens
A staple of Brooklyn, L&B Spumoni Gardens will weather any storm—even a pandemic. This restaurant boasts world-famous pizza and ices unlike any other. Located on 86th Street, every Brooklynite visits this joint at one point or another. People will come from every borough in pursuit of their drool-worthy square pie, and who could blame them? "This iconic staple of pizza has had many famous people go to it, from sports stars to musicians. I enjoy this place because it's large enough to socially distance, and still enjoy one of the best square slices around," said Johnston. While their pizza is their staple menu item, they also have a variety of Italian dishes for you to enjoy! And for my True Crime fans: the murderer of L&B's owner just got sentenced to 25 years to life in court.
7. Skyline Drive-In NYC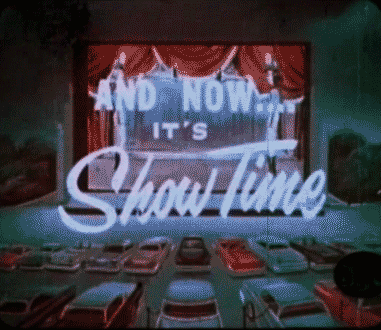 The one thing that the coronavirus brought back was the drive-in movie. Although you can't have your Grease moment with all of your friends bouncing back and forth between cars, you can bring up to seven people in a single car if you have the space for that many people!
It's $55 a car with a two-dollar tax, and they will scan the ticket through your window.  And if you're not really vibing with the drive-in part, you could always get a ticket for outdoor seating for $22. "In August, I got to see Friday the 13th. There was music playing beforehand and I had a bonding experience with some of my family members. [It was the] closest thing to a nightlife I'd had in a while," said Falon Veccia, a Brooklyn native and junior at Brooklyn College. Pile into the family car for a movie night out—from Jaws to John Wick to Hocus Pocus, you can find a movie for everyone at the Skyline!
8. Brooklyn Green-Wood Cemetery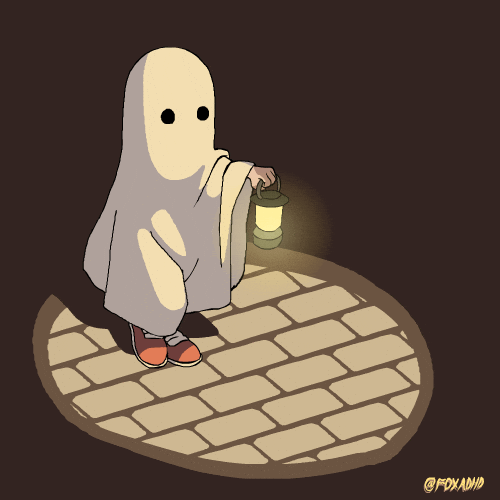 Just in time for Halloween! Brooklyn's Green-Wood Cemetery may seem like an odd choice for a COVID-friendly endeavor, but it boasts tons of socially distant events. While it is free to enter the cemetery and wander amongst the foliage and graves, the tours do cost some money. One of their most popular tours is To America ($95), inspired by the poet James Weldon Johnson who is buried in their grounds, in collaboration with the Death of Classical performance organization.
A night of haunting music and a two and half mile trek in the eerie night air of the Green-Wood Cemetery equals the perfect way to get your socially distant, mask-wearing thrills this Halloween. Some other famous people of note buried in Green-Wood are Leonard Bernstein, William "Boss" Tweed and Pop Smoke.
9. Ample Hills Creamery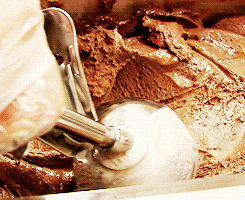 With multiple stores all over Brooklyn, Ample Hills Creamery is a super popular ice cream shop that caught Brooklyn's heart. Known for their quirky and unique flavors, some of their seasonal scoops even cause some genuine FOMO when they disappear. For the fall, their featured ice cream is called "Corn to Run," which is a blend of sweet cream ice cream, blueberries and cornmeal crumbles to add some oomph in every bite. "Ample Hills is hands down my favorite ice cream shop in Brooklyn. Their ice cream is super fresh and is loaded with mix-ins. They also have a lot of unique flavors you can't find anywhere else. My favorite flavors are Chocolate Milk and Cookies, Baked/Unbaked and Summer of Love!" said Angela Randazzo, a Brooklyn native and junior at St. John's University. If you find yourself in the mood for a sweet treat and some creative flavors, swing past Ample Hills Creamery with a mask and credit card in hand!
10. The Brooklyn Botanical Garden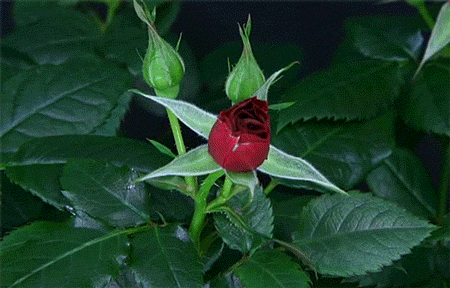 If you're afraid of ghosts yelling, "I'm walking here!" while strolling amongst the graves of Green-Wood, try the Brooklyn Botanical Garden! This establishment is serious about COVID procedures: you must wear your mask, stay socially distant and come with your pre-purchased ticket. They also rotate which times and entrances are accepting guests into the garden, so you will never find yourself in a sea of people! Indoor exhibits and some outdoor sections of the garden are also closed due to the pandemic but fear not—they have a ton of events going on to make up for it.
From online classes on how to pickle any kind of food, to live entertainment on Sundays in the physical garden, you can find something for everyone age group to enjoy. "One place that I have also loved going since I was a kid in Brooklyn is the Botanic Gardens. I think it's because it reminds me of being in Alabama, with its wide-open spaces and lots of land and scenery to see besides the concrete jungle that is NYC. Coming up is Art in the Garden: Fall Sundays. Everyone is free to come celebrate the fall season where the colors are especially vivid in areas like the Overlook, the Native Flora Garden and the Water Garden. This Sunday, October 25th, the atmosphere will be enhanced by live music and dance for Fall Sundays. Attendees are encouraged to take an artistic stroll, finding drummers, dancers and bluegrass players along their way. The garden will also offer self-guided, autumn-themed programs," said Deanndra Smith, a senior at St. John's University. If you can't make Fall Sundays, the garden is always hosting all sorts of events. Plus, you can get in for free on some days!