Let's face it, college life attracts a cry for caffeine. For those tired of coffee, boba tea (or bubble tea) makes a great alternative. Originally from Taiwan, the blend of milk and tea over tapioca pearls and ice spread across the United States and now offers many choices to students looking for both caffeinated and non-caffeinated selections. Boba tea offers wide selections potentially intimidating to newcomers, but the options should not keep you from choosing 30% sugar, less ice or having your cheese cap if you want it! That said, the ability to choose the amount of sugar and ice as well as additions makes boba tea a unique experience for each drinker.
Whether it's your first time to try bubble tea or you're an already an aficionado, this list of 10 excellent Houston boba tea spots may just give you the edge to get through your academic week.
1. Kokee Tea (4835 Calhoun)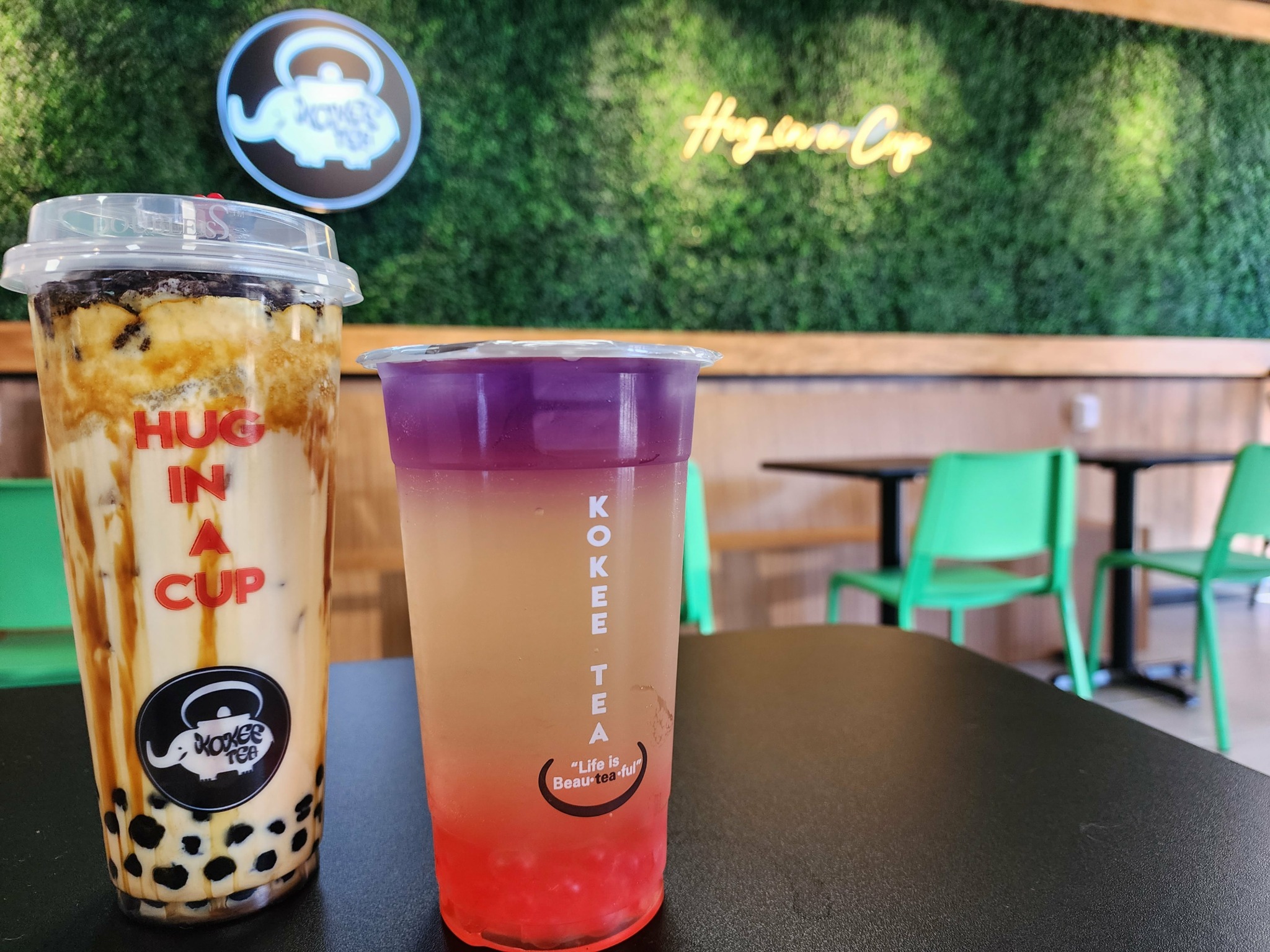 In December 2022, Kokee Tea opened on the University of Houston's main campus, hitting the right notes with students. Offering a variety of milk options (including almond, coconut and oat), this Korean-based tea shop boasts drinks that live up to their slogan as hugs in a cup, including the Oreo Brown Sugar Milk Tea and the Dream of Butterfly Tea shown in the photo. Students can also grab Korean-style snacks, including noodles. For those leaning toward coffee for a caffeine fix, the Korean coffee appeals to fans of Vietnamese coffee as a smoother softer cousin. Kokee Tea's location on the edge of campus makes it an easy choice for students on the go or those who need a study break.
2. Teapresso (2929 Navigation Blvd Suite 180)
For both University of Houston main campus and Downtown students, Teapresso Bar serves up a delicious selection of teas with favorites Brown Sugar and Thai Milk teas topping the list. Boasting three locations in the Houston area, this Hawaiian-based chain focuses on neighborhood and staff recommendations for its more creative selections. Two local favorites at the downtown location include the Wakiki Sunset Lemonade, which, you guessed it, looks like a sunset in Wakiki, and the Avocado smoothie, with a velvety texture. Their signature drink is Teapresso Milk tea, which boasts a mix of assam and hojicha tea and can fill any need for a caffeine fix. A Top 10 list greets newcomers interested in recommendations. Teapresso sits just down the road from two excellent Tex-Mex restaurants (the original Ninfa's and El Tiempo) making it a great spot for an after-dinner stop with friends or a date.
3. East-West Tea Co. (in the Rice University Memorial Student Center)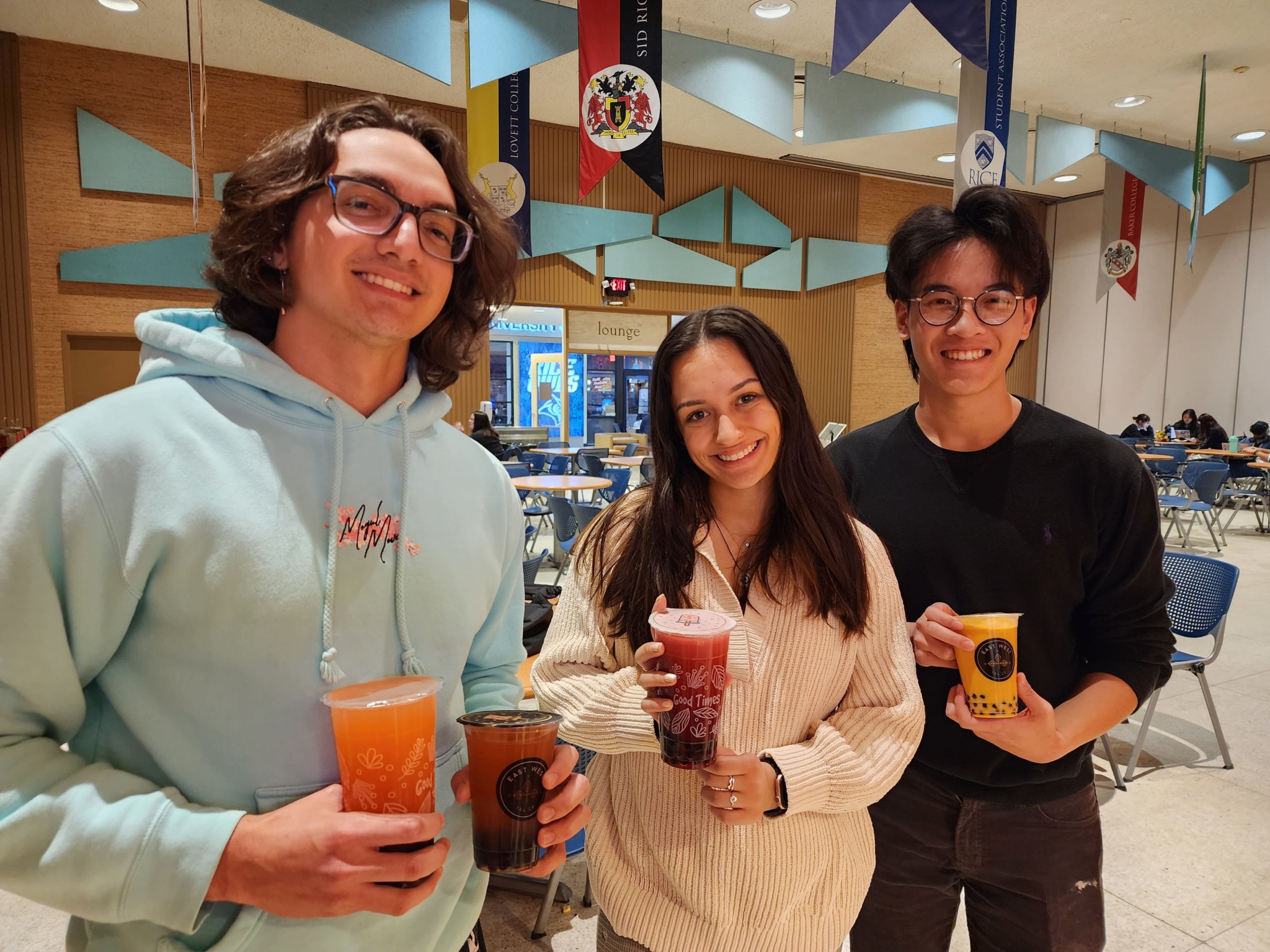 Students at Rice University call the student-run East West Tea their go-to place for an evening boba tea run. This student-run shop offers a wide variety of tea flavors and styles, but also serves as an outlet for student creativity. Student employees pitch their ideas for both flavors and merchandise. That creativity leads to the introduction of bonus items, such as bubble waffles and Bobagrams (packages including tea and other fun items such as key chains and face masks with personal messages during the month of February 2023). In their test kitchen, student employees develop the tea flavors of the month, which keep students coming back.
"They have fun flavors of the month that rotate, and I often run into friends while waiting in line. Rice students have Tetra [cards] built into their tuition (use-it-or-lose-it money for food on campus), so I spend a large majority of it at East West Tea," Rice University senior Katherine Wu said.
"Milk tea is the most popular choice, but I suggest that students try my favorite, which is half milk tea/half Thai tea," Rice University sophomore and current East West general manager Sienna Tu said.
"Our hot drinks are underappreciated," Rice senior and East West former general manager Emma Yang said. "I hope that students will try those and that more graduate students will drop in to try us out."
Students love the flavor of the month teas, and those sell out quickly. Those flavors include specials such as Warm Almond Vanilla and Strawberries and Cream. Many students also like the fruit teas with a jasmine tea base. Additions include large tapioca pearls, lychee jelly and rainbow jelly.
4. Sharetea (2416 Rice Boulevard)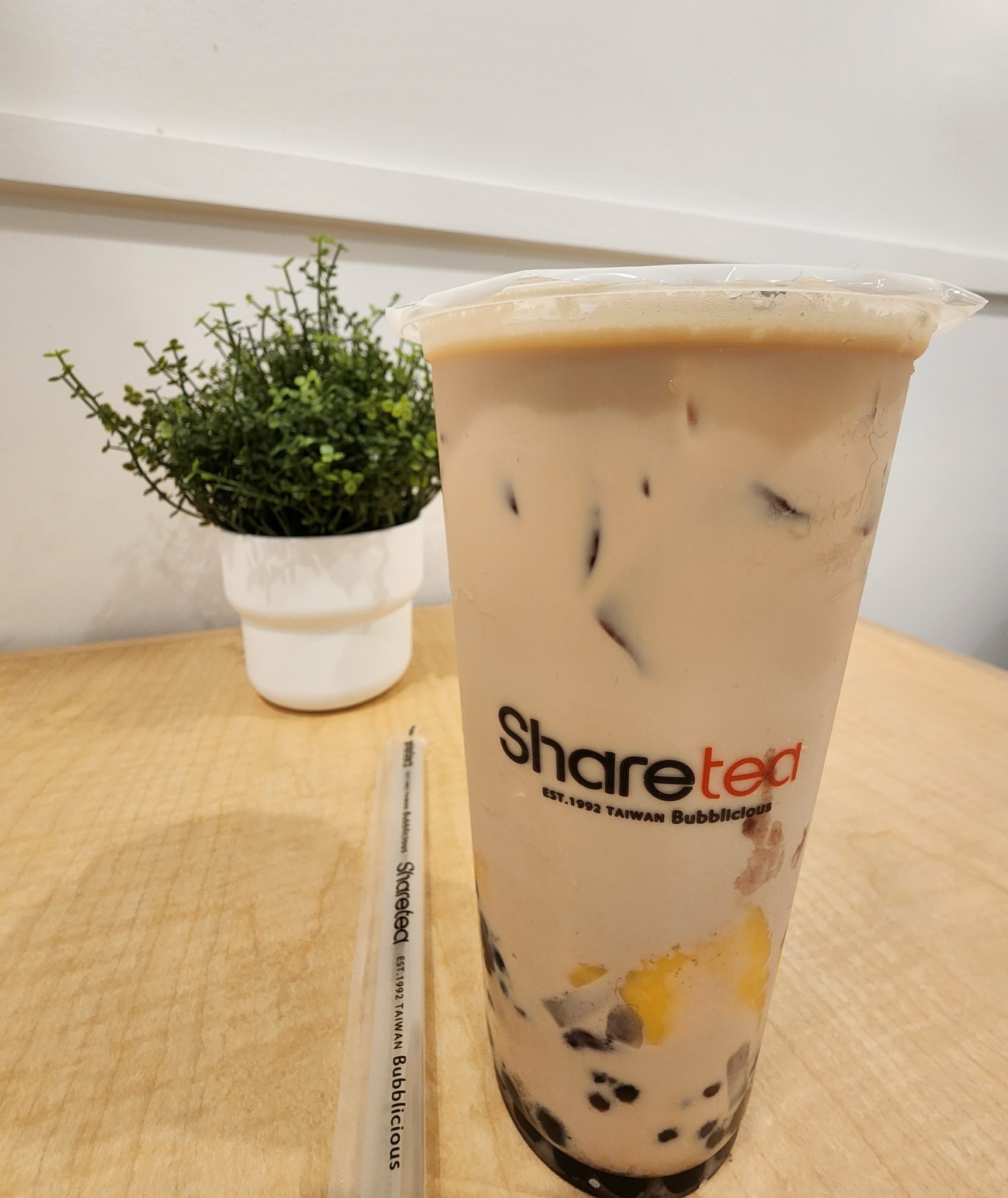 Multiple boba tea shops await Rice University students in Rice Village, but Sharetea stands out from the rest. For those who prefer their boba tea a bit sweeter, Sharetea tops the list of places to visit. Don't worry though, the staff happily make drinks with less sugar for those who request it. The Rice Village location provides room for students to chill or study, with plenty of electrical outlets and free WiFi for all your electronic device needs. Favorites range from Mango Passion Fruit tea to Kiwi Fruit with Aiyu Jelly tea. Students can choose additions from classic boba pearls to red beans to lychee jelly. Rice students even receive a 10% discount at the Sharetea Rice Village location.
5. Jade's Tea House (5475 West Loop, Suite 170)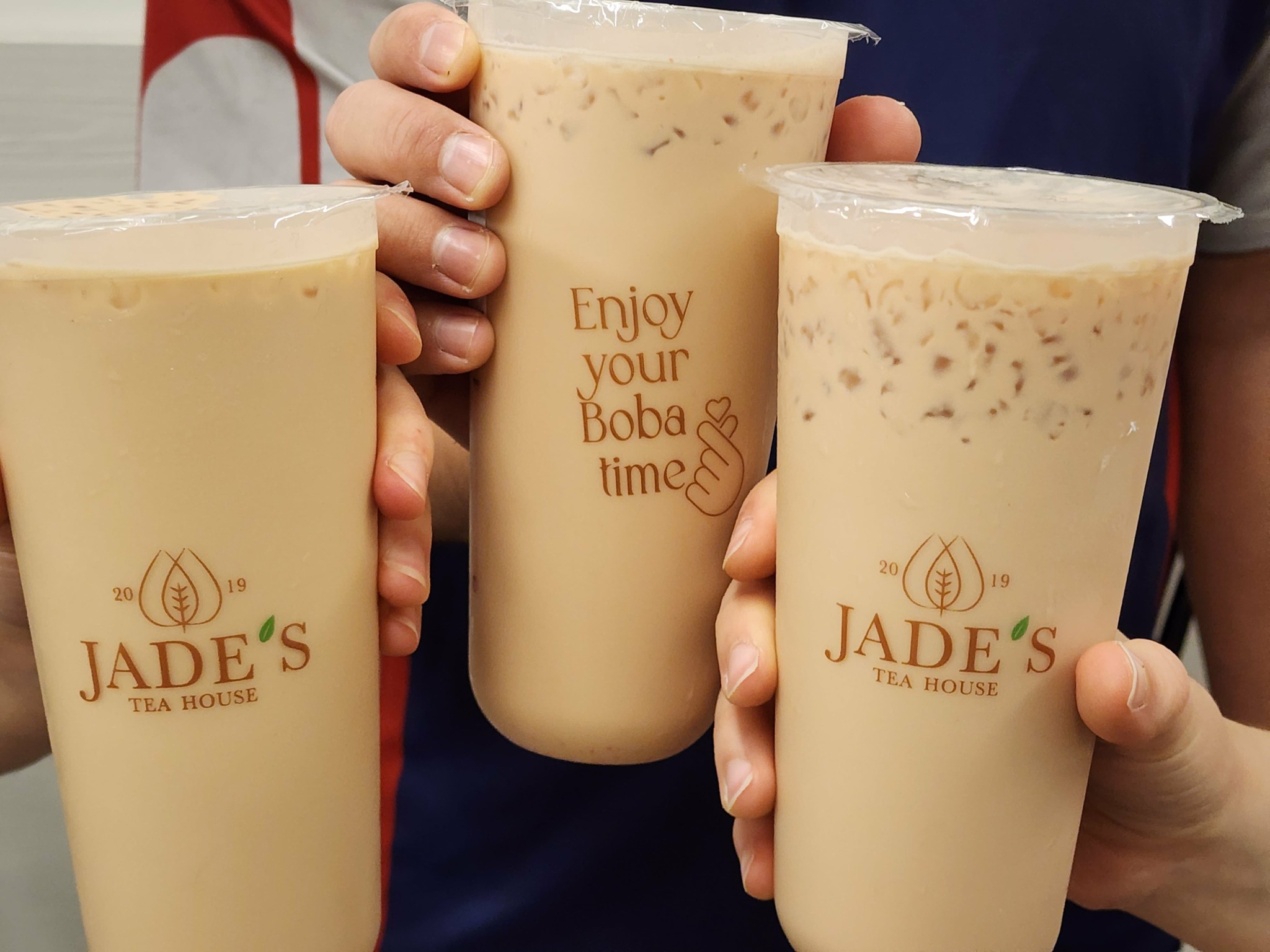 Tucked away on the West Loop, the hidden gem known as Jade's Tea House offers a cozy atmosphere with free WiFi for students who want to sit and chill or study. Offerings range from milk tea to fruit tea to Vietnamese coffee to noncaffeinated drinks, such as Hibiscus Rose tea. Hungry students can munch on sandwiches and curly fries. Students appreciate the option to have smoothies in addition to the wide variety of teas available.
6. Gong Cha (9889 Bellaire Blvd)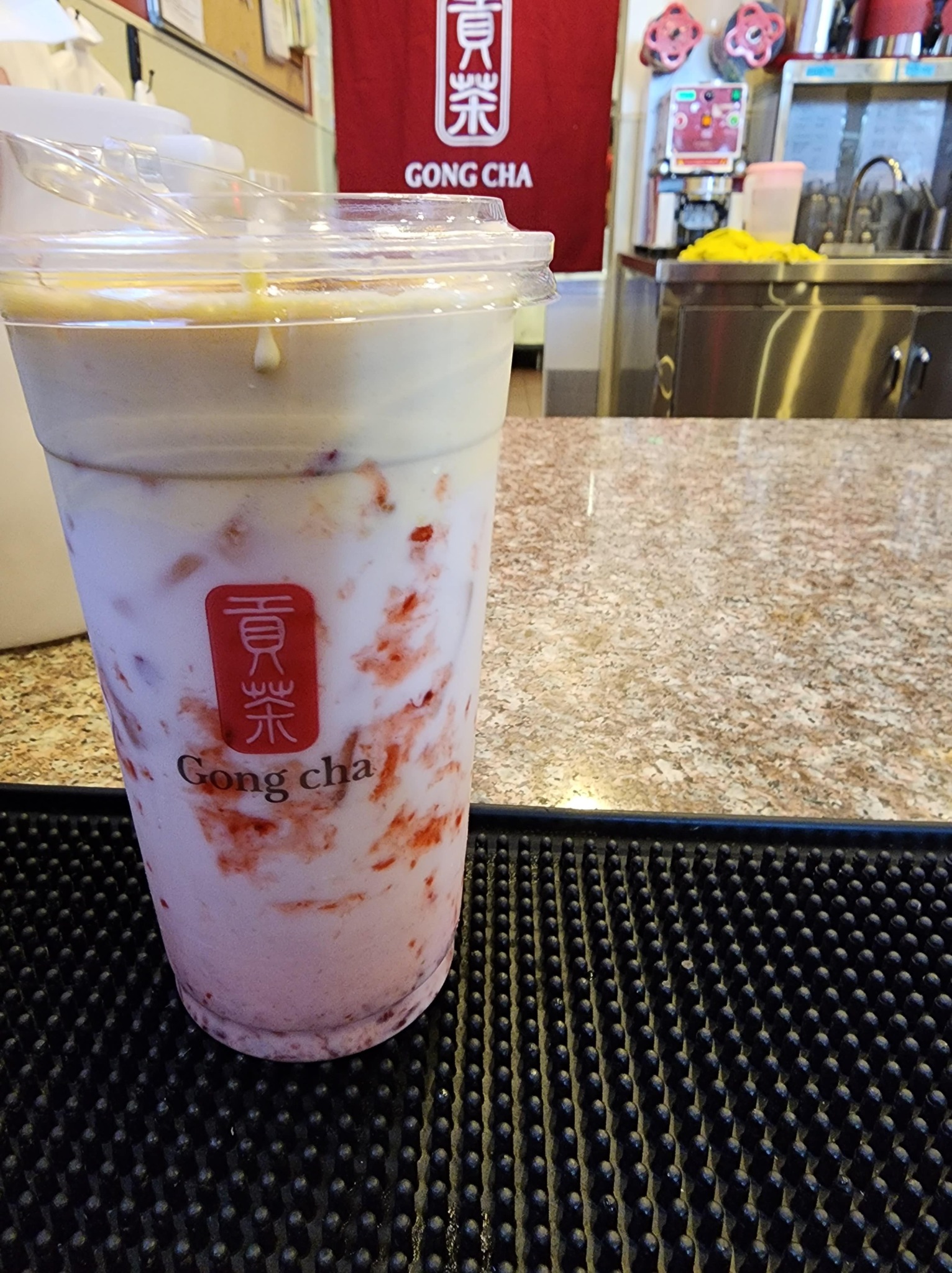 University of St. Thomas students like to study for finals at the Houston Asiatown location of Gong Cha. In addition to seasonal selections, Gong Cha hosts one of the widest selections of options in town. Choices range from milk foam teas (including the Crème Brulee Strawberry Latte shown above) to classic milk tea selections to a creative series, which provides some lighter options, such as Hibiscus Green Tea. Folks looking for an underappreciated treat should try the Honey Lemon Slush.
In addition to a wide selection of teas, Gong Cha offers a variety of additions. Those additions include milk foam, white pearls, coconut jelly, pudding and more. The spacious interior provides plenty of room for students to hang out or study. Board games and free WiFi complete the picture to make the Asiatown location a great spot for students.  
7. Fuji Tea (9312 Bellaire Blvd)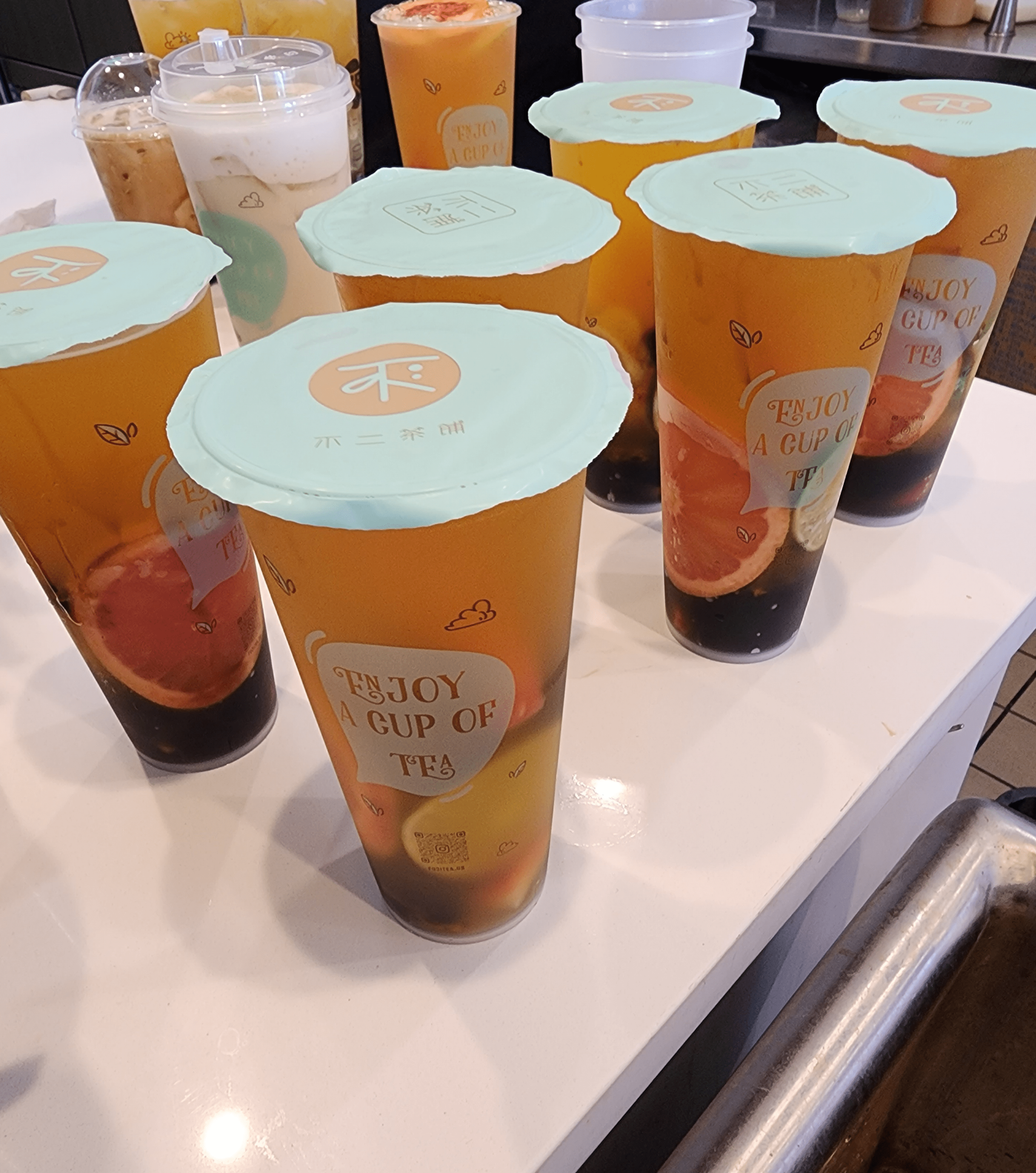 In Houston's Asiatown, Fuji Tea boasts fresh organic fruit cut every day and tea directly from Taiwan. University of St. Thomas students find Fuji Tea a great place to study too. Fuji's Signature Fruit Tea (shown above) is a light and delightful treat made with organic fruit and in-house syrup. Fuji Tea's selections include fresh brewed tea, cheese foam tea, tea latte, yogurt yoyo, classic milk tea, fruit smoothies, fruit tea, brown sugar milk tea, panna cotta and coconut latte selections. Assam milk tea is a hidden treat with a flavor not as strong as other black teas, but still packing a flavorful punch.
8. Bubble Boba (8070 S. Gessner)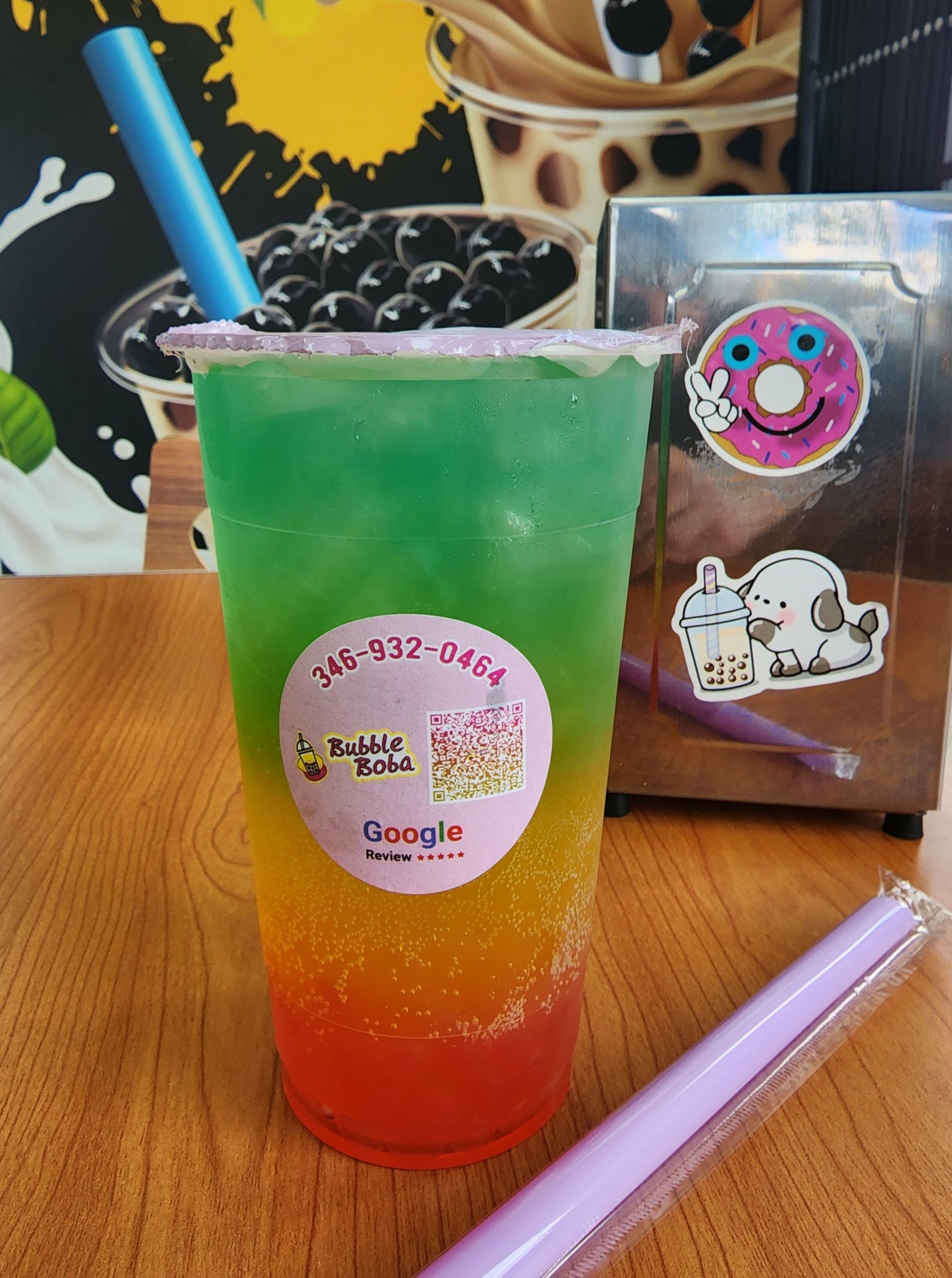 Houston Christian University students choose among several boba tea options but favor certain spots over others. Bubble Boba stands out among the choices. A former French chef owns and operates local favorite Bubble Boba. Guests choose from not only traditional boba favorites such as Classic Thai tea and Brown Sugar tea, but also specialties reflecting the neighborhood's flare, such as Mangonada tea, with a unique blend of mango and spices, and Mango Colada, sporting twisted mango and coconut. Houston Christian University students can take advantage of two unique features of Bubble Boba. The first feature is a drive-through window, which allows students to pick up their favorite drinks on the way to or from campus without parking. The second feature is a free cookie with every order. Some favorites at this location include Strawberry Milk tea, Brown Sugar tea and Yummy Taro.
9. Hella Bubble (2400 Mid Lane)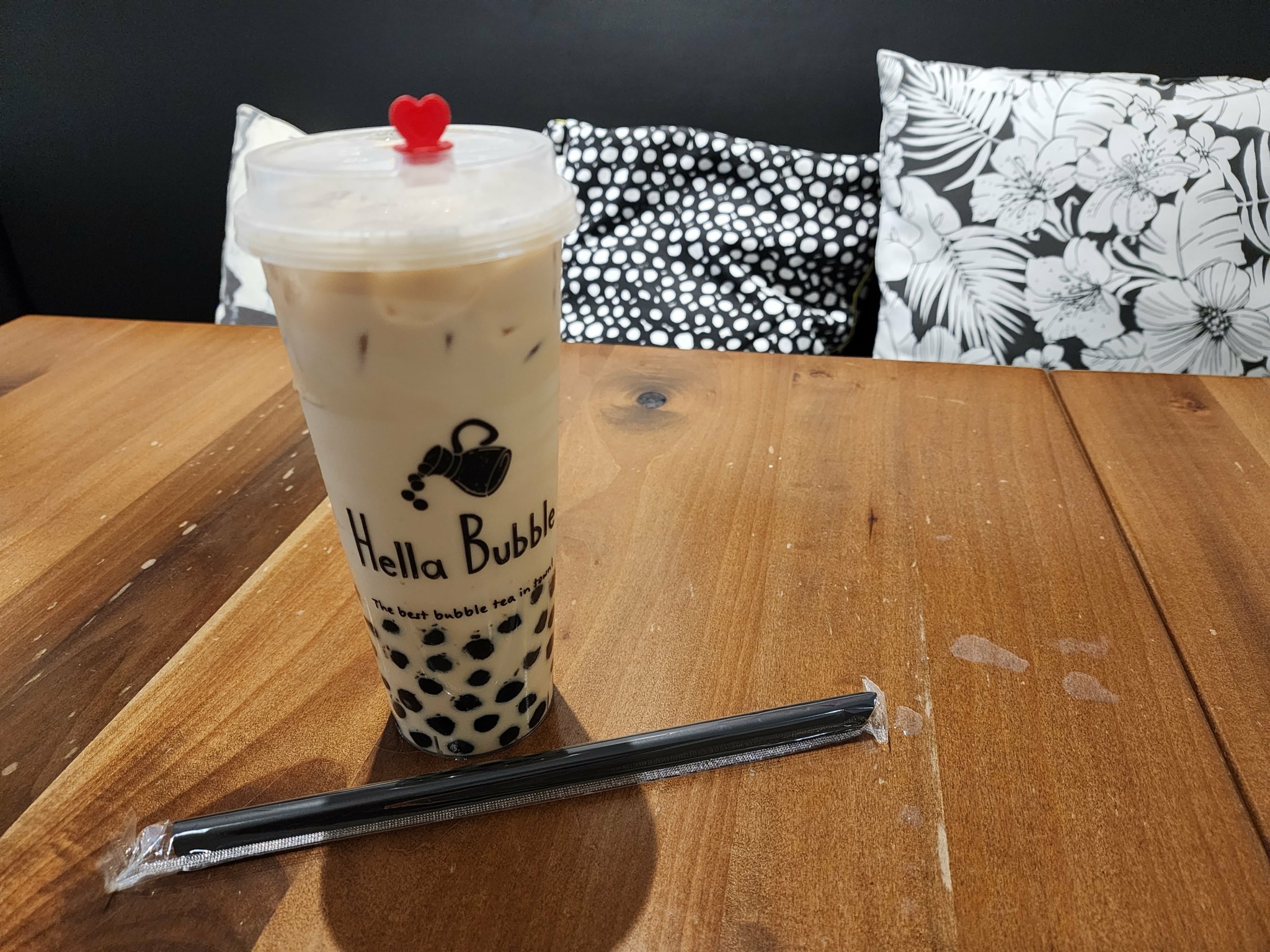 Often touted as one of the best boba tea shops in Houston, Hella Bubble welcomes students with a 10% student discount. At either Houston location, students choose among milk teas, fruit teas, brewed teas, lattes, smoothies and milk foam teas. Free Wi-Fi and board games act as inducements for students to stay for a while at the Mid Lane location, and the Hella Bubble Deluxe Milk Tea (with regular boba, mini boba, egg pudding, lychee jelly and red bean!) acts as an incentive to keep bringing them back. In addition to its inviting atmosphere, plentiful electrical outlets make it possible for students to drop in for study groups or solo studying.
10. Tea Top (23119 Colonial Pkwy C-7, Katy)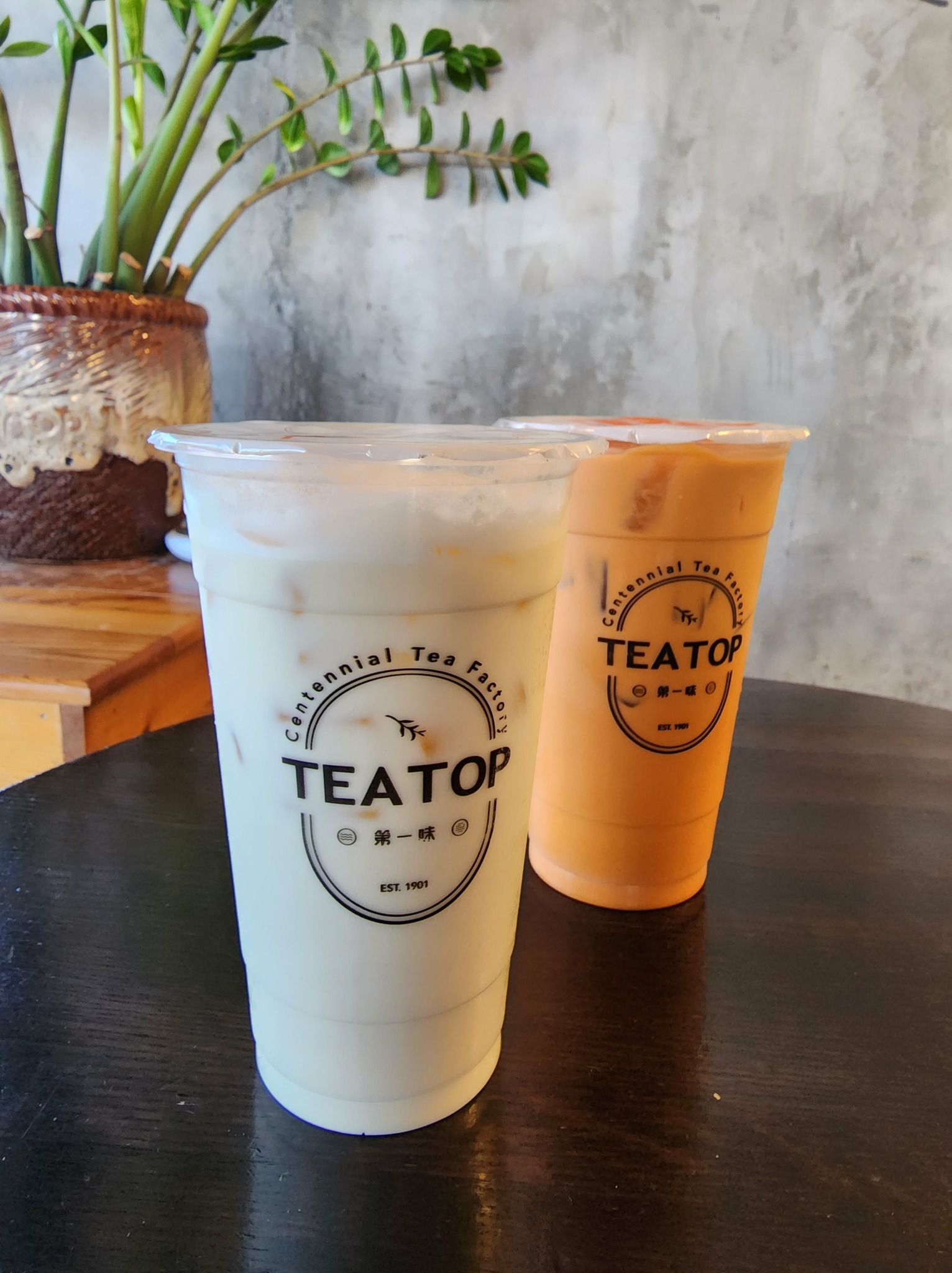 For students looking to get away from campus and Houston Community College and University of Houston-Victoria at Katy students, Katy Asian Town offers not only a variety of boba tea shops, but also other fun activities such as visiting Kinokuniya Book Store, dining at a variety of restaurants or hopping over to nearby activities for a night with friends or a date. Regardless of the reason, Tea Top perfectly caps off a visit. Tea Top also offers special events, such as 2X caffeine for students studying for finals during the month of December, a GOT7 Debut Anniversary cup sleeve event, specials for Halloween-costumed customers and a Tea-Rex Art Market.