Summer has come to close and we're back to living sans parents…meaning we all have to figure out how to feed ourselves again. Lovely. While we all love a great cooking video that some how makes a meal in one minute or less, you're much less likely to actually catch us college kids in the kitchen. Why? We have better things to do with our semesters than toiling over the stove for hours. Maximize your you time with some quick and easy recipes that won't make you late to your philanthropy meeting.
Cooking in college is hard. These 10 recipes make it easier.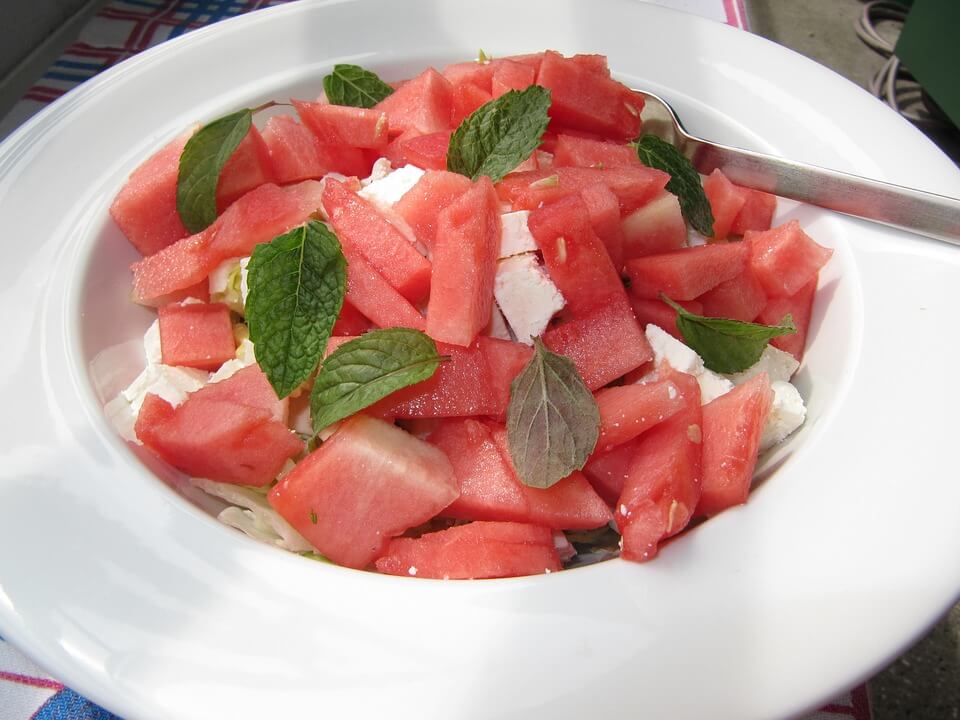 While the combination of a super sweet fruit like watermelon with cheese may sound a little weird, trust in the tested love affair between sweet and savory. Put the two together, use some mint or basil for a hint of green and top it with a vinaigrette. We may be grimy college kids, but we still like to get fancy sometimes. This salad will totally make bae think you're cultured, just sayin'.
This wouldn't be a college food article without a ramen recipe. Loyola Maryland College junior Aubrey Syrek provided this upgraded AF spin on everyone's dorm room favorite. We all know the first step. Cook the noodles as usual. Psh, I mastered that freshman year. Next, drain out the water and cook the noodles in a saucepan with eggs and bacon. "I usually don't put the chicken flavor in until I add the eggs," Syrek said. She tops the dish with Sriracha, but any hot sauce works. "It's totally easy, and takes probably 20 minutes tops." Oh yeah. College kids like things we can do in a time crunch.
An Italian classic, the Caprese both refreshes and fills you. The refreshing aspects come from the basil and tomato, while the calorie-packed goodness of the sliced mozzarella cheese actually keeps you full for more than 15 minutes. For an exciting variation, step up your cheese game and use burrata instead. Only you can decide your destiny, but burrata slays any salad.
Sushi likely makes everyone's list of favorite ways to eat raw fish. But now meet sushi's South-American cousin, ceviche. Ceviche consists of raw fish soaked in lemon and lime juice typically paired with chopped cilantro, onions, tomatoes and chili peppers. Pro tip: If you're jonesing for some carbs, tortilla chips work wonderfully to scoop up every last bit of ceviche.
You'd be hard-pressed to find a trendier fruit than the avocado. Use it to lively up one of nature's less exciting meats, and you have yourself the perfect grillable meal. "Season ground turkey with seasoned salt, pepper, onion, parsley, minced garlic and a bit of Worcestershire sauce. Mix in [a] bowl with two egg whites," Earlham College senior Nicholas Arnold said. Although his original recipe suggests frying the burgers in a pan, he said using a grill also works. Foreman Grill, anyone? "Do not push down on the patty. Ever," Arnold said. "You want all the juices to stay in the meat." Serve those bad boys on your choice of bread (Arnold prefers brioche), top with a few slices of avocado, tomato and lettuce and you're all set.
This one goes out to the Instagram-flexers, Crossfitters (often, but not always, one of the same), health nuts and vegans. The smoothie bowl divides into two parts: smoothie and topping. For the base of the bowl, throw some banana, chia seeds, acai and agave syrup for sweetness into the blender until it's smooth. University of Maryland sophomore Ariana Donaldson said she doesn't use a recipe, she just freestyles. "I kind of just make it with whatever I find in my house, but I take frozen fruit and add some water and then blend that," she said. She freezes the smoothie for 15 minutes and tops it with honey and granola. Unleash your inner artist when adding toppings. Bonus: the camera loves smoothie bowls with fun colors.
This recipe comes courtesy of Senior Nutrition and Food Science major Charlotte Fisher from University of Vermont, who runs her own cheap but healthy food blog. "I take a bunch of fresh or frozen veggies (broccoli, edamame, carrots, corn, mushrooms, spinach, kale, etc.), heat them in a skillet and then crack in two eggs, scramble and top with cheese. Super easy and cheap," Fisher said. Check out her blog for more recipes like this one. I'd take cooking advice from anyone with that major.
Another blender recipe, Gazpacho is a classic Spanish dish that calls for tomatoes, sweet bell peppers, red onions, cilantro, cucumbers, garlic, jalapeño, salt, black pepper and olive oil blended together and served cold. Feel like getting fancy? Drizzle some olive oil over top, and garnish with cilantro leaves for added style points. If you really want to eat gazpacho like a Spaniard, make sure you have some prime, freshly baked bread on deck to dab up any soup that remains in the bowl. And we'll dab to a meal well cooked.
"Put a little almond milk or water, cut up banana, blueberries (and almonds, coconut flakes [or] whatever things you like in your oatmeal), a drop of agave (or honey) and put it in the fridge overnight. The next day, eat it cold," Bucknell University senior Cara Loozis said. If you're imagining this as a cereal type dish, the oats actually absorb the milk, making it closer to a cold oatmeal. "Low key [the] most delicious breakfast ever," Loozis said. And it's healthy. So props for that.
Maybe pita with dip doesn't sound like everyone's idea of a meal, but if you believe, you can achieve. Hummus gets all the attention in the western world as the supreme Mediterranean dip, but many other dips deserve a spot in our fridges (and stomachs). Tzatziki, for one, consists of plain yogurt, dill, garlic cloves, lemon juice, cucumber and, of course, salt and pepper as needed. Perhaps this recipe sounds strange to those of us who only eat sweetened yogurt, but the dairy product truly shines as this dip. Throw some Baba Ghanoush in a three-part divided bowl, and you have yourself a nutritious and fulfilling meal.
The Microwave Gourmet Chef: No Stove? No Problem!
Written by Hilary Weissman, sophomore, journalism, University of Maryland
Dorms aren't usually equipped with all the kitchen appliances needed to make a gourmet meal, let alone anything nutritionally satisfying. But with your good ol' microwave, you can prepare the types of meals you crave at any fine convenience store…and you won't even have to ingest the processed ingredients that add trans fats to your body!
Figure out how to work a microwave with the four recipes below.
1. Egg MICmuffin
This may sound like a salmonella disaster waiting to happen, but you can, in fact, cook eggs in the microwave. Crack 2 eggs into a microwavable bowl, add a splash of milk and mix well. Top it off with shredded cheese. Cook for about 1 minute and 30 seconds. Then throw it on an English muffin to eat on the go.
2. Microwave Pizza
For a new and healthier twist on your pizza dinners, try microwaving yourself a meal—and we're not talking about reheating leftovers. Spread pizza sauce on a slice of matzah; add shredded cheese and any other microwavable toppings (try Perdue's Chicken Strips). Cook for 30 seconds or until all the cheese is melted. Be careful not to leave it in for too long: if over-cooked the matzah will get soggy. It may help to cook your toppings separately at first if they need extra time.
3. Chili-Cheese Dip
Looking for a quick snack or way to impress your friends at your next party? Microwave your own nacho dip. Mix 1 package of softened cream cheese, 1 can of chili, and top it off with 1 cup of shredded cheese. Heat in a microwavable baking dish on high for 5 minutes or until the cheese melts. Grab a pack of chips, and your friends will think you're the next Rachael Ray.
4. A Literal CUP cake…in a mug
We all need a sugary pick-me-up on occasion, and our microwavable cupcake will cure your studying sweet tooth. Mix 4 tablespoons of flour, 4 tablespoons of sugar and 2 tablespoons of cocoa in a mug. Add 1 egg, 3 tablespoons of milk and 3 tablespoons of oil, then mix. Add 3 tablespoons of chocolate chips and a small splash of vanilla extract. Mix well, and try to ensure the chocolate chips are distributed evenly in the mixture. Cook in the microwave on high for 3 minutes. As it cooks, the mixture will rise over the top of the mug. Let cool and serve.
Here's 3 more recipes you can make in the microwave.
Written by Morgan Gibson, junior, journalism, University of Maryland
Just because you're living the hectic life of a college student doesn't mean you need to eat like it. Say goodbye to Hot Pockets and PB&Js; it's time to eat gourmet. The best part? It's all in the microwave.
5. Hot Buffalo Chicken Quesadillas
Who doesn't like a snack with a little kick? Start with a tortilla topped with shredded cheese. Then roll Perdue cooked chicken strips in Hot Buffalo Wing Sauce and add them on top. You can also add salsa, chopped onions, peppers or canned corn. Cover with another tortilla and microwave for one minute or until all the cheese is melted. Add some guacamole or sour cream on the side for a more gourmet experience.
6. Garlic Butter Shrimp
Need a complement to your boxed wine? Add this little snack to your night. Start by microwaving ¼ cup of butter for 30 to 45 seconds, or until melted. Add ½ tsp garlic powder and 2 tsp parsley flakes. You'll need one 12 oz. package of frozen, peeled and deveined quick-cooking shrimp. Separate the shrimp and place in 9 or 10-inch diameter dish (a glass pie dish works well). Pour butter mixture over shrimp and cover tightly. Microwave 5 to 8 minutes, until shrimp are opaque and stir every 2 minutes. Let stand covered 2 minutes and serve with toothpicks.
7. Apple Graham Cracker Pie
It's delicious and your roommates will love you for it. Melt ½ cup of butter in a large, glass mixing bowl in microwave for about one minute. Add ¼ cup of sugar and 2 cups graham cracker crumbs then mix well. Press half of the mixture firmly and evenly around a 9-inch pie plate. Place 5 cups of thinly sliced, peeled apples (about four to six apples) in the crumb-lined pie plate and sprinkle with ½ cup of sugar and one teaspoon of cinnamon. Use the remaining cracker crumbs to make a top crust, leaving the center open. Cover pie with waxed paper and microwave 10-12 minutes. Let cool and enjoy.
*Updated September 13, 2016 by Hilary Weissman to include "The Microwave Gourmet Chef: No Stove? No Problem!"
*Updated September 13, 2016 by Morgan Gibson to include three more microwave recipes.