Summer has come to close and we're back to living sans parents…meaning we all have to figure out how to feed ourselves again. Lovely. While we all love a great cooking video that some how makes a meal in one minute or less, you're much less likely to actually catch us college kids in the kitchen. Why? We have better things to do with our semesters than toiling over the stove for hours. Maximize your you time with some quick and easy recipes that won't make you late to your philanthropy meeting.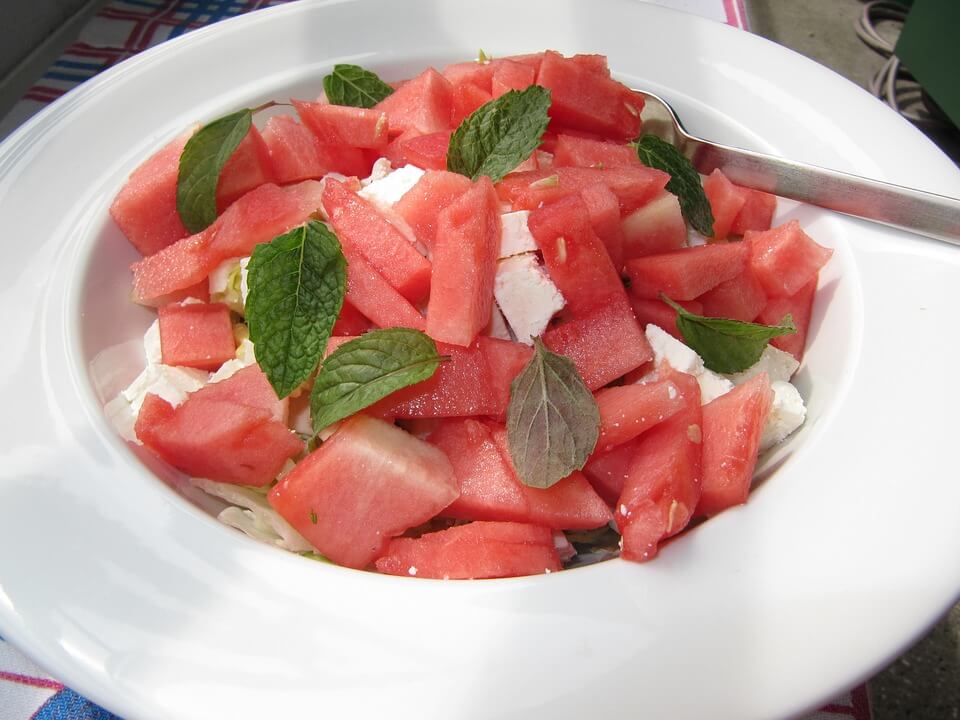 While the combination of a super sweet fruit like watermelon with cheese may sound a little weird, trust in the tested love affair between sweet and savory. Put the two together, use some mint or basil for a hint of green and top it with a vinaigrette. We may be grimy college kids, but we still like to get fancy sometimes. This salad will totally make bae think you're cultured, just sayin'.
This wouldn't be a college food article without a ramen recipe. Loyola Maryland College junior Aubrey Syrek provided this upgraded AF spin on everyone's dorm room favorite. We all know the first step. Cook the noodles as usual. Psh, I mastered that freshman year. Next, drain out the water and cook the noodles in a sauce pan with eggs and bacon. "I usually don't put the chicken flavor in until I add the eggs," Syrek said. She tops the dish with Sriracha, but any hot sauce works. "It's totally easy, and takes probably 20 minutes tops." Oh yeah. College kids like things we can do in a time crunch.
An Italian classic, the Caprese both refreshes and fills you. The refreshing aspects come from the basil and tomato, while  the calorie-packed goodness of the sliced mozzarella cheese actually keeps you full for more than 15 minutes. For an exciting variation, step up your cheese game and use burrata instead. Only you can decide your destiny, but burrata slays any salad.
Sushi likely makes everyone's list of favorite ways to eat raw fish. But now meet sushi's South-American cousin, ceviche. Ceviche consists of raw fish soaked in lemon and lime juice typically paired with chopped cilantro, onions, tomatoes and chili peppers. Pro tip: If you're jonesing for some carbs, tortilla chips work wonderfully to scoop up every last bit of ceviche.
You'd be hard-pressed to find a trendier fruit than the avocado. Use it to lively up one of nature's less exciting meats, and you have yourself the perfect grillable meal. "Season ground turkey with seasoned salt, pepper, onion, parsley, minced garlic and a bit of Worcestershire sauce. Mix in [a] bowl with two egg whites," Earlham College senior Nicholas Arnold said. Although his original recipe suggests frying the burgers in a pan, he said using a grill also works. Foreman Grill, anyone? "Do not push down on the patty. Ever," Arnold said. "You want all the juices to stay in the meat." Serve those bad boys on your choice of bread (Arnold prefers brioche), top with a few slices of avocado, tomato and lettuce and you're all set.
This one goes out to the Instagram-flexers, Crossfitters (often, but not always, one of the same), health nuts and vegans. The smoothie bowl divides into two parts: smoothie and topping. For the base of the bowl, throw some banana, chia seeds, acai and agave syrup for sweetness into the blender until it's smooth. University of Maryland sophomore Ariana Donaldson said she doesn't use a recipe, she just freestyles. "I kind of just make it with whatever I find in my house, but I take frozen fruit and add some water and then blend that," she said. She freezes the smoothie for 15 minutes and tops it with honey and granola. Unleash your inner artist when adding toppings. Bonus: the camera loves smoothie bowls with fun colors.
This recipe comes courtesy of Senior Nutrition and Food Science major Charlotte Fisher from University of Vermont, who runs her own cheap but healthy food blog. "I take a bunch of fresh or frozen veggies (broccoli, edamame, carrots, corn, mushrooms, spinach, kale, etc.), heat them in a skillet and then crack in two eggs, scramble and top with cheese. Super easy and cheap," Fisher said. Check out her blog for more recipes like this one. I'd take cooking advice from anyone with that major.
Another blender recipe, Gazpacho is a classic Spanish dish that calls for tomatoes, sweet bell peppers, red onions, cilantro, cucumbers, garlic, jalapeño, salt, black pepper and olive oil blended together and served cold. Feel like getting fancy? Drizzle some olive oil over top, and garnish with cilantro leaves for added style points. If you really want to eat gazpacho like a Spaniard, make sure you have some prime, freshly baked bread on deck to dab up any soup that remains in the bowl. And we'll dab to a meal well cooked.
"Put a little almond milk or water, cut up banana, blueberries (and almonds, coconut flakes [or] whatever things you like in your oatmeal), a drop of agave (or honey) and put it in the fridge overnight. The next day, eat it cold," Bucknell University senior Cara Loozis said. If you're imagining this as a cereal type dish, the oats actually absorb the milk, making it closer to a cold oatmeal. "Low key [the] most delicious breakfast ever," Loozis said. And it's healthy. So props for that.
Maybe pita with dip doesn't sound like everyone's idea of a meal, but if you believe, you can achieve. Hummus gets all the attention in the western world as the supreme Mediterranean dip, but many other dips deserve a spot in our fridges (and stomachs). Tzatziki, for one, consists of plain yogurt, dill, garlic cloves, lemon juice, cucumber and, of course, salt and pepper as needed. Perhaps this recipe sounds strange to those of us who only eat sweetened yogurt, but the dairy product truly shines as this dip. Throw some Baba Ghanoush in a three-part divided bowl, and you have yourself a nutritious and fulfilling meal.