Prepare for a classic Kiwi feast in Wellington, New Zealand. New to the area or studying abroad for a semester? Locals love lamb, spaghetti on toast, Anzac biscuits and marmite and chip sandwiches, all washed down with a hearty glass of the NZ lemon soda, L&P. Try salt and vinegar chips with marmite stuffed into two pieces of bread, or roasted rabbit, goat or lamb from hangi ovens. Even if this doesn't sound too appetizing, Wellington restaurants serve all kinds of food. And eating goes beyond the food in New Zealand. Take in the atmosphere of the upscale restaurants or roam the streets with friends at the night markets.
Check out the 10 best restaurants for locals and tourists alike in Wellington, New Zealand.
1. Aroma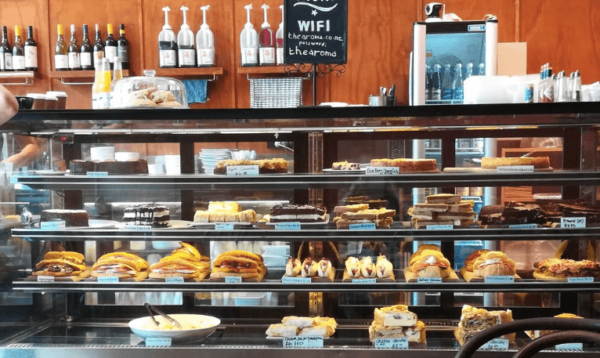 Iowa State University junior Kelly Guerin went to Aroma when she wanted a small bite to eat and a relaxing place to study. "I love the aesthetic and vibe of the cafe. It has a bit of an outside section and a cute inside area that I frequently do homework at. It was actually the first place I got breakfast in Wellington, and I absolutely love the food. It made me instantly fall in love with the city." Sip on coffee or nibble on  a slice of apple crumble or a caramel brownie square while cramming for your bio exam or working on physics problems at Aroma. If Americanos and basic lattes bore you, opt for an affogato, coffee with ice cream, or a Vienna, the NZ version of a macchiato with whipped cream instead of steamed milk.
2. Coco's Bar and Grill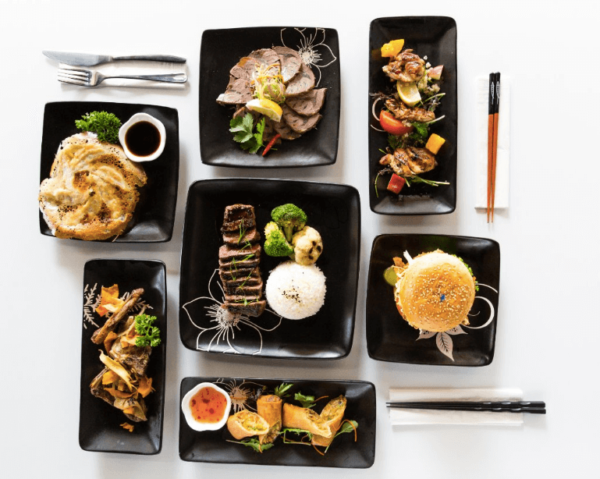 No need to leave Wellington if you need delicious yakitori, AKA grilled chicken skewers that with sweet soy sauce. Massey University freshman Amber Thomas said her go-to restaurant in Wellington is Coco's Bar and Grill. Between eye fillets, pork bellies, lamb shanks and of course fish and chips, this restaurant serves up everyone's favorites. Start with an appetizer like bruschetta or salmon yakitori. Then move to the seafood risotto (with fried shrimp and squid mixed with seasonal veggies) or the scotch (rib eye) filet. The filet comes with mashed potatoes, creamy mushrooms and more veggies. Don't worry, your waiter can bring extra napkins as your mouth waters while reading the menu. Top off your meal with the chocolate mousse for a sweet finish at Coco's.
3. Fidel's Restaurant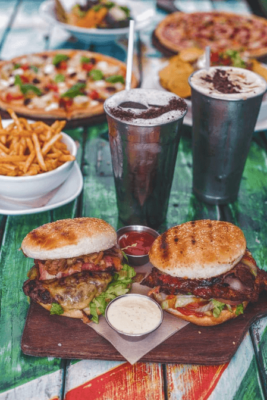 Head to Fidel's Restaurant for nachos and drinks. Meat lovers will scarf down the beef and bean nachos with salsa, guacamole and cheese and chili but vegetarians can opt for the meatless option. If you go for drinks, pair Fidel's sauvignon blanc wine with the pan-fried salmon. Or opt for the "Artic Summer," a cocktail with strawberries, vodka, cranberry juice and lime. Montana University junior Katy Wade said, "Fidel's… was highly recommended by everyone I met. I'd highly suggest the smoothie bowl." The bowl always changes, but typically includes fresh fruit, seeds, buts and yogurt. Colorado State University sophomore Bella Hines said, "I've always loved restaurants with a laid-back atmosphere, and Fidel's has a really nice aesthetic with some really tasty food choices."
4. Oriental Kingdom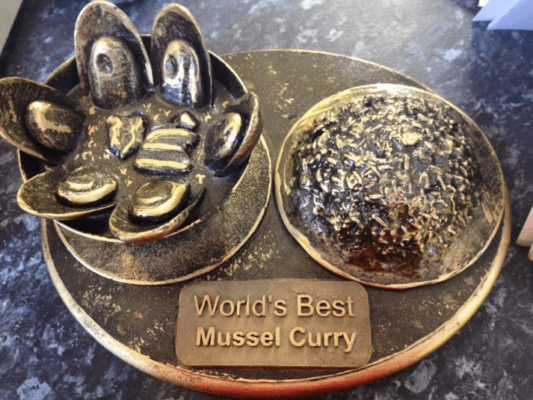 Skip the dollar ramen tonight. You can still eat noodles, but opt for food with a bit more zing and flavor. Bella Gibney recommended Oriental Kingdom for good food in Wellington. The restaurant serves Chinese, Asian and Malaysian food for about $11 (NZD) a dish. Pick up your food on the Cuba Street location, then take the food to go and walk around. Visit the nearby sea or window shop at a few of the many stores located on Cuba. Try the mussel curry or mee goreing, a fried noodle dish with shrimp, chicken, veggies and egg.
5. Wellington Sea Market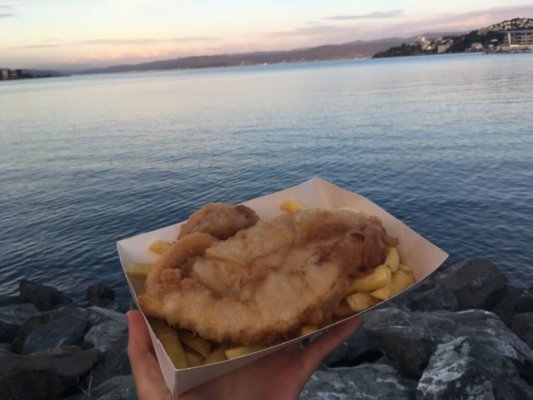 Wellington celebrates its sea life and Maori heritage at Wellington Fish Market. Order a classic fish and chips or a fish burger. Every day you can try a new fish special or choose a fresh fish of your choice for the chef to fry or grill. The restaurant only keeps about two tables for dining in, so most customers head to Wellington Sea Market for fresh seafood takeout. Make it an excuse to take your date on a romantic picnic. Send your taste buds on an adventure to try lesser-known fish like grouper, gurnard, hoki and blue nose. Or stick to the basics, also done deliciously at Wellington Sea Market, like crab sticks, crumbled prawn, squid ring, mussels and scallops. Pair your fish with chips, a pineapple fritter or even a freshly fried donut.
6. Monsoon Poon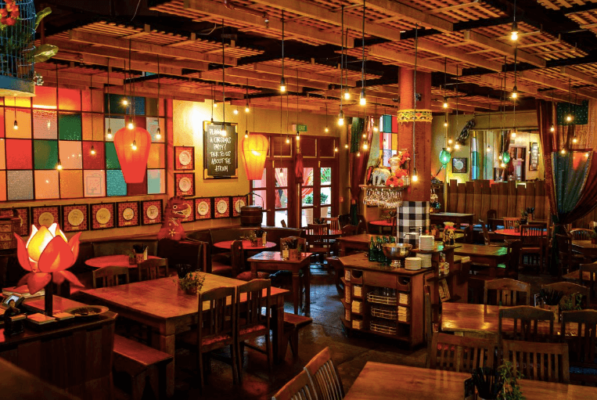 "[Monsoon Poon is] an Asian/Indian restaurant with really cool decorations and art. The food is a little spend-y but it is so delicious, it's totally worth it," said University of Wisconsin-Stout sophomore Laryssa Meyer. "They have the best mango lassis and a really amazing curry." Put a twist on your Asian/Indian cuisine with the "little dragon tacos," filled with shrimp, a smoked chili sauce, coriander and avocado. Can't decide on one entrée? Try a combo platter so you can try four different meals. Your forever indecisive BFF will feel at home at Monsoon Poon.
7. Mama Brown's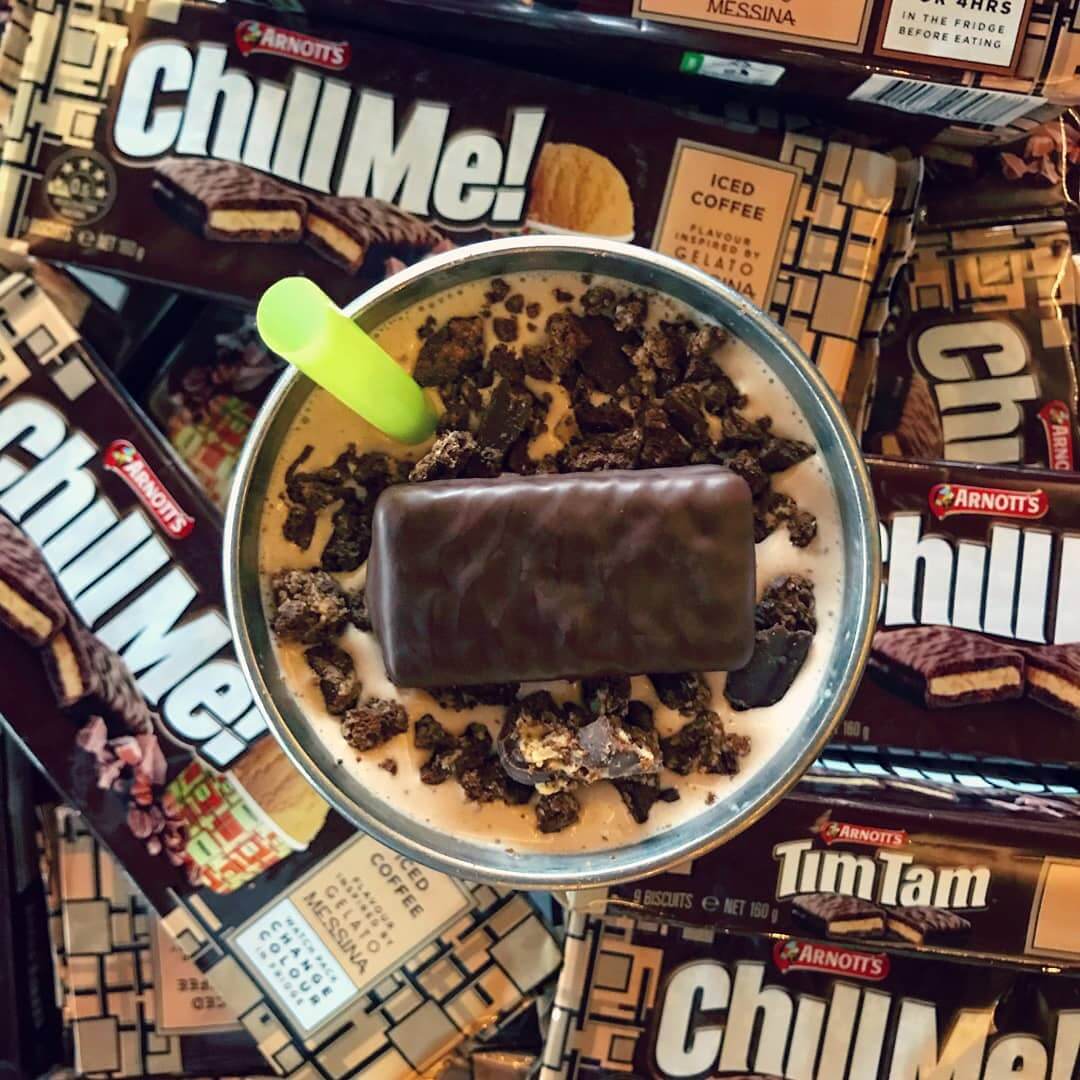 You'll need a spoon to down these milkshakes, recommended by Massey University sophomore Katrina Harris. Mama Brown's serves "thickshakes" (extra thick milkshakes) in unique flavors like Snickers. Mama Brown's covers their milkshakes with toppings and treats, so don't worry about leaving hungry. And your Tim Tam addiction doesn't need to stop when you walk in the door here. Mama Brown's whips up a Tim Tam milkshake, filled with Tim Tam crumbles and a whole one on top. If you need more than milkshakes, fear not, as they also serve burgers, tacos and chicken and waffles. Add caramelized banana to your waffles or try southern fried chicken strips. Know that at Mama Brown's, dessert matters more than dinner—unlike what your mom and grandma told you all those years.
8. Heyday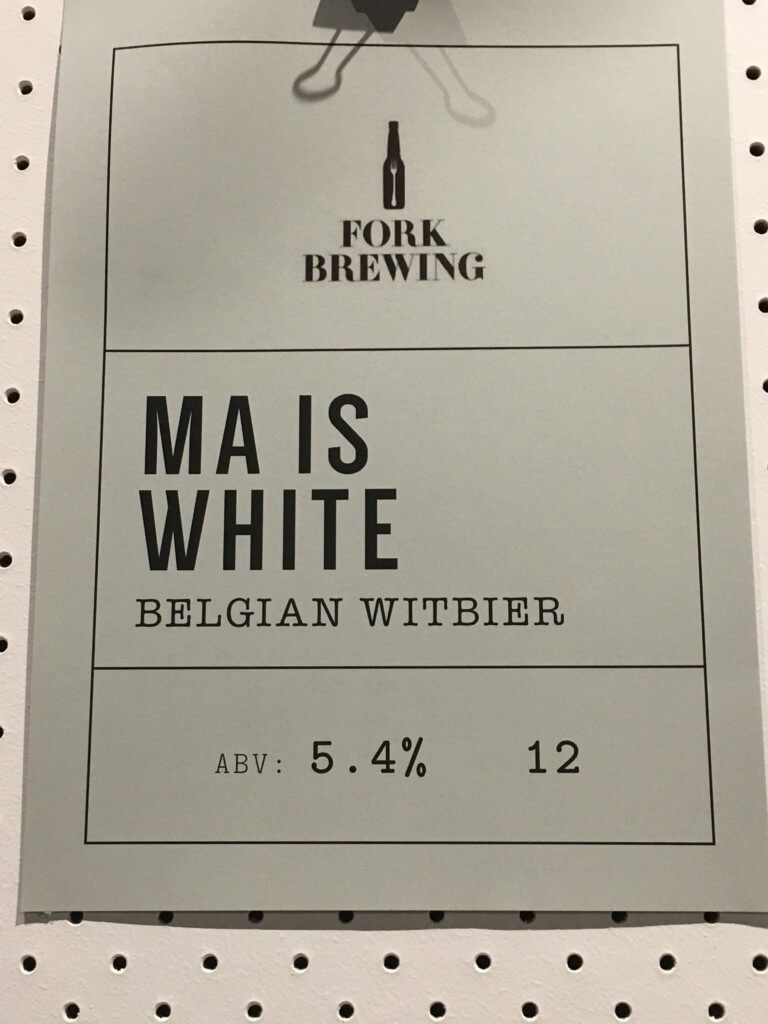 "Heyday is a wonderful brewery because of its quality beer and mature ambiance. I feel like I can do anything relaxing, play board games, go on a date or have a night out away from the bright lights and loud music of Courtenay [Plaza]/downtown," said University of Wisconsin-Madison junior Myles Pindus. The brewery stays chill with a simple menu including NZ essentials like a lamb burger and an antipasto board with meats, dips, crackers and fruits. Sit around with a pint of NZ ale or a cider, like Peckham's fejoa (a tart NZ fruit) or the Garage Party Fugazi beer. The menu, and music, ensure that your night doesn't get too crazy either. I can already taste their Hoppy Session ale and pork ribs. Yum!
9. Satay Kingdom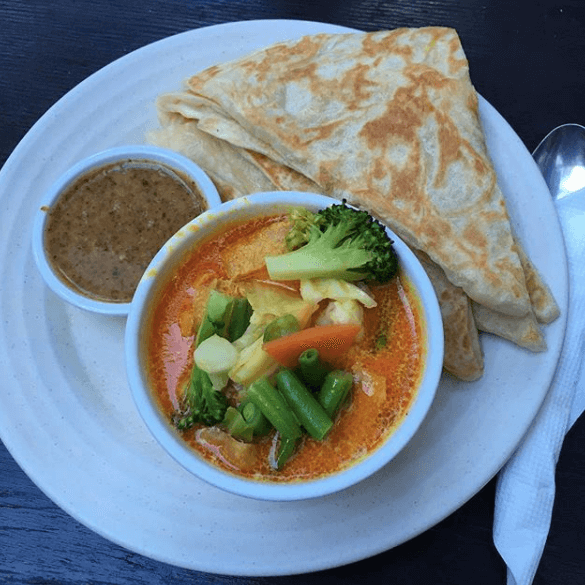 Curry, noodles and rice, oh my! Satay Kingdom's mouth-watering menu will impress Asian or Malayisan food lovers. Massey University freshman Tom Barry named Satay Kingdom his favorite restaurant in Wellington. When I head to Satay Kingdom, I order the curry laksa, a soup topped with an egg and loaded with mussels and fish. If you like seafood, you'll love this dish. But if you can't quite conform to the mermaid lifestyle just yet, opt for the sweet and sour chicken or the lamb curry.
10. Wellington Night Market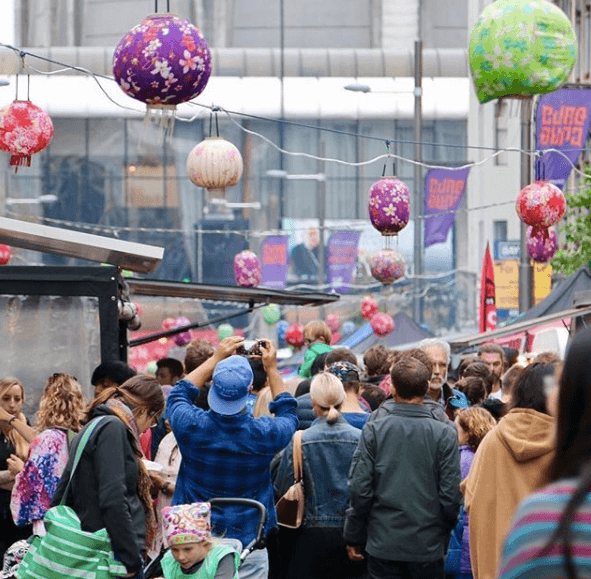 Head to the Wellington night market to satisfy your craving and your picky BFF's. Multiple vendors come together on Cuba Street every Friday and Saturday night form 5–11 p.m. to make your stomach grumble and your wallet open for a second helping. Start at the House of Dumplings. I do warn though, the dumplings will probably force you to order seconds for lunch the next day. Pro Tip: Order the mushroom dumplings with the house sauce. Make sure to check out Roti Bay's lamb wrap, too. The lamb stew mixed with the slowly cooked potatoes makes it a dish to die for, just like the Chur Bro Churros. I always stick to a classic NZ taste, so I ordered the hokey pokey dark chocolate flavored churros. And if the churros don't make you cancel your return flight from Wellington, then head to La Petite Shotz and order chocolate banana waffles. Two Wellington college students opened La Petite Shotz and they know the stress of college calls for an irresistible dessert.