Do you want to be the King of Kush? Sultan of Sativa? Duke of doobies? If so, check out the 10 schools that will cultivate the most comprehensive stoner experience, complete with nearby marijuana dispensaries, a far-out hippie culture and more than enough dining hall options for your post-blunt munchie cravings. Your parents will be exceedingly proud if you choose any of these fine institutions.
10. University of California, Santa Barbara
A notorious party school, you'll probably hold beer in one hand and a blunt in the other at any given time. While the smell of weed hangs in the air almost every day at SB, wild events like the annual Floatopia party, where thousands of students gather on the beach with float devices, might bring a little more cause for celebration (if you know what I mean). Second year sociology major Evan said getting baked on the beach makes an experience like no other. "We have these really cool small caves that are in the cliffside and you can essentially hot box those. Smoking in the day or at night on the beach is a must do at UCSB."
9. Evergreen State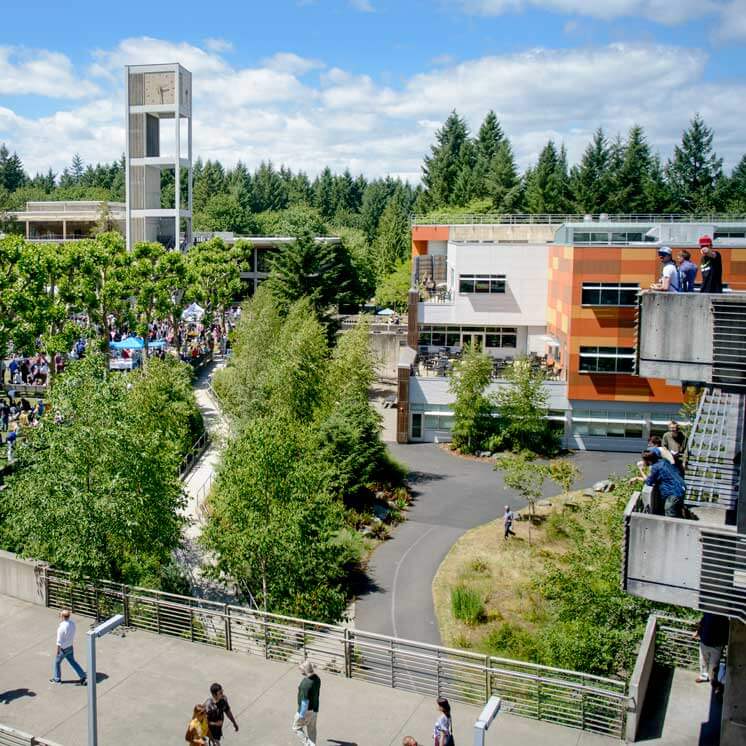 Evergreen State sits in Washington's capitol, Olympia, AKA the very place that passed legislation to make recreational marijuana legal in the state. Olympia holds quite the reputation for its hippy-ness and overall counterculture, spawning "fight the power" music that includes the female punk rock movement Riot Grrrl. The school's free spirited nature inspired many creative talents like Macklemore and the fictional Dan Humphrey from Gossip Girl. Plus, Simpsons creator Matt Groening credits this school for incubating his creativity, which makes sense because he must've been high when he wrote the "Treehouse of Horror" episodes. At Evergreen, students design their own curricula and there are no grades—I'll smoke to that.
8. Lewis & Clark College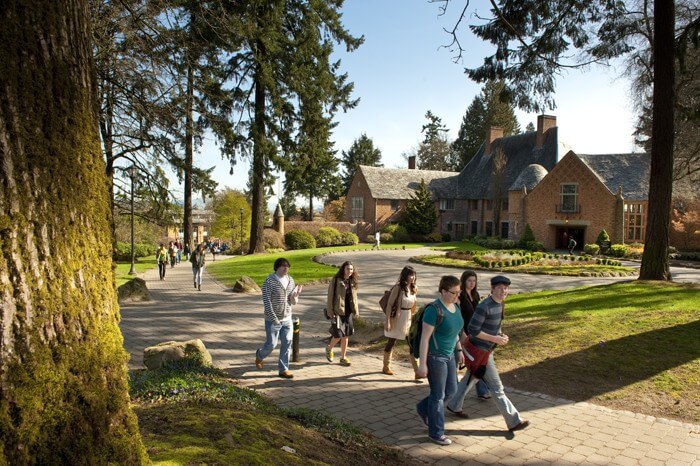 Wind entirely powers this small liberal arts school, located right outside Hippyville, USA—I mean Portland, Oregon. The campus borders a state park, providing prime real estate to take it easy. "Even though pot is legal in Oregon, we are still not allowed to smoke on campus, so people get creative. Sometime we pick lavender and grind it up for sleepy splees," sophomore psychology student Lily said. Lewis & Clark basically epitomizes a free spirited campus where weed runs amok. After getting sufficiently high, make sure to hit up the infamous Voodoo Doughnuts in the city for some prime munchies. I recommend the classic Voodoo Donut, a human shaped donut with a pretzel stuck in its heart, or the rapper themed donuts like the Ol' Dirty Bastard and the Marshall Mathers. "I would say around 60 percent of kids smoke here and that it is a more popular hobby than drinking. Of course, people do both," Lily added.
7. Humboldt State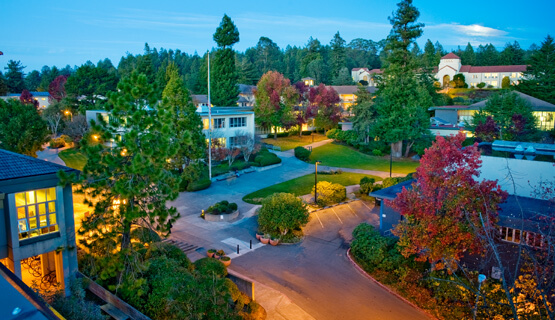 The home of Bigfoot considers over 11 percent of the population as regular marijuana users. Makes sense, since you need to reach a special kind of high to see a giant furry man. One of three counties in the "Emerald Triangle," Humboldt County occupies the most prolific cannabis-producing region in the world. In the 60s and 70s, this green county became a destination for a mass hippy exodus to the Jerusalem of kush, and the culture lives on until this day. Weed plays a central role to the Humboldt economy, as essential to life there as water. The same goes for students at Humboldt State. Sitting in the middle of the woods, Humboldt State's campus surroundings make the perfect place for puffing the magic dragon.
6. University of Vermont Burlington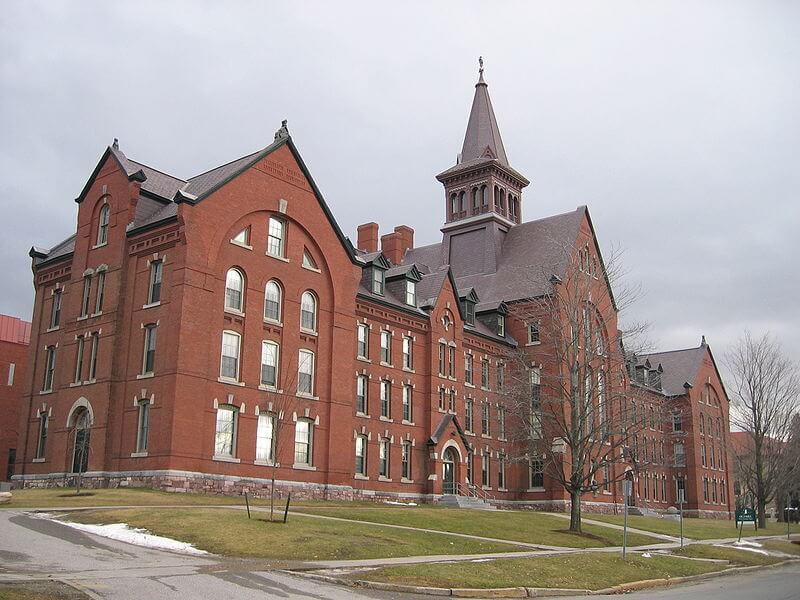 The patron saint of Mary J, Trey Anastasio and his disciples of Phish, went to Burlington so you know this place screams 4/20 friendly. With pizza joints like American Flatbread nearby, you'll know exactly where to get your munchie fix in this college town. Imagine how good it'll taste once your taste buds get turned to the max. If you're looking for some dessert, hit up the original Ben and Jerry's. This hippy-haven even elected a Democratic Socialist mayor back in the 80s who you might recognize from recent news: Bernie Sanders. With Burlington's high concentration of regular weed users (11.4 percent of residents), you'll always find someone to pass the joint to next.
5. University of California, Santa Cruz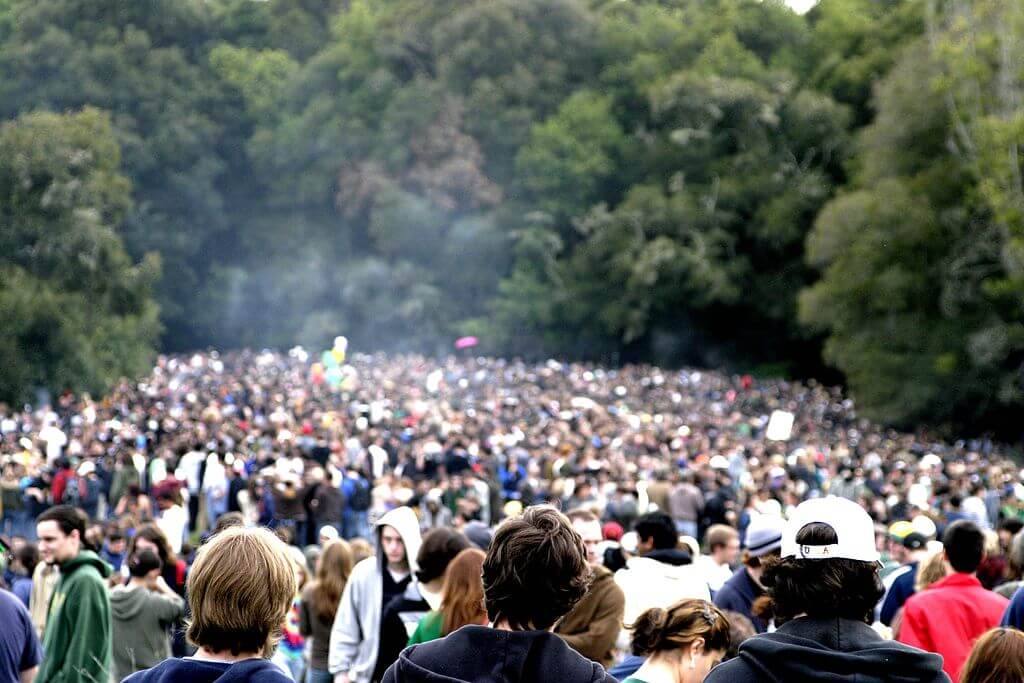 Whoever came up with the Banana Slug as the school mascot must've been stoned out of their gourd. UCSC earned the honorable distinction as the school with the most drug referrals for two years running. During the 4/20 festivities in a meadow of the Santa Cruz campus, cops took a whopping three pound joint away from one druggie. "Attending this festival, I felt a sense of pride in being a banana slug, in smoking marijuana, and in fact that those two, if only for one day, were linked under the slogan 'higher education,'" said sophomore English major Rach. Not only do Santa Cruzians smoke weed, but they're on the forefront of marijuana innovation by hosting SC Labs, the largest cannabis testing facility in the world.
4. Reed College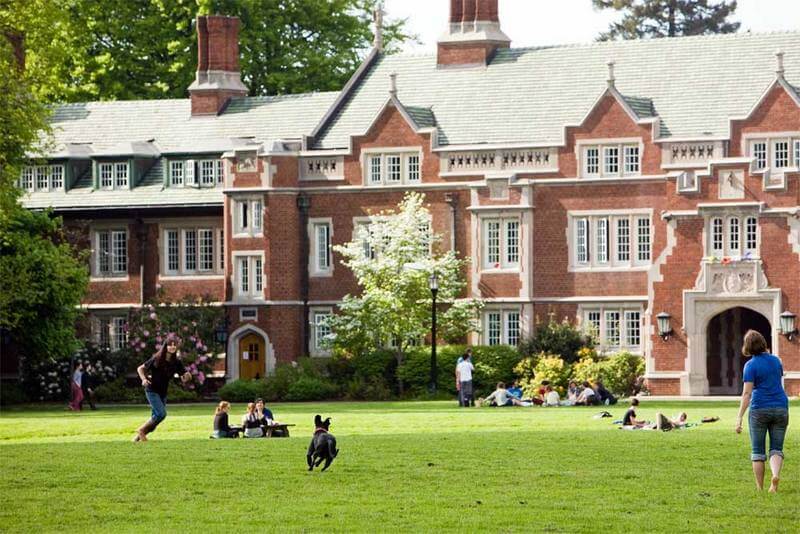 With a motto like "Communism, Atheism and Free Love," you know this place reeks of reefer madness. "I would say the vast majority of people smoke. 4/20 was a fun day, community safety hosts an event with free donuts," comparative literature sophomore Lewis said. Even the school's president Colin Diver is privy to the weed mania. "When you say Reed, two words often come to mind. One is brains. One is drugs," Diver told the New York Times. If the president said it, it must hold true. This tiny liberal arts school sits in the very weed-friendly city of Portland surrounded by forest. The school's annual Renn Fayre, which began as a Renaissance Fayre, involves a three-day drug extravaganza festival that really earns this counterculture school its spot on the list. The unconventional school doesn't even let their students see their grades as long as they're passing. That's far out, man; I bet those professors would be chill enough to smoke until their eyes turned red with their pupils.
3. University of California, Berkeley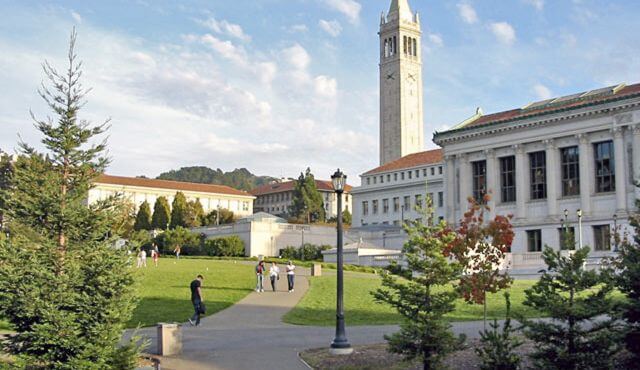 Loved by pot-smoking protesting hippies and hated by Ronald Reagan, Cal offers a haven for weed enthusiasts. The magnificent aroma wafts from People's Park, telegraph Avenue, the coops and Greek row conjoining in a magical cloud that encompasses the whole school. On the most sacred holiday, April 20, Memorial Glade quad lights up as the clock strikes 4:20. People set up shop to sell pizza and donuts, taking advantage of the hungry participants. The sight is most beautiful to behold. "I cannot wait for 4/20 aka the most magical day of the year! The weed is so much better in Cali than the sh-t they have in my homeland of Spain. After I get fueled on THC I make sure to hit up CREAM. Best damn ice cream in the world," freshman chemical engineer Ram said.
2. University of Colorado, Boulder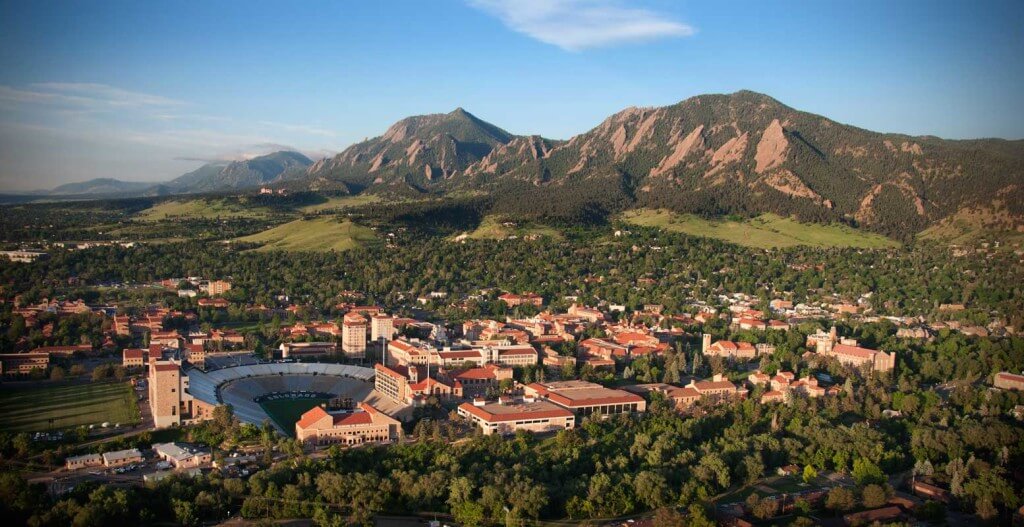 Boulder offers a truly comprehensive stoner experience. You can pick up some Mary J at one of the many dispensaries (it has the third highest per capita amount of dispensaries in the States), light a jay, take a scenic hike in the beautiful Rocky Mountains and enjoy some dank food whilst listening to some chill music. Home to the Colorado Classical Music Festival (the largest in the country), UC Bolder chills to the most relaxed listening patterns on Spotify of any college. Don't miss out on the 4/20 celebration, when over 12,000 weed enthusiasts flock to campus. "Last year CU police taped all of our lawns so kids wouldn't go on them to smoke, and there were cops patrolling the campus like crazy. Another year they sprayed this nasty fertilizer on the lawns so it smelled really bad and no one wanted to smoke weed there," sophomore journalism major Tess said. With events like the naked pumpkin run and the naked bike ride, the city has a reputation for its open culture. Getting weed in Boulder is like stealing candy from a baby… and that candy tastes even sweeter under the influence.
1. University of Oregon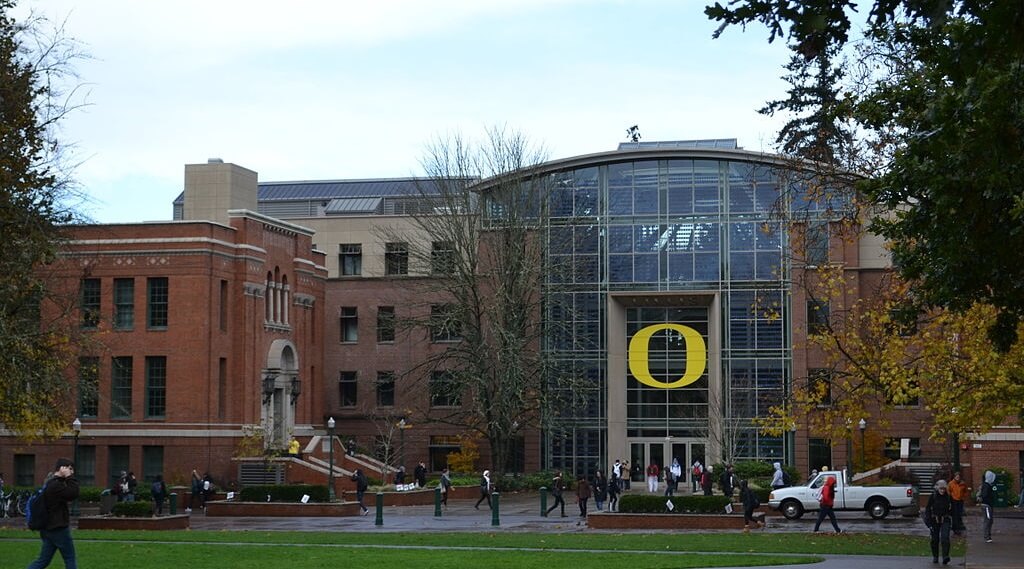 Proto hippy Ken Kesey went to this place back in the 50s, leaving his mark of free spiritedness and drug use for decades to come. Located in Eugene, you'll find tons of Ecofriendly bikers on 81 miles of on-street bike lanes, old Deadheads sticking around and reefer-loving hippies everywhere. The hippy vibes come off as strong as the weed, especially since Oregon legalized recreational marijuana. "People smoke it here ALL the time. I mean of course people care about academics here, which are very good, but they also know how to have a good time," political science sophomore Joe said. "We don't have any rituals here, it's just so commonplace. There's just something in the air here that just makes you want to chill out and smoke." Even the football players like to get lit here: According to an ESPN exposé 40-60 percent of the players smoke weed regularly. At other schools they might teach their players the shake and bake, but at U of O it's more like the wake and bake.
College Magazine does not promote marijuana use. Please use responsibly.