Didn't watch every movie chronologically in the Marvel Cinematic Universe (MCU) for the past 10 years? Thank goodness for Disney+. Now you can play catch up, just in time to really soak into MCU's newest release– Spider-Man: No Way Home. This film not only takes the cake as the movie of the season, but the Marvel movie of the decade. Without any spoilers, let's just say that this movie certainly exceeds all expectations. This chart-topping blockbuster gave fans everything they wanted, and we mean everything.
Keep reading for the Top 10 Movies to Binge In Order Before Watching Spider-Man: No Way Home (and don't worry… No Spoilers!)
1. Spider-Man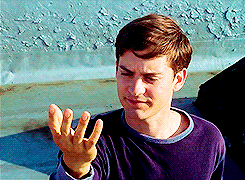 If you remember one thing from the first Spider-Man, remember the words "with great power comes great responsibility." Thanks a ton, Uncle Ben.
As the first movie you need to watch, this 2002 nostalgic movie sets the scene for Spider-Man's New York City, while allowing the audience to forge connections with the franchise's beloved characters. Beginning and ending the movie with the depiction of Peter's endless love for Mary Jane Watson (MJ), the writers prove that love and sacrifice remains the ultimate theme of the movie.
18-year-old Peter Parker, a high school senior with a love for science, experiences strange alterations to his body after getting bitten by a spider with genetically altered venom. He begins to climb up the walls and soon develops the ability to shoot webs from his wrists. With this newfound power, he begins swinging throughout the streets of NYC, fighting crime as a "friendly neighborhood Spider-Man." But with any superhero movie comes a supervillain, who takes shape in the form of mad scientist Norman Osborn.
"The original Spider-Man is integral watching for anyone who loves superhero movies especially if you are going to watch No Way Home! The amount of call backs, little nods and references to the original is great for returning fans. Though if you haven't watched the original you won't be left having your head scratching. Still, the original deserves your attention," St. John's University sophomore Chris Catalano said.
Will Spider-Man defeat Norman? Will he prove himself a hero? Get binging to find out what happens next! Spoiler alert though… two Spider-Man movies come after this one, so nothing too life-altering will occur.
2. Spider-Man 2
Imagine a dude with six arms (four of them being robotic) taking a swing at you. Probably won't end well—the odds seem stacked against you.
Spider-Man faced the same problem in Spider-Man 2, meeting his once mentor Dr. Otto Octavius some unexpected situations. Later branded "Dr. Octopus" by the newspaper "The Daily Bugle," Octavius' experiment completely backfires, causing him to lose his morals and attack the city. Peter Parker must step up and save NYC, all while fighting his insecurities and fixing his relationship with the love of his life, Mary Jane.
"Tobey Maguire's Spider-Man is such a classic, and my absolute favorite. This movie especially captures the personal trials Peter Parker faces. Spider-Man 2 is filled with heart, laughter, a slight existential crisis, and a great villain," Stevens Institute of Technology sophomore Gianna Callegari said.
Branded the best movie of the Tobey Maguire Spider-Man trilogy by fans around the world, Spider-Man 2's explores themes of loss, identity and choice. Like any good superhero movie, the action-packed fight scene at the end will get you excited for the next movie.
3. Spider-Man 3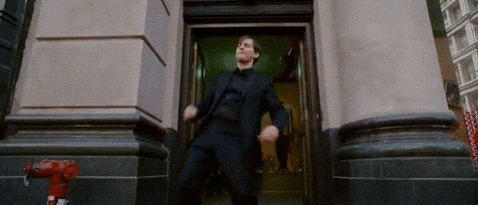 Ever seen a clip of Toby Maguire rockin' a black fit and dancing around the streets of New York? Well, buckle up. This movie contains everything.
Spider-Man 3 literally possesses three different villains, so you'll need to pay attention while watching this one. First, let's talk Harry Osborn. Son of Norman Osborn (yup, the villain from the first movie) and best friend of Peter. Harry becomes Spider-Man's newest nemesis. Then, a weird black mushy alien thing called a symbiote ("Venom") finds Peter's room and begins to control his actions. Peter becomes angrier and loses his morals—a staple for the classic Peter Parker. Finally, Sandman arrives on the scene, a man completely composed of sand after an experiment goes wrong.
"I like Spider-Man 3 because of its themes of choice and forgiveness which go beyond what is typically portrayed in superhero films. The movie shows that by learning to choose to forgive others (and most importantly ourselves), we are able to become the best version of ourselves which allow us to live a fulfilling life with dignity," John Jay College of Criminal Justice junior Michael Wright said.
So, this movie certainly characterizes as a "mouthful." But, as the last movie in the trilogy, Spider-Man 3 somehow manages to close all loose ends and ties the previous movies into a lovely bow. We love you, Peter 2.
4. The Amazing Spider-Man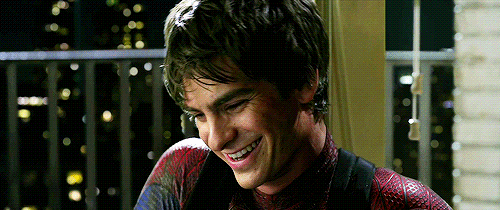 No thoughts… only Andrew Garfield. Many argue that The Amazing Spider-Man possesses the most comically accurate depiction of our boy, Peter Parker. Others dislike this movie, saying that the writers missed a ton of plot holes. Despite the controversy, one thing remains certain—Peter Parker's amazing love story with Gwen Stacy. *Chef's kiss.*
The Amazing Spider-Man begins similarly to Tobey Maguire's first Spider-Man with the infamous spider bite. After Peter gets bitten, he meets with nemesis Dr. Curt Connors (also known as the Lizard) to chat all things relating to his father's death and his weird new powers. Soon enough, Connors turns into a Lizard after trying to grow his arm back and attempts to destroy NYC. Seeing any common themes? We bet you will guess the rest.
A major difference between this film and the other Spider-Man's, though, remains Peter's love for Gwen Stacy instead of MJ in this franchise. Stacy, played by the amazing Emma Stone, makes the plot brighter and the movie more exciting and enjoyable. So get watching and contemplate how your life would play out if you became a lizard.   
5. The Amazing Spider-Man 2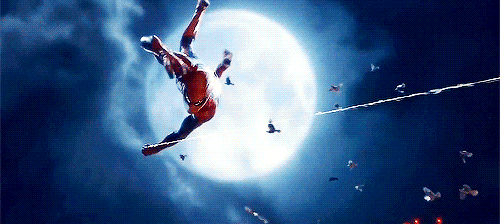 No tears yet? Don't worry. This one will certainly get you crying, so grab that tissue box before you hit play.
This movie creates yet another villain replica from the OG Spider-Man's, as Harry Osborn makes another appearance as Green Goblin. Spoiler alert—this one doesn't end as nicely. The Amazing Spider-Man 2 also stages an epic battle with supervillain Electro (played by Jamie Foxx), who falls into a tube of genetically altered eels and becomes a walking and talking outlet. Don't mess with this dude unless you yourself become Spider-Man. The movie ends with yet another villain called Rhino, who resembles a huge mechanical Rhino – on land.
Although this sadly remains Andrew Garfield's last Amazing Spider-Man movie, the film certainly ends with a bang. A bang of sadness, but still, a bang.
6. Captain America: Civil War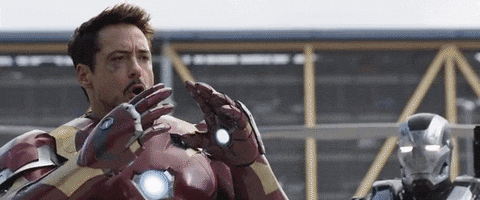 Now that we looked at all the older Spider-Man movies, time for us to consider Tom Holland's Spidey debut in Captain America: Civil War. This one might not seem as essential, but Civil War helps the audience to gain an understanding of the newest Spider-Man in the MCU (and his role with the Avengers).
To recap—the Avengers, not to be confused with a boy band, work together to save the world with their incredible superpowers. In Civil War, though, they come across a bit of a disagreement about Captain America's bestie Bucky Barnes. Iron Man and Cap go head-to-head, and Peter (an avid Tony Stark admirer) sides with Iron Man. Stuff goes down, they fight and of course reunite eventually.
"Captain America: Civil War is one of my favorite movies. This movie truly shows how fragile the team is as a whole, when Baron Zemo shows up to take control of Bucky and expose him, he killed Iron Man's parents; once he does, it's easy to make Captain America and Iron Man go head to head. The fight scenes were amazing and it truly shows how any stable person cannot be defeated by one person, but by themselves. A great concept for a great movie," St. John's University sophomore Peter Rapaglia said.
Civil War gives the audience a glimpse of Peter's boyish charm and exuberant personality. Peter Parker, the adorable 15-year-old with very little experience, succeeds in fighting tooth and nail with some of the biggest names in Marvel's history. So… who's side will you choose? This will spark the Edward v. Jacob debate all over again.
7. Spider-Man: Homecoming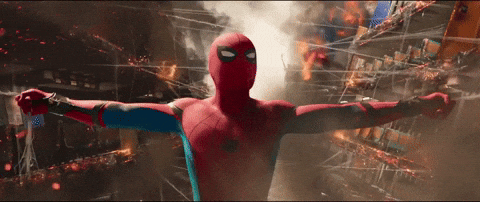 Tom Holland finally got his own movie, featuring Iron Man of course.
Homecoming begins with Peter Parker learning to navigate his dual life as Spider-Man. He hopes to become more than the friendly neighborhood Spider-Man, but Stark advises him to lay low and start small. Peter of course doesn't listen and finds himself in the middle of a battle with engineer Adrian Toomes, also known as the Vulture.
Peter learns the ins and outs of life as a superhero in Homecoming, alongside trying to get through high school as a normal sophomore. Obviously, he finds difficulty in pulling a Hannah Montana, and cannot simply life with the best of both worlds.
With fantastic fight scenes and a cameo from the one and only Staten Island Ferry, Homecoming remains far from disappointment. Plus, the plot twist at the end will leave you gasping.
8. Avengers: Infinity War A turning point in the Marvel Cinematic Universe, Infinity War remains the culmination of all superhero and avengers movies coming before. An evil Barney-looking guy named Thanos threatens to wipe away half of the world's population, and all the avengers work diligently to defeat him. He goes throughout the universe trying to collect the six infinity stones he needs to complete his mission and throws a few hissy fits in the process.
Peter again joins the fight alongside Tony Stark, his role model. The epic fight results in Thanos succeeding in wiping away half of the population for five years, Peter Parker included. The concepts in the end of this movie tie directly into Spider-Man: Far From Home, which remains important to the newest Spidey movie. So, pay attention!
9. Avengers: Endgame
All of the MCU led up to this movie. Of course, until Spider-Man: No Way Home came out last month. Let's get into this.
The Avengers who survived the blip (the fancy term to describe the people who vanished from existence) work to bring those who disappeared back. Peter Parker included. When they return, they then join forces with every superhero in the MCU to fight the evil mastermind, Thanos. Sadly, many die in the process, as many of the heroes go down the road of self-sacrifice for the greater good. Without any spoilers, this almost three-hour cinematic masterpiece forced fans to punch the air at the highly anticipated ending.
Many MCU fan's favorite movie and one of their biggest productions, Endgame certainly remains worth the watch. Most TV shows and movies in the newest TV shows and films in the MCU take place post-blip— Spider-Man: Far from Home included.
10. Spider-Man: Far from Home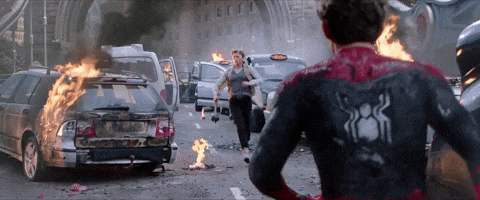 Let's dive into the movie on this list that you need to watch right before Spider-Man: No Way Home.
Imagine travelling to Europe for a class trip with your high school friends and crush, only to find out that a drone-obsessed psychopath followed you and wants to steal your cool sunglasses? Peter Parker finds himself in this strange situation, but this time without his mentor Iron Man to turn to. Ex-Stark employee Quentin Beck, also known as Mysterio seemingly befriends Peter as they fight the elementals. These elementals represent the four elements of nature (air, water, fire, Earth) and destroy everything—people, buildings—in their path. However, Peter soon learns that Mysterio possesses some anterior motives.
"I recently got into the Marvel movies, and this was one of my favorites! I liked that it took place in Europe, and I couldn't get over the plot twist at the end. I also loved watching MJ and Peter's love unfold. Their love story that is such a staple to each Spider-Man movie," The College of New Jersey sophomore Jenna Saldi said.
This beautifully constructed movie keeps watchers on their toes throughout the entire movie—especially for hilarious scenes with Peter's bestie Ned, and for his romance with his school crush, MJ. Far From Home's ending will get you ready and prepared for the MCU's newest (and incredible) Spider-Man movie—Spider-Man: No Way Home—out in theater's now! Grab your popcorn, tissues and get watching.