During my high school years I dedicated all my time to watching the most pivotal coming of age films spanning from the 80s all the way into the 2010s. I lived vicariously through each and every character as they endured heartbreak, friendship drama and identity crisis', all from the comfort of my own couch. Now, I'm in college and just turned 19. Yeah, technically I'm an adult, but I'm still clinging to my glorious, emotional, beautifully complicated teenage years. I'm even a little discouraged now that I'm closing a chapter of my life filled with so many memories and personal growth. Instead of being sad about the inevitability of becoming an adult, let's celebrate. So how should we celebrate? By listening to some of the most iconic speeches from beloved teen movies that shaped me into the awesomely unique main character I am today. 
Read on for the top ten memorable speeches from teen movies.
10. Cinderella Story: Locker Room Speech
"And the thing is, I don't care what people think about me…because I believe in myself. And I know that things are gonna be okay. But even though I have no family, and no job and no money for college…it's you that I feel sorry for…because waiting for you is like waiting for rain in this drought. Useless and disappointing".
A tale as old as time. Unpopular, underprivileged girl falls in love with the guy that everyone in school swoons over. Of all the renditions of A Cinderella Story, Hillary Duffs version remains one of the most famous from the bunch (Selena Gomez's version will forever remain my personal favorite, though). All modern takes of this classic fairytale brings me back to playing dress up, dreaming that I too could transform into a princess. Now that I am older and wiser, I realize that beyond the sparkling tiaras and glass slippers lies a deeper message.
"On the record: My favorite teen movie speech was given by Hilary Duff as her character Sam in A Cinderella Story (2004) because it demonstrated independence and self-confidence developed that I hope all young women come to realize," Gabriela Battisti a freshman from St. John's University said.
Duff's character, Sam, just like Cinderella, has an unbearable stepmother and catty stepsisters. Sam waitresses at her stepmother's diner and often feels invisible to her popular peers. However, when an online relationship sparks between her and her school's star football player, Austin, she feels the need to change herself so he will accept her. After her identity becomes revealed and she gets publicly humiliated by the head cheerleader, Sam realizes that she needs to learn how to accept her true self and musters up the courage to face her online love. This speech shows how Sam finally became comfortable in her own skin and no longer needs to hide behind a façade, something she wishes her love interest will learn as well.
9. High School Musical: Graduation Speech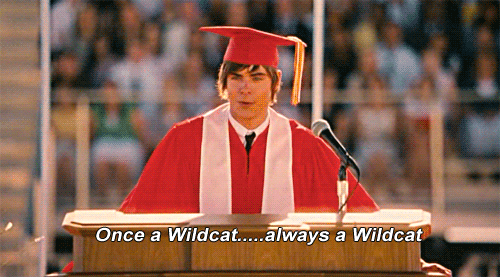 "East High is a place where teachers encouraged us to break the status quo and define ourselves as we choose. Where a jock can cook up a mean crème brulee, and a brainiac can break it down on the dance floor…Once a Wildcat, always a Wildcat!"
High School Musical, in my eyes, falls under the sci-fi genre. I think we can agree that the possibility of the most popular jock in school also being able to sing, act, dance, maintain perfect hair and present a speech at his graduation without being the valedictorian, seems otherworldly and impossible. Like most movies, High School Musical may not seem the most accurate, but Troy's graduation speech inspires us all to explore new passions and follow our hearts. High School Musical fans endured great heartbreak once the original series came to an end, but Troy's speech provides closure and really wraps up the trilogy that many 90s and 2000s babies grew up on.
8. Clueless: Statue of Liberty Speech
"And in conclusion, may I remind you that it doesn't say 'R.S.V.P.' on the Statue of Liberty".
Cher Horowitz, daughter of a big time California attorney and a 90s style icon, also possesses a natural ability to create an argument and steal the hearts of the audience while doing it. Although she receives a poor grade on her in-class debate due to lack of research, her speech expresses great passion and reminds us all of the opportunities in America. In Cher's creative example, she touches upon a greater widespread debate but also keeps you listening and engaged and that is like, totally rad, as Cher would say. Watching this speech should remind us all to stay confident in our abilities because if you believe in yourself, others will too. I see a future human rights attorney in the making.
7. Say Anything: "Career Plans" Speech
"I don't want to sell anything, buy anything or process anything as a career. I don't want to sell anything bought or processed, or buy anything sold or processed, or…"
Lloyd, a go with the flow free spirit and recent high school grad, can't brag about any plans for his future. Diane, the ambitious valedictorian of her graduating class, plans to attend a prestigious college and thinks everything's all figured out. While they may seem like an unusual mix, a summer romance blossoms between the two and they fall in love. For those of you who live for the "opposites attract" trope, this movie will tug at your heart strings. I also must add, the iconic boom box scene will make you wish you were a teen during the 80s (because I surely do).
In this speech, Diane's father asks Lloyd what his plans look like for the future and he represents the confused young person that exists in all of us. His incoherent response, endearing and hilariously accurate, reassures those who remain unsure about their career path. For all of you out there with no clue what you want to major in, being undecided might end up a great option for you. Learn from Lloyds open minded attitude and take a broad range of classes. You never know, you might unlock your life passion. Next time someone asks what you want to do when you grow up, just Say Anything.
6. 10 Things I Hate About You: Poem
"But mostly I hate the way I don't hate you, not even close, not even a little bit, not even at all."
Kat Stratford, on the surface, keeps her guard up and pushes away those who try to get close to her. However, nothing can cover up her intelligence and fiery voice. After getting involved with a bet, Patrick must complete a seemingly impossible task: become the boyfriend of the most stubborn girl in school. Patrick draws out the deeper layers that Kat hides from the rest of the world. After they experience a falling out, she very boldly presents a self-written poem to her entire class, trying to express how she truly feels to Patrick.
"One of the best and iconic scenes from 10 Things I Hate About You is when Kat reads her poem…It was admirable of Kat to willingly express her feelings since most people never do," The Fashion Institute of Technology freshman Vanessa Rand said.
I couldn't have said it better myself. Kat's character really stands out because she shows that you can stay sensitive while also being strong and independent. For those of you who despise public speaking, if Kat could read out her inner most feelings to her entire class, you can ace that presentation. I memorized this poem by heart because I so greatly appreciate her raw vulnerability. After listening to her speech, you'll feel like a teenager in love.
5. Mean Girls: Prom Speech
"So why is everybody stressing over this thing? I mean it's just plastic, it's really just… (breaks crown)" *Gasps like Damien*
Mean Girls, the pinnacle of 2000s teen movies. It contains all the elements of high school clichés; pink skirts? Check. Cliques and stereotypes? Check. And yet, Mean Girls withstands time and continues to live on as one of the most memorable movies in pop culture.
"Mean Girls for me, as corny as it seems, is so nostalgic. As a movie, it isn't the best and isn't necessarily award winning, but it brings back amazing memories and I grew to associate it with my childhood," Seton Hall University freshman Marlin Rofael said.
Kady's final speech not only screams "girls supporting girls," but also exposes the nonsense of high school and how consumed we can all become in petty drama. The English major in me can't help but see the similarities between Mean Girls and the tragedy of Macbeth. Regina George and her two minions resemble the three witches who corrupted Macbeth. Unlike him, Kady's pivotal speech shows her character growth and redemption, learning that popularity means nothing without true friendship. Both stories demonstrate how power can lead to corruption, so learn from Kady and remember to always stay humble.
4. Never Been Kissed: Prom Speech
"All of you people, there is a big world out there…bigger than prom, bigger than high school and it won't matter if you were the prom queen, the quarterback of the football team, or the biggest nerd in school. Find out who you are and try not to be afraid of it".
Drew Barrymore's character, Josie, speaks for everyone out there who never related to being the coolest kid in school. Now a successful adult, Josie tackles the task of being an undercover student reporting on the secret lives of high school teens. Having been teased throughout her own school years, she uses this second chance to live out the experiences she never got. She quickly realizes that while trends and fashion may change, bullies and popularity never do. Josie uses her newfound wisdom and speaks out against the hall-way tyrants to teach them a lesson about kindness and embracing your quirks. Josie's prom speech showcases her finally standing up for herself and refusing to let the bullies win yet again. Josie also teaches us that the nerds in high school possess the brains to make it, so be nice to everyone because you may end up working for them one day.
3. Perks of Being a Wallflower: Charlies Final Letter
"And you stand up and see the lights on the buildings and everything that makes you wonder and you're listening to that song on that drive with the people you love most in this world. And in this moment, I swear, we are infinite."
The Perks of Being a Wallflower sparks an opened discussion on mental health and the importance of validating the emotions of young people. Charlie, a high school student, endures great loss and pain. He grapples to find purpose in a lonely and judgmental world, revealing one of his greatest internal struggle throughout the film. After finding support from friends and a teacher, Charlie begins to learn how to embrace life and adventure. He uses his love for reading and writing to cope with his overwhelming emotions and serves as a mirror to all teenagers.
"I love this monologue because it tells people to live in the moment…the whole movie in general allows young people to see that there is always a light at the end of the tunnel when you go through hardship," St. John's University freshman Ashley Ciechalski said.
We can all see a piece of ourselves in Charlie. You may fear being opened, confused by what you feel inside and trying to find yourself. Watching this scene just makes you want to go on a long car ride with your friends and blast good music, singing to your hearts fullest content. If you're anything like my friends, you can't forget to get a pinkity drinkity from Starbucks! Charlie projects to the audience the preciousness and fragility of life and how every moment should be treasured because we never know what the future holds.
2. Breakfast Club: You see us as you want to see us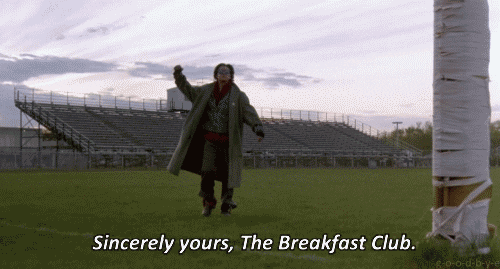 "You see us as you want to see us… In the simplest terms and the most convenient definitions. But what we found out is that each one of us is a brain…and an athlete…and a basket case…a princess…and a criminal."
The Breakfast Club, dare I say, the most famous 80s movie of all time. John Hughes, a genius in crafting relatable teen movies, presents an interesting take on high school stereotypes by bringing together a group of polarizing students who subsequently learn they are not all that different from one another. Claire (the popular girl), Andrew (the wrestling star), Brian (the nerd), Allison (the mysterious girl) and John (the problem child) all get stuck in detention for their own unique reason and end up being forced to spend their Saturday together. Under no other circumstance could all of these individuals become friends, but in learning about each person's struggles, they break down the barriers that kept them all separated when passing each other in the halls.
This speech shows that everyone makes mistakes, even a pretty prom queen. Brian so eloquently vocalizes the shallowness of stereotypes and how first impressions aren't always correct. Everyone knows the final scene where John raises his fist in the air. A calling for us to break the box that society tries to confine us in. Most importantly, the final scene leaves the audience with the message that we should love our individualities instead of conforming to a cookie cutter image.
1. Dead Poets Society: What will be your verse?
"We don't read and write poetry because it's cute. We read and write poetry because we are members of the human race. And the human race is filled with passion. Medicine, law, business, engineering, these are all noble pursuits and necessary to sustain life. But poetry, beauty, romance, love, these are what we stay alive for."
Robin Williams, one of the best actors of our time, always brought a sense of magic to every film he starred in. That being said, the "What will your verse be?" speech holds the title of best speech to come from a teen movie. I wish I could thank Williams for the influence he left on society and in my own life. Dead Poets Society never fails to draw me to tears and at the same time, remind me of the silent beauty that words contain *cries in English major*. Robin Williams as Mr. Keating inspires his all boy preparatory-school class to value love and simple pleasures above all superficial pursuits. He teaches them the fruitfulness of their existence beyond all of the high expectations the world puts on them.
This speech in particular fills the viewer with a new perspective on our existence. After watching, you too will realize that within us all exists an artist and your own hopes and dreams will awaken. This movie also addresses issues such as toxic masculinity, encouraging all young men and humans as a whole to be in tune with their emotions. Like many English teachers, Keating uses his role as an educator to inspire his students and teach them about life instead of merely sticking to a conventional curriculum. I don't know about you but I'm going to binge read soppy poetry and eat a whole box of chocolates, brb.