It's 3 a.m. You've been out partying, drinking and dancing. You thought you'd be exhausted by now, but there's one thing you didn't account for – that growling in your stomach begging you to throw your diet out the window. We've all been there: Whether we've been at the club, studying or simply can't fall asleep, there's just something about the early hours of the morning that leads us to bad nutritional decisions. Lucky for us University of Florida students, Gainesville has a lot of after-hours food to offer. In the spirit of the munchies, we've compiled an indulgent list for the next time you find yourself in this predicament.
Treat yourself to more than a late-night snack, like a tank:
Find out where you can find the best late night food around Gainesville.
10. Steak-n-Shake
Classic, cool, vintage. The big advantage of this 24-hour joint is the all-American burger appeal. "It's fast food, but the quality is a few steps above McDonalds and Burger King; it's a bit more upscale," said junior Kevin Mora. If you haven't been to a Steak-n-Shake yet, the premise is simple: burgers, sandwiches and some of the thickest, hand made milkshakes you'll ever slurp. Add to this the fact that an entire meal costs as little as $4 and you've got a fan favorite for the broke college student crowd (which is basically all of us).
9. Pita Pit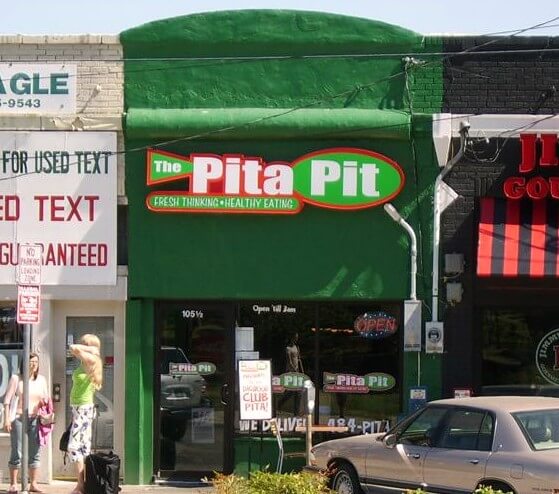 Pita Pit is just a few steps from Midtown, party central for co-eds and out-of-towners, so it's a convenient go-to when the clubs close. "The Pit" works like a sub shop where you choose your bread, meat, toppings and sauces to customize your pita to your cravings. The fresh ingredients make for a quality meal and ensure you won't wake up sick the next morning.
8. IHOP
The IHOP on 13th street is a well-oiled machine always working to satisfy an audience that packs the dining room night after night. The charm, according to senior Derek Hua, is the variety: "You can really get anything: burgers, breakfast, dinner entrees, appetizers and of course, pancakes. There's really no need to go anywhere else." IHOP's large menu offers both affordable and indulgent options for you to choose from, but I'll include a personal suggestion: Have the pancakes, always.
7. Cheese Daddy
Even in college, living deadline to deadline with stress as the status quo, a grilled cheese sandwich makes us revisit those warm, carefree elementary days when it was the most frequent meal in our lunchbox. Cheese Daddy offers that and much more; it does grilled cheese 2.0. "Whether you order a simple cheese melt or decide to add ingredients to it, you'll notice it's done just right – nothing fancy or experimental," Mora said. For added nostalgia, get the tomato soup. For enhanced flavor, have a Mac Daddy. (Yes, that's a grilled mac & cheese sandwich. What a time to be alive.)
6. California Chicken Grill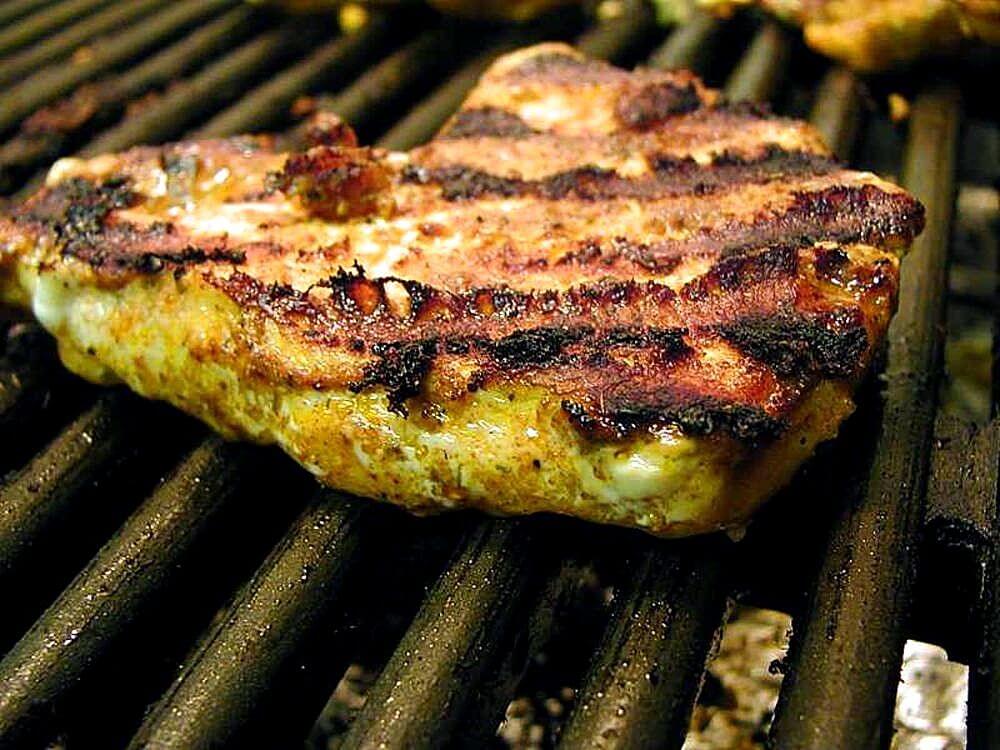 Just because it's late doesn't mean you have to break any diet rules. California Chicken Grill is a niche establishment for those looking for a healthy choice. "I work hard everyday to stay in shape, so I don't want to throw all that away just for a craving," said junior Alex Perez. If you're a nutrition nut, this can be your oasis in a desert of frying oil and pizza crumbs. California Chicken Grill offers salads, wraps and sandwiches with a choice of grilled or baked chicken at reasonable prices. Chances are this is what you already eat on a daily basis, so you won't have to feel guilty of hindering the progress you've been making in the gym.
5. Tropical Smoothie Café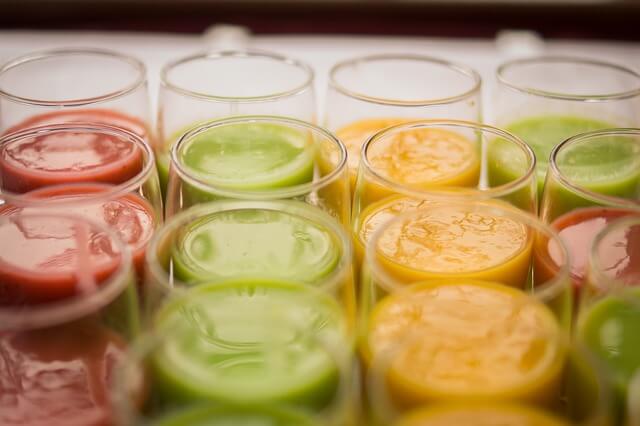 If hunger hits you in the middle of an all-night study marathon, this 24-hour café is for you. Tropical Smoothie Café makes for an unlikely study nook, one that's off the grid and less crowded than the typical lib table–not to mention the delicious food at arm's length to help you rally to the finish line. "Honestly, I [would] much rather study here than at Marston, where everyone is stressed and loud," said junior Emily Vitieri. Most people who come through the café pick up their smoothies and go, but it's common to see study groups and single students poring over their books.
4. Krispy Kreme
There's nothing like the scrumptious taste of a fresh warm donut to bring a smile to your face before going to bed. "Before coming here I had only seen Krispy Kreme at the supermarket," said senior Alejandro Gomez. "Now there's like two or three extra pounds on me that they're responsible for." Krispy Kreme is also close to Midtown and its bright, massive sign flashes when their bakers pull new batches from the oven. Long story short – when the "HOT NOW!" sign lights up, the masses flock to Krispy Kreme.
3. Flaco's Cuban Bakery & Coffee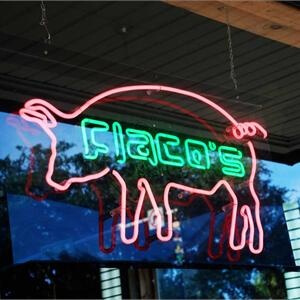 Flaco's has everything from pastries to shredded beef to black beans, all cooked with the authentic Hispanic smells that'll make your mouth water even if you've never been south of Texas. "When I first went, I felt like Columbus when he saw America," said Vitieri. "To me, [Flaco's] was a whole new world." If you're looking at a long work shift the day after, pick up a colada of Cuban coffee to bend you into shape.
2. Gumby's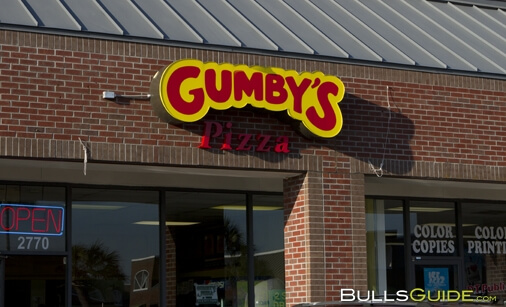 This nationwide chain got started in our very own town and has become a staple of the Gainesville community. "It's not a successful Saturday night if we don't end up ordering Pokey Stix," said freshman Allan Glickman. Pokey Stix are Gumby's specialty cheese sticks smothered in garlic butter and baked into a pie; essentially cheese stick pizza. As a pizzeria with dive bar aspirations, you'll find an early 90's atmosphere at Gumby's. This suspension in time and space is what makes their pizza unique. Gumby's is reminiscent of a simpler time, when words like "macronutrients" and "organic" weren't part of the vernacular and calorie counting was reserved for snobs and scientists.
1. Midnight Cookies
Midnight Cookies transcend the senses. "It's not food, it's an experience," said sophomore Jorge Zaldivar. You can call them for delivery, but the smell of the shop alone is worth going the distance. As soon as you order, they put those cookies in the oven just for you, and what might seem like a questionable business choice is well worth the wait. The cookies and cream cookie has Oreos in the dough, the Birthday Cake has cake and the S'mores is topped with a crisp marshmallow. Plus, it's a bargain: $1.35 gets you a giant cookie and a lifetime addiction.