Deciding on a Halloween costume every year feels like the most stressful part of the whole holiday. You constantly think of which costumes everyone else will show up as, trying to stray away from any chance of a repeat. It's a constant struggle of finding a costume people will appreciate without showing up as the same character as someone else. If you want to stray away from the overload of Barbie costumes and different Taylor Swift eras, I have some ideas that'll give you some creativity points at your next Halloween party.
Here are my top 10 recommendations for Halloween duo costumes:
1. Dipper and Mabel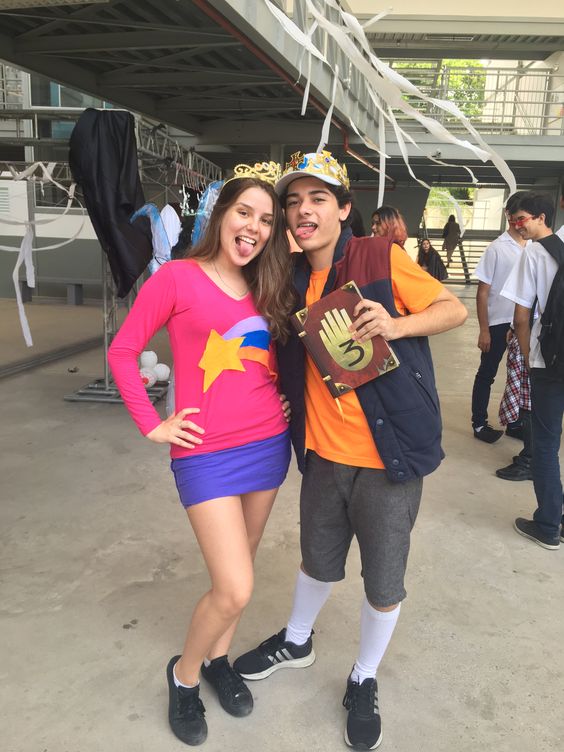 If you want to channel your Disney roots with a unique costume, try taking a look at Gravity Falls characters! The iconic Dipper and Mabel duo will definitely turn some heads at gatherings or even when you go trick-or-treating. With Dipper's staple hat and Mabel's rainbow sweater, I promise your costumes will shine in the crowd. You can even add fun accessories like a Zonster plushie or Dipper's Bill Cipher necklace. Even better, if you have a fraternal twin, you can really sell the "twins" look of Dipper and Mabel Pines.
"I feel like Gravity Falls is such an underrated series and an even more underrated costume. It's so simple, but the little details really make Mabel and Dipper's look one for the books," De Anza College junior Rosalinda Baeza said.
Personally, I think nostalgia wins any sort of competition. If you can really sell the vibe and essence of Gravity Falls, this costume guarantees a win in any book. Dipper and Mabel were written as two of Disney Channel's best icons from our generation. Pulling off their look and making their animated faces come to life will blow everyone away. In the words of Mabel, "Just because something's weird, doesn't mean it's not awesome."
2. Azula and Katara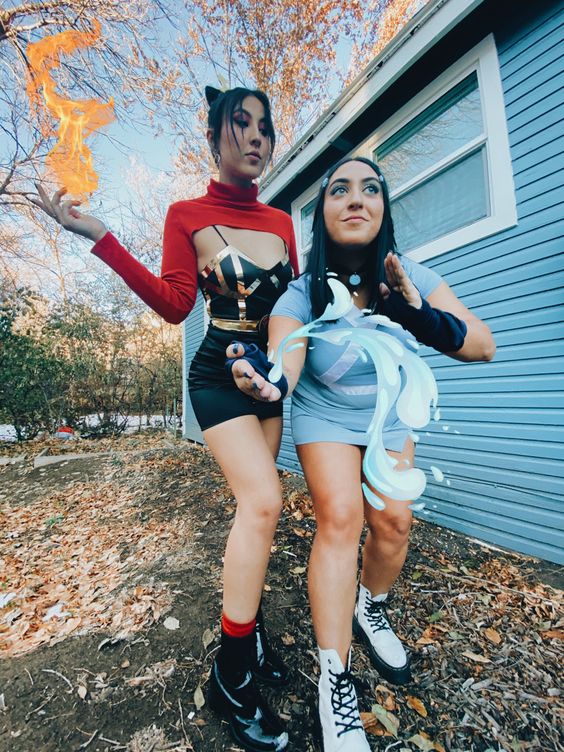 With the same trend of paying homage to your favorite childhood shows, we continue with the costume duo of Azula and Katara from Avatar: The Last Airbender. These characters were definitely as feisty and brave as they come, but their costumes also make a statement for themselves. If you can put some effort into the intricate details of Azula's Fire Nation armor and Katara's Tungusic robe, these costumes surely will turn some heads. Since both of these characters have respective powers, it would be fun to have accessories that squirt water, for Katara, or shine light to represent fire, for Azula. Either way, you can really make it your own.
3. Jake and Tricky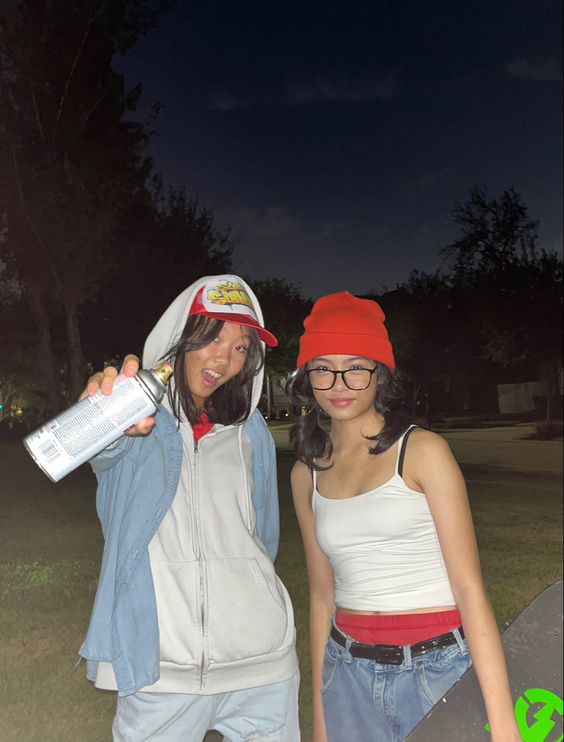 Even though some people may not recognize this costume at first glance, who doesn't love a good Subway Surfers cosplay? If you're looking for a fun last-minute costume, you and your bestie can dress up as Jake and Tricky using things you already have in your closet. You can make this look your own by adding in some really cool denim pieces you've been looking to use in your wardrobe. Since the game includes many power-ups, this creates endless opportunities for the use of props. You can bring a skateboard, a pogo stick, a colorful backpack, or even a can of spray paint with you to really make it unique.
"This is a costume my best friend and I are wearing this year. We're even getting another friend of ours to be Frank. It was super easy to put together and we're definitely taking some cool pictures in action," Evergreen Valley College junior Jasmine Osorio said.
This costume idea satisfies anyone who still plays games on their phone as a guilty pleasure. I know I do. But, this costume is almost as iconic as the run that Subway Surfers had on the App Store from 2012 to 2019, being the most downloaded game of the decade. You can't go wrong with a reference to the early 2010s, especially with a game that everyone loved so much. If you take pictures of this costume, make sure to show off your best parkour moves and get some cool action shots!
4. Juno and Paulie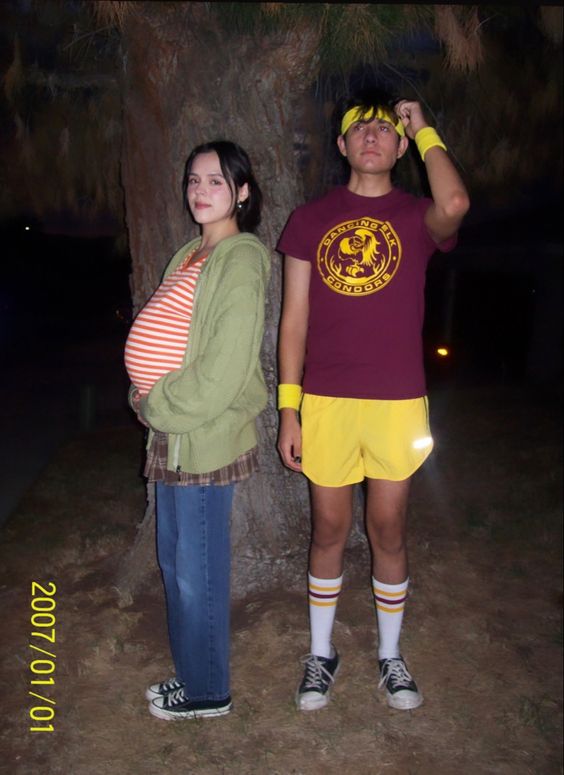 For those that haven't watched the movie, this costume can look a little strange to some. However, if you have watched the movie, then you'll understand just how amazing this costume idea really is. This duo costume certainly isn't for those who want more of a "sexy" and feminine costume. But if you're looking to get some laughs out of your look, Juno MacGuff will definitely get that for you. You can most likely create this look with clothes you already own, like a simple striped T-shirt and a green zip-up. If you take pictures for social media, make sure to nail that move poster pose for extra accuracy.
5. Remy and Linguini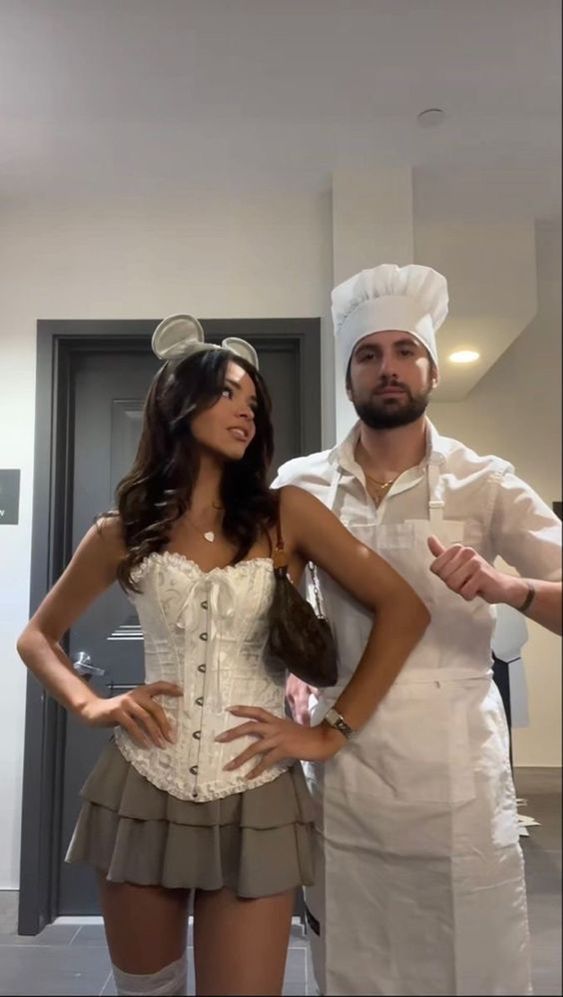 As this costume gets more popular, it's a good idea to take advantage of it while you still can. You may see others as Remy and Linguini as well, but don't let it scare you away from pursuing it yourself. However, like every other idea on this list, you can really make it your own. Whoever chooses to dress up as Remy can buy a rat onesie and make it a cozier outfit. Or, if you want to make it a little more dazzling, you can wear a corset, a mini skirt, and some ears. As for Linguini, there really isn't anything you can add to a chef's costume. But, if you want to truly show off your cooking abilities, feel free to make Halloween a potluck and make your own ratatouille!
6. Tinker Bell and Captain Hook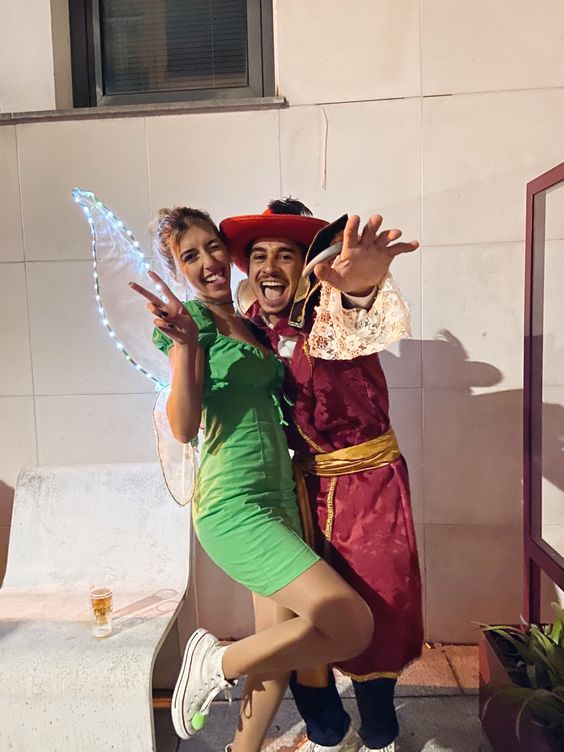 If you're looking for a classic duo costume, Tinker Bell and Captain Hook is the perfect option. Both characters can be dressed up or dressed down. If you want to dress down Tinker Bell, feel free to swap out the green skirt or dress for some pants of the same color. As for Captain Hook, if puffy pants aren't your thing, you can totally switch those out for a cute black skirt and some knee-high socks. In terms of accessories, don't forget Tinker Bell's wand and Captain Hook's hook.
7. Daphne and Velma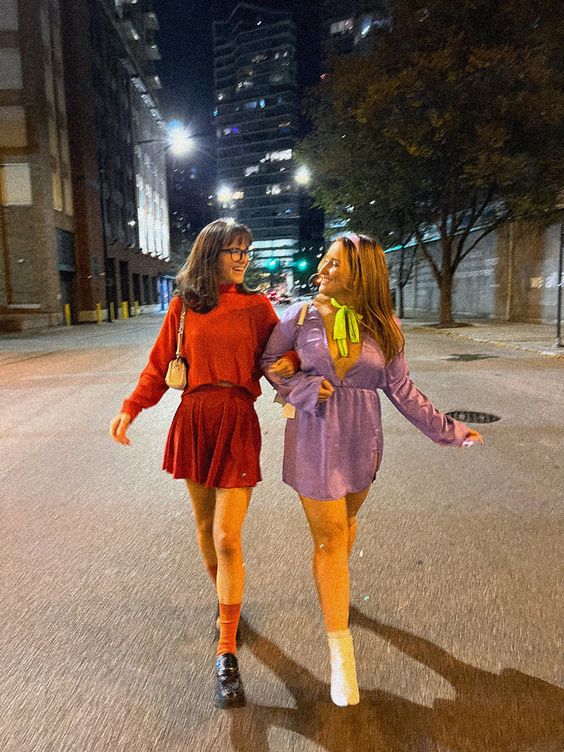 For those of you that love the clothing style of the 1960s and don't want to spend too much money on a costume, Daphne and Velma is right up your alley. Even if you don't have every single piece of these costumes, I guarantee you can pick up the missing ones at your local thrift store for cheap. These recognizable costumes can help incorporate some color into a rather dark and spooky holiday. If you have a dog, you can dress them up as Scooby-Doo and bring them along as well. You can also expand this costume to the full Mystery Incorporated crew with Shaggy and Fred.
8. Jake and Finn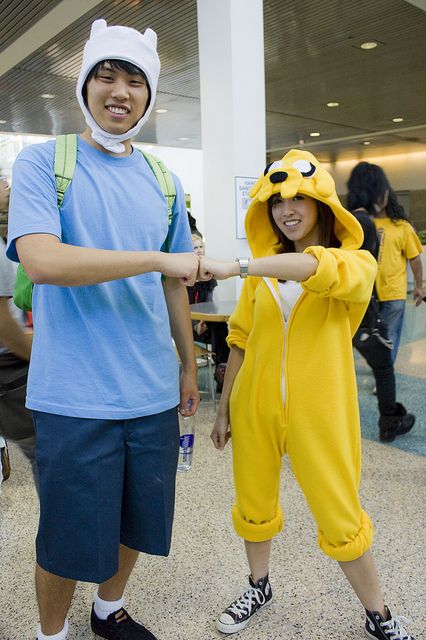 For those of you that spent all of your money on Adventure Time merchandise from Hot Topic when you were younger (like me), I have the perfect costume for you. I've had a Finn hat collecting dust in the back of a drawer for as long as I can remember. But, for the person who wants to be Jake, you can put it together quite easily. A simple pair of dark blue shorts and a teal short put together a great Finn costume. There are links on Amazon and Etsy for Jake's costume, including inexpensive onesies and T-shirts. Don't forget Finn's sword and a green backpack, and you'll definitely get some nods of approval at your next party.
9. Coraline and Wybie
If you feel inclined to wear a wig this Halloween, find yourself at peace with dressing up as Coraline. With a vibrant blue wig and a statement yellow rain jacket, who wouldn't love the idea? Especially if you live in an area where it rains during the Halloween season, you can stay dry and still be festive by dressing up as Coraline and Wybie. For Wybie, you can easily add the gray details on his coat with a cheap roll of duct tape. If you want to show off your artist skills, you can totally add some makeup or face paint to your look with some buttons over your eyes to make it a little more eerie.
10. Anakin and Padme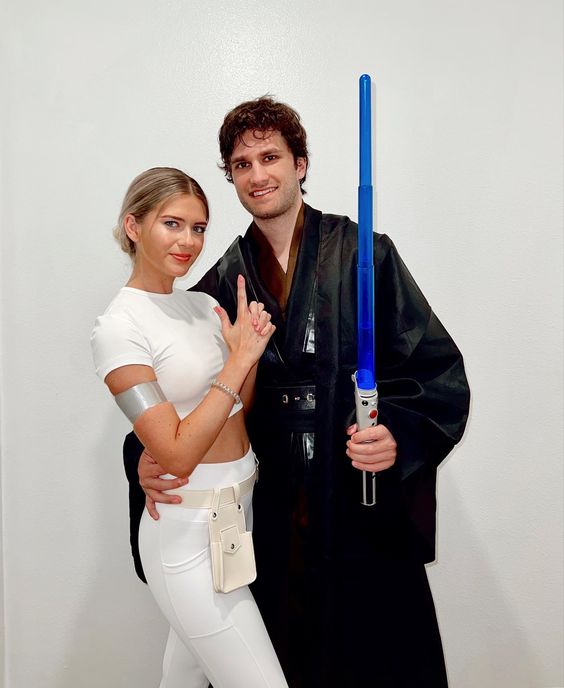 Though everyone loves to keep up with the latest trends, it's never too late to dress up as your favorite Star Wars characters. Most notably, Anakin and Padme take the cake for the best duo. You can only do this costume justice by fully committing to it. As someone who has a bunch of potential props lying around her house, this seems like the right costume to pursue. You can easily make this super animated with a good robe, a lightsaber, or a walking R2D2 robot. Either way, you simply can't lose with this costume.
"Padme and Anakin are a great couple's Halloween costume because they are the most iconic Star Wars couple! It's a great way to express your nerdiness while still doing something hot. There's also so many versions of the couple you can choose from. It's a relatively easy costume as well— Padme's iconic white look from Attack of the Clones is super simple to piece together," Emerson College junior Molly Dougherty said.
Halloween can be the perfect time to channel your inner nerd and make your fantasy come to life through your costume. Especially if you're a collector of limited edition items, it can really show off your love of the Star Wars franchise. Never shy away from an opportunity to let your true fangirl shine through. Iconic costumes come with iconic sayings, so make sure to tell your friends, "May the force be with you."