Looking for a good sports watch might not always be easy. You go into a store thinking you want one thing, and then you get distracted by features on all the other different watches. Next thing you know, the sales associate at Academy Sports persuades you into buying the newest, over-priced gadget when all you needed was something helpful for those morning runs and workout sessions. So before you leave with an empty wallet and a heavy watch weighing you down, check out some of the best sports watches.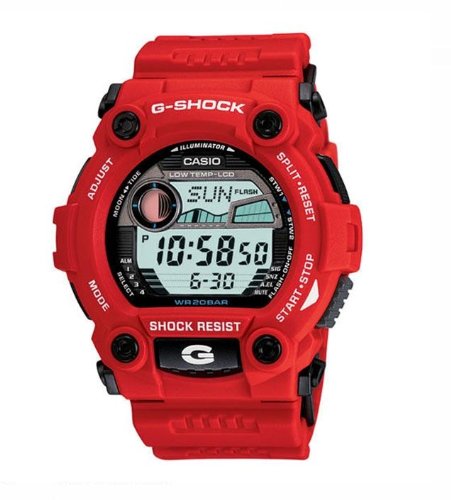 If you're the guy looking to take his sporting adventures out on the waves, you need this watch. The added tide and moon feature are especially for all the aquatic specialists out there. The bold, red watch just waits for you to place it on your wrist as a statement piece to complement the blue ocean. This G-Shock also has a built in four point protection design for those who get into some rough waves.
Price: $62.85
For the hardcore outdoor enthusiast, investing in a military style watch is the way to go. Who needs a cellphone app when you have a watch? For those that enjoy hiking and camping the old fashioned way, you can easily have a compass at the flick of your wrist. All the ladies know it takes real guys to go without Google Maps and campus Wi-Fi. The Gosasa military sports watch has a large screen display with an analog and date display, so you don't have to put a stop on your gains to get a better look at the time. The simple use and light weight feel will make any guy fall in love. I mean, the way to a guy's heart is through his wrist, right…?
Price: $10.99
The early morning run just isn't worth it if you can't see what time you're coming through on your first mile. The Deebol takes care of that issue with the night vision mode. Now you can't use the darkness as an excuse to stop you from going through with your training routine. And if you find yourself always doing multiple things at a time, the analog and digital time keeping on the Deebol sports watch is just the thing for you.
Guys never have a good rep when it comes to being fashionable, but with the S Shock, this stereotype will no longer apply to you. The electric blue against a black base gives a little style for those who like to look good no matter what they are doing. This Gosasa watch also functions as a stopwatch, helpful to the overachieving and competitive types who make sure to always beat their previous running time. The soft strap gives you relaxed fit without tugging on the watch so you can stay on track (pun intended). "I like the look and durability of these watches," University of Georgia junior Rodney Smith Jr. said. "I especially like how they go with different outfits and their durability."
Guys everywhere wear camo pattern, but you can be different and wear camo with a twist. The orange and black camo pattern of this Armitron is for those who like to switch things up and stand out. The face of the watch includes everything you could ever ask for: day, time, chronograph and a timer. You can even use this watch as an alarm for that 8 a.m. you never should have scheduled in the first place. Customers love how everything on the face of the watch is conveniently placed, and the affordability of the watch makes it easy to replace if you lose it. We know. Camo just tends to blend in with everything.
This Armitron has a digital clock and also displays the day of the week and date so you don't have to be that guy in class asking out loud for the date every day. Go ahead and spend a day on the lake with your guys. And don't let the "push you in when you aren't paying attention" prank ruin the day. Your Armitron is indeed waterproof and prank proof. "It's a really good watch overall. It's not too big or heavy and it has a round display," UGA senior Edward Sidwell said.
Everything about the Gosasa LED Sports watch screams simple and is a great choice for those who don't care for all of the high-tech features other watches advertise. You can go about your day not worrying about reaching for the instruction manual after pushing five wrong buttons. The large frame of the watch makes everything from the day, time, week, alarm and stopwatch feature easy to see. No more continuous squinting making you go blind before you get to even graduate.
Is this watch your new back-up alarm clock or is it your new stopwatch for races? Why can't it be both? This Timex offers a 24-hour stopwatch, letting you throw a dance-a-thons where everyone swears they can go for a full day. "[Timex has] good watch warranties, never had faulty equipment [and] they are also very stylish and affordable," Kennesaw State University junior Vincent Moss said. And just in case you're out for an early run and want to keep track of your pace, the Indiglo night light feature will be your best friend.
9. Adidas Originals
For all of those die-hard, wishing-to-be-sponsored-by-adidas athletes out there, here is your chance to expand your adidas wardrobe. This simple watch is for those who want something to use when working out or keep handy on them when going on runs or long walks. The snug fit doesn't bang against you as you're sprinting up the last hill, getting that total body workout in.
It's Nike, so don't think. Just do it. Buy the customizable display screen watch. Wear the sports watch that not only has a comfortable fit, but also automatic run reminders that keep you motivated. The Nike+ sports watch tracks GPS, pace, calories and heart rate. On top of these awesome features, the Nike+ has a timer, marks laps and intervals. And don't worry about the rain while you're out on your run—your Nike+ is definitely waterproof. Would you expect anything else? "The battery life is really good. You don't have to worry about recharging it. It's good at keeping track of things while you're working out. If you're into working out and if you're an athlete then this is a good watch to get," KSU junior Daquan Joy said. "It's a good variety of colors that you can use and it's like a phone that comes out with new updates."