*Also written by Ruiqi Yan.*
It's finals week and UW-Madison's College Library overflows with stressed-out college students like yourself. Finding an open seat feels like a game of musical chairs. There's always one less place to sit and everyone runs so they're not the first one out. The last thing you need to worry about this time of year is not finding a place to study, so why not try a new study hang? Whether you're interested in somewhere that offers a variety of seating or a variety of food, University of Wisconsin-Madison has plenty of study spots that will help lighten the mountainous load of of homework sitting on your desk.
1. College Library
If you're pulling an all-nighter, College Library is definitely the place to be. Right on Lake Mendota, College Library's third floor windows make for one of the most scenic study views on campus. Enjoy watching the sunset rise as you dot the final period on your 10-page essay for your British Lit final. In need of a caffeine fix to get you through the night? No problem! College's café keeps its shelves stocked with caffeinated beverages like black coffee and iced Starbucks refreshers to kickstart your studies for that 7 a.m. economics exam. "I love College since it's super convenient. [It's] by my apartment and open 24 hours, [so] my friends and I can always save seats and we can stay for as long as we want," UW-Mad senior Monay Charlene said.
2. Memorial Union/Terrace
Casually studying and in need of a laid-back atmosphere? Feel the cool breeze from the lake as you sit on the terrace or lounge inside eating your fill of Bucky's best Babcock ice cream. Memorial Union's buzzing atmosphere provides a change of scenery from the standard textbook-filled library. Enjoy an ice-cold pitcher straight from the tap with friends on the terrace as you flip through the pages of your chemistry textbook, or grab a sub from the new Subskeller and mull over mathematics while you munch. Though the Union generally bustles with friends and families milling about, a student in search of a less-occupied area should head to the second or third floors for some peace.
3. Student Activity Center
The Student Activity Center (SAC) blends serious studying and social hour. It's easy to set up shop on the third or fourth floors of the SAC either by yourself or with a group of friends. With tables out in the open and hidden in nooks, surround yourself with other studious students, or remain focused on your own work at one of the smaller tables tucked away. Best of all, a dozen student organization offices call the SAC home, so get a Kit Kat from the vending machine to take a break from the books and check out the latest events on campus. "It's social, yet quiet. The SAC has many spaces to study in as well. It has a computer space with a printing area," junior Angel Lee junior said.
4. Memorial Library
When you need to get shit done, go to Memorial Library. Perpetually a clash between the old and the new, Memorial Library contains several fully updated computer labs and software devices on its first and second floors. Head into the north and south stacks, and you'll immediately understand where Memorial Library gets its no-nonsense reputation. A little rusted and prone to making eerie screeching noises, the cages among the shelves allow students to lock themselves away into a tiny cell with nothing but their thoughts and their Gender and Women Studies paper due tomorrow. Just ignore the occasional creepy flickering of lights and semi-dank atmosphere, and your homework will be done in the silence of the Memorial Library in no time.
5. Union South
Even though Union South strays off the beaten path for most students at UW-Madison, Union South's several floors give students a wide variety of study spaces to choose from. Located within Union South, the Sett is known for its Trivia nights and concert venues. The music and the social atmosphere compete for your attention as you try to focus on your studying. Senior Hana Lee said, "I've been there several times during the day, and it's fine. There are big tables and comfy sofas." Also, you still have access to all the food, coffee, snacks and ice cream Union South has to offer. And with the Marquee just down the hall, reward yourself with a free movie after a power study session. You deserve it. The upper levels of Union South hide several wide chairs and tucked-away tables for students to settle down and block out the chatter from down below. On nicer days, students sit out and sun themselves while they study on Union South's sun deck chillaxing in UW-Madison's signature chairs. "My favorite [study spot] is the third floor balcony of Union South because it's open to the air but shaded with couches and [tables and chairs]," junior Matt Alverson said.
6. Sencha Tea Bar
A newer addition to UW-Madison's beloved State Street, Sencha Tea Bar  provides tea lovers a place to get cozy in the small shop while sipping on the Bar's latest tea concoctions, like "Love you a latte" from February. "I love sitting by the windows and doing homework while drinking delicious bubble tea. The atmosphere is casual, and it's usually pretty quiet there," junior Yujung Son said. Many students find Sencha's vibe to be pretty relaxing, making the spot known to be busy. Fill your travel mug with something other than the standard Starbucks frappucino, and make time for tea at Sencha's to indulge in its newest best pot.
7. Wisconsin Historical Society Library
You don't need Platform 9 ¾ to reach this otherworldly study destination. Known for its Hogwarts-like interior, the Historical Society's magical ambiance will bring out your inner Hermione. Showcasing historical pieces from the early days of the university, the Historical Library contains knowledge full of the university's campus and its students. Not only do you see the wonder, but you also feel it. "I like how the Historical Society's interior looks the same as it did 100 years ago. It's cool to think how many Wisconsin students have studied there under that magnificent ceiling. I feel like I'm carrying on a legacy of education by studying there," said senior Hannah Mast. So take out your wand (aka pencil), switch on the old-fashioned lamps and turn to page 394. Read those Roman Archaeology notes in style in the library's large main study area under brightly lit and beautifully tiled high ceiling. The large balcony will make you feel like you're at a ball, not a history buff room. Turn on the classic green lamps and the room transforms into a stereotypical law school library from a movie. But don't worry, this isn't the set of Legally Blonde—it's a setting of students about to kick ass on their final exams.
8. Wisconsin Institute for Discovery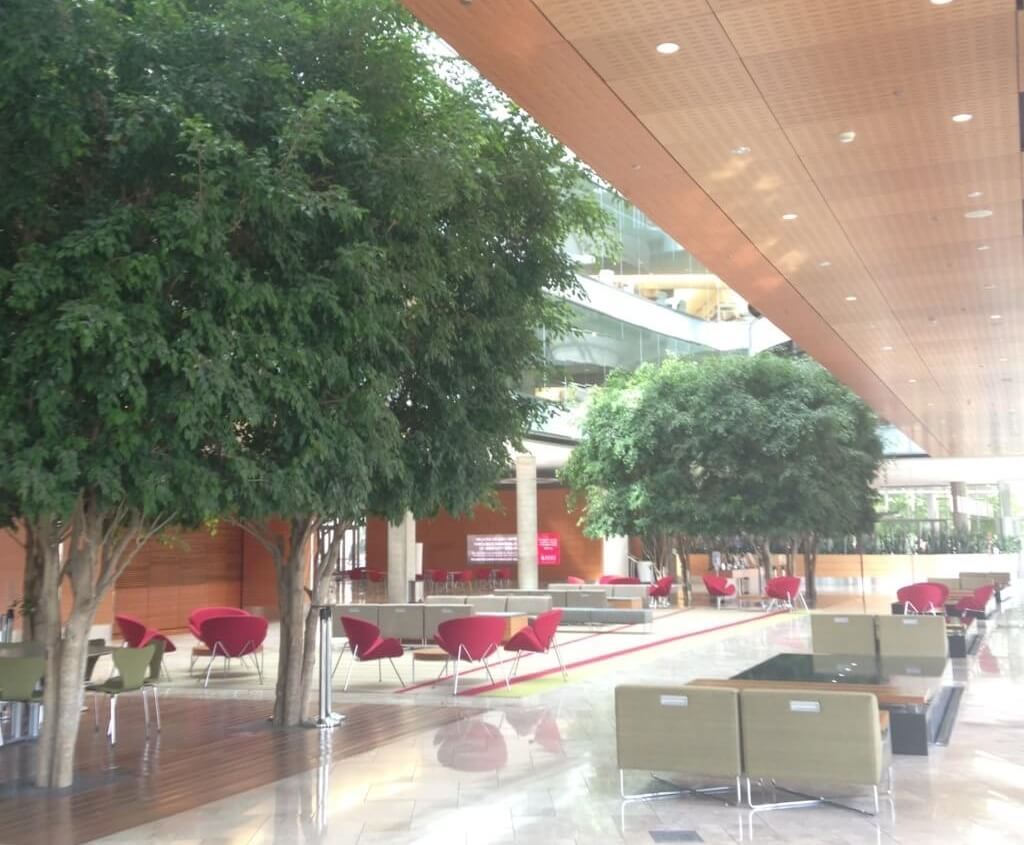 When 100% of campus is covered with snow during 90% of the school year, finding an oasis is about as hard as finding the will to start those problem sets. Fortunately, the Wisconsin Institute of Discovery (WID) is a paradise all-year round. I mean, there are trees inside. Actual trees! "It's especially nice that virtually every surface is dry erase. Whether I'm having a research discussion or working on a class project, the innovative design of the WID allows for presentation and collaboration in a way that most other locations on campus can't," said senior Stephanie Seymour. The Wisconsin Institute for Discovery provides plenty of private study spaces for students to prep for finals or spend time in the open space next to the Science Café's panel of experts discussing the latest in research technology over a cup of joe. Best of all–the WID is comfortably quiet. No matter if you chose to sit next to the rushing waterfall or under leafy green trees, the WID's innovative modern design will inspire you to earn that A grade.
9. Ebling Library
On the other side of campus, visiting Ebling library takes a long bus trip or bike ride for any student wishing to hit the books there. Ebling library sits within the Health Sciences Learning Center, however, the trip is worth it if you're a promising, young medical student to be. This library zips the lips of the Chatty Cathys, and isn't as packed as the main libraries and buildings on campus.
10. Kohler Art Library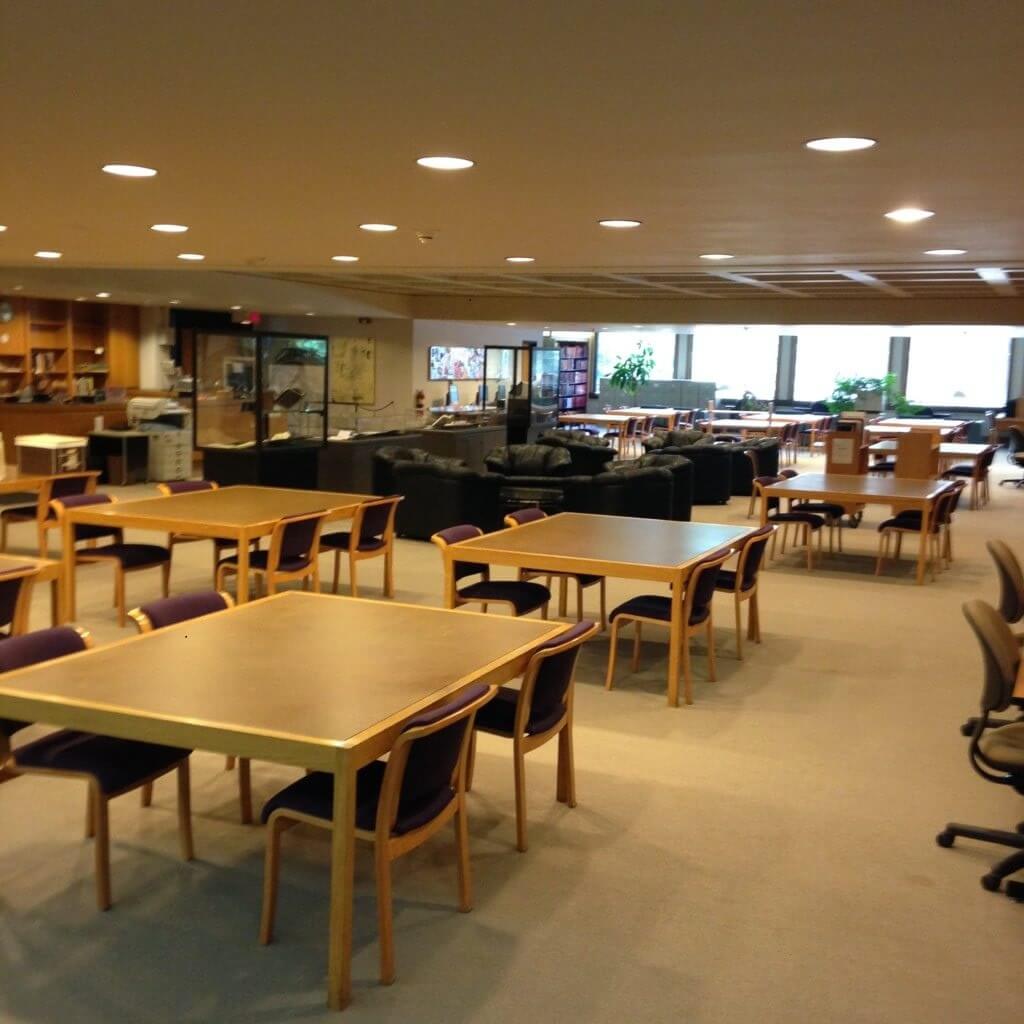 It's great enough that there's a free art museum on campus, but did you know there's also a magnificent library inside? If you're feeling artsy fartsy, then let the Kohler Art Library be your study sanctuary. Even the most unartistic of students can appreciate the historical artist's book collections in the Chazen Art Museum. View students sitting in comfy black arm chairs surrounded by intuitive and creative designs framed in mind of your inner Pablo Picasso. Even while you study the art of the French-American Indian War, you'll dabble amongst complimentary colors and maybe even some complimentary coffee when you flip through your flash cards. So le Gogh, it's time to study for finals.
11. Microbial Science Building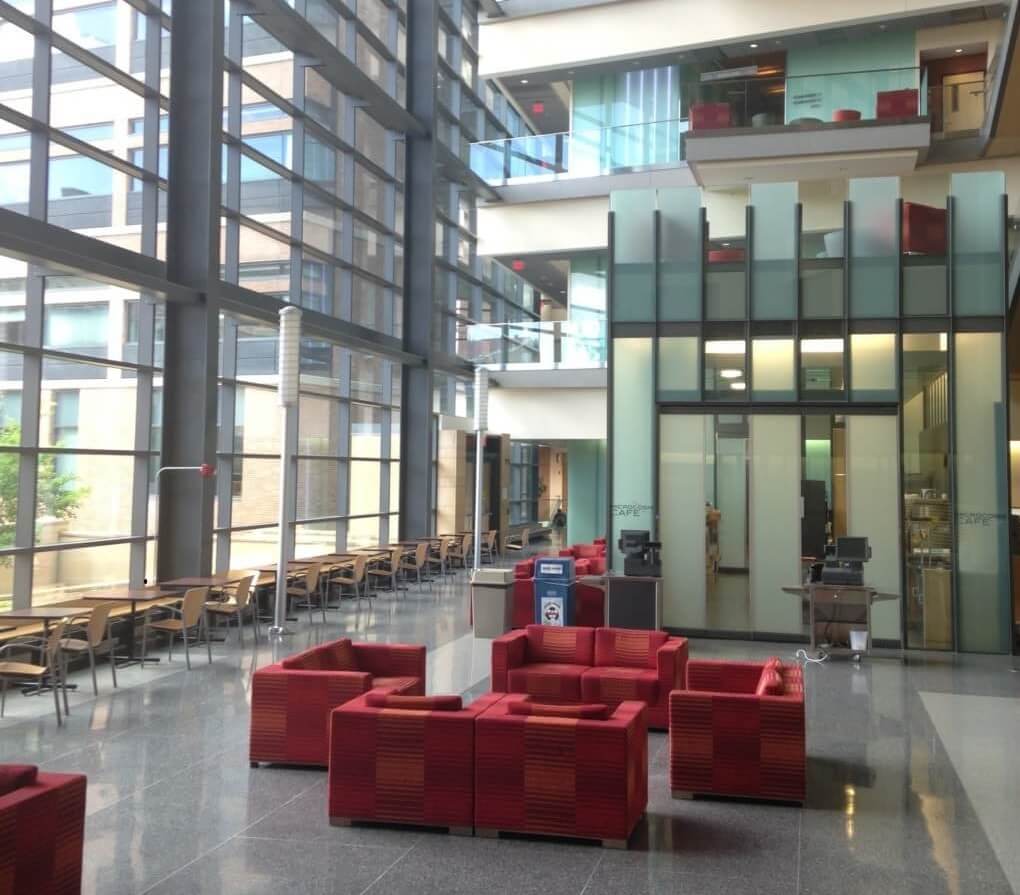 If Steenbock Library is too intimidating, check out this beautiful haven across the street. The tidy tables and comfy couches in the Microbial Science Building are great for catching up on notes in between classes, and you can catch a bite at the café on the second floor. Make sure to get in before 7 p.m. if you want a late night study sesh. While the building technically closes at 7 p.m., the generous staff there won't kick you out if you are quiet and considerate.
12. School of Human Ecology (SOHE)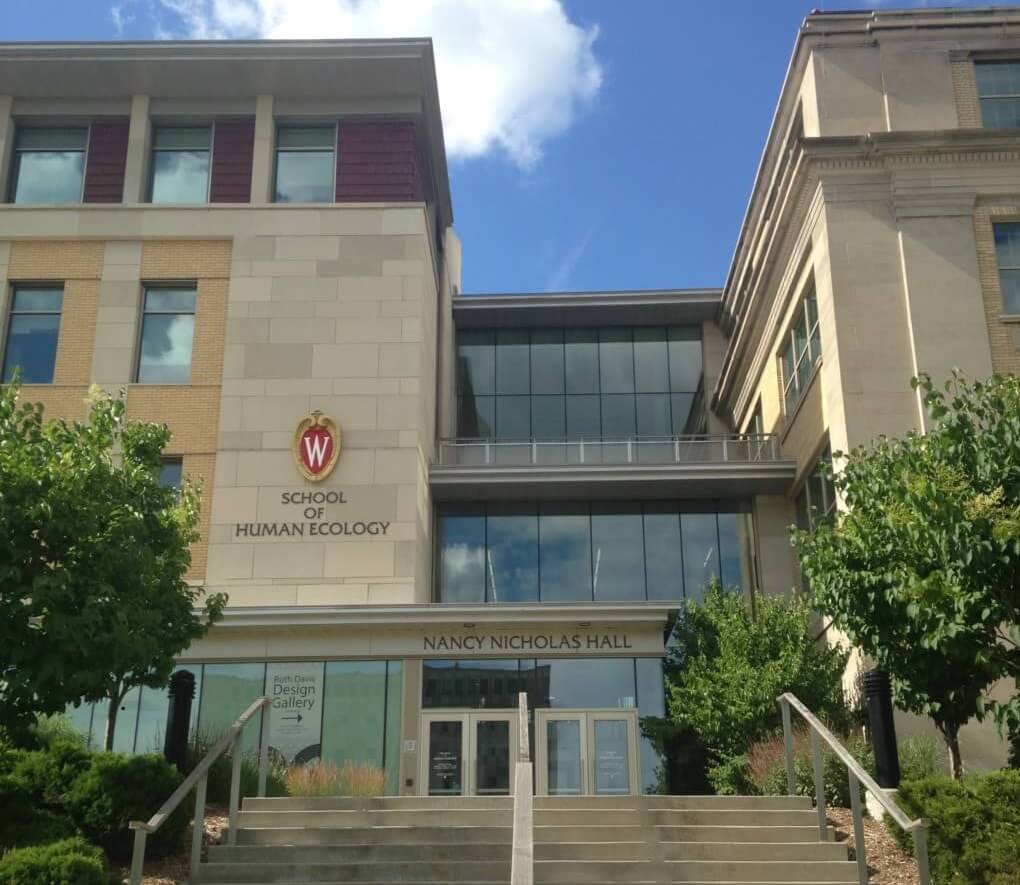 The School of Human Ecology (SOHE), situated in Nancy Nicholas Hall, is another popular in-between class study-and-snack spot. As the home base for the design majors of UW-Madison, you can expect nothing but beauty from this building. Even when you go to the bathroom—especially the ones on the first floor—you'll walk in wondering, "Is this a bathroom, or Narnia?" Probably Narnia.
13. Law Library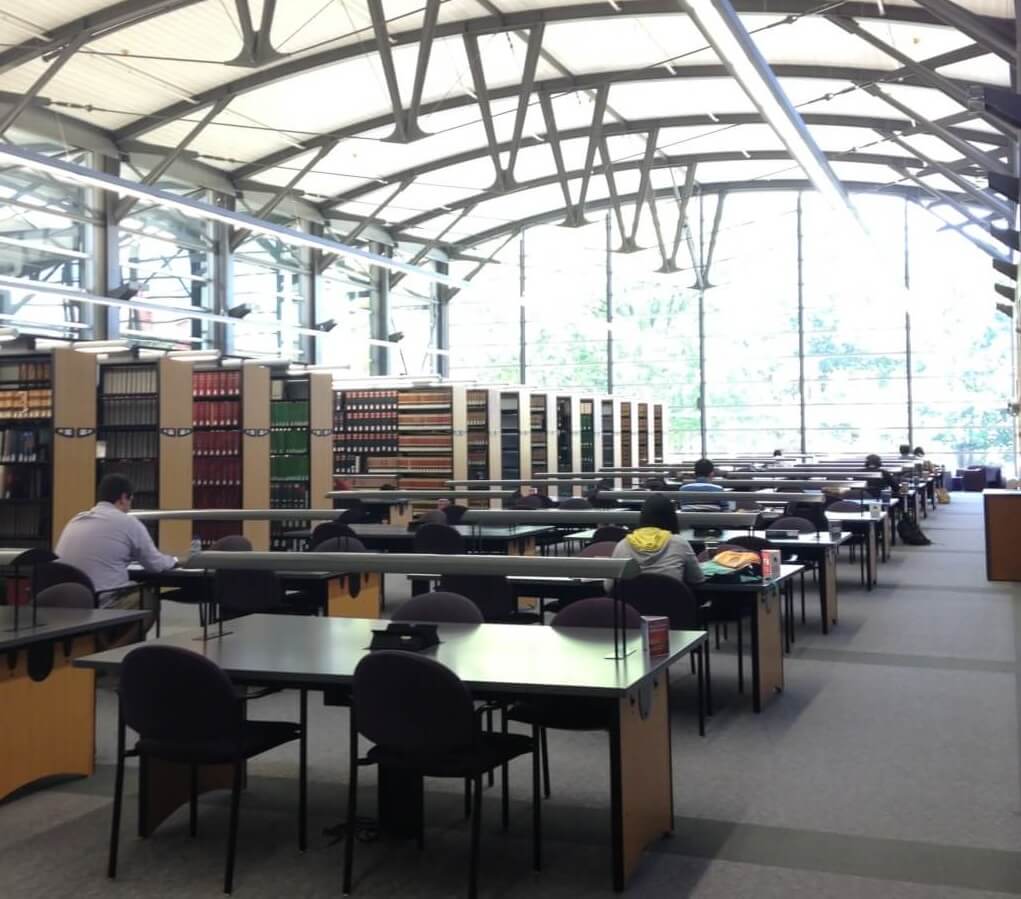 If Elle Woods can graduate from Harvard, you can ace your exam. To get into Elle's mindset, visit the Law Library located right on Bascom Hill. Brightly lit with natural light streaming in from the floor-to-ceiling windows, the Law Library is intimidatingly beautiful. "The environment helps me cut down my study snack expenses," said senior Michelle Tong. "Law students aren't afraid to whip out death stares and 'shhhs' if you open a bag of chips. I learned that the hard way." If you must indulge in your study snacks, though, skip the quiet study rooms in the library and head downstairs to areas better suited for group studies and an occasional crunching of chips. Besides being self-conscious of your eating habits, the only downside of the Law Library is that only law students are allowed during bar exam season. But any other time, take out your books and find that chip on your shoulder. It's time to get serious.
14. Madison Public Library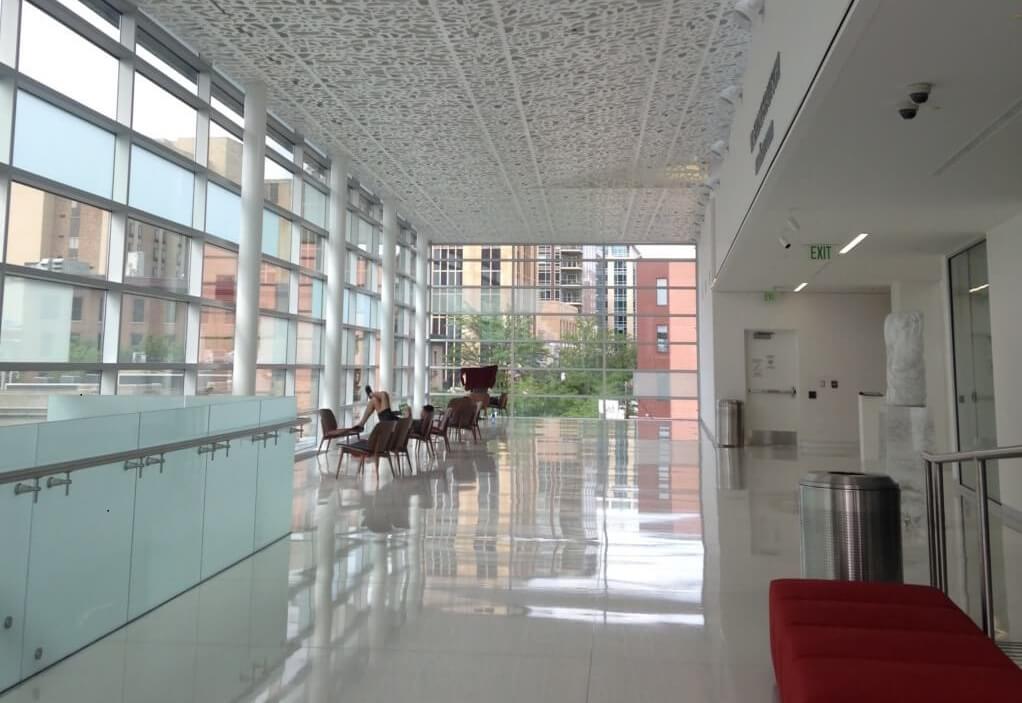 With such a large campus, it's easy to forget that Madison is still a city–and cities have their own libraries. If you are someone who feels pressured in campus libraries because everyone else seems to be studying harder than you, give the Madison Public Library a try. Its gorgeous interior will instantly calm you while the diversity of the library's visitors will remind you that yes, there is life outside of college. "The Madison Public Library has an expansive collection, quiet study areas and a beautiful eco-friendly rooftop garden and art gallery. It's great for studying and for finding reasons not to study. The best part is that anyone living in Madison can get a library card for free," said senior Emma Wathen. Study until the library closes and reward yourself by eating and drinking your way down State Street as you head home.
15. School of Library and Information Studies (SLIS) Library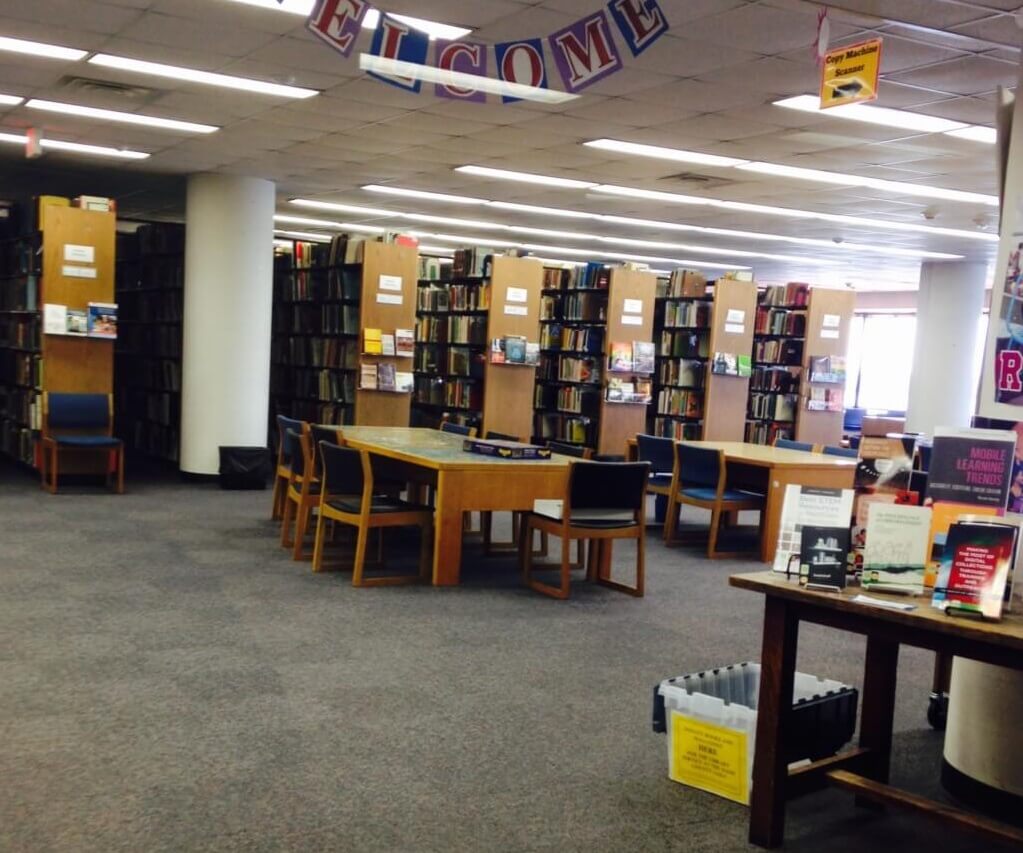 Don't confuse this hidden gem with College Library, even though they're in the same building. Located on the fourth floor of Helen C. White, the SLIS Library has the same lakeside view as College minus the crowded tables and persistent whispering. Don't let the early closing hours deter you from going. Instead, let them be your motivation to study harder so you can enjoy that hard-earned relaxation afterwards.