To truly advocate for black lives, you must consider every community within. Andrea Jenkins has dedicated her work to improve the lives of trans people of color who suffered the same struggles she did. The LGBTQ+ community has been known to create advocacy for themselves and Miss Jenkins served as a pillar, using her seat in public office to create change and improve their resources.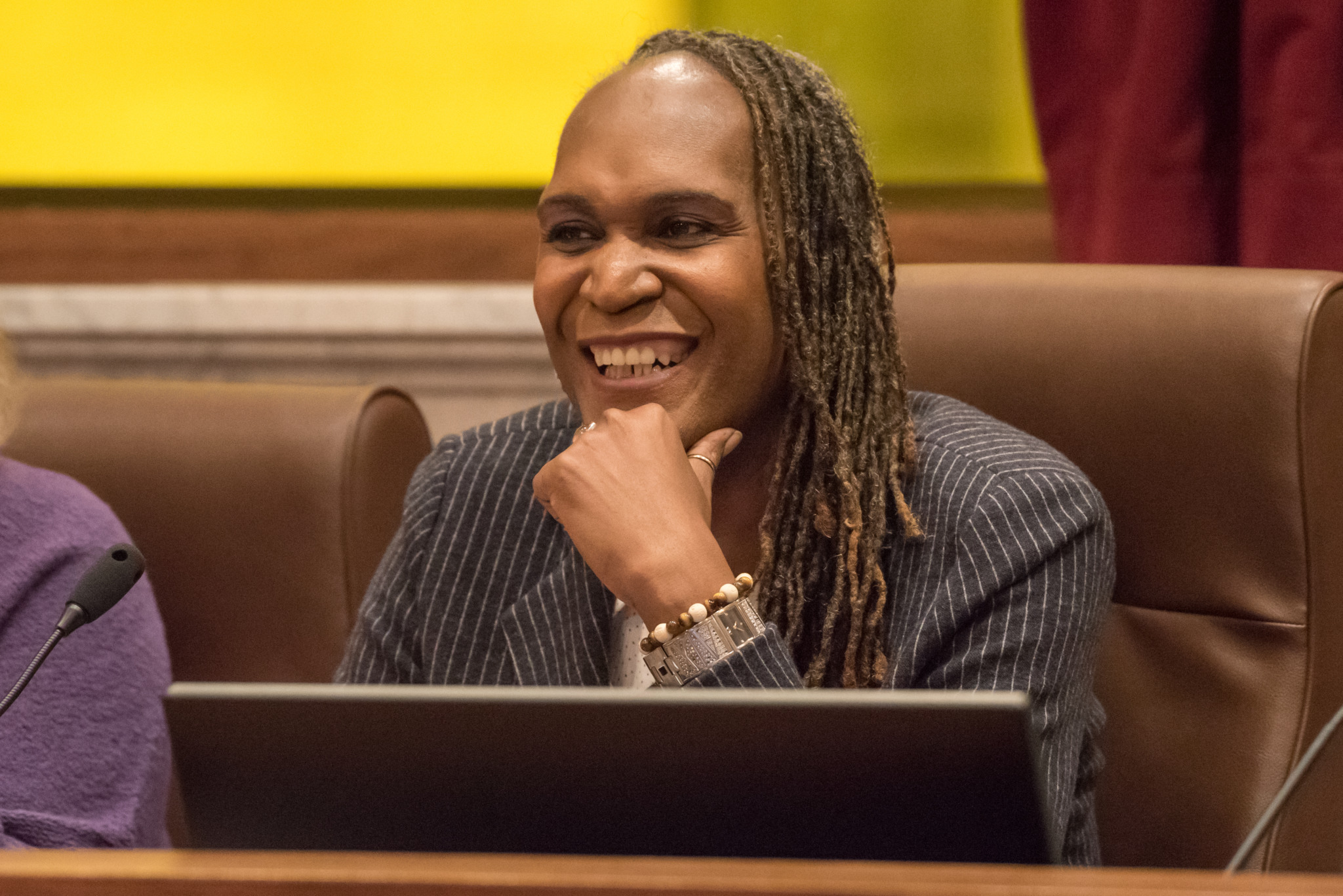 Andrea Jenkins' Career Timeline
2005 – Fellowship under Elizabeth Glidden dedicated to transgender issues
2010 – Won Naked Stages grant from Pillsbury House Theater and the Jerome Foundation for piece Body Parts: Reflections on Reflections
2014 – Helped establish the Transgender Issues Work Group and organized a summit with City Council to highlight issues the trans community faces
2015 – Curated Transgender Oral History Project at the University of Minnesota
2017 – Won election with more than 70 percent of vote to represent Minneapolis' 8th Ward on City Council, elected Vice President of City Council shortly after
Q&A with Powerful Woman Leader Andrea Jenkins:
Q: At College Magazine we're working together with EMILY's List, Emerge America, Human Rights Campaign, Higher Heights, She Should Run, Victory Fund and IGNITE on an initiative to fight for equal representation in congress called "50 by 2050." What are your thoughts on the goal of achieving 50% of women in Congress by 2050?
A: I think it's amazing. I think we absolutely need women's leadership in Congress and all levels of government.
Q: What inspired you to get involved in the political sphere?
A: I got inspired to get involved because I believe there are three ways to make change in our community. We have to direct service (tending to immediate needs of housing, food etc.), creating awareness around issues impacting people and people in politics to make policy changes and create real change in our communities. Now it's time for me to be on the policy side. We got to have the policy shifts.
Q: What challenges did you face climbing the ladder to your current government position?
A: I faced many challenges a lot of women face. People not always respecting my abilities, my ideas. Certainly, being black and being trans has created additional problems. Racism and transphobia. Not being allowed or respected in certain spaces.
Q: Over the last few months in particular, we've seen more women running for office and getting involved in that process. How do you feel that will end up shaping the political sphere in this country?
A: I think it is really going to dramatically change the political space in this country. I think black women are going to be at the forefront. In Minnesota, they have 40 black women running for office for every level of office you can imagine: city council, school board, senators, representatives. I believe that [Joe Biden] will name a woman as his running mate. We do know there are many black women in the running for that position. He would not be in the position he is in right now if it were not for black women. Women are changing the landscape already and I believe they will continue to do so.
Q: Do you have a moment or a project that you were involved in that has been the most rewarding of your career so far?
A: When I was running for office my campaign manager was a 21-year-old young Pakistani woman, junior in college. She was leading a real organized professional campaign. We raised more money than any candidate running for this seat and increased voter turnout 13%. It was amazing to watch this young woman run this campaign.
The project I'm most proud of is the Transgender Justice Funding Project (TJFP). It started in New York and was created because nobody is investing in supporting trans lead or trans identified projects including foundations. Less than 1% of foundation funding goes to trans people. We decided we're going to do this ourselves; raise money and give it out focusing on black and POC led groups.
I was a part of the giving team 50K the first year and this year 7th year, 500K. It's amazing to me that we have this, that we're able to create this organization to take care of ourselves. At this time when we see trans black and brown women being murdered, we need organizations that are going to be lifting their rights. We are providing resources (healthcare, grants etc.), creating our own opportunities and our own support.
Andrea asked that you donate to TJFP in her honor.
How to Become a Powerful Woman Leader
1. Start where you are
"There's a lot of politics that happen on college campuses. Join an extracurricular club. Run for campus office," Jenkins said.
2. Get involved in your community
"Volunteer and get to know people and their issues. That's who ends up being public servants, the people who understand the community and issues people are facing. It comes down to that, helping people lead better lives," Jenkins said.
How to Connect with Andrea Jenkins
Contact form: http://www2.minneapolismn.gov/ward8/contact-ward8.
Write her a letter addressed to:
350 South 5th Street, Room 307
Minneapolis, MN 55415
Give her a call: 612-673-2208