Between homework, studying, part-time jobs and extracurriculars, college students face an "all work and no play" lifestyle. However, the best campuses know that their students like to work hard and play even harder. Every campus celebrates its own traditions, but some campuses go above and beyond to make their students feel right at home (and experience the best four years imaginable). We looked at freshman retention rates, student support services, financial aid packages and more to see which schools know how to bring the positive vibes. Positivity is contagious, so why not surround yourself with positive people at one of the happiest colleges?
Read on to find for the top 10 happiest colleges.
10. Tulane University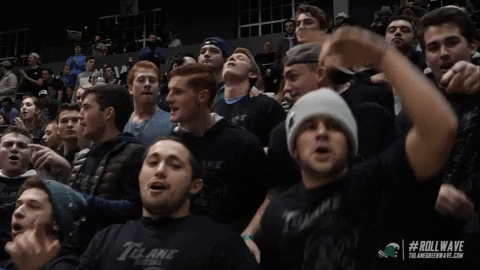 New Orleans parties all the time and the Green Wave is invited! Tulane perfectly represents the Big Easy's elegance and culture. The school's high-quality education and premier location in the famous Uptown neighborhood attracts students from across the globe. Students thrive in Tulane's unique atmosphere, making them among the happiest in the country. The school implements a number of resources for students' benefit, like the Student Resource and Support Services (SRSS). In short, the SRSS is a place for students in need of any and all kinds of help. They provide both a phone number and email address students can contact at any time, and a comprehensive A-Z list of whatever services students may need.
In addition, Tulane's Counseling Center commits to providing safe and inclusive community care for their students' wellbeing. In addition, a little less than 75 percent of students get financial aid each year; only 22 percent of students take out loans, and their default loan rate sits at 4.6 percent– the lower the default rate, the better!
When it comes to student life, everyone knows New Orleans for their annual Mardi Gras celebration—and Tulane is no exception. Each year, students go all-out for the holiday, complete with funky outfits, bright accessories and crazy makeup. The Tulane Marching Band joins in on the fun and marches in parades throughout the citywide celebration. Tulane may be happy year-round, but nothing beats the experience of a Green Wave Mardi Gras.
9. University of Oklahoma (OU)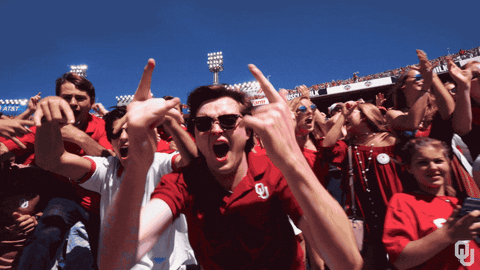 Boomer Sooner! Located in the vibrant college town of Norman, OU's beautiful, historic campus makes you feel right at home. About one third of students live on campus or in OU-owned/affiliate housing. This puts students at the center of the university experience that includes support, friends and convenience—the keys to happy Sooners! The OU fraternity and sorority community consists of 56 active chapters filled with students, philanthropists, mentors, peer educators, engaged citizens and much more. This academic year alone, the Greek life community raised over $750,000 through their philanthropic endeavors.
If your interests lie outside of the Greek community, OU houses over 500 student clubs and organizations led by passionate Sooners eager to expand their community. Daredevils on campus join the Skydiving Club, an organization safely introducing skydiving to brave Sooners. Passionate movers and shakers join the Elite Dance Team, a team of OU student dancers working to further their passion for dance while engaging with both the campus and community. Dedicated public servants can join Lead and Volunteer, OU's on-campus community service initiative that provides educational programming and opportunities for students to truly make a difference.
In terms of on-campus support, the Sooner Success Program provides academic life coaching and advising to help students transition to college and stay on track toward graduation. For those in need of financial support, OU provides financial aid for about 89 percent of Sooners. More than half of students on financial aid have scholarships—which mean less stress about student loans after graduation! With these accessible resources, Sooners surely feel supported during their time on campus, and they have stats to prove it; 90 percent of students return for their second year at OU, ranking among the highest in the country for freshmen retention rates.
The crowned jewel of OU happiness lives in Oklahoma Memorial Stadium on game days. Sooners look forward to Saturdays in the fall spent with close friends, great food and good old-fashioned football. Additionally, southern hospitality is not lost on the Sooners, as tailgates in Norman are known for their sense of community and kindness. Who wouldn't proudly cheer for OU Football—the Sooners won the National Championship seven times! Sooners can find loads of fun at OU, making it a top tier campus for students' happiness.
8. University of Michigan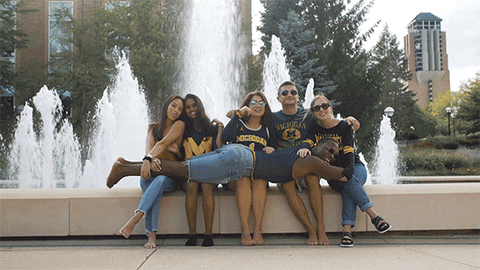 Ann Arbor may have cold winters, but the kind energy from University of Michigan students will always warm you up. Wolverine pride runs deep at this school, and students often sport their maize and blue with a smile. The beautiful campus with old English architecture creates a scenic hub for students to connect in between classes. Outside of school, students can participate in numerous on-campus activities.
MSwing teaches all types of swing dancing, Ann Arbor Ninja Warrior trains future ninjas with dreams to compete in the hit reality show and American Sign Language Club hones sign language skills. "I think my school definitely has the happiest students because there is honestly something for everyone," senior Alyssa Dern said. "Having such a large school comes with opportunities for everyone: clubs for everyone, academics for everyone and activities for everyone!" Michigan has more than 1,600 student-run clubs and organizations, as well as 53 active Greek life chapters.
If a Wolverine can't find happiness in an organization, they'll find it on Saturdays in The Big House, Michigan's massive outdoor stadium.  "My favorite tradition at school is the football games," Dern said. "They're such a universal day of happiness for all the students where we can support our school as a unit." One beloved Game Day tradition is the Michigan Marching Band's performance of M Fanfare. If you're not in the spirit by then, you'll surely love their rendition of "The Victors." Even off the field, Wolverines feel supported. Each school and college within the university has its own academic advising center. Students meet their individually assigned advisors during freshman orientation and stay with them for their entire college journey.
In addition, Academic Peer Advisors work in each Residence Hall and provide additional academic assistance. For those seeking financial aid, Michigan has them covered; scholarships make up about 73 percent of annual aid.  Above all, Michigan Wolverines take pride in their school with 97 of freshmen returning for their sophomore year. "My absolute favorite thing about school is the pride that all students feel being able to say they attend the University of Michigan," Dern said. "It gives me such a feeling of happiness to know how much everyone loves it there." That's school spirit: Michigan style.
7. Emory University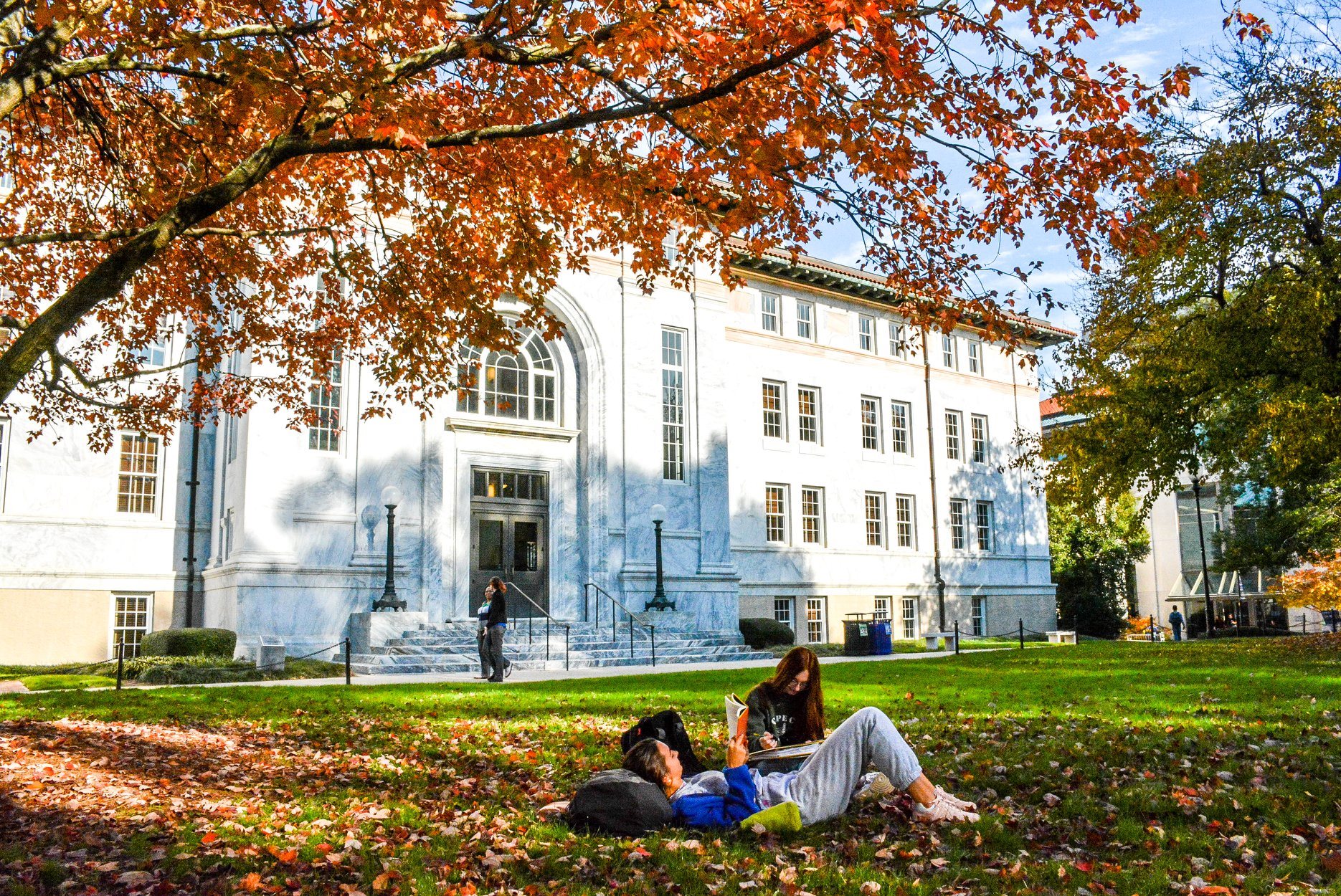 In the heart of Atlanta's historic Druid Hills lies Emory, a tiny-but-mighty private school with some of the happiest students you'll ever meet. This university may not have the traditional, athletic-centered spirit of a Big 10 school, but their quality of life ranks high. Emory has over 450 student-run clubs and organizations, an impressive amount for a school with less than 8,000 undergraduates. The Student Programming Council plans all of the best university-wide events on campus: Homecoming, concerts, comedian performances, field days, trivia nights and most notably, Dooley's Week, a week-long celebration for Emory's unofficial skeleton mascot. The best part of Dooley's Week? Dooley's Ball, a concert at the end of the week long celebration featuring top performers like AJR, Ty Dolla Sign and Lil Yachty. In addition, Greek life's strong social presence on campus, boasts 33 active sorority and fraternity chapters.
Emory students feel supported all across campus. The Office of Undergraduate Education offers programs to support student learning; these include coaching, learning assistance, and tutoring services for individuals in need. Learning Assistants offer weekly collaborative group learning sessions to explore concepts, review class notes and review for quizzes and exams. Financially, about 86 percent of annual financial aid packages consist of scholarships—cha-ching! About 94 percent of students return for their second year at Emory, earning them an A+ in student satisfaction and happiness.
Additionally, Emory prioritizes service in its core values. As part of the Civic and Community Engagement department, Volunteer Emory joins forces with over 20 Emory student organizations and more than 50 community partners to provide members of the Emory community with countless service opportunities: environmental sustainability, cultural awareness, crisis support, animal welfare, social justice and many more. For example, the Emory Integrity Project engages students to challenge perspectives, encourage ethical reflection and promote action through moral courage. Helping those in need always feels great—no wonder a selfless student body like Emory ranks among the happiest.
6. Washington University in St. Louis (WashU)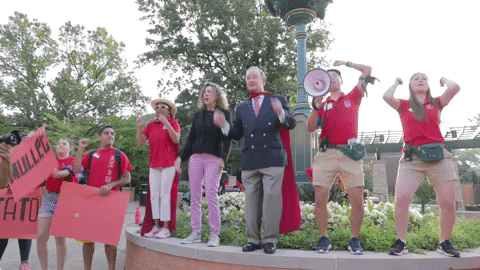 In the heart of St. Louis lies WashU, a beautiful, 169-acre campus home to the Bears—the friendly kind. The source of their smiles? Unlimited support. "WashU has a very collaborative atmosphere and lots of resources for students to use," junior Ethan Lewis said. "It is very easy to get help for a class you're struggling with, whether it be through one of the services the school offers or through WashU's community." WashU's academic hub, the Learning Center, provides students with any academic assistance they may require. The Career Center supports students' professional developments through advising, networking and application resources. Students also have access to student-led resources like Uncle Joe's—a mental health counseling service. These resources foster a less stressful, more welcoming setting for students (despite the challenging coursework), leading to a happier student body.
WashU prides itself on its selfless values and has additional resources for students to promote their own service endeavors. The Gephardt Institute for Civic and Community Engagement fosters public service opportunities across campus and throughout the greater St. Louis community. Just check out Civic Scholars, a two-year program that supports students' civic projects or internships. Or what about Engage STL, an annual, 3-day immersive experience for first year students to volunteer with local organizations. In addition, WashU boasts over 500 student clubs and organizations. Join the team at StudLife, WashU's premier and independent student-run publication. Interested in improv and sketch writing? Audition Mama's Pot Roast, WashU's longest running comedy group. Bears won't have a problem getting involved with something that sparks interest.
But what sets them apart from the average school: a bi-annual campus-wide concert. "My favorite campus tradition is WILD," Lewis said. "We've been pretty fortunate to have some big names come to campus, such as Loud Luxury and ASAP Ferg most recently." Performers of years past include Lizzo, Lil Dicky, Jason Derulo, Childish Gambino and Chance the Rapper. WashU's 97 percent freshman retention rate goes to show that when they feel supported, the Bears surely enjoy themselves.
 5. University of California, Los Angeles (UCLA)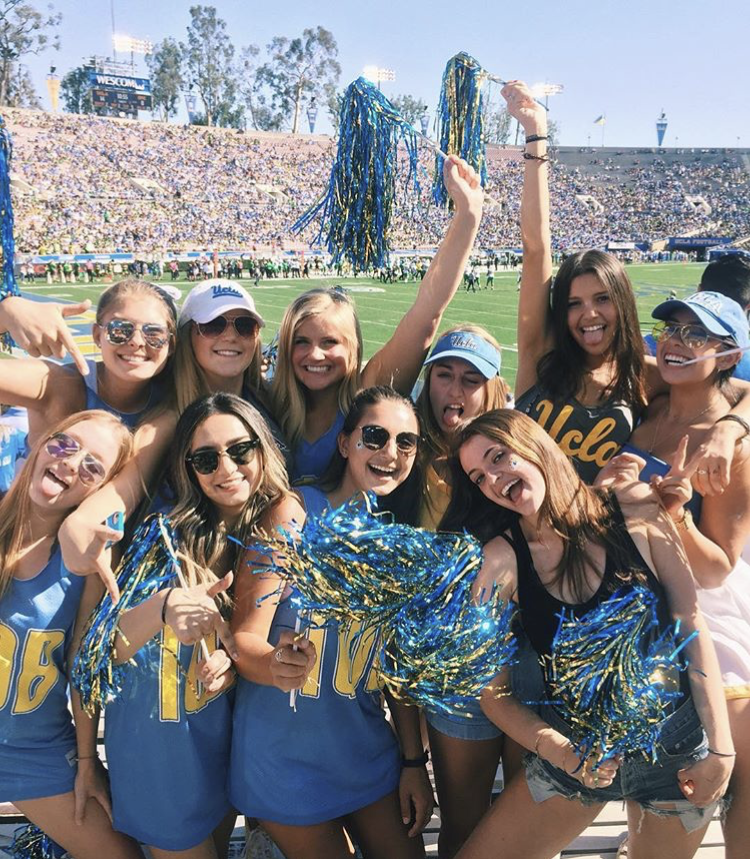 University of California, Los Angeles: home of sunshine, smiles and the Bruins. This dynamic student body ranks high in both diversity and overall satisfaction. UCLA sits on 419 acres at the base of the Santa Monica mountains, five miles from the Pacific Ocean… talk about California Dreamin'! Students can join one of the over 1,000 on-campus clubs, kick start innovative business with Bruin Entrepreneurs or engage in environmental initiatives with the Renewable Energy Association—but who says the fun doesn't start right away?
Each year, UCLA hosts "Bruin Bash," the annual festival celebrating the start of a new school year, featuring top performers like Jay-Z, Kendrick Lamar and Aminé. Who wouldn't smile at an exclusive concert with Grammy-winning artists? When it comes to academics, the Career Center provides comprehensive services for students to prepare for their life beyond college. The Academic Advancement Program and ASK Peer Counseling provide assistance for Bruins facing scholastic challenges. Those in need of financial support will be happy to learn scholarships make up about 77 percent of awarded aid, and in 2018, virtually all UCLA graduates—exactly 98 percent of them—successfully managed loan repayment.
In addition to fabulous student life opportunities, the UCLA Volunteer Center gives students the chance to embody one of UCLA's True Bruin values: service. The Center inspires the nearly half-million members of the Bruin family to create social change by partnering with local organizations and nonprofits in the greater Los Angeles area. Some volunteer projects include serving holiday meals to veterans, homeless and low-income residents at an annual community dinner, pairing student volunteers with UCLA staff to provide training in English as a second language with Project Students for Progress in Employee Language Learning and the flagship Volunteer Day event kicking off the academic year with more than 5,000 Bruins serving at sites across LA. Nothing feels better than making a meaningful impact on your local community—no wonder Bruins love their four years in California!
4. Duke University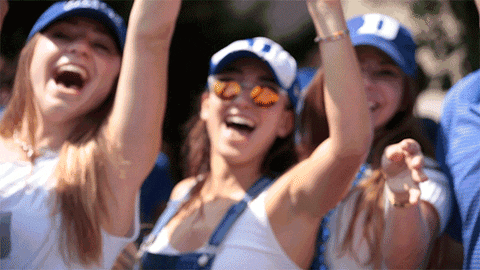 Duke embodies the mantra of "work hard, play hard." What they lack in size, they make up in smiles. Despite their small undergraduate population (a little over 6,000 students), Duke boasts an incredibly diverse community. With over 400 clubs for students to choose from, even the most specific interests have a home. Duke University Union, the largest programming and media group on campus, puts on more than 100 school-wide events each year. Hoof'n'Horn, the student-run musical theatre club, performs full-length musicals and Cabarets to sold-out crowds. The Archive, a student poetry and artwork publication, is one of the oldest continuously-published literary magazines in the United States and the oldest student publication at Duke. Duke Engineering for International Development supports high-impact engineering projects around the world by combining community-driven ideas with student design. Is it any wonder Duke students are proud to call themselves Blue Devils?
Speaking of school spirit, Duke students can't feel their best on campus without supportive resources. DukeReach provides comprehensive outreach services to identify and support students in managing all aspects of their wellbeing; they house the Academic Resource Center, Career Center and DuWell, Duke's student wellness initiative promoting self-care, stress management and other well-being initiatives. Blue Devils also receive a considerable amount of financial aid, as 89 percent of annual packages consist of scholarships. In addition, the financial aid office aims to cap all student loans at $20,000, limiting the amount of students that graduate in debt.
Also, Duke pride runs deep for its 5-time NCAA Championship-winning basketball team. Blue Devils camp out for weeks—sometimes months—in front of the stadium in hopes of scoring the best tickets. Their makeshift camping city even earned its own name, Krzyzewskiville or "K-Ville". The dedication doesn't stop there–the student section in the Cameron Indoor Stadium earned the nickname "Cameron Crazies" for their outrageous and rowdy reputation. This tight-knit community supports their school and each other with all their hearts, ranking high in terms of student happiness.
3. Vanderbilt University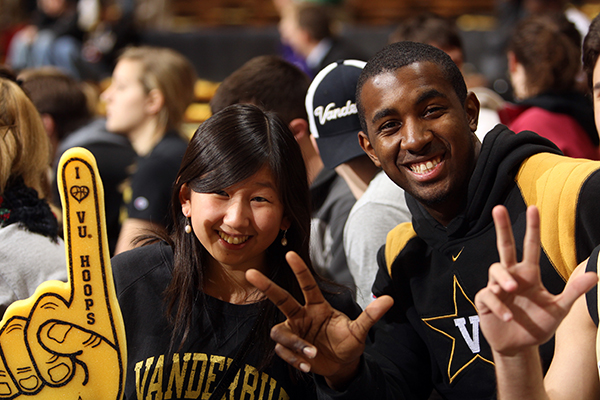 You don't need cowboy boots and country fame to enjoy life in Nashville—become a Commodore instead! Vanderbilt students always have something fun to do, thanks to the university's tireless efforts to provide only the best experience for their students. From the moment students step on campus, they feel right at home. "Vanderbilt makes it a priority to give the freshmen one of the best on campus experiences in the country," sophomore Will Rippeto said. "Everyone is actually super genuine and excited to greet you and welcome you to Vanderbilt and, personally, it really made me feel less anxious about fitting in." The freshman welcome experience at Vanderbilt is unmatched; from the Founders Walk, where the freshmen walk the campus as the returning student body cheers for them, to the first football game when the freshmen get to storm the field, Vanderbilt knows how to welcome new members to their family.
Don't worry—the support doesn't stop after freshman year. Commodores can access countless resources on campus such as the Vanderbilt University Counseling Center, Office of Student Care Coordination, Center for Student Wellbeing, Career Center and Student Health Center. "Academically, in my experience, I have been very supported as well," Rippeto said. "Despite my popular major, I have had so much one-on-one help with my schedule and overall experience from my academic advisor." Whatever a student needs, whether its academic, spiritual, career or mental health support, Vanderbilt is sure to provide it.
Last, but certainly not least, Vanderbilt prides itself on having one of the best financial aid departments in the country. In fact, only 10 percent of students graduate with debt, a number 55 percent lower than the private school average. Their impressive 97 percent freshman retention rate says it all: quality education, genuine support and a strong community—all for a reasonable price. No wonder the Commodores are so happy to "Anchor Down" in this community.
 2. University of Florida (UF)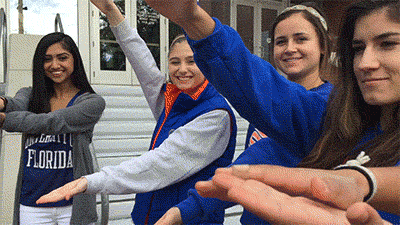 Welcome to the Swamp! No need for caution, these are friendly Gators. Located in one of the best college towns in the state of Florida, Gainesville has some of the happiest Gators you'll ever meet—there are over 35,000 of them. The giant undergrad population only adds to the student life experience, as UF boasts over 1,000 student-run clubs and organizations. Popular clubs include Floridance, a student-run dance company that offers classes in various styles from ballet to hiphop, the Culinary Arts Student Union, a cooking club for aspiring chefs of any experience level and the Disney Dreamers Club, the perfect place to relive childhood memories and discuss the latest Disney films.
Also, UF's Service and Outreach program specifically provides Gators various opportunities to serve their community. Some popular organizations include the University of Florida Campaign for CharitiesGators Volunteer and UF Dance Marathon. In fact, Gators are so dedicated to serving their community that in the 26 years of Dance Marathon's existence at UF, they have raised more than $24 million, making it the most successful student-run philanthropy in the southeastern United States. Nothing makes a student happier than knowing their hard work positively impacts their community.
Florida's tropical weather and diverse ecosystem only add to the stunning campus views. "My favorite thing about attending UF is the beautiful greenery," senior Mia Semel said. "We have conservation projects all over campus, nature paths, and high species biodiversity… walking on campus is always peaceful and picturesque." You'll always find the happiest students wherever there's blue skies and sunshine… though Rainseville might bring the occasional cozy rainy days, too.
If that's not enough for guaranteed smiles, just wait until fall game days. UF football games at Ben Hill Griffin Stadium should not be missed, and the tailgates in Gainesville only add to the fun. If you don't party on Frat Row before each game, are you really a Florida Gator? Also, did you know the classic sports drink Gatorade was invented at UF? Real proof that the best things come out of Gainesville—including well-hydrated Gators. It's great to be a Florida Gator!
1. Yale University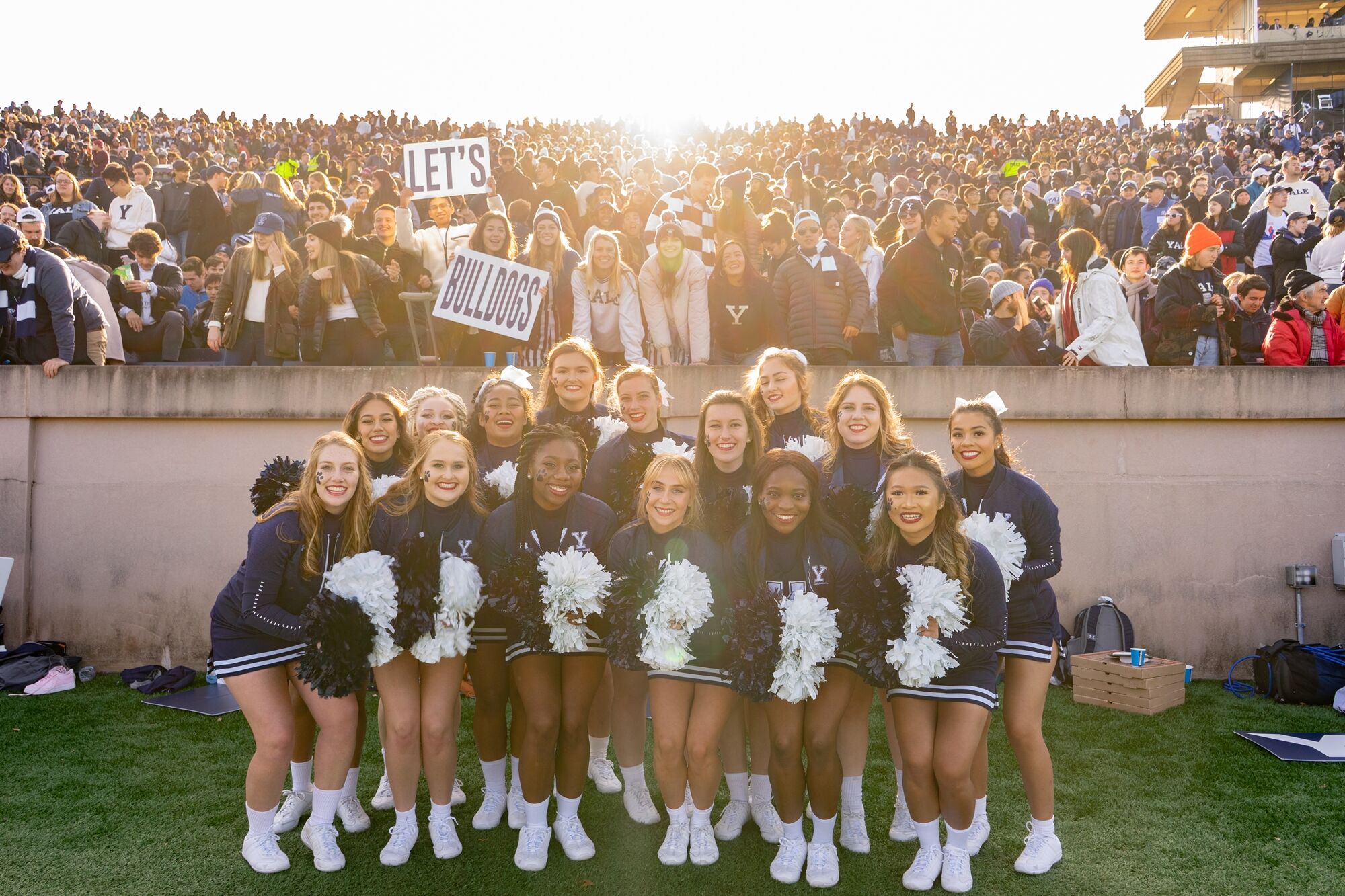 Boola boola! Yale may be an Ivy League school, but these geniuses really know how to have a good time. Starting their first year, Yale places each new Bulldog into one of fourteen Residential Colleges on campus (like Hogwarts houses). "If you talk to any Yale student about their experience in college, this is likely one of the first things they'll bring up, for good reasons," junior Juanita Garcia said. "I personally love mine, Grace Hopper College, and wouldn't have the life-long friendships I have without it." Each Residential College provides academic and emotional support for their students, in addition to meaningful friendships. Individual Professors provide guidance as well and are accessible resources for class help, career advice, research opportunities and much more. In addition, the Mental Health and Counseling department within Yale Health offers free mental health therapy and treatment to any Yale student. Every Bulldog looks out for one another, creating a safe, supportive environment for all students to thrive.
Each night, New Haven comes alive with parties and social gatherings. "Parties are most always open for any Yale student to attend… you don't need to be a member of Greek life or friends with anyone with power or sway on campus to be able to enjoy a night out with friends," Garcia said. Yale's inclusive energy even extends to the party scene, but don't worry if nightlife isn't your thing. Students can find tons of other opportunities for fun on campus! Bulldogs can choose from over 200 student clubs and organizations for students to join. Popular clubs include Just Add Water, an improv comedy troupe comprised of Yale's funniest and most daring students, Out of the Blue, an award-winning acapella group known for its tight vocals and electric performance style and the Women's Leadership Initiative, an organization that aims to empower future female leaders.
In the fall, students always look forward to the annual Harvard-Yale football game. "Even though it's around the time when school starts getting really stressful and the weather gets cold and dreary, everyone's in good spirits and school pride is at an all-time high," said Garcia. In the spring, Yale students organize Spring Fling, a music concert for students the day after spring term ends. Past performers include A$AP Ferg, Janelle Monáe and Diplo; this unique tradition allows students to unwind and celebrate their achievements after a full year of hard work. In fact, students enjoy Yale so much that the school boasts one of the highest freshmen retention rates in the country at 99 percent. Bulldogs truly have it all: stellar academics, unique opportunities, unwavering support and student activities for everyone to enjoy. What's not to smile about?