I never thought I could be a morning person. A night owl at heart, I've always stayed up well past midnight and stretched mornings past noon whenever possible. Now I spend each morning on the Charles River in Boston at the crack of dawn—and it's the best part of my day.
But I don't wake up at 5:30 a.m. six days a week just for the natural beauty—I'm a coxswain for the BC men's rowing team.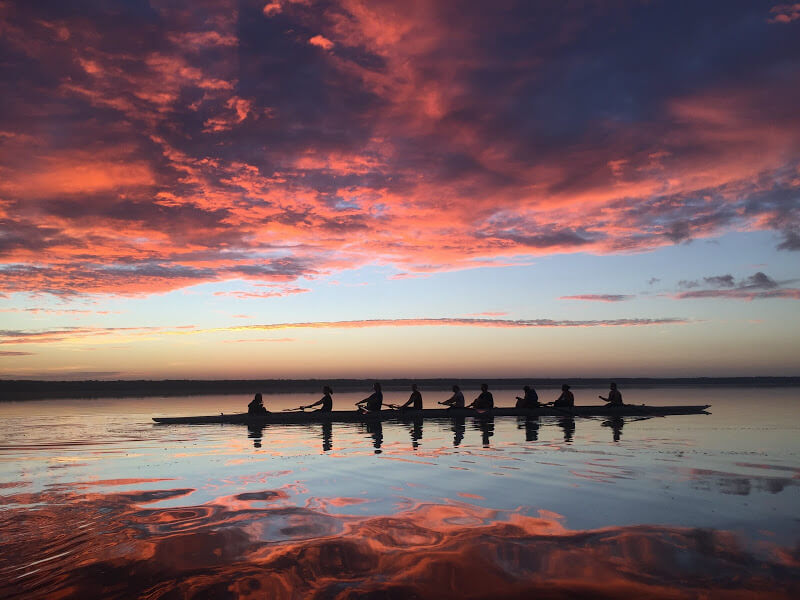 As a lucky freshman, I was placed with two random roommates, Jackie and Julia, who became my best friends at BC. During the first few months of college, we did everything together from eating at the dining halls to going out in Boston to recording loud singalongs before bedtime. However, soon enough Julia joined the Dance Ensemble group and Jackie joined the Pom Squad, and many of the gaps in their schedules were filled by team obligations and social events. With nothing to fill this extra time myself, I realized that I needed to expand my social circle. I needed to find my "thing."
So I attended the fall club fair at the beginning of my sophomore year.
Wandering through the countless booths of BC clubs and organizations and mindlessly collecting flyers, I heard a shout from across the lawn. "You!" I looked around, bewildered. "Yes, you," demanded a boy wearing spandex and holding a 10-foot-long oar, now striding towards me purposefully. "Join the rowing team, we need coxswains," he said, shoving a pamphlet into my hand. I was extremely confused to say the least. Who was this strange boy? What on earth was a coxswain? And why of all people did he want me to join the rowing team? Rowers were tall and muscular, I was not. Standing at five foot two and lacking any sort of coordination, I never thought collegiate athletics could be in the cards for me. Even so, I decided to attend the Thursday night meeting advertised on the pamphlet, thoroughly intrigued.
Walking into the air-conditioned classroom that Thursday evening, I knew nothing about the world of rowing. My high school days as swim team captain reflected my social status more than my athletic ability. When I got to Boston College, the Division I swim team was not really an option…yet I couldn't help but feel that an important aspect of my life was missing. As my friends joined various clubs and sports teams I found myself longing for not only the camaraderie of a sports team, but also the opportunity to compete. As I learned about the BC Rowing Team, and that my small size could actually be an advantage, I felt a spark of excitement at the thought of joining a team once more.
I was drawn to rowing for many reasons: the rhythm, the speed, the search for technical perfection.
However, according to the rowers, coxswains were sharp, authoritative and unfaltering, able to recognize precisely what hinders a crew and correct it with effective calls—all while steering a 60-foot-long boat down a crowded and winding river. Most daunting of all, they woke up at 5:30 a.m. six days a week to practice. Suddenly this fun extracurricular looked like a massive commitment, and one to challenge me.
Every single morning of that fall, the second my blaring alarm went off, I resolved to quit the team and never suffer through such an unceremonious rousing again. Then I would get on the water. The simultaneous serenity and electricity of rowing at dawn gave early morning practices a magical quality that provided total escape from normal life. Charging through the glassy water, completely focused on myself and my teammates, I thought, I'd never give this up for the world. After my first regatta I was completely hooked. Even the masochism of practicing at daybreak became a point of bonding with my teammates. Needless to say, by the spring season I upgraded my relationship with my 5:30 a.m. alarm to "love/hate."