For those of that spent Friday nights clapping along to the theme song, laughing at the sarcastic comments from Chandler or debating whether or not Ross and Rachel were on a break, a Friends themed gift can bring those 90s memories to the present. Share these gifts with a friend who would drop anything to help you find your monkey or travel to another country for your wedding, only to hear you say the wrong name at the altar.
These Friends TV Show gifts will bring the inside jokes alive between you and your fellow fans. No need to exchange these gifts for store credit.
As Friends fans, we've all dreamed about reaching the same level of 90s awesomeness of Monica and Rachel's apartment. The purple walls, the blue cabinets and the small quirky accents throughout all stand out in our minds—including the yellow frame around the peep-hole. While you might not have a purple door, this frame will bring a little of that quirky 90s atmosphere to your apartment.
Every Friends fan wishes they could hang out at the Central Perk with the gang at least once. What better way to honor this sacred place than to relive the memories as you drink from their mug? "The visual of a warm, comfy coffee shop with some friends where memories are made at a place that feels like your second home made me love Central Perk. I also love coffee and mugs so win-win," said Evangel University sophomore Rachel Adamson. Whether you display it with pride or fill it to the brim with the strongest coffee out there, this huge mug will make a great addition to your mug collection.
There comes a moment in a relationship when the stars align and you can't wait to express all of your feelings about this person in three simple words: "You're my lobster." The moment may not consist of you sprinting down to the Central Perk in a daze to tell Rachel that you've loved her since high school, but the keychain says what your actions cannot. Phoebe describes this epitome of relationship goals best as she talks about Ross and Rachel's complicated back and forth; both holding in their feelings longer than they really should. You could give this gift to a partner or a best friend when you want to say all the things that can't be translated by the more traditional words of "I love you."
Everyone needs a bag, especially when walking a college campus. Why not add a little bit of Friends flare to a generic necessity. Swing it to class or stuff it with snacks for the next game night with friends, no pun intended. Technically, the name on your bag can be anything, just like Princess Consuela Banana Hammock, but that's a little much to fit on a bag so we'll stick with Mike new name of Crap Bag. Sharing the love with this "crap bag"  can bring out the laughs or bring out the memories of watching your favorite show in your everyday adventures.
Joey always spewed the most relatable quotes in the show. This shirt will display both your love for the show and your inner feelings about the large fries your friends try to keep snatching. "This is one of my favorite Joey quotes from the show because I find myself wanting to scream it from the mountain tops when a sibling tries to sneak something from my plate," said Des Moines Area Community College sophomore Alivia Bergmann. Now all you need is a foot-long meatball sub and you've got yourself a meal to bring out your inner Joey.
Game nights became the essential night-in for this iconic group. From Pictionary to poker to the infamous trivia game that determined the fate of the girls' apartment, this group refused to pass up a "healthy" competition. But what happens when your group of friends can't decide between a bet worthy game night or a Friends marathon? You break out the Monopoly while you turn on "The One with the Embryos" to feed into that competitive energy.
Friends who exchange sarcastic comments together stay together. For those times that you can't think of the helpful advice that your friend needs, look to the most awkward friend in the book: Chandler Bing. This sarcastic phrase could be applied to multiple situations, speaking to the tight-knit yet awkward friendship at its core. For Chandler, the comment speaks to the major factor of his personality: the ability to produce nervous jokes in times where a more serious thought would be preferred. Who needs an inspirational quote when a sarcastic comment could be given?
We all think about who's personality most resembles who from the Friends squad; I've been designated the honorary Monica. If you haven't considered this, adding these little charms to your wine nights will prompt an interesting conversation with friends. Are you the sarcastic one, the one that threw a girl's wooden leg in the fire or the one that left a man at the alter?
The moment when two best friends became the parents of two birds in a New York City apartment will never get old. This pair that seems so different yet so alike—kind of like their owners. "I think that they are such an integral part of the show and they mirror Chandler and Joey. Even though they're different they're still a pair and inseparable like Chandler and Joey; something that I would want to show to a best friend of mine," said DePaul University sophomore Emily Mefford. While it may seem weird to have a chick and duck on your phone case, much like it would be to have them as pets in your apartment, the deeper meaning behind the two birds will tug at a Friends-loving heart.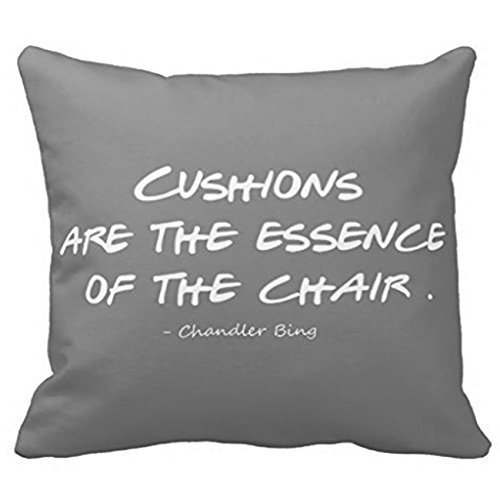 From the true lovers of the La-Z-Boy themselves, Chandler and Joey understand the importance of comfy throw pillow in the sitting area. Whether you have an actual La-Z-Boy recliner or a $20 futon you bought from a friend, it deserves to be graced with a quote from Ms. Chanandeler Bong himself. Throw it in the corner, over a seat that has more springs than cushion or under your head for a quick nap in between class.
Nobody looks forward to the dreaded moving day when the elevator says out of service and you live on the top floor of the building. What technique do you use when attempting to get your couch up the stairs? Well, we all know Ross would say to "Pivot!" But most of the time you and your friends are too much of a mess to attempt the simply pivot move. "What I really relate to in friends is that everyone is a mess. Even in their 30s everyone is a mess. I'm 19 right now and I feel like I need to have everything figured out and just knowing that I can still have no idea what I'm doing is great," said University of Iowa freshman Emily Hott. Having a quick reminder that the world won't stop turning if you drop a couch down a stairwell can be the best start to a day full of indecision and the sleepless nights that follow.
Laptop stickers personalize something that you keep at your side at all hours of the day. Bring an iconic image of squad goals to bring a friendly reminder of the jokes and antics from the show or from your own squad. Add this sticker to your collection that'll be there for you even when Netflix can't.
Almost everyone can recognize the logo's simple font that one naturally thinks of when they imagine the show's merch. "I would get my friends a Friends T-shirt because we're friends, but also so they don't have to do laundry as often. We all know that we'd rather save our money to buy snacks to share during a Netflix binge on a Friday hangout than on a washing machine," said University of Iowa freshman Kaitlyn Vote. The classic symbol from this 90s show can go above and beyond with meaning for those that you're looking out for in the world.
Ever have the urge to run around your apartment in your brother's fiancé's wedding dress pretending to be a bride? Um… Yeah, me neither… Even if this scene didn't spark some ideas in your mind, it's a great image of friendship to capture on your phone. Now with this new stand you can relive the antics of the episode and not have the worry that your phone will fall from its carefully positioned while binge-watching Ross yell, "WE WERE ON A BREAK!!!"
The 10-season binge comes to a close and all of the nostalgia smacks you in the face after seeing the abandoned keys placed on the counter of what now feels like your home. We all must move on to the next comedy show on your Netflix watch list. But the Friends hangover will always consume your mind. The cure? A poster that reminds you of all that you've learned from our favorite 90s friends. Hang it by your TV or above the futon to reminisce on the good old days as you begin your fall into the next fandom hole in sight.
Check out 15 more gifts if you want to prove to your friends that you're an awesome gift-giver.
So no one told you gift-shopping was going to be this way. Let's get real — your life may not be a joke, but you're definitely broke (no word yet on your love life). Take the guesswork out of shopping for your friends and get them something you know they'll like. After all, real friends are brought together by an ironic thing — the show F.R.I.E.N.D.S. Make their birthday or holiday dreams come true with the tried and tested gifts of the Friends six.
A simple and sweet one for all those taffy lovers out there. Get your friends as excited as Ross by letting them splurge with a few extra calories for their special day. After all, who doesn't love their friends on a sugar high?
Christmas would be incomplete without the reminder of our very own Smelly Cat. Imagine your friends and you sitting on Christmas Eve near the fire, under the blankets, with this medley playing in the background. Doesn't it sound like the perfect time to chat, bond and partake in a Friends marathon?
Phone cases are all the rage, especially when Apple releases its next version of the iPhone. Why not gift your loved one a new accessory that makes their phone look pretty and also serves as a reminder for the classic show that you both love?
When everyone's favorite Days of Our Lives actor, Joey Tribbiani looks you up and down and asks "How you doin?" you feel warm inside. That is exactly what this comfy hoodie will make you feel — warm.  "This hoodie by far the most comfortable thing I own. Not only is it comfortable, but it is also a great conversation starter! You could almost say it "pivots" the conversation," said junior Eliza Greenawalt.
This one entices the real Friends lovers. Have you ever wondered how your favorite characters smelt? Well if you have, this would be the perfect gift for you or your friends. At a reasonable price, these candles have a hilarious description and obviously will set the mood for the holiday and the Friends binge. You get to listen to Chandler crack jokes while simultaneously smelling Chandler.
Why cuddle a pillow when you can cuddle Hugsy? Joey's soft toy penguin makes for a great gift and proves to be a snuggly and warm companion for the lucky recipient. "Believe it or not, I've owned my hugsy since I saw Joey in that episode. I love to snuggle up to it and feel warm and safe!" said Iowa State senior Alexa Wu.
What better way of showing your bestie off to the world than giving them a sweater with the most iconic BFF duo? Give this to your BFF to not only keep them warm, but also as a promise to support them unconditionally. After all, true fans will remember the famous line by Monica to Rachel, "Welcome to the real world! It sucks. You're going to love it."
Have a sibling or friend who loves to cook? Give them this cute accessory that also reminds them of their favorite show. The red apron gives off a very Christmassy vibe, with its famous inscription, "They don't know that we know they know we know." Well, regardless of who knows what, if you don't know how to cook, this will be a great gift for someone who does. "I got this for my mom who is a huge Friends fan, and she does not take it off. It's affordable and looks great!" said Penn State senior Duc Pham.
We all know Regina Phalange as go-to Phoebe's alter ego for some "shady" activities. If you know someone as quirky, funny and handy as Phoebe, this "My name is Regina Phalange" is the perfect gift for them to live like Phoebe. "Phoebe is my favorite FRIENDS character. So when I got it for my birthday gift like 5 years ago, I made sure I take care of that cup! I absolutely adore drinking in this cup, but Bailey's Irish Cream tastes best in it!" said NYU junior Vishwa Patel.
Some friends like reading, some like painting. If one of your loved ones like to solve puzzles, this Central Perk Lego set will prove to be the ideal gift for them. For an added surprise, think about just giving them the pieces and watch how they get surprised when they finish their masterpiece.
Think you know everything about Friends? Test yourself and your friends out with these amazing Central Perk coasters and find out which one of your group was just staring at their phone *eyeroll*.
Cooking remains an activity that magically brings people together, whether it may be the actual cooking or eating and taking credit for everything. Live like Monique and turn into the gang's favorite chef. Whatever your fix may be, a Friends inspired cookbook will definitely be a fun group activity.
The Holiday Armadillo should be a holiday staple. Give it to the Ross of your friend circle, and only then shall you be able to channel the holiday spirit that this wonderful sweater and the iconic scene contain.
Friends just celebrated an insane 25 years of being on air. And what better way to wake up than 25 years of happiness, sassiness and good cheer condensed into one bag of medium roast? Give it to your fav and you shall receive good coffee and friendship back, hopefully.
This gift combines the love of Friends and a personal touch. Get this diary for a very reasonable price and customize it with your loved one's name, which makes a special gift even more special. "I love notebooks, so when I was looking for one and I saw this one, I did not hesitate to hit the "buy" button. Love this diary so much!" said Warwick University sophomore Shreya Thummar.
*Updated to include 15 more Friends gifts on 1/27/2020 by Maharsh Benday.