It's kind of a gray area—explaining that you celebrate Christmas and Hanukkah. "Christmukkah," if you will, tends to bring up a few queries from your mono-religious friends. How the heck do dreidels fit in with advent calendars? Do you light the menorah or deck the halls? It doesn't make too much sense. But then again, the Maccabees didn't have to explain why the oil lasted eight days and Jesus didn't have to tell us why the star decided to shine above the stable, so why should we have to justify our reasons for celebrating Christmukkah? We're all in it together, so accessorize your ugly Christmas sweater with a yarmulke, decorate the Hanukkah bush, and help us address the outside confusions that come with celebrating this bi-holy holiday (with Seth Cohen's help, of course).
The Gifts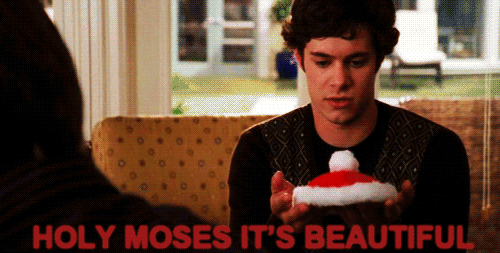 You celebrate Hanukkah so you get eight gifts? But you take part in Christmas, too… More presents? You're so spoiled!
Yeah, it's not exactly like that. A Hanukkah gift one night might be electric candles, with two AAA batteries the next night. As for Christmas, the gifts range from one big hoopla gift to stocking stuffers and spiced nuts. Every family is different, but the Hallmark spectrum of presents is never meant to undermine the historical importance of both Hanukkah and Christmas. The gifts of eight days of light, a miracle birth and mom doing our laundry while we're home are more than enough for us.
The Feelings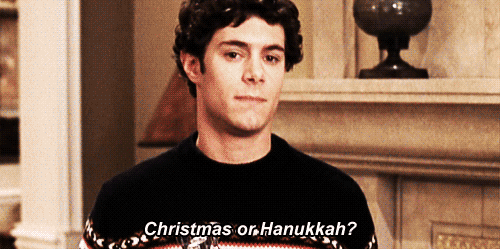 Why so sad? My people got their temples torn down. Why so happy? It's Jesus' birthday!
We're not bipolar; we just have a lot of feels for what went down in the past. Hanukkah: The Greeks tried to get the Jews to give up their religion. The Jews defeated him but were only left with enough oil to burn for one night–wait, what? It burned for eight whole days! The Jewish side of us may be a bit solemn, as we re-live oppression. But hey, we're happy because we've got freedom, oil filled with faith and even more oil to cook our latkes. Christmas: Mary and Joseph wandered through town and settle into a stable. Welcome baby Jesus! The shepherds and the animals worship the baby, the Son of God. The Christian side of us expresses our appreciation for the wise men and the guidance of the angels. We're together to celebrate the birth of Jesus, after all. Luckily, we get to toast to both holidays with a plentiful amount of wine (thanks mom and dad!).
The Food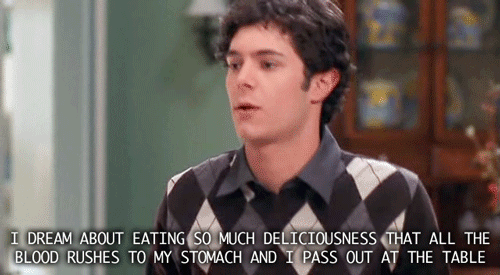 Your mom can't have the Christmas ham, your dad thinks that Hanukkah's applesauce and sour cream combo is disgusting. So what the heck do you eat?
Although kosher restrictions are about as complicated as the bible, a fair amount of modern day Jews in America don't stick to the dietary restrictions. A Christmukkah-goer is usually fine pilling their plate full of honey ham and dairy. Even if the celebrator in question is kosher, who can complain about eating a Christmas roast turkey compared to dining hall cold cuts? In odds to the comfort foods of Christmas, Hanukkah brings some seemingly odd dishes to the table. We'll start with latkes (potato pancakes), piled with sour cream and applesauce. It's not gross, we promise. Oh yeah, and then there's sufganiyot, donuts that look like they have nipples on them. The bible must have forgotten to shame donuts for being naked.
The Holy Houses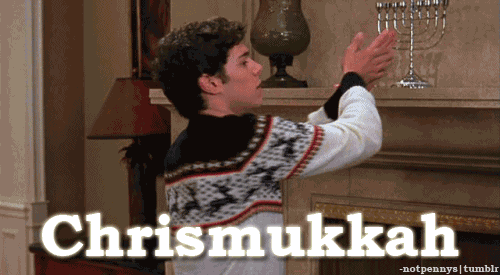 How can you sit in Temple for five hours and then go to church for another three services? You're worshipping two different things.
We'll be honest, it gets exhausting sitting in the pews. Our minds do tend to wander away from the miracles of oil and the geography of Bethlehem. The main appeal of going to temple and church is the community and the sense of belonging to something special. Campus churches and Hillel are great resources, but these people at home are our friends and family that have been right alongside us in our religious and cultural upbringing. In terms of worship: to each his own. A Christmukkah-goer's religious beliefs could be incredibly complex or non-existent. The essence of Christmukkah is in the intentions in which we celebrate individually and together.
The Family Time *(Plus Some Booze)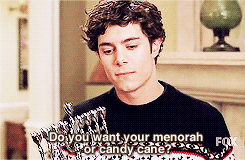 Can you even have fun with that much family time?
The answer is yes; just add some holiday juice.
Drunken Dreidel:
shin=take a sip
hay=take three sips
nun=take a shot
gimmel=e veryone else takes a shot. Be careful (and chase your booze with some chocolate gelt).
Shwasted Santa Hat:
Hang a Santa hat on the top corner of your TV and pop in a Christmas movie. Whenever the hat lands on a character's head, throw back a shot. Safety first (and kick it up a notch with peppermint schnapps).