Also written by Fabulous Flores.
It's the most wonderful time of the year when you light the candles, eat your weight in fried foods and take on your bubbe (grandmother) in a game of dreidel. Only, things might play out a little differently this year. Walking into your apartment to find your roommates decorated the living room in everything Christmas with no menorah in sight can make you feel pretty left out. If you're having trouble getting the Hanukkah spirit this year, check out fun ideas to bring Hanukkah traditions to school—without violating dorm policies and almost lighting your room on fire.
Bring your Hanukkah traditions to college with these 10 tips.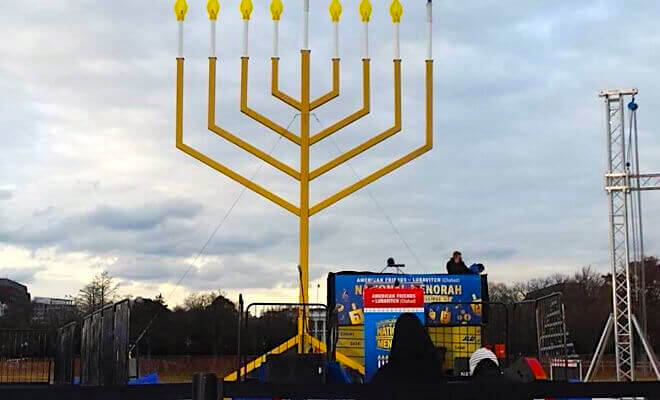 Unlike in the days of the Second Temple where all they had was oil that took days to make, you can buy a menorah for cheap. Electric menorahs work in dorms that outlaw candles. It may not give the mystical or desired effect of an actual flame, but it sure does the job in the meantime. Pro tip: Target, Walmart, CVS, etc. all sell adorable decorative options you can hang up in your room or put on the windowsill of your apartment. Of course, if you do want to light candles, most Hillels or Chabads will have a way for you to do so (see #8). "I'm going to go to the menorah lighting on the quad with Chabad," said American University sophomore Philippe Szwarcbart. "That way, I can practice my traditions without getting in trouble."
Price: $55.48
2. Food, Food, FOOD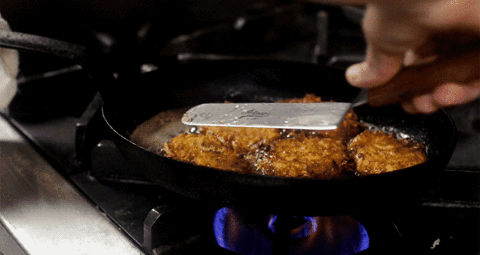 Snacks of deep-fried wonderful goodness stand out as traditional foods of the holiday. The oil represents the miracle of Hanukkah, where the ceremonial candle oil that was meant to last only one night lasted eight instead. Your roommates and friends will love you if you bake some sufganiyot (jelly donuts) or latkes (potato pancakes) from scratch at home, but you can always buy some at your local grocery store or deli.
3. Dreidel, Dreidel, Dreidel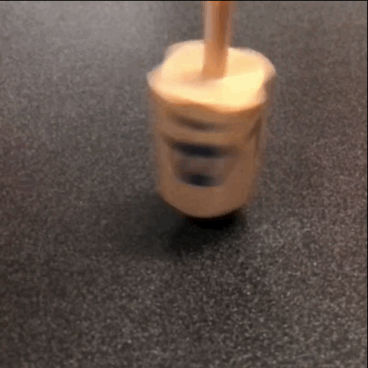 If trees equal Christmas, then the dreidel—more so than even the menorah—equals Hanukkah. The spinning tops have Hebrew letters carved into the four sides that stand for the acronym "nes gadol haya sham," meaning "a great miracle happened there." You can play dreidel using nuts, gelt (gold coins – see #6 below) or even real money to bet. Maybe invite over some friends and have a Dreidel Tournament. Just don't bet away too much of that gift-buying cash.
4. Hanukkah Carols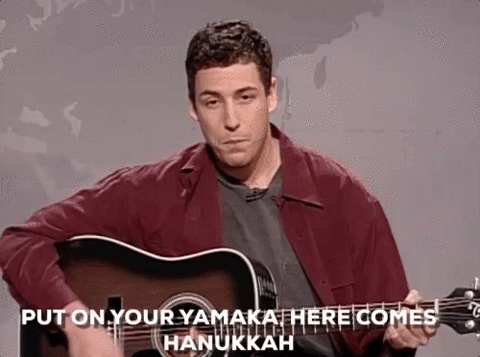 Christmas may have a monopoly on the radio, but Hanukkah has some of the best songs. You can sing them while lighting the menorah or while hanging out with friends. Some songs celebrate and glorify G-d and the ancient Temple. For those less religious, you can enjoy less religious songs, such as the one you sing while playing dreidel. You can find lyrics and music for any of these online. Of course, you can never go wrong with a drunken Manischewitz wine-induced sing-a-along. But only if you're of the legal drinking age, of course.
5. Tell Your Friends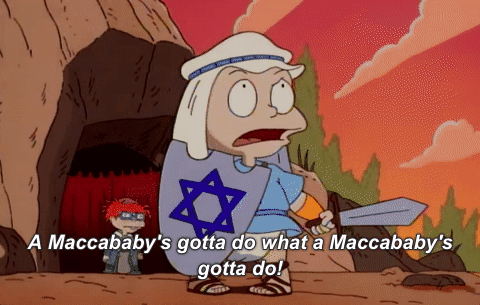 Hanukkah serves as a great time to educate your gentile friends on the many great traditions and origins of the holiday. Try making a night of it. You can serve some of the amazing deep-fried snacks and play a game of dreidel to top off the evening. Plus, the holiday falls before break so you can have your White Elephant/Secret Santa/Hanukkah Harry right then and there. Just remember: no (real) candles!
6. Give Out Gold Coins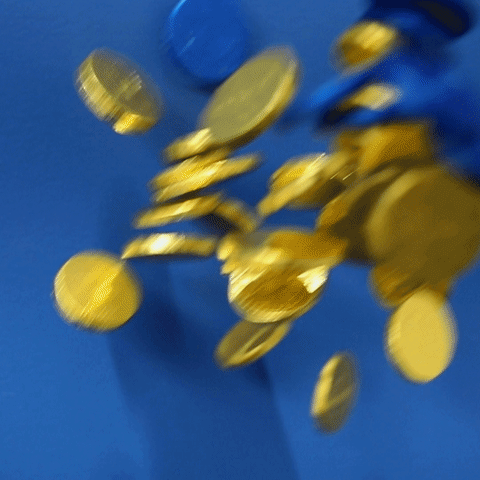 Jewish people today continue the tradition of giving out "gelt" (Yiddish word meaning money) during Hanukkah. While at one time Jewish people used real currency, nowadays, most people use chocolate coins. Either way, this sweet treat serves both as a great dessert and an easy gift for anyone who may not have a ton of "real" gelt in their wallet.
7. Perform a Mitzvah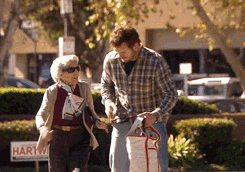 Give the gift of your time or things you don't need anymore this holiday season. There are 613 Mitzvot (Commandments) in the Torah, both ones that you should and shouldn't do, so why not be a "mensch" (good person) and spread some good in the world? You can volunteer somewhere or gather up food or clothes to donate to a local shelter. Even something as simple as wishing someone "Happy Holidays" or helping to wrap gifts can be a mitzvah. You don't have to save any lives, you just have to do good.
8. Do a Gift Exchange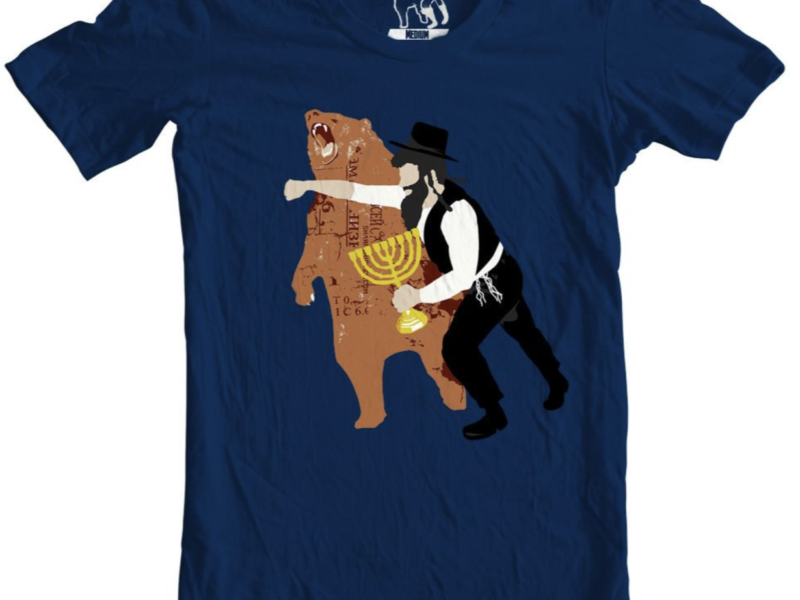 Hanukkah Bear Punch Men's Graphic Tee: $24.99
Whether your core group of friends includes people who celebrate Hanukkah or Christmas, you can all still get together to do a little gift exchange with each other. You can get the deal done in one night or celebrate over all eight nights. To save money on multi-night festivities, hit up the Dollar Store, Five Below or even the clearance section of a Target near you to buy little items that you know your friends will enjoy.
9. Hillel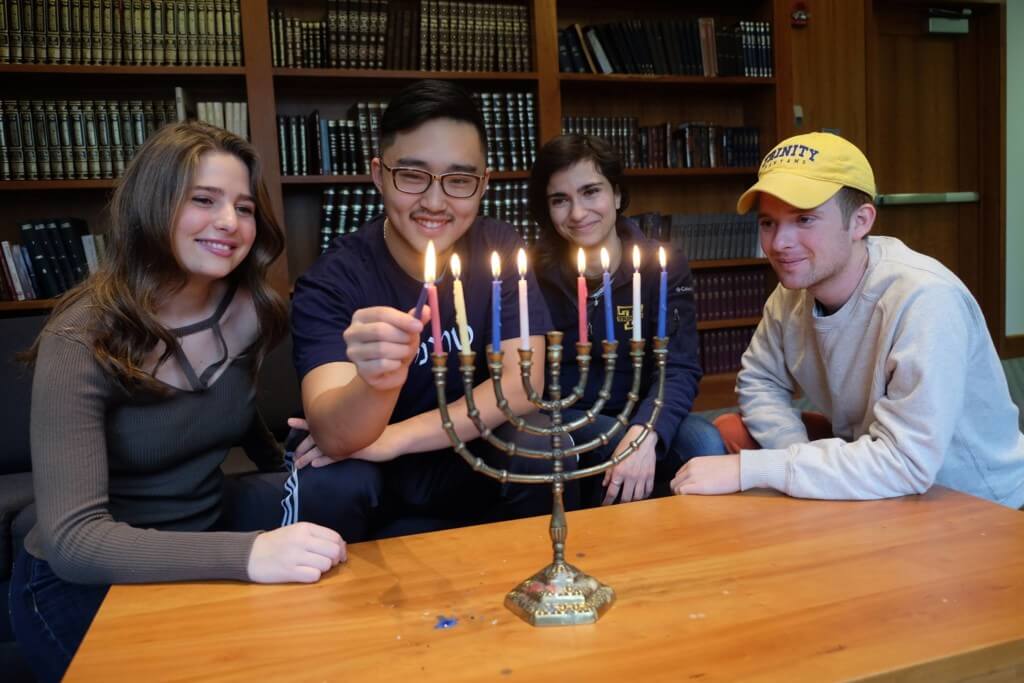 Most Hillels (and Chabads) host events for the holiday. "I'm not going to be here for Hanukkah this year, but if I was I would go to the Chabad and Hillel events to celebrate with all of my friends and the rest of the community," said AU sophomore Brenda Hamicha. You can connect with other students who will want to celebrate with you and who will welcome you with open arms. If that doesn't convince you, the think about it: The more people to celebrate with, the more gold coins. Every Hillel that celebrates will have candles to light, dreidels to give out, and lots and lots of gelt to eat. Also, latkes—because who doesn't love a good latke?
10. The Hanukkah Bush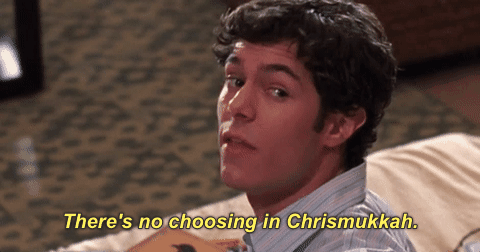 I know, I know…I know what you're all thinking. Technically Hanukkah Bushes don't exist in Jewish tradition. However, I would be remiss not to mention it because many families (particularly those in America) have taken to using a "Hanukkah Bush." Hanukkah bushes include options from an arsty "light-up" decoration to a real mini-Christmas tree, all decorated for Hanukkah. Of course, decorations of any kind always make a difference in holiday spirit. "I have a menorah and candles that my parents sent me that I put in my window. I'll do prayers over them, but I won't light them. I also have dreidel string lights in my room, just to keep the spirit alive," said AU sophomore Ilana Schreiber. Whether you choose to have a Hanukkah bush or not (or even something else), you can't disagree that it would be a cute accent to put up alongside your roommate's Christmas tree.
Check out 10 gifts for Hanukkah.
Written by Brooke Miller

Jewelry fanatics will go crazy over this tiny Star of David necklace. And it comes with a personal touch. You can choose to etch in a Hebrew initial and birth month to the 14K gold pendant. Friends and family will swoon over this gift; its stylish, simple and sentimental. What more could you want?
Price: $34

At the crux of Hanukkah lies the Menorah, and no will want to take their eyes off of this stylish floral design. Its elegant structure and eye catching golden beads beautifully display the candles over the eight nights of Hanukkah. Friends and family will happily gather around to take in the dazzling beauty.
Price: $49.95

Pair your floral Menorah with these eco-friendly candles, and flex your love for the flora and fauna even more. This box of 45 dye free candles are made from vegetable oil, and are pure, natural wax. Now you can light up the room for Hanukkah and feel great about your environmental impact.
Price: $14.50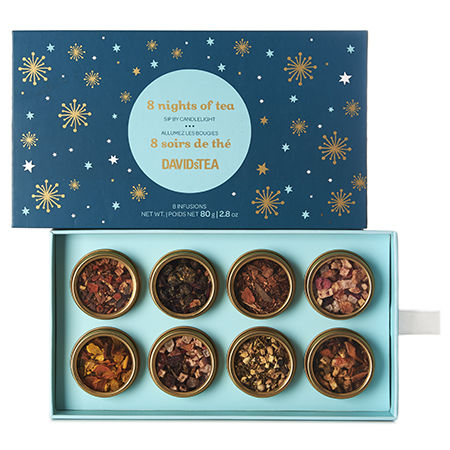 Picture this: each night of Hanukkah you open up a new flavor of tea to enjoy: one Chai, one ginger, one blackberry, cupcake, peach and even one Caribbean. Each tin of caffeine-free Kosher loose leaf tea fills two mugs, and offers you and a partner of your choosing eight fantastic choices of tea to enjoy in the cold December weather. Warm up with a hot cup of tea and the company of a great friend.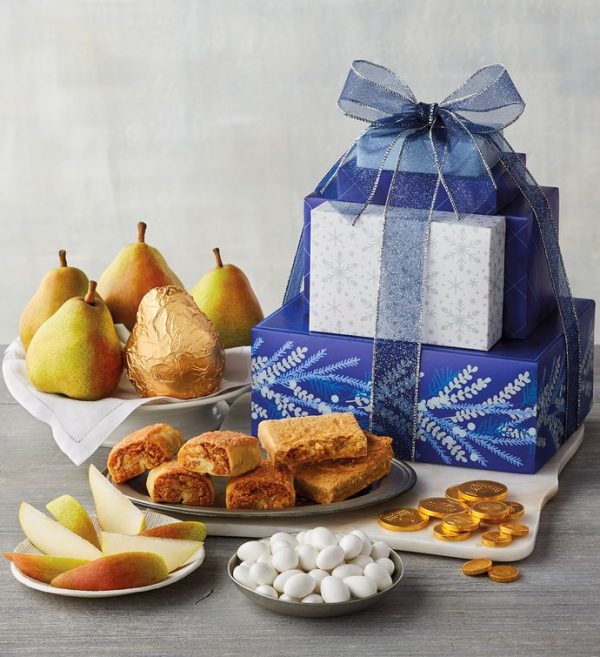 Every great holiday needs great food, and this Kosher gift basket really packs the punch. Harry and David fill this basket with juicy pears, sweet Jordan almonds, cinnamon rugelach and butterscotch blondies (talk about delicious). No one will get their fill of these sweet treats, and trust me, they'll talk about them long after Hanukkah's end.

Everyone loves cool tech gifts, and the Amazon Echo Spot proves the perfect tiny robot for family and friends of all ages. Not only will it tell you the weather, recall news, play music and basically everything in between, but it also fits on your bedside table where it doubles as an alarm clock. Its tiny, chic design makes it the perfect accent to every room, and the perfect gift for every person.
Price: $130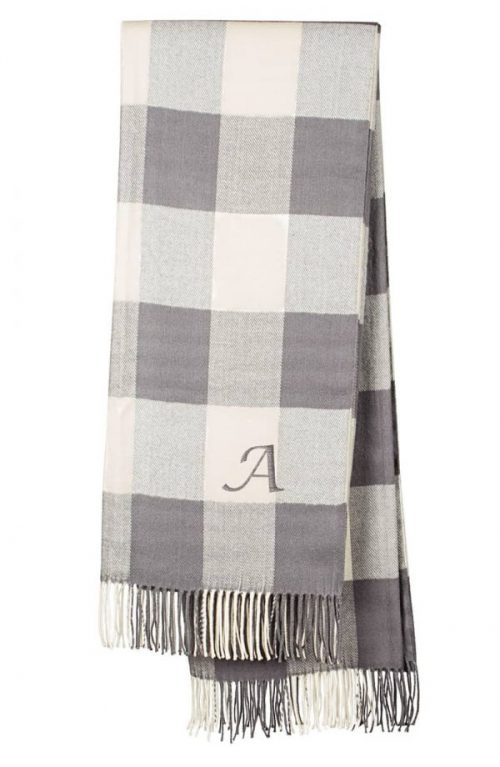 Who doesn't love cozying up in these cold winter months? With this monogramed throw blanket, you'll never beg for comfort again. Its soft fabric and beautiful pattern adds not only a stylish touch to your living room, but invites everyone to snuggle up on the couch. Plus, you can add anyone's initial for a creative personal touch! Double win.

Everyone loves reminiscing on fond memories and nothing compares to beautiful photographs. Brighten up every room with these beautiful geometric photo frames. Their stylish shapes combined with the light golden color will surely draw all eyes, and will perfectly display every wonderful family photo. Plus, it will prove to everyone that your family can happily stand each other (even when the extended family comes in to town).
Price: $10.73

This cookbook combines Muslim, Christian and Jewish dishes from the authors' home city of Jerusalem. The book offers over 120 different cultural dishes ranging from delicious deserts to appealing appetizers and everything in between. With five restaurants and two additional cookbooks, authors Ottolenghi and Tamimi definitely know how to captivate their guests, and now, you can too.
Price: $19.79

Nothing screams "holidays" like a great glass of wine. And with this decanter, you'll never want to put your glass down. By properly airing out wine to release its complex flavors, a wine decanter makes every glass taste exceptional. You'll wow everyone with your superior pallet, and will have everyone calling you a sommelier for the rest of the evening.
Price: $44.95
*Updated by Brooke Miller on December 5, 2018 to include gifts 1-10.