Tel Aviv, the city of my dreams, and I hope yours too after finish reading this. Considered "the Mediterranean Capital of Cool" by the New York Times, Tel Aviv offers a very very very long list of things to do. You really want to spend more than 24 hours in this city, but given the circumstances of this article, I'll walk you through some of the things you can do in one day in Tel Aviv. Let me give you a heads-up, you should mentally prepare yourself to totally fall in love with this city and all the things you can find there.
Read on to discover one of the most outstanding cities in the Middle East.
7 a.m. Walk on the Beach
Nothing gets better than starting your day with a beach walk in Tel Aviv's coastal strip. It extends dozens of kilometers and includes 13 different beaches. It depends on the location of your hotel or Airbnb, but try to stay near the beach, you definitely won't regret it. My favorite go-to beach, Gordon Beach, considered the busiest and most popular, offers everything you could possibly ask for: a wide boardwalk, bars, restaurants, enough spots for playing matkot (Israeli paddle ball game), volleyball courts, great waves for surfing and more.
You can walk for as long as your legs allow you to, but with the picturesque view of the Mediterranean, the Vitamin D you get plus the impressively good vibes the city transmits, you'll wish to stay there all day. Remember to put on sunscreen if you don't want to show off tanned skin, or don't if you long for a Mediterranean skin tone. Of course, wear a swimsuit for a refreshing jump on the water.
8 a.m. Breakfast
Too many places to eat in Tel Aviv will make you feel like the most indecisive human being on the planet. Trust me, I know from my own experience. Food gets so good there that wherever you choose to go, you will leave with a full and satisfied stomach. If you haven't tried shakshuka before, then don't hesitate to order this meal, a "one-skillet recipe of eggs baked in tomato-red pepper sauce spiced with cumin, paprika and cayenne." My mouth melts at the bare thought of it. Off course, remember the coffee, because who on earth can survive a day without caffeine? Some good recommendations for breakfast places around the city are Doctor Shakshuka, Benedict and Café Hamaniya. If you rather try really good hummus, I recommend this very good place in the city called Humus Full.
9:30 a.m. Shuk Hacarmel
Before going to Israel, you should learn and practice some important and common Hebrew words to kind of understand the culture of the country and feel more in tune with the people there. Download Duolingo and learn how to say hello (shalom), goodbye (leitraot), good morning (boker tov), good night (Laila tov), market (shuk) and more. Especially if you go to the shuk you need to learn how to say, "how much is it?" (cama ze olé). In the shuk, you need to be audacious and brave because Israelis, as much as friendly and nice as they seem, they can get, let's say, not polite on some occasions, especially when selling their stuff. So, your first time in the shuk might intimidate you, but I think it just makes the experience so fun and unique.
This shuk probably makes number one on my list of favorite places to go in Tel Aviv. It's such a vibrant, exciting, colorful, chaotic, diverse and fun place to go where you'll find numerous trade shops of clothes, spices, food, jewelry and more. If you want souvenirs from this special trip, here you can get necklaces with your name engraved in Hebrew, Magen David (Star of David) necklaces or bracelets, and very cool rings of different designs and colors. You can also get home decorations such as blessings for your house in Hebrew, plates, coffee cups and a myriad of other things.
11 a.m. Jaffa
A must-see when in Tel Aviv includes visiting the ancient port city of Jaffa (or Yafo). Inhabited by Jews, Muslims and Christians, Jaffa could be one of the most diverse and fascinating areas of the city. You could literally walk around Jaffa discovering restaurants, shops, markets, art galleries and astonishing old stone buildings, mosques, churches and synagogues, and never get bored. Visit the Jaffa Port, the Jaffa Watchtower, the Jaffa Hilltop and Garden Peak Park (Gan HaPisga), the Washington Bridge, Jaffa Flea Market (Shuk Hapishpishim), and more. For lunch, you can't miss a legendary restaurant in Jaffa named The Old Man and The Sea. The menu includes a broad selection of fresh salads, seafood and meat courses. Just the vibrancy of the place and the great food it offers makes this experience a remarkable one. Of all the restaurants I've tried across the country, I think this is the one that excites me the most.
1 p.m. Florentin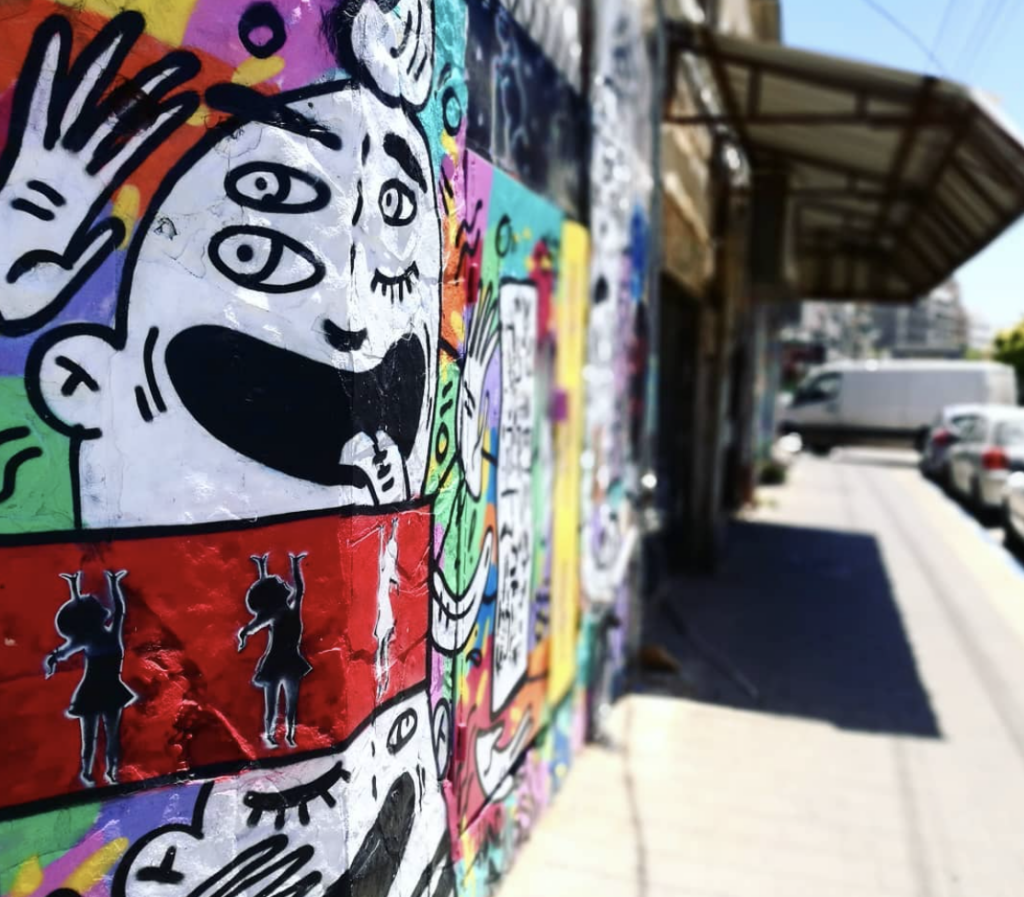 Get to know the most artistic and charming neighborhood in Tel Aviv. Known as Tel Aviv's Soho, in Florentin, you'll find plenty of art galleries, coffee shops, restaurants, bars and street art. History tells that over three decades ago, the Israeli government promoted the renovation of specific areas including Florentin, the reason why a younger and more creative population moved there turning it into a hipster neighborhood. Despite the establishment of new places for younger people to go out in the area, they started creating art everywhere, especially on the walls of the old buildings. Not that graffiti is legal, but it makes the streets of Florentin so striking, and behind every graffiti or design you'll find on the walls, there's a hidden message these artists want to share with locals and tourists. I highly recommend getting ice cream or a milkshake and walking around the neighborhood to discover hidden art messages and very cool boutiques and unique spots.
2:30 p. m. HaYarkon Park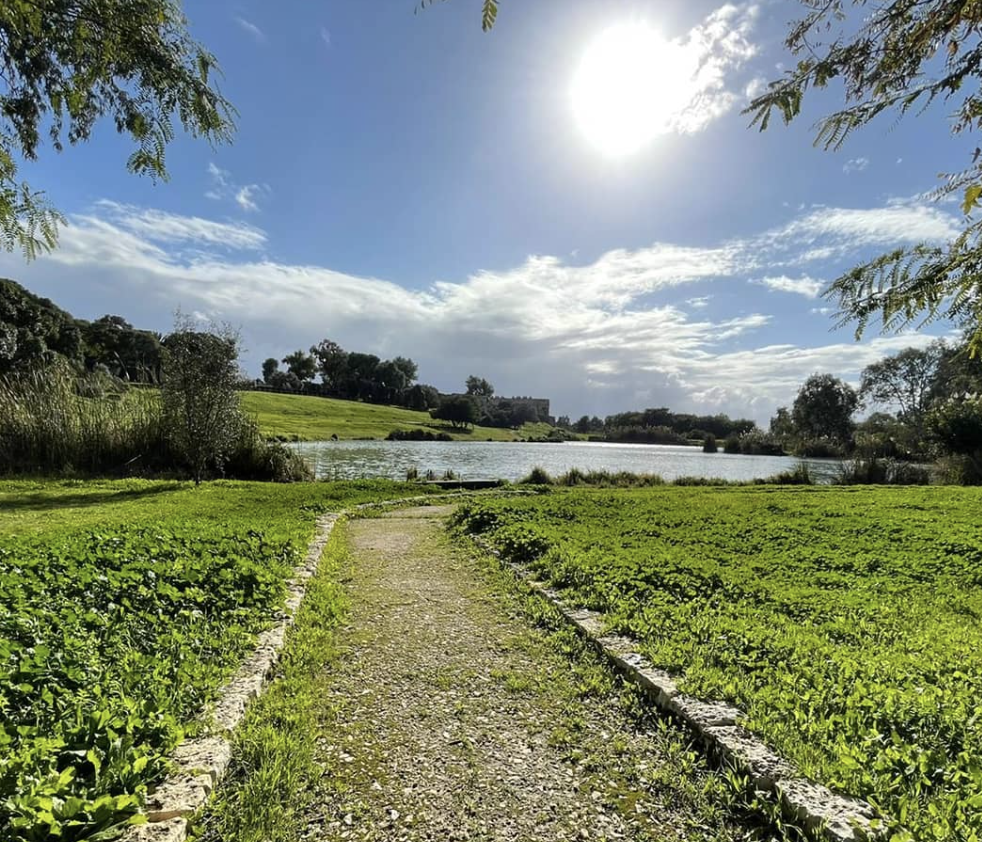 With more than sixteen million visits annually, HaYarkon Park (or Yarkon Park) offers a tranquil space for locals and tourists to spend the day either resting, playing sports, walking around the botanical garden or the aviary, enjoying the water park or the petting zoo and more. Let's say that this park means the same to Tel Avivians as Central Park means to New Yorkers. Plenty of famous celebrities have performed in the concert revenues the park offers like Michael Jackson, Paul McCartney, Elton John, Justin Timberlake, Rihanna, Lady Gaga, Britney Spears, Jennifer Lopez… the list just goes on.
You can also rent bikes and tour the park through the flats and beautiful trails, rent boats or do paddle boating, take a blanket with you for a picnic right next to the lake or hang around the six different gardens included in the park, like the Tspari (bird safari) considered the largest bird park in the Middle East. In HaYarkon Park you'll find the best spots to unplug yourself a little bit from all the non-stopping tourism and the chaotic, yet energetic and beautiful city of Tel Aviv, just to come back to keep venturing even more. 
4 p.m. Rabin Square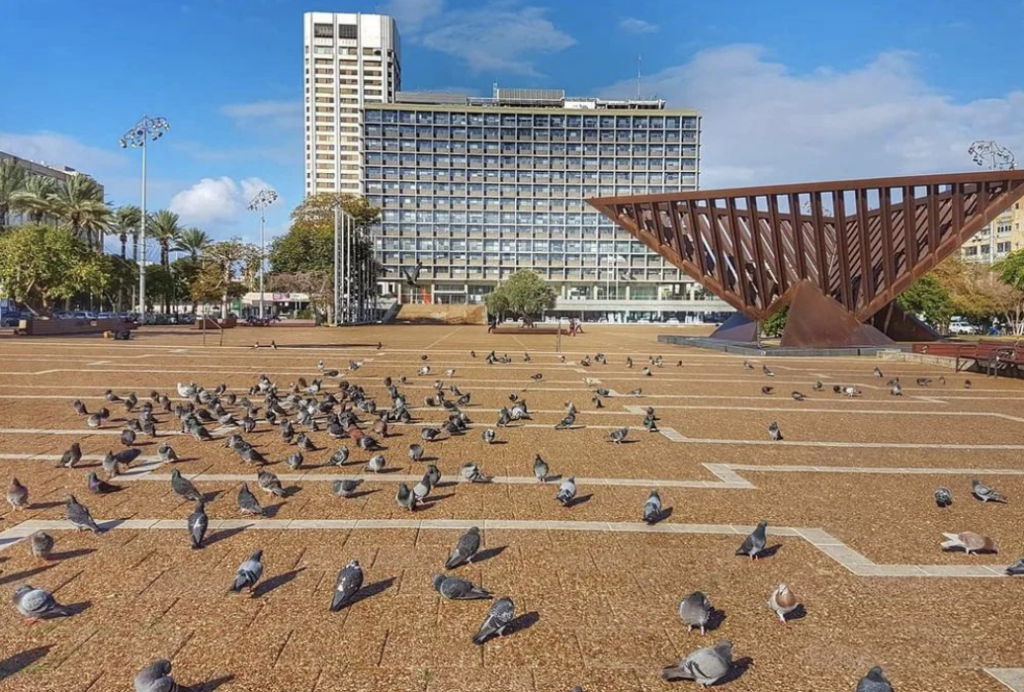 Located in the center of the city, this biggest public square of Tel Aviv serves as the site of political rallies, parades, Independence Day celebrations and more. It takes the name of the fifth Israeli prime minister, following his assassination in 1995. Best time of the year to hang around this square? Spring and summer. The beautiful lotus flowers and koi fishes swimming in the pond makes this place a nice one for walking or hanging out with friends. You can also find coffee shops, boutiques, restaurants and pubs around the square, and it includes a dog area, pretty fountains and seating areas for locals and tourists.
5 p.m. Neve Tzedek 
One of Tel Aviv's oldest districts, the city's renovation turned it into one of the most touristic and fashionable places. Walk around Shabazi Street to find art galleries, outstanding architecture, boutiques, craft shops, restaurants and coffee shops. In this architectural gem full of life, creativity overflows. Whether you look for a unique piece of handmade jewelry or a special clothing item, Neve Tzedek gives plenty of different places around the neighborhood just for that. Visit the Nachum Gutman Museum of Art for some outstanding exhibits and Tel Aviv's Suzzanne Dellal Center for Dance and Theater. Lastly, don't leave without going to the old Jaffa railway station AND try the best ice cream shop in Israel, Anita Ice Cream.
6:30 p.m. Sunset at the Beach and dancing
Go back to the beach for a wholesome and completely different experience. Around sunset time, a group of people gathers on the boardwalk to dance Rikudim (Israeli dances). Try following the steps and you'll have one of the best times of your life. Plus, I swear nothing gets better than the sunset in this city. The yellow and orange colors of the sky while the sun hides behind the ocean give you time and space for meditation and appreciation, and might be the place for resting after a very moving and hectic day in the city. You can go ahead and jump on the water or you could do yoga, listen to some music, journal or simply stare at the beautiful and magnificent sunset view.
8 p.m. Sarona Market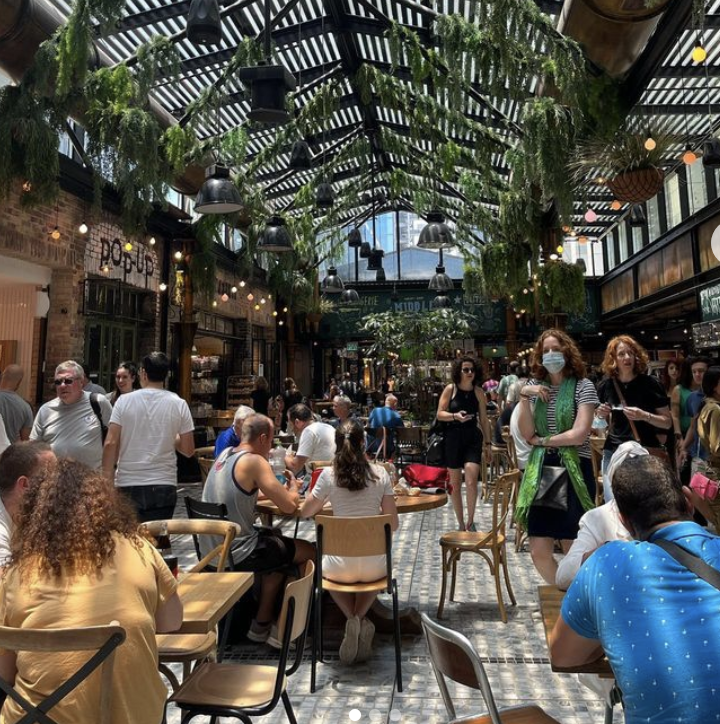 Time for delicious food! This food market considered the culinary center of the city, hosts about a hundred different food options from restaurants to markets and you can walk around and try whatever you crave. Whether Italian, Mediterranean, Japanese and more, in Sarona Market most of the top Israeli chefs showcase their creations there, so you really can't miss it. This first indoor market in Tel Aviv attracts a large wave of tourists who long trying top restaurants in the country. It might overwhelm you with the number of different options you'll find there, but that just means you need to come back for more.
10 p.m. Namal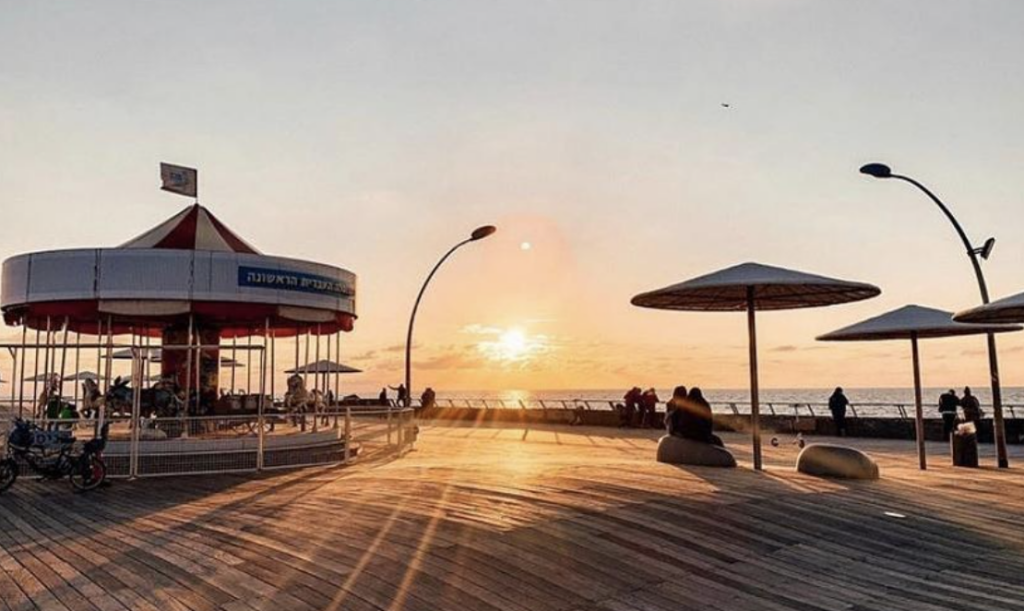 Namal, aka the Tel Aviv Port, might list as number one on the hottest places to go in Tel Aviv at night. Whether you go for food, drinks or clubbing, sure thing you'll have a great time. Walk the stretch wooden deck with the ocean view and the sound of the waves crashing, maybe eating Nutella crepes or your favorite ice cream. My favorite thing about the Namal, beyond the great food you'll find there and the good energy you feel everywhere, is Shalvata. A nightclub. The best one you'll ever find in the city. If you rather visit the Namal during the day, then you can also try the great restaurants there, walk around and shop in some of the most famous Israeli stores like Castro or Replay, but you can also find other great stores like Adidas or Blue Bird. At any time of the day, the number of people overflows the port. 
11 a.m. Enjoy Tel Aviv nightlife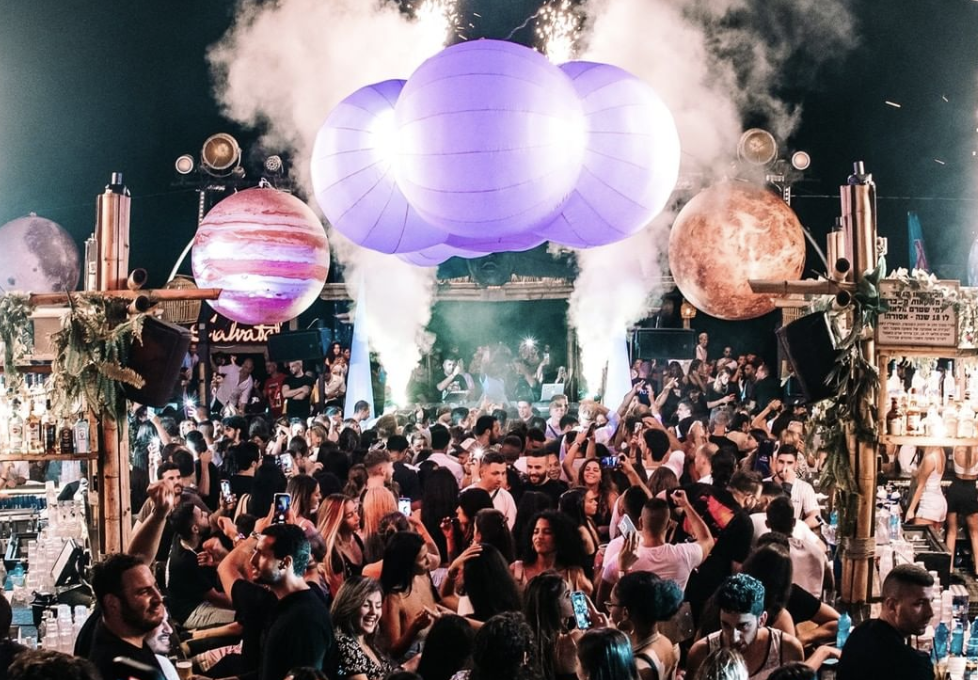 Tel Aviv never sleeps. Day and night, you can see busy streets, people minding their own businesses at coffee shops, restaurants, bars, walking at the beach or around the most known neighborhoods like Dizengoff, Neve Tzedek, Rothschild and Hayarkon. Despite their agitated daily schedules, Tel Avivians love going out and the vibrancy and good energy of the city incites tourists to discover many bars and clubs. Some good recommendations of places where you can go with friends or your loved one include Shalvata and Litzman located in the Namal, but also Kuli Alma and Lima Lima Bar.
3 a.m. Benedict for midnight snacks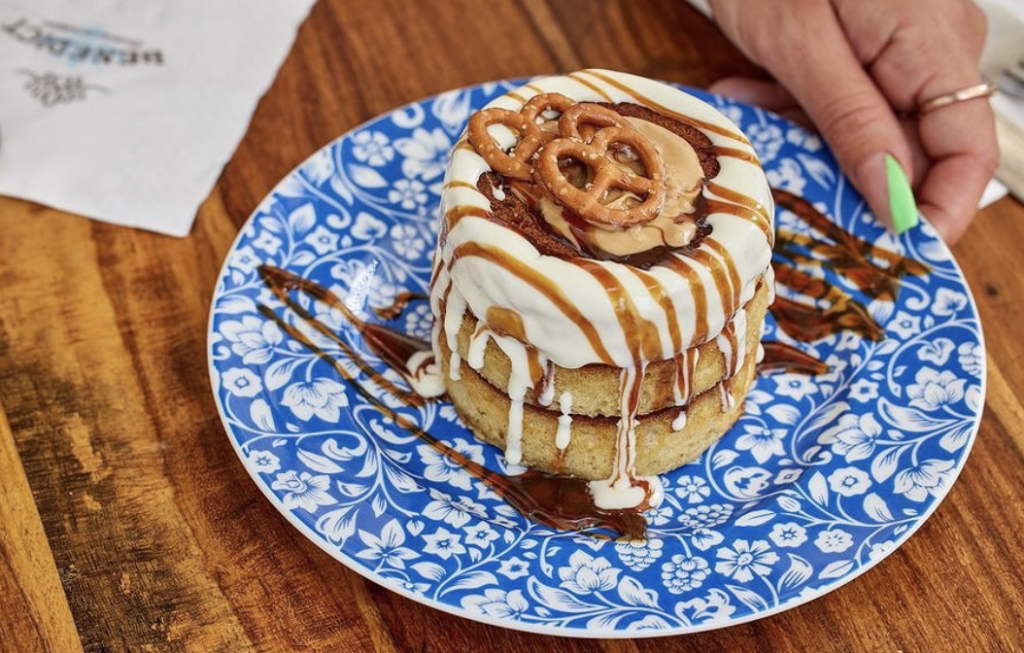 We all know that after a good night of clubbing, our bodies scream for snacks or a whole meal, and a good thing about Tel Aviv deals with finding different places open until late at night. If you crave pancakes, you'll eat the best ones in Benedict (order the Kinder Bueno pancakes or the Oreo ones). You can also go to Abulafia for impressively good sandwiches or bourekas (my favorite, the pizza-flavor one.) Then, because you really wish the night never ends, you can walk around the streets (of course never do it alone), and breath the great, unique and unforgettable air of this majestic city.