When the second half of your junior year happens to fall during a global pandemic, what else do you do but say, okay, life happens? Sure, a Greek Life talent show, a weekend mountain trip, and a spring formal all seem trivial compared to the bigger picture. Students ended once-in-a-lifetime trips abroad, and others left their dorms half tidied up with the dim prospect that they might return after spring break. Personally, the beginning of my semester proposed a chaotic couple of months: days full of responsibilities and traveling, demanding classes, and failed attempts at trying to maintain a semblance of balance.
Yet, when the world pressed the pause button, I found myself somewhat halted in mid-air.
In a world where I thrived on constant distractions, I looked ahead to see not even one appearing in the near future. All of the uncertainty and worry buried inside of me swiftly tumbled out of my control, making simply thinking an overwhelming task. Unsurprisingly, the universal TikTok moms finally cracked the code. What else to do in these unprecedented times…. but take a walk? I unplugged and masked up, and in my own very self-help, mid-life-crisis way, I decided to spend all my free time out in the open. I owed it to myself to find peace of mind, albeit six-feet-apart, by staring up at the clear blue sky. Life proved more uncertain than ever, but one thing I knew for sure: maybe the world stopped, but the least I could do was look at it.
How does simply being outside attempt to alleviate all the craziness within? My initial strategy for finding peace started with leaving home, even just for a day. All of a sudden, twenty years in Staten Island finally felt suffocating. Right now, it represented a place enveloping me around my own anxieties; so, I packed a bag and traveled upward. I marked my first adventure in New Paltz, New York, a quaint little college town only two hours away. That first inhale of fresh mountain air, even the chilly early morning sun beating on my thin fleece, made me feel more refreshed than ever during those past few months.
At Minnewaska State Park, I laid eyes on my very first waterfall and spectacular foothill views.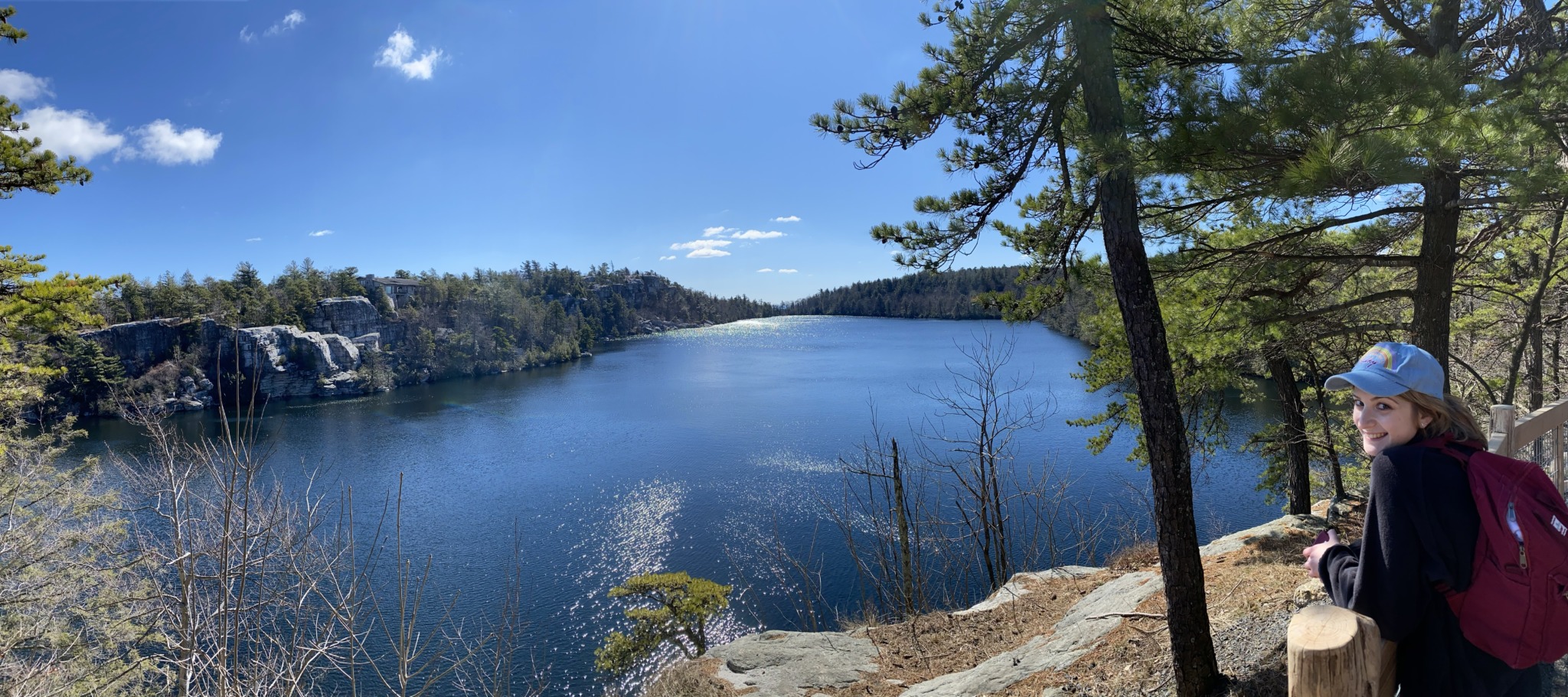 My boyfriend and I shared lunch lounging on a cliff, overlooking a sprawling glittery lake. Each step was a journey toward mindfulness; five things I see (hey, is that a turtle?), four things I hear (that definitely was some sort of sea creature splashing around), three things I feel, two things I smell and one thing I taste (babe, we are def going to Wendy's later). We wandered around without a single agenda in mind, and the little pit of apprehension that decided to live in my stomach actually stayed silent on my first day of hiking (go, me!).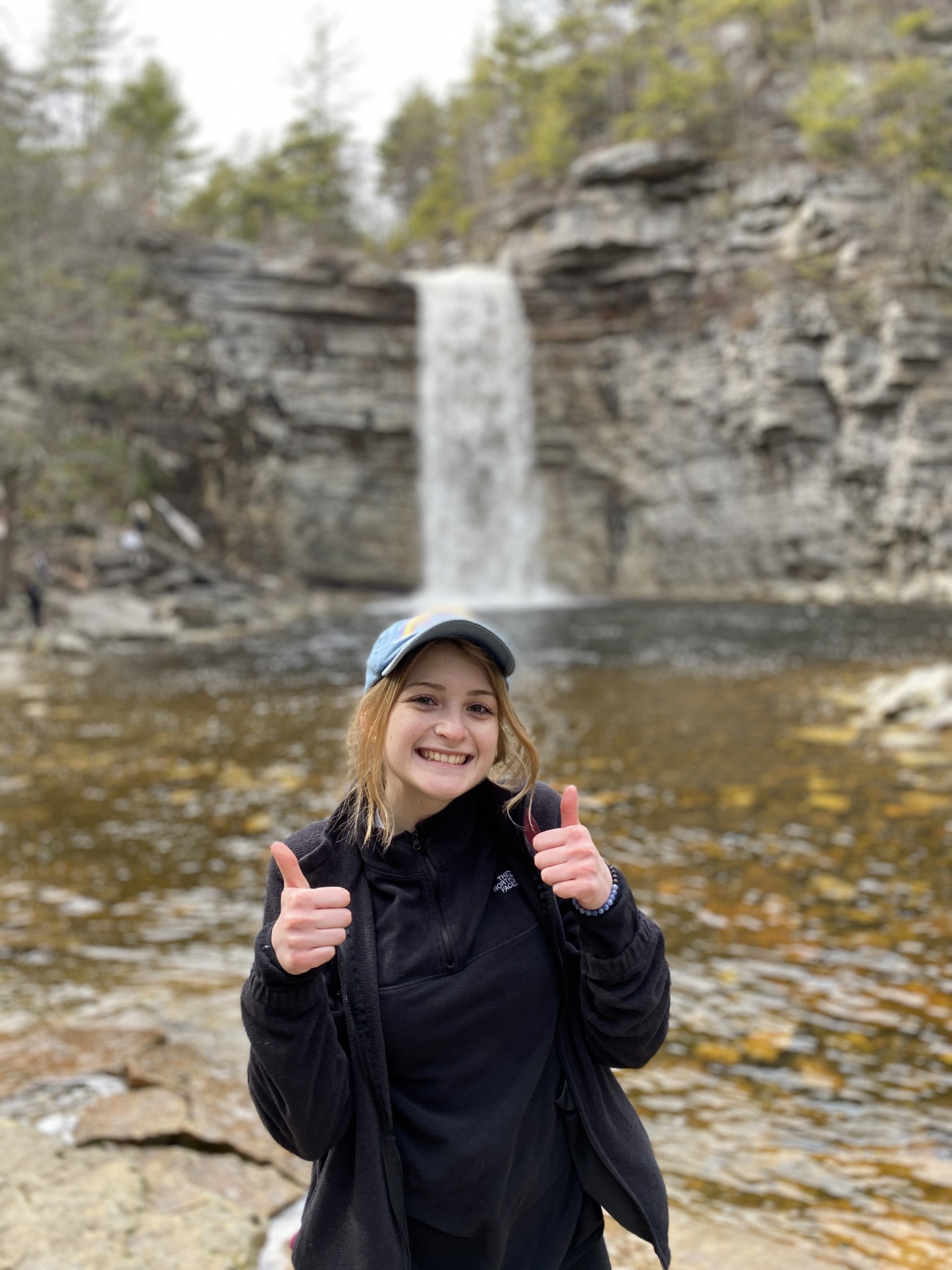 Two trips to New Jersey's Stairway to Heaven trail and a couple of local parks and beaches later, I still craved more. Mask at the ready, I ventured to Bear Mountain State Park in upstate New York. The first thing you see while driving is the breathtaking view of the city across the Hudson River, giving way to more trees than you can count until the outline of massive mountains begins to poke through the bundles of leaves. After a stroll along the park's Hessian Lake, I decided, along with my hiking buddy's persistence, that it was time for some adrenaline.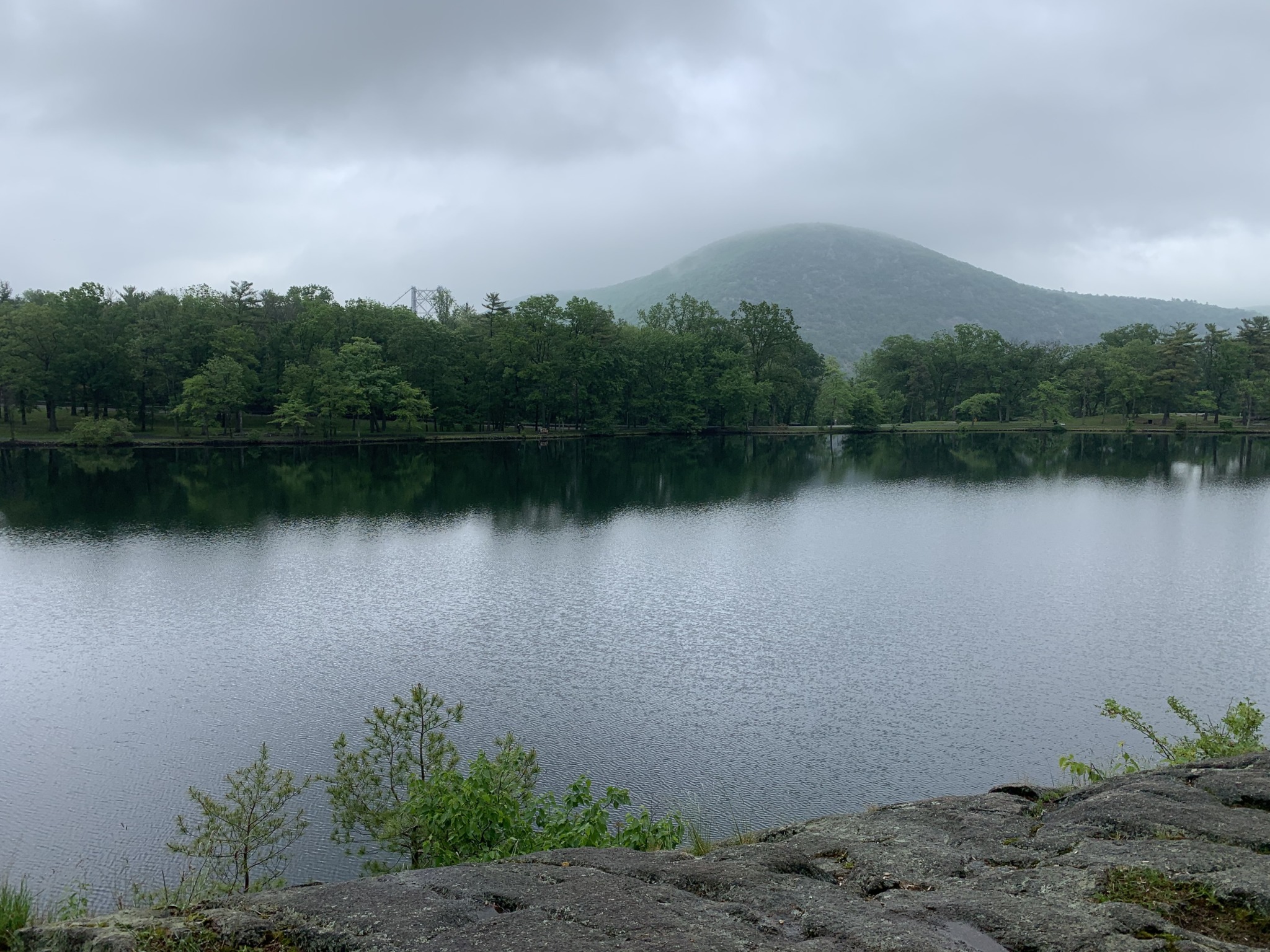 We tentatively began to cross the Bear Mountain Bridge on foot, observing the mountains and a very, very steep drop overlooking the Hudson River. At this moment in time, my entire body trembled due to an innate fear of heights that can only be described by the feeling experienced when climbing the steps to board a rollercoaster. Yet, one step at a time we tip-toed up there and it struck me: We were on a BRIDGE. Like, with moving cars and everything. I let my hair down to blow wildly across my face, and even let go of my vice-like grip on his hand for a split second to feel freer than the little old me felt in a very long time.
That day, I not only crossed a bridge but climbed an entire mountain, all the way to the very top.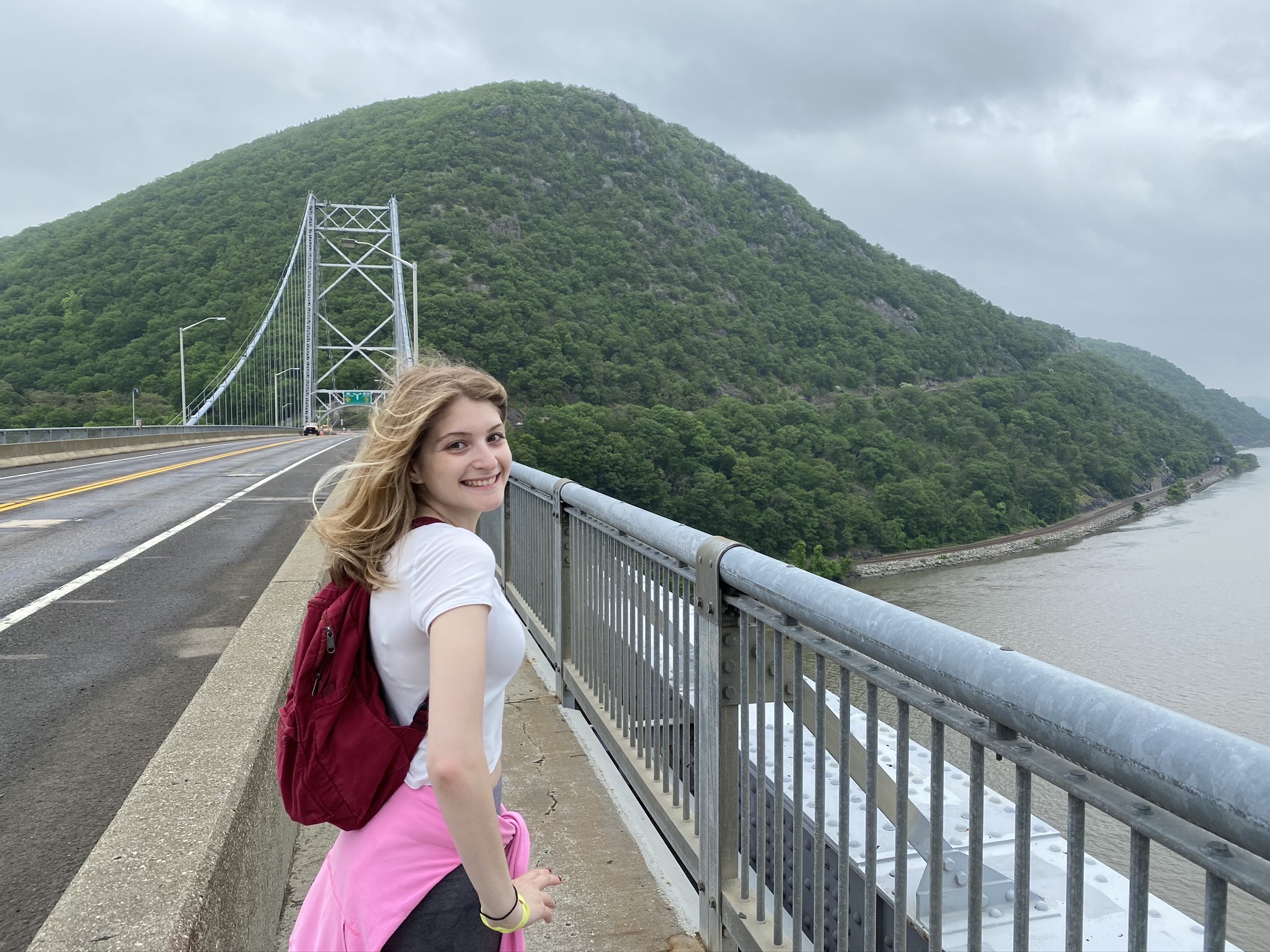 Yes, I totally needed a break every other staircase and possibly drank all the water for both of us, but I made it. We trekked almost eight miles that day to see the tower standing tall at the end of the trail, with a jaw-dropping view of the mountains across the way.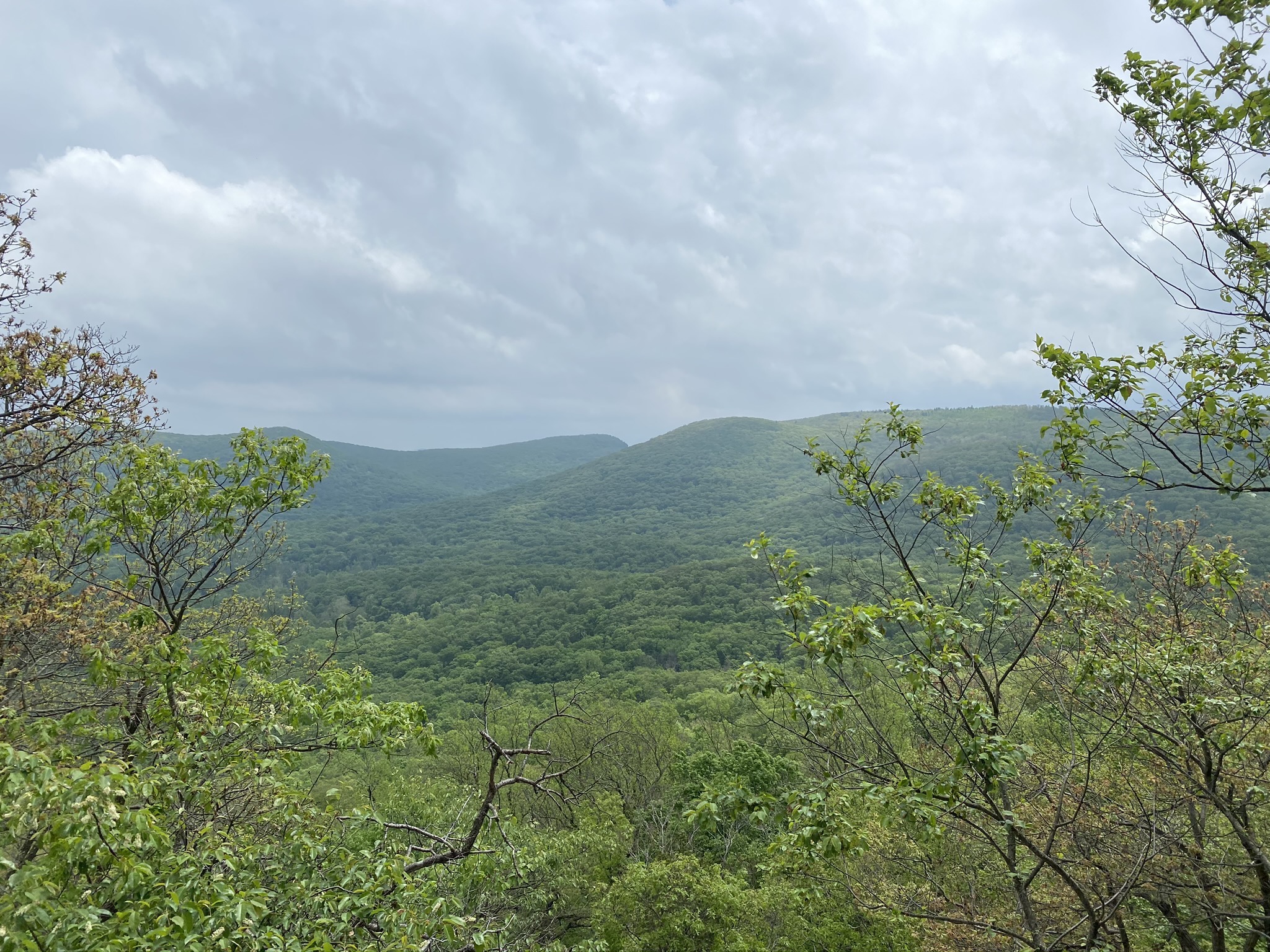 For all who feel that struggle within, believing in the idea that life is an "uphill battle," let me say this: the way up is always harder than the way down. During the first couple of months of 2020, fear ruled a better part of me. Still, if there were ever a better way to describe me, I was that turtle. Slow and steady, winning my own race. I crawled out of the shell of my room, and started to see. Walks down at the boardwalk, six-feet-apart backyard fires with s'mores, Pokémon Go hunts at midnight around the block: all equaled tiny steps towards reconciling my anxiety with the "new normal".
While of course, a little distraction is always welcome, why not embrace some slowing down now? No "what if's" allowed. Life moves at light speed, and for even one day I'd like to be a super book-cliché and stop to smell the stinkin' roses. One thing I see, a skyscraper, one thing I hear, my beloved outdoor concerts, one thing I feel, petting all the stray cats on campus. Breathe in and breathe out, I am seeing it all.