I struggle to put this experience into words: the highs, the lows, the very firsts. Let's just say it followed my unmet expectations of my first college experience. I needed an escape from everything I was used to and everything that was supposed to be great, but wasn't. So, my best friend and I began our cross-country road trip from central Pennsylvania to my new job in Yosemite National Park, California.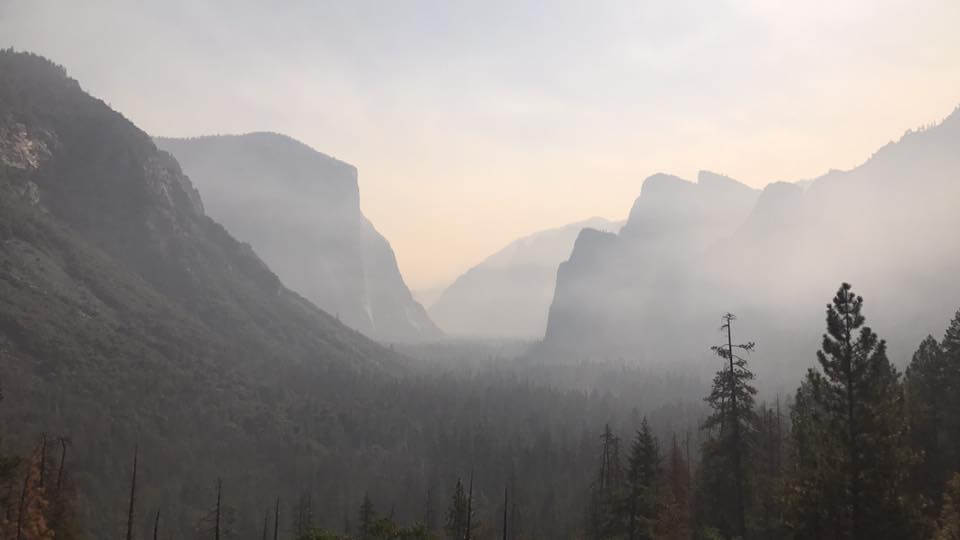 I traveled west of Michigan for the first time in my life. Naturally, the nerves shook me. I was only 18 at the time and never lived on my own. All I knew was the comfort of my small town in central Pennsylvania. I had one year of college under my belt but already needed a different and new experience.
How does one just drop everything and move to a national park?
Many national parks operate through extensive hospitality corporations. Because most of these parks are in remote locations, they provide on-site employee housing. Employers usually deduct rent from your paycheck automatically. One of the best things about living in Yosemite? Rent was $7 a week. Cool right? Until I figured out what I was living in.
We began walking through the employee housing area with a human resources rep. The area reeked of incense as people played instruments and yodeled in the background. Unfazed, he showed us a canvas tent structured by wooden posts about two to three feet off the ground, somewhere around 10 to 20 square feet.
As we walked in the wooden screen door, I saw an uncomfortably small living area with three twin cots and three small dressers. The general walking space was no bigger than a sleeping bag. I honestly had no idea what I was getting myself into. I don't like to believe I'm high maintenance, but this was a minimum I've never dealt with.
We kept our food in a large metal box outside of our tent that locked shut. Keeping food outside the tent—even in 100-degree heat—prevented our snacks from attracting animals. I learned this lesson after I woke up to the neighborhood raccoon pawing through the remains of the trail mix I accidentally left inside: frightening at first, but eventually very normal.
The bathrooms were located around the living area in three different trailers. Every time I wanted to take a shower I had to walk through the dirty gravel. Of course, then I had to walk back through the gravel after my shower. My feet were never clean. Eventually I accepted that none of us ever had clean feet. In it for the experience, right?
He then showed us the communal kitchen where we could put our food. The fridge and freezers were already packed full. I wondered how we would find room to put our own belongings.
When he finally gave us our keys, I looked over to my friend as I saw the same sheer regret in her eyes. The guy left us alone to get comfortable in our new homes and we immediately got back into the car and started driving towards the exit of the park.
We put our big-girl pants on and began to move our stuff inside. I was never super outdoorsy so I was really at a loss when I packed for this trip. I didn't even own hiking boots. I received a pair of Chaco sandals as a going away gift before I left, the only relatively nature-friendly asset I owned at that point. I soon came to find out that in order to survive in Yosemite, you need a water bottle and a headlamp. Later on, I ordered a pink Nalgene (what everyone used) and a really cheap headlamp from Amazon Prime. This got me through for the most part.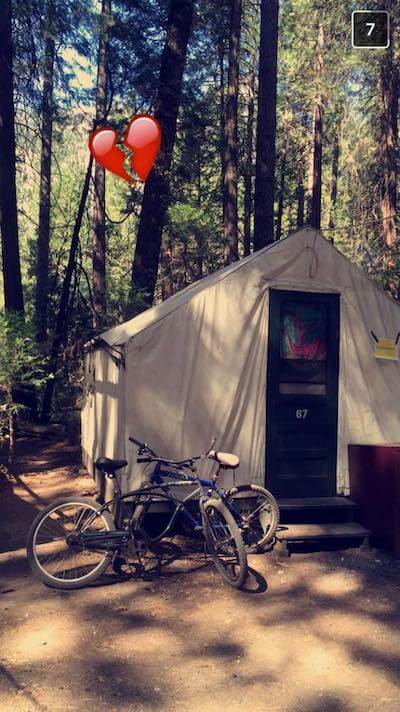 A few days later I started my job for the summer. I worked as a cashier at one of the food venues in the valley. I wish they would have put in the description that it was, in fact, the worst job in the park. I probably applied to a dozen jobs and got ever so lucky enough to receive this one. Everything happens for a reason though, right? I worked full time, five days a week for about $10 an hour, getting the same two consecutive days off each week.
The services of Yosemite kind of function like Disneyland. There was even a bus shuttle to take you around the valley floor. I had no idea how many people visited national parks until there was a constant line out the door for my register. Open to close. Every. Single. Day. Customer service was never my thing and that really showed with this job. At one point I became so fed up that I blatantly rolled my eyes at a customer, which I'm pretty sure resulted in a phone call complaint because we later had a team meeting around our customer kindness protocol. However, even then, I had little remorse.
They said it would take two weeks to adjust. I trusted the general consensus and gave the experience a chance before I decided to officially flee back to the east coast.
And, they were right. That's how long it took before Yosemite started to feel like my new home. I was getting used to my job and meeting new people, while also living in one of the most beautiful places in the world.
I have yet to even mention the vastness of Yosemite National Park. On the valley floor, which is only about two percent of the national park, you are surrounded by towering granite walls, meadows, waterfalls and rivers. Have you ever looked at your Mac background? That was my new home.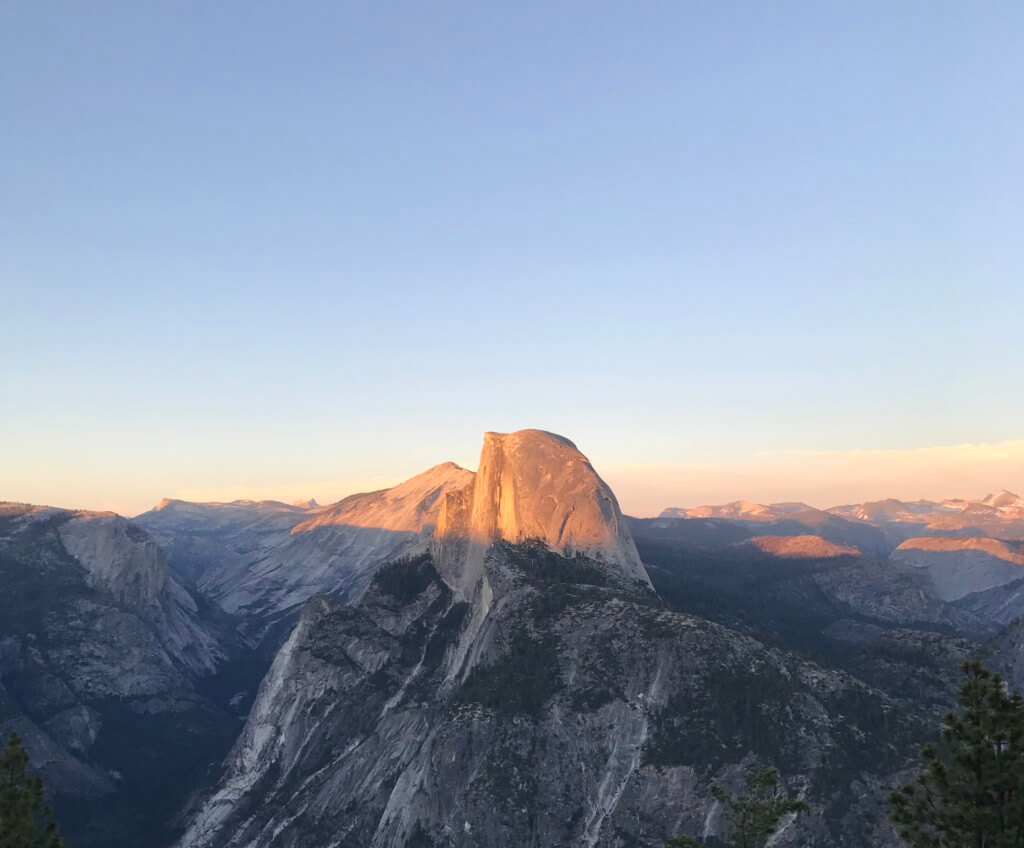 People from all over the world come to visit Yosemite and I had the privilege to call it my backyard. El Capitan was to my left, infamous Half Dome to my right and the tallest waterfall in the United States in between. That summer, there wasn't a cloud in the sky for three months. Nor was there rain, which had the biggest waterfall dried up to a trickle by the time I left.
The community of employees living in Yosemite was something very different. During the peak season of summer, probably around 200 total employees worked in the park. They consisted of rock climbers, boulderers, hikers, stoners, partiers, hippies, slackliners and whoever else found their way there (me). There was a common personality type for those living in national parks. You were either there for a good reason, or for the most part, no reason at all. Coming from a town where the pressure and stress to succeed is so overbearing, Yosemite was a mellow break from my last 18 years of living.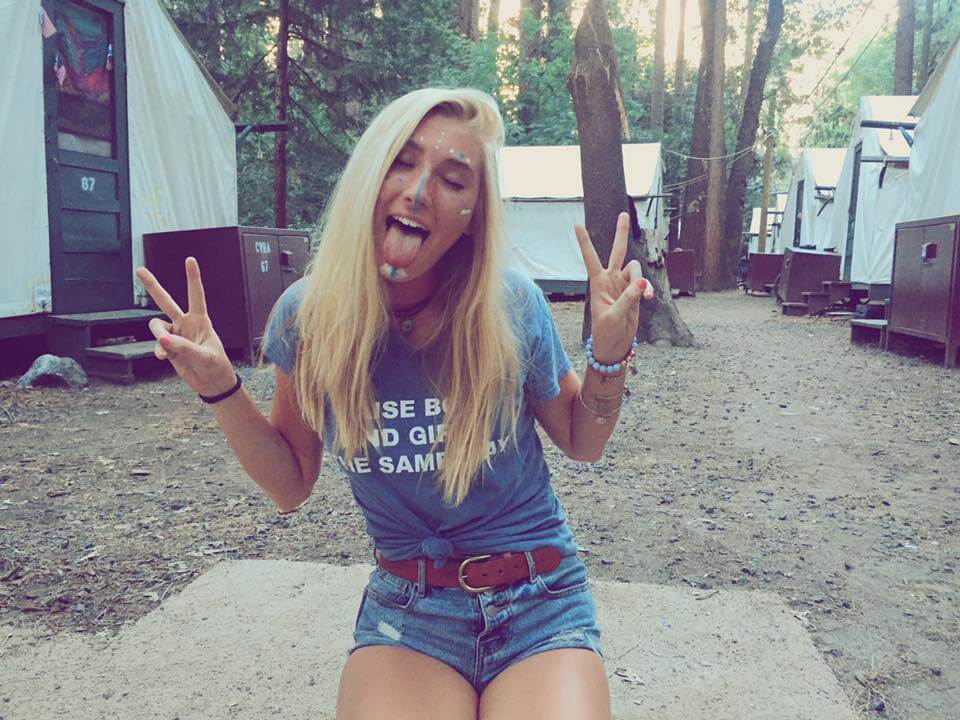 Yosemite was full of so many natural gems and everything was simple. Getting by was unbelievably easy and a much-needed experience based on everything else I was used to. But all good things come to an end.
My mind looks back on this experience with a smile. I hope to revisit again soon. That summer came to a close and I had to return to the deadline-driven life of college. I was happy, sad and thankful to have this adventure in life. I would recommend this experience to anyone looking for a similar life-getaway.
I even loved it so much, I returned the following summer. As the sticker on my Nalgene says, "Sh–t went down in Yosemite."